A to Z and Turkey Too . . .
Please remember, Our RV Adventures is an Amazon affiliate. When you do your Christmas shopping through any of the Amazon links here, including the Search Amazon box in the right sidebar, it won't cost you any more, but we'll get a small commission on everything you buy. Just click on the Amazon link, then shop as usual. Thanks.
Plus, many of you are sharing our blog with others using the "Share this:" buttons at the bottom of each blog. Again, Thanks.
---
---
Today was a nice sleep-in, lay-about day, while we waited to be whipsawed by the 83° high – 33° low temps today, a 50 degree swing. Then it's 43° – 29° day tomorrow.
Jan's finished up with all the cookies she's been doing, getting ready to pass them out to local friends.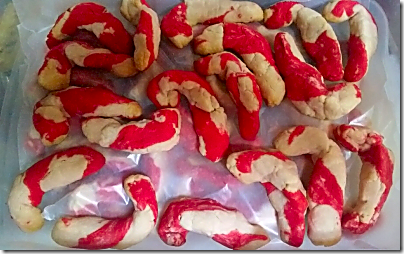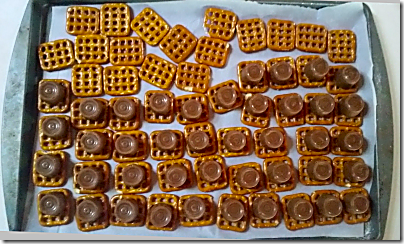 Then after a quiet nap-inclusive afternoon Jan heated up the Hodgepodge Beef Soup again, which along with toasted Hawaiian Rolls, made for a delicious meal.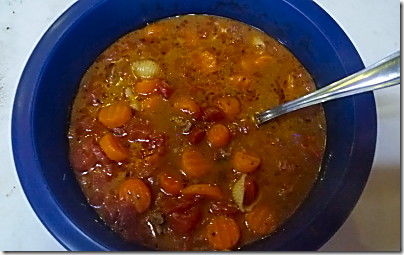 Tomorrow of course being Sunday, it's back to Barth's for their Turkey and Dressing/Fried Chicken Buffet. Mmmm. Mmmm. Always Good!
Landon started receiving some of his Christmas presents today. Between Brandi and us, we bought him A thru M of the A to Z Mysteries for Kids. Written for 6 – 9 year olds, they should be right up Landon's alley.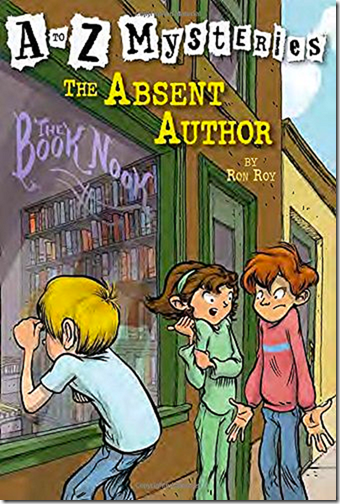 Often when I buy something from Amazon, I will check out the reviews, and usually make a point of reading the 1

reviews for a good laugh. Here's one from these kid books.
---
By Emberon December 25, 2011
I am very fond of mysteries and psychological dramas, and was very disappointed when I read this purchase, as it took me 10 minutes to do so. Somewhere in the listing there should be a word or two about the age appropriateness of the book being offered. (It IS listed under Children's Books) I may have liked it if I was in 2nd.grade. This experience has caused me to re-consider looking at the Daily Deals.
I guess I should have realized the title indicated a juvenile selection, but I thought of Agatha Christies ABC Murders , not a kids book, so took a chance at this one.
Now I know my ABC's.
---
---
---
Landon, Brandi, Lowell, and friends, Chantelle, Eric, and Maddox Nugent, went on the Pecan Grove Lights Hayride, the same one we took with them last year. Looks like a good time was had by all.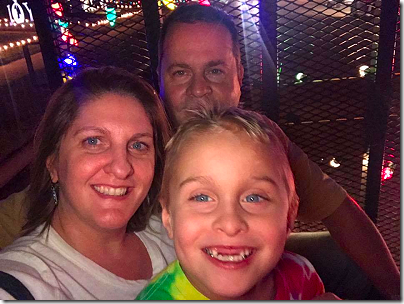 Yesterday, while I was talking to my good friend Nick Russell on the phone, I looked up at the TV screen and saw Guy on Diner's, Drive-Ins, and Dives, doing a story on a place we've all been, Joe's Farm Grill, out in Gilbert, AZ, right down the road from Apache Junction.
You can see the episode here. http://joesfarmgrill.com/food-network/
Great place to eat if you're in the area.
Regular readers will remember my recent articles about the Electoral College and the recent election.
The Electoral College – Why?
The 1960 World Series and the Electoral College
Frederick Douglass, The 3/5 Compromise,
and Our 'Racist' Constitution
---
---
Posted under Greg's Musings, with these articles, I talk about the reasoning behind Electoral College and why the Founding Fathers set things up that way. and more importantly, why the concept is still valid today.
Of course there's been a number of calls for the elimination of the Electoral College, but seeing that it's part of the original Constitution, it would take a new Constitutional Amendment to eliminate it.
Well now we've got a novel idea about the Electoral College from an adjunct professor at Georgetown Law. He thinks the Electoral College can just be ignored because it's, get this, 'unconstitutional.'
To get to this point he has to talk himself around in circles, pretty much saying that the Founding Fathers shouldn't have put it in the Constitution, thus it shouldn't be in the Constitution, therefore it's 'unconstitutional.'
Of course as I said before, I wonder he would have been writing this article if the results of the election had gone the other way.
Or it could just be that, as a commenter said on a legal blog, an 'adjunct professor' is the lowest of the low, just one step above a grad student.
---
Thought for the Day:
In another of my recent 'Musings, What If We Erase Our Past?, I talked about we're losing our past by trying to cover up our past mistakes, hiding them from the future. Well as it turns out, it looks like Winston Churchill had the same thought.
"If the present tries to sit in judgment on the past, it will lose the future." Winston Churchill
sdfgsdfgsdfg