Growing Old Is Tiring . . .
Today was our (my) turn-around day, getting off at 5pm yesterday afternoon and not going back in until 5:30pm this evening.
---
---
As far as Jan, she's not turning around, but just off until Tuesday. But both of us really slept in this morning to make up for lost sleep time.
For the last couple of weeks we've been going to bed around 8-9pm and getting up at 3:45am, to be at our gates by 5. But today both of us managed to sleep about 11 hours to catch up. Very nice.
Later in the morning we went out on some errands and then had lunch at the Maya Mexican Restaurant where we ate last week. Just as good as last time, and we had the same great waitress, Erin, as last time too.
So we've got a really good Mexican place and we've got a Whataburger, so we're all set.
Right now, after being at the gate in on the pad, I'm back out on the front gate by the highway.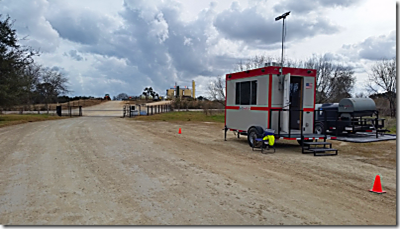 The main job is to be sure the incoming vehicles are at the right gate, and that they know where to go. So we don't have to log anyone in or out, since that's all done at the pad. Nicer for us.
Jan and I were talking about how tired we can get doing the gate thing, when we're really not actually doing that much. And the exercise is probably good for us. But looking back, it's amazing what we did before we got 'old'.
Back in 1972, when we were in our mid-20's, Jan and I went back to school. Jan was usually taking 18 hours or so, while I normally took 21 hours, a class load I had to get special permission for.
At the same time, I had a full-time job as a Broadcast Engineer for the Alabama Educational Television Network, working 5 nights a week from 4pm to 12 midnight. Then on weekends I worked as a Broadcast Engineer at a black radio station from 9am Saturday morning to 3pm Sunday afternoon. So about 30 hours a week here.
---
---
The reason this all worked was that I had plenty of time to study and also catnap on both this jobs.
A somewhere in here I ended up singing in a black gospel choir during a church service being held in a funeral home every Sunday. Talk about an Oreo.
But that's another story.
On top of all this, Jan and I regularly worked as the grill team at what was then the busiest McDonald's in the country, in Birmingham, AL. If you're working at a fast food restaurant, this is the way to do it.
I ran the grill, cooking burgers, and Jan toasted the buns, both just as fast as we could go. We walked in at 11am, worked straight through until 2pm, hung up our aprons, and walked out the door. So no cleaning, no scrubbing, and no mopping.
But wait, there's more.
I was also working at the college 10 hours a week as the Chemistry Lab Assistant, cataloging chemicals and setting up class experiments, while at the same time Jan was working for several hours every night at Newberry's, a 5 & 10 cent store in Eastwood Mall.
Oh, and I also occasionally worked at a TV repair shop, fixing the new transistor TV's that were just coming out. The old guy that owned the place was just fine on the tube TV's, but not so hot on the solid state ones. But give me a Sam's Photofact and an oscilloscope and I could go to town.
How we managed to do all this for two years, I don't know. It's exhausting just writing about it, much less thinking about actually doing it.
As I said, Getting Old is Tiring.
---
---
And even more amazing with Jan, was that during part of this, she was pregnant with our daughter Brandi who was born in Sept. 1973.
And how we ever found time for that I'll never know.
---
Thought for the Day:
I have a friend who's in a real bind and I hope someone can help him out. He has two tickets for the 2017 SUPER BOWL, both box seats. He paid $2,500 each ticket, but he didn't realize last year when he bought them, it was going to be on the same day as his wedding. If you are interested, he is looking for someone to take his place. It's at St. Joseph Church, in Houston at 3 p.m. Her name is Ashley. She's 5'4, about 120 lbs., and she's a good cook too. She'll be the one in the white dress.
adfadsfasdf