Monthly Archives:
February 2017
Once again we were out the door at 8:30 (this is getting old) and on our way to our doctor appointments down in Friendswood.
---
---
These were with our general practitioner for our lab work and prescription refills, so we were both out within two hours with a clean bill of health. I even lost a little weight, though how the hell that happened, I'll never know. We won't know all our test results for a few days, but we don't expect any problems.
Then it was over to Webster to have what might be our last King Food meal for this time here. And as usual we had our favorite Chicken in Hot Garlic Sauce with jalapenos, and XXXXXXX Spicy.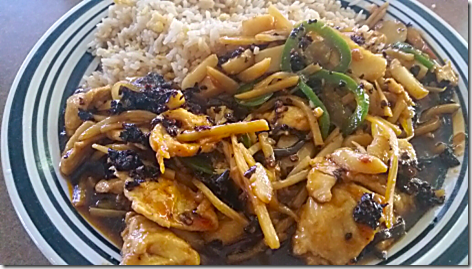 Saving half our meal for later, I next dropped Jan off for her Bone Density test, while I made a quick trip to Home Depot for a couple things.
Then it was back on the road heading up to Katy and Brandi and Lowell's. Brandi was coming home a little early so she and Jan could go and get Pedi's – sans Mani's. While they were gone I headed out to a nearby JiffyLube to get an oil/filter change for the truck.
---
---
But even though there were cars in the bays, apparently they don't actually open until tomorrow. When I asked about the cars, I was told they were 'practice' cars. But when I offered my truck for 'practice', they didn't take me up on it for some reason. And I wouldn't have even charged them.
So I'll have to try again while we're in Conroe. I'm also going to try and get the truck's headliner replaced there too. It's gradually coming loose, and there's only so much that Gorilla Tape can do.
When Jan and Brandi were done getting their toes tickled, Lowell, Landon, and I met them at the nearby La Finca Mexican Restaurant for dinner. And then it was back to the rig by 8:30. And then tomorrow we move.
We're going back to Lake Conroe for a week before coming back here for two days and then heading for Tucson.
Like my friend Nick Russell said today, one of these days I'm going to have to retire, buy a big RV, and get some rest.
---
---
And we've still got two or three more trips down to Clear Lake before we leave.
---
Thought for the Day:
"Siblings: children of the same parents, each of whom is perfectly normal until they get together." ― Sam Levenson
asdfasdfasdf
Once again we were out the door and on our way back down to the Clear Lake area, getting to the Monterey's Little Mexico in Dickinson, our lunch stop before Jan's oncologist appointment at 1:45.
---
---
We've been eating here for about 20 years, with many of the same people working here for more than 10 years, which really tells you about how a place is run.
Julie, our favorite waitress has been here for almost 15 years,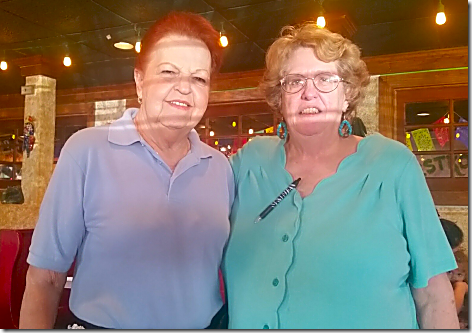 way before we started RV'ing in 2008.
We both ordered our usual bowls of the delicious Chicken Tortilla Soup to start off.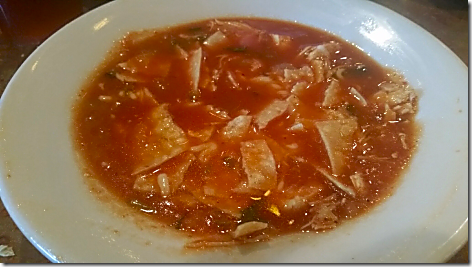 And when they say 'Chicken' they mean it. This soup is chock full of big chunks of chicken, not just a few shreds.
And unlike a recent bowl at Los Cabos here in Columbus, Monterey's version DOES NOT have any veggies in it, like the zucchini and carrots in Los Cabos' version.
Next up we split an order of Beef Fajita Nachos, which didn't last long enough for a photo
But here is where it would be.
---
---
Finishing up and heading north we made a quick detour to the Bucee's on 96 to pick up a few of our favorite Cranberry Walnut muffins for breakfast on the road. Then it was on back up to Webster and Jan's doctor's appointment.
Normally her oncologist's visits go pretty quickly, but this time the doctor was running late so Jan was in there for a little over 2 hours. No problems, just a slow doctor.
Then it was back on the road heading home to Columbus, and hoping to stay ahead of the going-home traffic, which we mostly did.
We did make a quick stop at the O'Reilly's Auto Parts in Columbus so I could pick up a new blower motor speed control module for the truck.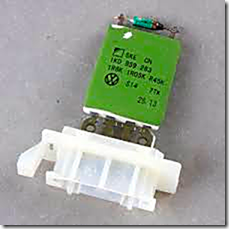 The old one has cracked and we presently only have one blower speed for the AC, so this should fix the problem.
Hopefully.
And guess what? Tomorrow morning we get to make the same trip back down to the Clear Lake area once again, this time for our GP appointments. Oh Boy!
Blog reader Tom Cheshire asked about how we keep our diesel tank filled on the road, and any problems we've had.
First off, we've got a 150 gallon diesel tank so we can go about 1000 miles without topping off, still leaving ourselves a 250 mile 'cushion'. And we only occasionally fill up on the road during our travels.
Normally when we're parked somewhere for a few days and want to fill up, we'll scout out places as we're driving around, looking for a place we can get in and out of with no problems. It may be a Wal-Mart or a Sam's Club, or even a convenience store with diesel and easy access.
And if it looks like it will be easier, Jan will just follow me in the truck to the station, and then we'll hitch up afterwards.
---
---
If we do need to fill up on the road, we usually just stop at a Pilot/Flying J/Love's/TA etc. Many of them have separate pumps for RV's with both diesel and gas, so you can stay out of the truck lanes.
Hope this makes sense. If anyone has any more questions, let me know.
---
Thought for the Day:
"Adventures are never fun while you're having them." ― C.S. Lewis

ghdghdgh