Daily Archives:
March 1, 2017
As has been our usual habit when we leave Colorado River, we got pretty much ready to roll by a little after 8 and then went into Columbus to have breakfast at Schobel's Restaurant.
---
---
Since it wasn't Sunday, they didn't have their breakfast buffet this morning, so we ordered from the menu. Normally we both get an omelet, Jan's veggie and mine Western. But I decided to give the Chicken and Waffles a try. Described as a Belgian Waffle with two Chicken Tenders, so I was expecting a couple of small chicken strips, but apparently that's not the way Schobel's does things.
What I got was a deliciously crispy waffle with real butter, and two LARGE chicken breasts, bigger than my palm, I wish I could gotten a picture but left my phone back at rig. But I've now got my new favorite breakfast at Schobel's.
Back at the rig, we were pulling out a few minutes after 10am, and hitched up and leaving the park about 15 minutes later, with a smooth trip until we turned on to the Sam Houston Tollway North.
Even though I regularly put a biocide in my diesel tank in the winter time, and try to keep the tank topped off when we're parked for any period of time, sometime in the last few months I picked up some algae in my tank and my fine particulate fuel filter started to clog. FYI my rig has two fuel filters, a fine and a coarse.
I first noticed it a little bit when we left Colorado River last October heading down to Kenedy/Karnes City to gate guard, where it would stumble a bit under hard acceleration. And when we came back up to Colorado River two weeks ago, there didn't seem to be any change.
---
---
I had planned to change both filters out myself (I always carry spares) while we were at CR, but weather and all our many trips to Clear Lake intervened. But I planned to do it here at Lake Conroe for sure..
But for some reason, today as soon as we got on the Tollway, it really started to bog down. and very quickly too. So by the time we finally inched our way to the park, we could just barely do 45 mph.
But we did make it and ended up parked in G12, right next to our good friends, Ed and Debi Hurlburt, who we just saw last week over at Colorado River. Small world, as usual.
A little while after we got here I went out to refresh my memory about the filter change out. The coarse one, an FS 1242B, is at the rear of the coach and pretty easy to access.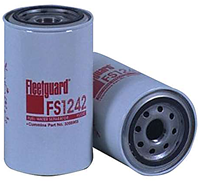 But the fine one, the one that clogs, is more problematic. It's a FS 1022,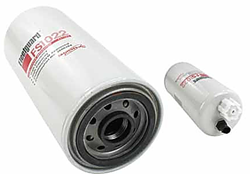 you get to it from the side of the engine working over and around the 6" diameter exhaust pipe. I changed this filter out in 2009 while we were at the Moose River Campground in Vermont, but looking at the area I would have to squeeze into, I realized that when I did it in 2009, I was doing it on 2009 knees.
And I don't have 2009 knees anymore. I'm now sporting the 2017 version, and I'm not sure they'll bend that way now. But I'm going to give it a try tomorrow and see. And if my knees don't cooperate, as usual I have a backup plan.
---
---
The RVMobileLube people will come by Friday morning and change them our for me.
So I'll let you know how it goes.
---
Thought for the Day:
"I remember the time I was kidnapped and they sent a piece of my finger to my father. He said he wanted more proof." ― Rodney Dangerfield
bvxcbxcvbvb