Daily Archives:
March 2, 2017
Please remember, Our RV Adventures is an Amazon affiliate. When you do your shopping through any of the Amazon links here, including the Search Amazon box in the right sidebar, it won't cost you any more, but we'll get a small commission on everything you buy. Just click on the Amazon link, then shop as usual. Thanks.
Plus, many of you are sharing our blog with others using the "Share this:" buttons at the bottom of each blog. Again, Thanks.
---
---
Today was my first day to sleep in a bit, but I still was up at 10 because I had a lot of chores to work through on my list. After coffee, I took care of some inside stuff before heading outside to see if I was going to able to change out the fuel filters myself.
As I mentioned yesterday, I changed this filter myself back in 2009 when we were up in Vermont. You can read about it here.
http://ourrvadventures.com/2009/08/14/
http://ourrvadventures.com/2009/08/15/
http://ourrvadventures.com/2009/08/16/
http://ourrvadventures.com/2009/08/17/
http://ourrvadventures.com/2009/08/18/
But as I also mentioned yesterday, I did that on 2009 knees.
---
---
The coarse filter is easy to get to at the rear of the coach.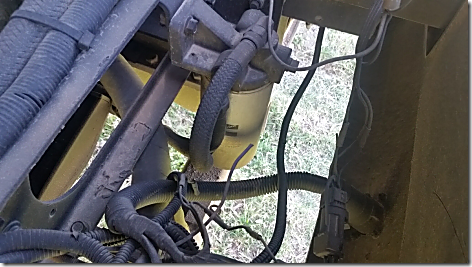 However the one I really need to change out is an entirely different story.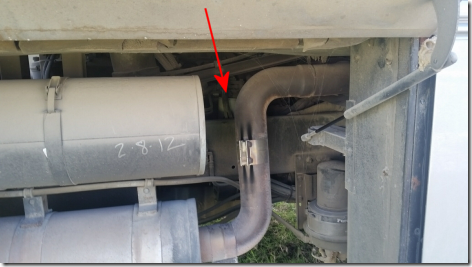 It's just inside the frame rail and blocked by the exhaust pipe.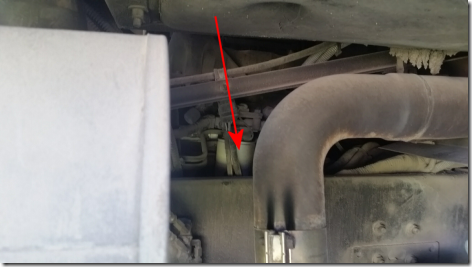 It wouldn't be a problem if it were not for the pipe, but as it is I have to crawl underneath and then try to come up between the frame rail and the pipe. Well, after crawling under there I quickly discovered that my 2017 knees won't do this anymore. I almost made it, but not quite.
In a emergency I could probably do it if I put the rig all the way up on the rear levelers, but then I'd have to waif for the exhaust pipe to cool down. But it's not worth doing this with the RV Mobile Lube guy coming tomorrow morning.
Here's the blog of my last RV Mobile Lube service in 2015.
http://ourrvadventures.com/2015/02/12/
While I was out and about this afternoon taking care of some prescriptions, I got a call from Maria at Guard 1 wanting to know if we were available for gate guarding. When I told her we had just come off a gate and wouldn't be available again until the end of August, she quickly asked me if I knew anyone who wanted to gate guard.
---
---
So if you're looking for a gate, call Maria at (713) 337-4300. I guess this is reflected in the US rig count we saw this past week, which was up 25 rigs just in the last two weeks.
---
Thought for the Day:
"If it's a penny for your thoughts and you put in your two cents worth, then someone, somewhere is making a penny." ― Steven Wright

dfgsdfgdfg