Daily Archives:
March 5, 2017
Since it was already sprinkling when I got up, and was supposed to continue all day, it seemed like a good time to pressure wash the rig to finally get all the caliche mud off hat we accumulated on our trip down to Kenedy last October for our gate guarding stint.
---
---
Caliche mud forms a hard crust and will not wash off with rain, but must be scrubbed off with a brush or car wash, or in the case of the rig, pressure washed with Awesome as a detergent.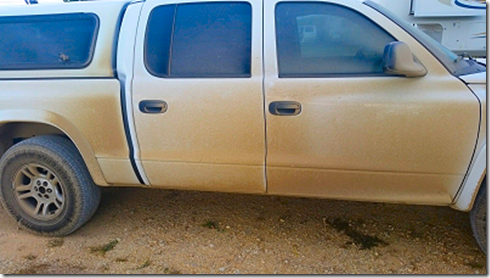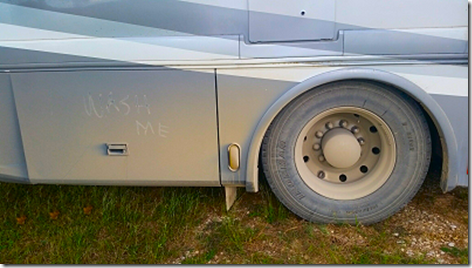 It took me a little over two hours to go over the coach, first soaking it with water and letting it set for a few minutes. Then I soaked it again, this time with an Awesome solution, and also let it set too. Finally I went back over the coach with the high pressure spray, rinsing off the Awesome and getting all the debris from the nooks and crannies.
If I have time in the next couple of days I'll go back over the coach with a spray wax to give it some shine.
---
---
After a hot shower to warm up, Jan and I headed out about 4:45 to meet Ed and Debi Hurlburt at El Bosque for some of their great Mexican food.
And as usual the food was great, but the service left something (much?) to be desired. We figured we were going to have a problem when our waiter took our orders without writing anything down, and then kept coming back to the table to double check things.
He got Ed's order completely wrong, and it took us forever to get plates for our fajitas, flour tortillas, and Jan's refried beans. Turns out it was the guy's very first day.
But at least the food was good, as well as the company.
Tomorrow morning I'm dropping the truck off to have the headliner replaced. The glue has dried out so it's falling down in places, and when you touch the edges it just disintegrates, so they'll do a full replacement and have it back in a few hours.
---
---
Then tomorrow evening it's back down to the Clear Lake area for dinner with some old friends, Bob and Maria, who we've known since the mid-80's. Really looking forward to it.
---
Thought for the Day:
"Show me somebody who is always smiling, always cheerful, always optimistic, and I will show you somebody who hasn't the faintest idea what the heck is really going on."
gsdfgsf