Daily Archives:
March 7, 2017
In between the heavy rains this afternoon, I tried to top off my coach batteries with distilled water. (My engine batteries are sealed), but found I didn't have enough distilled water left, so it went on the Wal-Mart list for later this afternoon.
---
---
Next up I called Saddleback Mtn. RV Park in Balmorhea, TX to double-check our stay this coming Saturday, and I'm glad I did, since they're booked solid for the foreseeable future. And this is even with all the new sites they've added.
So my next call was to the Southern Star RV Park. It's a nice little park in Van Horn that we stayed at two years ago when it was a Passport America Park. It's not now, but it's still a good deal, and even better there's a really good steak house right next door for dinner.
And luckily for us they have a site for Saturday. So now we're booked all the way through the end of April, and a few parks after that.
Later, about 2:30 Jan and I headed out for some errands before meeting Ed and Debi Hurlburt at the Conroe Golden Corral.
Our first stop was the local Academy so I could pick up another bottle of Biobor Biocide for our rig's diesel tank.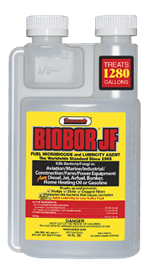 I bought a bottle here last year and so I wanted to pick up another one since mine's getting low. Academy normally carries it in their Marine section, but either they were our or don't carry it anymore. I'll check the Academy down in Clear Lake on
---
---
Then it was on to the Lowe's for some vinyl tubing, but their stock was so scattered and disorganized that I finally gave up trying to find the size and length I needed.
Then it was on to the Sam's Club right next door to pick up a prescription, and then to Wal-Mart for a couple of more prescriptions and some groceries.
We normally get our prescriptions at Wal-Mart, usually on their $4/$10 plan if possible. But some others are much cheaper at Sam's on my Business Plus card. In this case, it would be $62.82 at Wal-Mart, but it was only $10 at Sam's.
Then it was on to the nearby Golden Corral to meet up with Ed and Debi for one last meal together, at least for 4 or 5 months. We've eaten here a number of times and it's pretty good. And much better than the Ryan's right down the road.
Finally saying our goodbyes for now, Jan and I headed out, this time for a stop at Kroger's for another prescription, a 3 month supply of Jan' breast cancer medicine, Anastrozole.
In the past we've gotten it for about $55, but this time it suddenly skyrocketed to $171, of course with no explanation. But looking online, I found I could get it from Kroger's under GoodRx for $27, a big difference. So done and done.
Getting home, I finished up adding water to my batteries, so that job was done.
We'll leave for Colorado River TT about 10am, calling ahead so that we can meet the propane guy to top off our tank before we park.
Then Friday we'll head for Tucson.
---
---
Finishing up, several of our readers have asked for a Karma the Cat update.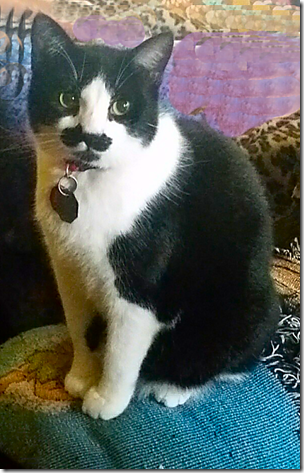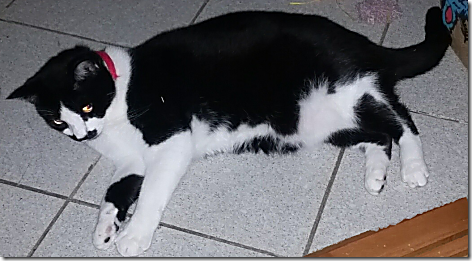 At about 16 months now she's a big kitty now.
---
Thought for the Day:
"It was fun watching the applecart being upset, but now where do we go for apples?" – Paul Schrader
asdfasdf