Daily Archives:
March 8, 2017
Since we were going out for breakfast at Cracker Barrel this morning, we slept in a little, not getting up until about 7:30, but were still hitched up and on our way by 10am.
---
---
Getting out onto I-45 I was happy to see that replacing the rig's fuel filter the other day took card of our 'lack of power' problem, so we were easily cruising along at 60mph and had no trouble climbing some of the steep ramps.
About 10 minutes before we arrived at Colorado River TT, I called the office to ask that that the propane guy meet us at the fill station so I could top off our tank before we got parked.
The last time we got propane was December 24, 2014 right here at Colorado River. We were down a little below 1/4 of the tank and it took 24.4 gallons to fill us up.
Since we usually only use propane for running the fridge when we're on the road in the non-summer travels, we normally wouldn't need it this quickly, but back in 2015 when we were gate guarding up near Carthage, TX, the electric side of our water heater died, so we used the propane side for a month or so until I could fix it.
The reason I said the "non-summer' months is that during the summer we run the generator to keep the AC's going.
About 3:45 we headed into Katy to our daughter Brandi's. But on the way we made a couple of stops, first at the park office to settle up for our propane and two days of 50amp. Then it was on to the hardware in downtown Columbus where I was able to find the small vinyl tubing I was looking for.
---
---
We got to Brandi's about 5:30 and waited to hear from them. Brandi and Lowell were off with Landon getting him fitted out for his ice hockey gear for the lessons he's going to be taking the next couple of months,
Finally we all met up at Little V's Vietnamese Bistro, one of our all-time favorite restaurants anywhere.
We started off with an order of Pork Spring Rolls, everyone's favorite.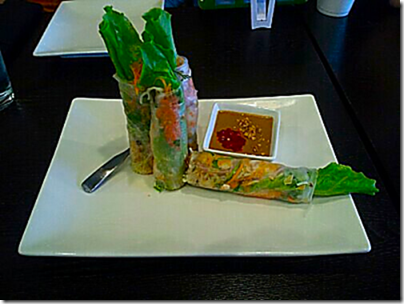 While Jan and Brandi shared the Chicken Curry, and Lowell got his Little V Pho, I went with my usual Shaking Beef Vermicelli.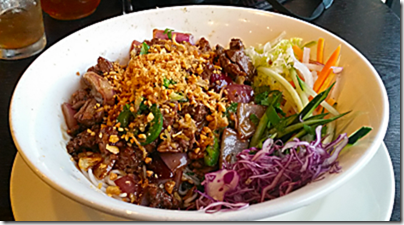 And of course we finished up with Crème Brûlée spoons, just the right amount of dessert to end the night.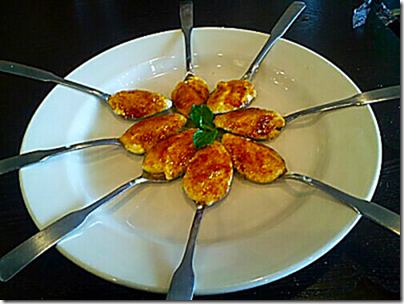 Saying our goodbyes for the next 3+ months we headed back to Columbus.
---
---
Tomorrow it's back down to the Clear Lake area for our last two doctor's appointments, which hopefully will finish us up for this year.
---
Thought for the Day:
Every now and then I like to do as I'm told, just to confuse people.
ghdghdg