Daily Archives:
March 14, 2017
Since we would gain another hour when we crossed into Arizona (they don't observe DST) we didn't pull out of the Coachlight RV Park until about 10:15 New Mexico time with our first stop Kranberry's Restaurant in Lordsburg, NM two hours later.
---
---
We've stopped here every time we've passed though this way, going and coming, including our first time through in our rental Class C in March 2007. Besides the good food, the other attraction is the fact that they have RV parking in the rear.
Jan had a Tuna Melt with Bacon, while I had a 1/3 pound Bacon Cheeseburger with Hatch Green Chilies.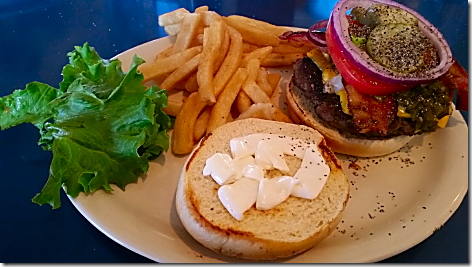 Really delicious, especially with the green chilies. They had kind of a 'smokey' taste that I haven't had before.
Leaving Kranberry's we saw this sign.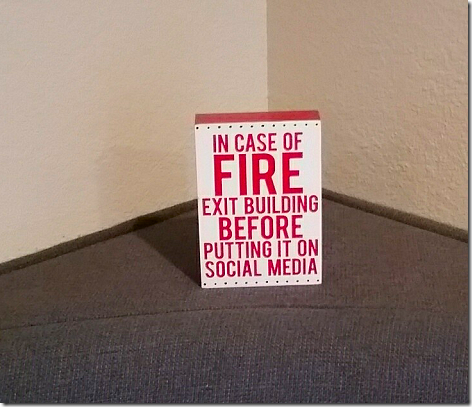 Probably more true than most people would admit.
---
---
Back on the road we had another two hours to Benson, AZ and the Cochise Terrace RV Park where we were booked for 4 days until we move over to the Voyager RV Resort on the 18th.
One thing nice about today's travels was we had a lot less wind than we've encountered before, and no real problems with the roads either. So a smooth trip.
We got to the RV park about 2:30 and were led to our site. While I was checking in, Sharon Del Rosario greeted me, and at first I didn't recognize her. I guess, because I wasn't expecting to see anyone I knew here at this park. And also when I checked in, we got a bonus – a free meal.
They served a meal here every evening and tonight was Pulled Pork Sandwiches, Baked Beans, Chips, Dessert, and a Drink. Normally these meals are $5, but we got a 'freebie' our first night here.
Later, Sharon came by and talked to Jan, letting her know that there's an Escapees get-together tomorrow afternoon.
So after getting all set up, we headed over to 'The Barn' about 5pm for our meal. Very good, and better than the leftovers we had planned.
---
---
Finishing up, the Escapees has just released an app for the upcoming 57th Escapade, It shows all the seminars, all the exhibitors, and all the events, and lets you set your own schedule of events. Just search for Escapade57 on your app service.
---
Thought for the Day:
"I'd never met coffee that wasn't wonderful. It was just a matter of how
wonderful it was."
fdgsdfg