Daily Archives:
March 15, 2017
Please remember, Our RV Adventures is an Amazon affiliate. When you do your shopping through any of the Amazon links here, including the Search Amazon box in the right sidebar, it won't cost you any more, but we'll get a small commission on everything you buy. Just click on the Amazon link, then shop as usual. Thanks.
Plus, many of you are sharing our blog with others using the "Share this:" buttons at the bottom of each blog. Again, Thanks.
It was nice to sleep in a bit this morning with no upcoming travel until this coming Saturday when we'll move over to Voyager RV Resort for the Escapade.
---
---
Around noon, long-time friends, Dick and Phyllis Schell showed up to say Hi. We sat outside for a good while at the site's picnic table, catching up on our going-ons.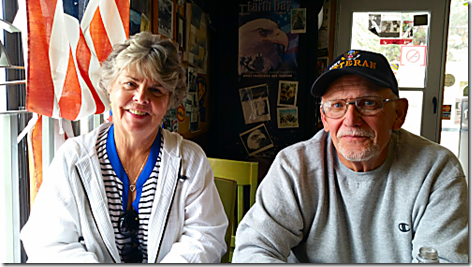 They drove over from the SKP park right down the road. I think the last time we were together was in May 2015 while we were getting our blow-out damaged rig in Prescott, AZ. They were at the Verde Valley Thousand Trails and drove over to do some shopping, a perfect occasion for a get-together.
About 4pmJan and I walked a couple of rows over to "The Crow's Nest" Activity Center for a meeting of Escapees in the area. Put together by our friend's Sharon and Don del Rosario, it was a good chance to catch up with old friends and make some new ones.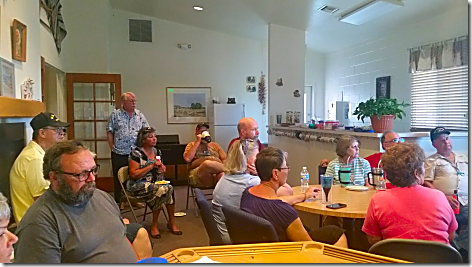 At 6pm we met up with some of our fellow Escapees at the 86 Café, a local Benson Mexican restaurant that came well-recommended. And for good reason, as it turned out.
---
---
Jan had the #10, two Chile Rellenos with rice and beans.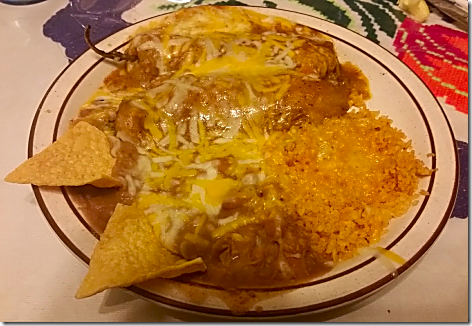 Jan said these were in the top 2 or 3 rellenos she's ever had. High praise from her.
I had the Green Chile with Pork, and rice and beans.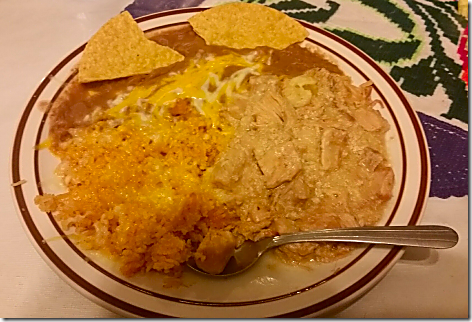 Also very good, especially slathered with some of their hot sauce. Really delicious.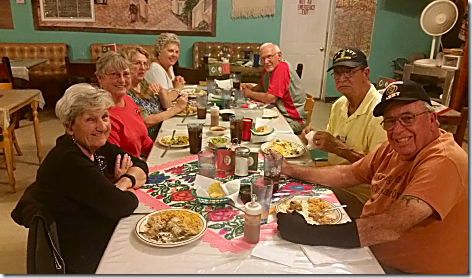 Starting on the left, it was Gloria King, Sharon del Rosario, my Jan, and Phyllis Schell. On the right, it was Frank King, Don del Rosario, my empty chair, and Dick Schell.
As with many RV get-togethers, we were there long enough that they started closing down the place around us, locking the doors and turning off the Open sign.
I think they were trying to tell us something.
---
---
Being back out west has reminding Jan and I how much we don't like Mountain (Pacific) Time. I say Mountain (Pacific) because although we're actually in the Mountain Time Zone, because most of Arizona doesn't observe DST, effectively we're on Pacific time.
And that really screws with the TV schedule, with prime time shows starting at 5pm, way too early for us. Unfortunately we'll be out here for the next 4 months or so, so I guess we'll get used to it eventually.
---
Thought for the Day: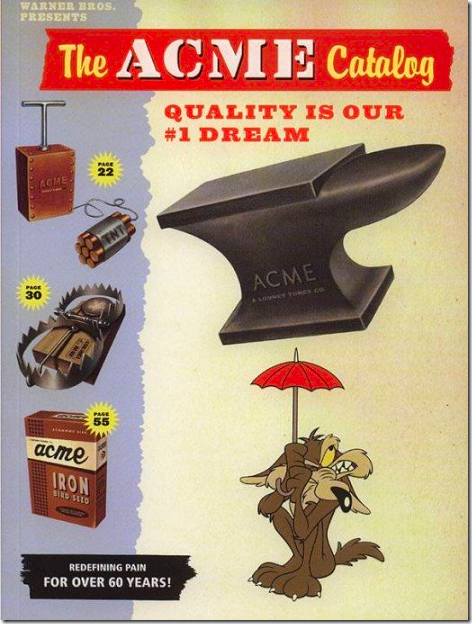 asdf