Daily Archives:
March 27, 2017
At 10:45 this morning I got a text that my replacement Cradlepoint CTR-350 router had been delivered at the park office.
---
---
So I quickly walked over to pick it up, and got a surprise. My new Amazon mouse, you know the one that couldn't be delivered yesterday, yesterday being Sunday, because it had an incomplete address.
Well, it made it with no problems today, and it looks like the address is just fine to me.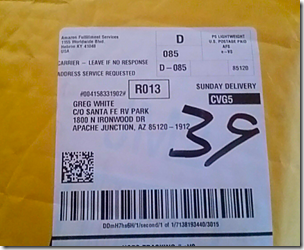 This is the second time I've had a Sunday delivery scheduled that didn't go through, the last one because the Pima Country Fairgrounds was CLOSED during the Escapade. But apparently it was open the next day with no problems.
Guess they just don't like to work on Sundays.
It took some fooling and resetting, but I did get my new Cradlepoint router working so we once again have Wi-Fi in the rig. Our Kindles, Galaxy Tab, and Alexa are all happy once again.
Later I put in a call to the Kwikee Steps people. which is now owned by Lippert Components. Lippert also owns Power Gear and Attwood Water Heaters, as well as a bunch of other companies.
But their Tech Support was helpful, and confirmed what I thought, that the loud grinding noise I hear whenever our rig steps go in and out is caused by a bad motor. So that's next up on my repair list as soon as I order a new motor.
My next call was to Mobile RV Glass to see about resetting our passenger side windshield. It was broken when our rig was being repaired in Prescott, AZ after our blowout in May 2015.
As they were lifting the front end to replace the damaged diesel tank they torqued it enough to crack the passenger side windshield. So it was replaced during the blowout repair.
But after a couple of months back on the road, the windshield and the gasket starting pulling away from the frame, leaving a gap at the top right of the windshield.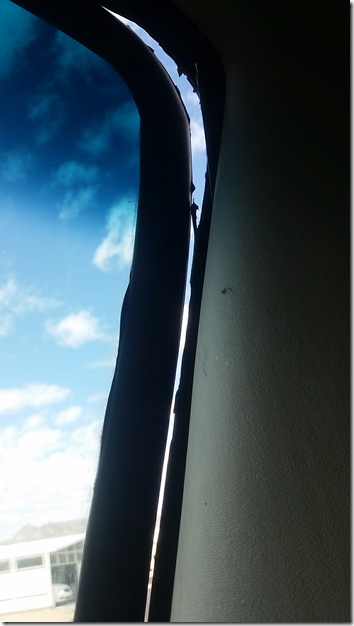 It's not in any danger of coming out, as you can pulled on the windshield at the crack and it won't budge, and it's not loose at all.
I had tried several times over the last few months to get a guy in Conroe to come out and look at it, but he never showed up. So I figured that Apache Junction would be a good place to tried again.
---
---
The guy at RV Mobile Glass asked me to send him photos of the separation, and also the front of the rig to be sure it's still square.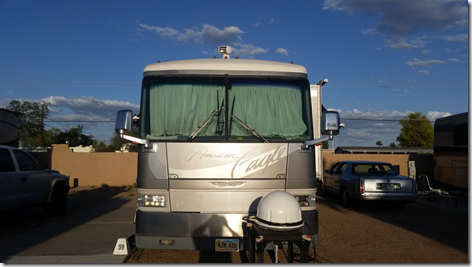 Looks fine to me.
About 2pm we headed out a for a Wal-Mart run to drop off some prescriptions and pick up a few things. Then it was back to the rig to drop off the cold stuff and off to the SanTan Village over in Gilbert to have dinner at one of our favorites, Famous Dave's BBQ.
Service was somewhat slow, I think due to the fact that they only had one server on duty who was handling 6 or 7 tables plus the outside patio area. But the food was as good as ever.
We both started out with salads, very good salads with a really great Ranch dressing.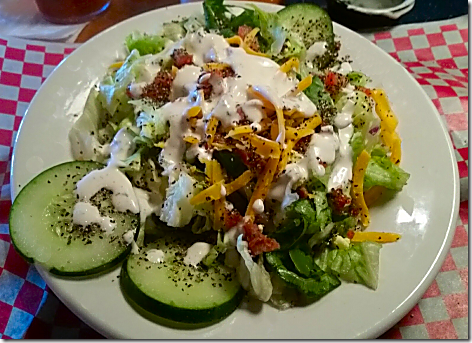 Then we both went with our usuals, Jan with her Half Slab of St. Louis Ribs with Fries,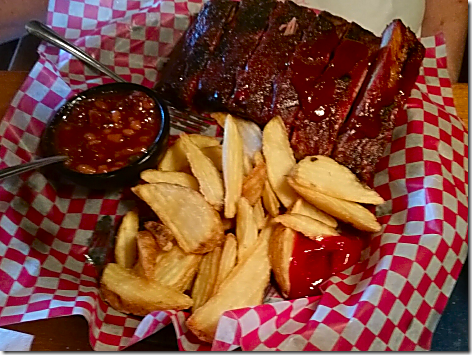 while my choice was the 3 Meat Combo with St. Louis Ribs, Texas Brisket, and a Hot Link Sausage, along with Wilbur Beans and Firecracker Green Beans.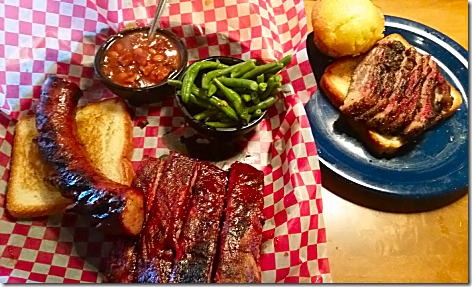 Famous Dave's has a range of sauces, with our favorites being a combination of Devil's Spit and Sweet & Zesty. I also spice things up a little more with some Wilbur's Revenge, their hottest sauce. All good.
---
---
And as usual, we both had plenty leftover to take home.
I've been having trouble answering comments on the blog, so bear with me if I haven't responded.
---
Thought for the Day:
"I did not attend his funeral, but I sent a nice letter saying I approved of it." ― Mark Twain
ghdghdg