Daily Archives:
March 29, 2017
After our morning coffee, and while Jan read, I spent the morning working on a new website proposal for a customer. Hopefully he'll like it.
---
---
Then about 1:30 we headed out for some errands and then later an early dinner. Our first stop was a nearby O'Reilly's for another jug of AW32 Hydraulic Fluid to keep on hand for when I need to top off the rig's reservoir next time.
Then it was off to the car wash next to Countryside RV Park where we've stayed several times before. It did a pretty good job, but not as good as the ones at HEB or Ocean's back in the Houston area. This one didn't have the separate rotary brush on an arm that comes down and scrubs your wheels.
Next it was on to Wal-Mart so Jan could get her hair cut while I picked up our prescriptions and then shopped for a few things while I waited for her to be finished.
Since the Jan's Chili got put on hold until tomorrow, leaving Wal-Mart, we made the 20 minute run over to Gilbert to have an early dinner at Joe's Farm Grill, another of our favorite places here in the Apache Junction area, and also featured on Triple D with Guy Fieri.
We've eaten here a number of times, including with our friend's Nick and Terry Russell, and it's always been great.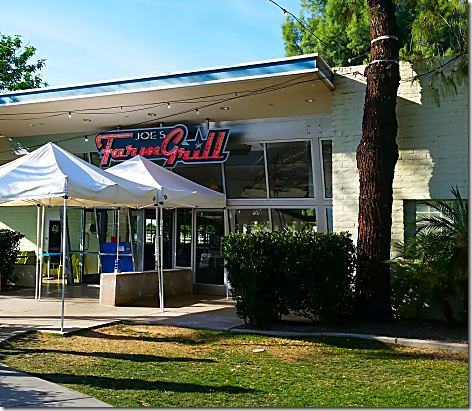 And today was.certainly no exception.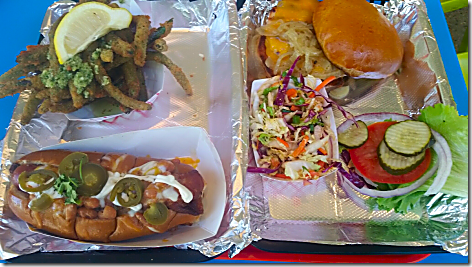 We each got our favorites, with Jan's Grilled Chicken Sandwich with Cheese, Grilled Onions and Avocado, along with a side of their Asian Slaw on the right, while I got the Sonoran Dog with a side of their Fried Green Beans with Pesto on the left. The green beans are fantastic and big enough to share.
---
---
And of course we couldn't leave out a big glass of their homemade Strawberry Lemonade, made from strawberries and lemons grown right here on the property.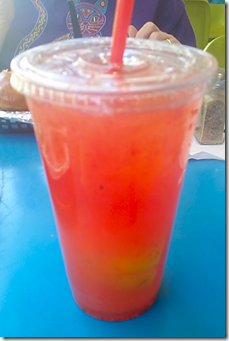 In fact, much of the fruits and vegetables used in the restaurant are grown right here on the adjacent farm. And actually the restaurant itself was built around the family home built in the 1960's.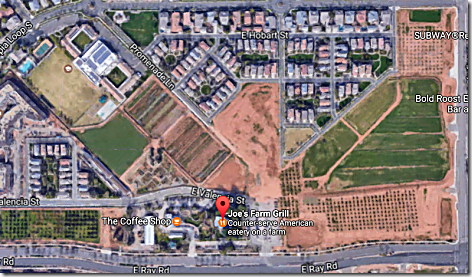 All of the brown and green areas are the farmland next to the restaurant.
I still haven't heard back from the glass people yet, so hopefully soon. And based on suggestions from several blog readers, I'm casting a wider net looking for new window awnings for our rig.
---
---
So thanks for everyone's suggestions and ideas.
---
Thought for the Day:
"It is harder to crack prejudice than an atom." ― Albert Einstein
ghdg