La Posta de Mesilla . . . & More
Continuing with yesterday, La Posta de Mesilla, located in the Old Mesilla section of Las Cruces, has been around in one form or the other since the 1840's. In the 1850's it was the hub of a local passenger and freight line to other nearby cities.
---
---
After the Civil War it was an major stop on the Butterfield Stage Line, and in later years it hosted the Corn Exchange Hotel, one of the finest ones in the Southwest. The site continued with various hotels and restaurants until the early 1900's. Then in 1939 La Posta de Mesilla was born, and continues until this day.
I first ate at La Posta in January 1981 when I was out at the White Sands Missile Range helping to prep the Space Shuttle's backup landing site for the first launch in March.
I told Jan how great the food was and that we'd have to go sometime. And only took us 26 years to get back there.
We first visited La Posta together on our first RV trip in March 2007 in our rental CruiseAmerica Class C, and we've eaten here every time through since then.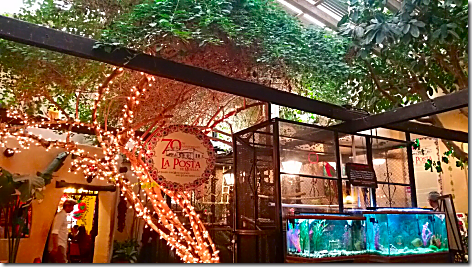 We always get one of the House Specialty's, partly because they're delicious and partly because they come with dessert.
I had the Specialty Combination #1,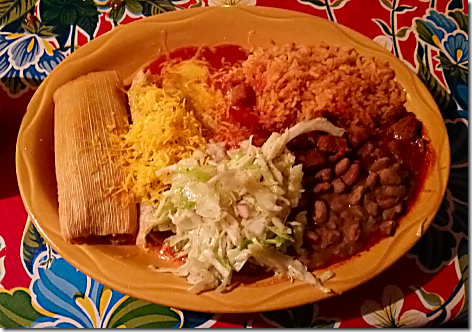 while Jan had the La Posta Chica.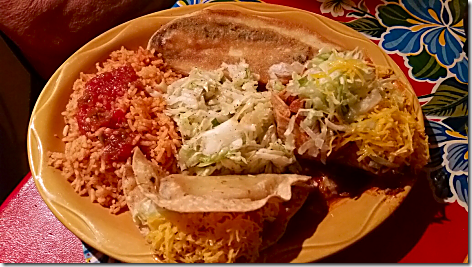 Both as delicious as always, and the reason we keep coming back, time after time.
And of course, we finished up with our Empanada desserts, with mine apple, and Jan's favorite, Pumpkin.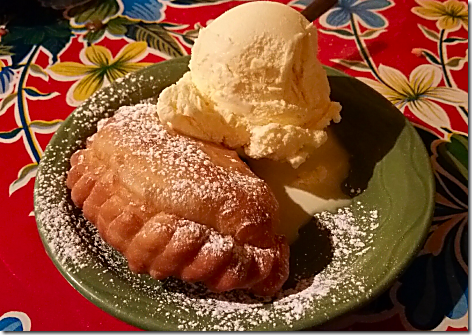 One thing we both like is the New Mexico take on Mexican food. I guess it's New Mex-Mex, rather than our usual Tex-Mex, with more pork and green chilies in the dishes. Really good and really spicy.
Today was a nice sleep in, rest up day with nothing much on the agenda. We headed out for lunch around 1pm, off to our other favorite Las Cruces Mexican Place, Cha Chi's, over by the University.
---
---
We were told about Cha Chi's when we were here in 2012 having our rig worked on. The Rush Truck Center manager recommended the place, and we were not disappointed.
Again more New Mex-Mex with great green chili salsas and pork chili con carne.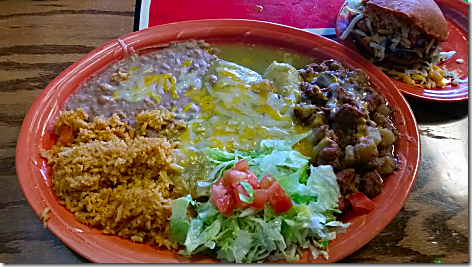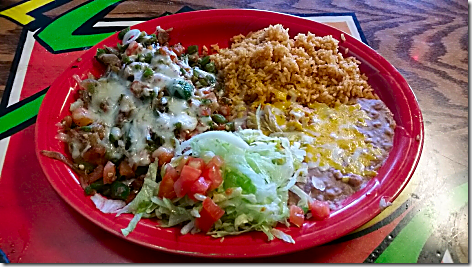 Then it was on to a nearby Ace Hardware for some brass screws for my permanent trim strip repair, and an O'Reilly Auto Parts
Back at the rig, I took a look at a house battery problem I had noticed the last couple of days. And I quickly found the cause.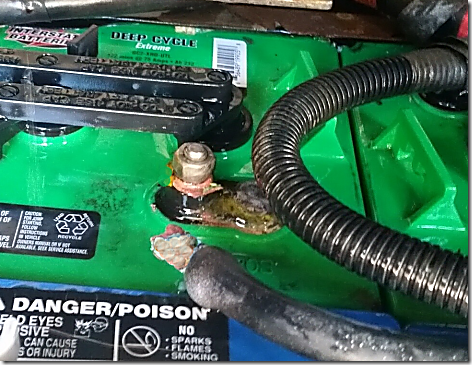 One of the cables connecting the two battery banks had almost completely broken off, not by corrosion, but by flexing from vibration. And strangely, this same cable did the same thing about 5 years ago.
And when I made up a new cable at a local marine supply place in Seabrook, TX I made a spare. So my spare got installed and everything should be OK now.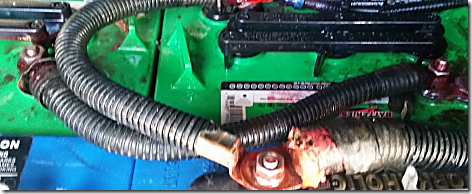 Tomorrow we've got a 230 mile trip over to Cochise Terrace RV Park in Benson, AZ, where we'll be for 4 days until we move over to Voyager RV Park in Tucson for the Escapees Escapade.
---
---
And along the way we'll make our usual lunch stop in Lordsburg, NM at Kranberry's, a really good restaurant with RV parking in the back.
---
Thought for the Day:

Insanity does NOT run in my family. It strolls through, takes its time, and gets to know everyone personally. —T-SHIRT

kljhkljlkj