Monthly Archives:
September 2017
Jan and I were on the road by 10am, heading about 80 miles south to the PPL Motorhome lot at the intersection of Beltway 8 and I-69/US59.
---
---
We got there about 11:30 to find Nick and Terry Russell already there waiting for us, having left Beaumont about 9.
Nick was bringing their Winnebago RV over from Florida to put it on consignment at the PPL lot, hoping to sell it with less trouble than he's been having trying to sell it himself.
I was surprised to see that PPL now closes on Sundays. Don't know how long that's been going on, but I'm sure it wasn't that way back in 2007 when we were looking to buy from them. Besides, it seems like Saturday and Sunday would be their two biggest days. But even though they're closed, there are sites with full hookups outside the locked gates so people can park overnight waiting for them to open the next morning.
After catching up for a half hour or so, we all piled into their Ford Explorer and drove down US59 to have lunch at Floyd's Cajun Seafood. We first ate at this location with Lowell and Landon a couple of months ago after Landon's hockey practice, so we knew it would be good, as all the Floyd's are.
Jan got her usual Chicken Fried Chicken with fries,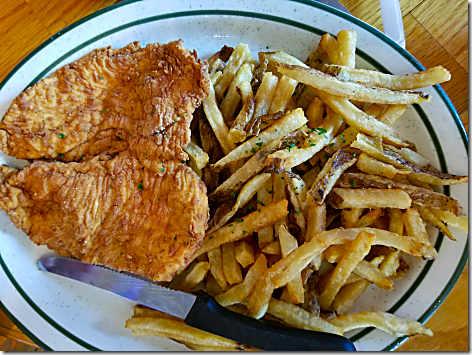 while I went with my favorite, a bowl of Shrimp Gumbo.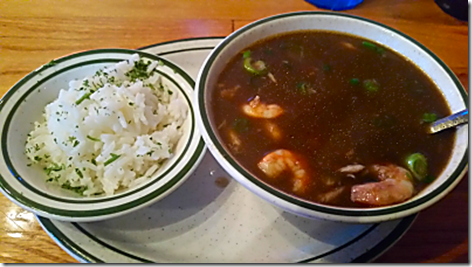 Nick, however, went a little to the wild side, with an order of Fried Alligator Bites, saying it was the best he'd every had.
---
---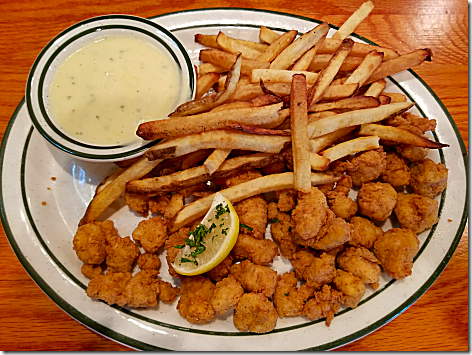 Miss Terry wrapped things up with an order of Crawfish Half and Half, half Fried and half Étouffée.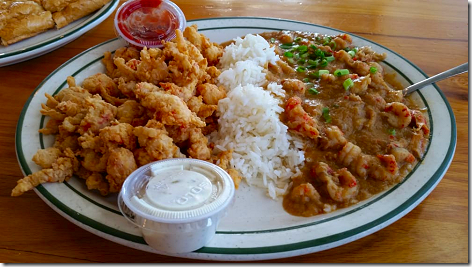 And after a great meal and a lot more talk, we headed back to the rig about 2pm.
---
---
And then began the End of An Era.
Although we had met Nick and Terry at RV rallies, starting in March of 2007, we didn't really become friends until early October of 2009 when we both ended up at the Elkhart RV Park in Elkhart, IN, after his Gypsy Journal RV Rally in Celina, OH.
It was a cold, rainy afternoon when Nick knocked on our door and said those fateful words, "I hear you're good at fixing things."
And thus, a friendship was born.
They had just bought their 2002 Winnebago Ultimate Advantage, the one they're now selling, and knew when they bought it that the gas side of the water heater didn't work. And now suddenly, the electric side didn't work either.
So a few minutes later, there I was out in the cold, with Nick holding the umbrella over me, while I found the problem with his water heater. One of the small thermal fuses had blown, so I spliced around it and told him to get a replacement the next day at the RV place next door.
And now today, coming full circle, I was doing my very last repair on his Winnebago (I hope). Nick had a replacement latch that needed to be installed on one of his bay doors. To do that I had to drill the pop rivets out, disconnect the old one from the mechanism, install the new one, and then rivet it back on.
Only took about 15 minutes, but as they say, there's a last time for everything.
Finally about 6pm, after getting our goodbye hugs, Jan and I headed back to Punkin, getting home about 7:15.
Tomorrow is another Clear Lake day, so it's on the road again.

---

Thought for the Day: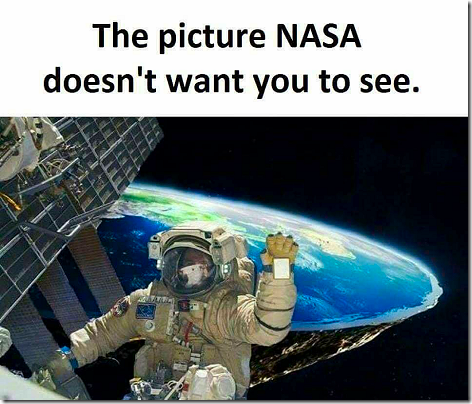 adfadfad
Well, I did leave the rig today after all. I took a bag of garbage about 50 yards down the road to drop it in.
---
---
I did try to flag down the park lady who mowing the grass, but she was too far away. I'm still trying to pay for our stay here, but no luck so far.
I did finally did flag her down a little later and told her I had a check already made out for what I thought was the right amount, 11 days x $14.50 = $159.50, but she said she'd check it out and let me know. If she's not in any hurry, neither am I.
I came across a website recently that's a big help for me, though it might not be something you need. It's called www.uptimerobot.com.
It let's you monitor up to 50 websites, checking every 5 minutes to see if the sites are up. If one goes down, you get an email telling you. Then you get another one when it comes back up, which also tells you how long the site was down. Handy for yelling at your ISP about website downtime.
---
---
Even better it's free. And if you need to monitor more than 50 sites, or want your sites checked every minute instead of every five, it's only $5 per month.
Check it out!
Several readers commented on yesterday's blog about how much Jan's 2nd grade photo looks like Landon, and these are people who have only seen Landon in photos on the blog. And they're right.
Previously a number of readers have commented on how much Landon and I look alike at that age. And now this.
Blog reader (and friend) Tricia said this.
"I always thought that Landon looked like you, but I after seeing that picture of Jan, I see some resemblance there too. It's funny how he can look like both of you, since you don't look anything like each other!
Genetics is an amazing thing.
For example scientists recently announced that according to genetic DNA studies, all blue-eyed people (including me) are due to a genetic mutation in a single common ancestor, dating back to about 6000 years ago.
---
---
Tomorrow we're heading down to PPL Motorhomes about 10am to meet Nick and Terry Russell as they deliver their Winnebago coach to be sold on consignment. Really looking forward to meeting up with them.

---

Thought for the Day:
You shall know the truth, and the truth shall make you mad. – Aldous Huxley
fgsfdgsfg