Monthly Archives:
January 2018
What work I got done today was done around the remodeling that's being done in the office. So there's pieces of sheetrock and sheetrock dust everywhere. A real mess.
---
---
Coming home this afternoon, I picked up a call-ahead order from the El Pollo Loco in Webster that's right on the way home. Unfortunately this will probably be the last time I'll be able to do that, since there was a sign on the door saying that they were closing permanently on Thursday, Jan 25th.
It's never very busy so I guess it just didn't make it. That does still leaves the one in Victory Lakes that's actually closer to home, but it's a real pain in the rear to get to, where it's located in the shopping center. But I guess we'll have to now.
Jan and I don't consider ourselves 'coffee connoisseurs', but we do know what we like. In the past we've really liked Kroger's house brand, Private Selection, which runs about $6.99 per 12 oz. bag (remember when coffee actually came in 16 oz. bags.)
But recently while I was at Wal-Mart, and knowing that we were low on coffee, I decided to take a chance on a couple of bags of their Great Value house brand. And at only $3.99 a bag. And we like it better.
It smells better when it's brewing, more coffee like. And it has a much richer coffee taste too.
Sometimes cheaper Is better.
Looks like tomorrow will be nice enough, not really warm, but not raining and/or cool, either, to put up the other new bedroom awning. But we'll see how it goes.
Jan and I had started planning on our next RV trip, coming up toward the end of June, when we'll head up to Vandalia, IL for another big family reunion with Jan's sister, Debbie and her family. And it looks like Chris, Linda, and Miss Piper, and Brandi, Lowell, and Master Landon will be there too.
Then coming home we'll detour a little east and come back down through north Alabama to visit with my relatives for a few days.
While I was working on the websites last week, Jan and I were watching a Cash Cab marathon on GSN (Game Show Network). If you haven't seen it, passengers hail a New York cab, only to find that they're on a mobile TV game show.
As they travel to their destination, they're ask questions of increasing difficulty and prize amounts. Along the way they get two Shout Outs, one mobile and one street-side. With the mobile shout out, they can call a friend to get help with an answer. With the Street Shout Out, the cab pulls over and they can ask a random person on the street for help.
---
---
If they miss a question, it's a strike, and with three strikes they out. As in out of the cab. They're tossed out on the street, hopefully not in a bad neighborhood. If they make it to their destination without striking out, they can take the money they've won and walk away, or they get a chance to play Double or Nothing..
Like pretty much all 'reality' shows there's a lot going on behind the scenes that you don't see. Only about half of the contestants are actually random passengers on the street. For the other half , they're recruited elsewhere to be on an unnamed game show and they get in the cab thinking it's going to take them to the game show location, and then find out that the cab IS the game show.
When the random riders from the street get in the cab, they spend about 10 minutes with a production assistant who's riding in the front passenger seat, signing waivers, learning the rules, etc., before the ride/game actually starts.
If they win money, they're shown leaving the cab with the cash in their hands, but they don't get to keep those bills. The production assistant take the cash back from them, and then they get a check in the mail with the taxes taken out.
Finally, the biggest winner on the show won $6200, while most winners are in the $500 – $1500 range.
It's a fun show. Check it out.
Tomorrow afternoon we've got a get-together with RV friend's Jan and Dale, once again at Cheddar's.
---
---

The Word of the Day is: Leonine
---
Thought for the Day:

A tiger doesn't lose sleep over the opinion of sheep.

gsfgfg
A few days ago we were running three heaters and hugging Karma the cat to keep warm. Then yesterday and today we were running the AC's in the rig.
---
---
You never know what to expect from Texas weather. And it's supposed to get cold again in the next few days.
My new toy is a Harmony Home Hub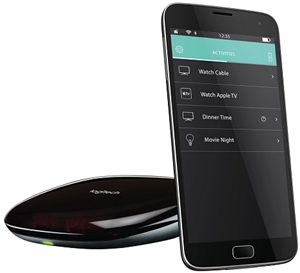 The first thing it does is allow you to control pretty much any entertainment device from your phone. But even better it allows you to set up 'activities' or schedules for your devices.
You can set up an activity called Play DVD. When you click it, it will turn on your TV, your DVD player and your audio system. Then it will PLAY the DVD for you.
Or you can set it to turn the TV, change the channel on your DVR and then start RECORDing. Pretty much any sequence can be programmed.
But the real reason I got it is because it will also interface with our Amazon Alexa. So that we can now turn the TV on or off, mute or change the volume, and change channels on the DVR and start RECORD strictly via voice command.
I've got the basics working but still have to assign names to the different activities.
More later.
About 2pm Jan and I headed up into Webster to have lunch at King Food. We once again both had a big bowl of their delicious Hot & Sour soup as well as an order of their Crispy Chicken Wings with Garlic Butter.
We were introduced to them by Brandi and Lowell when we were all together at King Food for our big Christmas Eve get-together last December. And now we get them every chance we can.
Finishing up a nice relaxing meal, we drove up to the nearby Wal-Mart for prescriptions and a few groceries. And that's where my close call came about.
While I was waiting for Jan, I used my phone to scan my Wal-Mart receipt with the Savings Catcher App. Then I put the phone and the receipt in the bag with prescriptions. But it didn't stay in the bag.
It fell out of the bag somewhere along the way and I missed it in the cart. And the reason I know it was in the cart is that I have a photo.
As soon as I got home and discovered it wasn't in the pharmacy bag, or any bag for that matter, I got on my computer and went to WheresMyDroid.com. Clicking on my account and logging in, I clicked on S8+ and clicked on Location. And here's what I saw.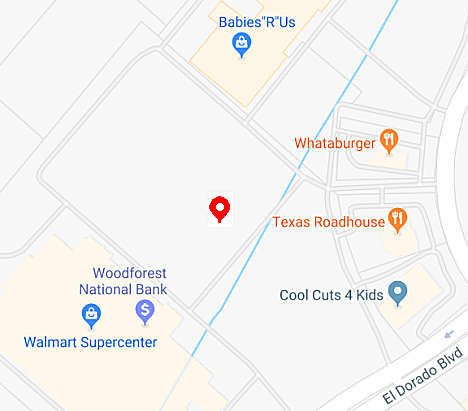 My phone was still in the Wal-Mart parking lot. So I grabbed Jan's phone and headed out the door.
---
---
At the first stop light I encountered, I clicked on Where's My Droid's camera icon and then clicked on Front. which got me a blank photo. Then when I clicked on Back, I got this photo.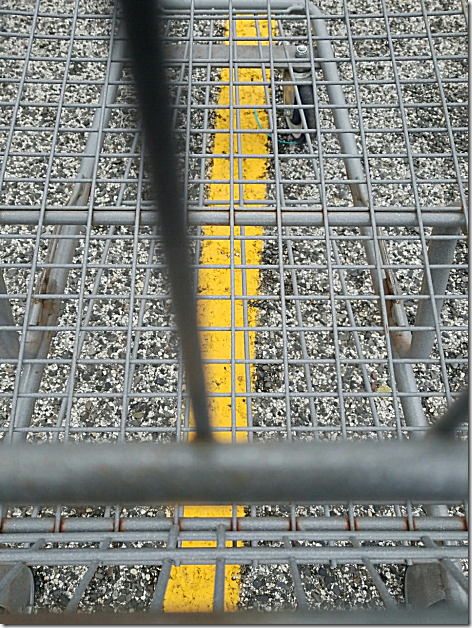 My phone was still in the shopping cart where I left it.
By the time I got to the Wal-Mart lot my phone's location had changed to inside the Wal-Mart, and in the approximate location of the Customer Service office.
And here you can see it sitting in a bin under the desk.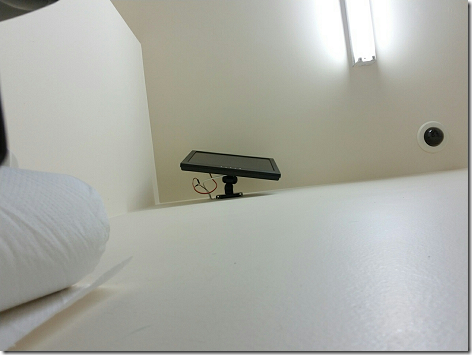 When the guy pulled it out from under the counter, he ask if I could prove it was mine. So I said, "How about I show you a photo of me on the phone?"
He said, "Sure."
But when I showed him this one,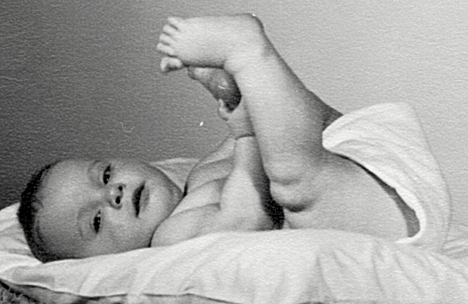 but he didn't buy it.
So I told him to look at the phone and I used Jan's phone to take a photo of him on that phone.
He liked that one, so I headed home.
Where's My Droid not only tracks my phones and let's you take photos of its location, you can lock the phone remotely, even if you don't normally keep it locked. And if worse comes to worse, you can completely wipe the phone of all your personal data, even if it's turned off.
Once you set it, as soon as the phone is turned back on, it's wiped.
Check it out.
A close call, indeed.
---
---

The Word of the Day is: Vulnerary
---

Thought for the Day:
Having an opinion is not the same as having the answer.
gsffssg