Monthly Archives:
July 2018
Today was the first day since we got back from our recent trip that we pretty much did nothing.
---
---
Really nice!
We both just goofed off, read, and computered until about 2pm when we headed out for lunch, and a couple of other stops.
We had heard good things about a nearby Mexican restaurant, San Lorenzo, so we thought we'd give it a try.
it's always a good start when you begin with really good chips and salsa, especially the salsa, which was delicious and warm. A really tasty contrast with the chips.
Jan tried a variation on her Cheddar's favorite, Key West Chicken and Shrimp, with San Lorenzo's Pollo Margarita with Grilled Veggies.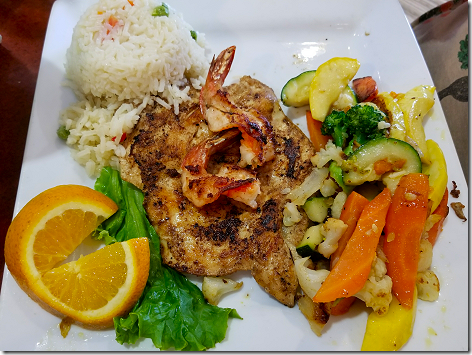 She said she now has a new favorite.
I got the Combo Fajitas Poblano, with Chicken, Beef, Onions, Grilled Smoked Poblanos, and Bacon, all covered with Monterey Jack Cheese. Really great, and big enough that I had leftovers to take home.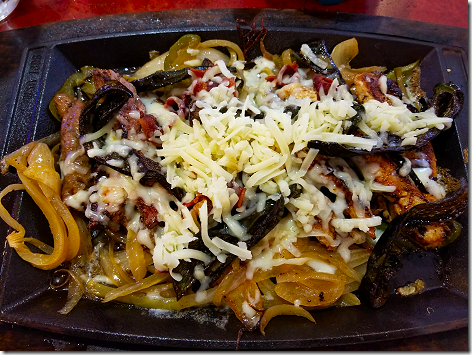 I think we've found our new favorite close-by Mexican place. Nice since the Dickinson's Monterey's was put out of commission by Hurricane Harvey and still hasn't come back.
Next up was a Home Depot stop, a WalMart stop, and a quick visit by the house before we finally got home a little before 5pm.
I did successfully order one item during this past Monday's Amazon Prime Day. Don't know if I got in early enough, or was just lucky not to get caught up in all the problems they had, but I ordered a new Echo Dot, and received it on Wednesday, right on schedule.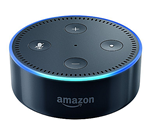 This is the 3rd Dot we've bought, along with our original Amazon Echo. One Dot is back in our bedroom to give us Alexa access back there. Another one I have on my desk at work to use when I'm there.
And the new one is to keep in our truck for use on the road. I just hotspot my phone and we're good to go. We use our full-size Echo when we're traveling in the rig, but it's really too big for the truck. So now we have one to just leave in the console ready to go when we are. And at $20 off for Prime Day, $30 instead of $50, it was a great deal.
Readers will remember a while back when I built a 50 amp tester for RV pedestals that lets me test a pedestal's power for just about any fault.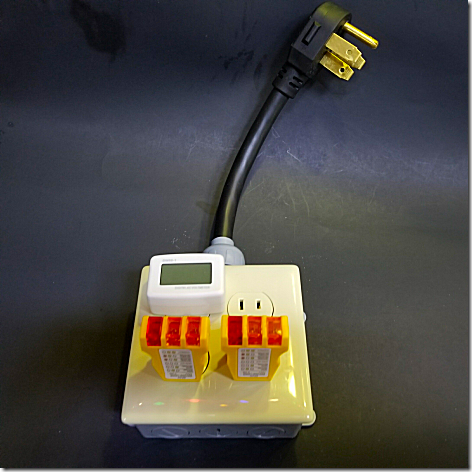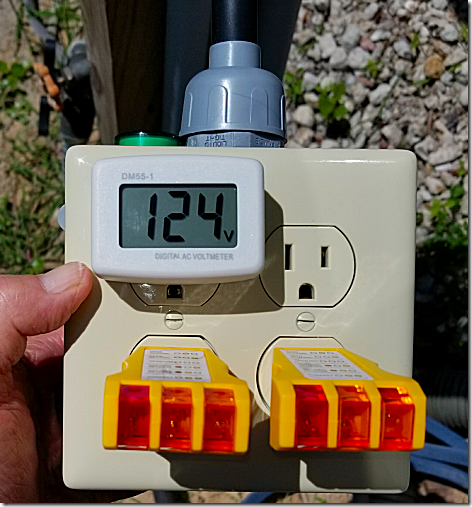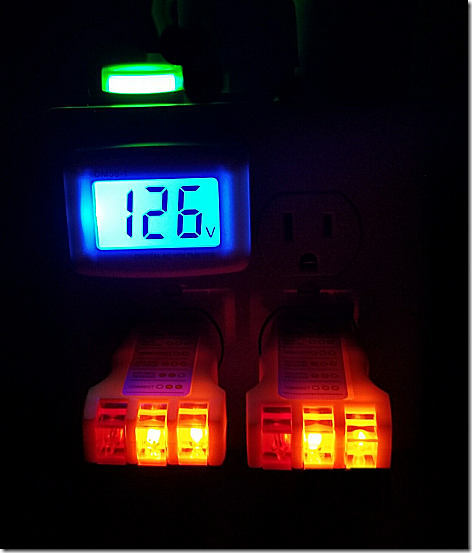 The reason I only used one voltmeter is that it was too wide to fit side-by-side with a second meter, or the fault tester either. So I have to move mine back and forth.
Now Paul, one of our readers, has one upped me with his version.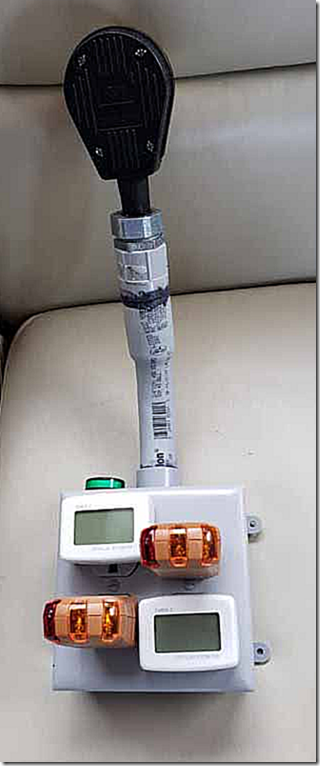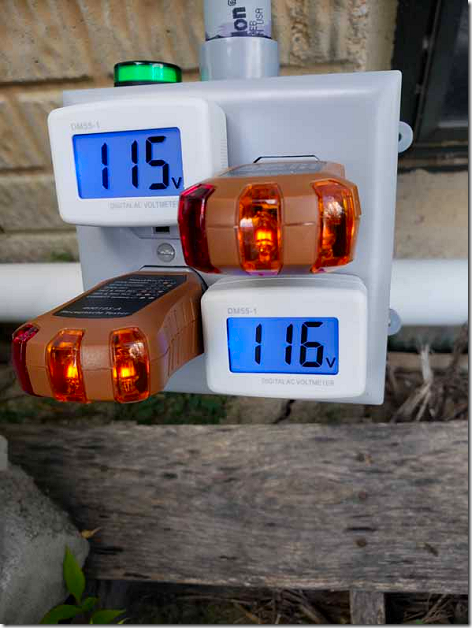 For his version, he modified the back of the meter to make it work side-by-side with a fault tester. Nice work, Paul.
Since I reinstalled our Splendide washer/dryer after the repair, we've run about 6 loads through it with no problem, and, more importantly, no leaks. Turned out it was nothing serious, just a hose had come loose.
---
---

Thought for the Day:
I once found a needle in a haystack, but unfortunately it wasn't the one I was looking for.
asdf
My Bacon Number post got a lot of responses, including readers with connections to Patsy Cline, John Wayne, and Willie Nelson, among others. But we have one BIG winner.
---
---
Now I thought I was doing pretty good with my list:
Eleanor Roosevelt
Margaret Mead
(Met them at lectures at Peabody College in Nashville with my mother when I was 10-11)
Werner Von Braun
(Met with my father when he worked at Boeing in Huntsville during the late 60's on the Apollo project.)
Deke Slayton
(Was my late best friend's brother-in-law)
Deng Chao Peng (Chinese Chairman)
Barbie Benton
Richard Feynman
Jim Oberg
(Met while they were visiting NASA-JSC when I worked there from 1978-1987.)
John Glenn
John Young
Bob Crippen
Walt Cunningham
Neil Armstrong
Ed Aldrin
Scott Carpenter
Gordo Cooper
Sally Ride
Anna Fisher
Bill Fisher
Story Musgrave
(Met at NASA-JSC when I worked there from 1978-1987.)
*** Challenger 7 ***
Dick Scobee
Mike Smith
Judy Resnik
Ellison Onizuka
Ron McNair
Greg Jarvis
Christa McAuliffe
(Met at NASA-JSC when I worked there from 1978-1987.)
Col. Sanders
(Met while working at a new KFC while in college in 1967. This was when he still visited every new store.)
Willie Mays
Jesse Owens
(Met while working as a Broadcast Engineer at a black radio station in Birmingham.)
Fanny Flagg
(She was my baby sitter when I was a kid. Her real name is Patricia Neal. Her family and mine were close friends.)
Sean Connery
Katherine Ross
John Saxon
Leslie Nielson
Robert Conrad
(Met them while I was at White Sands for the STS-3 Shuttle landing. We were all staying at the same hotel in Alamogordo while they were filming "Wrong is Right".)
The Mamas and Papas
Gene Watson
Chet Atkins
Floyd Cramer
Boots Randolph
Al Hirt
(Met while playing in bands in Nashville in the mid 60's)
Kenny 'Snake' Stabler – Super Bowl-Winning Quarterback
(Played High School football with him at Foley High School, Foley, AL and my mother was his tutor in some subjects after school.)
Jimmy Buffet
Almost certainly met him as a kid when he used to surf at Gulf Shores, AL while I grew up there. In his books he talks about surfing at Alabama Point. My friends and I surfed there too, and talked to the kids from Mobile. He's about two years older than me.

---
But I think friend and blog reader Boots Gibson has me beat. Here's hers.
---
I met and/or cared for quite a few well-known people in my 50 years in the medical field. A few are:
Gabby Hayes,
Barbara Stanwyck,
Red Foxx,
Ralph Bellamy,
Elizabeth Taylor's mother,
David and Ricky Nelson's parents (Ozzie and Harriet) and grandmother,
David Soul,
Ryan O'Neal,
Baryshnikov,
Evel Knievel,
Richard Burton,
Gary Busey,
Peggy Lee,
Jimmy Durante,
Casey Kasem,
Euell Gibbons,
and she just missed Elvis!
Elvis visited someone in the afternoon when I wasn't working yet but when I got in for the evening shift the place was still all a buzz. Those are a few I remember off the top of my head, but there were many others.
Celebs get sick just like us mere mortals!
---

Someone asked why, the other day, I mentioned picking up our prescriptions from both Sam's Club and WalMart. Why two different places?
My answer – Because it's cheaper. Of course.
WalMart has their $4 – $10 list, so we start with that. Whenever our doctor wants to prescribe something new, we check the list and coordinate with her on it, trying to pick the cheapest one.
But our fallback is Sam's Extra Value List, their own version of the $4 – $10 list, but with different, in some cases, more expensive drugs. Now, of course you have to be a Sam's Club member, which runs about $70 per year. But to be able to buy under the Extra Value List, you have to upgrade to a Plus membership for an additional $30 per year. But we usually save the $30 upgrade fee on one month's prescriptions.
Right now, all of our prescriptions are on one or the other lists, saving us a lot of money every month.
Nice.
As Sheldon says, "Everything's better with Bluetooth!" And the Jacuzzi people apparently took that to heart.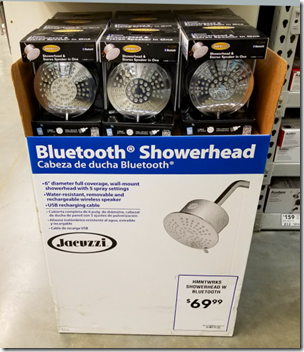 So let me get this straight. You have to plug in and recharge your shower?
---
---

Thought for the Day:
In 1969, we built the C-5A, a transport plane whose cargo bay was large enough to accommodate the entire first flight of the Wright brothers only 66 years before.
dfg