Category Archives:
Uncategorized
Jan and I left the rig a little after1pm heading up to the Clear Lake area.
---
---
Our first stop was King Food for our usual delicious meal of Hot & Sour Soup and Extra Spicy Chicken with Jalapenos in Hot Garlic Sauce. We've been eating here for so long that when we walked in this afternoon, the owner asked, "The usual?"
While we were eating, I got a text message from Amazon saying my new Echo Dot had been delivered to my client's, so after we were done, we went by to pick it up.
Then it was on to Staples to make a return of some card stock we didn't need and then it was on up the Interstate to the Wal-Mart for some gifts and supplies.
I had hoped to get home early enough to install the new awning, but didn't quite make it. I wanted to make sure I had plenty of daylight to finish the job in one session. So now it's put off until Saturday morning sometime. I hope.
Getting home I set up the the new Echo Dot and installed it in the bedroom. Besides the usual Alexa stuff, we'll also be able to use it as an intercom between the Echo in the front of the coach and the Dot in the bedroom. It's called Drop-In, and once it's set up you just say, "Alexa, drop in on the bedroom" and you're in communication.
I mentioned a couple of times in earlier blogs about the video/audio blackouts that I was experiencing on our Direct TV DVR/Samsung TV.
Since the blackouts weren't recorded, but only seen on live TV, I pretty much eliminated a problem with the DVR. And I eliminated the HDMI cable between the DVR and TV by plugging and unplugging it, and wiggling it along the entire length with nary a glitch.
So I was narrowing it down to the TV itself. I did try swapping inputs but the problem still occurred. But before I looked in to replacing the TV under our Wal-Mart extended warranty,, for some reason I swapped out the HDMI cable with the longer one that connects my computer to the TV.
---
---
And after two days the problem had not reoccurred. And then when I swapped the original cable back in, it no longer worked at all. For about 30 seconds, and then it started to work again.
And again, shaking the cable and twisting it didn't make any difference.
Then that evening when we came home the screen was pink with no audio. And once again, no amount of plugging, unplugging, twisting, shaking, wiggling, etc. made any difference to the picture.
So I swapped the long cable back and ordered a new one from Amazon which should be here tomorrow. So it was the cable.
What I still don't understand is why the cable was acting like this. There are no active components, just wires. And if there's a problem, it should be sensitive to any kind of vibration. But every now and then you come across something that makes you say WTH?
Then you just accept it and move on.
---
---

The Word of the Day is: Congressional Staffer in Charge of Investigating Sexual Harassment Accused of Sexual Harassment
---
Thought for the Day:

As a kid, did you enjoy ringing people's doorbells and then running away before they could answer?
Well, they're hiring.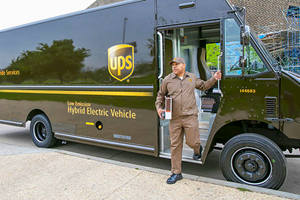 fgsdfg
Please remember, Our RV Adventures is an Amazon affiliate. When you do your shopping through any of the Amazon links here, including the Search Amazon box in the right sidebar, it won't cost you any more, but we'll get a small commission on everything you buy. Just click on the Amazon link, then shop as usual. Thanks.
Plus, many of you are sharing our blog with others using the "Share this:" buttons at the bottom of each blog. Again, Thanks.
---
---
On my way home from work I detoured over by Sundowner Canvas to pick our finished awning and dropped off the old one.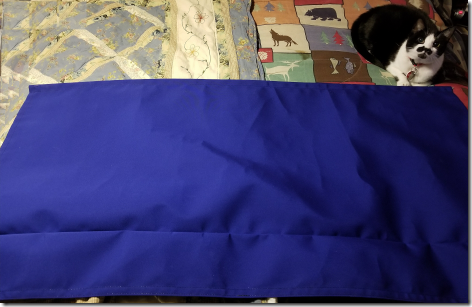 Karma thinks the Ocean Blue looks pretty good.
I'll install the new one tomorrow afternoon and then let them know how it fits. Then they can do the other rear one.
I mentioned a couple of days ago that I was going to take a look at our friend Bob's Kindle. It would not longer charge so I thought I'd pop it open and see what I could do. And unfortunately, that was not much.
First thing I did was check the voltage from the wall charger which showed 5.5 volts, right on target.
This is a first generation Kindle, one that probably a lot of you have never seen.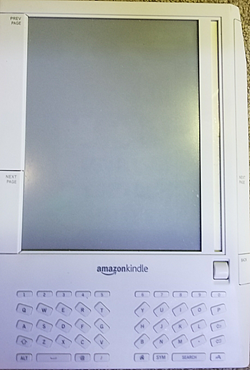 It debuted on November 19, 2007 and cost $400. The first run sold out in five and a half hours and was out of stock for the next five months.
Besides the hardware keyboard, another difference is the fact that the charge connection is separate from the data connection.

The first thing I noticed is that when you plug the charger connector in, it doesn't seem to touch anything, just moves around in the hold.
So taking out the screws under the back cover, I popped the case open.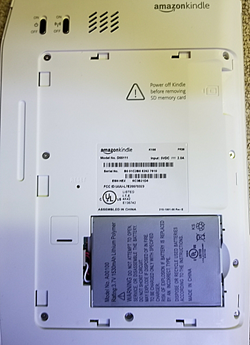 And it was quickly evident why it wasn't charging, and why there was no connection.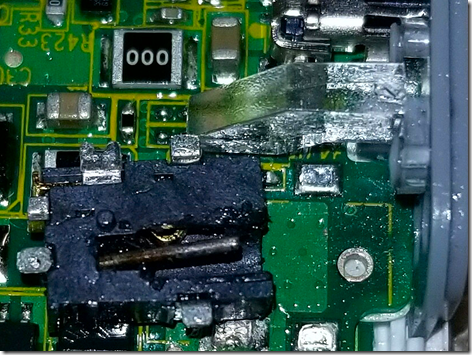 The entire inside connector had melted and broken loose from the circuit board. So it's pretty much toast.
BUT . . . if you were really determined to save it, you could solder two wires to the circuit board contacts and then run them out the old charge connector hole. Then you could install a new connector on the wires and a matching one on the charger wire.
It wouldn't be pretty, but it would work. However, the time involved probably wouldn't be worth it for a 10? year old device when you can buy a new Kindle Fire for $50.
---
---
For dinner tonight we decided to hit up the Grimaldi's Pizzeria at Baybrook Mall. After thinking about it, it's been nine months since we last were at a Grimaldi's and that was this past March in Tucson at the 57th Escapade, where we had dinner with our friend's Chris and Charles Yust.
So it was about time for another slice.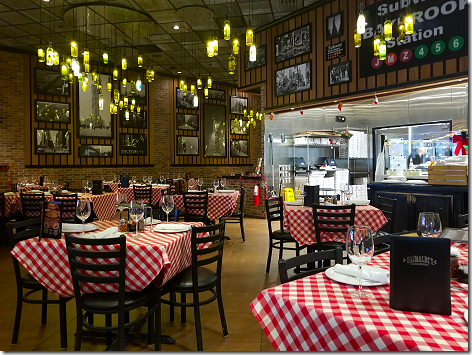 After our Chopped Kale Salad, we got the big (18") pizza with Pepperoni, Mushrooms, Italian Sausage, and Meatballs.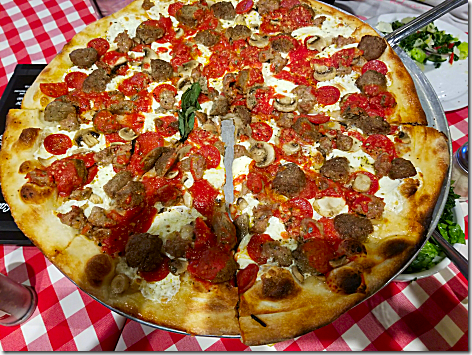 Cooked in their Coal-Fired Brick Oven, it doesn't get any better than this. And we also get the big so we can eat half and take the other half home for leftovers. Yumm!
---
---
The Word of the Day is: Deasil
---

Thought for the Day:
fghdgh