Category Archives:
Uncategorized
Please remember, Our RV Adventures is an Amazon affiliate. When you do your shopping through any of the Amazon links here, including the Search Amazon box in the right sidebar, it won't cost you any more, but we'll get a small commission on everything you buy. Just click on the Amazon link, then shop as usual. Thanks.
Plus, many of you are sharing our blog with others using the "Share this:" buttons at the bottom of each blog. Again, Thanks.
---
---
Catching up on Tuesday, the first thing I did this morning after coffee was to call Voyager Maintenance about my sewer connection. When I tried to hook up a couple of days ago, I couldn't get the cap off. I don't know why people put them back on so tight, but I carry a pair of groove joint pliers (generic Channellocks) in my water bay just for this purpose.
But when I started to twist the cap, the whole coupling started to turn. So not wanting to take a chance of breaking the pipe off in the ground, I made the call. When the guy showed up about 10 minutes later, he said this is a regular occurrence, and that the couplings are not glued down just for this reason. So he was able to quickly replace my coupling with a new one with a loose cap.
My Arizona CCW class went from 12:30 to 3:30, and covered basic laws, common-sense gun safety, and examples of situations where you might or might not use a weapon.
Our instructor, Byron Hibshman of TravelingCCW.com, a 30 year retired LEO, did a great job covering the material, and then leading us through filling out the forms that we will be submitting to the State of Arizona. Then we filled out our two fingerprint cards, after which he fingerprinted each of us so our submission was ready to go.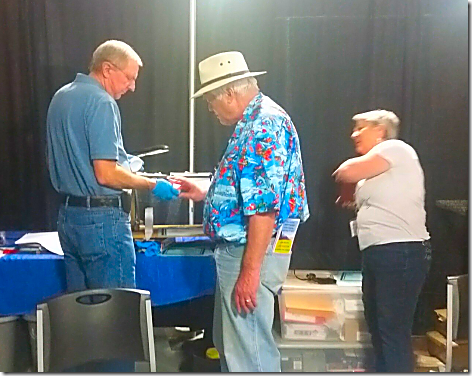 I was the last one to be fingerprinted, so Bryon and I were laughing about having to do this over and over. Between my numerous Security Clearances with the DOD and NASA, a number of financial securities licenses, and others, including gate guard licenses, I'm somewhere north of 70 separate fingerprintings.
And No, despite what you might think, none of them involved a police officer and a pair of handcuffs.
Later, for dinner, Jan and I headed out to the Silver Saddle Steakhouse, a must when we're in Tucson.
Great steaks, really good salad bar and homemade rolls, and even the beans are good. I had the 16oz T-Bone, done perfectly with charred edges and a medium-rare center.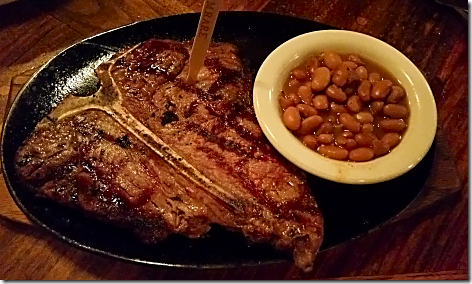 Just as delicious as always.
After that, it was back to the rig so I could finished prepping for our seminar.
---
---
Today, Wednesday, Jan and I got to the Escapade about 10am so she could take in a seminar on Social Media, and I could check things out for our Gate Guarding seminar at 11:30.
I wanted to be sure that my handouts had been copied and were available, and that there was a video projector in the room, since I when I checked yesterday, there wasn't one there. But the Seminar Hosts people had my handouts ready, and there was a projector in the room, so I was good to go.
To kill time until I could get into the room to set up at 11, I made another loop through the vendor area. I was hoping to be able to talk with the Verizon guys about upgrading my plan, but as every time before, I couldn't get anywhere near the booth because of the crowd.
As far as our class, it went pretty well, with almost 70 people showing up, a lot of good questions, and even a couple of big laughs at my jokes.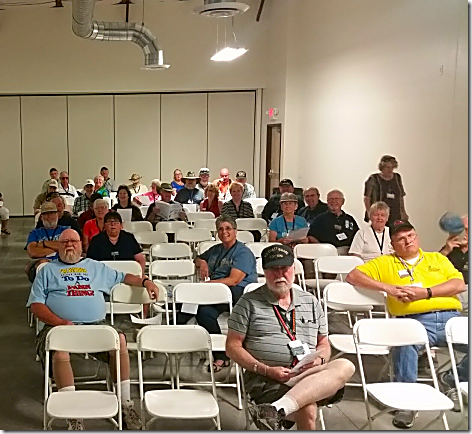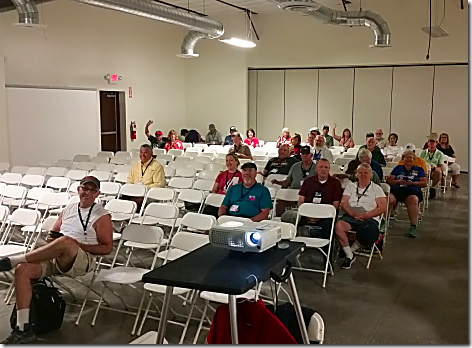 Everyone seemed to enjoy it, with a number of people telling Jan how much they learned from it, including a couple who said they were going to give gate guarding a try based on the information they got from the seminar.
After we were done, Jan and I drove up Houghton Rd. to the Freddy's to bring back a couple burgers for us, and a couple for our friends, Chris and Charles Yust, of C and C RV Insurance, since they were stuck in their vendor booth.
Finally heading back to the rig about 2pm, Jan and I were able to get in a nap for a while until Chris and Charles, who are parked right next to us, showed up.
Today was the last day for the vendors here, so they were finally able to relax. So after they walked the dogs, we all piled into their car and headed out for the Grimaldi's Pizzeria, one of our favorites, and I think, now one of theirs.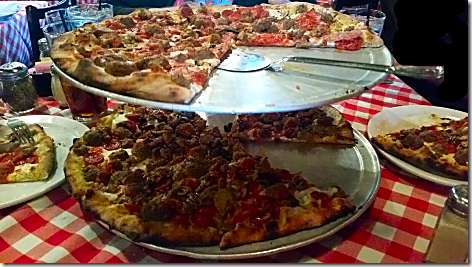 With both of us getting the large 18" model, it took up most of the table. Luckily they can stack them double decker style.
---
---
Tomorrow is the wrap-up day for the Escapade with the closing ceremonies at 3pm, including awarding of the big $4600 door prize.
Looking forward to it.
---
Thought for the Day:
"I take my only exercise acting as a pallbearer at the funerals of my friends who exercise regularly." ― Mark Twain
sfgsfdg
Trying to be sure I have everything ready for tomorrow's seminar.
Oil Field Gate Guarding for Fun? and Profit
Wednesday, March 22nd
11:30a – 12:30p
Old Pueblo Rm. 4
Check Us Out!
---
---
sdfgsdfgsdfg