Category Archives:
Uncategorized
Although Jan really enjoyed her Pumpkin Pancakes at Snooze yesterday, she was still jonsin' for her fav Avocado Toast, and since we both like breakfast any time of the day, any day of the week, we left the rig about 12:45 to have brunch at The Egg and I once again.
---
---
We were hoping that with Snooze open right down the street, we were hoping the Egg wouldn't be as busy as usual, and though they were busy we got seated in just a few minutes.
After a delicious as usual breakfast, we drove by our old house to check it out. We found the sidewalk still ripped up just as it was a couple of weeks ago.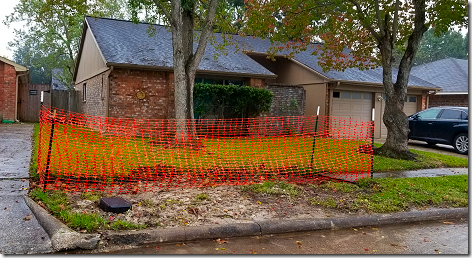 Looks like this had something to do with replacing the water meter box, which is new. Though now it looks like someone is living there. Also there's now a big dent in the left side garage door, to match the one on the right side that Jan put in it about 20 years ago.
Our next stop was the Oasis Car Wash over on Bay Area Blvd for a rainy car wash. We were trying to get the last of the rig oil leak residue off the Dakota. And because it was raining we'll get two washes for the price of one, since if it's raining, or rains in the next 48 hours, you can get a 2nd wash free.
Then it was on down the Interstate to League City Cracker Barrel to order a big pan of their Cornbread Dressing, or as Jan calls it, the only 'real' dressing. Jan says CB's is 'almost' as good as hers, and she doesn't have to fix it, so it's a win-win.
I'll pick it up Wednesday afternoon to take up to Brandi's on Thursday morning.
Our last stop was the Victory Lakes Marble Slab for a couple of small Coffee ice creams, the perfect to finish off a rainy, cold, overcast day.
Updates:
The truck is still running fine, with no problems. I do hear a slight high-pitched whine that I assume will go away as all the new gears settle in. We'll see.
The new Lasko heater is working well with the recent 30's weather we've had. And the old Lasko is also hanging in there, maybe because I threatened to rip its guts out to try and fix it.
Finally:
Yesterday afternoon I noticed that my head has finally started to peel after my recent Photo Dynamic Therapy.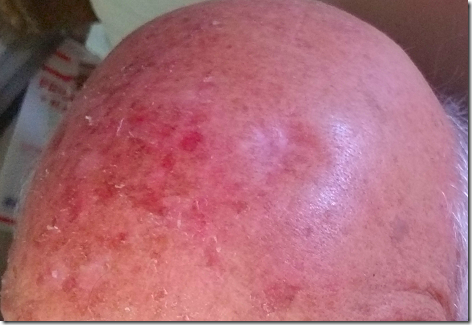 It's about time.
Tomorrow afternoon I'm taking Jan up to Brandi's to Landon-sit while he's out of school this week. Then I'll go up on Thursday (with the Cornbread Dressing) for Thanksgiving Dinner and then bring her back Thursday evening.
Really looking forward to it.
---
---
Thought for the Day:
Veni, Vidi, Visa.
I came, I saw, I shopped.
sfdgsdg
In A Few Dollars.
After a nice, quiet morning and good coffee (a Texas Pecan/Mocha mix) we left the rig about 12:15 for an afternoon of fun, frolic and . . . stuff.
---
---
Our first stop was the J.C. Penney at Victory Lakes, and the Sephora right inside the front door.
And "I'll Be Back In A Few Dollars." was her parting shot as I let her out. Apparently her definition of a 'Few Dollars' is $56.16.
Who knew!
Our next stop was lunch at the newly-opened breakfast/brunch/lunch place, Snooze The AM Eatery.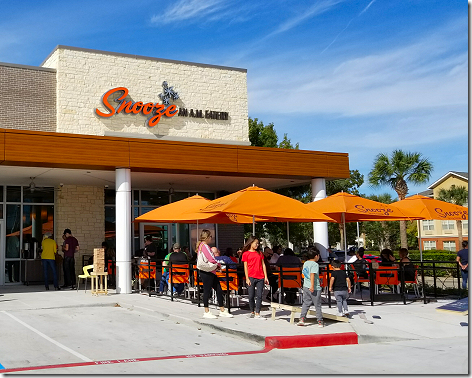 By getting there about 1:30 we had hoped to avoid the weekend crowds, but it seems like a lot of other people had the same idea, so we had about a 30 minute wait.
To speed things up we did take First Available so we ended up outside on the patio, but it was sunny and in the low 70's so it was fine. A little breezy at times, but fine.
One thing different about Snooze from other breakfast places is that it has a full liquor license so you can get Bloody Mary's, Mojitos, and Margaritas, as well as Mimosas and several craft beers.
However Jan and I started out with Lattes, Jan's Pumpkin, of course,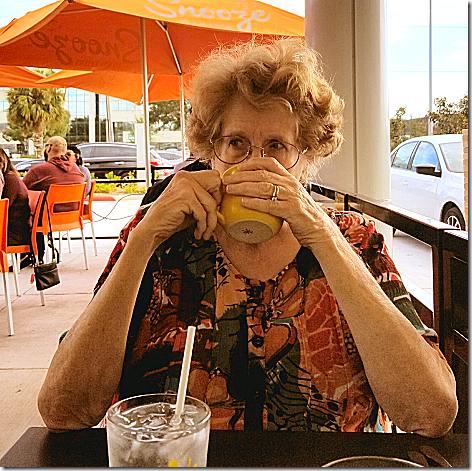 and mine Hazelnut.
Jan went there planning on getting their Avocado Toast, her new fav, but after looking over the menu, and wanting a treat this weekend, she went with the Smashin' Pumpkin Pancakes.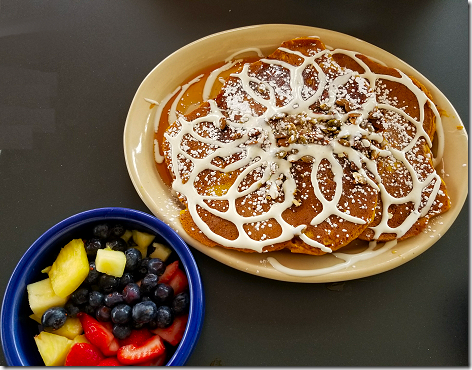 Served with cream cheese filling, and topped with bourbon-infused maple syrup, sweet cream drizzle & maple-spiced pepitas (shell-less pumpkin seeds), she said it was well worth the calories.
And rather than my usual Eggs, Bacon, English Muffin, and Fruit, I went with the Shrimp & Grits . . . and Fruit.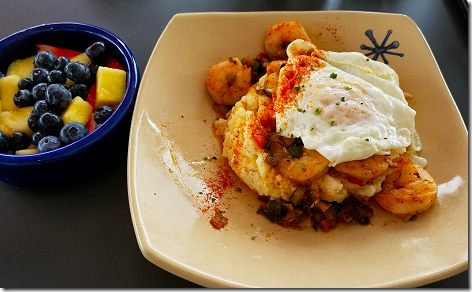 It's cheesy grits with sauteed shrimp, andouille sausage, peppers, leeks, and topped with an over medium egg. Very nicely spiced, but of course could be a little hotter. Next time I'll bring my hot pepper flakes in with me. And a really lot of shrimp.

Everything was very good, and we'll definitely go back, maybe when the crowds have died down a little.
Our last stops were WalMart and Sam's before we headed home about 4:30.
Yesterday morning we ordered some stuff from Costco for the first time, and were surprised to find that anyone can order from Costco.com, but you only get the full discount if you're a member and enter your membership number.
And it seems like Costco is trying to match Amazon, since we ordered yesterday morning at 9am, and it was shipped about 3am this morning. Nice.
Now that I've got a good address in South Dakota, I went online and ordered the new vehicle tags for our Dakota and American Eagle. And I was surprised to find out the price of this year's tag stickers.
Several people had said that since my address had moved from rural Madison to Sioux Falls, that I would be paying a lot more now in a 'wheel tax'. But checking back, this year's tags were exactly the same as last year, $474.40. Still not bad.
So I still don't know about the 'wheel tax', but it didn't make any difference for me.
---
---

Thought for the Day: "Events of importance are the result of trivial causes" – Julius Caesar
jhhj