Category Archives:
Uncategorized
Please remember, Our RV Adventures is an Amazon affiliate. When you do your shopping through any of the Amazon links here, including the Search Amazon box in the right sidebar, it won't cost you any more, but we'll get a small commission on everything you buy. Just click on the Amazon link, then shop as usual. Thanks.
Plus, many of you are sharing our blog with others using the "Share this:" buttons at the bottom of each blog. Again, Thanks.
---
---
We both slept late this morning, probably because it was so cold, and the bed was so warm with our heated mattress pad. And even after we got up it was slow going, but finally about noon we started getting ready for our afternoon drive.
I guess we weren't as out of practice as we thought after our 5 month sojourn here at Petticoat Junction because we were pulling out about 5 minutes after 1. But we didn't get far. Not even out of the park.
I noticed that my Delorme Street Atlas program was not getting a signal from the GPS antenna. Now my normal remedy for this is to unplug the USB connector and then plug it back in, but when I did this I got the dreaded BSOD (Blue Screen Of Death).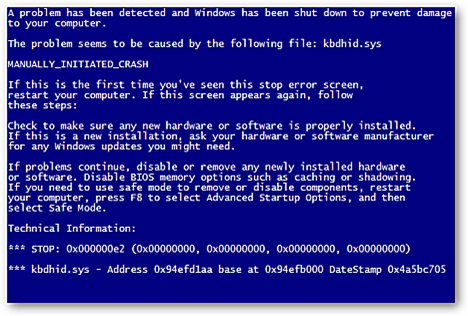 This is what shows up when Windows runs into an error that it absolutely can't handle, throw up its hands, and says "I'm out of here."
So I pulled over to the side and spent about 10 minutes rebooting several times, all with the same result. So finally I just set up my Silverleaf Engine Monitor Display and did without the GPS program.
Normally I have a display like this on the laptop that sits to my right.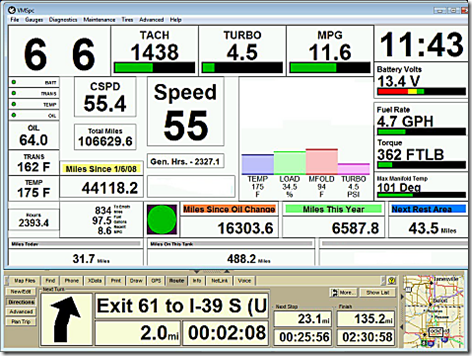 It gives me both audio and video route information, as well as expanded info on the rig and the engine. But now I'll just have the computer display.
We finally left the park about 1:20 and got out on Hwy 6 south for about 10 miles until we crossed under I-45 and onto the feeder and headed back north. We did miss the first turn to get on the feeder, but apparently a lot of people do because it comes up so fast on a blind curve. But they have a handy-dandy U-turn right down the road for people just like us.
---
---
We then had a 12 mile run at Interstate speeds up the FM517 exit at Dickinson. From here we had planned to turn left and take 517 all the way up to Alvin and then back down Hwy 6 to Santa Fe and the park.
But we had done 30 miles with absolutely no problems so we decided to just turn onto FM646 and make a straight run home.
Getting parked back in our site I quickly discovered that we had no power at the pedestal. And it seemed like the problem might be in the breaker. When you turned it on, it didn't make that sharp 'clunk' that you expect, but just a dull 'snap'.
Now when a breaker really goes bad it has a spongy feel, but this one didn't. But it just felt funny.
I texted the park owner about 3:15 who said he would be there shortly. But his definition of 'shortly' must be different than mine because he didn't show up until about 6:30, 3 hours later.
He seemed pretty skeptical that a breaker that worked fine this morning would just die. But after measuring the voltage at the receptacle 2 or 3 times and the taking the cover off, he finally admitted it was a bad breaker. And luckily he had a spare, so we did have to wait until tomorrow for him to pick one up. So about 7pm we finally had power.
Lucky for us was that fact that the temp never made it about 65° today so we were comfortably waiting without needing to run the generator for the AC's.
Finishing up, our test drive, the purpose of all this today, went off without a hitch, with the rig running fine. So we're all set for our Illinois/Alabama trip in June. The only other prep thing is to have the RV Mobile Lube guy come out in May to change out all the filters and fluids on the rig and generator and we'll be good to go.
---
---

Thought for the Day:
We should start referring to 'Age' as 'Levels'. So when you're LVL 80 it sounds more badass than just being old.
sdfgsdfg
The weather turned out to be better than expected today, so I had no problem getting outside for the last few chores before our test drive tomorrow

---
---
I took down our La Crosse Weather Station's anemometer from where it was mounted on a pole zip-tied to the rig's rear ladder.


Next up was to check on the rig's house batteries. I had put off doing them on Wednesday when I found I was out of distilled water. But then today I found that I didn't need the water since all four batteries were filled right up the tippy top. I also added a big scoop of laundry soap and some Calgon Water Softener to our almost-full black tank.

That way during our drive tomorrow everything can slosh around and clean out the tank. Then I'll dump everything when we can get back to the park.

A little before 5pm Jan and I headed over on FM646 to have dinner at our favorite Pho 20. It's been a couple of weeks since we've been there, and they went and changed the menu on us.

Luckily for us, it was for the better. Rather than take away dishes we like, like some places, they've added new ones. And it was a new one that quickly caught Jan's eye.

'Spicy Chili Garlic Chicken with Veggies'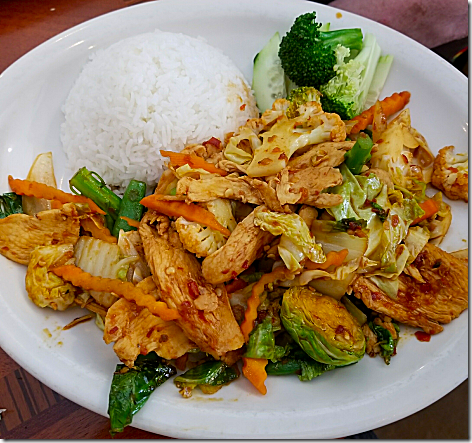 And now it's her new favorite dish there.
---
---
I once again got the White Meat Chicken Pho with Veggies.

One thing like about this dish is that every time it's a little different, or at least the veggies are. When I ask I was told it all depends on what's fresh and looks good at the market. So this time, as well as the usual carrots, broccoli, cauliflower, cabbage, etc., I also got Brussels sprouts and snow peas. Really Delicious.

I've mentioned before that Sherry, the owner of Pho 20, always finds something extra to send us home with. This time it was a big container of their Hot & Sour Soup and a jar of the Chili Garlic Sauce they used to make Jan's new favorite dish.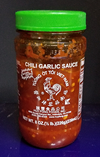 And from the label it's made by the same people that make Sriracha Sauce. So it's got to be good.

We're not in any really big hurry for our 40+ mile trip tomorrow so we probably won't head out until about 1pm. More than likely it will take us an hour or so, since most it is on State roads and not Interstates.

As it stands right now I don't have a place lined up to get propane so we'll wait until later for that.

---
---
Thought for the Day:
Probably the best recommendation for an RV park that I've ever seen.
"Within walking distance to a good BBQ restaurant and a discount liquor store."
What more do you need?
dfghg