Category Archives:
Uncategorized
Back at work this morning, I gave up.
---
---
For the last couple of months I've been trying to move my client's website and online store off the in-house Linux server and up onto Godaddy. But so far everything I've tried has been a dud
To do that I need to set up a new version of Zen Cart on Godaddy and then copy the Zen Cart MySQL data from the Linux server and then just install it on Godaddy's version.
Yeah, right!
Well it would be that easy except that access to the MySQL file is password protected. And the password is not any of the ones from my list of the previous guy's passwords..
But I kind of figured out a workaround only to find that the data file itself is encrypted. Why the hell, I don't know. There's no reason for it.
And even worse, it's encrypted with AES-256 encryption, the same standard used for online banking. So good luck breaking that. So now it's down to grunt work.
We presently have about 1680 products in the database, so my fall-back is to just start copying the individual products over one at a time. It's likely to take several months, but as I told Jan if I'd done this to start with, I'd be done by now.
At least it'll keep me off the streets and out of trouble. Well, one of them, at least.
---
---
We had originally planned to have our left-over El Pollo Loco for dinner tonight, and then eat out tomorrow, but the incoming weather intervened. With tomorrow, we're expecting temps in the low 20's with freezing rain, sleet, black ice, and snow flurries/snow. Sounds like a good day to stay home.
So as soon as I got home we turned back around and headed back up FM646 to have dinner at our local favorite, Pho20.
We both started out with their delicious House Crunch Salad, with Miso Dressing and Tempura Crunches. Then while Jan again went with the Hibachi Chicken,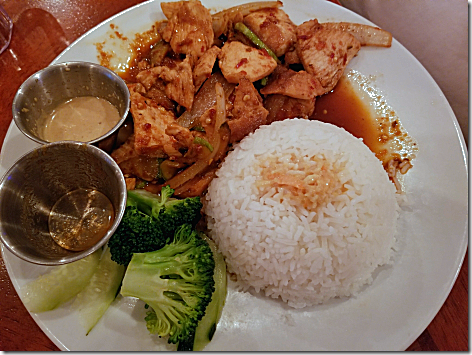 I once again got the White Chicken Pho with Vegetables.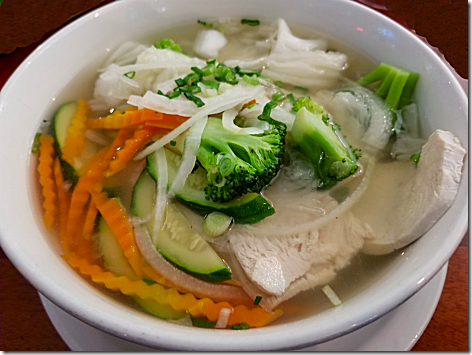 Really good and enough to bring home more than I ate to start with.
Before heading home we made a detour by the nearby HEB for a few things.
Tomorrow I'll double check that our fresh water tank is full and then disconnect us from the Shore Water for the next couple of days, since we're looking at 23° tomorrow night and 26° on Wednesday.
Since we're looking at possible icy road conditions Wednesday morning, we may find that Jan's lithotripsy gets rescheduled. We'll have to see.
---
---

The Headline of the Day: One in four non-believers pray when crisis strikes.
---
Thought for the Day:

Give a man a fish and he will eat for a day. Teach a man to fish and he will eat for a lifetime. Teach a man to create an artificial shortage of fish and he will eat steak. – Jay Leno

hdghgh
Please remember, Our RV Adventures is an Amazon affiliate. When you do your shopping through any of the Amazon links here, including the Search Amazon box in the right sidebar, it won't cost you any more, but we'll get a small commission on everything you buy. Just click on the Amazon link, then shop as usual. Thanks.
Plus, many of you are sharing our blog with others using the "Share this:" buttons at the bottom of each blog. Again, Thanks.
---
---
I really did plan to do the awning today., The weather was perfect, sunny and in the low 50's with no wind.
Bu business intervened. I spent the morning and early afternoon mocking up website designs for a couple of possible new clients.
Separately, two people approached me recently to do sites for them, and I've found that it's easier to get a sale by having something to show them to start with.
I'll know more in the next couple of days.
A little after noon, Jan's urologist called to see how she was doing, and also to say that based on some later test results that came back, he wants to put her on Keflex for the next four days until after the Lithotripsy on Thursday afternoon. Said he'd call it in to Wal-Mart and we could pick it up. This is the second time he's called to check up on Jan, and on a Sunday too. Very nice.
About 4pm Jan and I headed up to Clear Lake to have dinner and pick up the new script. We hadn't been to El Pollo Loco for a while so that was our first stop.
We first discovered them in 2008 when they were only out in California, so it's nice to see them heading east finally.
Jan and I have both been trying to cut down for our New Year's Resolution so we've been watching our calories. And it's amazing the difference between different items.
---
---
For instance, if you get the individual size Chunky Guacamole it's 220 calories. But if you get the same size with chips, it's 980 calories. Or the Creamy Cilantro Dressing is 320 calories, but the Light Creamy Cilantro Dressing is 70 calories, a big difference. And it's hard to taste difference
So by choosing carefully from the menu, all of this was only 820 calories.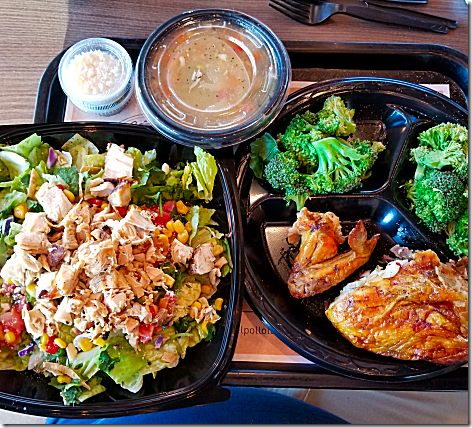 That's two pieces of their chicken, two sides of steamed broccoli, a small Tortilla Soup, and a Classic Chicken Salad. And I couldn't finish all of the salad.
And besides coffee and an apple later, that was it for the day.
And it was really good.
---
---

The Word of the Day is: Demiurge
---

Thought for the Day:
Whenever you hear the consensus of scientists agrees on something or other, reach for your wallet, because you're being had. – Michael Crichton
hdghdg