Today, our last day to journey down to LA proper, we were on the road by 9:30, heading down to the Hollywood Blvd/TCL Chinese Theater area for our 12:15 TMZ Hollywood Tour.
---
---
We were going down early so we could check in for the tour early and then have lunch. I had made our reservations online a couple of days ago so all we had to do was to check in at TMZ's booth in the Hard Rock Café, get our badges, and then head right across the street to the Hooters.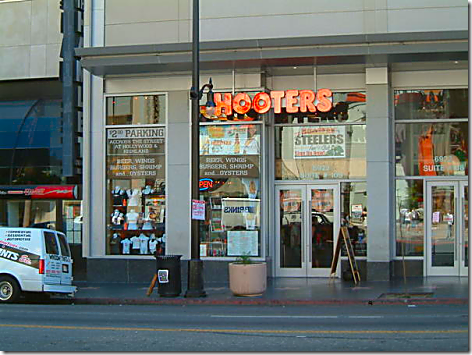 We had first eaten here in 2010 prior to our last Hollywood Tour, and hoped it was as good as before.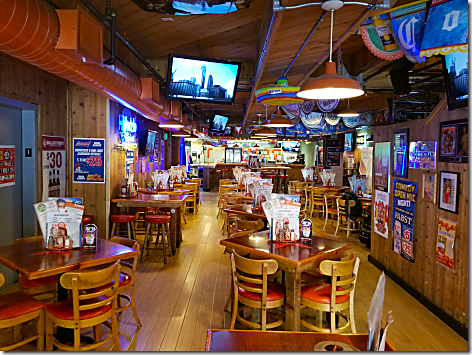 As usual we both went with our favorites, Jan getting her Original Chicken Strip Cheese Sandwich with their new Big Dipper Fries.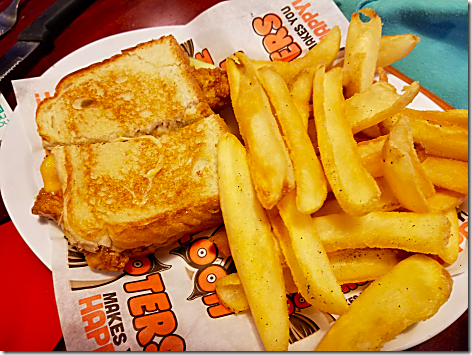 Previously they only had Curly Fries, but the Big Dipper's are more like Steak Fries, but shaped to hold dips/sauces. Very Good.
I of course went with my usual wings, all drums, coated with their Habanero BBQ sauce with side sauces of Chipotle Honey for the sweetness, and Triple Dog Dare, their hottest sauce.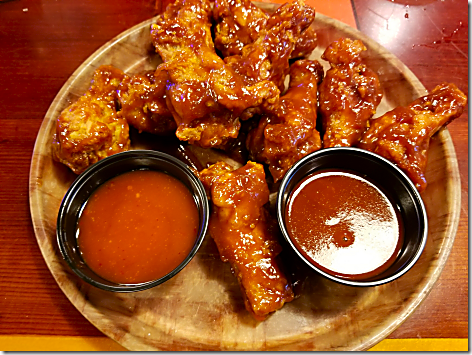 Jan and I both agreed that Hooters has really upped their game, I imagine, due to all the competition with Buffalo Wild Wings and the like. The wings are larger than they used to be, with a lighter breading that forms a slight crispy crust, almost like our absolute favorite wings, the Sweet Tangy Golden Sauce Wings, from the Beeville Diner down in, where else, Beeville, TX, where we ate several times while we were gate guarding down in south Texas.
---
---
As we left Hooters we noticed a police car right in front of the door, and two police officers on the sidewalk. Turns out that apparently Jan and I are going to Hell because we ate at Hooters.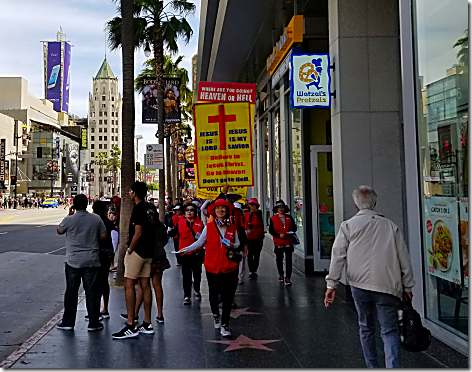 At least that's what the protesters were saying, signs, chanting, and all.
We waited about 15 minutes before our TMZ Tour Bus showed up and we were on our way.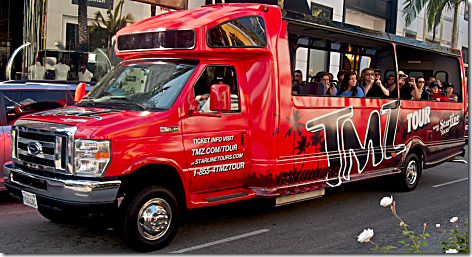 Unlike our last Starline Tour in 2010 (You can read about it here) the TMZ tour is more 'spot the stars' type. However the Starline tour was a 'homes of the stars' so if that's your thing, take that one.
Because we were star-spotting, AND didn't see any, there weren't really any photos to take. So nothing really from that.
---
---
But we were shown the very best viewpoint for the Hollywood Sign, and aptly enough it's from Hollywood Blvd.
Right down the street from the Hard Rock Café there is an opening between the buildings where they've set up a viewing area for the tourists.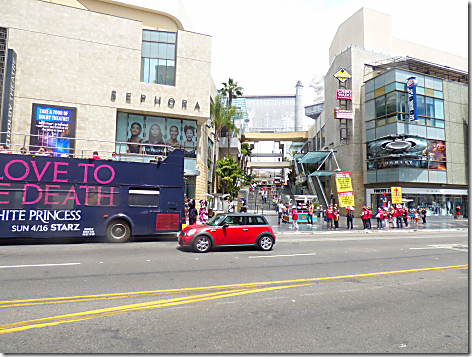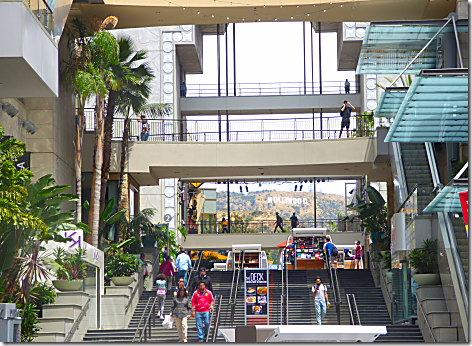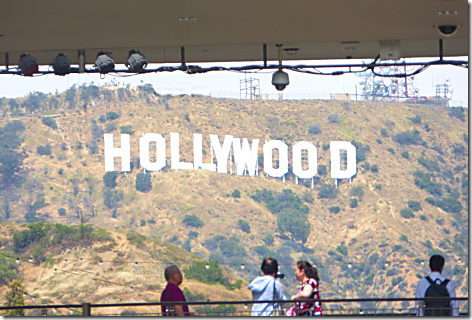 We were back at the Hard Rock Café by about 2:15 and quickly got on our way home, wanting to get ahead of the going-home traffic, which we did.
We did fight the winds, forecasted to be in excess of 60mph, all the way home, finally getting back about 3:30pm.
Lucky for us the wind didn't really pick up until later in the evening when is was rocking the coach back and forth. But according to the news, trees and power lines were blown down all over LA.
New blog readers Rob and Dottie dropped by to say Hi. It's always good to meet new friends.
Tomorrow we're having lunch at the Shakey's Pizza up in Palmdale, then some shopping, and maybe a drive out to the poppy fields.
---
Thought for the Day:
Newport Oregon Police received a 911 call that there was a cat in a tree armed with an assault rifle. True Story.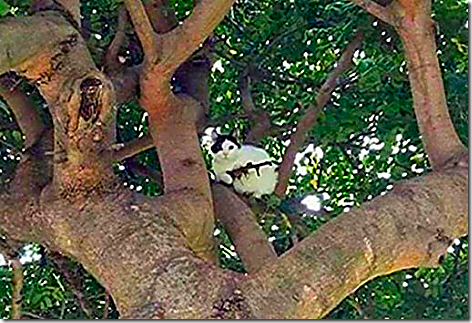 Neighbor dogs were relieved to find out that it was just a suspicious-looking branch.
gsdfgsfg
This morning we were once again out the door and on the road by10:15 heading down to LA for another day of eating and shopping, this time heading down the 405.
---
---
So what else is new?
Jan has always been a big fan of the reality show 'Sweetie Pie's. Robbie Montgomery had a long career as a backup singer with groups from Ike and Tina Turner to the Beatles. But after a long illness and asthma forced her to quit as a singer, she open a restaurant in St. Louis in 1998 called Sweetie Pies.
Rated the #1 Soul Food Restaurant in St. Louis for years, Sweetie Pie's became a reality TV show on OWN TV in 2011, and quickly became a hit. And recently Sweetie Pie's started spreading out with other locations, including two in LA, and one in Houston.
We didn't find out about the one in Houston until we were leaving last month, so Jan was determined to eat at the one down in Inglewood, so today was the day.
We got to the restaurant about 11:30 and found a corner location with plenty of on-street parking.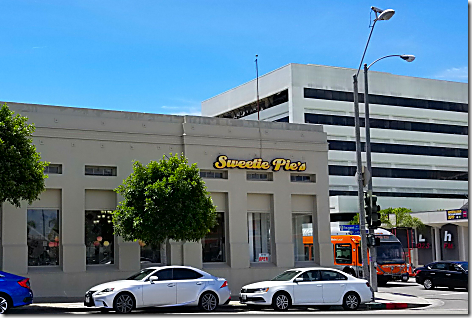 Inside it was high ceilings, a bright, open interior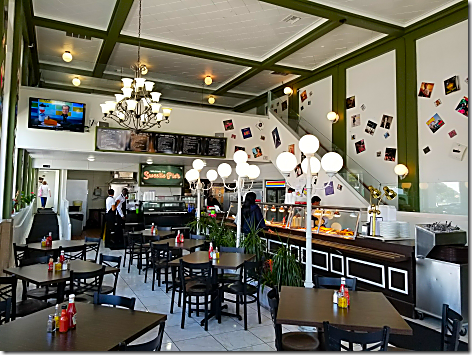 and a delicious-looking cafeteria line.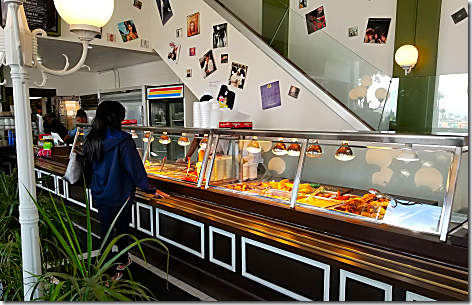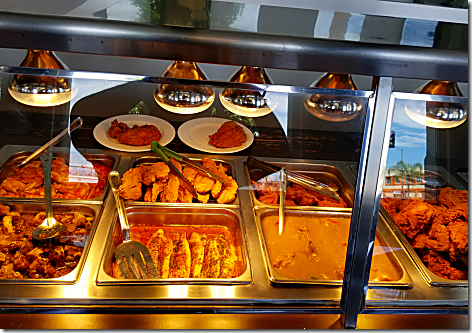 Jan and I both went with the Fried Chicken and three sides.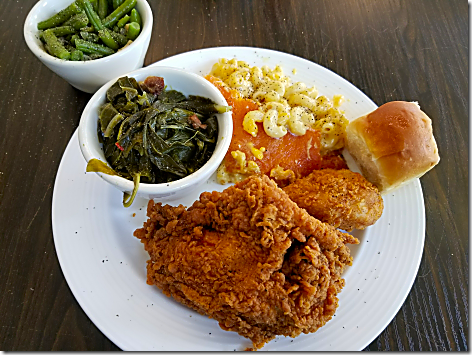 We both doubled up with the Green Beans and Miss Robbie's fabled Mac N Cheese, while we differed with Jan getting the Cornbread Dressing and Gravy, while I got the Collard Greens.
---
---
Everything was delicious, the service was great, and everyone was friendly, patiently answering Jan's many questions about the show and Miss Robbie and her extended family.
This was great Soul Food, and Miss Robbie's Mac N Cheese is fabled for a good reason.
Leaving Sweetie Pie's we headed north on La Brea for about 10 miles to Larchmont Village, a shopping area near Beverly Hills where Landis General Store supposedly stocked Beekman Boys soaps and lotions.
Well, they used to, but that was before the store was flooded and closed by a plumbing problem and hasn't yet reopened. But she did find several other things she liked, and we got Starbuck's Cinnamon Dolce Lattes so it wasn't all bad.
Heading back to the rig, we got on the 101N this time, and had a smooth trip back up to Acton with no real slowdowns. And being back by 3pm we had time for a nap.
Getting back, Jan took this shot of the view from near our site.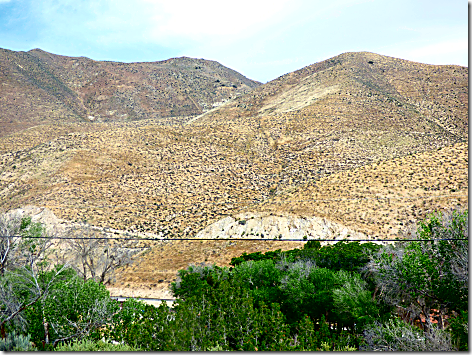 Until you're actually out here, most people don't realize how hilly the LA area actually is.
---
---
This day in history, April 26th, 2008, is the day we arrived in Fairbanks, AK during our 1st year on the road.
Leaving Tok that morning this is the view out the windshield.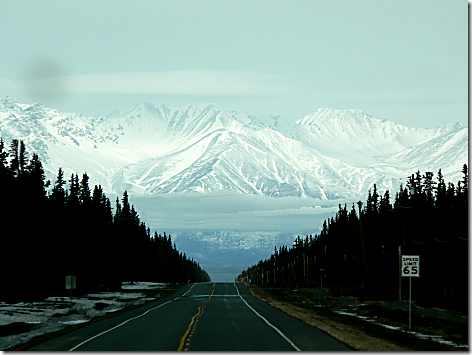 Jan said, "OMG we don't have to drive OVER those, do we?"
Thankfully, No.
Two days after we got to Chena Marian RV Park in Fairbanks we had this.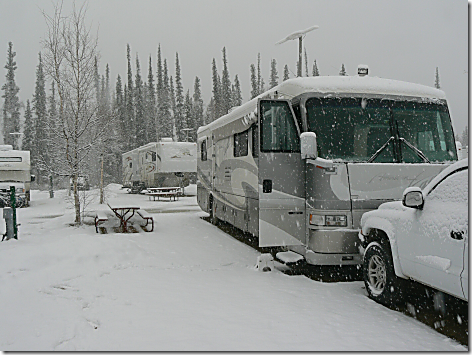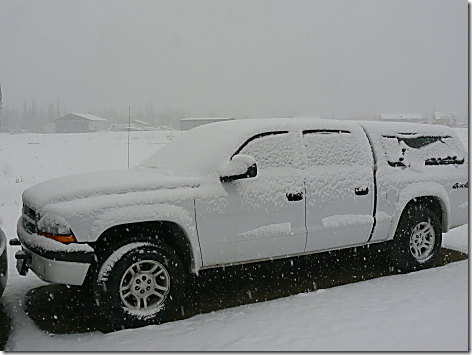 And it was starting to snow again when we left on September 20th, five months later, chasing us all the way back to the US where we entered on Oct. 8th at Sweet Grass, MT. Jan said she wanted to get out and kiss the ground.
And then two days, in Billings, MT, the snow again caught up with us.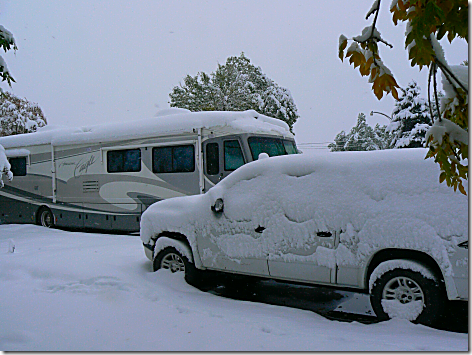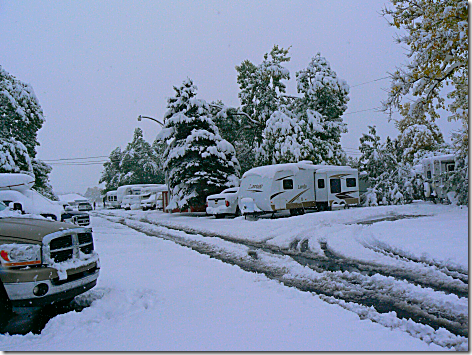 Tomorrow we're once again heading back to the Hollywood area to take the TMZ Celebrity Tour that originates from the Hard Rock Café located next to the TCL, nee Grauman, Chinese Theater on Hollywood Blvd.
---
Thought for the Day:
"I never hated a man enough to give him his diamonds back." ― Zsa Zsa Gabor
ghdghd