Jan and I headed out about 2:15, first down to the Sugarland area and Floyd's Cajun Seafood where we took Nick and Terry Russell when they were here a couple of weeks ago, dropping off their RV at PPL.
---
---
I didn't realize it until the next day, but I lost my checkbook there. Or at least I thought I did. And when I called a couple of days later, and talking to the manager, I found it had been turned in, and by another manager. I told them we were in Conroe and it might be a couple of weeks before we got down there. They said no problem, and it would be in the safe. Then leaving Floyd's we headed back up Hwy 6 and the Grand Parkway to Brandi's in Katy.
We were all getting together at Little V's Vietnamese Bistro for dinner to give them a try. Yes, we've eaten there many times in the past, but things have changed since then.
The last time we ate at Little V's was March 8 of this past year. the night before we left on our big 3 month out west travels. And since then, Tuen, the owner, had sold the place. And the reviews since then have been mixed, some good, some not-so-good.
So this afternoon we were going to give it a try.
We got to Brandi's a little after 4pm and got a look at her new baby.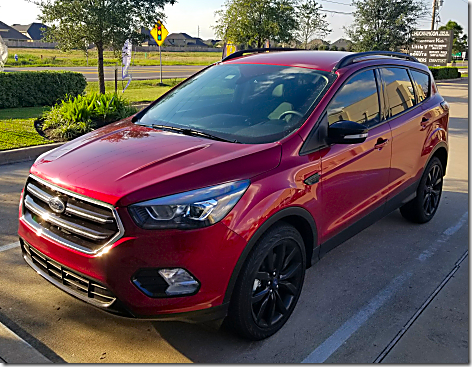 Brandi says her name is Helena, though I don't know why. She's a fully-loaded 2017 Ford Escape to replace her slightly long-in-the-tooth Lexus. Really nice, and red, Jan's favorite color. A very nice ride.
---
---
As far as Little V's goes, it was really delicious – if we hadn't eaten at Little V's pre-sale. But in comparison it just didn't quite match up.
We started off with our usual Pork Spring Rolls.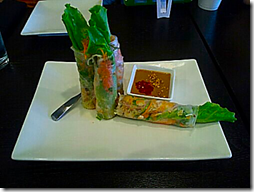 The insides were good, but there was a more chewy wrapper with a different texture. Just not quite as good.
On the entrée front, Lowell said his Phở was good, but something was 'missing'. As far as my Shaking Beef Vermicelli Bowl, it was the same theme.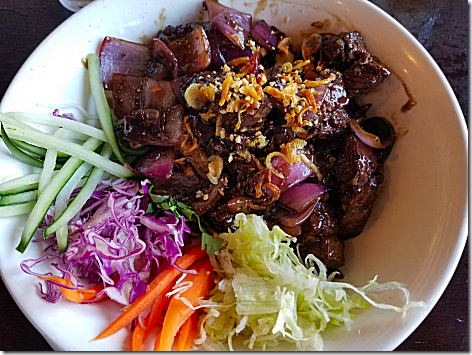 The ingredients and the 'taste' was the same, but the beef, which was melt in your mouth tender and unlike any I had ever eaten, was cut differently and not near as tender, but more chewy.
---
---
Jan and Brandi always split an order of the Chicken Curry.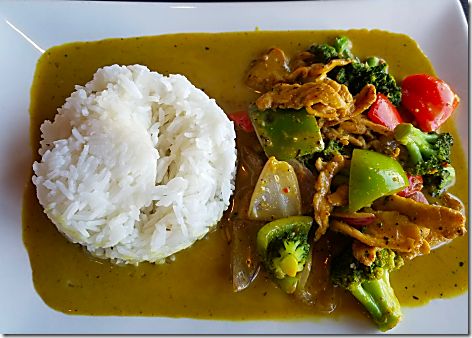 And Jan said the same thing. The Curry was good, but just didn't have the intense favor of Tuen's version.
Finishing up, the Crème Brûlée spoons were the only thing that lived up to the original.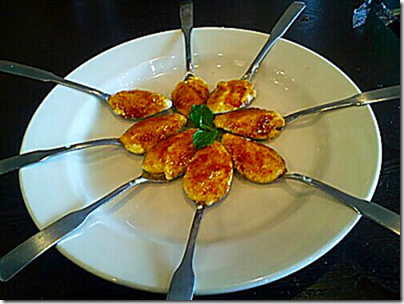 Smooth pudding with a crunchy sugar crust. Just perfect.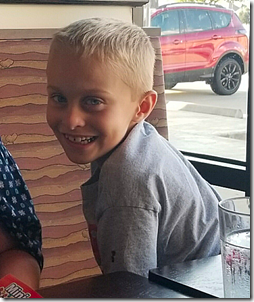 Wrapping up, if we hadn't eaten here under Tuen's regime, it would be one of our new favorite places. And I guess it still is.
But it's just not the same.
The Word of the Day is: Pestiferous
---
Thought for the Day:
If fighting fire with fire is a good idea, why do the pros use water?
dfgsdfg
Please remember, Our RV Adventures is an Amazon affiliate. When you do your shopping through any of the Amazon links here, including the Search Amazon box in the right sidebar, it won't cost you any more, but we'll get a small commission on everything you buy. Just click on the Amazon link, then shop as usual. Thanks.
Plus, many of you are sharing our blog with others using the "Share this:" buttons at the bottom of each blog. Again, Thanks.
---
---
I spent a couple of hours today stuck between the dueling computers at Thousand Trails, Passport America, and Encore.
As I mentioned yesterday I was trying to use Passport America for our week-out here at Lake Conroe, from this Sunday the 15th to the 22nd. Then we'd come back in on the 22nd until the 5th of November. Then after that, Rinse, Lather, Repeat.
Or at least we'll see.
But when I called Encore to book our PA stay here, Erica found that she wasn't able to book us here, apparently due to the 'G' section being blocked out due to the power problems. Because of that the computer said that there were no open sites here to book us into, though she found she could book us in here under Encore.
She suggested that they should be able to book it here locally so I should try that. But when I got the Ranger's Office on the phone, I found they couldn't either, or didn't know how to actually book a PA reservation.
---
---
First off they said, like Erica, that the park was full next week. So I suggested that they try to book someone in next week under TT and they found they could. But when I ask why they could book under TT but the park is full under PA, they then put me on hold, coming back in about 5 minutes saying they'd talked to Rebecca in the office and she said if they couldn't book it under PA, then they couldn't book it all and I was out of luck.
Knowing this wasn't what Rebecca said yesterday when I talked with her and Randall Cox, the park manager, I made my own call to Rebecca. Turns out that's not what she said, and they didn't tell her the entire story. She said to tell them to just force the booking under PA, and if they still couldn't, to call her back.
Well, they still couldn't do it. So what they finally did was to book me in under one of the two one week extensions my TT membership has each year. And for only $35 for the week it's a great deal.
---
---
The problem is my membership doesn't have these extensions. I've confirmed this with TT a couple of times. But since $35 is better than the $178.50 cost under PA, I let it ride.
But later in the afternoon, when I went into the TT website to book us back in under TT on the 22nd, it all came back to bite me. Since the TT computer showed me effectively here in the park for three weeks straight, it wouldn't let me back in for another two weeks starting on the 22nd. Oops!
So I got back on the phone to the TT main office to try and fix it. I ended up talking to a very nice young lady named Jonnette who very quickly fixed the problem, unbooking my one week TT extension, she switch it over to a PA reservation, and then booked us back in to Lake Conroe under TT on the 22nd.
All this only took Jonnette about 5 minutes. Wish I'd been able to talk with her to start with. And hopefully this will all go better next time if we decide to do this again.
The Word of the Day is: Contumacious
---
Thought for the Day:

If you can't fix it with a hammer, then you've got an electrical problem.

ghgfhdgh