Please remember, Our RV Adventures is an Amazon affiliate. When you do your shopping through any of the Amazon links here, including the Search Amazon box in the right sidebar, it won't cost you any more, but we'll get a small commission on everything you buy. Just click on the Amazon link, then shop as usual. Thanks.
---
---
Plus, many of you are sharing our blog with others using the "Share this:" buttons at the bottom of each blog. Again, Thanks.
Jan's still feeling good, with no more pain. But she's still feeling kind of washed out, with not a lot of energy. So today became a stay at home day, finishing up some of our leftovers and stuff we bought ahead for times like this.
About 2pm I ventured outside to take down our last window awning. Between cold weather, wet weather, and hospital visits, this is pretty much the first time I've had a chance to git 'er done.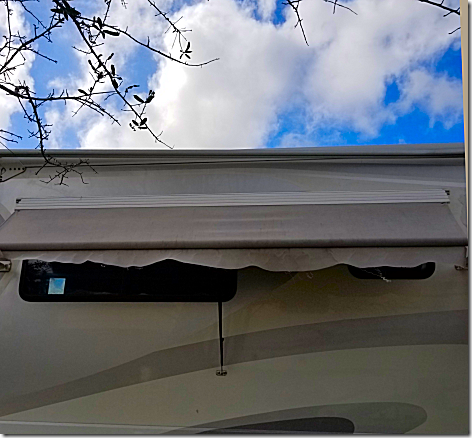 With all the practice I've had it only took me about 15 minutes to have it down, out of the frame and in the backseat of the truck ready to drop off.
---
---
With the awning down, I headed out about 3:15 to drop off the awning at Sundowner Canvas and then stop off at the Friendswood WalMart to pickup one of Jan's prescriptions that wasn't ready yesterday afternoon. We did save about $25 by not picking up one of them, since the problem that it was for hasn't shown up., and probably won't now.
In on of those rare occurrences, almost like a total eclipse of the sun, everyone in the family is off this coming Sunday, so we're have a big get-together at Brandi and Lowell's new digs up in Katy. Really looking forward to it.
I'd like to get the new awning up soon, but tomorrow I work, Saturday it's supposed to be raining, and Sunday we're up in Katy. But maybe between rain and traveling I can squeeze in some time. This one, at 135 inches long, is the biggest and might be a little hard to hold up while I slide the rail and torque tube onto the fabric.
---
---
Thought for the Day:
My train of thought derailed. There were no survivors.
dfasdfasd
We hope so.
Jan and I headed up to the Clear Lake Regional Hospital in Webster about 10:15am.
---
---
She was supposed to be there by 11 for get checked in for her 1pm Laser Lithotripsy. And it all went very smoothly. I really like that the hospital has free valet parking for patients. Makes it so much easier to park and checked in.
Getting up to the 2nd floor Jan was taken right in to a Pre-Op room. Then a succession of nurses came through, each taking care of their specialty to get Jan prepped for her procedure.
They took Jan into the OR about 1pm and the procedure got started about 1:30pm. One thing nice is that I'm getting text messages from the hospital tracking everything that's happening.
She was done by 2:30 and Dr. Hackney came out to see me about 10 minutes later to tell me everything went great, and the UV laser blew the stone to dust on the first shot.
They wanted to be sure that all the effects of the anesthesia had worn off so we didn't leave leave the hospital until about 5pm. The two prescriptions they called in to WalMart weren't ready yet so we just stopped at Jason's Deli for soup and sandwiches for dinner and then headed home.
Jan has a checkup scheduled for two weeks from today, to see how it all went. But it looks good so far.
Although Jan had a little pain afterwards, a single pill took care of that, and it never reoccurred.
So far this evening she feels good, though tired and sleepy, the results of the anesthesia. But we'll have to see how tomorrow goes.
---
---

The Headline of the Day: Pastor caught with a naked and bound man in a parked car claims it's not what it looks like.
---

Thought for the Day:
"People demand Freedom of Speech as compensation for the Freedom of Thought, which they seldom use." – Kierkegaard
dfgsdfg