I know it's been usually hot in other areas of the country, but here in Texas we're really having a mild August.
---
---
For the last couple of weeks the temps have stayed in the low 90's, even dipping down to 88° this past Saturday. Of course the nigh time temps are still in the high 70's/low 80's so not a lot of change there. But still nice.
We did get enough rain over the weekend for me to see that I still had two tiny leaks on my recently-caulked windshield. So while I could see the drips, I marked the spots on the glass with a black Sharpie so I can come back in a while and spot caulk the leaks.
As of right now we're still on track to close on Thursday, but that's not certain, so we're still planning to be down by Wednesday night. I did stop off at the house this afternoon and picked up all the trash bags from the house to drop off at the dumpster.
Jan got a phone call from me this morning. My name showed up on the screen, but it wasn't my number listed underneath my name. This was the second time this has happened in the last couple of weeks, so be on the lookout for this new scam.
I was looking at Google Maps the other day to see what county we are in here at Petticoat Junction. I thought we were probably in Galveston County but I wanted to be sure since the county lines run in some strange ways around here. But then I noticed this about the city limit line of Santa Fe.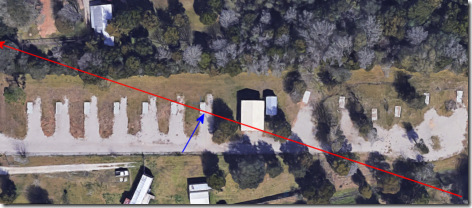 The line passes right through the middle of our rig. So when we're back in the bedroom, we're in the city of Santa Fe. And when we're sitting up front, we're just in Galveston County. Who knew?
It's amazing how much TV we're not watching now. We kind of got out of the habit during our recent 3 week Illinois/Alabama trip when we were so on the go that we just never set up the sat dish. Guess that's kind of going 'cold turkey.' But we'll see how it goes during the new Fall season.
Several people commented or emailed about my gentle ribbing of Jan's list-making for our upcoming European trip, saying that without Jan's lists I might not know what to pack.
I said it was a guy thing, but maybe it's a more a family thing. My family.
Back during the summer of 1964, we were living in Athens, AL after moving back from Colombia, SA the previous fall. We were eating dinner, my father, my mother, my 3 year old sister, and myself. My mother commented, wondering about when we were going to take that 'out west' trip we'd been talking about. My father looked over and said, "What about now?"
And two hours later, about 8pm, we were on the road for an almost 4 week trip. We hit the Grand Canyon, Yellowstone, Grand Tetons, spent a week staying at Disneyland (my fav), drove up 101 in California, Napa, a lot of the Spanish Missions, etc.
So I guess packing the day before we leave for our cruise is just in my blood.
---
---

Thought for the Day:
If only life had a backspace key.
asd
With days running out on when we need to have the house cleared out, Jan and I were out the door a little after 11 this morning.
---
---
Our first stop was for lunch at our new favorite nearby Mexican place, San Lorenzo's. We first ate here a couple of weeks ago and really liked it. And today so did a lot of other people. The place was packed.
We had about a 15 minute wait, but it was worth it. Jan once again had the Pollo Margarita with a Grilled Chicken Breast and Shrimp, Grilled Veggies, and Charro Beans.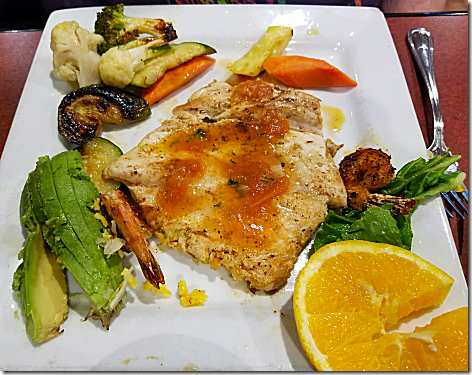 The Sliced Avocado on the left actually came with my Beef Fajita Taco Salad.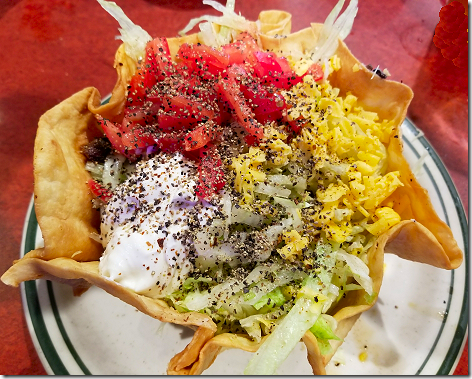 Since I don't care for Avocado, Jan always gets my cast-offs. And I think we've already established that I like a lot of pepper on my salad. And of course it's also liberally sprinkled with my Volcanic Pepper Flakes for added heat.
Since I had never had the Taco Salad here before, I was a little concerned that there was no sign of any meat. But not to worry, the bottom 2" of the taco shell were solid with fajita meat. And it was really good.
When we finally left a little before 1pm, the place was still on a wait. That's how good it was.
Our next stop was at the storage unit to drop off yesterday's house stuff that we still had in the since our access to the unit was blocked by a moving van. But today was no problem. Then it was on up to the house.
Since we don't yet know if we're closing this coming Thursday or next Monday, we have to assume it's Thursday to be sure we're out in time. So today we got everything out in the living room and divided it up for staging. Leaving the house about 3pm, we made a WalMart stop before dropping off a load at the storage unit on the way home.
As it stands right now, tomorrow after work I'll stop by the house and load up with about six bags of trash for the dumpster. Then Tuesday, Jan and I will take a load of stuff by Salvation Army, drop off some leftover packing materials at work, and take a last load to the storeroom.
Then on Wednesday after work I'll again go by the house and reload all the stuff back in the truck that normally resides there. We emptied the truck when we took a bunch of furniture to Illinois on our recent trip, and since then it's all been sitting in the garage.
And that should wrap things up. Of course this may all change if we don't close until next Monday. Then we won't be in quite the same hurry. But we'll see.
Jan has always been a list maker. She has a WalMart list, a Sam's list, an office supply store list, and even a list for cleaning out the house we're selling.
But now she's gone into overdrive.She's started so many new lists of things to take, not take, do, not do, see, or not see on our upcoming European River Cruise, that she's now resorted to making lists . . . of her other lists. It's gotten that bad.
She's got a list for what to do 8 months out (Now), 4 months out, 4 weeks out, 4 days out, and probably one for 4 minutes out. I on the other hand will pack a couple of days before and be ready to go.
I think it's a guy thing.
---
---

Thought for the Day:
The probability of you drinking a glass of water that contains a molecule of water that also passed through a dinosaur is almost 100%.
Personally I think it's the 'passing through' part that bothers me.
asdf