Several people (apparently new readers) asked about the reference to my 'Great Transmission Repair' last May in Weed, CA, so I thought I'd post a recap of it since nothing much else happened today.
---
---
May 2, 2017

We were dieseled up, hooked up and pulling out of the Flying J by 9:45, a little ahead of schedule for a change. But that didn't last long.

As we started to turn on the I-5 entrance feeder, I noticed the rig was kind of lugging, not accelerating like it should. It was quickly evident that problem was that the transmission was stuck in 1st gear and wouldn't upshift to 2nd. Then I happened to move my head a bit and saw a Check Trans light on the panel. I didn't see it at first because it was blocked by the steering wheel.

No other alarms, no Check Engine light, no nothing. Just the Check Trans light. It was obvious that I was stuck in the 'infamous' Limp Mode.

So I tried the simplest thing first. I shut the engine off, let it set for a few minutes, and then started back up.

OK, no warming light. That's good.

But as soon as I was moving a few miles per hour, the light came back on.

Bummer!
Jan however, said some other words.

So next I checked the transmission fluid. It was at the lower part of the OK range, but I added a little TransSyn to be sure.
And again, no luck. Still stuck.

I did use my Silverleaf Computer Display to check for any fault codes, but nothing showed up.

So now I was on the phone to Spartan, my chassis manufacturer, to see what they might have to contribute. But not a lot, but they send me on to Allison Tech Support.

Now I have known for a while that my rig's Allison transmission is kind of an oddball. I think it kind of straddles a model revision, or something. For example, according to my transmission's serial number, I should be able to check the transmission's fluid level from the console, but I can't.

I've had several techs tell me I must not be doing it right, and proceed to show me how. But apparently they weren't doing it right either.

The Allison tech told me to check for transmission fault codes by turning the key on, and then pressing the upshift/downshift buttons together, twice.

And I got nothing. So I turned the key off and back on, and then did it again.

Again nothing. But I did notice that something flashed in between the first and second presses. So I turned the key off and on, and pressed just once. And now I had the code display.

But no error codes were showing.

As we were talking and checking some other stuff, he had me crank the engine up, and for some reason I decided to try the code thing again.

And this time I had an error code, a 2-5-1-1.

So between the number of presses needed and the fact that the engine has to be running to read codes, are just two more weird things about my transmission.

The tech told me that the code meant that the rig was getting no output speed info from the Output Speed Sensor. And I was VERY glad to hear this, because a bad sensor was something I could possibly replace or fix myself.

The tech was kind of surprised I wanted to crawl under the rig and work on this myself. He doesn't know me very well, does he.

He suggested I check the sensor physically to see if it was still connected and didn't look damaged from road debris, etc. So under the rig I went with my work pads.

And this is what I found.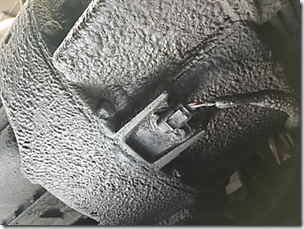 It looked OK, but I wanted to pull it apart and clean it, in case it was just bad connection. So I sprayed the area with Awesome and wiped it down, and then unsnapped the connector.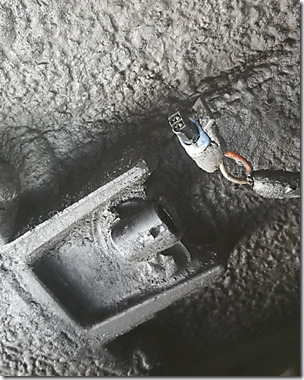 The wires looked good, so I sprayed both the socket and the plug with Strike Hold, let it sit for a few minutes, and then put it back together.

Now I was really confident I had fixed the problem. I mean Strike Hold will fix anything and everything, right? So I rolled out from under the rig, eager to give it a try.

Since I was working on the road side of the coach I set my step ladder along the side of the road to deter any close shaves. They might not have a problem running over me, but they probably don't want to scratch their paint.

And yeah, I've got some cones somewhere, but they just run over those too. I mean, look at all the dead cones you see, the life crushed out of them, their faded orange carcasses littering the highway.

But back inside and moving out, I still had the problem. So Plan B. We'll limp along the shoulder until we get to the next exit, for downtown Weed, and then park in a large lot that I had seen, and then I'd regroup. And that's what we did.

And along the way I noticed something new. I had no speed information on either my dashboard speedometer or my Silverleaf. And I had no odometer readings either.

So getting parked I was back on the phone with Spartan. I called them because they know both systems. Allison knows the transmissions, Cummins knows the engines, but Spartan knows both, or at least how they interface. And I wanted to know if the dashboard speedometer got its data from that the transmission sensor.

And yes it did.

Now I was on the phone to the nearest Allison shop, which was down in Redding 65 miles south. And yes, they did have the part in stock for $85 plus tax. So after unhitching, and parking the rig in the far corner, we were off for Redding..

I figured that replacing this sensor was my last shot at avoiding a 65 mile tow and a very large repair bill. If it's like most of these sensors, you just unplug the wire, remove the bolt, pull out the sensor, stick the new one in, then bolt, then wire. Easy Pesy.

The trip down to Redding only took a little over an hour because it's just that . . .down. Just about the entire way. And a lot of fun curves that make Jan hiss.

Getting to the Allison parts counter, I had the same oddball problem again. The sensor that the computer said I needed, did not look like mine. That one had the plug sticking straight out, but mine is at a 90° angle.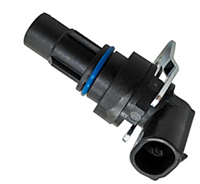 But they finally found the right one, and $91 later we were on the way back to Weed. Getting there about 4pm I called the Bend TT to let them know we wouldn't be coming in today and I'd let them know about tomorrow.

The above-mentioned Hi-Lo Diner, which was only about a block away, also has a motel and RV park attached, I figured I'd putt-putt down the hill and we'd spend the night there and I'd replace the sensor there. So after getting a site, off I went with Jan following in the truck.

And before I got out of the large lot, I noticed something. I had speed info on both the dash and the Silverleaf. Could it be?

And yes, out on the street, the rig upshifted smoothly to second, with no lights or other problems. I made the 1/2 mile journey to the park with no problems, evening hitting a large pothole that I held my breath, thinking the problem might return. But it was all good.

So did Strike Hold just take its time to fix the problem? Did gremlins figure that they'd had their fun at my expense? Did fate just want me to waste $91?

So what to do? My good friend Nick Russell thought I should go ahead and replace the sensor anyway, but I guess I'm going to just roll the dice and go for it. He's says he'll definitely say he told me so.

I guess it's about time he got to do it to me.

---
---
May 3, 2017
We were up at 7am, later than usual, since we didn't have much to do to get on the road. In fact we didn't even put out the satellite dish last night, but just listened to music on our Amazon Echo.

We had a nice site that I just treated as pull-in, easy due to how the power pedestals were configured.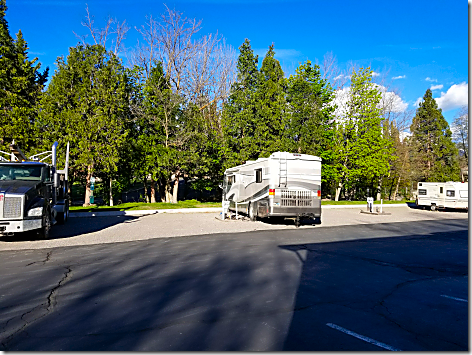 Of course we had to have another breakfast at the Hi-Lo Café once again, especially since it was right up the hill and we had the free tokens for coffee that we got when we checked in the RV park.

Since we both had leftovers from yesterday's breakfast, we decided to go smaller this time.

So rather than the full waffle, we got their 1/2 waffle combos.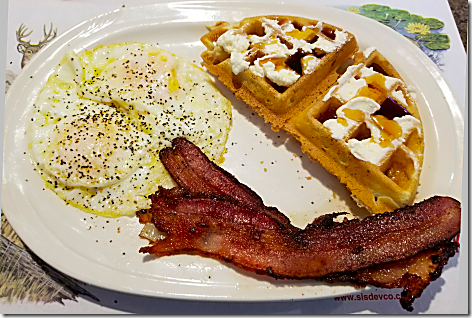 Still delicious, just less of it. And no leftovers to try and fit in the fridge.

Back at the rig we were pulling out of the park by 9:15, Jan following me in the truck so we could hook up on a side street.
Driving through the park, everything was fine and I had speedometer readings on both the dashboard and the Silverleaf.

That is, until I hit a bump. Then the problem was back.

Bummer!

Jan, as before, said other things.

So I just circled back around through town and right back into our space at the park. Looks like I was going to have to change out the sensor after all.

After I got shore power hooked up and the slide out, I walked up the hill to the office and told her that we were either back for an hour or so, or a day or so until we could get towed to Redding. She said no problem.

I did see this really nice 1949 Oldsmobile coupe parked by the office.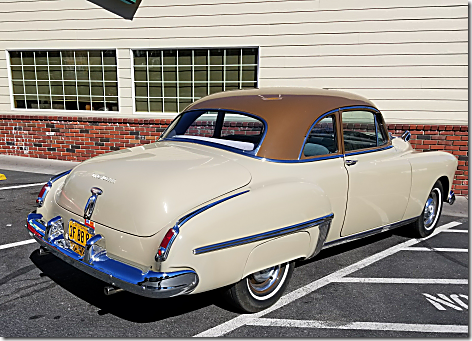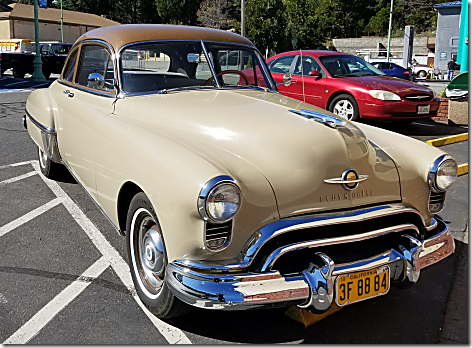 The emblem on the rear deck indicates that the original buyer paid the almost $200 extra cost for the optional HydraMatic automatic transmission,more than10% of the vehicle's cost.

To make it a little easier to work under the rig I raised it up on the rear levelers as high as I could, giving me plenty of room. Next up I put a call into Jay, the Allison Tech Support guy, to ask him a question.
"When I pull this sensor out, am I going to have 150° Transynd pouring out on my head?"

He said, "Good question. I don't know. Let me check." And when he came back, he said, "No problem. It's dry in there."

Glad to know that I don't have to worry about that.

Gathering all my needed tools, I was under the rig at 10:10 and done at 10:45.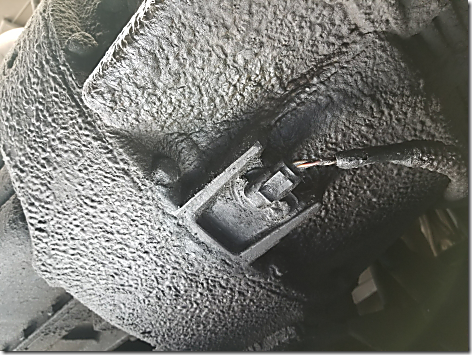 The only slowdown was that I had to come out from under the rig to get my 18" cheater pipe from the truck to break the bolt loose.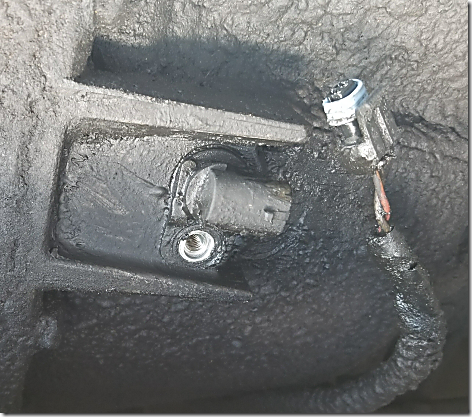 Pulling the old one out, I smeared a little oil from the O-ring on the old one to the new one, stuck it in, and then tighten the bolt back in place.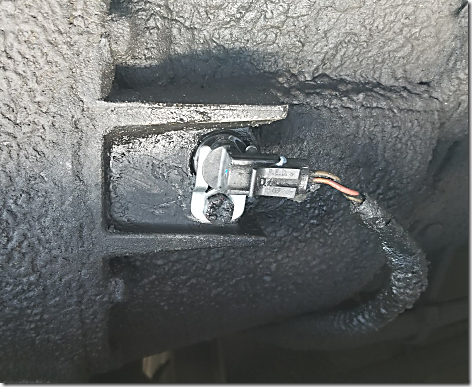 So now for the big test. Either on to Bend, OR, or towed to Redding, CA in disgrace.

After I got cleaned up, we were pulling out of the park by 11:30 with Jan again following me in the truck. I told her that if it was working, I was going to make several loops (about 1/2 mile each) around the town. If the problem returned I would just pull back into the RV park.

Otherwise I would go round and round a few times until I was satisfied, and then pull back into the large parking lot where we were parked yesterday when we drove the truck to Redding for the part. Then we would hitch up there and get on US97 for Bend.

And even though I was deliberately hitting bumps, the problem never returned. And it never returned during our 4 hour trip up to Bend, 195 miles north. Smooth as silk.

---
---
Thought for the Day:
It's Like Barbie For Men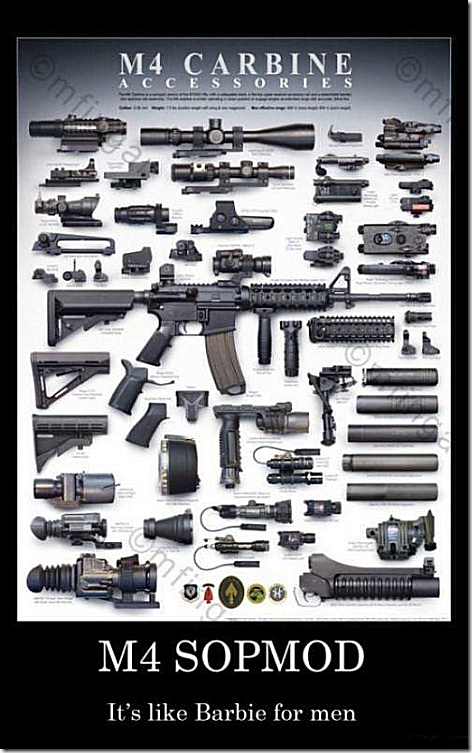 fgsf
Many of you are sharing our blog with others using the "Share this:" buttons at the bottom of each blog. Again, Thanks.
---
---
Jan and I left the rig about 11:20 heading up to the Katy area to meet Brandi, Lowell, and Landon at the new Black Bear Diner there.
Although we had planned to meet at 1pm, turns out we both showed up about 12:30, thinking that we'd get our names on the list since we knew there would be a wait. And there was.
We were told about 45 minutes, but then got seated after about 25 minutes, so that was good. But what wasn't good was the wait for our food. Apparently the kitchen was overwhelmed and it took almost 30 minutes to get our meal.
They really should have held off seating customers to allow the kitchen to keep up. This why you sometimes see restaurants on a wait, and yet there are open tables. It seems people will tolerate waiting for a table better than they will tolerate waiting for their food.
But it's possible to say it was worth the wait. Brandi, Jan and I all got the 2 Egg Combo with Bacon, Fruit, and an English Muffin.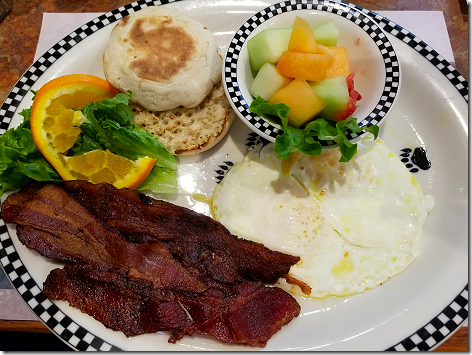 Really delicious Apple Slow-Smoked Bacon.
Lowell had the Machaca Breakfast Tacos, with scrambled eggs, slow-roasted beef, peppers, and jack cheese, while Landon got the kid's Chocolate Chip Pancakes.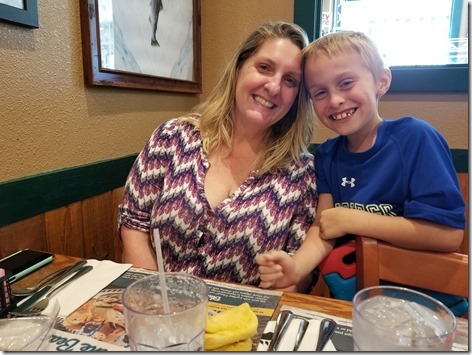 As I said yesterday we've eaten at a number of Black Bear Diners out west and it was good to see that the food is just as good as before. And Jan was happy to see that the BBD in Katy carried her favorite notepads, so she stocked on a couple.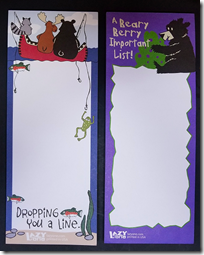 We would have liked to have sat around for a while and talked some more, but the waiting area was still overflowing at 2:15, so we said our goodbyes, got our hugs, and headed back toward Santa Fe.
---
---
We did make a WalMart stop for a couple of things, and also to walk off breakfast. I set Runkeeper when we get out of the truck so I can track how far we walk.
One think I noticed is that Black Bear has really changed their look since they've moved east. Here's what the one in Yreka looks like.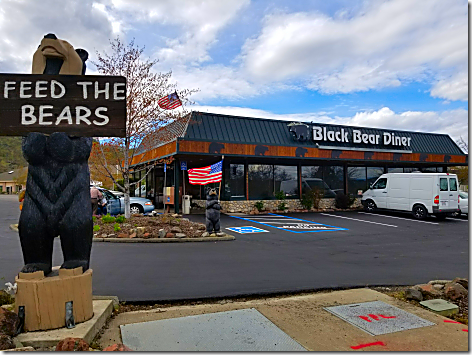 And the one in Bend OR even has bears as customers.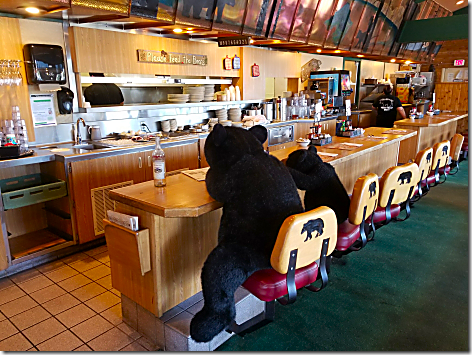 And here's what the Katy location looks like.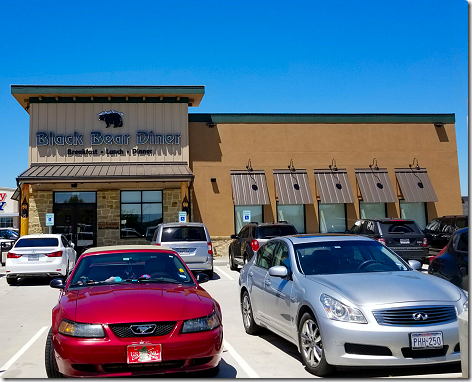 Pretty big difference. But the food is still great.
---
---
Thought for the Day: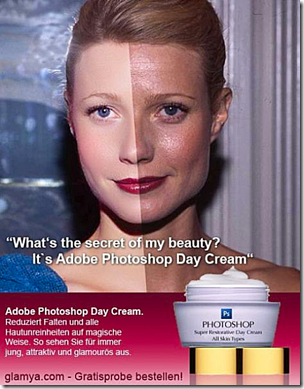 sdfgsf