Well, after almost a week working out of my truck on the pad, today I 'moved on up' to an actual guard shack.
---
---
A shack sans microwave. Somebody stole it.
While Jan worked the front gate from 5am to 5pm, I worked from 6:30am to 3:30pm on the pad. Which means that I had drop Jan off at her gate and then wait an hour or so before I went on in to the pad. But luckily they closed the pad early so she didn't have to wait for me to get off. So we were off duty at 5pm. But rather than go back to the rig we went on into Cuero for a quick Wal-Mart stop, gas, and then food.
To show you how much we like Whataburger, we first stopped at McDonald's for tomorrow's breakfast sandwiches. Their Bacon, Egg and Cheese Biscuits can't be beat.
But then we left McD's and drove to the nearby Whataburger for dinner.
Last night after our rut-filled RV Park adventure, we had dinner at the Maya Mexican Restaurant in Cuero, chosen because it was Mexican, and because it was very busy.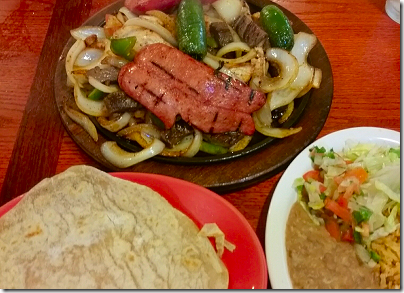 And it turned out to be VERY good. We split the Fajitas Regias, with beef, chicken, and sausage, which was delicious. Hopefully we'll have a chance to go back before we leave the area Feb. 15th.
---
---
Although I now have a shack to work out of, it doesn't mean the area is any less muddy around the shack.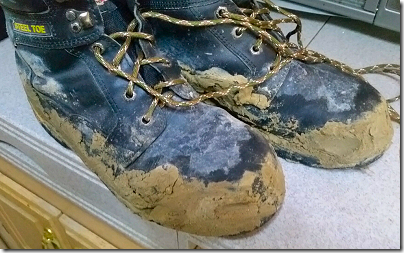 I'm not sure my boots will ever be the same.
I talked to the new Company Man this morning about getting some gravel dumped in the area to take care of the mud. Hope it works out.
---
---
As it stands, when the frack starts next weekend?, rather than Jan and I being on opposite shifts at the front gate, we will both be on the night shift, with her at the front gate and me at the pad, pretty much like we were last week. Much better.
Jan quickly discovered she'd rather be on night shift, going in at 5 in the afternoon, than getting up at 4 in the morning for day shift.
---
Thought for the Day:
95% of the spiders in your house have never been outside.
asdfad
Things started moving fast this morning, and so did we.
---
---
I had just gotten to sleep after my 12 hour shift when I started getting texts from Todd, our SiteWatch supervisor, pretty much upending everything.
Rather than close the pad gate where I've worked for the last few days, the CM reopened it for days only until the frack starts. But the big change is that Todd wanted us to turn around from night shift to day shift. Which means that today's turn-around day is maybe the only chance we'll have to move over to Westhoff.
So after about 4 hours of sleep I was up a little after 11 so we could have one last meal at Barth's. Then it was back to the rig by 12:30, and we were on our way by 2pm.
I had called ahead to the Westhoff RV Park and was told to just pick a site when we got there. So we did.
---
---
But it was all down hill from there. The park owner, Jan says he was creepy, was upset that we were in a 'big, heavy' motorcoach and were making deep ruts in his grass sites. Of course this was because the ground was soaked due to all the rain we've had in the last week.
Finally he asked us to move to another site where, not surprisingly, we also left deep ruts. At this point he continued to fuss and complain about how much trouble it was going to be to fill those ruts. At this point Jan got fed up and said, "Would you like us to leave?" He thought for a couple of seconds and said, "I think that would be best." and then gave us our $240 check back. So we left, making more ruts getting out of the park.
So he ended up with the same ruts, but now he had no money. I'm not sure he thought this through.
---
---
But we later found a very nice RV near Cuero, for $250/ month with free Wi-Fi. It's only about 20 minutes from the gate. But even better it's only 3 minutes from Whataburger.
---
Thought for the Day:
"A society that loses its sense of outrage is doomed to extinction."
dghdghd