As is usual with a rig like ours, that I say is old enough to vote, things break. Some related to the trip, some not. it's a work in progress
---
---
The one you already know about is the problem with our Onan diesel generator. To recap, our genset worked perfectly on our first day's travel from Santa Fe to Breaux Bridge, LA. But then only ran for 10 minutes the next morning before it quit.
We'd had it fully serviced by RV Mobile Lube a month or so before, changing out all filters and fluids, and it's always worked without a lot of problems.
I spent a lot of my free time on our trip trying to get it going again, but with no luck. It also didn't help that that due to the 4th of July holiday in the middle of week, I had a lot of trouble getting helpt from my Onan Tech Support guys So once we get settled in, I'll get back on it.
Of course I already mentioned my backup plan. Since a new controller/inverter board goes for about $1500.00 and a new QD 7500 runs between $9 & $10,000, I might just replace it with a Predator 8750 generator from Harbor Freight.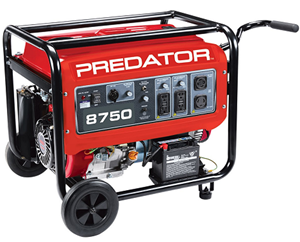 And it's only $599.
And as it turns out, one of our blog readers, Davy Boggs, of the Boggs Family Ministries, has one that he got for a non-RV purpose. He said the Harbor Freight guy told him to start it up and run it for about 4 days. If it survives, it'll probably last a long time. If it dies, bring it back and get another one. He said they ran theirs hard for 10 days and never looked back. So another mark in the plus column.
Of course I haven't given up on the Onan yet.
The other breakdown wasn't really trip-related, but could have happened without any traveling. A few days ago the drive belt on our Splendide Washer/Dryer either broke or came off the pulley. I won't know which until I get the unit out and check it. I'm pretty sure it's the belt since I can heard the motor running, but no drum movement.
When I Googled the belt, I found a bunch of 'used' ones on eBay in the $40 – $45 range. So I began to think that this was another part that is no longer available from Splendide. This is what happened with the drain pump on our unit died a few years ago. Luckily I was able to find one from another brand of washer and made it work. And it has worked with no problems for several years now.
But just in case, I put in a call to Westland Sales to see what they had. As it turns out they have both possible belts, one 1262mm in length and the other one 1270mm. And even better, a new one is only $43, the same as the used ones on eBay.
The only way to tell which one I need is to pull it out and check. Even if it only came off the pulley, I'll probably replace it anyway. The old one is 19 years old, and probably brittle and stretched. Better to replace it now and not have to do it again for another 19 years.
Finally, a couple of days into our trip I noticed an oil sheen on our toad. At first I thought it was due to the fact that my slobber can had fallen off under the engine, so I installed another one. But that didn't really help.
So crawling back under the rig, I looked to see if I could find where the leak was. My first thought that it might be around the oil filter or the drain plug, both of which were changed out recently by RV Mobile Lube. But it was all dry in that area.
In fact the leakage appeared to be around the general area of the slobber tube, but even above it, not below. And I was losing enough oil to show up on the dipstick.
I think my next step will be to spray down the area with Awesome/Dawn and then wash it off. Then I'll wait a week or so to see what drips out. Otherwise I'll have to run the engine for a while and see what happens.
I'll keep you updated.
---
---

Thought for the Day:
Perfect is the enemy of good. "Better a diamond with a flaw than a pebble without." – Confucius
adsfasdf
We were out of our site at Poche's Fish N Camp RV Park and on I-10 heading toward Houston a little after 7am.
---
---
As we hit the road, we were hoping that our luck with the cool weather would hold. And lucky for us, it pretty much did.
It stayed overcast the entire trip with short bouts of rain, at least until we were coming into Lake Charles. Then the bottom dropped out.
And as we made the last big curve and approached the bridge, I told Jan it did not bode well that we could not actually 'see' the bridge, just the lights of the cars going up and coming down. Nothing of the actual structure of the bridge or the water below. Probably the perfect bridge crossing for our good friend Nick Russell, who is publicly vehement in his dislike of bridges.
The rain was pretty much gone by the time we reached the Texas border where we stopped for a break, but the heavy cloud cover held and it stayed cool all the rest of the way.
And, as I mentioned the other day, about 50 miles back into Texas, we rolled over 150,000 total miles in our 1999 American Eagle coach, and of course, 85,000 miles for us a couple of days ago.
Our first stop before home was at the Buc-ee's down in La Marque where we unhitched the truck and then dieseled up. I was presently surprised to find that gas prices had really dropped in the 2+ weeks we were gone, and diesel was only $2.77/gal. Nice.
We were backing into our site here at the Petticoat Junction RV Park a little after noon. And it was nice to be back 'home', even though we had a great time seeing everyone.
After getting plugged in and then catching our breath for a bit, we headed up to the Webster area, with a quick detour along the way to pick up some chairs from our storage room to take by the house so we'll have a place to sit.
Our first real stop was our favorite East Star Chinese Buffet for lunch. With all the different foods we had on our trip, Chinese is the one that got left out. Between BBQ, Mexican, and Cajun, we pretty much covered all the rest.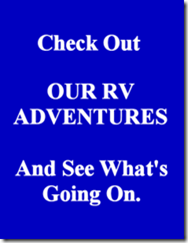 After that we made a WalMart stop for a few things, and then went by the house to drop off the chairs and be sure everything was OK while we were gone. And it was.
Back home I finally set up the Sat/TV system for the first time since we left June 21st of last month. We both agreed we kind of like our 'quiet time', and we may have a little more of it to come.
Tomorrow it's back to work for me, and probably a lot of puttering around the rig for Jan, putting everything back where it goes.
---
---

Thought for the Day:
Don't be ashamed of who you are. That's your parent's job.
adfad