I mentioned yesterday that I had a dermatologist appointment this morning, and as it turns out, I'm really glad I did.
---
---
It seems that the scaliness on my head and nose that I thought might be eczema or psoriasis is actually actinic keratosis, a pre-cursor for Squamous Cell Carcinomas.
And long-time readers will remember that back in July 2014 I had a Squamous Cell removed from my head while we were up in Elkhart, IN. So it fits, I guess.
Once thing kind of interesting is that, although I could feel the scaliness, it wasn't really visible on my scalp, so it tended to mask the problem.
The doctor used a canister of liquid nitrogen to burn off about a dozen or so 'hot spots' on my head and nose that he saw today. But this doesn't get rid of the real problem. So in November, after we're back from Florida, I'll have a procedure called PDT (Photodynamic Therapy) to head off any further complications.
They'll coat my head with a chemical in the form of a liquid or cream, let it dry for 30 to 60 minutes, and then expose the area to a special wavelength blue light. The pre-cancerous areas absorb the chemical more than the non-cancerous areas, and when the light is used, the chemical activates and burns the selected areas out, leaving me with a somewhat severe sunburn for a few days. And I will have to wear sunscreen and a hat (which I already do) for a few weeks.
Then in another month, I'll have to do it again. And hopefully that will be the end of it.
Afterwards Jan and I stopped off at the BayBrook Mall-area Starbucks. It's Fall and her favorite Pumpkin Spice Latte's are back, so it was a must-stop. Then we made a stop by Fry's Electronics so I could look for a replacement connector for the foot pedal for Jan's Viking sewing machine.
I didn't find what I needed, but I did come across something that would certainly be useful during the coming Zombie Apocalypse.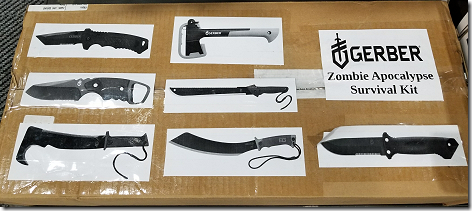 And this Gerber set can be yours for only $300.
So Be Prepared!
After Fry's we headed over to East Star Chinese Buffet for lunch, and then on to Sam's and WalMart for a few things, and then it was home for the day.
Wrapping up, Brandi posted photos of this visitor to her backyard this afternoon.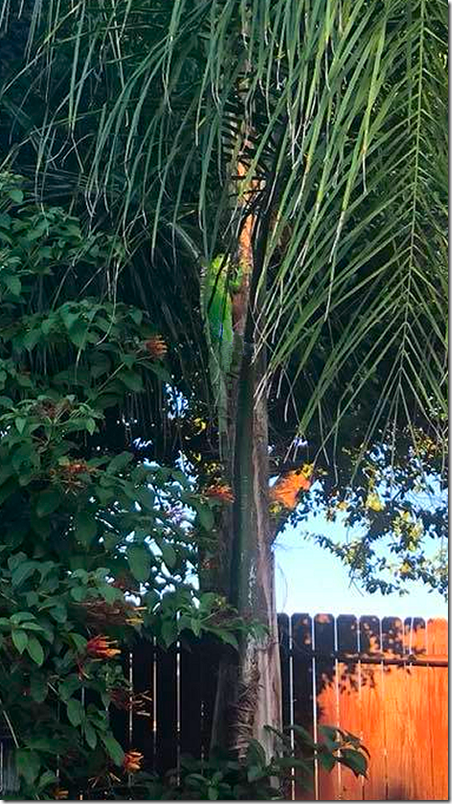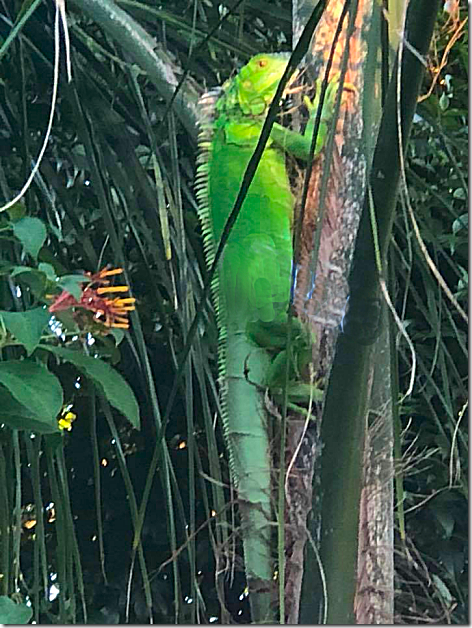 Looks like somebody's pet got loose. Or maybe there's a colony of them roaming around Cinco Ranch.
Of course, big green iguanas kind of run in the family.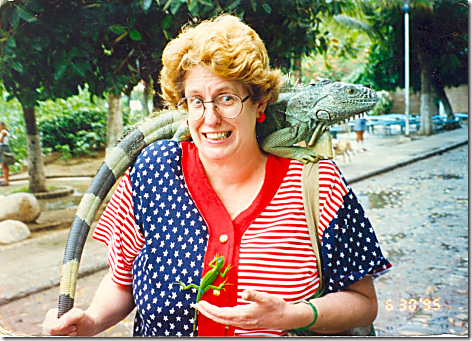 Here's Jan and her new green friend when we were in Puerto Vallarta in 1997.
I've heard they taste like chicken. Sounds like a perfect way for Lowell to try out that new big grill they've got.
---
---

Thought for the Day:
Newspaper Ad in UK paper.
YORKSHIRE TERRIER. 8 years old, Hateful little bastard. Bites!
fdgsdfg
Several readers asked why I hadn't posted photos of Jan's new Vera Bradley bags. When I was ready to photograph the bags, Jan was asleep on the sofa with them all clutched to her bosom. Never awaken a sleeping tiger.
---
---
But here they now.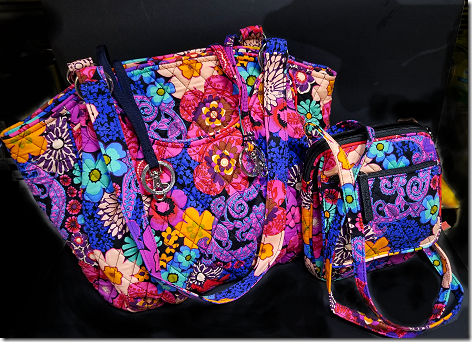 First up is her new Shoulder Bag on the left, with the two lanyards draped across the top. Hers matches with mine the black. Everyone says we will need them on the cruise to hold our shipboard access passes. And on the right is a matching Cross The Shoulder mini version.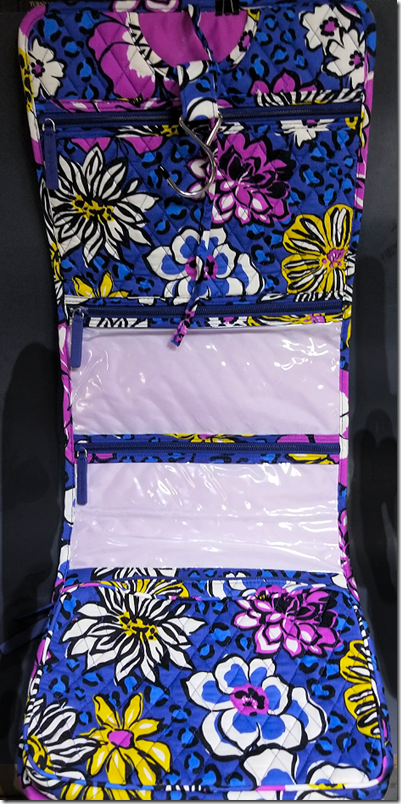 She also got this Over The Door travel bag that folds up and holds makeup and other toiletries. She didn't get it in the matching print since she won't be carrying it, and it would have been full price and not discounted 70% like the others. In fact, at full price it would have cost more than everything else put together.
That's my girl.
When we were at WalMart yesterday, I was behind this lady who had piled up Halloween candy on the conveyer belt.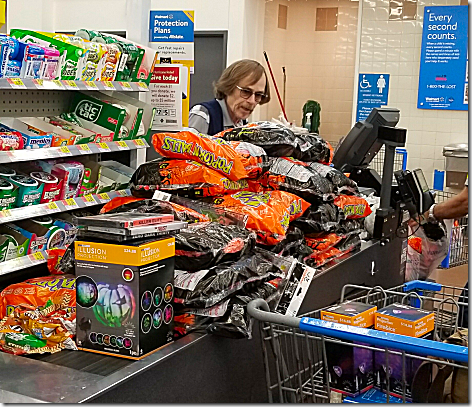 And this is only about half of what she had. Total was over $500.
When I asked her, "How many people come to your house on Halloween?, she said, "We usually get about 600 or so. It's become kind of a party every year."
Of course, if you're really into Halloween you can could to Home Depot and get this 6 foot tall, animated, lighted dragon that roars.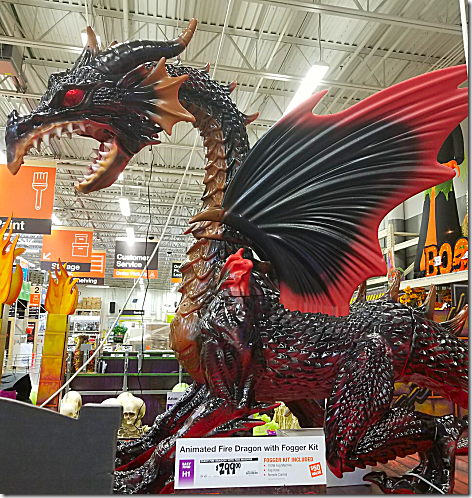 It blows out smoke, and according to some Googling, you can make it breathe fire. And it's only $300. Neat.
Now that our test drive is out of the way, and I've confirmed that our oil leak is fixed, I get back on my generator problem. I've been going over the manual and talking with Onan so I've got some more things to check on.
But if I don't get it fixed before we leave for Florida on Oct 3rd, we'll just get an earlier start before things heat up, and with the cooling temps on the way, we should be fine.
Tomorrow I've got a dermatologist's appointment and then some errands, and well as lunch at East Star Chinese Buffet.
YUM!
---
---

Thought for the Day:
I used to be indecisive, but now I'm not so sure.
dfgsdfg