We were originally told that Jan's cataract surgery was scheduled for 9am tomorrow morning. So we figured that we'd need to be at the Surgicare Care about 7:30-8:00.
---
---
So we were VERY surprised when we got a call this morning to tell us that Jan needed to be there at . . . wait for it . . . 5:15 in the AM.
She will be the first patient of the morning, but we don't know they're just starting a lot earlier or what. Or maybe just a lot of pre-op stuff. Though neither of us remember a lot of prep stuff like this when Jan's mother had hers done.
Besides being just generally nervous about this, the worse part of the whole thing for Jan are the eye drops. Three times a day today, and then various amounts over the next three weeks. And of course doubling up starting next Wednesday before her 2nd surgery.
The problem with all this is that Jan is EXTREMELY 'eye-shy', as in run away screaming 'eye-shy'. So if she's this bad with the drops, we can only hope she's heavily sedated for the actual operation.
On the way home this afternoon, I did stop by the Los Ramirez restaurant to get a few photos of the Christmas windows. Really nice, especially considering how fast the lady did it.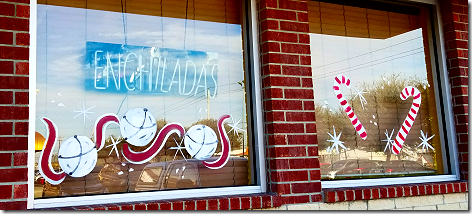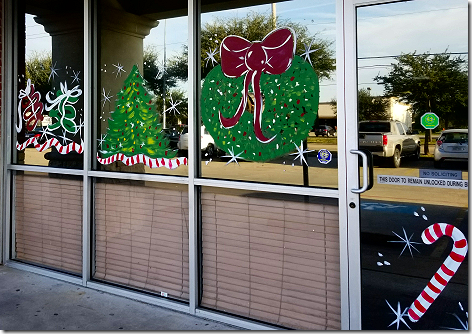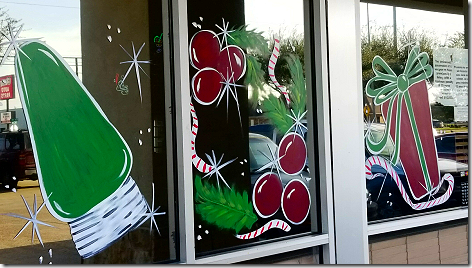 That's about it for today since we've got to get up so early.
---
---

Thought for the Day:
When a man says a woman's place is in the kitchen, he should remember that's where all the knives are.
asdfad
About 1:30 Jan and I headed out for lunch and some more. Since it's been a while we drove over to Los Ramirez right off FM646 on FM517. One thing that was interesting was watching a lady paint the Christmas decorations on the restaurant windows.
---
---
She was just setting up when we got there, and by the time we left she was finishing up all six windows. She started by going down the row of windows doing all the basic shapes of candy canes, wreaths, trees, bells, etc. Then, with the first panels now dry, she went back to the start adding in the details, and then did it again. She did a really great job in less than an hour. But unfortunately, after all this buildup, I can't show you because I forgot to get any photos. Sorry.
Maybe I can run by there tomorrow.
Next up were stops at WalMart for more stuff, and then the next door Sam's Club for the prescription that I couldn't get this past Sunday. While I was there I asked about the problem with the Sam's Club app.
You can use the WalMart app to scan your prescription bottle to automate your refills. But when you use the Sam's Club version of the app and scan your prescription, it doesn't read the prescription number, but instead just enters the store number. You can still enter the number manually so it will work that way.
The pharmacy tech said that several other people had mentioned the problem, but that their IT department said it worked fine. When I asked if anyone had actually checked it themselves, she hesitated and then said, "No."
So, opening my bag I pulled out the bottle and scanned with the Sam's app. And it came up with '0470200' which is their store number.
"Oh.", was her reply. "I guess we'll call them again."
On the gas price front, last Saturday Sam's Club had regular for $1.79, at least according to Gas Buddy. At the same time Costco was still at $1.84. However today both Costco and Sam's were at $1.81.
Don't know what happened, but $1.81 is still nice. In fact as we were later leaving the Costco, Jan asked if I was going to fill up.
"No, it'll just be cheaper later in the week."
I feel left out. Nick has all the fun.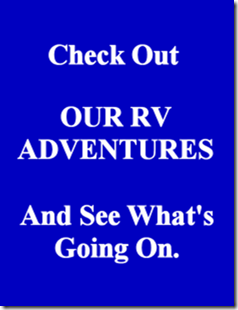 I wanted my own blackmail email.
My good friend Nick Russell forwarded me this email he received.
Subject: powerful backlinks for your site
From: "picrights.com" <info@picrights.com>
Date: Tue, December 04, 2018 3:01 pm
To: editor@gypsyjournal.net
From: picrights.com <info@picrights.com>
Subject: powerful backlinks for your site
Message Body:
Hello guys, I would like to make offer for you. Please buy my services from https://www.fiverr.com/seosupremacy or I will create negative porn backlinks to your website and get it removed from Google index. Please choose. I recommend that you buy my gigs to avoid losing business. If you order my gig, I will take your site to top and if no, I will spam it with porn links and get you removed from Google. I hope you understand the serious matter.
No only didn't I get an email like this, apparently I don't get the porn links either,
Bummer!
Since this was supposed being done through Fiverr.com, I passed it on to them, and quickly heard back that this was a complete scam and not coming through them.
I figured as much, but wanted to send it on just to be sure.
Tomorrow Jan starts her eye drop's routine, two different ones several times a day, in prep for her cataract surgery Thursday morning, with a checkup on Friday afternoon.
Then her right eye next week.
---
---

Thought for the Day:
It's sad, but I am not longer young enough to know everything.
adfa