Well, A Lot.
We were up about 6:30 this morning, wanting to get an early start on our 320 miles run down to the Mims/Titusville area. The weather reports were all over the place about how much rain we could expect along the Florida panhandle before we turned south on I-95 at Jacksonville.
But since here in the Eastern Time Zone, the sun didn't even rise until about 7:30 we still time to take it easy and drink our coffee. When I finally went outside to take down the satellite dome, I was surprised to see that the park had pretty much filled up with rigs during the night.
We pulled out a little after 8am and stopped right out front at the Marathon station to get diesel. After finally getting the pump to work on credit (it didn't take debit) it gave me $100.00 worth at $3.599 a gallon, so about 28 gallons. But I needed about 100 gallons.
So not wanting to fuss with the pump anymore, I went inside to ask the Asian lady, who also owns the park, "Would you please turn me on?"
Poor choice of words, as it turned out. Well, maybe not.
She smiled, reached up and stroked the beard of the left side of my face.
"How's that?", she said with a smile.
"Nice.", I said with a slight stutter, "But I meant my diesel pump."
"Oh", she said, smiling as she clicked on the screen.
Note, I didn't tell Jan about this until we were well down the road.
I'm not sure I should tell her that I was planning for us to stay here again on our way back to Houston.
Along our eastern route we ran into some spots of moderate rain, but nothing real heavy or long-lasting. We turned south on I-95 about noon, looking at only another two hours until we were in Titusville.
But as they say, The best laid plans . . . and all that.
About 50 miles from our destination, the Seasons In The Sun RV Park in Mims, the southbound traffic on I-95 came to a complete halt. Talking to our friend Nick Russell over in Edgewater, we found out that a couple of tractor-trailers had collided with one fatality at exit 237, the one for Ormond Beach/US 1. Looking at our Delorme Street Atlas GPS, I saw that was about 3 miles ahead of us.
And it took us almost 2 hours to creep-travel the 3 miles, and by the time we got there, nothing was left of the accident, and everyone just sped up like it never happened.
We pulled in the the Seasons RV Park, got checked in, found our site, and tried to back in.
I say 'tried', because there was just no way to make our 40 foot rig bend like that. Between the marker post at the front of our site, the site next door, and the empty site across the street with the marker post AND a tree, there was just no way to make the backing turn into the site..
Then as I was standing outside with Jan trying to figure out how to make this work, I looked down at our site's marker post and noticed something.
The hole was a lot bigger than the post. With one of those "Ah-Ha' moments, I lifted the loose post out of the ground and laid it aside. Someone else had already solved the problem.
After that, it was easy-pezy.
Getting plugged into shore power, we changed clothes and headed into Titusville to meet Nick and Terry Russell at Dixie Crossroads, a long, long time favorite of ours, dating back to the mid-80's.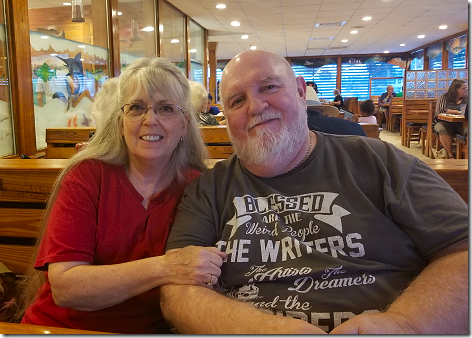 This is our first time to get back together since last September when they brought their RV to Houston to put it on consignment with PPL.
It's been too long.
More about Dixie Crossroads tomorrow. I'm tired.
---
Thought for the Day:
I love the sense of camaraderie when an entire line of cars team up to prevent a jerk from cutting in at the front. Stay strong, brothers and sisters!
dghdgh
For everyone who's emailed or commented on our proximity to Hurricane Michael, No, we're not heading into the eye of the storm.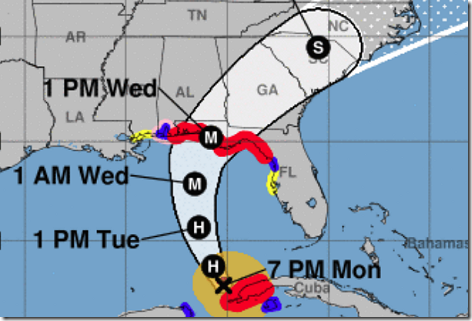 Right now, at about 7pm Monday the storm is just off the west coast of Cuba, and by tomorrow afternoon, when we'll be parked at the Seasons in the Sun RV Park in Mims, FL, just north of Titusville, the storm will just be about the same latitude as Miami.
So we'll probably get some rain on the way, and after we're there, but it shouldn't be a problem.
We pulled out of our site at the Escapees Park about 9, got hitched up, and were on the way by about 9:15. Rather than back track up SR59 to I-10, we cut out across the countryside to hook up with US90E and then on to I-10 north of Pensacola.
Then it was a 170 mile run to Quincy, FL where we stopped for the night at Beaver Lake RV Park, a small Passport America park, for $23 a night.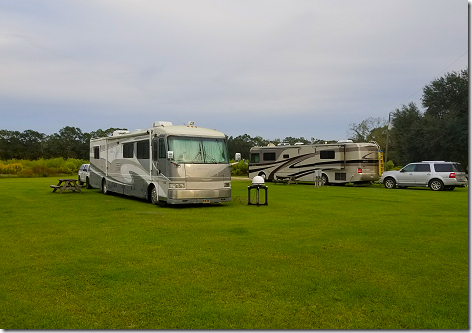 It's pretty much just wide-open grass-covered field with full hookups. But it's nice and level, with a lot of room between the sites so we could maneuver without unhitching.
Plus the Marathon station where we checked in out front has a diesel pump we can get to without unhitching. Especially nice since we stayed home tonight and finished off our leftover Lambert's Throwed Roll's Hamburger Steaks.
Still delicious.
Since we've got a 320 mile trip tomorrow, we want to get an early start, probably around 8am. Though it's more to be sure we're ahead of any incoming weather, it's also cooler.
However, as we traveled today I noted that with the windows open and the vents fans running, we wouldn't have been any more comfortable with the AC's. Hope it holds.
Landon, et al. have been really enjoying their new pool.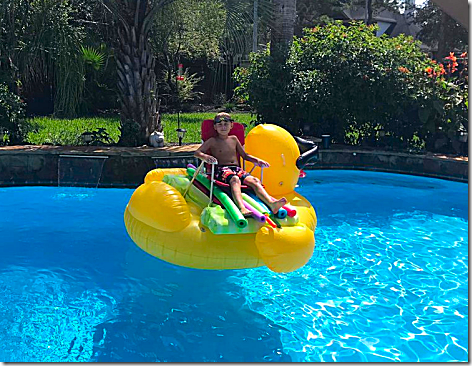 Chris and Linda came down from Kingsland, and Miss Piper came up from Clear Lake to also enjoy the pool this weekend.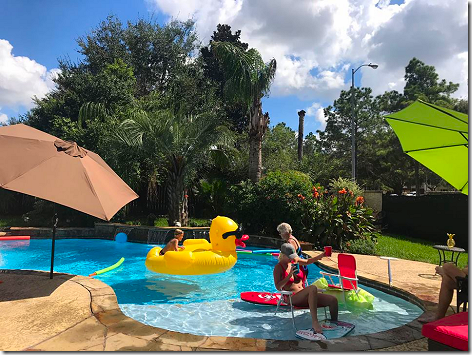 Looks like fun.
---
Thought for the Day:
"Never say you're sorry. It's a sign of weakness." – Jethro Gibbs
sdfgsd