After a nice morning of coffee and conversation, we left the rig about 2:30, heading for the Gulf Beach.
We had planned to stop in Foley to take in the Train Museum and their Model Train Layout, but I misread the time, and they were already closed. Maybe next year.
Our first stop was for lunch at De Soto's Seafood Kitchen, another of our favorite local seafood places, and another one we've been eating at for years.
We both had the same thing, the Broiled Seafood Platter, differing only in our sides.
Jan got hers with the Steamed Veggies and the Fried Green Tomatoes,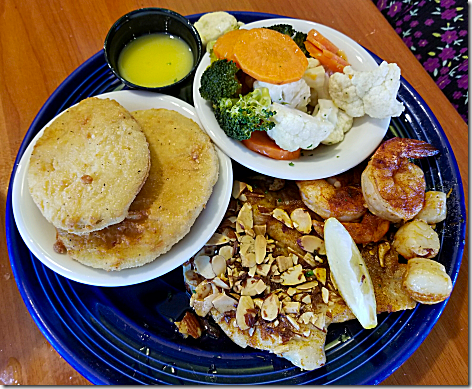 while I got it with Steamed Veggies and their delicious Sweet Potato Casserole with candied pecans.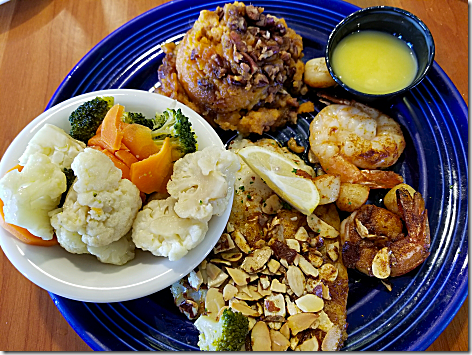 In a trade out, Jan gave me some of her Tomatoes while I gave her some of my Sweet Potatoes, which we both saved for our dessert.
It's that good.
Although we got seated immediately, by the time we left around 4, the place was filling up. The young lady cashier said they were on a wait until 9pm last night.
It's that good.
Finishing up, we drove down the beach road toward Orange Beach to check out some of our old haunts. Our first stop was a long-time favorite of Jan's, Tallulah's Treasures, a really neat gift shop. We've been coming here for years, even before we started RV'ing, and even before it when it was called Tootie Green's Yellow Broom.
After driving around for a while, we headed back up the beach road and stopped off a the local Ron Jon's Surf Shop. I was looking for a new Hawaiian shirt and I found just what I wanted.
While we were there we talking about visiting the original Cocoa Beach Ron Jon's, back in 1967 when we were dating.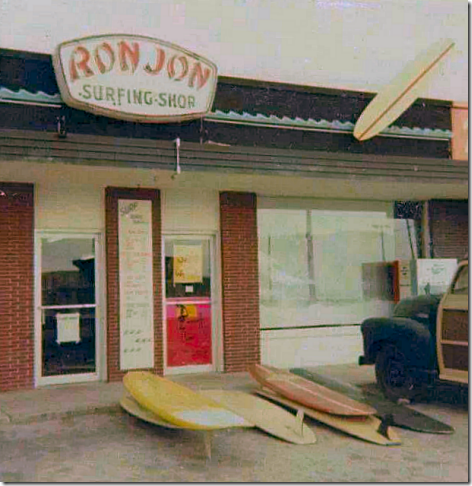 It was located in a small building in a strip center, and was pretty much just a long aisle with surf boards propped up on each side.
Now it's pretty much a mall all by itself.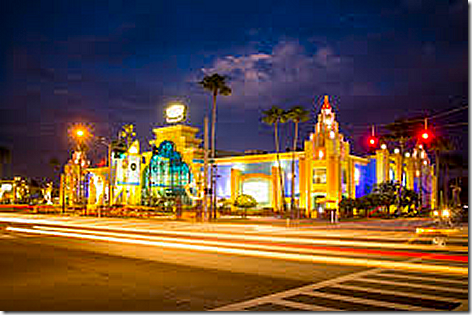 Finally about 6pm we parked down by the beach and set out to watch the sun go down and people watch.
There were a lot of people leaving for the day, but a whole new group of people walking out on the beach just as it was getting dark.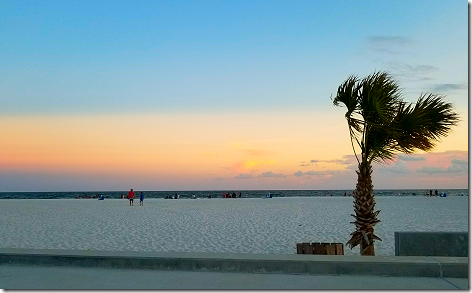 Jan even got to see some of her favorite pelicans make one last pass up the beach.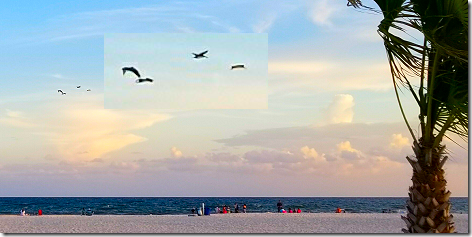 We waited until the sun had finally disappeared before we were back in the truck and heading home.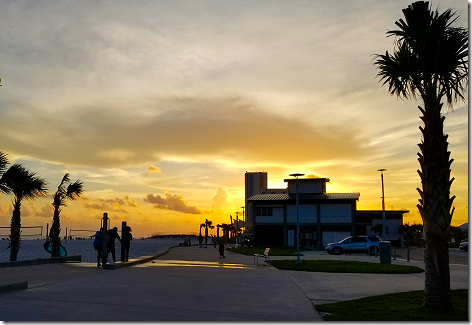 Most of our blog readers know that I grew up here in Gulf Shores, from when I was about 2-1/2 until I was 13 and we moved to South America.
This is me with my father in January 1951, right after we moved down here from Birmingham where my father was a Detective on the Birmingham Police Department, and my mother was a Public Health nurse.
Over the next months they built a large motel here called White's By The Sea.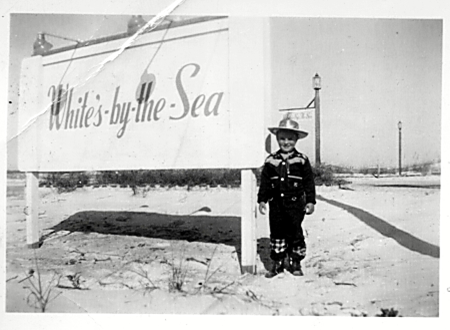 And yes, that's me in my favorite cowboy suit.
If you know anything about Gulf Shores, and know where the Sea N Suds beach restaurant is located, that's where our motel was. And the Sea N Suds itself is built around what was once the pier house store on the motel's fishing pier.
With my history in this area, it's kind of hard to come back every time and see more and more of my memories being erased, torn down, paved over, and built over, But then on the other hand, I see places that have survived, seemingly unchanged, since the 50's.
Family cottages that have made it through the many hurricanes that have ravaged the area, small buildings and offices that have seem multiple iterations of tenants, once a grocery store, now a tattoo & piercing parlor, once a gas station, now a restaurant. It all changes,and it all stays the same.
What it all boils down to, I guess, is that you can go home again. It just won't really feel like home anymore.
---
Thought for the Day:
Even when a man listens to his wife, you just know he is gonna get it wrong.
adfafd
Well, I had planned to try and slide this one by, being the The Big Seven OH and all, but my 'good' friend Nick Russell spilled the beans in his blog today.
So I want to thank everyone for the many Birthday Wishes I received, from the blog, email, and Facebook. It does somewhat cushion the realization.
And besides being my birthday, Jan enjoys it for another reason. She calls it her Sweet Spot. It's twenty days a year when we're both the same age.
Then come October 25th, she's a cradle robber again.
We're really enjoying our site here at the Escapees Rainbow Plantation, except for a couple of things.
The Verizon data service is kind of sucky here, and then there are the noisy acorns thunking on the rig roof day and night. Though I guess it could be worse.
We could be parked under the magnolia trees like some nearby sites, with their large, heavy seed pods the size of golf balls.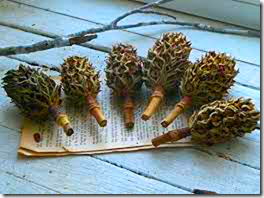 And these are heavy enough to hurt. When I was a kid we'd use them playing soldier and throw them at each other, pretending they were hand grenades. And they do hurt.
About 2pm we headed down to the Intracoastal Waterway, and another of our long-time local favorites, Lulu's at Homeport Marina.
For those who don't know, 'Lulu' is what Lucy's brother Jimmy used to call her. And 'Jimmy'' of course, is famed singer Jimmy Buffett
Unlike past visits in August, when the place is jam-packed, we were seated immediately and got a table out of the deck.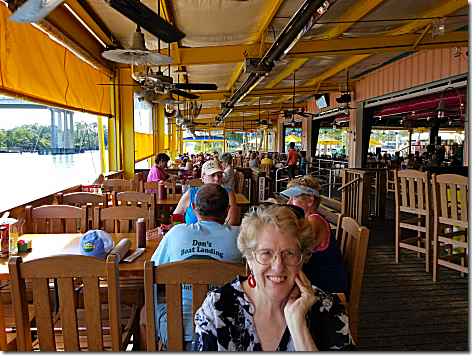 And the view of the canal is pretty nice, too.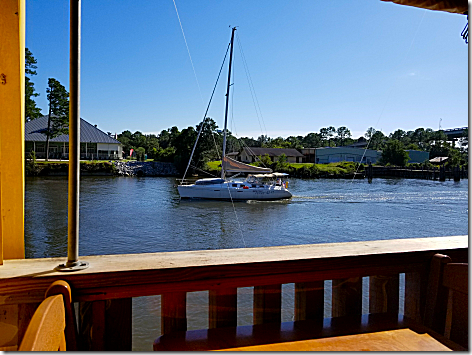 Looking over the menu,we discovered a new addition, and it's one of our favorites – A Wedge Salad.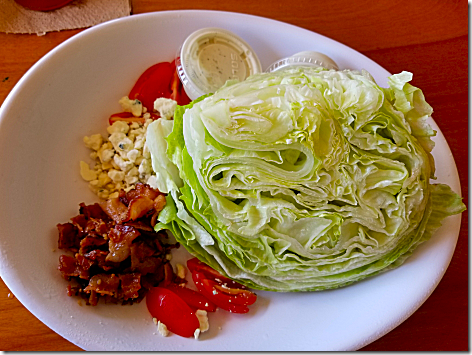 Delicious, but as I told Jan, it's the the first we've had one that was a 'kit' and had to be assembled. And with about 3/4 of a head of lettuce, it was definitely the largest we've ever had.
And along with the Bleu Cheese Crumbles, the chunky Bleu Cheese dressing made this probably the best Wedge Salad we've ever had.
Jan got her favorite Grilled Shrimp Tacos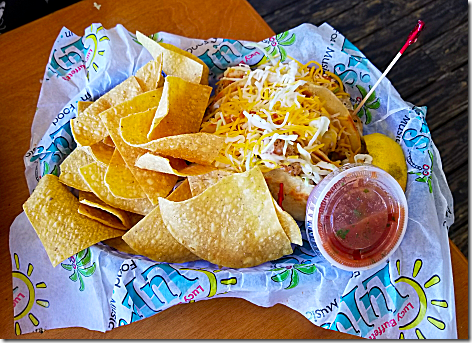 while I got my usual Shrimp and Oyster PoBoy.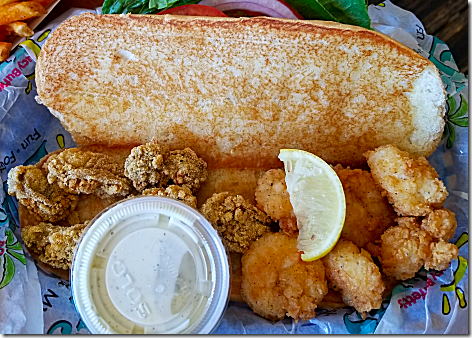 One thing about Gulf Shores seafood is that you know it's all going to be fresh, fresh, fresh. The texture is a dead giveaway.
And of course for dessert, we had to split an order of their famous Krispy Kreme Bread Pudding.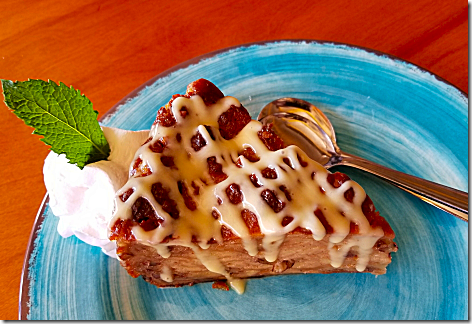 The perfect finish to our meal.
Finishing up, I recently sent out a Change of Address postcard to the folks on our Christmas Card list. It looked like this.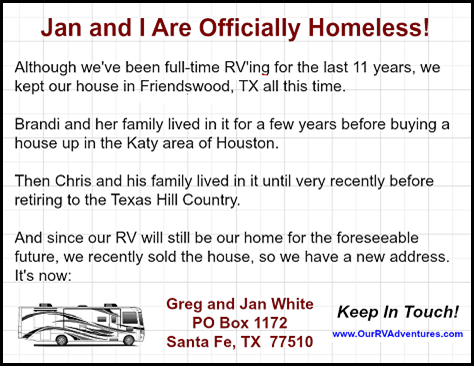 Our first new address in almost 30 years. A big change.
Tomorrow we're going down to the beach and do some shopping and then have dinner at De Soto's Seafood Kitchen, another of our local favorites.
---
Thought for the Day:
As I always tell Jan, if I say something that can be taken two different ways, and one of them makes her mad, I meant the other one.
dfgsdfg