Jan and I were out the door a little after noon to meet up with our friend's Rudy and Caroline Leggett, and our waitress friend Julie at the Monterey's Little Mexico Restaurant up in Pasadena.
---
---
Rudy is the go-to guy to keep your rig's Aquahot system working and travels all over the country to rallies working on people's rigs.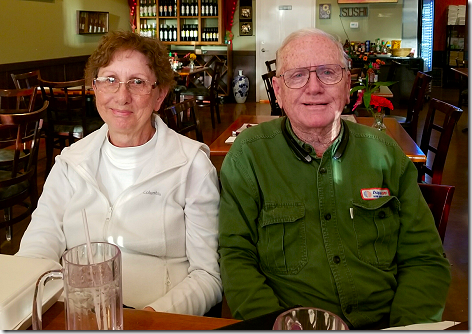 We met up about 1pm and didn't say our goodbyes until after 3, so all-in-all a typical RV'ers get-together. And just like this past Saturday at the Monterey's in Alvin, Jan had her Chicken Ixttapa and I, of course, got my favorite Chicken Tortilla Soup.
When we got home a little after 4pm, I followed through on my idea to crank up the rig's engine and then let it come up on the airbags to check things out before our test drive this weekend.
When you haven't cranked up for 5 months, you always hold your breath that it's going to start, but today it was just Rumble . . . Rumble . . . Vroom! with no hesitation. And it was less than 10 minutes when the rig up on the airbags and ready to roll.
One thing that's interesting is the way the airbags come up. The rear bags come up with 3 or 4 minutes, but the front bags just sit there for 5 or 6 minutes and then come up all at once.
So it looks like we're good to go this weekend.
I thought that to fill out the rest of this blog is to repost our visit to Niagara Falls in 2009 on our way back from Newfoundland.
Niagara Falls – For Trudy… September 24, 2009
Today we drove about 30 miles from our park to visit Niagara Falls.

The title of today's blog says 'For Trudy'. Trudy was Jan's Mother who died in 2007. She always wanted to visit Niagara Falls, but never got the chance.

So Jan said "This visit is for Mom".

After following the signs coming into the city of Niagara Falls we ended up on Goat Island, the home of the American side of Niagara Falls.

Goat Island and the Falls make up the Niagara Falls State Park. Established in 1885, it's the oldest State Park in the United States.

Even before we got to the Island, Jan saw the mist rising from Horseshoe Falls, named because it's shaped like a big horseshoe, of course.

But before we could see the Falls, Jan had to feed the a squirrel a Kashi bar.

Squirrel 2

Squirrel 2
The 2nd squirrel had this deal where he would lay flat on his belly and then slowly crawl toward you begging for food.

Walking over the small and looking down on the Falls was amazing. BTW Most of these pictures can be seen larger. Just click the picture. If there is a larger version, it will come up. Click the Back Arrow to get back to the blog.

Squirrel 2
Squirrel 2
You can walk right to the edge of the falls and look right out at the water going over.

Squirrel 2
And then looking straight down thru the spray and the rainbow you can see the Maid of the Mist heading into the base of Horseshoe Falls. Looks like fun!

Squirrel 2
After spending time at the Horseshoe, we walked over to the other falls, the American Falls and the Bridal Veil Falls.

Squirrel 2
Squirrel 2
Squirrel 2
Squirrel 2
Squirrel 2
After stopping to look at the many flower beds, we got in line to tour the Cave of the Winds.

---
---
Squirrel 2
Cave of the Winds is now kind of a misnomer. The actual cave, named because the sound the wind made blowing off the falls, disappeared when the ceiling collapsed in the 1920's.

What you have now is an elevator that takes you 180 feet down to the base of the American and Bridal Veil Falls and lets you walk on a wooden walkway thru part of the falls themselves. They give you plastic ponchos and sandals to wear, but they don't really keep you dry.

You will get wet!

Squirrel 2
Squirrel 2
Squirrel 2
Squirrel 2
Here's Jan standing where part of the falls comes over the walkway. Jan said she looks like a banana. I think she looks cute.

Squirrel 2
This is the Hurricane Deck where you're actually standing in the Falls. I went up there while stayed kind of dry on a lower level. It's impossible to get pics up there. My camera's not that waterproof.

Squirrel 2
Here's what the walkway looks like from the Maid of the Mist.

Squirrel 2
One amazing thing about this is that workers disassemble the walkway every fall and rebuild it every spring, otherwise the winter ice would destroy it.

Here's what the area looks like in February.

Squirrel 2
After drying out we rode the trolley over to the Maid of Mist dock. These boat tours have been running since 1846, almost 40 years before the place was even a state park.

The boats take you right into the whirlpool at the bottom of Horseshoe Falls, fighting the current all the way. It's like being in the middle of a hurricane.

Squirrel 2
Squirrel 2
Squirrel 2
Squirrel 2
Squirrel 2
Squirrel 2
One thing I found interesting on the boat trip was the remains of Nikola Tesla's Niagara Falls power plant, built in 1896.

Squirrel 2

This plant was the first to harness water flow to generate electricity, and demonstrated the superiority of Tesla's AC electrical system over Edison's DC system. Many people don't realize we owe our entire electrical to Tesla. But back in the late 1800's, there was a big legal war going on between Tesla and Edison over whose system was better.

By the early 1900's Niagara Falls was lighting New York City.

Leaving the Maid we walked out on the observation tower

Squirrel 2
to a fantastic view of the entire Falls area.

Squirrel 2
A fitting end to our great day at Niagara Falls.

Walking back to the toad, we saw something I'd never seen before.

Black squirrels.

Squirrel 2
And they were very aggressive. When I turned and walked away, and then looked back, they were following me, stalking me.

Leaving the Falls area, we drove down to near Buffalo to eat dinner at one of our favorite BBQ restaurants, Famous Dave's. We always have great leftovers.

Then it was home for the night.
---
---

Thought for the Day:
Never tell me not to do something. Because then I'll probably do it twice and take pictures.
dfgdfg
Well, besides Jan, of course.
Please remember, Our RV Adventures is an Amazon affiliate. When you do your shopping through any of the Amazon links here, including the Search Amazon box in the right sidebar, it won't cost you any more, but we'll get a small commission on everything you buy. Just click on the Amazon link, then shop as usual. Thanks.
Plus, many of you are sharing our blog with others using the "Share this:" buttons at the bottom of each blog. Again, Thanks.
---
---
I may have made a mistake at work today. My client found out that I can 'fix' things. Well, things other than computers. Things like electronic devices and doodads
When I went in the back to ask him a question, I found him trying to check the output of a power transformer . . . with his meter set to DC. And before I knew it I was elbows deep in an epilator (electrolysis) machine trying to figure out what was wrong with it.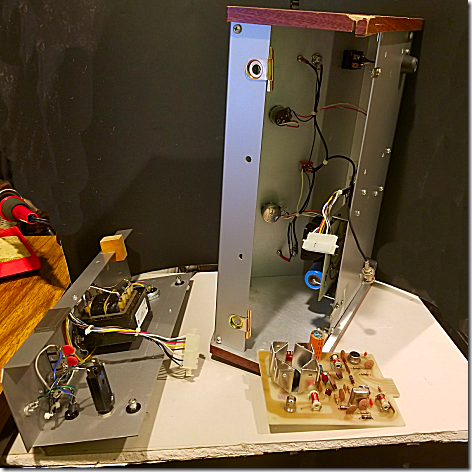 It did take me a few minutes to trace out the circuit and find a broken wire up inside the unit on the back of a socket where one of the circuit boards plugs in.
With that one done, he set another one down in front of me and said, "Try this one." And it short order I'd gone through 6 machines. Thinking I was about done, I ask him if he had any more. He beckoned me to follow him into another back room. It was filled with dead machines.
I want more money.
Of course with me and electronics it's like throwing Brer Rabbit in the Briar Patch. Or to mix metaphors, I'm in Hog Heaven. I started playing around with radios and electronics when I was about 10, devouring every issue of Popular Electronics, Electronics Illustrated, Radio-Electronics, and others. Plus ordering parts from Allied, Lafayette, Burstein-Applebee, etc., as often as I could afford it.
By the time I was about 14 or so, I was repairing neighbor's radios and TV's in my garage shop. I think I wore out the tube tester at the drugstore. CB radio, Ham radio, I was in to anything and everything electronics. And now look where it got me.
I want more money.
---
---
This past Saturday we made another visit to Plucker's, our new favorite chicken wing place. This time we went earlier so we didn't have a wait.
Jan got a Garden Salad,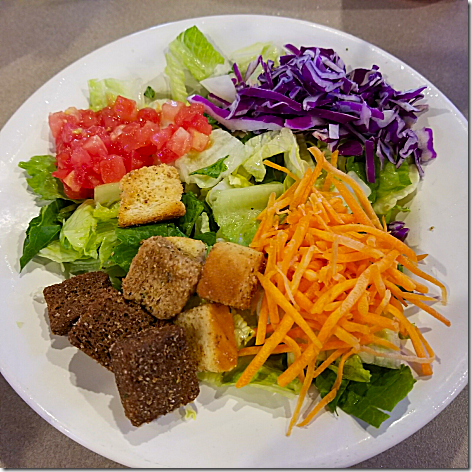 and a order of 5 wings with their Ginger Peach Sriracha sauce.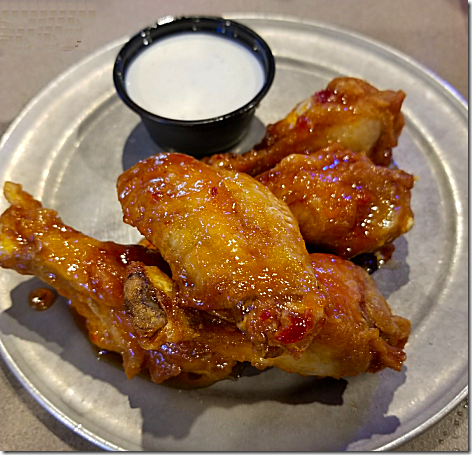 I had the Grilled Chicken Salad,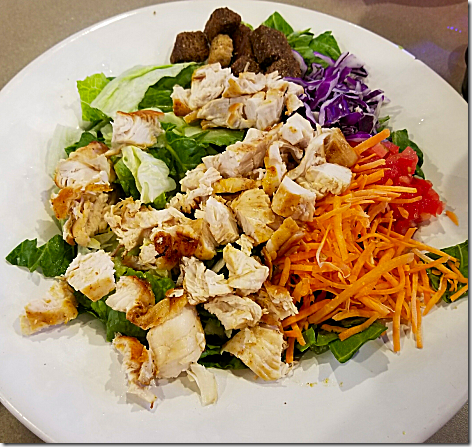 and Jan gave me one of her wings.
I just wish they had hotter sauces. Their hottest, Fire In The Hole, is not nearly as hot as Buffalo Wild Wings Blazin' sauce. And the Ginger Peach Sriracha is not as hot as BWW's Mango Habanero, my favorite there.
But it's all good.
They do have a challenge that if you eat 25 Fire In The Hole wings, you get your name up on the wall. Well, I can handle the sauce just fine, but there's no way I can eat 25 wings. So I guess I'm just doomed to obscurity.
I mentioned the other day that we were going to take the rig out for a little test drive this weekend to be sure everything is working OK since we've been parked here for 5 months now.
Well, tomorrow I thought I'd do a pre-test test by starting up the engine and letting it come up on the airbags just so we don't have any surprises later.
Tomorrow afternoon we're meeting Rudy and Caroline Leggett at the Monterey's up in Pasadena for lunch. Really looking forward to it.
---
---

Thought for the Day: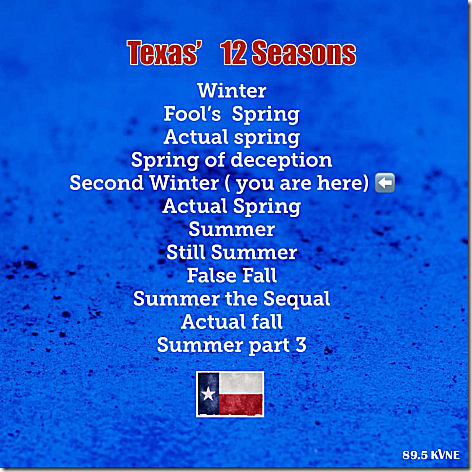 dfasdf