Well, besides Jan, of course.
Please remember, Our RV Adventures is an Amazon affiliate. When you do your shopping through any of the Amazon links here, including the Search Amazon box in the right sidebar, it won't cost you any more, but we'll get a small commission on everything you buy. Just click on the Amazon link, then shop as usual. Thanks.
Plus, many of you are sharing our blog with others using the "Share this:" buttons at the bottom of each blog. Again, Thanks.
---
---
I may have made a mistake at work today. My client found out that I can 'fix' things. Well, things other than computers. Things like electronic devices and doodads
When I went in the back to ask him a question, I found him trying to check the output of a power transformer . . . with his meter set to DC. And before I knew it I was elbows deep in an epilator (electrolysis) machine trying to figure out what was wrong with it.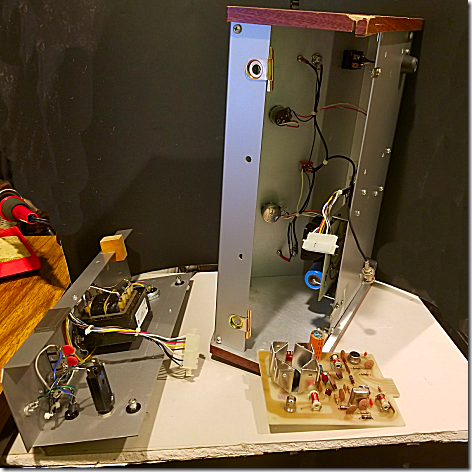 It did take me a few minutes to trace out the circuit and find a broken wire up inside the unit on the back of a socket where one of the circuit boards plugs in.
With that one done, he set another one down in front of me and said, "Try this one." And it short order I'd gone through 6 machines. Thinking I was about done, I ask him if he had any more. He beckoned me to follow him into another back room. It was filled with dead machines.
I want more money.
Of course with me and electronics it's like throwing Brer Rabbit in the Briar Patch. Or to mix metaphors, I'm in Hog Heaven. I started playing around with radios and electronics when I was about 10, devouring every issue of Popular Electronics, Electronics Illustrated, Radio-Electronics, and others. Plus ordering parts from Allied, Lafayette, Burstein-Applebee, etc., as often as I could afford it.
By the time I was about 14 or so, I was repairing neighbor's radios and TV's in my garage shop. I think I wore out the tube tester at the drugstore. CB radio, Ham radio, I was in to anything and everything electronics. And now look where it got me.
I want more money.
---
---
This past Saturday we made another visit to Plucker's, our new favorite chicken wing place. This time we went earlier so we didn't have a wait.
Jan got a Garden Salad,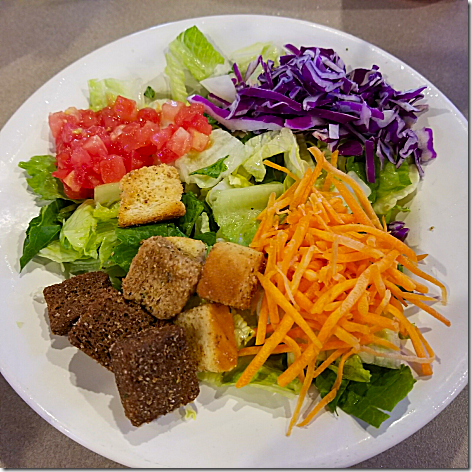 and a order of 5 wings with their Ginger Peach Sriracha sauce.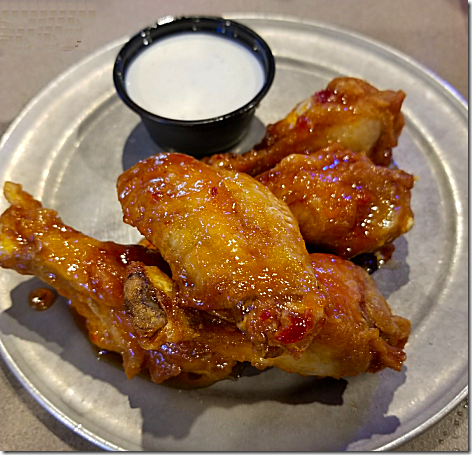 I had the Grilled Chicken Salad,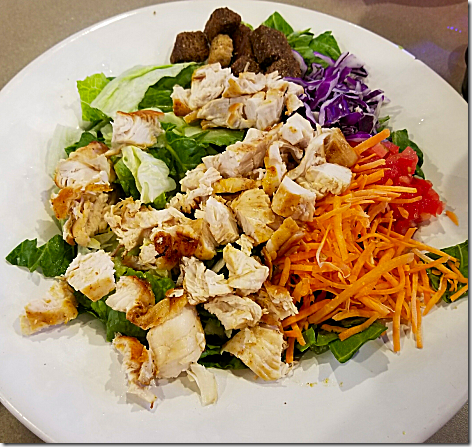 and Jan gave me one of her wings.
I just wish they had hotter sauces. Their hottest, Fire In The Hole, is not nearly as hot as Buffalo Wild Wings Blazin' sauce. And the Ginger Peach Sriracha is not as hot as BWW's Mango Habanero, my favorite there.
But it's all good.
They do have a challenge that if you eat 25 Fire In The Hole wings, you get your name up on the wall. Well, I can handle the sauce just fine, but there's no way I can eat 25 wings. So I guess I'm just doomed to obscurity.
I mentioned the other day that we were going to take the rig out for a little test drive this weekend to be sure everything is working OK since we've been parked here for 5 months now.
Well, tomorrow I thought I'd do a pre-test test by starting up the engine and letting it come up on the airbags just so we don't have any surprises later.
Tomorrow afternoon we're meeting Rudy and Caroline Leggett at the Monterey's up in Pasadena for lunch. Really looking forward to it.
---
---

Thought for the Day: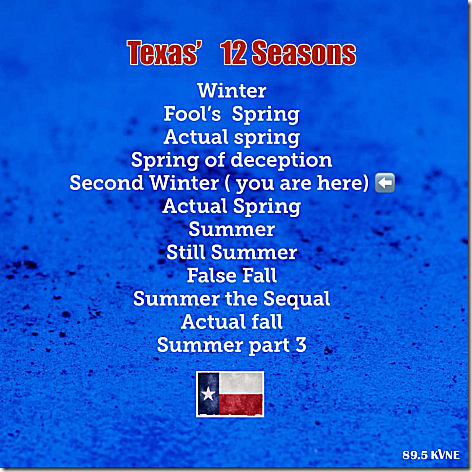 dfasdf
Unusual for us on a Sunday morning, we were up by 7am and out the door about 8 heading over to the IHOP on Marina Bay Dr. to meet up with our friend's Tom and Barbara Linklater for breakfast.
---
---
It takes a lot to get me out of bed that early on a Sunday, but breakfast at IHOP, and getting together with Barb and Tom will do it.
While I went with my usual Two Egg Breakfast, Over Easy, with Bacon, Grits, and an English Muffin, Jan did the build-your-own-omelet thing, putting together one with Mushrooms, Cheese, Onions, and Avocado,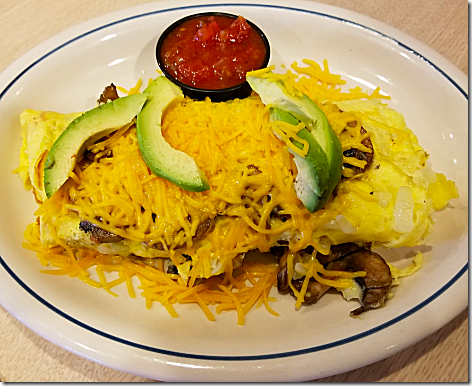 ---
---
and a order of her favorite (glass) burnt Bacon.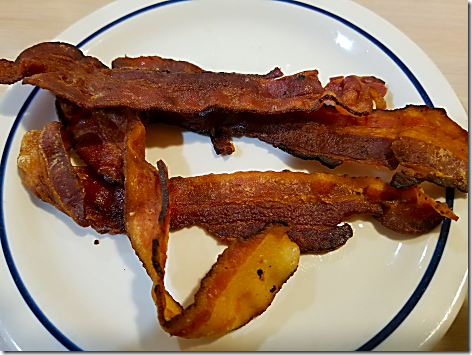 Barb's thinking about getting a website to sell her large inventory of vintage clothing, jewelry, hats, and other collectibles, so we spent a lot of time talking over web stuff.
One thing neat was we were waited on by our long-time favorite waiter, Dean. We've known Dean since before we started RV'ing. My mother was in an Independent Living Facility nearby, so we'd pick her up and come hear for breakfast quite often.
And then after we started RV'ing and were staying down TX146 at the Galveston Bay RV Resort we came fairly often too.
Coming home we made a Krogers' stop for a few things before getting back to the rig about 11am, ironically the time I'm normally just getting up.
It never even made it to 60° today, so we both had to dig some winter shirts back out of the closet.
But with Texas weather you never know.
---
---

Thought for the Day:
If your glass is half full, pour it into a smaller glass.
gsfgf