Did you get yours?
Since we had hitched up and prepped everything last night, all I had to do this morning was to disconnect shore power and put the key in the truck ignition and unlock the steering wheel before we pulled out of our site at Poche's RV Park about 8:30 am and were on our way.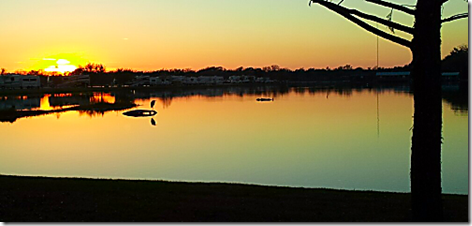 One of our favorite parks.
I was dreading the usual mess going through Baton Rouge, but it turned out to be relatively painless, at least as far as Baton Rouge goes. The only real slowdown was coming up the hill and through the I-10/I-110 interchange, and that was mostly because drivers tried to jump ahead in the right lane, only to find that the right lane was an Exit Only and then they had to slow things down by trying to get back over.
If everyone just got in the left lane and stayed there, it would move a lot faster.
With all the rig windows open and the fans going, it was really comfortable.
We pulled into the Escapees' Rainbow Plantation in Summerdale, AL about 2:30, and got parked and set up.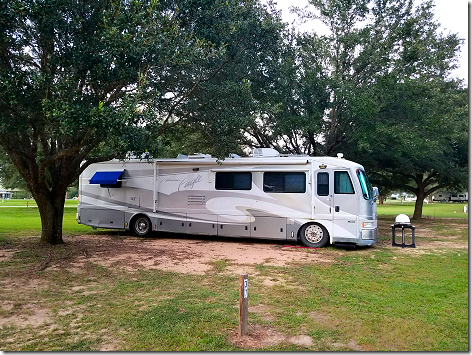 The sites are wide, and the back in was smooth and easy. It's our first time to stay here, though we have visited friends here before. But it will probably be our main stop here in this area from now on.
About 3:30 we drove down to Foley to have a late lunch at one of our favorites, Lambert's Throwed Rolls. We've eaten here multiple times since this one opened in 1996. And in the last few years we've manage to eat at the other two, the one in Ozark, MO in 2008 while we were staying in Branson, and the one in Sikeston, MO in 2012 on our way up to Celina, OH for one of our friend Nick Russell's late, lamented Gypsy Rally's.
Jan and I both had the Hamburger Steak, smothered in gravy with onions, mushrooms, and peppers. I got mine with Turnip Greens and Green Beans, while Jan got hers with Mashed Potatoes and Green Beans.
And of course, the Pass-Arounds. Fried Okra, Black-Eyed Peas, Potatoes and Onions, Macaroni and Tomatoes, and Sorghum and Apple Butter for the rolls.
Ah, Yes. The Rolls. Hot, soft, and the size of a softball, arcing overhead through the banners and pennants hanging from the rafters. But not always dodging everything.
The first one that came my way from the other side of the dining room ricocheted off a hanging light fixture and disappeared into the crowd. But I got with next two with no problems.
Well, except for the fact that they were so hot and fresh that they were almost too hot to hold.
And as usual, between the large portions and the Pass-Arounds . . . and the rolls, of course, we took half our meal home with us.
Really delicious, as usual.
And in case you're wondering why no photos of all the delicious food, I managed to forget my phone when we left the rig, so just use your imagination and discuss among yourselves.
Yesterday, at 1:18 CDT Jan and I got a phone call from the President. Did you get yours?
Yesterday was the fourth nationwide test of the Emergency Alert System, and the first one that included cellphones. But not all cellphone providers are participating yet, so you may not have gotten one.
Maybe next time.
---
Thought for the Day:
I have a hard time deciphering the fine line between boredom and hunger.
hjfhj
Wanting to get an early start to beat the heat, we were hitched up and pulling out of our site at the Petticoat Junction RV Park about 7:50am
We hit a couple of slow spots due to breakdowns on I-45, but once we got on the Sam Houston Tollway heading east, it was smooth sailing all the way to I-10 and beyond.
We thought it was funny that the Rest Area coming into Louisiana was STILL under construction, and has been for several years now. Someone's looking for permanent job security. Or maybe someone's not getting paid off.
I know that within the last couple of years Buc-ee's was looking to build a store, their largest yet, just east of Baton Rouge. They had even purchased the land right on I-10.
But after about a year of planning, permits, site surveys, etc., they cancelled the whole thing.
The reason, as stated by the owner of Buc-ee's? Too many hands out looking for their payoff.
We pulled into our site at Poche's RV Park a little before 1pm, making the 245 miles in 4 hours, and averaging 8.4 MPG according to our Silverleaf Computer Interface.
The trip turned out to be very comfortable, more so than we had anticipated. When we did our little test drive a few weeks ago, we noticed that if we had the windows by the driver and passenger chair's open, we got a very nice cross-breeze without the wind noise we had thought we would have. So, between running the roof vent fans in exhaust mode, the dash fans, vent air, and the cross-breeze, we were really comfortable. Not bad at all.
So tomorrow we'll also see how it works opening some more windows in the rear of the coach.
Later, about 3pm Jan and I headed into Breaux Bridge to have dinner at our new local favorite, Crazy 'Bout Crawfish.
As before, Jan got the Grilled Catfish Fillet with Grilled Mixed Veggies,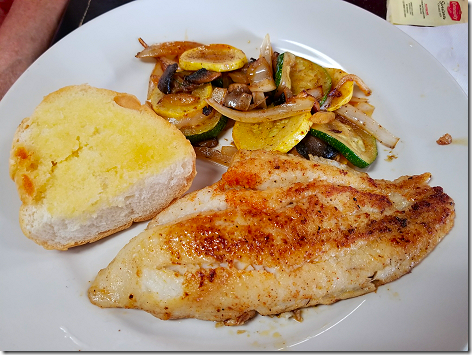 while I got a cup of their Seafood Gumbo,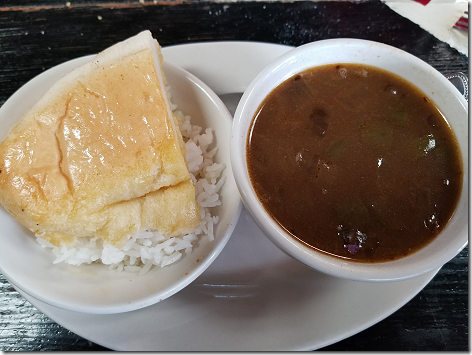 and an order of the Shrimp Boil with Corn and Potatoes.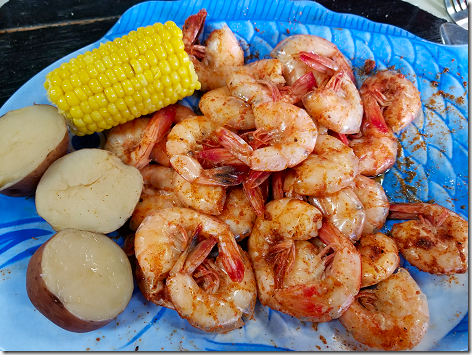 Unlike last time, this time they asked me if I wanted it, Lil' Crazy, Crazy , and Extreme Crazy, referring to the spice level. Guess which one I ordered.
I don't know exactly what's in this seasoning, but I can say that even if you wash your hands three or four times, rubbing your eye is still not a good idea.
And everything was delicious. And like last time, we split an order of their Bread Pudding with Homemade Rum Sauce.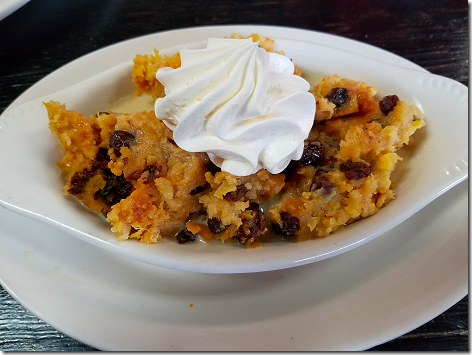 WOW!
Coming back into the park we came across these two new arrivals.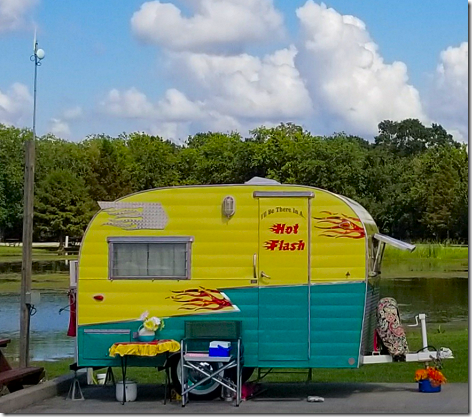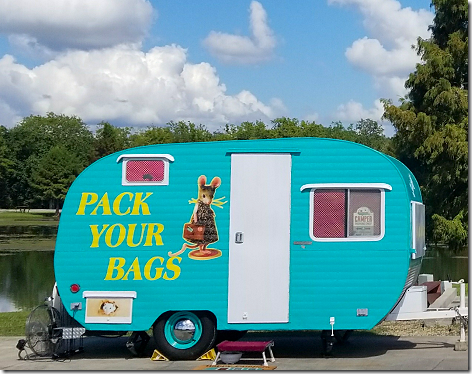 Really Neat!
We noticed several more small ones like these, but these were the only two decorated. So maybe they're having a mini-rally.
Tomorrow we'll wait until about 8:30 before we head for the Escapees RV Park 280 miles away in Summerdale, ALL. I want to avoid going through Baton Rouge during morning rush hour, since it's bad enough at normal times.
And on tomorrow's menu, Throwed Rolls.
Duck!
---
Thought for the Day:
It's not the size of the dog in the fight, it's the size of the fight in the dog. — Mark Twain
ghdg