We were out of our site at Poche's Fish N Camp RV Park and on I-10 heading toward Houston a little after 7am.
---
---
As we hit the road, we were hoping that our luck with the cool weather would hold. And lucky for us, it pretty much did.
It stayed overcast the entire trip with short bouts of rain, at least until we were coming into Lake Charles. Then the bottom dropped out.
And as we made the last big curve and approached the bridge, I told Jan it did not bode well that we could not actually 'see' the bridge, just the lights of the cars going up and coming down. Nothing of the actual structure of the bridge or the water below. Probably the perfect bridge crossing for our good friend Nick Russell, who is publicly vehement in his dislike of bridges.
The rain was pretty much gone by the time we reached the Texas border where we stopped for a break, but the heavy cloud cover held and it stayed cool all the rest of the way.
And, as I mentioned the other day, about 50 miles back into Texas, we rolled over 150,000 total miles in our 1999 American Eagle coach, and of course, 85,000 miles for us a couple of days ago.
Our first stop before home was at the Buc-ee's down in La Marque where we unhitched the truck and then dieseled up. I was presently surprised to find that gas prices had really dropped in the 2+ weeks we were gone, and diesel was only $2.77/gal. Nice.
We were backing into our site here at the Petticoat Junction RV Park a little after noon. And it was nice to be back 'home', even though we had a great time seeing everyone.
After getting plugged in and then catching our breath for a bit, we headed up to the Webster area, with a quick detour along the way to pick up some chairs from our storage room to take by the house so we'll have a place to sit.
Our first real stop was our favorite East Star Chinese Buffet for lunch. With all the different foods we had on our trip, Chinese is the one that got left out. Between BBQ, Mexican, and Cajun, we pretty much covered all the rest.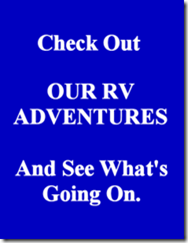 After that we made a WalMart stop for a few things, and then went by the house to drop off the chairs and be sure everything was OK while we were gone. And it was.
Back home I finally set up the Sat/TV system for the first time since we left June 21st of last month. We both agreed we kind of like our 'quiet time', and we may have a little more of it to come.
Tomorrow it's back to work for me, and probably a lot of puttering around the rig for Jan, putting everything back where it goes.
---
---

Thought for the Day:
Don't be ashamed of who you are. That's your parent's job.
adfad
Long Live The New King?
Wanting to beat the heat we were up before 6 and pulling of our site at the Benchmark RV Park in Meridian by 6:40.
---
---
And 5 minutes later we were on I-20/I-59 heading west and then south on I-59 at the split. Jan had thought about driving again this morning, but it was pretty foggy in spots, and even with the very light traffic she decided not to.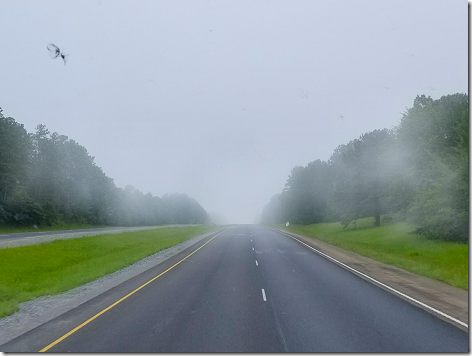 If you check out the upper left of this photo you'll see a rock chip on our rig's windshield. This is notable because it's the very first chip we have ever gotten on the rig.
Even going to Alaska and back in 2008, we didn't get a nick. And we also never got a chip on the toad windshield either, and we didn't have one of those shields or car covers you see people using. Just lucky, I guess.
At least until now.
The trip was nice and easy with no problems. Even going through Baton Rouge was a breeze with no slowdowns, at least until I got trapped behind a pokey semi going up the bridge. Then I got behind the power curve and ended up putt-putting up at 42mph, instead of the 50-55 along with the other traffic. But it was still nice.
The cooler weather held the entire way with a total overcast and occasional bursts of rain, just enough to keep the temps down and us very comfortable. And everything was great until the very end.
We were at mile marker 120, four miles from the end of the Atchafalaya River Bridge and about 20 minutes from the park, when every thing ground to a halt. And then it took us almost 90 minutes to go that 4 miles. Although we saw a police car and a flat bed wrecker come by us on the right shoulder lane, we never saw anything else, even when the traffic started moving.
So instead of getting to our site Poche's Fish N Camp RV Park by noon, it was more like 1:30pm. But we stayed nice and cool anyway.
Normally every time we're here in Breaux Bridge we eat at Pont Breaux nee Mulate's, and have for about 30 years. But it seems like since the place sold a few years ago, and even though they seemed to have keep the same recipes, the place is just not the same. So when I called to double-check their hours, and found out they were closed today , in addition to being closed as usual on Monday and Tuesday, we started looking elsewhere.
Now back in the Mulate's days that wouldn't have happened. They were open all day, every day. But we've noted on our last few visits that they're not near as busy as they used to be. So I guess we're not the only ones disappointed in the new regime.
Any way, I remembered our good friend's Nick and Terry Russell had raved about another place here in Breaux Bridge, so I checked his blog to see what the name of it was.
It turned out to be the Crazy Bout Crawfish, right off the Interstate, and BOY, was Nick right.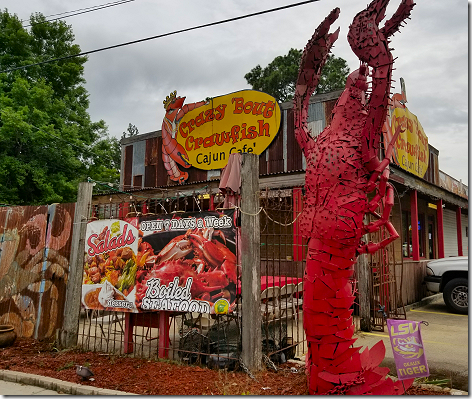 Jan and I remembered eating here one time years ago when Mulate's was closed due to flood damage, but it was a different place then, I think specializing in Po'boys. But it was nothing special and we never thought about going back. But this new place is really, really good.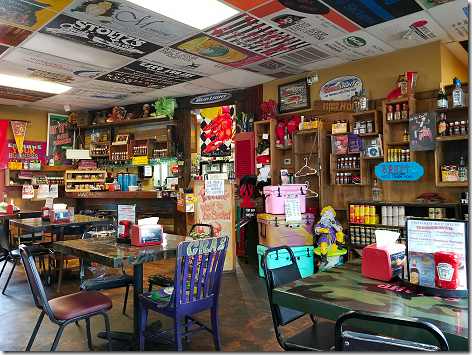 It has that typical eclectic Cajun décor in a nice setting. The staff was very attentive, the service was great, and the food was fantastic.
Jan started off with the house salad and then went with the Grilled Catfish and Grilled Veggies.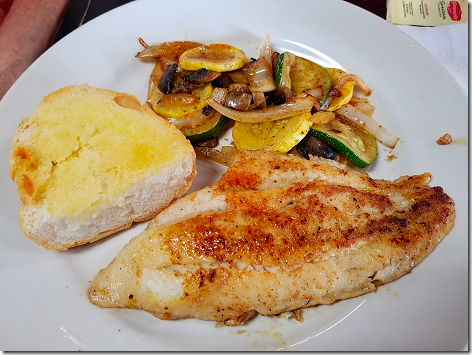 I started off with my traditional Seafood Gumbo, but a cup this time instead of my usual bowl,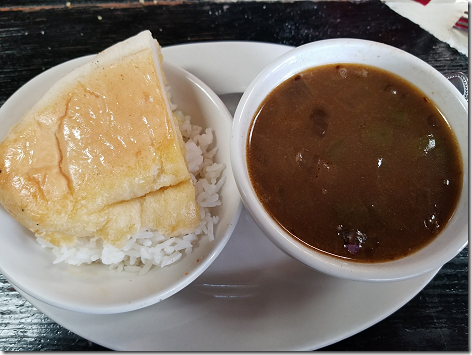 because I wanted the Spicy Boiled Shrimp, also recommended by Nick.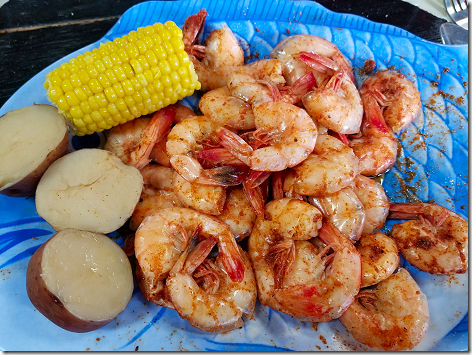 And the Nickster was right again.
But with the Gumbo, and even sharing shrimp with Jan, I still had 1/2 the shrimp to take home. Of course the other reason I took a lot home was trying to leave room for their homemade desserts.
Jan go the Ooey Gooey Strawberry Shortcake with Fresh Strawberries,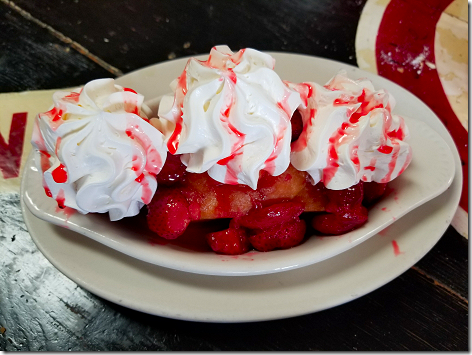 while I got the Bread Pudding with Rum Sauce.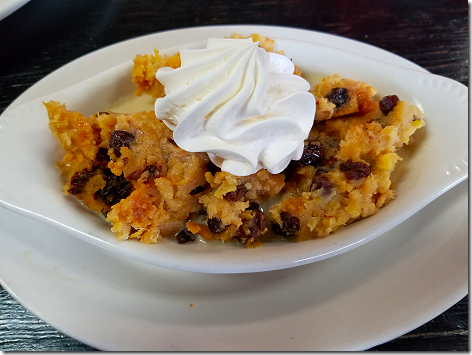 But I still didn't leave enough room, I guess, because I took half it it home too.
Heading home, stuffed to the gills, we both agreed that this is our new restaurant in Breaux Bridge from now on. So there goes a 30 year tradition.
I guess the King is Dead. Long Live The New King.
Later back at the rig, I went outside to hook up the toad for tomorrow's trip back to Houston. With that done all I'll have to do in the morning is disconnect shore power and put the key in the truck ignition to unlock the steering column, and we'll be ready to roll.
Wrapping up outside I got this great sunset shot from our site.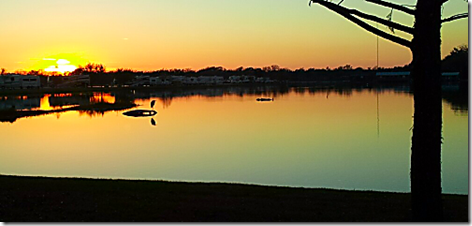 This is a really nice park, a great place to stay, and it was Passport America too.
Tomorrow we've got about a 250 mile trip back home, and it looks like the cool weather will hold.
But we'll see.
---
---

Thought for the Day:
The neat thing about being over 30 is that we did all of our stupid crazy stuff before social media. Thank God!
hgsfg