And now I know.
I had really planned to get outside and put up the new awning, I really did,.
---
---
But somehow it just didn't happen. Apparently my get up and go not only didn't . . . get up and go, it never even showed up in the first place. But there's always tomorrow.
Maybe.
Finally about 2pm Jan and I headed into Clear Lake first for lunch and then some shopping.
Lunch was King Food for big bowls of our favorite Hot & Sour Soup and then an order of their Crispy Chicken Wings with Garlic Butter, our new favorite.
Then after a delicious, relaxing meal, we headed over to the Wal-Mart on El Dorado for some groceries. Jan still wasn't quite feeling up to walking all over the store so she stayed in the truck with her Kindle while I did the shopping,.
Finally checking out, I had all my groceries on the checkout conveyor belt when I reached in my back pocket for my billfold and found nothing,
Rut Roh!
In fact, when I reached into the pocket my hand went all the way out the bottom. And now I remembered that's why I stopped wearing these pants a couple of years ago and bought new ones. I had grabbed these up since my others were in the wash.
What I don't understand is why they were still hanging in the closet. I thought I had thrown them away.
Well, they're in the garbage now!
---
---
After checking both Customer Services at Wal-Mart with no luck, I headed back out to the truck. Since I knew that I'd had it at King Food, I first put in a call to them, but got a busy signal.
Knowing they do a big take-out business, I tried it again a couple of minutes, again with no luck. So I started cancelling credit cards.
My first call was to PayPal to cancel that one, which is my main one that I use, since I get cash back on it. It only took me a couple of minutes to deactivate it using my phone.
Then, before I did another card, I again called King Food and found they had it. Someone had found it in the parking lot and turned it in. So we head back over to KF to pick it up. And I found all my money and my cards still intact.
Then it was back over to WM to see if I could salvage my groceries or if I would have to shop all over again. The first place I checked was at the Customer Service area, and there was my cart. Getting back in line, I checked out again and we headed home.
A little later I put in a call to PayPal to see if I could un-deactivate my card, but no luck. So they're sending me a new one next week.
That was enough excitement for today.
---
---

The Word of the Day is: Vatic

---
Thought for the Day:
Beauty is in the eye of the beholder and it may be necessary from time to time to give a stupid or misinformed beholder a black eye. – Miss Piggy
sgssdfg
Please remember, Our RV Adventures is an Amazon affiliate. When you do your shopping through any of the Amazon links here, including the Search Amazon box in the right sidebar, it won't cost you any more, but we'll get a small commission on everything you buy. Just click on the Amazon link, then shop as usual. Thanks.
Plus, many of you are sharing our blog with others using the "Share this:" buttons at the bottom of each blog. Again, Thanks.
---
---
When I got to work this morning, it looked like snow flurries in my office. They had replaced the sheetrock ceiling and the lights in my office yesterday without covering my desk with plastic sheeting.
Why they didn't, I don't know, since there was a UNOPENED roll of sheeting right outside the door. So I ended up with a flurry of white dust in my keyboard, printer, and chair.
At least they didn't turn off the power again.
On the way home about 3pm, I stopped off at Sundowner Canvas to drop off the big awning I took down yesterday, and pick up the other rear window one, this one on my side of the bedroom.
Hopefully I'll get a chance to put it up this weekend. Two down, two to go.
Getting home Jan and I turned right back around and headed into the Clear Lake area to have dinner at one of our favs, Floyd's Cajun Seafood.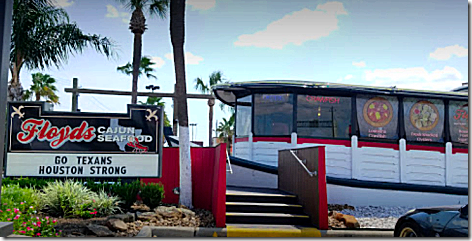 We started off with a dozen raw oysters, and with plenty of chile sauce and horseradish mixed as a dip.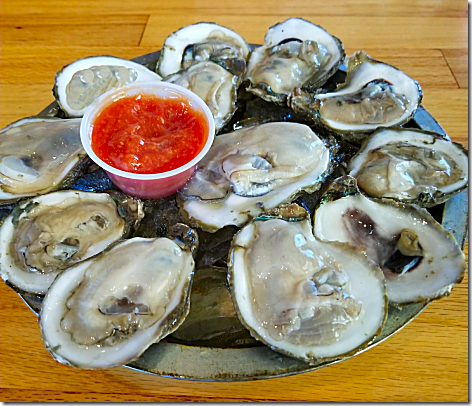 Yum!
---
---
This time Jan went with the Grilled Catfish and Mixed Veggies.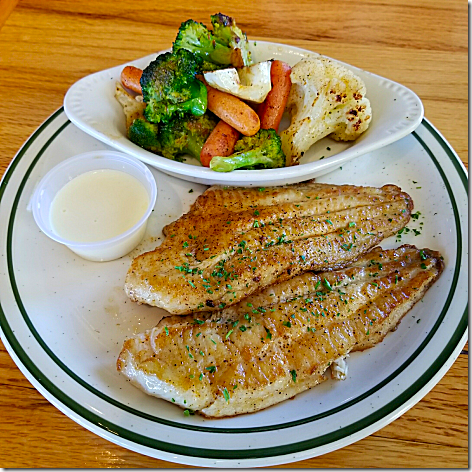 Normally these veggies are just steamed, but Jan asked them to throw them on the grill as well. Really delicious, and her new favorite.
I went with a big bowl of their Shrimp Gumbo.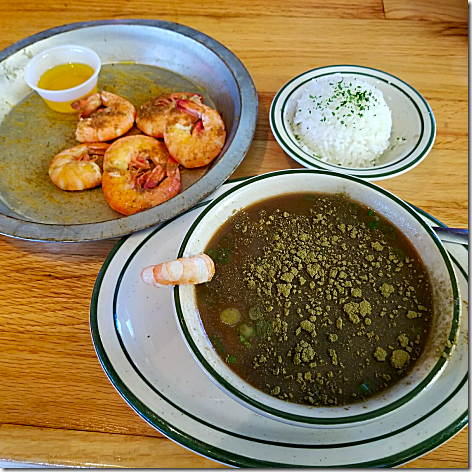 And yes, I like a lot of filé on my gumbo. And then II rounded it out with a 1/2 dozen hot Boiled Shrimp. Really good and spicy.
Not sure exactly what's on the menu for this weekend, or even tomorrow, for that matter.
But it's usually fun,
---
---

The Headline of the Day:
TSA Agents Find Live Cat Packed In Checked Luggage.
---
Thought for the Day:
Seeing ourselves as others see us would probably confirm our worst suspicions about them. – Franklin P. Adams
fgsdfg