Cupboard Casserole
Cupboard Casserole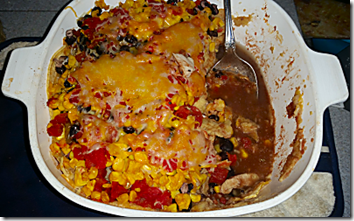 A cupboard cassserole is a meal put together on the spur of the moment, using what you can find in the 'cupboard'. This is what Jan came up with this time.
See what you can come up with.
Ingredients:
1 can of kernel corn
1 can of black beans
1 can of diced tomatoes
1 can of Rotel Habanero Tomatoes
1 jar of origin-unknown very hot sauce
(this was a pint jar of hot sauce that someone gave us in the past. No label, just a 'H' for either Hot or Habanero. Or both.)

3 medium size cooked chicken breasts
10 corn tortillas, cut into strips
!/2 cup shredded cheese
Directions:
Layer the ingredients along with pieces of chicken breasts and corn tortillas.
Cover it with shredded cheese, and put it in the convection oven for about 40 minutes at 350°.
fgsdfgsf