Sopapilla Cheesecake
Sopapilla Cheesecake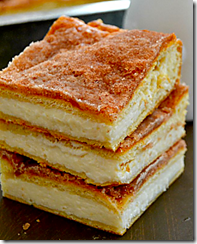 Ingredients:
1 cup of white sugar
2 (8 ounce) packages of cream cheese, softened
2 cans of refrigerated crescent rolls
1 teaspoon of vanilla extract
3/4 cup of white sugar
1/2 cup of butter, room temperature
1 teaspoon of ground cinnamon
1/4 cup honey
Directions:
Preheat the oven to 350 degrees F.
Spray a 9×13 inch baking dish with cooking spray.
Beat the cream cheese, add 1 cup of sugar and the vanilla extract.
Continue beating until smooth.
Roll out one package of crescent rolls.
Press into the bottom of a 9×13 inch baking dish.
Spread the cream cheese mixture evenly over crescent rolls.
Cover cream cheese filling with the remaining crescent dough.
Stir butter, 3/4 cup of sugar and cinnamon, spread over top of crescent rolls.
Bake for around 30 minutes, until golden brown.
Remove from oven and spread honey over top.
Once cooled, cut into squares and serve.
sfgsfdgfdg