Jan's Chicken Vegetable Soup
---
Jan's Chicken Vegetable Soup
Recently at an Italtian restaurant we fell in love with their Homemade Chicken Soup appetizer, When we asked our waitress what the secret was, she said the cook, her husband, uses Marinara Sauce so I decided to give a try at home. And it proved to be a great addition to my basic receipe, really bumping the taste up a notch. Give it a try.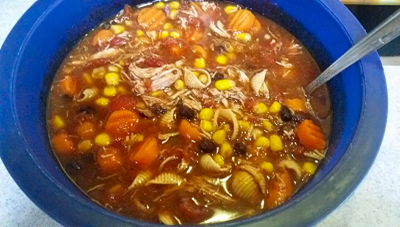 Ingredients:
28 oz jar of Marinara Sauce
14 oz. water (half of Marinara Sauce jar) with 1 Chicken Bouillon cube added, then heat in the microwave for 45 sec. to speed mixing.
1 14.5 oz. can of Crushed Tomatoes
1 14.5 oz. can of Chicken Broth
2 15.5 oz. cans of Black Beans
Oregano, salt, pepper, thyme, garlic powder and onion powder to taste
Cook in the Slow Cooker for 4.5 hours on High.
Now Add:
1 cup uncooked pasta (I used small shells)
1 12 oz. bag of frozen Kernal Corn
1 12 oz. bag of frozen Carrots
2 Cooked Shredded Chicken Breasts
Cook for 30 minutes more.
Serve and Enjoy.