Christmas Reindeer Crack
---
Christmas Reindeer Crack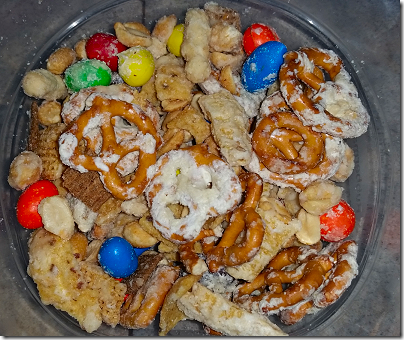 Ingredients:
3 cups pretzels
2 cups Bugles
2 cups Fritos
1 cup Chex mix
1 cup roasted peanuts
1 1/2 cups Peanuts M&Ms
1 pack of white chocolate bark
Instructions:

1. In a Large bowl pour your Pretzels, Fritos, Bugles, Chex Mix, Peanuts & M&M's..
2. Place the melting bark in a bowl & microwave for 90 seconds. Stir and, if needed, heat an additional 15 seconds until it's smooth and creamy. Watch it closely, keep stopping to stir, it burns easily if you use this way!
3. Drizzle melted chocolate over the mixture in the bowl and mix around to coat it all.
4. Once fully coated, take a large cookie sheet and pour coated mixture onto the sheet and spread it out and allow to cool completely.
5. Once cooled, break into pieces.
6. Store in an air tight container­.
fgsdfgf