Lunch today was our favorite Chinese buffet Yummy Yummy! once again. Though it's hard to call it just a 'Chinese' buffet, since they also have Fried Chicken, Pizza, Boiled Shrimp, and a really good Banana Pudding. And a lot more.
Always delicious.
Our next stop was at our storeroom to drop off our big ladder, and do something we do about this time every year – pick up our space heaters and extra quilts.
Though our days are still in the 80's, our nights dipping into the 50's, with a low of 53 so far.
Then it was on for our weekly HEB stop, before finishing up with up with a Post Office stop, and then home.
Another nice day!
Back in May I posted this photo of Dickinson's new Blue Heron Mascot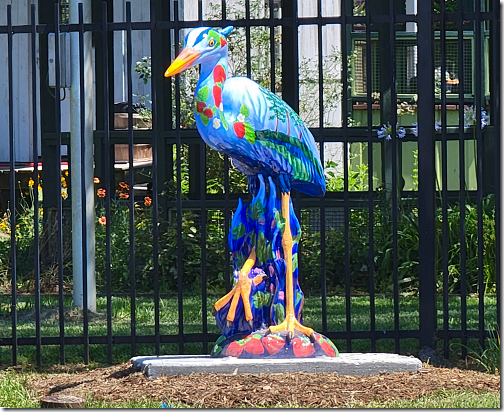 And recently we've seen more of thing springing up around town.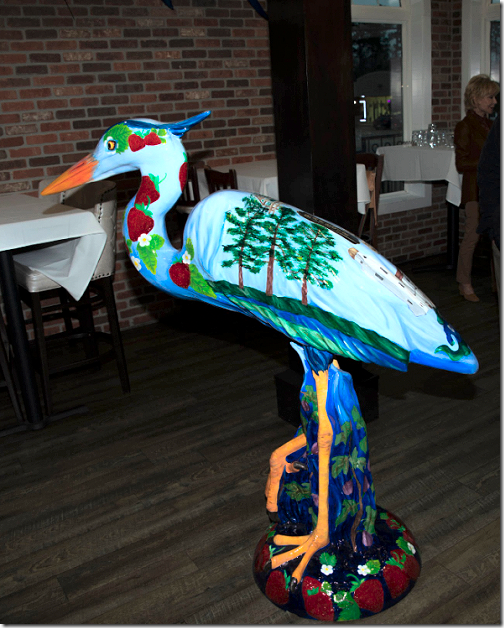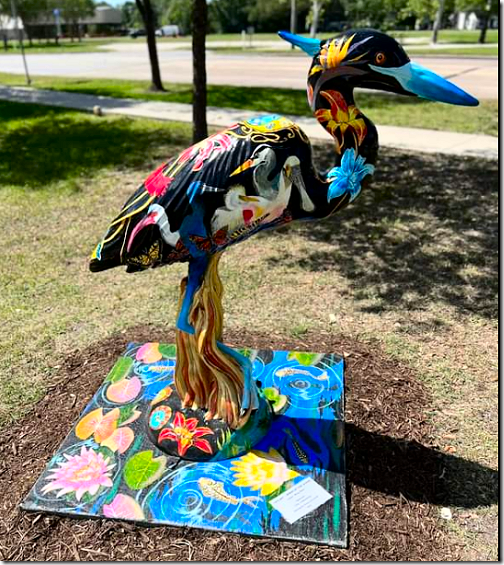 Well, now one of our favorite restaurants, Gator's Bar & Grill, has their very own version.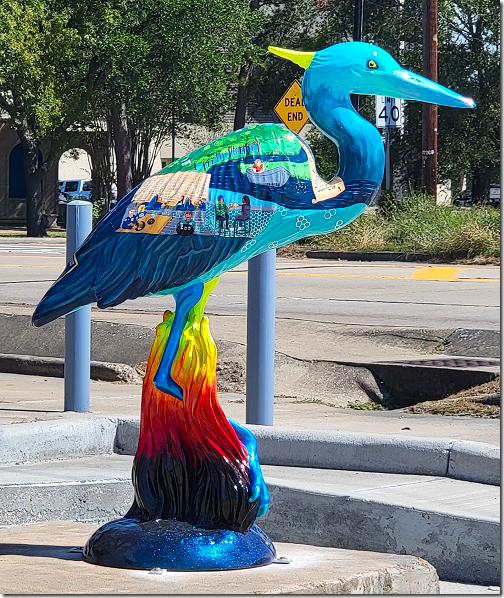 It's the 31 Days Of Halloween over on the Freeform channel, which is part of our YouTubeTV package, and it's also available as an downloaded app or online.
They've got a bunch of old favorites, all the Ghostbusters movies, Beetlejuice, Halloween, The Nightmare Before Christmas,Hocus Pocus, and many more.
Check it out.
---
Thought For The Day:
Sometimes I have to tell myself it's just not worth the jail time.
---
October 2, 2011
Landon Skyping and Broasted Chicken . . .
At about 11:30 we Skyped with Brandi, Lowell, and Master Landon. In a few weeks he's gone from barely walking to running. And climbing.
Recently while at daycare, he watched a lady using a stepladder to hang some decorations. As soon as she got down and turned away, he RAN to the stepladder and clambered to the top, right up the steps.
We didn't get a lot of good pictures today, and probably won't in the future. He never stops moving, and with the low frame rate of our Skype signal, he's mostly just a blur.
Lowell said he's gotten so tall he's wearing only 18 mos. sizes. And he's only 13 mos. old. Looks like he's going to be tall like his daddy.
And of course we're really looking forward to seeing him, and everyone else, when we get back to Houston right before Thanksgiving.
Looks like we'll leave here Tuesday morning and head east about 150 miles to the Smith's Campground just south of Loudonville, OH for about a week. Then Jan and I will head back to Elkhart following a few days later after visiting some relatives.
Then sometime before the end of October, Jan and I will start a roundabout trip back to Houston.
Later we continued to catch up on the shows we'd DVR'd during the rally, with a couple of naps thrown in for Jan.
About 5:30 we all headed over to St. Mary's, about 10 miles away, to have dinner at Lost in the 50's, a great 50's themed restaurant. We've eaten there several times and we've always like it.
The owner is a collector of 50's memorabilia and displays a small part of it in a museum that's part of the restaurant.
Although not on display at this time, he has a lot of Elvis memorabilia too, including the motorcycle Elvis rode in 'Roustabout',
one of his pink Cadillac's
and one of Elvis' tour costumes, among just a few things.
And the meal was great too. We all had the 4 pc. broasted chicken dinner and the pieces were so big we all had leftovers.
A definite 'don't miss' if you're in the area.
Later in the evening, after we got home, we had a nice surprise from our daughter Brandi . . . a bunch of Landon pics taken at the playground.
The perfect end to a great day.
---
October 2, 2012
Rain and Pie . . .
Apparently we're not fulltime RV'ers, we're "vehicularly-housed individuals." Check out this article about RV'ers living on the streets of San Francisco.
It started raining early this morning and continued pretty much all day. One good thing is that I think I've figured out where my leak around the slide is coming from. I leveled a little differently this time and my slide ended up on the high side causing the rain to flow in around the seals. So I re-leveled and it appears to have taken care of the problem.
I hope.
About noon I went down to the ranger station to pick up a Priority Mail package that had come in for me. It had come in yesterday, but when I tried to pick it up then, the ranger office was closed.
It turned out to be from Daryl Lawrence of Lawrence RV Accessories providing his usual great support. I had emailed him on Friday to tell him I needed a new 12v charger for my TireTraker Tire Pressure Monitoring System. The old one had started blowing the fuse on any 12v socket it was plugged into, so I needed another one. And Daryl really came through.
Besides the TireTraker TPMS, Daryl also sells the Progressive EMS (Electrical Management System) which is a must-have for every RV'er. My Progressive has saved my rear-end several times, once as recently as last week when we got to this park and found a defective circuit breaker in our pedestal.
If you don't have one, get one.
After a lunch of cheese toast, we topped it off with a slice of the delicious pumpkin pie we brought home from Funck's Family Restaurant last night. Then it was back to cleaning and sorting through stuff, and bagging it up to throw out.
About 5 we headed out to Hershey's East End Restaurant. The online reviews were really good, and so was the restaurant. Nice décor, and really great food.
Jan had Fettuccini Alfredo with Shrimp and I had the Spaghetti and Meatballs, both very good, and the servings were big enough to have great leftovers to take home.
---
October 2, 2014
Rut Roh!!!!
Well, today was really nice . . . until about 9:30 pm, when this happened.
A line of thunderstorms was coming through, preceding the cold front that's going to give us a high of 83 tomorrow, and 75 on Saturday. But I'm not sure the cooler weather was worth this.
It really wasn't part of the thunderstorm though. If fact it wasn't even raining yet. But from the looks of the canopy remains, a downburst got it.
It's just crushed in from the top, with two of the 150# test tie down cords snapped and the 80# buckets of gravel dragged around. Like a big foot just stepped on it.
I've cut away the shreds of the fabric canopy and I'm going to see if I can get the framework somewhat bent back into shape, at least enough to be able to throw my 10 x 20 tarp over it for some shelter while I decide what I want to do about another canopy.
Amazon, where I bought this one, is a problem since I don't really have anyway to receive packages here. Wal-Mart has them, but not in stock, so I couldn't get one until next Thursday or Friday. But first I'll have to see how I do with the frame and the tarp.
The ironic thing is that when the rain finally passed through, it really didn't rain that hard, and only for about 10 or 15 minutes. Go figure.
And now for some good news. We finally have a relief gate guard set for this Saturday, so Jan's just giddy. She's going to finally get away from here for the first time in a month. Did I mention she's giddy?
Of course I did tell the relief guard lady we had this nice big canopy for her to sit under.
Rut Roh!
---
October 2, 2015
Today was better than yesterday . . .
Tomorrow will be better than today.
First off, Jan and I want to thank everyone for the outpouring of your kind thoughts and feelings. It was the most comments we've ever had for any blog post, and we had comments from many readers who had never commented before. It really means a lot to us, and we thank you.
As many readers said, Mister was a very unique cat.
He would stay outside on his leash, and even walk on a leash. Or he would just follow me with or without a leash. If I was taking the garbage down to the dumpster, he'd follow along, there and back. And if it was one of those 'picky' parks that says all pets must be on a lease, he did not have a problem just dragging his lease behind him.
I've never found a set of park rules yet that says the lease must actually be connected to anything.
Wrapping this up before I get too maudlin, at some point in the near future I'll probably put up a new page of just Mister pics and some of his antics, because he was always getting into something.
And again, our thanks to everyone.
Today was Friday Wal-Mart/Bring Home Lunch Day so I headed into Carthage a little after 11, dropping off the garbage at the pad along the way. It's really nice to so close to town here, with only a 10 to 15 minute drive. At sites in south Texas it's been an hour to a two hour drive – one way. Getting groceries was pretty much an all day job.
Besides the usual stuff, one thing on the Wal-Mart list was a new hooded sweatshirt. The zipper had broken on the old one, so a new one was in order.
Two things were nice shopping there today. I didn't have a problem at the pharmacy with one of my $10 prescriptions like I did last time, and unlike the Wal-Mart in Shreveport last Sunday, they haven't made the chipped cards mandatory here yet, so I was able to check out in about 10 seconds today, as opposed to 10 minutes last Sunday. Much better.
Coming home I stopped at Chicken Express for fish. Yeah, I know. It sounds funny to me too. But we kind of alternate between their chicken and their fish, because they're both so good. And today was fish day.
Jan's started digging out our jackets and cold weather stuff. This is because, along with very pleasant fall days we're having now (it was 79 and sunny today), we're having much colder nights, i.e. it's 50 right now at 1am and still dropping.
At the present time I have raised the DEFCOLD alert level here to the two-heater condition, and am fully ready to escalate things to the three or four heater level, if necessary. I am nothing if not prepared. Though it makes my head itch, I'm even wearing my pull-over knit cap to keep my ears warm.
I've found that people around here look at you funny when you try to buy earmuffs.
---
October 2, 2016
Dobies and Dollies . . .
Before we left for Brandi's this morning, we spent a few minutes playing with Apollo the Dobie next door. He has a big enclosure out under the awning, but he was out with his owner when we walked over to say Hi.
He and I had a good time playing tug of war with his green furry froggie while Jan talked with his owner. Apollo had this trick where he tugs hard for a few seconds and then stops, just freezing for about 15 seconds and then jerks really hard, trying to lull you into relaxing your grip.
Smart dog.
We were on our way by 11:30 with a Flying J pit stop along the way. Then right before we got to Brandi's, I made a quick stop at the Tractor Supply to pick up a #2 Phillips extension bit.to make it easier to get the washer out of the cabinet.
We had a great time at Brandi's with Chris, Linda, and Miss Piper, as well as Landon. Landon's Aunt Sherry was also there, and we got to meet her friend Neil. Lowell was out working this time.
Brandi had fixed a great meal of pulled pork and sliced brisket, along with potato salad, shredded Brussel sprout salad, and Mac 'N Cheese. We used Hawaiian Bread rolls to make sliders with the BBQ, and a delicious meal was had by all.
Since we are washerless for the time being, we took all our laundry with us to do at Brandi's in her nice big machines. So we're good to go on the laundry front for a few more days. Or at least until I get the washer fixed.
Leaving Brandi's we got back to the rig about 6:30. Later, while I worked on website stuff, Jan went next door for a last get-together with Janice Evans. Janice and Dave are heading out for other parts tomorrow morning so we won't see them for a while.
Two things while we were at Brand's. I've shown some of Landon's artwork before, and here's something new today..
I noticed him sketching this with a ball-point pen, and when I asked what it was, he gave me that 'look', and said, "PaPa, it's a dog at a birthday party holding some balloons."
And he's right. Note the birthday hat on his head and the birthday cake in front of him.
The second thing is that Chris finished my screen door catch for me.
This is the drawing I gave him.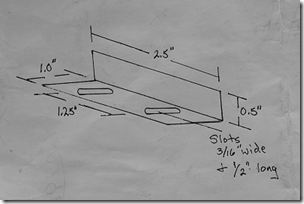 and this is was what I got.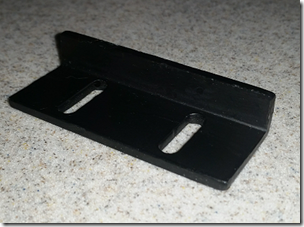 Great job, and he even painted it. I'll install it tomorrow and try it out.
Tonight I went ahead and remove the washer cabinet doors and the retaining bar, and then unplugged the washer. So now I'm all ready to pull it out tomorrow.
In the past I've used a full-size 30" x 20" floor dolly to slide the washer out on to work on it. But that's too big to lug around in the RV so it stays at our son Chris' house.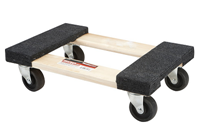 But then I found this smaller one, 12" x 18", at Harbor Freight for $10 and got it to have in case we have washer trouble on the road. So that's the one I'll use this time. It says it's good for 1000# so it should work fine.
But, as usual, we'll see how it goes.
---
October 2, 2017
The Big Debate Is Over!
Texas Monthly recently had a shootout between Cali-favorite In-N-Out Burger and Texas' favorite son, Whataburger. And of course, when it comes to shootouts, you've just got to know that a Texan is coming out on top.
And that was certainly the case here. Texas Monthly Burger Showdown
It all comes down to the last paragraph.
Catching up on a couple of things about yesterday's move.
Unlike the trip over to Hillcrest on the 20th of September, this time my new slide remote control work perfectly. So I have no idea what the problem was last time. But hopefully it will keep working.
On the downside, for our last three trips or so, Karma is getting car sick, or maybe rig sick. Don't know why she's just started this. We were certainly on curvier roads earlier this year with no problems. Hopefully it won't last.
Concerning the problem with finding someone to pay our rent to at Hillcrest, and the questions about what the charges should be, friend and blog commenter Brett O'Neal said that maybe he's losing money because he's not collecting the money.
Makes sense to me.
Well, I'm now 3 for 3 in non-working WiFi cards in one of the client's computers. Today I installed this TP-Link PCI Express WiFi Card.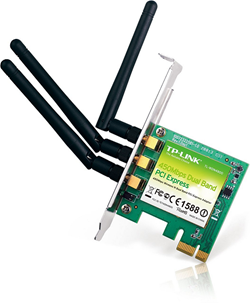 I have one of these myself, and have installed two others on friend's machines, and all worked great. But as before, this one didn't work, just as the previous two didn't. I've got a couple of more tricks to try before I give up and just let the machine stayed wired.
The Mystery Machine still is.
I mentioned before about a server up on the top shelf of the closet at my client's that I didn't know what it did. And I still don't know.
It's dead, Jim. I pulled it out of the closet, set it up on my desk, and powered it up. Or not. It's completely dead.
I figure it's probably the power supply, so I'll have to dig out a replacement and substitute it. The other guy was heavy into gaming, so I figure it's probably his gaming server. But I'll have to wait a few more days to see.
Of course it could the almost-mythical porn server. Enquiring minds want to know.
About 10 minutes before I left the client's, I used the El Pollo Loco app on my phone to place an order to pick up on my way back to Conroe. And 10 minutes later when I walked in the door, it was ready to go.
We each got an all-white (is that racist?) 4pc Chicken Meal with two sides. I got Charro Beans and Mexican Corn, while Jan got Charro Beans and a Side Salad. In addition, I got Jan a side of Guacamole and Chips, while I got a Chicken Tortilla Soup. And for dessert, a couple of Churros.
Jan loved her Guac, and my soup was just chocked full of chicken.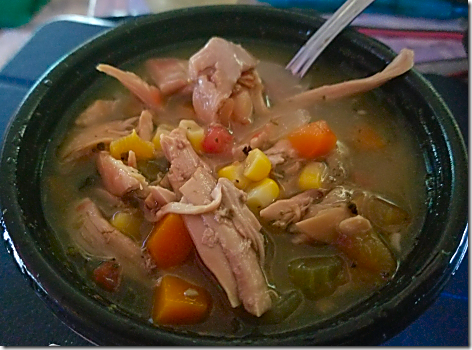 And here's our meal.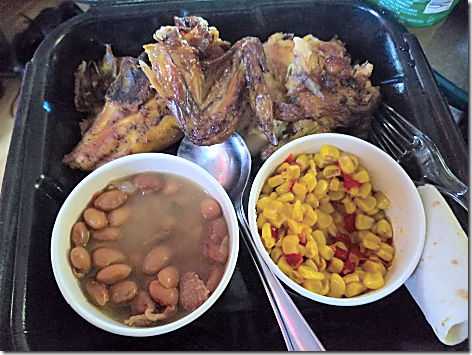 If you've never tried El Pollo Loco chicken, you should. It's marinated overnight in a citrus juice marinate, and then seared on an open-flame grill til it's perfect.
So we got 4pc of chicken, 2 sides, and 4 tortillas, all for $8.39. A really great deal.
Finishing up, when I talked about our European River Cruise, I forgot to ask for any input our readers have. A few of our readers already have, but anyone else is welcome to chime in.
---
October 2, 2018
Counting Down . . .
Today consisted mostly of some final errands as we counted down to leaving on our Florida trip.
But before that, I went outside to check out a problem I noticed during our last couple of trips that our radiator temps were running about 10° – 15° hotter than previously. So I thought I checked out the radiator, since I'd checked my coolant level and found it right. I had cleaned the radiator about six months ago, and found it no dirtier than usual. But opening the grille I found today was a different story.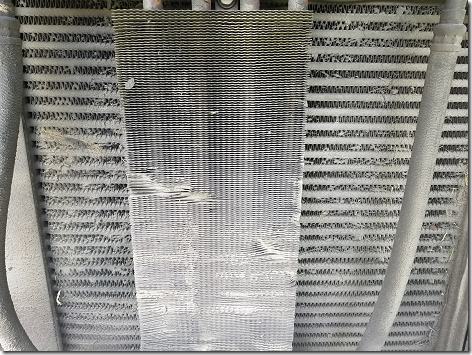 The radiator was covered in oil with embedded dirt/gunk, and grass.
So after spraying it down with Awesome and letting it soak for about 5 minutes, I washed it down, even spraying it from the inside out from the engine compartment. Then I repeated it again, until I had this.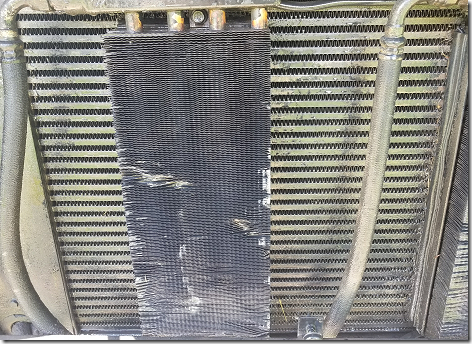 Much better, and I bet my engine temps are back to normal.
Heading out about 1:30p, and after lunch at Los Ramirez Mexican Restaurant, we stopped by the storage room to drop off some of our yard stuff that we don't want/need to take on our trip. Then it was on up I-45 where we dropped off our last two rig batteries at the NTB store.
Next up, we went by my client's office to pick up our last-minute Amazon delivery, and to once again try to get the strapping machine to work.
As I mentioned yesterday, the instructions were in Taiwanese and something that vaguely resembled English. Or at least the words were English.
However the order in which they were arranged left much to be desired. Here what it said.
Like the chart shows, put packed bandage to circle in the packing case, the right hand holds tightening, presses the tension bar, put packed bandage under the clamp and cutter outer covering, the packed bandage terminal have to surpass (length which the tool chart 2 shows) tool, the pine will be open for business the tight pole.
I think my favorite is "the pine will be open for business the tight pole".
The funny thing about this is that once I watched the YouTube video on how to do it,
https://www.youtube.com/watch?v=m-JwQq8hHHs
the above jabberwocky actually makes sense. Or at least more than,
'Twas brillig, and the slithy toves
Did gyre and gimble in the wabe:
And this time it only took me about 5 minutes to strap down the box and have it ready to go. Yah YouTube!
Wrapping up with a WalMart stop, a gas/lottery ticket stop, and a PO stop, we were finally home by about 5:30.
After we got settled in, I went outside to pack everything away, disconnecting the water and sewer hoses, let in the awnings, and put away everything else. All I lack now is put away the satellite dish later tonight, and then disconnect the shore power tomorrow morning.
Since we we'll be traveling without our generator/AC's, we're going to leave early, probably between 7:30 and 8am, stopping for the night at Poche's Fish N Camp in Breaux Bridge, LA.
Finishing up with our countdown theme, here's the one for our European Cruise Tour.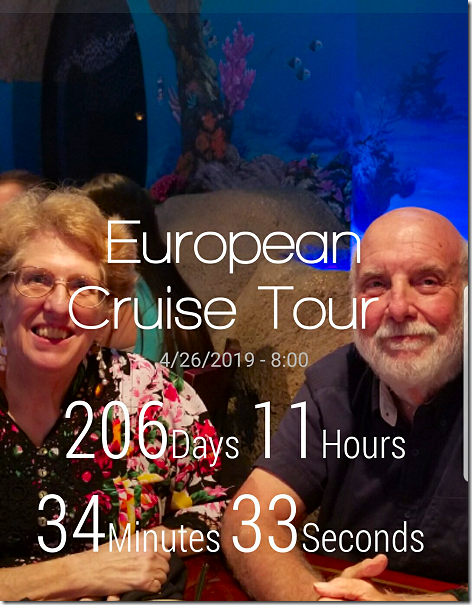 ---
October 2, 2019
Tomorrow's The Big Day . . .
The day that I'm crawling back under the rig and trying to get a handle on my oil leak problem.
First thing I'm going to do is remove the oil filter and see if there is any way to prop myself up and reach the bare adapter. But if not, I'm going to put it all back together so I can crank up the engine and drop the rig all the way down. Then I'll have to take it all apart again and see if I can reach it then.
Hopefully, but we'll see.
Jan and I have started to think about our next big trip. Right now we've got a long weekend trip up to Kingsland penciled in for November where we'll do an early Thanksgiving get-together with all the kids and grandkids. We plan on taking the rig up, leak or no leak fixed.
Then of course, we've got our long weekend in NYC the first weekend in December. Really looking forward to that one.
2020 starts off with a rig trip back to Alabama to visit friends in Montgomery and Birmingham, and family in Athens Probably a couple of weeks long after the first of the year.
Early June will be a rig trip for a big family (including Jan's sister Debbie and all her brood down from Illinois) get-together, which will be a week or so in Gulf Shores, AL before Jan and I take the rig on down to Florida.
But now we're talking about another big trip. This time north to Alaska.
Or maybe north back to Alaska.
We did an Alaskan cruise in 1998, and then spent 5 months workcamping in Fairbanks in 2008. But we've always wanted to go back.
So now we're looking at two different possibilities. First would be 12 day Land/Sea cruise starting in Fairbanks and ending up in Vancouver, BC. But we would fly up to Fairbanks four or five days early to spend some extra time there.
Or we might just forget the cruise all together, fly up to Fairbanks and spend a couple of weeks all on our own. But we'll still working out the details.
Stay tuned.
---
October 2, 2020
More Than Half A Century . . . Yikes!
Don't say it that way.
That's what Jan said about our 53rd anniversary this past Monday when I mentioned that we'd been together more than half a century.
For some reason that sounds a lot worse than 53 years.
While we were driving around Galveston this past Monday, we saw a number of their famous dead tree carvings. There's a whole series of carvings done on trees damaged by past hurricanes and storms.
Everything from geishas,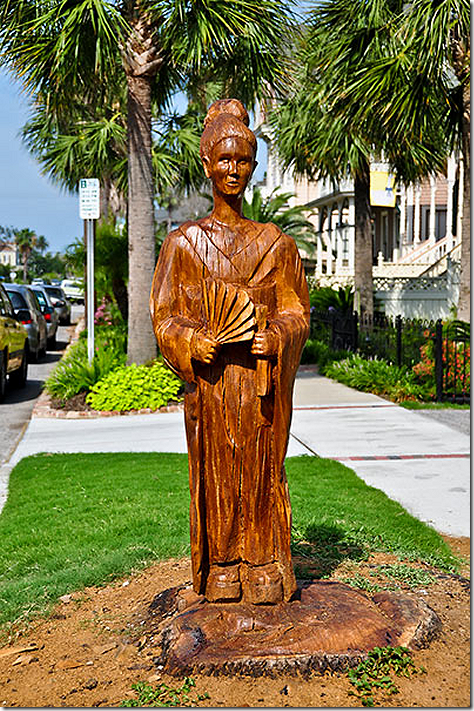 to mermaids,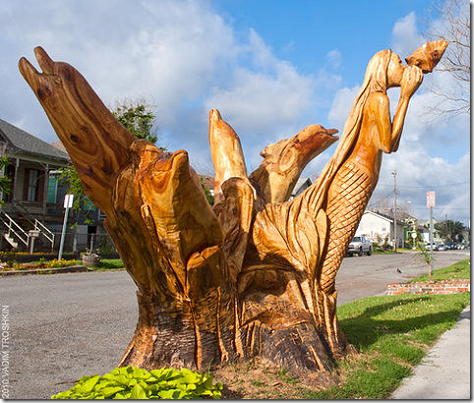 and even SpongeBob.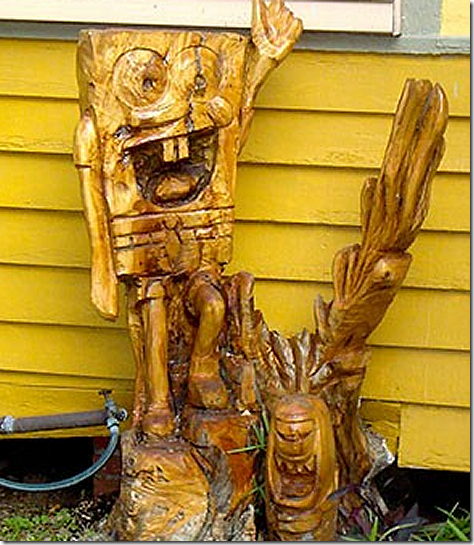 Or even other trees.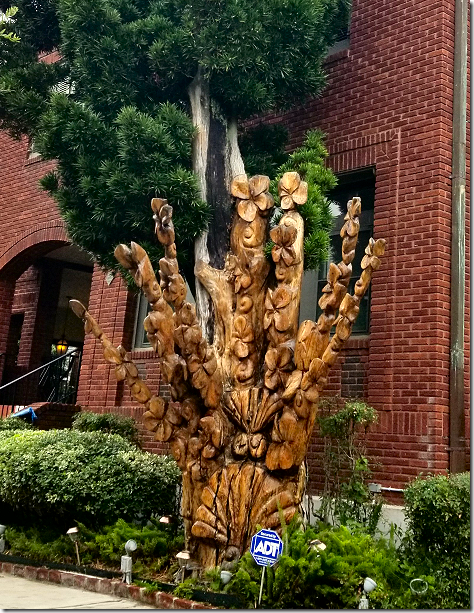 Apparently there are several dozen of these on the island, and an online map to find them all.
---
October 2, 2021
Land Of The Lost. For Adults.
Jan and I headed out about 1pm for lunch at Los Ramirez once again. Just as delicious as always.
Then it was on down I-45 to the La Marque area to check out the reason that we're now able to receive Amazon packages here at the rig just a few hours after we order them.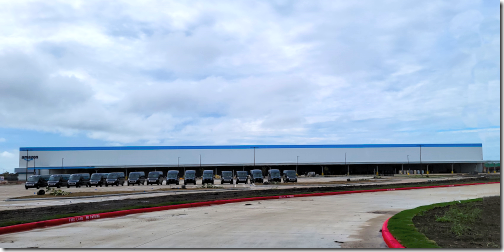 This is Amazon's new Regional Distribution Center that just opened down in our area, just a few miles from our rig.
Coming soon from Amazon, We Deliver Before You Order!
Jan and I are looking forward to a new show on NBC called 'La Brea'.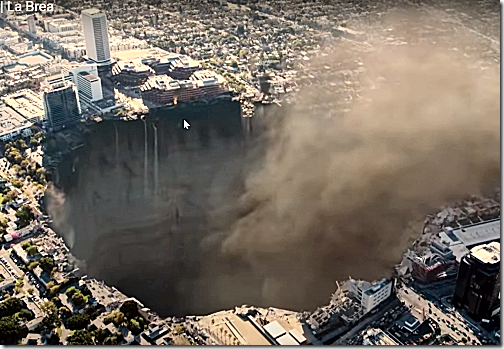 When a massive sinkhole opens in the middle of Los Angeles at the site of the La Brea Tar Pits and pulls hundreds of people and buildings into its depths, those who fall into it find themselves in a mysterious and dangerous primeval land, where they have no choice but to band together to survive. The show follows one family, broken up by the events, trying to get back together.
Sounds like kind of a Land Of The Lost for adults. With a lot better effects.
Can't wait for the Sleestak to show up.
So following that theme, here's a repost of our visit to the Tar Pits in April of 2010.
---
The The Tar Tar Pits…
This late breaking news just in…
We just found out our upcoming grandchild is a BOY!
His name is Landon.
---
Today we visited the La Brea Tar Pits, which strangely enough, is in the middle of Beverly Hills. And even stranger, or maybe funnier, The La Brea Tar Pits, actually translates as The The Tar Tar Pits, since "La Brea" means "The Tar"' in Spanish. Thus the title of this blog.
Anyway, we got there about 11 and decided to eat lunch first at a Marie Callenders right next door, or as they call it in Beverly Hills, just '"Callenders". Apparently 'Marie'" isn't fancy enough for Beverly Hills. Even if it is right next door to tar pits.
And this is not your average Marie Callender's.
And the food was really upscale too. We both had the Trio lunch plate, which consisted of a gorgonzola-pear salad with walnuts and cranberries, a choice of soup, (Jan had potato cheese, I had chicken tortilla) and a warm turkey/cheese sandwich on focaccia bread. It was all really good. And we were so full we didn't even have room for what Marie Callender's, excuse me, Callender's is famous for, pie. Then.
After lunch we walked next door to the Tar Pits. Before we even crossed the street we could smell the asphalt in the air. And walking into the park we could see the results of the asphalt, or al least, the simulated results.
The tar, along with methane gas, bubbles up from the ground and forms large pools. And it's been doing this for tens of thousands of years. The oldest fossil found here has been dated to 38,000 years ago.
Then rainwater and dirt/grass/leaves accumulate on the surface, masking the tar. Animals come down to drink and get mired in the muck. And sometimes predators come to feast on the "stuckees" and get stuck themselves. Thus a wide range or predators and prey have been excavated from the tar here.
Here is an excavation that's been under way for years, and tens of thousands of fossils have been found.
Here are the bones of a sabretooth cat that are in the process of being removed.
Many of these animals were much larger than their contemporaries. Here is a medium-sized sloth. And being medium-size, this sloth was only 7 feet high and weighed 1800 pounds!
And again,this ancient bison was much larger than the ones that live today.
This is an American camel, that become extinct over ten thousand years ago.
This is a mother Mastodon and her baby, found together in the tar.
And this is "Zed", a 13 foot tall Columbian Mammoth, bigger than any elephant alive today
These are the bones of an American Lion, that was larger than any lion or tiger of today, and larger than the sabretooth cat from its own era.
This is the skeleton of a horse. What's different about this is that horses died out in the Americas thousands of years ago, and didn't return until brought over by the Spanish explorers in the 1500's.
This short-faced bear was enormous. Larger than any bear today, it was a foot taller than any grizzly and probably weighed a thousand pounds more.
And this is the sabretooth cat. Sometimes incorrectly called a sabretooth tiger, it is actually closer to today's housecats, rather than tigers.
This diorama shows a sabretooth trying to munch on a short-faced bear. I think the cat will probably end up as bear chow.
It was really amazing walking around here, thinking about all this going on right where we were standing 20 or 30 thousand years ago.
Leaving the Tar Pits we drove about a mile away to cruise the famous Rodeo Dr.
We saw a lot of expensive cars, and a lot of shops with names we couldn't pronounce.
Guess I should have been more impressed, but I wasn't.
Before we left the area, we stopped off at Callender's once again, this time for pie to go. For later.
Tomorrow we'll be attending two tapings of the Bonnie Hunt Show that will be shown Wednesday and Thursday of this week.
---
Lowell texted over a photo of their Halloween decorations for this year.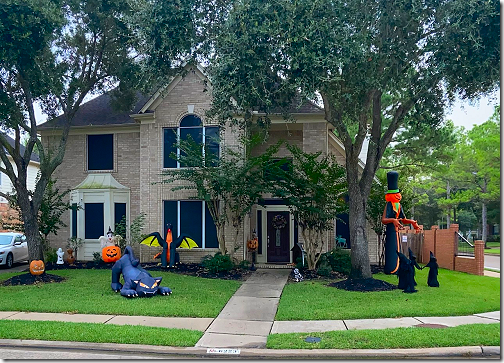 Bet it's even better at night.
As I said in yesterday's blog, today was a Torchy's Tacos/WalMart day.
Just as delicious as always.
Also yesterday I talked about how busy October is going to be for us. Well, it just got busier.
Well, at least the weekend of the 22nd did.
Originally we were heading up to the Trinity area on Saturday to spend the weekend getting together with the Hurlburt's and hopefully, the Evans.
But now we've got Birthday party for an old friend added in. However the party starts at Noon, so we'll attend the party here in Santa Fe for an hour or so before heading up there. So no problem.
Then we realized that the Pumpkin Spice Market at the Three Acre Truck Park is the same day, but in another stroke of luck, it runs from 9am to 4pm. So now the plan is to check out the Pumpkin Spice Market, starting about 10am, then segue to the Birthday Party, and on up to Trinity.
No way Jan's going to miss a Pumpkin Spice Market.
And in the Pumpkin mode it looks like Snooze is catering to Jan's cravings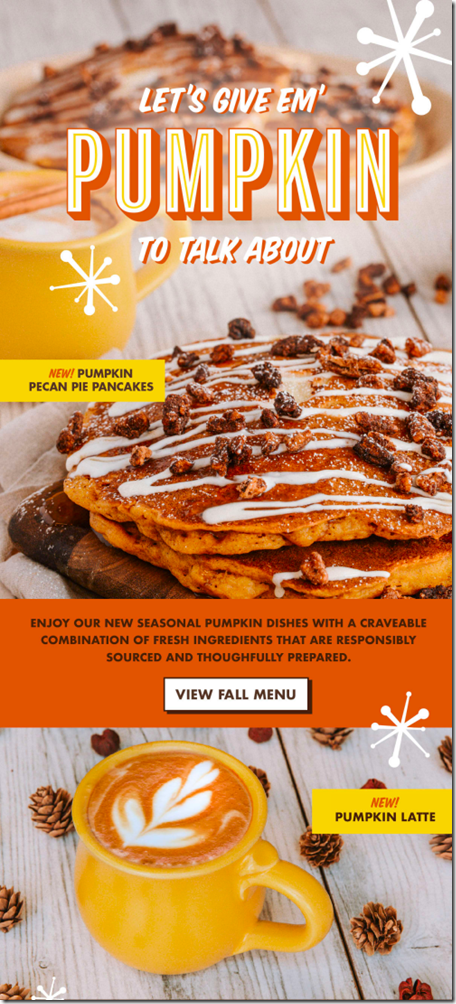 And of course, they have Pumpkin Spice Bacon and a Pumpkin Martini.
You can never have too much Pumpkin Spice.
At least so Jan says.
When I got gas on Thursday at the Webster Costco it was $2.65/gal. And I was just noticing in the blog for this day in 2011 we're paying $3.11/gal. in Ohio. Some things never change.
Finally, under the heading of 'See I Told You So.'
Study: Drink 2 to 3 cups of coffee a day for longer life, better heart health
And decaf is not as good for you as the caffeinated kind.
So There.
---
Thought for the Day:
Don't you just hate it when the voices in your head start to argue with your imaginary friends.
---
October 1, 2010
Today's post was eaten by a bug.
A bug in the blog software.
It's really a shame because the blog was quite interesting, with many astute observations on the human condition.
But I don't feel like retyping it.
---
October 1, 2011
A Do-Nothing Day . . .
Finally got up at 10 to a full day of pretty much nothing. And it was very, very nice.
We used the morning to catch up on some of the many TV shows that we had recorded, but not watched yet.
About 11:30 we decided to head out for lunch and ran into Charlie and Chris Yust, and Jack Allen and Nell Dahl who were getting ready to pull out.
After getting our hugs and saying our goodbyes, Jan and I headed back down to La Carreta for big bowls of their Chicken Tortilla Soup.
It really hits the spot in this cold rainy weather. And by cold, I mean COLD. It's supposed to be in the low 30's tonight here in Celina.
Getting back to the rig we watched some more DVR'd shows until about 2:30 when it seemed to be a good time for a nap.
Two naps in two days. It's been a while.
And after a great nap, Mike and Elaine Loscher, and Jan and I headed out about 5 pm to have dinner at Dockside Grille, where we ate right after we got here. We had a great meal and Stephanie, our waitress last time, was actually willing to wait on us again.
We must be slipping. We normally only get one visit out of a waitress, but Stephanie really hung in there.
It was nice to see that gas prices are still falling. It was down to $3.11 here, dropping 5 more cents since yesterday.
---
October 1, 2013
Jan says I can run with Scissors now . . .
Bobby, our inside guy here at the frack site, says the way this job is going it might be Christmas before they wrap things up. Maybe.
Certainly bodes well for us to be here until we leave for Houston on the 23rd of November. But we'll see.
Yesterday, Monday, was our Day Off from the gate. Officially it was to celebrate our 46th anniversary this past Saturday. Unofficially it was to quell Jan's cabin fever. This was the first time she's left the gate since we got here five weeks ago.
Michelle, our replacement guard, showed up right on time, and by a little after 1pm we were on the road to San Antonio, about 60 miles away.
Jan said she was 'giddy".
Our first stop on our Day Off was the Alamo Quarry theater complex to see the "The Family", starring Robert De Niro, Michelle Pfeiffer, and Tommy Lee Jones. Based on the previews we thought it looked "cute" and "funny". Well, it was very funny, even hilarious in some places. But "cute", not so much. I mean, it's about a mob family in the Witness Protection Program. What could be funnier? Well, if you look up "dark comedy" in the dictionary, there should be a review of "The Family" there.
BTW does anyone still look up things in the dictionary, since the Internet? I mean everyone pretty much has their phone with them all the time. You have to go hunt down a dictionary.
Jan and I both really liked the movie, but be forewarned. It's very graphic, very violent, and very bloody in places. But funny.
I did say it was funny, didn't I?
Our next stop, about 3 miles away, was one of our favorite San Antonio restaurants, Magic Time Machine. They have great steaks, and an entertaining waitstaff. I mean a salad bar in a car, what's not to like.
And here's my beautiful sweetie!
After a great meal, plenty of leftovers, and a Happy Anniversary serenade from the waitstaff, Jan and I headed out for some shopping. Our first stop was a Joann's Fabrics to get some heavy duck cloth to redo our director chairs. After three years in the sun, they're starting to come apart at the seams, so I'm going to recover them.
Our next stop was a three'fer, Sam's Club, PetSmart, and Wal-Mart. It seems like we always need more 'stuff'. Apparently it is not possible to have too much 'stuff', even living in an RV.
After a great day, and finally heading home about 9:30pm, we stopped at a Pilot/Flying J along the way to get a coffee. And a blueberry scone, as it turns out.
Don't laugh. I think overall I like Pilot's coffee better than Starbuck's. And it's certainly a heck of a lot cheaper. We both had coffee/cappuccino mixes, with Jan having Pumpkin Spice coffee and Pumpkin Spice cappuccino, while I had Hazelnut coffee with Caramel White Chocolate cappuccino. Pilot keeps their coffee fresh made 24 hours a day, and throw it out before it sits too long.
Lucky for us, (and our diets) the Cinnabon bakery was closed for the night so we were able to resist the temptation. Yes they do have a kiosk there that makes fresh, hot Cinnabons. And it's located right by the front door, and you walk in and the smell just overpowers you.
That's just cruel.
We got back to the gate about 10:45 and found Michelle had everything well in hand. Before she left we set it up with her to come back on the 22nd of October so we can take off for our birthday's, both of which are in October. And then since we leave the gate a month later, that will probably be it for this year.
Today, Tuesday, we had a couple of visitors at the gate. Blog readers, Margaret and Rich Bergen were visiting San Antonio and wanted to get a first hand look at the gate guarding life for when they start full-timing in a couple of years.
We had a very nice visit and hopefully we'll meet up again on the road in couple of years.
Finally, as far as the whole 'scissors' goes, my 65th birthday is in a few days, so as of yesterday, I'm officially on Medicare, so now I'm allowed to run with scissors again. It was really a pain only being able to walk with them before.
When Jan and I retired and hit the road six years ago, we decided that since we were both healthy and had no real medical problems, we would just forego the whole health insurance thing and take our chances. And for us, it worked out fine. However, your mileage may differ.
So now, where I used to pay about $300 for my yearly checkup and tests, I get to pay $1200 a year for the same thing. Yay!
---
October 1, 2014
One Down . . .
And Two to Go.
Today starts our 2nd month on our gate here, or at least our 2nd four week period. Hopefully we'll have a relief guard for a day sometime this weekend to give us 10 hours off. We always try to get away once a month for a break, but it's been hard to schedule up here. Down in the Whitsett area, there are a number of people who do nothing but relief guarding, and they stay booked up. So it would be a real opportunity for someone up here.
Our resident dog came by for a visit again today. This is the first time I've seen him in a couple of weeks, as he usually comes by when Jan's outside.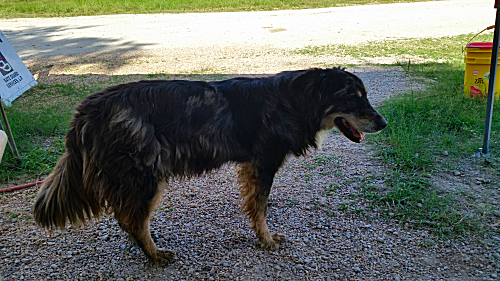 He lives around here somewhere and just comes by to visit every once in a while. He comes right up to us, waits to be petted, then takes a couple of drinks of the water Jan has put out for him in a cup. Then he comes back over for some more petting, just standing there looking at you until you do, and then turns and leaves, stopping only to pee on our Stop sign as he goes.
One thing I didn't talk about in yesterday's blog was the people coming through the gate lost. Blog reader George Keefe calls them 'lost soles', but in many cases it seems they're just a victim of bad directions.
One guy about 3am the other morning showed up in his tanker truck looking for the Patterson rig which his written directions said was the first rig on the right. So he came to our rig which was the first one on the right. But the Patterson rig is the first one on the LEFT, which he passed two rigs back.
In other cases, the directions are just bad. I've looked at some of these that drivers show me, and to paraphrase Wolfgang Pauli, they're so bad, they're not even wrong. I couldn't even get here using these directions and I know where I am.
All of these guys have GPS in their trucks, so why aren't they just given the GPS coordinates? Seems like it would be much better.
And while I'm ranting about gate stuff, a lot of these guys have difficult names, or heavy accents. So you would think that after going through gate after gate every day, and having to spell their names over and over, they would write it on a card one time, and just hand it to you. But Nooooooo!
I signed up for the free 30 day trial of Amazon Unlimited today. I was getting ready to purchase two $4.99 Kindle books and noticed they were available FREE under Amazon Unlimited. And since the new service costs $9.99 a month, it made sense to sign up.
But then in doing so, I discovered there was a 30 day free trial, so even better.
In case you don't know about Amazon Unlimited, it features over 700,000 books that you can read free, as many as you want, and as many at a time as you want. So you might want to check out the free trial. You've got nothing to lose, and you can cancel anytime. You can go here Amazon and then click on Amazon Unlimited on the right hand side of the menu bar.
Verizon is apparently working on our data service around here. It's been going on and off a lot, especially at night. But when it comes back on, it's much faster than it was last week.
At first I thought I was having trouble with my Cradlepoint router WiFi, so I tried the Hot Spot on my Galaxy S5 phone with the same results. So hopefully it will settle down soon.
---
October 1, 2015
Mister
There's a Mister-shaped hole in our hearts today.
Although it was mentioned as only a slight possibility at the beginning, it turns out that Mister's diabetes was caused by a combination of pancreatic and liver cancer.
When I got up at 11 this morning and was going to give him his insulin shot, I found him lying on the bathroom rug, awake, but unable to get up. In fact he couldn't even raise his head.
I went ahead and gave him his shot, and then bundled him up, and left for the vet. With tears in both our eyes, I told Jan when I left that I might not be bringing him back. But I was encouraged on the 15 minute drive to see Mister perk up a little and look over at me, with silent meow.
But the news at the vet was all bad. His blood sugar was down to 31, way too low from last week's 416, which was way too high, and he had lost another pound, down to 7.2. That's less than a third of what he weighed six months ago. And once he was in a good light, it was easy to see how jaundiced he was, on his ears, gums, and even his eyes.
The vet said that they could give him glucose and IV fluids, and maybe get him back on his feet for a day or so, but he'd probably be back in this condition by Sunday or Monday. She said the severe jaundice was an indication that his liver had pretty much shutdown, and there was really nothing else that could be done.
Driving back to the rig . . . alone, was probably the longest 15 minute drive I've ever made.
At least I was there to hold him.
We've had Mister since the fall of 2006. I was at a client's office, waiting to see the doctor about some computer problems he was having, and it was such a nice Fall day, their door was propped open.
Suddenly this cat pokes his head in the door and looks around. Then seeing me, he walks over, jumps up in my lap and starts nuzzling me.
I was hooked.
The office secretary said he been around for a month or so, and she thought he stayed behind the Chinese restaurant on the next block. I always joked that he was lucky he didn't end up on the menu.
Anyway, that night at supper I was going on and on about this cat, and finally Jan said, "Greg, do you want to bring this cat home?"
"Un-huh."
So that's how Mister came into our lives, and quickly made himself at home. In fact, he never went back outside for over a year. I guess he figured he was done with living outside and wasn't going back.
He had obviously been somebody's pet, since he had been fixed and knew what a litterbox was. He quickly made himself the Alpha animal in the house, letting Emma, our other cat, and Tullie, our border collie mix, know who was boss now.
When we hit the road in our RV a little over a year later, Mister made himself right at home. He either slept on the dash, or in Jan's arms as we traveled, and was always the first one out the door when we arrived at a new park.
He was the only cat we've ever had who would walk on a leash. In fact he seemed to like being on the leash. When he went outside the rig, he would stop at the bottom of the step and wait for me to snap it on his collar.
He became so popular on some of our gates that truck drivers would stop and have their picture taken with him.
This is about all I can do right now. I'll probably have more Mister anecdotes later.
---
Thought for the Day: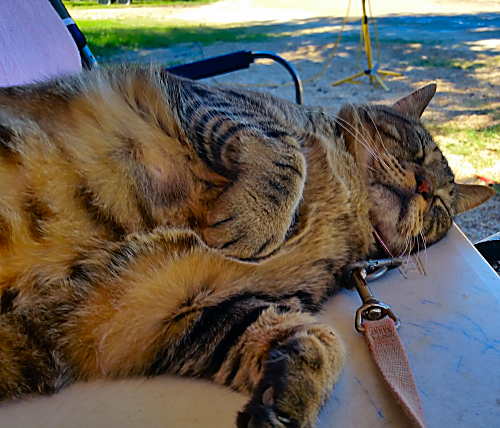 ---
October 1, 2016
Well, I Confirmed the Problem . . .
When I got up at 11 Janice Evans was over visiting with Jan, so we all sat around for awhile together talking.
I spent the rest of the morning and early afternoon working on more stuff for the new website, still trying to get the shopping cart page formatted to look like I want it to.
About 2pm Jan and I headed out to the Conroe Wal-Mart to pick up her prescriptions, and some other stuff, before heading back home for the day.
We're having a family get-together at Brandi's in Katy tomorrow afternoon at 1, with Chris, Linda, and Piper also there, so we were picking up some of this stuff for that.
Getting back home I finally got to work on my washer repair, with the first task to get the water out by opening the lint drain on the bottom right of the unit. I pushed an empty kitty littler bucket up underneath the opening and unscrewed the filter door.
And a lot of smelly water came pouring, smelly because it had been trapped in the washer since Thursday morning. After dumping the water down the lavatory, I decided to check the idea that the problem of the washer being stuck in the wash cycle was caused by a bad discharge pump.
So I moved the timer to the SPIN position and pressed the ON button. At first it stayed in the wash cycle, but then after a moment or so, it started spinning. So the pump problem was still a valid one.
When I did open the lint drain I was hoping to see something stuck in there that indicated a clogged pump, but no luck with that, unfortunately. And it was easy to see that although the washer was spinning, the water in the drum being spun out of the clothes wasn't being pumped out either. So I'm left with a pump problem.
There are basically three possible problems with the pump.
First up is the easiest one. The power wire feeding the pump has come loose.
Second, the new pump has died. This pump was already a kludge, since the original ones aren't made anymore. Because of the circumstances of how I got this one I doubt I'll be able to find another just like it. But I should be able to find a similar one that I can also make work. Still not a big problem.
But the third possibility is more worrisome. That would be if the pump is just not getting the signal to turn on, which means the problem is buried in the washer somewhere which makes repairing the problem more . . . well, problematic.
So we'll see. Next up now is to actually pull it out of the cabinet, but with our road trip down to Brandi's tomorrow I probably won't get back on it until Monday.
After having our leftover El Bosque from Thursday night for dinner tonight, Jan and I walked next door to Janice and Dave Evans' to sit outside for a while. When we got there some other friends, Richard and Karen Headley, were just leaving, so we didn't get do more than say hello and goodbye. But hopefully we'll have a chance to talk a little more next time.
After a while Jan and Janice went inside their Monaco Dynasty to look at something, leaving Dave and me outside talking. Since it was quiet and not a lot going on around us, I went back to our rig and brought Miss Karma back over with me.
I had just bought her a better harness and wanted to see how she would do outside for a while on a lease. And she did very well, sometimes staying in my arms, or in the chair next to me, and sometimes on the ground.
But finally she started getting a little antsy, so I took her back to the rig. But it was pretty good for the first time outside in a good while.
Tomorrow, fun with the family.
---
October 1, 2017
Back To Conroe . . .
Although today was moving day, back over to the Lake Conroe Thousand Trails. But since it's only about 45 minute trip, we weren't in any hurry.
Jan was up at her usual 7, but I lounged around until about 9 before I got up.Then I spent an hour or so prepping us to travel in the afternoon.
Then a little before 11, Jan and I headed east into Coldspring to have the All You Can Eat Turkey and Dressing at the Paradise Grill, where we were meeting up with Debi and Ed Hurlburt.
Turns out that in addition to the Turkey & Dressing, they also had Fried Chicken, Chicken Strips, and Stuffed Cabbage Rolls, as well as about 10 different vegetables, and even desserts, all for only $11.95
It is a buffet, and AYCE, but it's not self-serve. The lady behind the counter gives you what you ask for. And if you want more later, your waitress brings it to you at your table.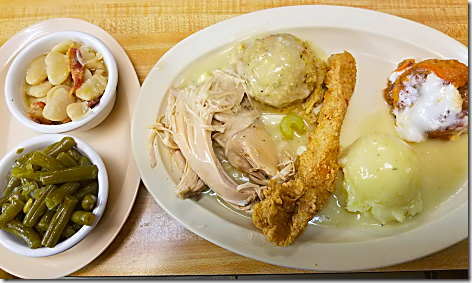 Here I've got Turkey & Dressing, a Chicken Strip, Cornbread Dressing, Mashed Potatoes, Sweet Potatoes with Marshmallows, White Butter Beans, and Green Beans.
And as it turns out that one platter full was actually All We Could Eat, and we didn't even have room for dessert.
Really great food, and we'll definitely come back here again, that is, if we ever come back to this park. As usual we all sat around talking for over two hours before we all headed back to the park.
Back at the park, I took a couple of bags of garbage down to the dumpster and then tried to pay, for the 3th time.
So far no one has come around to collect the rent, even though I've talked to her several times. She just says, "I'll check the amount and let you know." What's to check? It's 11 days times $14.50/day = $159.50.
So that's what I left in an envelope on the little office door, along with someone else's envelope, probably from the people who came in yesterday afternoon and then left this morning.
But when Ed talked to a guy last week, he said he would be by to pick up the money on Saturday for both of us, but he never showed. He also said the rate was really $45/day? And he wasn't going to do Passport America anymore since he was losing morning on it.
Not sure how he's losing money, though, since counting us and the Hurlburt's, he only has about 10 rigs in the park's 31 spaces. So between the two of us he's raked in over $250. And we certainly didn't use that much power or water,
Sounds like a profit to me.
Tomorrow's another Clear Lake day so I'll be on the road about 9:30.
---
October 1, 2018
Make It Sew . . .
First off, Jan and I want to thank everyone for the many 51st Anniversary wishes we received from so many people. We appreciate the many kind thoughts.
Work today consisted mostly of getting prep stuff done for my 3 week absence, burning CD's, printing out product labels, etc. I also ran some diagnostics on the computers and cleaned the gunk out. Hopefully everything will hold together while I'm gone.
But even though today was my last 'work' day, I still have to go back by tomorrow for a couple of things. Initially it was just going to be to pick up a last minute Amazon order, but then USPS changed that.
We have a large piece of equipment that we need to ship back in the original box that the new one came in. But when it came in, it was held together with nylon strapping, and it needs to be shipped back that same way. Otherwise it will be just too flimsy.
But we don't have any strapping equipment, so I put in an order for a set from Amazon on Friday.
It consists of a strap tensioner/cutter,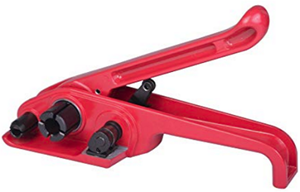 a crimper/sealer,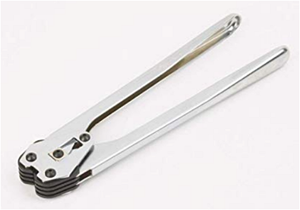 a box of the crimps,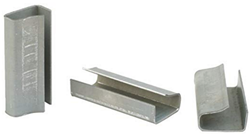 and 300' of the nylon strapping.
Unfortunately the USPS didn't make the delivery until about 30 minutes before I was supposed to leave for the day. So I was hoping that I could figure out how to do it in the short amount of time I had left.
But due to the instruction sheet's Picasso-like drawings, and the text description in both Taiwanese and something that I think was suppose to be English, but seemed more like random words thrown at the paper, I couldn't figure it out in time.
I told my client that I'd take care of it when I came back by tomorrow, and that there was probably a YouTube video showing me how to do it.
And there was. In fact it used exactly the same equipment that I had ordered.
https://www.youtube.com/watch?v=m-JwQq8hHHs
And like most things it's really simple once you know how.
Recently I slipped up and spilled the beans to Jan. And it was all because of the Viking Sewing Machine I had gotten set up and working for her.
I know how to sew.
Every summer, when I was 9, 10, 11, and 12, I spent a couple of months with my grandparents on their farm in Athens, AL. Riding horses, herding cows, bush-hogging pastures on the old Ford tractor, swimming in the pond, and sewing. It was a blast.
The only reason I didn't do it after I was 11, was that we moved to South America the next year when I was 13.
Oh, and girls. I discovered girls.
Well, maybe 'discovered' isn't quite the right word. I mean, it wasn't like they were missing or anything, and I found them. It was more like, like they suddenly 'looked' different, better somehow, more 'interesting.'
OK, that was a strange detour. Now back to sewing.
Of course I learned to sew on my grandmother's machine, one like this.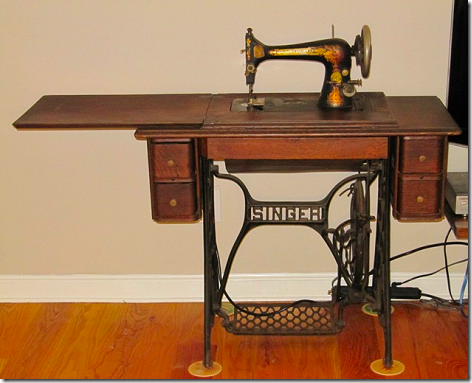 And yes, it was still treadle-operated.
My grandmother taught me to hem pants, sew on buttons, repair tears, etc. And my sewing stood me in good stead when I was away at Columbia Military Academy, and then college.
But I gave it all away when I decided that I wanted to hem two pair of jeans that I recently bought. And they turned out pretty good.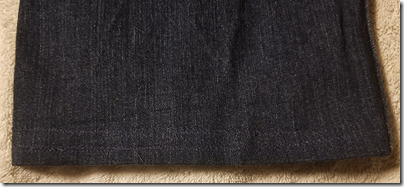 Jan wasn't too sure though, because I guess I do them a little differently.
I put on the jeans and my shoes, and then fold up the bottom like a large cuff until I get it like I want it. Then I use binder clips around the bottom to lock it in place. Next, taking the pants off, I carefully turn them inside out and make a cuff the same length on the other leg.
Then I sew a straight stitch around the cuff, about 3/8" from the bottom. Now, if I'm happy with the length, I do the other side the same way. Once I'm happy with everything, only then do I cut off the excess cuff folded under.
Now I use a zig-zag stitch to seal the cutoff edge. Finally, being the 'belt and suspenders' kind of guy that I am (literally and figuratively) I do another zig-zag stitch halfway between the other two. This hem ain't coming out.
I'm probably going to have to do my own sewing from now on.
Tomorrow we'll try to finish up all the get-ready-to-roll stuff still on our list before we head out on Wednesday morning.
---
October 1, 2019
Climate Questions . . .
Today was pretty just a lunch and some errands day. After our meal at Yummy Yummy we headed up I-45 with a quick stop at our local Rudy's BBQ to pick up another bottle of their Coarse Black Pepper.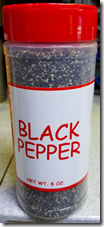 Since I like a lot of pepper on my salads, we go through a lot of this, but this is probably our last purchase of Rudy's pepper. For years this bottle has been $4.99, as it was back in February when we got the last one. But today the price had jumped to $10.99. Yikes!
Then it was Wal-Mart for prescriptions and 'stuff', and then finishing up at Sam's Club for a couple of more prescriptions.
---
Questions to ask about the Climate:
1. Define the "correct" temperature range for the planet.
2. Define the "correct" humidity range for the planet.
3. Define the "correct" mean sea level for the planet.
4. Define the "correct" amount of precipitation for the planet.
5. Define the "correct" makeup of the atmosphere.
6. Define the "correct" level of CO2 for the planet. Show how you arrived at that `calculation.
7. Define the "correct" amount of sea ice at the N/S poles.
8. Define/explain past glaciation and subsequent warming without any input from humans.
One another topic under this subject is the fact that due to all the melting ice in the Arctic and the Antarctic islands in the Pacific are supposedly disappearing under the waves, and it's even flooding in the US where it hasn't flooded before.
As far as the sinking Pacific islands, here's the Sydney, Australia harbor at high tide in 1878 and 2018. Note that the heading is sarcasm.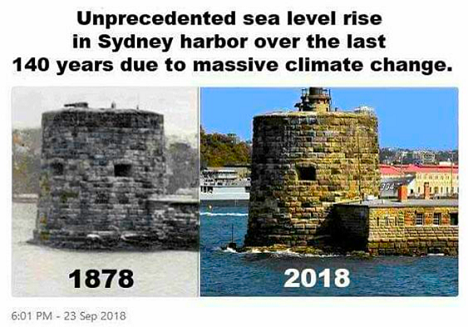 And here's a high tide mark etched by Sir James Clark Ross in Port Arthur, Tasmania in 1841.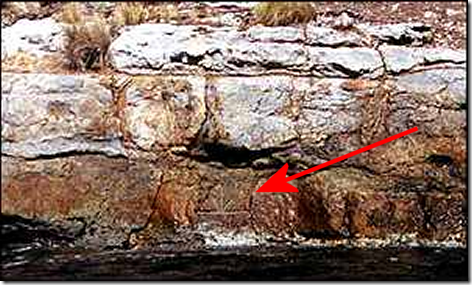 Not a lot of change, seems to me.
In addition, modern tide gauges located at Hobart and Spring Bay on either side of the Port Arthur site, on the same coast, show no sea level rise since their installation during the 1980s.
Also I heard a guy call into a national talk show a few years ago whose family has owned land on the Atlantic Ocean north of Boston, MA since the late 1700's. He said there's a gazebo right at the water's edge that's there since the early 1800's and the ocean is no closer now than when it was built.
And as far as the local US flooding, in many (most?) areas, much of it can be assigned to 'subsidence'. Subsidence is where the land sinks due to the removal of too much groundwater from the aquifers underlying the area.
According to the U.S. Geological Survey, parts of the Houston-Harris country area have sunk between 10 and 12 feet since the 1920's, with some areas still subsiding as much as 2" per year. And there's this.
"Spring Branch, where Interstate 10 and Beltway 8 meet, has dropped 4 feet since 1975. Jersey Village, along Route 290 and to the west of Beltway 8, is almost 2 feet lower than it was in 1996. And Greater Greenspoint, where Interstate 45 intersects with Beltway 8, has given up about 2 feet in the last decade alone, according to USGS data."
All from land subsidence due to extensive groundwater use.
No wonder flooding has increased.
---
October 1, 2020
Whither Fall?
Fall and Summer seem to be duking it out here in south Texas. We're still having high 80's in the daytime, and then mid-50's at night.
Make up your mind!
For dinner tonight, Jan and I tried a place we haven't been to in at least 30 years, Dickinson Seafood.
They have a wide choice of Grilled/Blackened dishes, with Jan and I both getting the Blackened Catfish with Shrimp, starting with a really good salad and homemade Ranch.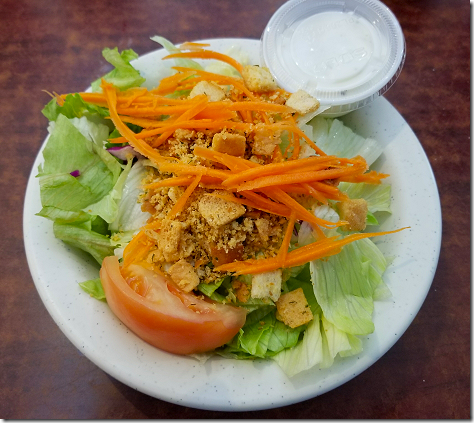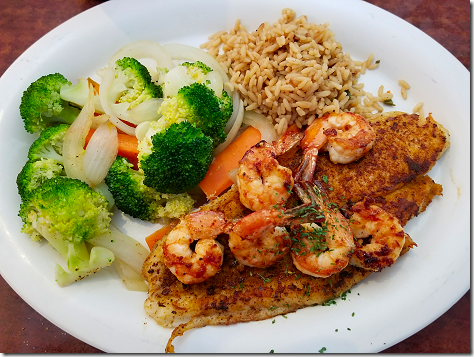 Everything was really, really good, and we won't wait another 30 years before we go back. Especially since it's so close by.
I realized that I'd never blogged our Anniversary dinner at the Galveston Saltgrass Steakhouse, which has become our favorite steak place, not only for the great steaks, but also for their Wedge Salad.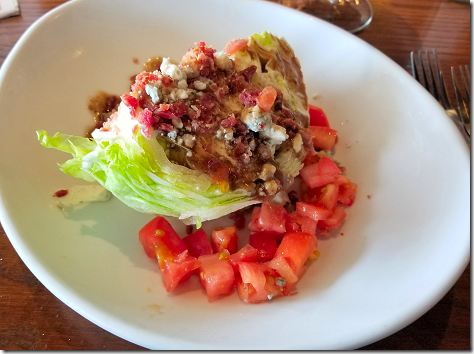 Along with Jan's favorite Filet,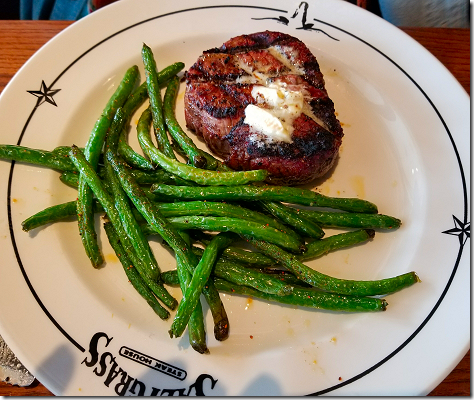 and my usual Ribeye.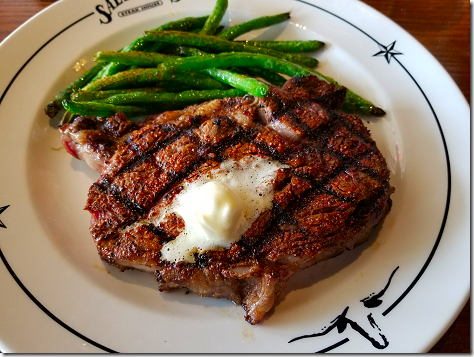 All delicious.
We don't usual get a dessert, but figured it was a special occasion, so we split a piece of their great Carrot Cake.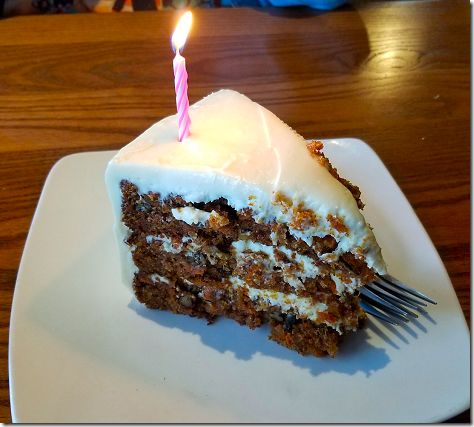 And I guess since I had mentioned it was our anniversary when I made the reservation, we got a candle on it, too.
---
October 1, 2021
Two For Two . . .
Work today was one those days that happen every now and then, when a bunch of things I've been working on, some for a week or more, all came together, So a lot of projects wrapped up, pretty much successfully.
A nice end to the week.
Well, Amazon is 2 for 2 delivering stuff here to the rig in just a few hours. I mentioned a few days ago about how I ordered something from Amazon about 11pm and was told it would be delivered between 4am and 8am the next morning, and at 5:56am it was delivered to our rig's patio.
And this afternoon I ordered something about 12:30pm and was told it would be delivered between 5pm and 10pm. And at 6:44pm it was on our patio.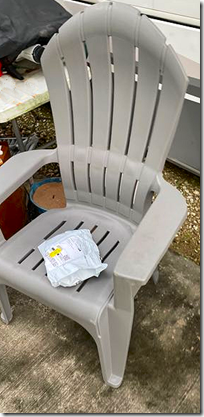 Yay! Amazon.