Or Dyscalculia.
Today was another nice, quiet stay-at-the-rig day. I worked on a couple of small projects, computered, and napped.
Again, a nice day.
Amazon seems to have a propensity for hiring drivers with dyscalculia. Dyscalculia is the numeric version of dyslexia, when people "might have trouble recognizing numbers, learning to count, or recognizing basic patterns."
At least that's the only reason I can figure out why my Amazon packages repeatedly get mis-delivered to #9, and not our #7. This is at least the sixth time this has happened. And it doesn't seem to do any good to report it each time.
I mean, how hard is this to read?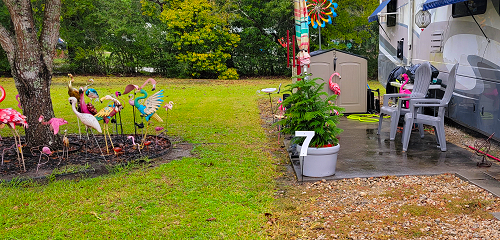 FWIW This usually happens at night, but there's a street light right in front of our rig, so it almost looks like daytime.
And the #9 site doesn't have any type of numbering on it.
---
Thought for the Day:
Why is it that so much of the stuff I find hilarious, I can't post here? Or at least Jan won't let me.
If only you knew what you were missing.
And Now On To Today's Retro-Blogs.™
---
November 28, 2009
A Two Movie Day…
We've settled in here at site 80 at Galveston Bay RV Park in Dickinson TX.  This is the same site where we spent last year, and we have the same neighbors on each side.
And the view out our front window is still spectacular!
Today was a movie day.  We picked up our granddaughter Piper at about 11 am and drove over to Friendswood to have lunch at the Charleston Tea Room.
After a great lunch, we stopped off at our daughter Brandi's to feed her cat, since she's been staying at Shawna's since Thanksgiving.
Then it was off to the movies. Jan and Piper wanted to see the second installment of the Twilight series, "New Moon".  Since it was about vampires and werewolves, I let myself be convinced to go along.
Turned out it was pretty good. Since it was the 2nd one, it took a while to figure out who was who, but all in all, I enjoyed it.
After the movie we dropped Miss Piper off at her house and headed back to the rig for a while.
Then about 5 we headed over to our friends Bob and Maria Sutton's house for order-in Chinese and a movie.  After dinner we watched "The Proposal" with Sandra Bullock and Ryan Reynolds. We enjoyed the movie, I mean, what's not to like about Sandra Bullock?   Especially with a semi-nude scene!  And since Ryan Reynolds was also semi-nude, there was something for everyone.
One thing we thought was kind of funny is that about half the movie supposedly took place in Sitka, AK, where we've been. And it was obvious from almost the first shot that it was not filmed in Sitka.  I figured maybe somewhere on the Oregon or Washington coast, but it turns out that it was filmed in Rockport, MA, not Alaska.  Oh well.
---
November 28, 2010
Comfort Food . . .
This morning we got an earlier start than usual, heading up to Webster to try Mackey's Bar & Grill, a place we'd seen along the Interstate. They advertise 'Upscale Comfort Food" so we thought we'd give it a try.
I had a 5 vegetable plate with Corn on the Cob, Fried Okra, Fresh Sautéed Cabbage, Texas Rice, and Green Beans Almandine.
I thought my veggies were really good, very well seasoned, and perfectly cooked, especially the cabbage.
Jan had the Fried Catfish and Fried Shrimp Platter. She said hers wasn't as good as a couple of other seafood places around here.
I said, "Duh, their motto is 'Upscale Comfort Food', not 'Upscale Seafood'." You don't go to Red Lobster and order steak, and you don't go to Outback and get the seafood.
I  heard the guy at the next table raving about how much he liked his Pot Roast with Roasted Potatoes and Carrots.
Now that's comfort food.
Leaving Mackey's we headed up to the next exit so Jan could pick up some more baby clothes that were on sale at Carters. Then it was off to the storage room to drop off some things and pick up some Christmas decorations.
Next we went by Brandi's to pick up the mail. Brandi and Lowell were out eating lunch, but I needed to get my tag renewal stickers that had come in from South Dakota.
After that, we stopped off at Chris' and then it was on to Wal-Mart…again. It seems like we were just here yesterday. And we were.
It seems like we always need something else from Wal-Mart.
Getting back to the park, Jan wanted to go up to the park laundry to do some heavy rugs. While she did that I wanted to go ahead and take a walk. I decided to try and push it up a bit and do two miles, and I did it in 44 minutes, not too bad.
That was about it for today.
---
November 28, 2011
Early to bed, . . .
Jan woke up about 4:30 am and couldn't get back to sleep so she came out to the living room to read for a while and was still out there when the sun came up, so she went outside and got these great photos.
This is a close-up shot of some of the refineries and chemical plants down in Texas City.
After the sunrise photos Jan went back to sleep for a while before I got up at 10, and then about 11 we headed up to Clear Lake for lunch and some errands.
Our first stop was the park office so I could pay for our site for the first month. We had to wait to see where we ended up before they knew how much to charge us. But no one was in the office so we'll try later.
Our lunch stop was at King Food, pretty much our all-time favorite Chinese place. And apparently it's not just our opinion.
By a mystery diner visit, they were recently selected as one of the Top 100 Chinese Restaurants in the US.
After our favorite Chicken in Hot Garlic Sauce, Extra Extra Extra Spicy with added Jalapenos, our next stop was our storeroom.
We wanted to pick up Jan's bird feeder and check out our Christmas decoration situation. It's amazing how much stuff we still have in storage. Of course a lot of it is my son's and his families', so it's not all my fault.
Next stop was to drop Jan off a at nail place to get her toesies done while I headed over to a client's office. Looks like it's about time to upgrade his computers, since they're 3 years old and starting to have problems.
Picking up Jan and heading toward home, we stopped off at Buc-ee's for coffee/cappuccinos and then Wal-Mart for some Christmas lights to wrap around the wicker ball we bought yesterday. I got two sets but it may take another set to completely cover the ball.
Coming back to the park I made another run past the office, once again with no luck. I don't think they want my money.
Back at the rig, I set up the bird feeder and Jan filled it up with birdseed, and also threw out some old bread for the seagulls.
Later, a little before 5 we headed out for supper at the Monterey's Little Mexico over in Dickinson. On the way out of the park, I tried the office again and lucked out this time. I'm now paid up until the 20th of December. For some reason, I had to pay a $100 deposit. Don't know why, I've never had to before.
---
November 28, 2013
Happy Thanksgiving – Take 2
Jan and I headed out about 10:15 for the 65 mile trip up to Brandi and Lowell's to meet up for Thanksgiving dinner.
By the time everyone showed up, we had about 25 people chowing down on a lot of great food.
Besides all of Brandi's family, (us, as well as Chris, Linda, and Piper) Lowell's parents were there, as well as Lowell's sister Sherry, and a friend from her work, Betsy.
Then we're into Brandi's BFF Shawna and her family. A lot of family and friends.
Then after a lot of delicious food, it was off to the sofas for football. Lots and lots of football.
By the time Jan and I got back to the rig, full and exhausted, it was almost 8pm.
Tomorrow, nothing. Absolutely nothing.
---
November 28, 2014
Unto the 3rd Generation . . .
With Jan house/dog sitting down in Friendswood, I've been working on some projects around the rig. But the main one remains undone. Now that I have the time, and the under faucet socket,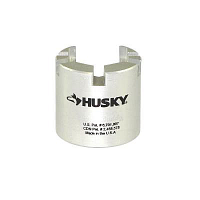 I wanted to finally replace the bathroom faucet, but although I had the faucet, the instructions, and all the necessary tools, the one thing missing is the packet with the hardware and the gasket. It should have been right there where I left it, but it has apparently wandered off and gotten lost. Hopefully it will find its way home soon.
While I was looking for the faucet stuff, I came across my two previous phones before I got my Galaxy S5 this past June.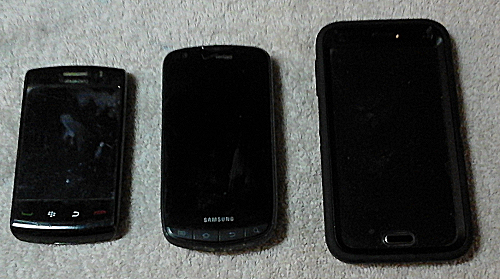 Based on the progression of these 3 generations, my next phone is going to be the size of my Galaxy Tab 4 tablet. I'm gonna need bigger pockets.
I've been wanting to get back into doing some programming, so I bought one of these
Arduino Arduino Uno Ultimate Starter Kit + LCD Module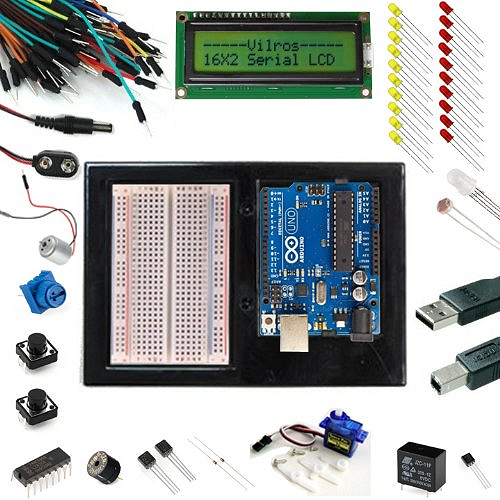 The Arduino is a complete computer on a small board about 2" x 3". You plug it into your PC, write your program, and then download it into the Arduino, where the program runs independently on its own power. The kit I ordered comes with a lot of different LED's, relays, servos, and pushbuttons, and a series of projects to get you started.
You can use the Arduino to control devices around you, even through Wi-Fi. I have several things around the rig that I want to computerize. I'll let you know how it goes.
Tomorrow afternoon, I'll head back down to Friendswood to get Jan, do some shopping, and have dinner with our friends, Bob and Maria. Looking forward to it.
---
November 28, 2015
Gingerbread and El Bosque . . .
After several days of mid-70's days and mid-60's nights, winter has finally returned,  with rain and low 50's/ low 40's temps.
The cooler weather is nice, but I could do without the rain, since I have more stuff that I want to work on outside, but I guess it'll have to wait. It's supposed to clear up toward the end of next week, but you never know.
Jan and I spent the day just goofing off, reading, watching TV, and playing on the computer, a very nice afternoon consisting of pretty much nothing.
About 3pm we headed out through the rain to have lupper at El Bosque, our favorite local Mexican place. We've eaten here a number of times and have always enjoyed it.
When we first starting eating here a couple of years ago they were located on Loop 336, across the street from the Wal-Mart/Sam's Club. But when we returned here early last year we found they had moved to a new location on SR105, a couple of exits further south on I-45.
Jan went with the El Bosque Platter,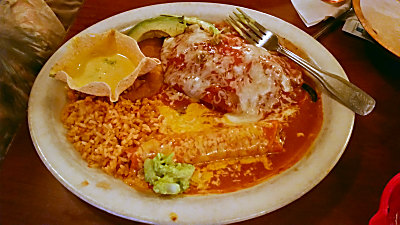 which has a little bit of everything, all very good, as she said.
I've always enjoyed their Chicken Tortilla Soup, although in El Bosque's case, it's more like Chicken Vegetable Soup,  with Tortilla Chips.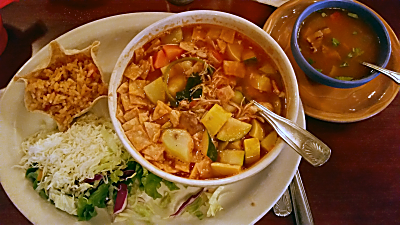 But it's spiced very well, and really good. And a big enough bowl that it really fills you up. For that reason I probably didn't need the side of Charro Beans, but they were really good too.
Next up was the Home Depot right next door for a couple of things. I was mainly looking for some hooks that could be mounted to the floor of the truck to keep my floor mats from sliding around. I found something I think will work, but I'll have to try it and see.
Then it was on to Wal-Mart for a few things. It wasn't as busy as I thought it might be. In fact it wasn't any more busy than a normal Saturday. I guess everyone was resting up from yesterday.
The only thing that was busy was the Returns line at Customer Service. So are people already returning stuff they just bought yesterday?
I had something to return, but I'll wait until another time.
Before I forget, I've received a couple of inquiries about the PORTER-CABLE 150 PSI Air Compressor that I've talked about. They wanted to know if they can use the 125psi model instead, since it's a little cheaper.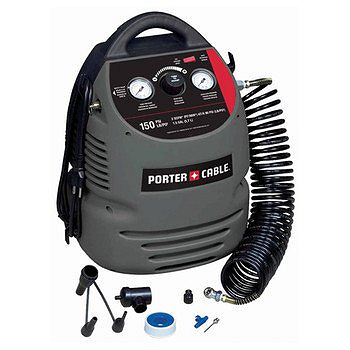 The answer is No, not if you want to be able to air up the bigger RV tires, i.e. 110 to 120psi. The 125psi model will struggle to get much over 100 psi, while the 150psi one will go to 120 to 125psi with no problems.
Wrapping up, we've got some more family photos. First up is our nephew Jason and his family, his wife Laura, and their kiddos, Ella, Avery Jan, and Annisten.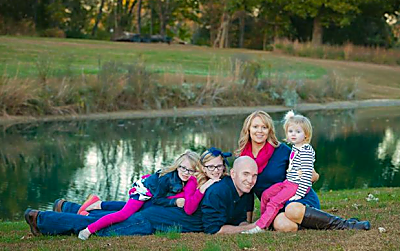 And here's another shot of the kids,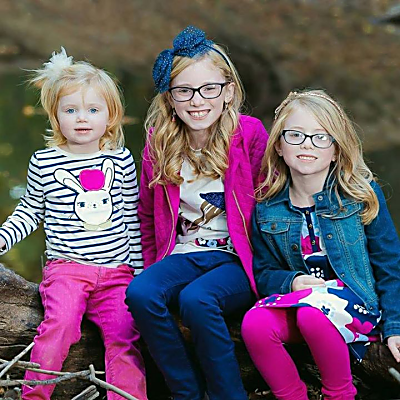 with Annisten, Avery Jane, and Ella.
Brandi, Lowell, and Landon are up in Oklahoma spending Thanksgiving with Lowell's parents, where Landon is hard at work building a Gingerbread Farm House.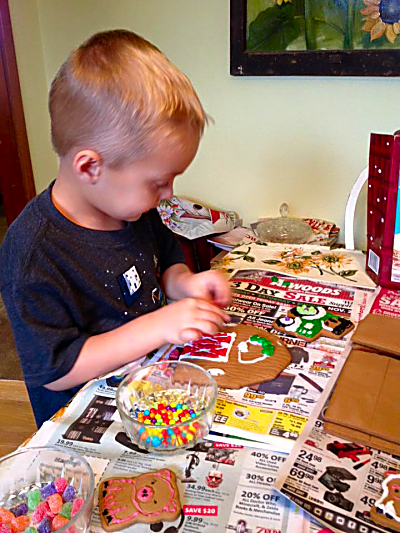 Looks like he's making some headway.
Tomorrow looks to be another nice stay-at-rig day.
---
November 28, 2016
Oopsie . . .
This morning started off on a bad note and then got worse. But only for a while.
For some reason I woke up at 4am, apparently not remembering that I didn't need to actually get up until 4:30. Then to top it all off, I went to the WRONG gate.
When I got the text from Todd about today's gate, I saw the gate name Davila 5 and the time 5:30p and figured I knew where it was. I had been to Davila 3,4,5 three different times so I figured this was the one Todd was talking about so I didn't look carefully at the directions. I should have.
So I ended up at the wrong gate and it took me about 30 minutes to get it all straightened out and get to the right gate. I'm still not sure how there can be a Davila 3,4,5 AND a Davila 5,6,7, miles apart.
And I guess it wasn't just me since late this afternoon someone showed up at my gate looking for the other Davila, so now I don't feel so bad.
The gate itself was very slow, with only 6 vehicles in and out all day. Nice and quiet.
Changing gears, Jan's gotten the Genealogy bug again and we've been working through the labyrinth that is Family Search, the LDS free online family tree program. A lot of it is already done and on paper so it's just a matter of entering it in.
Jan's family on her mother's side goes back to the late 1500's with the Morgan family of Virginia. At one time the Morgan's owned most of Virginia and what is now West Virginia. In fact Morgantown WV is named for her family.
On my side, my mother was a member of both the DAR (Daughters of the American Revolution) and the UDC (United Daughters of the Confederacy) so she has our lines going back to the Revolution and beyond, including a lot from early Virginia. In fact I wouldn't be surprised if Jan and I are actually related back there somewhere.
That might explain a lot.
And on my father's side, his mother, Sarah Ann Parr, was born in England. We've got that line traced directly back to Sir Thomas Parr, father of Catherine Parr, the sixth and last wife of Henry VIII. And since Sir Tom was directly descended from King Richard III, so am I.
Wrapping up, tomorrow and Wednesday I'm on another gate, and I definitely know where this one is.
I hope.
---
November 28, 2017
Disappointed . . .
For some reason the link to the Extendable Makeup Mirror in yesterday's blog quit working, even after I checked it before posting it. So here it is again.

We left the rig a little after noon for a trip to the Monterey's Little Mexico up in Pasadena. We were hoping to catch up with our favorite waitress Julie, who is a flood refuge from Harvey.
The Dickinson Monterey's was flooded out and won't reopen until March, so their staff was redistributed around to other locations in Houston. When we were at the Alvin location a few weeks ago, one of the displaced managers told us that Julie was working at the Pasadena location. But since she only works the lunch shift Monday through Friday, we're limited to Tuesdays and Thursdays.
So, after the holidays, today was our first chance. But it was all for naught.
When we got there we found that Julie was out sick today. But we still had a great meal of Beef Fajita Nachos and Chicken Tortilla Soup anyway.
We'll call ahead next time.
Coming home we made a Wal-Mart stop for a few things, and then it was on to the PO to buy Christmas stamps and get the first batch of cards in the mail.
Then after an Ace Hardware stop for a couple of things, we made a client stop to pick up a couple of Amazon packages that should have been delivered yesterday, but according to the USPS tracking, had been sitting in the local PO since Sunday afternoon. But at least they finally showed up.
Later in the evening, I followed the example of our friend Dave Evans and mounted a plug strip over the sink.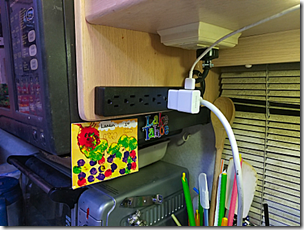 I shortened the cord using a new plug I picked up at the Ace Hardware stop and got it mounted. It'll make it a lot easier to plug in all the different chargers and accessories we have.
Tomorrow it's back to work.
---
November 28, 2018
Mickey and Donald, Lori and Thor . . .
Jan and her canine/feline companions are all settled in up in Katy, while Brandi, Lowell, and Landon, got picked up by the car service around 7am and were on their way to Disney World.
They arrived in Orlando about 11:30 and went straight to the park.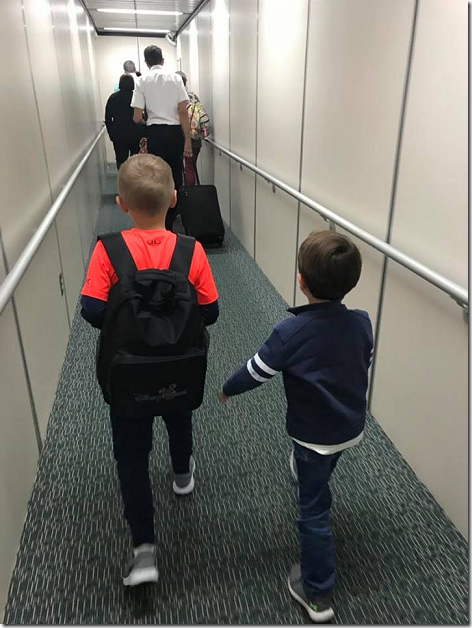 That's Landon on the left and Maddox on the right.
Then it was on to the Animal Kingdom area and later dinner at the Tusker House Restaurant.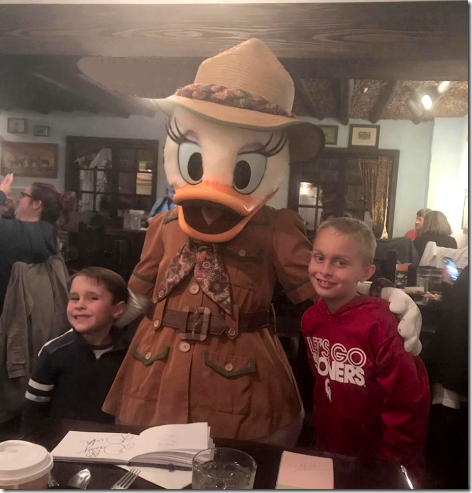 And then there's this one.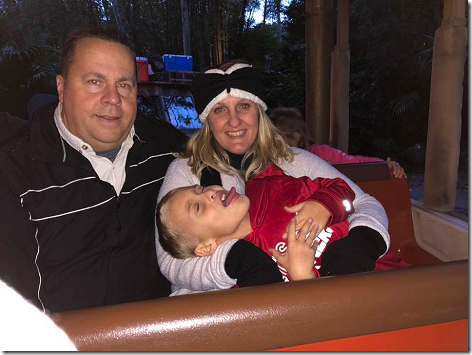 And if you're wondering why everyone is bundled up, the high in Orlando today was 58°
Yikes!
On the subject of Florida, I came across this recent article in the Space Coast Daily about Florida Wonderland, later Tropical Wonderland, the amusement park where Jan and I met during the summer of 1967.
They even had a photo of Lori and Thor, the two porpoises that were in the shows I did 5 or 6 times a day.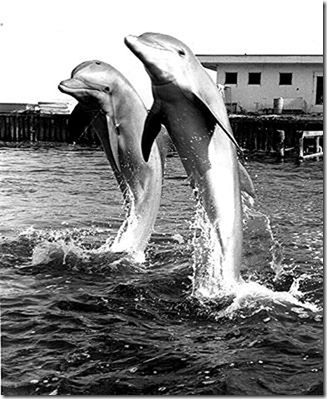 They performed together, but otherwise were kept separate because Thor, the larger male on the right, was a little too 'randy' and wouldn't leave Lori alone.
I'm not sure how accurate some of the other facts are, because, although they say the Marine Life Park area where I worked, closed in 1967, I'm pretty sure it was still open at least a year or so later when Jan and I came back down to visit.
At the time I was there, we had Lori and Thor, two manatees, Bruce and Vivian, a 10 or 11 foot alligator, a large sea turtle, and some other small animals. Although the article mentions us having 'rays', we never had any while I was there.
While I was working at the marine park, Jan was a saloon girl at Miss Kitty's Pleasure Place in the western town across the street.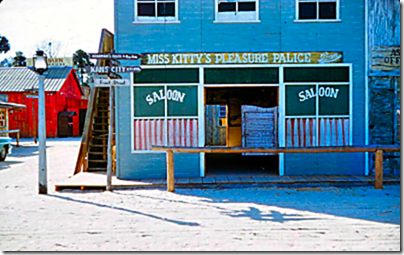 When I started I was told that I would need to get ice at the saloon to keep the fish cold that I fed the animals. And the first time I walked in the place I saw this beautiful, long-legged redhead, and I've hardly let her out of my sight since then. That was over 51 years ago.
And I remember it like it was yesterday.
Wrapping up the reminiscing, tomorrow morning, about 10, I'm meeting Miss Piper at the new Snooze breakfast place up in Webster. Looking forward to it.
---
November 28, 2020
Garbage and Gumbo . . .
Jan and I headed out about 12:20, with our first stop a few spaces down in the park to the dumpster to get rid of a week's worth of garbage, plus the Cracker Barrel Thanksgiving box and some other odds and ends. Our park dumpster is normally emptied on Thursday, which of course didn't happen due to Thanksgiving.
Normally this wouldn't be a problem, but last weekend someone apparently emptied out an RV, throwing away a lot of stuff, including a table, some chairs, a big flat screen, etc., which pretty much filled up the bin, leaving no room for everyone else's regular garbage. But the garbage truck did show up yesterday which meant we could get rid of our two large bag's worth.
Then it was on up to Webster to have lunch at long-time favorite Floyd's Cajun Seafood. While we both got Side Salads,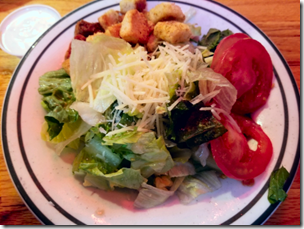 Jan got her Blackened Catfish and Grilled Veggies.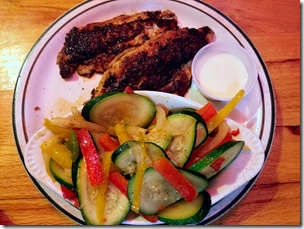 And as always, I got a bowl of Shrimp Gumbo.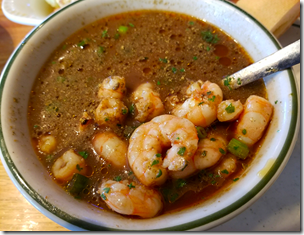 With all the shrimp crammed in here, it's amazing that there's any room for the roux.
Just as delicious as always, and Nathan, our waiter, was great too.
After a great meal, I dropped Jan off at her nail place to get her toes prettied up while I made a stop at my client's to set up some new backup routines.
Then coming home about 3:30, we stopped off at Cowboy Coffee for a large hot Sugar-Free Pumpkin Spice Latte for Jan, and a large cold Sugar-Free Pumpkin Spice Latte for me.
That's when I was asked, "Blended or On The Rocks?"
OK, "On The Rocks" I understand, but what's Blended?
Well, apparently they grind up your 'Rocks' until it's a Smoothie.
Ok, but is Grande the big one, or is it Tall?
If so, why is a Tall so small
And what's a Venti?
And now there's a Trenta. What's up with that?
---
November 28, 2021
I Ain't Afraid Of No Ghost . . .
We were rudely awakened this morning (well, I was. Jan was already up.) about 8:30 when the power went off. When it didn't come back on in a few minutes I checked the CenterPoint Energy Outage Tracker website and found it was out all over our area, almost 12,000 homes.
But it came back on about 45 minutes later so we had heat again. Better than the freeze last February when it was off for 4 days.
Since we had decided that this was just going to be a Stay-At-Home Sunday, that's what we did. We stayed at home, talked, read, napped, TV'ed, renapped, etc.
Then around 4pm, we polished off our Cracker Barrel Thanksgiving leftovers, finishing up with Pumpkin Pie. Just about as good as on Thursday.
I mentioned about Bone Growth Stimulator treatment I do for 30 minutes every morning. It's completely silent with no indication that it's even working, except for the one beep when it starts and the two beeps when it's done.
So, in my paranoia, I'm wondering, is it even working? Maybe I got a defective one. The only way I would know I guess, was if, in 6 months, my head fell off because the bones never fused.
So, not wanting that to happen, I dug out my old EMF (ElectroMagnetic Field) meter, kind of like this one on Amazon,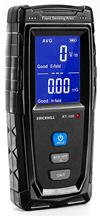 and I was relieved to find that my Stimulator was putting out a very strong EMF field. So my head is safe, I guess.
And according to the Amazon description, it can also be used for ghost detecting and hunting. Of course it's not as neat as the one Egon used in the Ghostbusters movie. You remember the one with the little arms that came up when a ghost was nearby.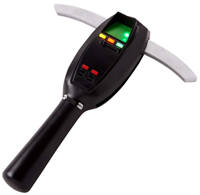 I want one of those.
---
November 28, 2022
Black Friday Overflow . . .
Today was just a typical Monday at work, with a lot of orders to process from over the weekend. Maybe more than usual.
Don't know if it's Black Friday overflow or not.
Brandi was feeling a little better so she and Lowell got some of their yard decorations put up, especially these two in the backyard next to their fence overlooking the street.
From the yard side, they look like this.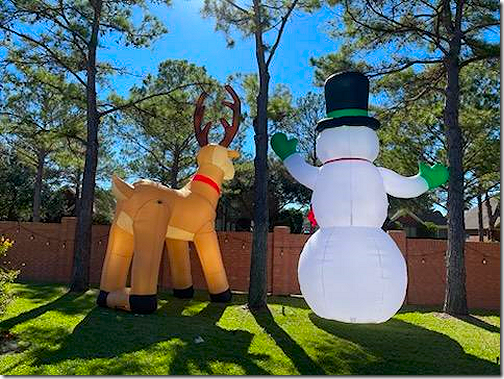 But from the street, they look like this.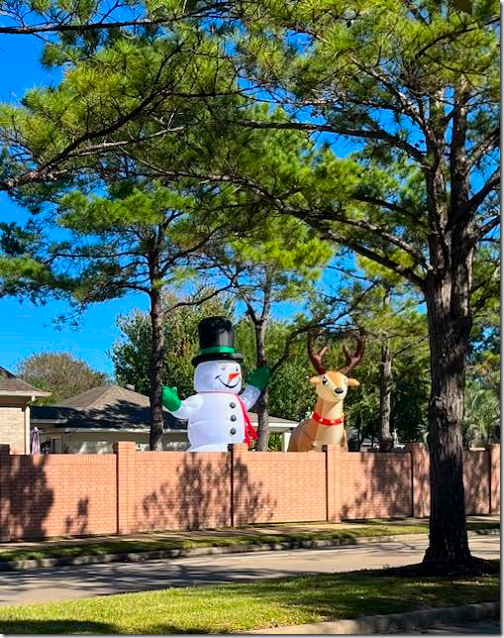 And that's a 6ft. high fence.
The snowman kind of reminds me of the Stay-Puft Marshmallow Man from Ghostbusters.
---
Thought For The Day: