Category Archives:
Uncategorized
Since we're hopefully looking at about 5 days of rain starting tomorrow, I went out about 11 to install new wipers on the truck. The one on the driver's side had actually started to come apart, with a rubber strip hanging off.
Then a little before 1pm we headed up to Webster to check out the Wagyu Burger at Arby's. But it just wasn't to be.
I had tried to call them this morning to be sure that they were serving the Wagyu Burger, and if their dining room was open. But when I did call them, I got no answer. In fact, from the Verizon error message I got, I think they're phone is just permanently off the hook. But we tried anyway.
And, as it turns out, their dining room is still closed, which means that we went Wagyu burgerless today, since we can't do the drive-thru in the truck because my window won't go down. And most places don't allow walk-ups at their windows. So we may have to wait until we get the Jeep back.
Back in January when we checked out Arby's Diablo Dare sandwich, we had to get it at the Arby's over in Friendswood, since the one in Webster didn't even carry it. You can read all about that here.
So deciding we still wanted burgers, we headed over to Texas Huddle Grille on NASA Rd 1.
Jan got her Mushroom Swiss Bacon Burger, with Cheddar instead of Swiss, and no bun since she's doing Keto. She also got a side salad, and an order of their Grilled Vegetables.

Really delicious, she said.
I went with what brought me here the first time, their PB&J Bacon Cheeseburger. Which of course combines several of my favorites – PB&J, with Grape Jelly, Bacon, and Cheeseburgers.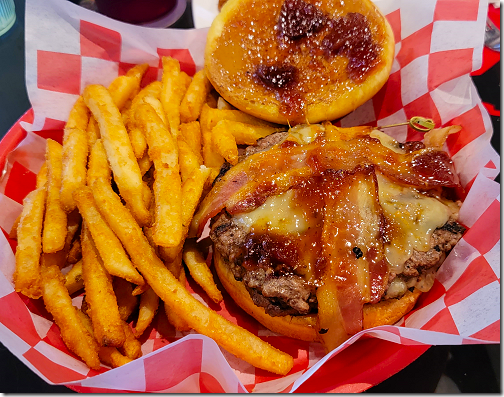 Makes it all worthwhile missing out on the Wagyu Burger.
Finishing up, we drove back down to our area to pick up some stuff at HEB. I had planned to stop off at our local Chick-fil-a to pick up the Peach Shake part of today's planned itinerary, but I was just too full. So I may stop off tomorrow on my way home.
---
Thought for the Day:
I don't go crazy. I am crazy. Just ask Jan.
But I occasionally go normal just to keep to keep everyone on their toes.
Shiloh, NC
---
June 26, 2009
Cousins and Kitty Hawk…
We left my cousin's house in Graham, NC this morning about 10:45 am. We had a great time and wish we could have stayed a little longer, but we're fast running out of days before meeting the kids in New York on July 18th.
Before we left this morning, I noticed one new problem and now that we're parked here in Shiloh, NC, I have two problems.
This morning I noticed water was leaking out from behind the door where the water heater resides. Opening the door showed that the T&P valve was leaking slightly.
So far, I'm not sure if the valve itself is leaking, or the thermostat is letting the heater run too hot. I'll start looking at it tomorrow.
And then after we got here, I tried to lower the hydraulic levelers, but they won't…lower or level, that is.
It's not giving me any warning messages or error lights. It just won't work.
More fun!
After a 5 1/4 hour trip that included a 1/2 hour delay in Raleigh for a traffic accident, we pulled into our site at North River Campground here in Shiloh, NC.
It's a very nice park with wide, long sites and nice scenery.
It's kind of hard to see from this picture but Mister is already camped out under the picnic table.
And here's the view out our front window.
Tomorrow we plan to head over to the Outer Banks to visit Kitty Hawk and Kill Devil Hill where the Wright Brothers first flew.
After that we'll head north to Virginia Beach, VA to visit the Military Aviation Museum. Next comes a stopover at a local Sam's Club for new 'stuff' and then dinner at El Pollo Loco, a favorite of ours from California last year.
Canyon Lake, TX
---
June 26, 2010
Deer today, deer tomorrow…
About 11:30 am we headed over to Gina's, who lives about 5 miles away. After looking over some projects she wanted me to do, we drove into San Marcos about noon to have lunch at IHOP.
Then after lunch we stopped off at Lowe's to get some items on the project list, before heading back to Gina's.
After talking and napping the afternoon away, about 5 pm we headed out for dinner at the Italian Garden Restaurant in Canyon Lake. We always eat here every time we're in the area, because Jan loves their meat ravioli. I think their spaghetti marinara is pretty good too.
After dropping Gina off at her house, we headed back to the rig just in time for deer feeding. The deer here are the tamest I've ever seen. They will actually come right up to you, looking for food,
and will eat right out of your hand if you have any.
If you hold out an empty hand, they will lick it and allow themselves to be petted. I think I could have coaxed one of them into the coach if I had tried.
Tomorrow I'll start working on the project at Gina's. It's pretty hot here, and a little working outside in the heat goes a long way.
Still In Billings, MT
---
June 26, 2013
My Husbandly Duties . . .
Jan wanted to be sure that everyone knows that I performed my husbandly duties yesterday.
I painted her toenails.
Get your mind out of the gutter.
She says I do a better job than the nail salons, and I work cheaper. Well, at least she doesn't have to tip me.
---
I think my Culligan RV-800 RV Water Filter threw up last week.
I've used these for several years and really like them better than those blue ones from Wal-Mart. But last week I noticed that both the sink and the toilet had restricted water flow. So today I took the sink pull-out faucet sprayer apart and found the strainer full of carbon granules. And when I ran water out of the hose, I got a few more. So after letting the water run for a while with no more carbon bits, I put everything back together and now it works fine.
Tomorrow I'll pull the toilet water supply hose off and clean out the strainer there. Hopefully that will fix it too.
I may check out some of the vendors at the Escapade and see what I can find there as a replacement.
---
About 11am Jan and I headed over to Famous Dave's BBQ to have lunch with Mike and Janna Clark. We've been reading each other's blogs for a good while, but this is the first time we've had a chance to get together. Janna's blog is called Tin Teepee/Log Cabin and can also be found in the blog list on the right side of this blog.
It was really amazing how many things we all have in common. Jan and Janna (see, even their names are similar) both worked in the medical field, and like many of the same authors, while Mike and I both used to install satellite dishes commercially. And of course, there's the whole RV'ing thing too, although they don't fulltime.
Yet.
Janna and Mike live on a ranch about 100 miles from Billings and come in a couple of times a month. And lucky for us, one of those times matched up with our stay here. We had a great time getting to know them and hopefully we'll be able to meet up again soon.
---
So far I haven't been able to get my old taillight converter apart. The plastic case is heat-welded together and I've sawed on it a while with no luck. It's possible that it's a solid epoxy block inside, which usually means they don't want you to know how simple the circuit really is. We'll see how it goes tomorrow.
I think I'll probably end up building one of my own.
Elkhart, IN
---
June 26, 2014
So Far, So Good
Head Update: So Far, So Good
It looks like some of the swelling has gone down, but I still wouldn't be surprised if I have a dent in my head when this is all over. We'll see.
Well, it looks like our windshield repair is still on for tomorrow. Josh, of Coach Supply, wants us at his shop a little after 9am. Says he picked up all the parts this morning.
I was relieved to hear that as I was worried about getting a windshield gasket for a 15 year old rig. American Coach said they had one in stock, but companies sometimes say that until you try to actually order one.
It's less than 4 miles up to Coach Supply in Michigan, so we'll be ready to head out about 8:45. Josh said it should only take about 4-5 hours or so.
They'll pull out both windshields, remove the old gasket, replace the gasket, and then reinstall the old driver's side glass, and install the new one on the passenger side.
We'll see how it goes.
---
Apparently Landon's 'school' is doing dinosaurs this week.
I made the mistake of calling it his daycare, and he, very indignantly, said, 'No, it's School'.
Verde Valley, AZ
---
June 26, 2015
Hot and more Hot . . .
About 2pm I drove up to the guardhouse to drop off some mail for Jan. According to the thermometer, it was 107 outside, and just walking out the rig door it hits you with a physical force.
About 4pm Jan and I drove down to the park's Homestyle Grille Restaurant to try their Friday night Fish Fry. We'd heard a lot of good things, so we were really looking forward to it.
They have a really nice facility here with plenty of room,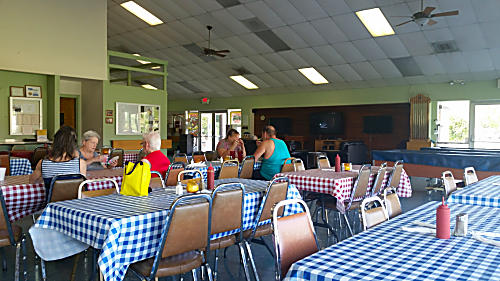 and a nice view too.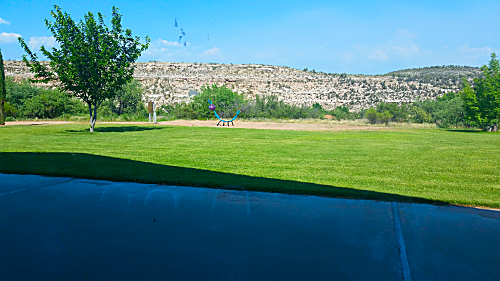 They have a Fried Fish (cod) platter, a Fried Shrimp platter, and a Combo Fried Fish and Shrimp Dinner, which is what we decided to go with.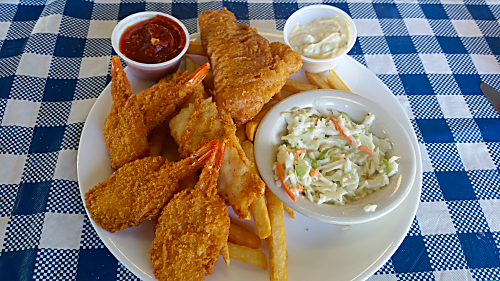 As we were told, it turned out to be really good. Even the Cole slaw and fries were delicious. Everything was so good we plan on going back tomorrow night for the Prime Rib Dinner. Hope it's as good as tonight.
At about 7pm, the start of my one hour outside work period, I finally was able to finish drilling out the top mounting screw for my outside lighted grab bar. I'm not sure why it was so stuck, but I tried using a screw extractor, and drilling it out with a titanium tipped drill bit, But I didn't have much luck with the hardened steel screw.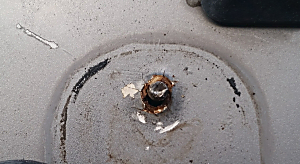 So what I did today was take a smaller bit and drill right alongside the screw until it was loose enough to grab with a pair of locking pliers and unscrew it. Still don't know why it was so stuck, but all the rest came out just fine.
I refer to this as my one hour work period because by 7pm it's cooled off enough to be halfway comfortable outside, but then the sun goes down about 7:45, and by 8 it's too dark to work anymore.
Finally, a little before 8pm we drove into Cottonwood to pick up some stuff at Wal-Mart, We used to do this a lot during the summer in Houston because it was so much cooler then.
One thing we quickly noticed as we got into Cottonwood were the large puddles along the road. When I was outside earlier working on the grab bar, I heard thunder coming from over this way, but it didn't seem like it was raining, but looking at all the water on the road it looks like it really poured over here.
Tomorrow's forecast: Hot and more Hot.
Together With Family
---
June 26, 2016
I Can't Wait For Driverless Cars . . .
We left the park about 3:30 for our usual 1 hour trip into Katy to meet up with Brandi, Lowell, and Landon at Texas Tradition, a local Katy restaurant that they discovered a week or so ago.
But our normal 60 minute trip took over 90 minutes due to 45 miles of rolling phantom slowdowns. And it started as soon as we turned onto US-10 in Columbus with bumper to bumper 10mph traffic as far as we could see.
But then a couple of miles out of town everyone started speeding up, and very quickly we were all doing the 75mph speed limit,
For about 5 miles. And then the brake lights came on, and we all quickly slowed down to a dead stop. But then after a few minutes we again slowly started moving forward. The creeping along lasted for another few minutes until suddenly everyone accelerated back up to 75 again. On several of the wide, sweeping curves where we could see the road for several miles, all we could see was solid traffic. Nothing but brake lights.
And the outbound side of I-10 had no problems whatsoever all the way.
This whole 'rinse, lather, repeat' thing lasted all the way until where the speed limit drops to 65 at the Waller county line and the Colorado River. Then everyone sped up to 75 again and it stayed that way until we got off I-10 15 miles later.]
We never saw any accidents, any construction, or any reason for the slowdown/speedups. So who knows.
I can't wait for driverless cars. For everyone else, but not for me of course.
But it did cause us to be about 30 minutes late to meet the kids. But it was worth the wait.
Texas Tradition is a smallish family restaurant on US-90 near downtown Katy, And boy is it good. And the portions are enormous too.
Brandi had the Seafood Platter, while Lowell and Jan had the Chicken Fried Chicken Platter, Jan's with Fried Okra and Homemade Mashed Potatoes.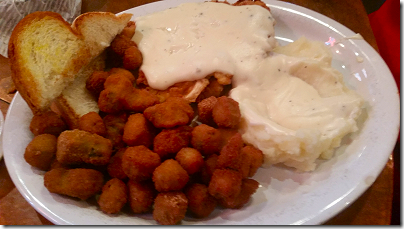 I went with the Jalapeno Bacon Cheeseburger with Sweet Potato Fries.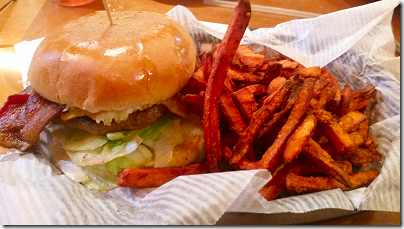 And even though we were all stuffed, we couldn't resist getting a couple of their fabulous homemade desserts to take home.
Jan went for the Chocolate Cream Pie,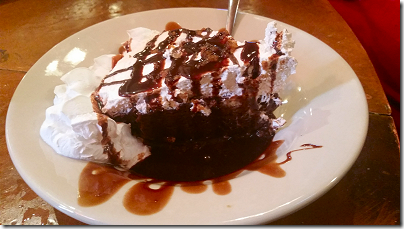 while I checked out the Hot Apple Crisp.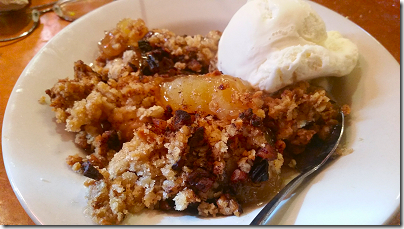 And because the portions were so big, we all had plenty of leftovers to go with our desserts.
Getting our hugs, and our mail, we headed back to Colorado River TT a little after 6pm, with no slowdowns at all. But the incoming side seemed to have the same problems as this afternoon, with areas where everyone was speeding along, and areas where they were all just poking along.
Strange!
One day last week it was 'Bring Your iPad to Dayschool' Day. So Landon used his to take a selfie of him and his 'girlfriend'.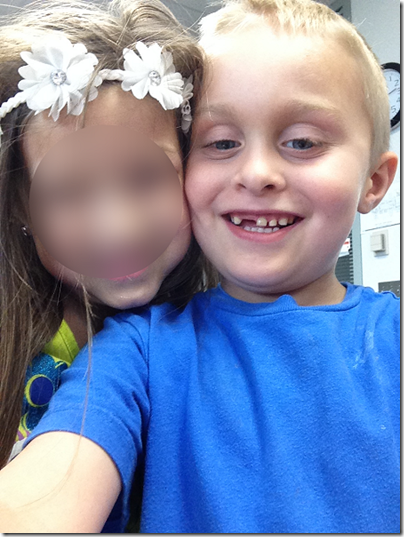 She's cute as a button, but we didn't have her parent's permission to post, so I blurred her face.
Big Family Get-Together
---
June 26, 2017
I May Already Be A Winner . . .
Today was another stay-at-home, rest-up day preparing for when all of Jan's relatives from Illinois converge on Brandi's house in Katy.
We'll go into Brandi's on Wednesday morning as everyone starts drifting in. Jan's sister, Debbie and her husband Jim are driving in from Illinois, while their daughter Tana, her finance Curtis, and Tana's daughter Gwen, are flying in from doing the theme park thing in the Orlando area.
But Debbie and Jim's son Jason, his wife Laura, and their kids Avery Jane, Ella, and Annisten, along with their other daughter, Christina, have been vacationing down in the Galveston area for the last week
In fact, Brandi, Lowell, Landon, and Miss Piper met them down in Galveston yesterday for fun, sun, and the water.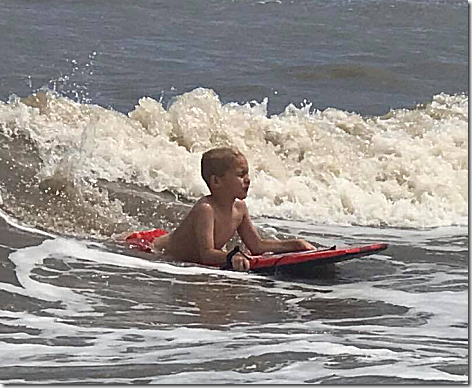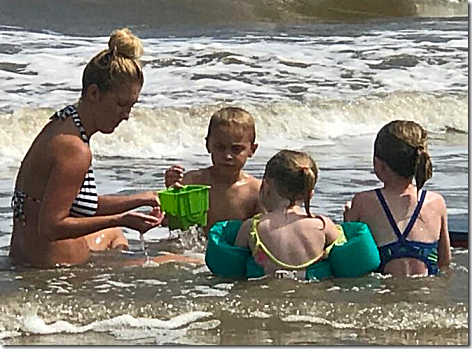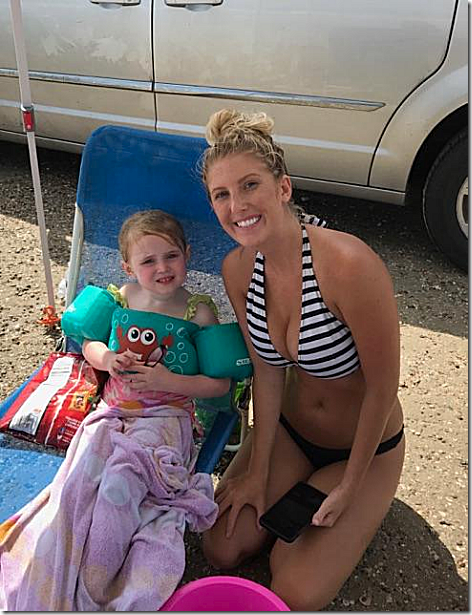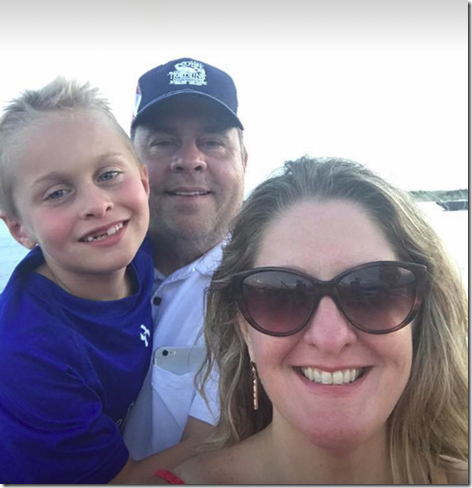 Jan and I are really looking forward to seeing Debbie and her family, since it's been over 2 years.
Tomorrow I'm going to lift up the engine cover under the bed and see if I can reach the top bolt on the hydraulic fan motor that came loose last week in Pauls Valley, OK. I bought extra nuts and washers, but I don't know yet if I can get to it. I guess we'll see.
I've also been thinking more about my rooftop AC not cooling well while we're on the road, but works great when we're parked.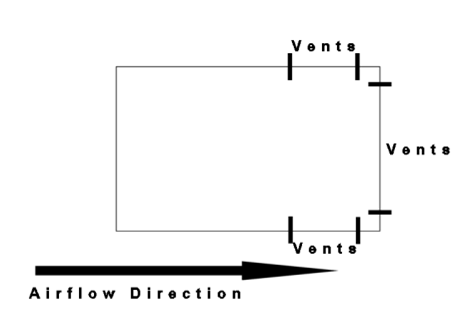 Here's a drawing I made noting the location of the vents on the cover. I think the idea is that air rushing pass the side vents will create a vacuum, pulling in the air from the rear vents.
But that air is normally considered a dead space, almost a vacuum area itself. That's why race cars can draft behind each other. And also why you see more and more semi-trailers with those foldable flaps on the rear end to smooth out the air flow. Studies show around a 5.5% increase in fuel mileage when they're used.
So I may try adding some flaps on the sides and top of the cover to see if that helps.
I may already be a winner, or at least that's what Publisher's Clearing House is telling me. I entered today for the big drawing for a prize of $2,000,000 up front, $10,000 a week for life, and a new car. Nice!
The next drawing is this Friday, the 30th, so I always wait until the last minute to sign up because I get flooded with emails about the drawing. And now they're selling a lot of other stuff besides magazines, including pretty much all the 'As Seen On TV' stuff, like copper pans, expandable hoses, and cleaning products.
But I might already be a winner, right?
Vandalia, IL
---
June 26, 2018
Weaning Off ???
Although none was really forecast, we were awakened about 5am this morning by thunder, lightning, and heavy rain. And although the rain was nice, I never did really get back to sleep.
We were out the door about 8:45 to head into Vandalia to meet Jan's sister Debbie, husband Jim, and granddaughter Gwen for breakfast at the local Denny's. Vandalia only has about 7000 people, so everyone knows everyone else at breakfast and people are constantly visiting other tables and saying Hello.
Plus the waitresses know everyone too, and usually what they always order.
After breakfast, Jan, Debbie, and Gwen headed out for some shopping while I went back the rig to work on some stuff here, and also take care of some web work.
Then about 4pm I headed back into Vandalia from here in Mulberry Grove to first get the truck washed, and then on out to Debbie's. Although Jan, et. al, were still out shopping, I was happy to see that the fuel filter and the fuel pump for our rig's generator had both come in. I don't know if I will be able to work on it tomorrow as I think we're going over to the other side of St. Louis to meet up with some more of the family, and also Brandi, Lowell, and Landon, who are flying into St. Louis tomorrow for the get-together.
So it will probably be Thursday before I can give it a shot. And if that's not enough I should have some time Friday too. But we'll see.
The first couple of nights of our trip up here we didn't set the TV/Sat dish up because we were leaving early. Then on our two night stay at Tom Sawyer the power was out that first night when we got home, and then I didn't set it up the next day since we were out all afternoon, and then leaving early again the next morning to try and beat the heat.
And now we haven't set it up here, either. And we both agreed we haven't really missed it that much. Of course it's mostly reruns right now, so I don't know how it would be if it were the Fall premiere season. But I imagine we will set it up when we're back in Santa Fe, however the rest of the trip is probably a 'We'll See' situation.
So I don't know if we've weaned ourselves off of TV or not.
Tomorrow we've got another breakfast meeting at the Denny's at 9, but we're getting an early start because I need to get a new right front tire. This one has developed at wobble, I think due to a torn belt inside. It was fine leaving Houston, but there are a lot of big potholes on I-10, so who knows.
---
June 26, 2019
Waco Bound . . .
Today was mostly a non-IT day at work. The AC in the manager's office died on Monday so I Amazoned one that got here this morning, so I spent some time getting the old window unit out and the new one installed.
The old one is supposedly about 10 years old, and although it and the new LG model are both 5000 BTU, the new one is much lighter.
I've just about given up trying to recover the database for the Tattoo website, so it looks like I'm just going to have to reenter the data by hand. If I do 5 pages of the catalog per day, it should only take a couple of weeks.
Then later I followed my client over to his home to jump off a dead battery in one of his VW's. But it turns out that the problem wasn't the battery, but the ignition switch was kind of intermittent in the start position.
After I got home, Jan and I drove over to Dickinson to the Enterprise Rental office to pick up our rental car. I had asked for another Impala, and not a Tucson like last time. So I was happy to see an Impala sitting in the lot.
Then it was back over to Los Ramirez Mexican Restaurant for dinner, before a quick WalMart stop and then home.
We plan on leaving for Waco about 9 tomorrow morning, meeting our friends at the Saltgrass Steakhouse there about 2pm.
Really looking forward to catching up with them.
Taft Broadcasting Get-Together
---
June 26, 2021
And Now We're Even . . . Older!
For the last couple of mornings it's been nice enough for Jan and I to sit outside on our patio for our coffee and Flamboyance admiration. Even though it's already in the 80's, there's always a little breeze, and the sun's still behind the rig.
As I mentioned in yesterday's blog, we had a reunion of Taft Broadcasting today at MomAlone's Mexican Grill up in Webster starting at about 11am.
Taft was NASA's main television contractor from back in the Gemini/Apollo days through the Challenger Disaster in 1986. During that time Taft supported the tests going on in the various buildings, the landing video from the T-38 chase planes, and the on-orbit video from the Shuttle itself.
After our last reunion in June 2016 this is the blog I posted back then.
When Did We All Get So Old . . .
And now we're even older.
On the left here is Candace Horn, my co-worker Jack Horn's wife, who is a flight attendant for Southwest Airlines, my Jan, of course, and Sharon Hosea, who lived in our same subdivision while we worked together.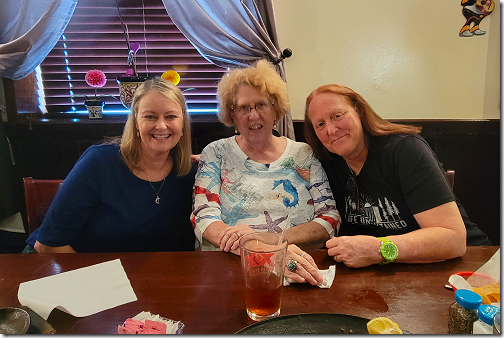 And here's the entire motely crew. Unfortunately a number of people were out of town, and others scattered around the country, but still in touch.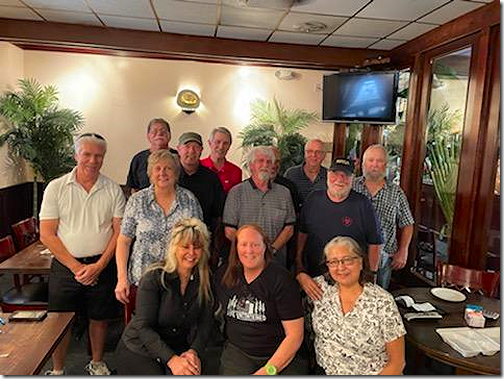 As things wound down, we ended up with a final group that sat around reminiscing for another couple of hours just talking over old times and wild tales.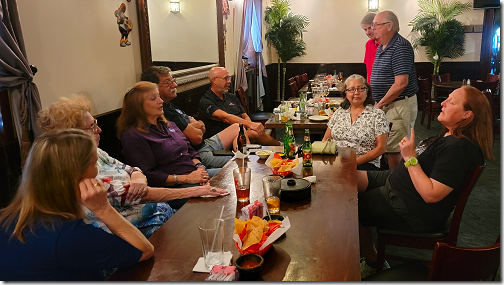 We finally parted ways about 3:30, planning to get together again more often than another 5 years.
Hope so.
After coffeenating, I was outside about 11am to try and get the broken window regulator out of the door panel.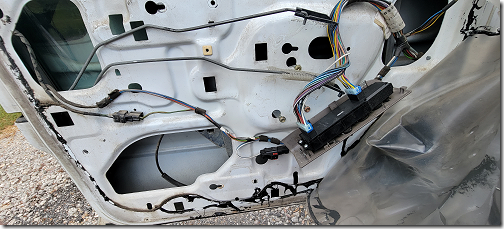 And it turned out to be more of a job than I had anticipated, because the window regulator was actually completely jammed. Which meant that I couldn't lower the glass down enough to get to the two screws that hold the glass to the regulator.
But by using a big screwdriver as a pry bar I was able to break the regulator apart enough to release the glass and get it loose.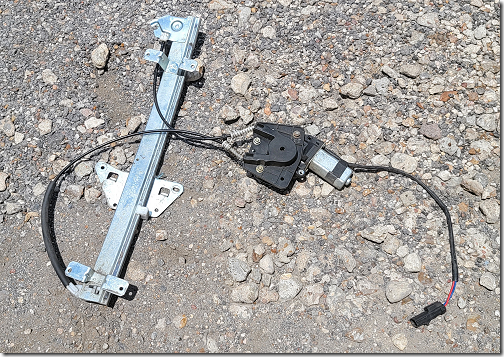 This let me raise the glass all the way up and hold it in place with a piece of 2×4. This will keep the window closed so the AC works better, and also keep the truck dry with all the rain we're supposed to get starting Monday.
Later I went online to check prices for a new regulator from O'Reilly's and then Amazon. O'Reilly's had a new one for $82, and it would be here Sunday evening around 6pm. However Amazon had exactly the same one for $53, and it would be here Monday.
So Amazon wins again. Though with the coming rain, it may be next weekend until I can get the new one installed.
We finally headed out for lunch, etc. a little before 2pm, with our lunch stop at our local Pho Barr.
Always delicious as usual.
Then it was on over to WalMart for our weekly stuff, and then home.
Right now the plan for tomorrow is to check out the new Wagyu Burger at Arby's, and then the new Peach Shake at Chick-fil-a.
Remember I do these things so you don't have to .
---
Thought for the Day:
A human being should be able to change a diaper, plan an invasion, butcher a hog, conn a ship, design a building, write a sonnet, balance accounts, build a wall, set a bone, comfort the dying, take orders, give orders, cooperate, act alone, solve equations, analyze a new problem, pitch manure, program a computer, cook a tasty meal, fight efficiently, and die gallantly. Specialization is for insects. – Robert A. Heinlein
North Carolina
---
June 25, 2009
Flamingos, and Kitties, and Moose, Oh My!
Tomorrow we're going to head another 235 miles east to Shiloh, NC. This will put us about half way between Kill Devil Hills to the south, where the Wright brothers first flew, and Virginia Beach, where we want to visit the Military Aviation Museum.
I did have a chance while we're here to put out most of our yard animal collection.
Jan thinks this is all of them, but I think we have one or two more stuck away somewhere. I'll have to keep looking.
Canyon Lake, TX
---
June 25, 2010
Canyon Lake…
Since we only had about a 2 hour drive today, we didn't leave Burnet until a few minutes after 11 am.
Today was another day to travel with the generator on to run the house A/C's. Otherwise it can end up in the high 80's in the coach, and then take a long time to cool down once we're at the park.
We pulled into the Lake Pointe RV Park in Canyon Lake, TX about 1 pm for what we thought would be a 10 day stay. However I was quickly informed that despite what I was told on the phone about two weeks ago, we could only stay for sure for 6 days and then would have to go on day to day thru the holiday weekend. Lake Pointe is actually a type of membership park, so if a lot of members show up for the 4th of July weekend, we may be out on the streets. We'll see.
---
Last night I completed a field repair on a 12V power supply. It converts 120VAC to 12VDC thru a cigarette lighter plug. Normally I use it to power the wireless alert receiver for my Brake Buddy braking system in my truck when it's being towed behind the RV. However I used it to test what turned out to be a malfunctioning tire pressure monitor, which killed the power supply. I assume I blew the internal fuse.
Never being one to be stopped by the "No User Serviceable Components Inside" warning on the case, and being too cheap to buy another one, I took my hacksaw to the case. A little sawing and prying and I was in.
And I was in luck. It had a fuse, and it was blown.
Not having a 2 Amp AGC pigtail fuse like the original, I decided to improvise with a 3 Amp ATO automobile fuse and solder it in directly. A small piece of wire and a hot soldering iron later, and I was back in business.
A quick test with my meter showed the problem was fixed, and strip of duck tape put the case back together.
And it worked fine on the trip today.
---
Lake Pointe is a nice park near Canyon Lake, heavily wooded with a lot of deer roaming free.
And Jan has a 50# bag of deer corn all ready to go.
Lake Pointe is also a Passport America so at $12 a night it's a good deal. We've stayed here twice before, and enjoyed it both times.
We're here to visit a good friend of ours, Gina Ellis, for 10 days or so before heading east toward Alabama, and then on to Louisville, KY by the 20th of July for The Rally, the largest RV rally in the US. After that it's on to Elkhart, IN around the 1st of August.
After we got settled in today, we drove over to Gina's about 5 pm and then went to dinner at The Windmill Restaurant for their All-You-Can-Eat Fried Catfish dinner. Really, really good.
Tomorrow we'll do some shopping, and then I'll start working on some home projects for Gina.
Long Beach, WA
---
June 25, 2011
Dragons and Centipedes . . .
After coffee and bagels about 10:30, we headed out about 1 pm to visit the World Kite Museum here in Long Beach, WA.
This somewhat-unassuming building houses one of the best kite collections in the world.
Starting with kites made from grass, leaves, and twigs,
to kites that look like wall hangings,
and even priceless tapestries, to
prehistoric reptiles,
dragons, or even
a Phoenix rising from the ashes.
This Phoenix kite has a 25 foot wingspan.
These centipede, or disc, kites have been around for over 1000 years and can have from 4 to hundreds of segments.
The fancier ones even have one or more dragon heads.
They even have kites that look like flying horses.
They also had a display of 'working' kites. These 'barrage' kites were flown over convoy ships during WWII to help protect them from attack. The piano wire tethers would shear off the wings of attacking planes.
And these kites tow kiteboarders through the water without needing a tow boat.
We spent almost two hours enjoying the museum with our guide, Kay, who gave us an excellent tour.
Jan and I even ending up buying kites of our own.
Leaving the museum, and after a quick stop at Marsh's Free Museum to exchange a gift, we headed out to Cape Disappointment State Park, on the northern side of the entrance to the Columbia River.
We started out on the north jetty looking out over the Pacific Ocean.
From there we could look back at the bluff overlooking the channel.
Parking closer in, we found a neat lighthouse, and a beach with swimmers and boaters.
We also found a plaque that listed this beach as the place Lewis and Clark declared the end of their treacherous journey to reach the Pacific.
Now that's history.
Deciding we were hungry for Chinese, we headed over to Astoria to eat at the Golden Luck Restaurant, a place recommended to us by Bill Joyce and Diane Melde.
And they were right. We really enjoyed it and decided it was a place we certainly want to come back to.
The Gate Guard Life
---
June 25, 2012
Bor…ring !
Believe me, the life of an oilfield gate guard is not all exciting fun and games. Sometimes it is absolutely, completely BORING!
Trucks come in, trucks come out. Then we stare at the trees across the road, and watch the bunny rabbits hop past.
Jan says "Yeah, it's boring until the tarantulas coming out to play. And then there's the snakes and scorpions."
Well, maybe it's not always boring.
---
I had a number of comments and questions about my blog concerning oilfield jobs. All I could suggest was to check out the San Antonio and Corpus Christi newspapers for the job fairs the companies are holding around the state.
I know around here that there are a number of billboards advertising for CDL truck drivers, and I also hear ads on San Antonio radio stations looking for drivers too.
One thing to remember is that before you can work on an oil rig, apparently you must get a tattoo. In some cases, you must get a lot of them. At least that's how it is with pretty much every roughneck and roustabout around here.
And you probably will need to get a divorce. Maybe several, even. At least that's also the case with pretty much every guy. Working one week on and one week off, or even two weeks on and two off, seems to take a toll on a marriage.
But then three recent-hires just showed up with new trucks this week. So maybe it all works out.
---
Reading an article on Social Security the other day made me realize that I may have a problem with the money we're making gate guarding. At least as far as Social Security goes.
This year a person on early Social Security can make $14,640 before the government starts taking money back. Normally my computer and Internet income stay under this level, but our gate guarding is going to put me over since the paychecks have been coming in my name only. So I called the Gate Guard Services office on Friday and had them change the paychecks to Jan's name. This will save us money since she doesn't have any outside income in her name. Wish I had thought of this earlier.
Oh well. It's only money.
---
Looks like we're in for a few days of very hot temps, maybe as high as 107 degrees. When it was up to 105 a while back our water misting system kept things comfortable. With the mist coming off the fan, you get a little damp, or even wet. But it's a cooling wet, and not a sweaty wet. So it's all good.
Last night I tried to put up the new solar screens on the windshield to help cut down on the heat coming into the rig. I had planned to just stick it up using Gorilla Tape to hold it to the glass. However, although the tape stuck to the glass just fine, it would not stick to the solar screen material. Bummer.
I think what I'll try next is to run a cord from the awning bracket on one side of the rig across the top of the windshield to the bracket on the other side. Then I'll just hang the screen from the cord and use binder clips to fasten it in place like on a clothesline. Should work just fine. But I'll let you know.
Quick, easy, and cheap. My kind of solution.
---
June 25, 2013
Not Again . . .
Jan and I first stayed here at Billings Trailer Village RV Park in March 2008 on our way to Alaska. When we got here it looked like this.
And this is what Mister thought about snow.
Not so much. He put one paw down in it on the step, then pulled his paw back up and looked at it. Then he refused to budge any further.
Smart cat.
And of course when we stayed here again coming back from Alaska in October 2008, it looked like this.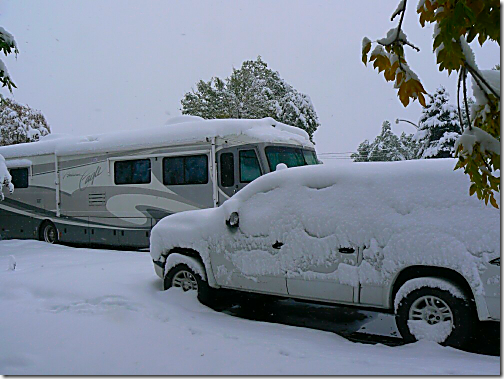 So I guess we just lucked out this time.
---
Under the 'Not Again' heading, I noticed on our way up from Cody yesterday that somewhere along the way the toad taillights stopped working . . again. So this morning I first used the toad taillight test box that I built this past March.
Using the test box showed that the toad lights are working fine. So it was time to check out the rig side of things. I went inside and turned on the rig's headlights and emergency blinkers. Then going back outside, I checked the 4 pin output plug that connects to the toad. It has LED's built into it that show if the taillight converter module has the correct output. And it showed nothing.
So my next step was to check the fuse in the 12volt line that feeds the module. And it was fine. Then using my auto test light I checked the voltage on wire feeding directly into the module.
These test lights have needle point on it that allows you to poke a tiny hole through the wire insulation and check the voltage.
You connect the alligator clip to a ground and then if you touch voltage with the tip, the light in the handle lights up.
The test light showed that I had power going into the module, and also taillight and blinker signals. But the light showed no output from the module.
So the $40 that I bought 3 months ago is dead. And it's supposed to be short circuit protected and impossible to kill. Yeah, right!
So now I've got to decide what I'm going to do.
Buy another $40 module from U-Haul?
Or find another one from somewhere else?
I'm almost tempted to just build one of my own design. That way if I do have a problem, it'll be easy to repair. In fact I would like to think that I can design and build one that won't die so easily.
We'll see what I come up with.
About 3pm Jan and I headed out to get our hair cut at a Great Clips. Then after that we stopped off at a nearby U-Haul store to check out what else they had in taillight converters.
Answer: Not much.
At 5:30 we met our friend Linda at the Guadalajara Mexican Restaurant that we've eaten at in the past. And as before, the food, the company, and the conversation were all great. We didn't leave the restaurant until after 7:30 because we had a lot of catching up to do.
Tomorrow we'll be getting together for lunch with other RV friends who live in the area.
Still In Elkhart, IN
---
June 25, 2014
Mooooooooooo!
Well, except for waking up about 5am with a dull headache that a couple of Advil took care of pretty quickly, my first night with a new hole in my head went pretty nicely.
No real pain except for the occasional headache, and a feeling that the top of my head is tight, I guess because my scalp was stretched to cover the wound.
About 10 Jan took off the bandage to clean and moisten the wound. I'm supposed to use Vaseline or Neosporin to keep it moist each time I re-bandage it so it won't scab over
While I had the bandage off, Jan took a couple of photos, but since some people might feel they're a little gross, I posted them on a separate page if you want to look.
But don't blame me if it puts you off your feed.
Jan and I sat outside with our coffee and muffins for a little while, but, although it wasn't real hot, it was pretty muggy, so we didn't stay out as long as usual, much to Mister's dismay.
I don't know if it's because of the surgery, but I did feel kind of washed out today, so I pretty much goofed off the entire time.
Finally, about 3pm Jan and I drove down to Martin's Supermarket to pick up a few things, including more gauze and tape for my head. While we were there, I got a call from the Doctor's office just checking up on me to be sure everything was all right.
Nice people.
About 4:30 we headed out to have dinner at the Flippin' Cow. a new-to-us hamburger place on Lake Simonton near our RV Park.
The last time we ate here it was called Lakeshore Grill and was pretty good. Apparently the same people still own it, they've just changed it over to a burger joint.
And a very GOOD burger joint.
In fact, their 'Stella Moo' burger has been voted The Best Burger in Elkhart County, and is now in the runoff with one other place for the Best Burger in seven counties that comprise the Michiana area. The winner will be announced July 7th.
And if I can find where to vote, I would certainly vote for the Stella Moo that I had, shown below.
It has two steak burger patties topped with smoked beef brisket, jalapeno bacon, onion straws, pepper jack cheese, and Alehouse BBQ sauce on a toasted wheat brioche bun. Then I added tomatoes, jalapenos, spicy mayo, and sweet heat pickles,
This has got to be the absolute best burger I've ever eaten. And Jan said the same about the one she got.
We've already planned to go back next Wednesday because it's $1.99 burger night and the burgers are cheaper.
But as much as I like the Stella Moo, I'm also tempted to try their Hunka Hunka Burger Love. It has two steak burger patties, peanut butter, jalapeno jelly, smoked bacon, and pepper jack cheese on a toasted pretzel bun.
Decisions, decisions.
Verde Valley, AZ
---
June 25, 2015
Pancakes and Keyboards . . .
We didn't do much today except hunker down and try to keep cool. It went up to 108 degrees, but we stayed comfortable with the Reflectix foil on the windshield.
The last couple of days we've had a lot of wind late in the afternoon that kept blowing our foil sheets off, so last evening I taped the separate sheets together into one big piece and tied it down better. So far it's holding up just fine.
About 2pm we headed out to have 'linner' (actually breakfast) at Georgie's Café, a well-recommended diner here in Cottonwood. We've tried to eat here a couple of times before, but keep finding them closed, since some days they close at 2pm, some days at 3pm, and Fridays they close at 8pm.
And as I said, we both ended up having breakfast, with Jan going the Omelet route while I had eggs, bacon, and pancakes.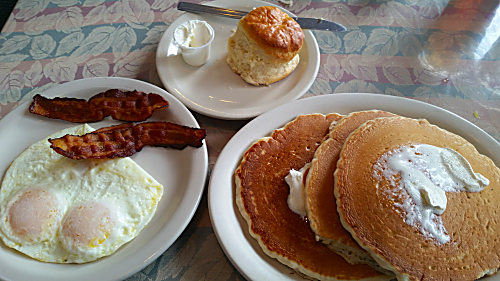 Unlike a lot of places, these pancakes were really good, not tough, chewy, and bland like some restaurants. Instead they were so tasty you could have eaten them without butter and syrup. Of course I didn't.
Really good, so hopefully we'll have a chance to go back.
As we were leaving for Georgie's, I stopped at the guardshack and picked up my new Backlit USB Keyboard with Large Print keys. Getting it home after 'linner' I plugged it in and started playing with it. At the upper right corner are two new controls. A knob that you can turn to change the brightness of the backlight, and a button to push to cycle through the five difference colors.
Before I got to play with it, I figured I would like the yellow backlight the best, but as it turns out I like the red the best.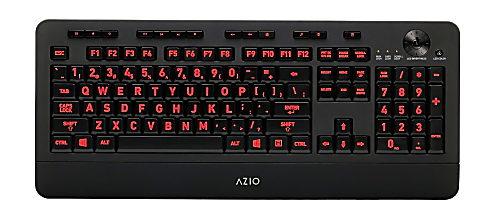 I like the key feel, but the keyboard is a little higher and a little deeper so it will take a little getting use to. But just typing this blog has made a difference already.
About 7pm, after things had cooled off a bit, i.e. gotten below 100 degrees, I shut down the computer, satellite, and the AC's and cranked up the genset. It started up with no problems, and after about 45 seconds the lights flickered indicating that the transfer switch had kicked in. But to double-check, I went outside and turned off the shore power breaker.
I was happy to see that the genset power kept rolling along with no problems. And after turning the shore power breaker back on and switching the genset off, the transfer switch put us back on shore power. Easy Peazy.
So hopefully when we leave here July 3rd we'll have AC's again on the road.
---
June 25, 2016
Catching Up On Rig Repairs and Fixes . . .
I thought I'd bring you up on the status of my recent repairs and/or fixes.
I recently replaced our 8 year old dead water pump and although we've only used it once since then, it's working fine so far. Here's the story
https://ourrvadventures.com/2016/06/pump-it-up/
and here's the one I used.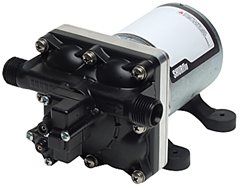 It's certainly quieter than the old one.
I've done two repairs on our rig's AC's in the last few months. Most recently it was a stopped up evaporator drain pan on our rear AC, causing water to leak down into the bedroom.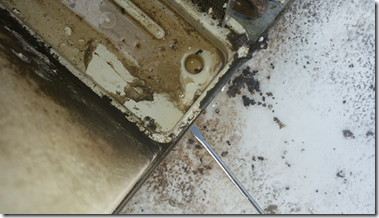 Here's that story.
https://ourrvadventures.com/2016/06/it-was-late-and-i-was-tired/
I still plan on getting back up on the roof to finish completely cleaning the coil, especially now that we're in a nice shady site. But for right now, it's still not leaking.
Back in April, our 9 month old Coleman Mach 15, our front AC, quit cooling. After doing some troubleshooting, I discovered that for some reason the AC compressor was not receiving the signal from the thermostat. The fan would turn on, but not the compressor. Here's more info on that.
https://ourrvadventures.com/2016/04/buttoning-up/
I found that by shorting the turn-on voltage between the fan to the compressor, everything worked.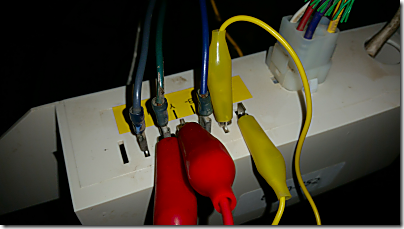 Here's more about the final fix. It's still working great.
https://ourrvadventures.com/2016/03/cool-again-for-now/
A week or so ago, I came across a new non-kinking, collapsible RV water hose and gave it a try. It's called the Zero G RV and Marine Hose and is available from Camping World and other dealers.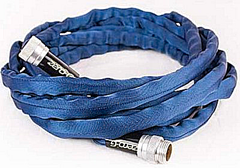 https://ourrvadventures.com/2016/06/a-new-hose-and-a-fixed-microwave/
https://ourrvadventures.com/2016/06/a-well-fed-anaconda/
My most recent repair was to our Sharp Microwave Convection Oven. The door refused to open, due to a broken latch. Here's that story.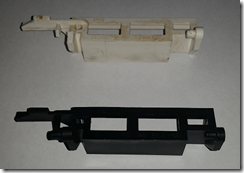 https://ourrvadventures.com/2016/06/easier-than-i-thought/
https://ourrvadventures.com/2016/06/a-new-hose-and-a-fixed-microwave/
The black one at the bottom of the photo is the new one, and looks much stronger than the original. The new one is still working fine, and hopefully will work another 17 years like the first one.
Both Jan and Miss Karma really the Moose footstool. Sometimes they fight over it, and then sometimes Karma and Jan just have to share..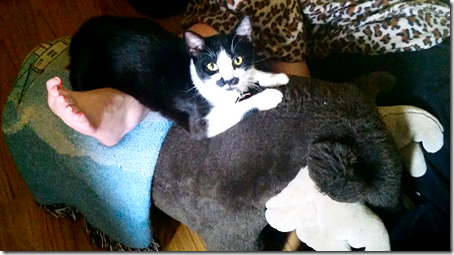 Tomorrow we're going to drive into Katy to meet up with Brandi, Lowell, and Landon for dinner. We didn't stop by last night on our way back from Clear Lake since it was so late, after 11pm, when we came through the area. And for that same reason, we didn't stop at Chris' as we left the Clear Lake area about 10pm.
---
June 25, 2017
When I Get A Chance To . . .
Although today was a travel day, it's only about 120 miles over to Colorado River so we didn't get up until about 7:30am, and were hitched up and pulling out of our site by 10:15.
The trip was smooth, .i.e. nothing broke down or fell off, always an sign of a good RV trip. And being Sunday morning the traffic was as light as usual.
Karma has finally mellowed enough, probably due to all our recent travels, that rather than running and hiding, or sitting on the floor between our chairs and crying, she just sleeps on the sofa.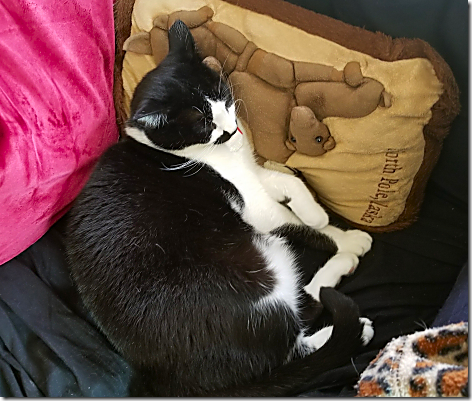 Coming through Katy, it was good to see that the new Buc-ee's was close to opening. When it finally does, it's probably be our rest stop going back and forth between Lake Conroe and Colorado River
The other good thing to see was the US Rig Count on the sign as you leave Katy. It was at 933, up 6 in the last week, and up 157 since we last saw the sign on March 2nd. A good sign for gate guard jobs later this summer.
Coming into Columbus we had some sprinkles and a little rain, but it was all gone by the time we got to the park, though yesterday they got a couple of inches here.
We were parked and setting up by about 12:30 in a nice site up in the 'A' area, our favorite.
We had planned to stay home tonight for some more of Jan's version of Ree Drummond's 7 Can Soup., but who should show up at our door but our friend Jim Dean. And we didn't even know he and his wife Peri were here.
So we ended up going with them to Los Cabos, our favorite local Mexican restaurant.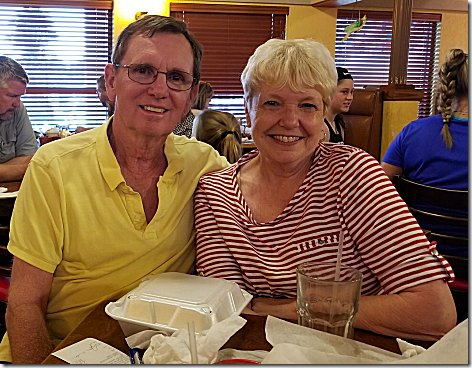 We hadn't seen them since late last year when we meet them a couple of times in San Antonio while we were gate guarding, so we had a lot to catch up on. Which meant that our dinner lasted most of the obligatory 3 hours that most RV get-togethers seem to last.
Hopefully it won't be so long next time.
When I get a chance to . . . and that is a long list, believe me. But when I get a chance I want to see if I can add some scoops or extra vents to the side of our rooftop front AC cover.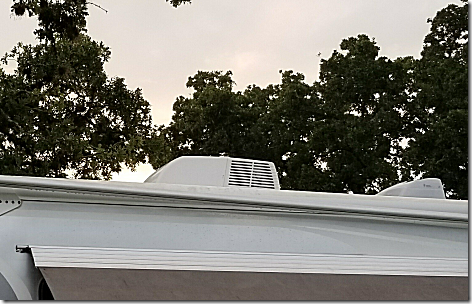 Sitting still the front 15K BTU unit has no trouble cooling the rig down even in the hottest weather. But on the road it struggles in 90+ degrees. So since it's getting the same 120vac from the generator as shore power, the only other reason is the air flow over the condenser coil.
I suspect that the air flowing alongside the vents in the cover may be creating a suction and messing up the air that's supposed to pull the heat from the coil. But before I change anything, I might try leaving the cover off when we travel back to Lake Conroe in two weeks, assuming it's not going to rain.
If that makes a noticeable difference then I'll look at adding some scoops or something to see if that helps.
Or when I get a chance to.
Leaving Tom Sawyer RV Park
---
June 25, 2018
Back On The Horse . . .
We were up at 5:30 this morning and were pulling out of our site by 6:15, right on schedule. I had prepped everything the night before so all I had to do was put the key in the truck's ignition to unlock the steering and disconnect shore power, and we were ready to roll.
The reason for all this early bird crap was twofold. One, we wanted to get an early start so we would be traveling in the coolest part of the day. And Two, I wanted to get diesel at the Flying J before we got on I-55 and headed north. We still had plenty enough to make it to our destination with about 250 miles to spare, but we would probably be at or below the point where the generator would shut down due to the fuel level. Which for our 150 gallon tank is about 40 gallons.
Of course since our generator isn't working, it normally wouldn't make any difference, but I'm hoping I can get it fixed while we we're here. I'm going under the assumption that it's a fuel problem, since it acts like it does when it quits due to low fuel levels.
Plus the fact that when I ran the generator out on its slide and checked, it didn't show any error codes. So based on this and some Googling about possible problems, I'm leaning toward a bad fuel pump.
It could also be a bad fuel filter, but it was just replaced by RV Mobile Lube a couple of months ago. Now it could be a defective filter, but the generator ran fine for about 5 hours the first day, and then quit after about 30 minutes the second.
So I'm looking at a defective brand new fuel filter, or an almost 20 year defective fuel pump. And the fact that a lot of RV'ers apparently have had fuel pump problems with their generators.
So being a belt and suspenders (literally and figuratively) kind of guy and wanting cover all the bases, I ordered both a new filter and a new fuel pump from Amazon, and they should be here tomorrow.
I'll replace the filter first since it's easier and then go from there. Stay tuned.
By leaving the park at 6:15, I had hoped to be dieseled up and on the road by 7, but due to a slow pump in the RV lane, and the fact that I had to run my card through 4 times since the pump shut down at $75, we finally pulled out about 7:15am. Of course I also went inside for coffee/cappuccinos to go, but hey, the necessities of life, right?
We made our first pit stop about an hour down the road (the coffee, OK?) and Jan really surprised me. She said she wanted to drive.
Now Jan used to drive a couple of hours on every trip, but that came to a screeching halt after the Big Blowout of 2015. And she's never driven since. Until today.
And she did great, driving for about an hour and a half or so, until our next stop. So I guess she's back on the horse again.
Since like Jan said the other day, the sky was kind of 'overcasty', we stayed cool and comfortable with just the fans running, so all in all, a nice smooth trip.
We had called ahead to get our site # so we pulled into the Timber Trails RV Park here in Mulberry Grove, IL about 1:15, went straight to our site, and got set up.
Later, about 5:30, we met Jan's sister Debbie and her husband Jim at Los Amigos, a local Mexican restaurant. Jan and Debbie spent most of the meal comparing calendars to coordinate all the activities that are scheduled between now and Sunday when everyone leaves.
Tomorrow morning at 9 we're all meeting at the Denny's for breakfast, and probably for more comparing and scheduling, too.
Now more Catching Up on the Catching Up:
On Friday as we were approaching Byram, MS and the Swinging Bridges RV Park, I noticed the rig was hitting the bumps in the road a lot harder than normal, so the next morning before we left, I got under the rig to see if what I suspected, had happened. And it did.
The rod connecting the chassis to the air bag proportioning valve had come loose, looking like this.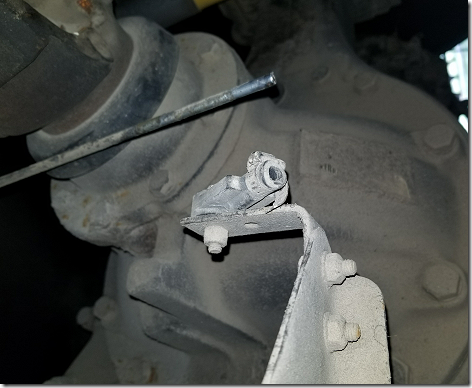 With this rod not connected, no air gets to the rear air bags, making for a very rough ride. This has happened 3 or 4 times over the last 11 years, usually due to the rubber grommet deteriorating and coming apart. And I keep spares on hand just because of this.
But this time the rod had just pulled out, even though it was still so tight that the rod wouldn't go back in. So I loosened the hose clamp, inserted the rod, and tightened it all back down.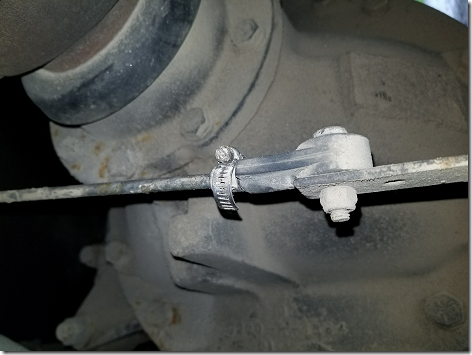 Now we were good to go.
Now on to Saturday:
I mentioned in that day's blog that when we got back from Charlie Vergos Rendezvous about 5:15, we found the power was off to the park. Originally we were told it should be back on in about an hour, but that came and went.
Finally about 8:30 I started Googling and found out what power company served our area, and then went to their Power Outage page. It said the outage had started at 4:42pm and would be corrected by 10pm.
But when that time also came and went, I checked again at about 10:15 and it now said 11:45. And that turned out to be a lot more accurate, since the power came back on at 11:37. Cool at last.
Now Sunday:
About 2pm Jan and I drove over to the Cordova area of Memphis to have more BBQ, this time at another favorite of ours, Jim & Nick's BBQ. We eaten at this one a couple of times on past visits, and even more times back in Alabama, including the original one in Birmingham, and several others with friends.
We always start off with the Hot Link Sausage Plate appetizer, that comes with a delicious homemade Pimento Cheese, as well as some sliced Serrano peppers for a little more spice.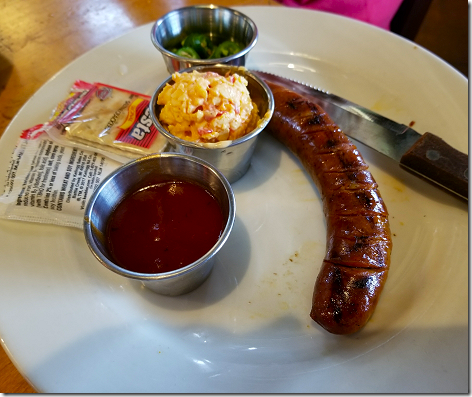 A really good start.
For her entrée Jan had a salad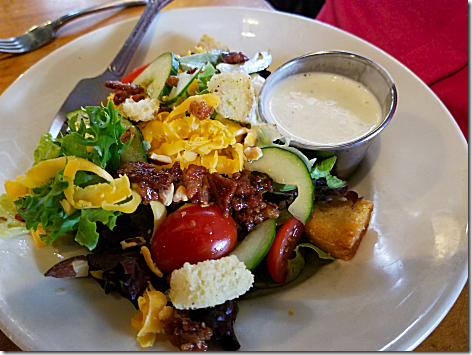 and the Grilled Catfish, which looked kind of different, but she said was really good.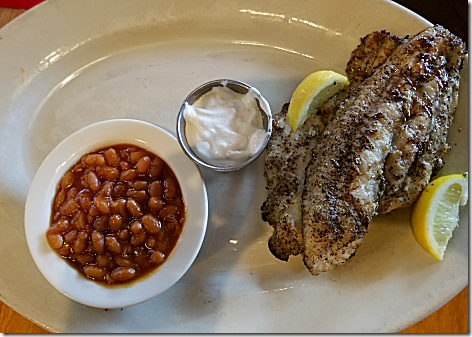 I of course got the ribs with beans and the collard greens, something you don't see too often on a menu, But Jim & Nick's, being from Alabama, knows how to make good collard greens. One of my favorites.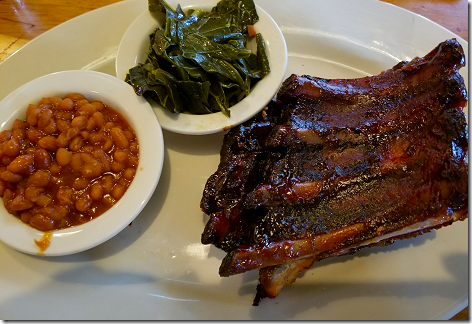 Then it was on down the road a couple of miles to the WalMart for a few things, and so Jan could get a haircut. But they were closing and not taking anymore customers.
But we did find a Supercuts right down the road that was still open, so Jan got it done there.
The filter and fuel pump should be in tomorrow, but it may be Wednesday or Thursday before I really have a chance to tear into it. We'll see.
Home In Santa Fe, TX
---
June 25, 2019
It's Blasphemy . . .
It poured down all night, complete with a lot of thunder and lightning, some of it close enough that it shook the coach and woke us up.
And it continued on and off most of the day, but we only lost power for a few minutes a little after 4pm. The only real problem with this is that it reboots our DirecTV receiver, which takes about 20 minutes to initialize and come back up, just like when it's first turned it on from scratch. And it seems like invariably it happens when you want to watch or record something coming up.
A while back I talked to DirecTV to see if there is anyway to bypass this, but was told No.
So I think I'm going to get a small UPS (Uninterruptible Power Supply) for the DirecTV receiver to keep it going during power outages, just like the bigger one I have for my desktop computer. I've found several in the $30-$40 range that will do the trick, keeping the receiver going for 15-20 minutes.
A little after 1pm Jan and I headed out in the rain for lunch and some shopping. Our first stop was at the Santa Fe O'Reilly's to pick up the rear brake pads that I ordered the other day. While I was there, I also checked the price of new rotors in case I do need them. And I definitely won't be buying them from them.
They will be very happy to sell me new rotors for $80 each, or $160 for the pair. But RockAuto.com will also be very happy to sell me the same Raybestos rotors for $23.79 each.
Yikes! That's a big difference.
And even with the $17 FedEx shipping, that's still about $16 less than the cost of 1 rotor from O'Reilly's.
Next up was lunch at the Yummy Yummy Chinese Buffet over in Texas City. Just as delicious as usual.
In the past, we have used King Food's Hot & Sour Soup to compare to all others around the country, and the others always fell short. But today Jan committed culinary blasphemy by saying that Yummy's H&S is just as good, or maybe even better than King Food's
Blasphemer!
We had planned to make a WalMart stop on the way home, but by then it was raining even harder so we decided to put it off until tomorrow after we pick up the rental car from Enterprise.
But we did make a quick storeroom stop to pick up the small carry-ons we took on our Europe trip to use for our Waco trek.
Wrapping up for today, Jan has kept a daily journal, not only for our RV traveling, but also our day-to-day lives when we're parked.
And of course she kept one on our recent Europe trip, too.
It's full of postcards, stickers, photos, and menus, as well a written log of each day.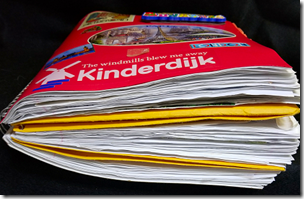 And as you can see, it's about 4" thick. And heavy too, at about 6#.
And it's fun to to back though, recalling all the fun times.
---
June 25, 2020
Please Mister Custer, I Don't Wanna Go . . .
144 years ago today, in 1876, Lt. Colonel George Custer met up with Chief's Crazy Horse and Sitting Bull and came out on the wrong end of the get-together.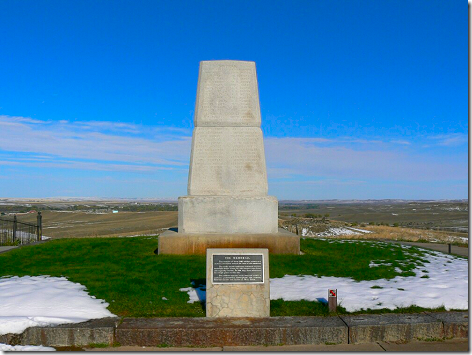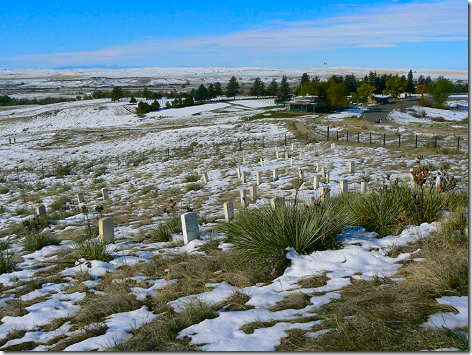 I'll wager that at some point Custer regretted not bringing along those two Gatling guns he left back at the fort. He thought that they would slow him down.
I was out the rig door about 10:15 and into the pouring rain, and on my way up to the Westpark area to meet up with Brandi, Landon, and my Jan for lunch.
And it poured down all the way out to I-45 and all the way up until I got onto the Tollway and then it pretty much magically cleared up and it was clear driving all the way up to the Cheddar's there.
After our usual great Cheddar's meals, and saying our goodbyes to Brandi and Landon, Jan and I headed back down to the Clear Lake area, with our first stop at the El Dorado Sam's Club to a prescription and a few other things. Then it was on over to the HEB on the League City Pkwy before finally heading home.
---
June 25, 2021
Old Friends and Old Times . . .
Jan and I are really looking forward to tomorrow's get-together at MomAlone's Mexican Grill up in Webster.
It's a reunion of the employees of Taft Broadcasting, the NASA contractor I worked for here at Johnson Space Center from 1978 thru 1987. Then after that I worked for Technicolor and Krug Life Sciences there too.
Probably the highlight of all my time with Taft was being part of the crew out at White Sands when STS-3, the 3rd flight of the Shuttle Columbia, landed there on March 30, 1982, due to to heavy rains at the California landing site.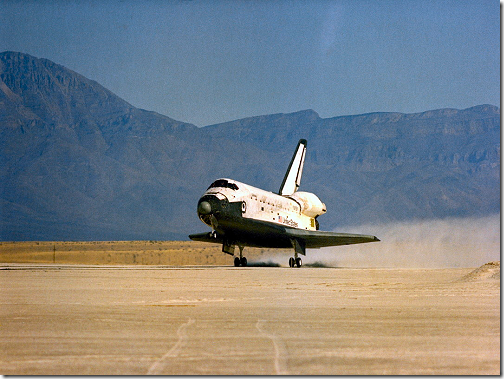 I still have my mission patch that we all received.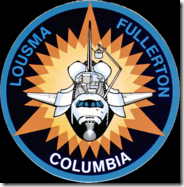 Really looking forward to seeing all the guys again.
---
Thought for the Day:
Two people can keep a secret, provided one of them is dead and neither of them were online.