Category Archives:
Uncategorized
I spend a good bit of time over the weekend trying to set a wire transfer platform to send funds to the company that makes our machines in Poland. We had been paying via PayPal but found we could get an extra 5% discount by paying by bank transfer.
However the fees charged by the bank almost negate the 5% discount. So I've been looking at some online sites that do it cheaper, or even for free.
Wise and Xe are recommended as two of the best and cheapest. In fact Xe transfers are free. I assume that they're making their fees by the spread in currency trades. But with all the forms to be filled out, it's taking
I was able to finally get Wise set up and running last night and tried to make a transfer, but apparently they're very picky about what funding sources they will accept, but I finally got them to accept my personal Chase debit card. But even I had to do a final verification this morning.
Who knew it would be this hard to get someone to take my money.
And I'm still waiting to hear back from Xe. But Wise only cause $9.64 so it wasn't bad.
Tomorrow we're still scheduled for a pumpkin spice overdose (Pumpkin Pie Pecan Pancakes, Pumpkin Spice Lattes, and Pumpkin Spice Bacon, though I'm not sure about the bacon) at Snooze and then a stop by HEB to pick up tickets for the Nutcracker Market on November 10th.
We had tickets for last year's, but Jan and Brandi refused to let me go since it was the day before my Cervical Fusion surgery was scheduled.
---
Thought For The Day:
Password Security Questions for the Depressed:
What is the name of your least favorite child?
In what year did you abandon your dreams?
What is the maiden name of your father's mistress?
At what age did your childhood pet run away?
What is your ex-wife's newest last name?
On what street did you lose your childlike sense of wonder?
When did you stop trying?
---
October 3, 2009
At home in Elkhart, IN…
Today was our first full day in our new home…at least for the next 3 weeks or so.
After being on the road pretty much constantly since April 1st, we are looking forward to some downtime. We want to get some things fixed/upgraded around the coach and just take it easy.
There are a number of RV Surplus / Salvage places around here that we want to check out, too.
But today was an errand/shopping day.
First we decided to have lunch at Das Dutchman Essenhaus, a place about 15 miles away that serves Amish-style cooking. You have your choice of ordering from the menu, or being served family style. The food was very good, and a lot of it.
After lunch we drove over to Mishawaka, about 10 miles west of here. Mishawaka is a suburb of South Bend, which is a little further to the west.
Here we hit Home Depot, Walmart, Bed, Bath & Beyond, and a Halloween store.
After that, it was home from the night.
---
October 3, 2010
La Brisa Brunch and a Pasta Boat . . .
Today about 10 am we drove up the road a couple of miles to the La Brisa breakfast buffet. La Brisa is a close-by Mexican place that we really enjoy, but this was our first time doing their weekend breakfast buffet thing.
Turns out their breakfast is just as good as their lunch and dinner. They will make you an omelet or migas to order with the ingredients of your choice. Then they have all the standards, country fried potatoes, bacon, ham, biscuits, and both link and patty sausage, They also have beef and chicken fajitas, warm tortillas, and tamales. Jan said their biscuits are the best she's ever had at a buffet. And they also had a nice spread of fresh fruit cut up, including watermelon and fresh strawberries.
Leaving La Brisa, we drove a little further up the road to WalMart for some groceries. Jan wanted to pick up some stuff to try out her 43rd wedding anniversary gift, a Pasta Boat.
Hey, what can I say. Jan is definitely not high-maintenance!
Anyway, the Pasta Boat is a neat gadget that lets you cook your pasta in the microwave, and then drain it thru the holes in the lid. The handles are hollow and can be used to measure spaghetti servings. It also comes with a steamer tray that lets you steam potatoes, shrimp, oysters, clams, etc. All in all, a neat gadget.
And Jan's world-famous tuna noodle casserole with whole-grain macaroni came out great. And since she was in a cooking mood, she also made a great-tasting chocolate cake in the convection oven.
With a little Hagen-Daz Vanilla Bean ice cream, it was a fantastic meal.
---
October 3, 2011
Last Day in Celina . . .
About 10:45 our daughter Brandi called to catch us up on the latest Landon story. It seems that yesterday evening she and Landon were sitting on the sofa together when suddenly Landon slide off the sofa, popped his pasey in his mouth, and headed for the kitchen. Brandi hears some noise and then Landon comes around the corner with the tray from his highchair tucked under his arm and a big grin on his face.
He was ready for dinner.
After a really good last lunch at La Carreta we headed back the fairgrounds to start getting ready to travel.
About 7 pm we all headed out for dinner at China Wok Buffet once last time, at least for this year.
We've had a great time here, but after over two weeks in Celina we're all looking forward to moving on.
Our hitch itch needs scratching.
---
October 3, 2012
I'm So Proud . . .
Our granddaughter Piper sent this photo over this evening. And that's a .357 Magnum she's shooting.
Also shot a .38 and a .45.
Of course it runs in the family. Here's Jan with her Tommy gun in Las Vegas in 2010.
We are definitely going shooting when we get back to Houston.
We headed about 11 with our first stop for some banking in Lancaster, and then it was on to Bird-In-Hand. Our first stop was at the J & R Country Market where we came home with a new family member, at least a new member of our moose family.
We hope he'll feel right at home with all his new friends.
Jan also checked the loom and quilt store next door before we headed further into town and ended up at the The Old Village Store.
Partly an old time hardware store, a quilt store, and a produce market. A neat place to wander around in.
After Jan and I grabbed a snack next door, we ended up at the Bird-In-Hand Farmers Market across the street.
Housing about 30 separate vendors, selling everything from smoked meats and cheeses, to quilts and handmade baskets, to homemade fudge and caramel corn, many of the stands were Amish owned and operated. Jan and I bought some pumpkin spiced coffee beans from one such couple.
Leaving the market, we drove out into the country through Intercourse, heading for Blue Ball (no comment), and passing quite a few Amish buggies.
One of the signs of an Amish household is a full clothesline.
We also came across an apple orchard consisting of these dwarf trees.
At least the apples are full-sized. I guess their small size makes for easier picking.
A little later we ended up in East Earl at the Shady Maple Smorgasbord.
This was our first time here and it was very good. According to their website they have over 200 feet of buffet tables and I believe it.
Tonight was prime rib night, one of my favorites. And every thing else was good too.
So after stuffing ourselves, we waddled out to the car and headed home.
Tomorrow will probably be another stay-at-home day.
Nice.
---
October 3, 2013
Jan's no longer an illegal . . .
unlicensed security guard. After 18 months of waiting she finally got her license.
We both applied when we started gate guarding in April 2012, and mine came back in about 5 weeks. But hers never did. I told that it was probably due to her very shady past, and she couldn't pass the background check.
She threw something at me.
So now I'm thinking it was probably a felony assault conviction.
But as it turned out, it was probably a problem with her fingerprint card. Maybe. And possibly some government incompetence in there as well.
I kept checking back with Gate Guard Services after we left here in August 2012, and finally in January 2013, the Texas Department of Public Safety told GGS there was a problem with her fingerprint card. So before we left Houston for our travels, we submitted a new one. And waited.
And waited.
And when we started gate guarding again this past August and it still hadn't shown up, I decided to just forget about it. After all I wasn't the one that was guarding without a license. But maybe that did the trick.
I got a call from the GGS Corpus office about a week ago and was told that it had finally come in. And unlike my license that was just printed on piece of paper, she got a nifty drivers license-type of plastic card. So I guess good things do come to those who wait. I'm jealous.
The licenses are good for two years from the issue date, so mine expires in May of 2014 and Jan's expires in September of 2015, so we'll have to keep track of when to renew them.
Blog readers and our new friends Margaret and Rich Bergen showed up at the gate again Wednesday afternoon. And they brought food!
After they left here Tuesday after their visit to our gate, they drove on down to Corpus Christi and spent the night. Then coming back to San Antonio Wednesday afternoon they stopped off at the BBQ place out on the Interstate and brought us sandwiches.
Jan's anniversary present finally showed up today. I had ordered her one of the new Kindle Paperwhite models, but being brand-new, they didn't ship until September 30th.
Jan was really surprised and happy to get one. She said she'd thought about asking for one because she reads a lot when she's out on the gate and has to use her old Kindle in the daytime and then switch to the Kindle Fire at night. But with the Paperwhite she can do both.
This is because the Paperwhite has a built-in backlight so it can be read in the daylight or at night in complete darkness. Even in daylight the screen is much brighter and clearer than our old Kindles. And because it uses a faster processor, the page turns are much smoother too.
Being cheap, I decided to save $20 and get the Paperwhite with "Special Offers". This is Amazon's polite way of saying "Ads". But they're pretty unobtrusive. Where our old Kindle has a rotating set of blockprint-looking pictures when it's turned off, "Special Offers" shows you ads for other books. And there's also a half inch high banner ad at the bottom of the home page. There are NO ads shown within the books themselves. I also like the fact that you can get the Paperwhite with ads to try it out, and if you think they're still too annoying, you can pay the $20 difference and they go away.
Personally I don't find them a problem, and in fact bought one of the books that was advertised on the off screen. So I guess they work.
Once Jan had seen the Paperwhite, I ordered her a cover for it. They come in 15 different colors, and she wanted red. So red she gets.
Another neat thing about this cover is that it utilizes the Paperwhite's Auto Wake/Sleep mode. Closing the cover turns off the Kindle, and opening the cover turns it back on. All automagically. Neat!
Under the heading of The Butterfly Effect, the butterflies are back, and in force. One semi pulled into the gate this afternoon and said he was running hot because so many butterflies were clogging his radiator.
Butterfly Migration
This is the 3rd time we've seen this here at the gate, and they always fly in the same direction. Amazing.
---
October 3, 2014
Back in Business . . .
Well, we seem to be back in business, at least canopy-wise. After starting the night like this,
I cut way the shredded canopy fabric and ended up with this.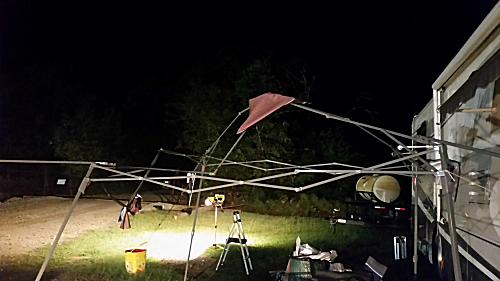 Looking over the bare frame, I was really surprised to see that nothing was actually broken, or even bent, just kind of sprung out of shape. So I redid the tiedowns, and crossing my fingers, pulled on one of the poles.
And everything just popped back into place, just like it does when I set up it up normally. It looks like the elbow joints on the arms that support the raised roof are spring-loaded to some extent, and this protected the frame from any real damage.
Next I got out my 10' x 20' tarp that I used last year as a windbreak when it got cold since we didn't have the rig behind us to block the cold north winds.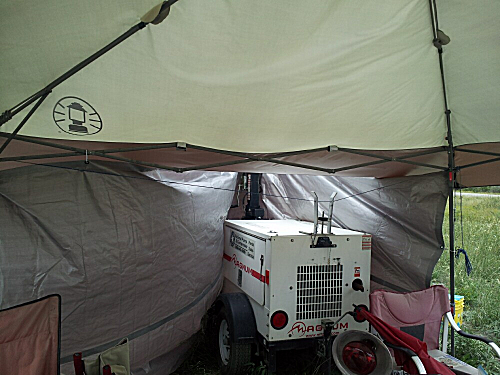 And after about an hour of fussing and cussing, I had the tarp tie-wrapped to the frame in a usable fashion. At 10' x 20' it's a little too short in one direction and a little long in the other for my 13' x 13' canopy frame, but it works. And actually seems pretty sturdy. Later in the afternoon we had some fairly stiff gusting winds from the west, and the canopy handled it just fine.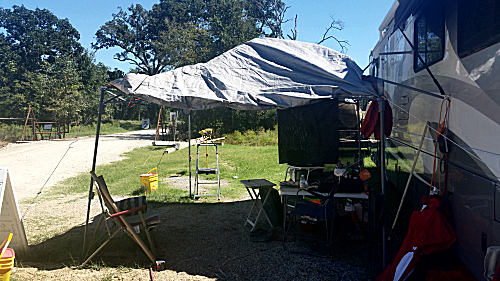 The reason it looks so lumpy from this side is that is where the extra length is folded back over the top and tied down.
I going to check and see what a new fabric top would cost. Since that comes from Coleman, the manufacturer, I've heard that a new top costs as much as an entire brand new canopy from Amazon. We'll see.
When Scotty, our GGS support tech, was here a couple of weeks ago, I told him I lose a water pump every year, and if he wanted to save himself an extra service call, he might just want to leave me a spare. But he didn't have one.
And today he paid for that. He was just here this past Monday for our regular two week service, but was back out today to repair our water pump. As usual it was the pressure switch that turns the pump on when you open the faucet, and luckily he had a spare switch so he just replaced that. So I guess that's my pump repair for the year.
While he was here I asked him to replace one of our bell hoses that had been severely shorten by a bulldozer running over it, and also add some extra length to both ends. And he not only did that, but left me some extra hose and a couple of joiners if I wanted them longer.
It always helps if you feed your support guy a couple of the delicious home-made brownies that Brandi brought up this past weekend.
Well, we have a supposed date for the fracking to start: October 17th. And even more supposedly, they may be doing two fracks at the same time. But not on the same pad. There are two different pads with two different companies.
As I mentioned the other day, on our frack gate last year, with just one frack job, we were doing 300+ vehicles coming in a day, and a large number going out. Let's call it 500 vehicles coming in and out through the gate a day, so 1000 for two.
I have a very bad feeling about this.
---
October 3, 2015
Odds and Ends . . .
Once again, thank you all for your kind thoughts about Mister. Jan and I really appreciate your understanding words.
Today's another blog about a lot of little things going on, or that I'm working on.
First off, when I started to print off some more gate guard log sheets a couple of days ago, I found I was out of black ink. But Aha!, I remembered I had bought an extra cartridge when I bought the printer. And even more Aha!, I was able to find it.
So I tore the package open, installed the cartridge in the printer and . . . it didn't work. Or at least it didn't work very well. It actually didn't look a lot better than the old cartridge that was running out of ink. Then I got to thinking.
I bought this printer, and the extra cartridge in the fall of 2013, when we were gate guarding down in south Texas. So this 'new' cartridge was 2 years old. Which explained the problem.
Even in the sealed foil packages, these things dry out. So, needing logs, I decided to try an old trick. I got a small plastic bowl and put a little bit of water in it, just enough to cover the bottom. I then set the cartridge in the water, print head side down.
You can see what I'm talking about in this photo.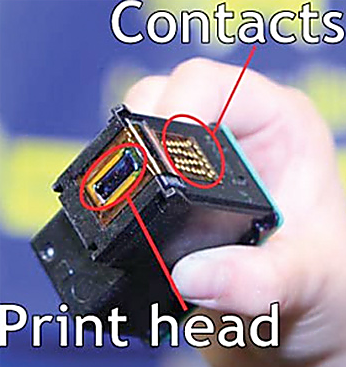 Be sure you put the print head in the water and not the contact side.
Checking back in about 30 minutes, I saw that ink was spreading out into the water from the cartridge. So I took the cartridge out, set it on a piece of paper towel, print head down, and left it for about 10 minutes. Then I popped it back in the printer and it worked fine.
Ink cartridge ink is water soluble and it will dry out, clogging the print head if it's not used for a while, even if it's in the printer. Running the printer's clean cycle will sometimes fix the problem, but if it won't, try this trick. It might save an expensive cartridge.
I've got a heavy-duty 6 amp 13.6 volt power supply that I use for a lot of things around the rig. Right now it's being used to supply 12v to the LED light so we can see our clock at night while we're on the gate.
But I've found several times recently when I want to use it to power something that used a 12v plug. So while I was at Wal-Mart yesterday I picked up a 12v socket in the auto department and mounted it on the power supply case.
Right now I've just got the leads hanging loose so I can hook it up when needed. But later when I get a chance I'll take the case off and wire them in directly so it's always hot.
Tonight, supposedly being even colder than last night, and not having any dogs, I have bumped things up to a three heater night. We'll see how that works.
Finishing up, either WordPress still doubts my humanity, or my math skills, or the robot hacking scripts have gotten smarter, but now instead of single digit math problems on my WordPress blog login, I'm getting double digit addition problems.
I didn't know there'd be math on the test.
---
October 3, 2016
Tomorrow for Sure . . .
After finishing my morning coffee, and the delicious Sausage, Egg, and Cheese Biscuit that Jan made for breakfast,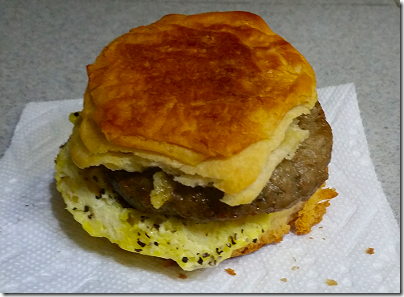 I started right in on getting the washer out of its hidey-hole. Since I had prepped everything last night, I just moved the floor dolly into place, grabbed the straps and started pulling.
Back in January 2013, after the first time I had to pull the washer out to replace a thermal fuse on the dryer heating coil, I installed these canvas straps down the rear of the dryer and out along the bottom to the front.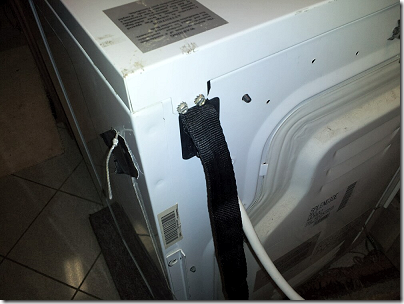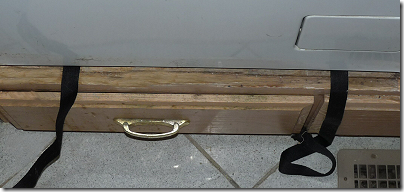 Otherwise you have to open the door and pull on the washer drum, not really a good idea. There is only about a 1/8" clearance along the top and sides of the cabinet, so there's nothing else to get a hold of. But with the straps I can just grab hold and and start working it out.
And out it came, very quickly in fact. Getting it down on the small dolly, I pushed the washer aside to let me unhook the drain and turn off the water supply valves. Then after unscrewing the water hoses and pulling the metal vent hose out, I was free to roll it out into the kitchen.
And the new small dolly made it much easier to maneuver around, butt that would come back to haunt me later.
Once it was in the kitchen, I turned the washer on its side and removed the bottom plate to take a quick look at the pump. And my luck was holding. This is what I found.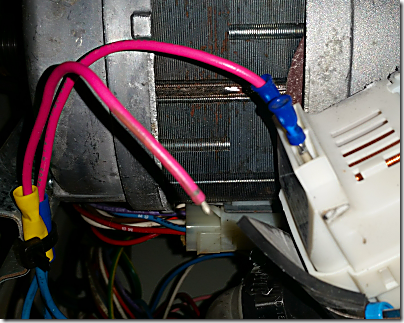 One of the wires to the pump had come loose.
Pulling off the spade connector I found that the wire had broken off in the lug, so I must have nicked the wire when I stripped it, and 9 months of vibration broke it off. Just to be on the safe side, I redid both of the connectors this time using strippers that won't nick.
At this point I was ready to reinstall the washer, a new record after only about 30 minutes, but I decided to hold off. The dryer vent hose looked pretty crushed and beat up so I decided to get another one before I reinstalled the washer.
But that meant going out, so Jan and I headed out about 2pm to Home Depot coupled with another errand, before coming back to have a late lunch at the Culver's in Conroe. Always delicious.
Getting back to the rig, Jan said that she wanted to take a nap, so that meant that I couldn't work on the washer right then, and would have to take a nap too.
DARN!
Post nap, I got ready to get the washer back in its hole, and the new small dolly came back to bite me. It was not only smaller in size, but it was also shorter due to having smaller wheels, which meant it was not up high enough to let me slide it in. Even with the bigger dolly, getting it started in the opening was always the hardest part of the job. But with the smaller one, it was just impossible for one person.
So every thing is on hold until tomorrow when I can get some boards to build up the dolly to the correct height, and then hopefully it will just slide right in.
Hopefully.
Unfortunately with everything going on today, I never got a chance to install the new screen door catch that my son Chris made for me.
Tomorrow for sure.
---
October 3, 2017
Buffalo Wings and Bluetooth . . .
Today was a nice, cool, rainy morning and afternoon, perfect for just lazing around the rig the whole time.
Especially since Jan was coming off a migraine.
This morning I got something a little different in my email, a bill from the Lake Conroe Thousand Trails for $15, apparently left over from our recent hurricane-related extended stay here. I have a receipt for a $20 payment about the same time, a payment that doesn't show on their records, so I'm guessing that will make up the difference. Hopefully.
With Jan feeling a lot better after a shower, we headed out about 3:45 for linner and some shopping. Linner was at Buffalo Wild Wings, one of our favorites. Especially since today is Half Price Wings Tuesday.
Or it used to be.
The last time we ate at Buffalo Wild Wings was back in May in Rapid City, SD, along with new friend's Dave and Jeanne. And since was a Tuesday, our wings were all half price. But no more.
Apparently we ate so many wings that a month or so later, they discontinued the special. Instead It's now Half Price Boneless Wings Tuesday. And since I don't really care for the boneless variety, that doesn't help me much.
But Jan like the boneless version so she got hers with Asian Zing sauce,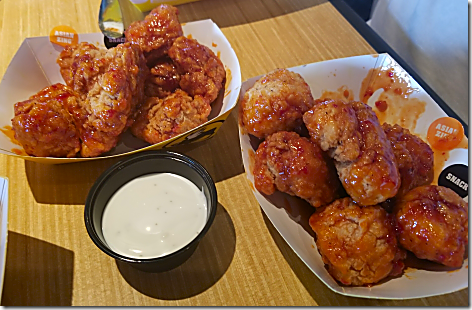 while I got my traditional wings with my usual Mango Habanero sauce, very hot.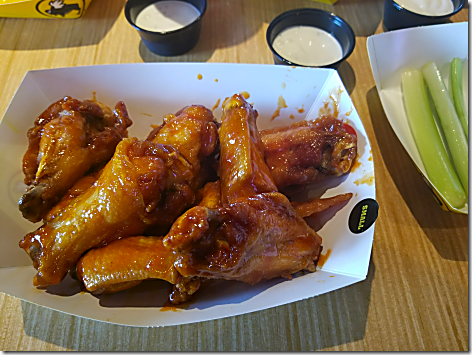 We also got an order of Potato Wedges, also really good.
Leaving the restaurant we headed over to the nearby Sam's Club so I could pick a prescription and a few other things. Walking down the aisle I came across these.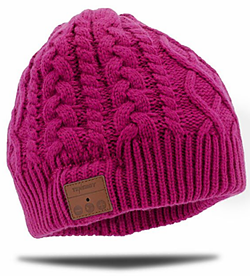 With no wires and built-in earphones, it makes a Bluetooth connection to your phone and lets you answer phone calls and listen to music, controlling the selection and the volume. And for only about $25.
As Sheldon says, "Everything's better with Bluetooth."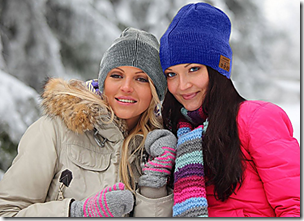 Unfortunately I think you just get the beanies for your $25.
Then it was on to the next door Wal-Mart where Jan got her hair cut while I did the shopping. Finally coming home about 7:30, and after dark, we got to use our new remote to turn on both the outside and interior lights. Very nice.
Tomorrow's another Clear Lake work day so it's on the road about 10am.
---
October 3, 2018
Not Bad. Not Bad At All . . .
Wanting to get an early start to beat the heat, we were hitched up and pulling out of our site at the Petticoat Junction RV Park about 7:50am
We hit a couple of slow spots due to breakdowns on I-45, but once we got on the Sam Houston Tollway heading east, it was smooth sailing all the way to I-10 and beyond.
We thought it was funny that the Rest Area coming into Louisiana was STILL under construction, and has been for several years now. Someone's looking for permanent job security. Or maybe someone's not getting paid off.
I know that within the last couple of years Buc-ee's was looking to build a store, their largest yet, just east of Baton Rouge. They had even purchased the land right on I-10.
But after about a year of planning, permits, site surveys, etc., they cancelled the whole thing.
The reason, as stated by the owner of Buc-ee's? Too many hands out looking for their payoff.
We pulled into our site at Poche's RV Park a little before 1pm, making the 245 miles in 4 hours, and averaging 8.4 MPG according to our Silverleaf Computer Interface.
The trip turned out to be very comfortable, more so than we had anticipated. When we did our little test drive a few weeks ago, we noticed that if we had the windows by the driver and passenger chair's open, we got a very nice cross-breeze without the wind noise we had thought we would have. So, between running the roof vent fans in exhaust mode, the dash fans, vent air, and the cross-breeze, we were really comfortable. Not bad at all.
So tomorrow we'll also see how it works opening some more windows in the rear of the coach.
Later, about 3pm Jan and I headed into Breaux Bridge to have dinner at our new local favorite, Crazy 'Bout Crawfish.
As before, Jan got the Grilled Catfish Fillet with Grilled Mixed Veggies,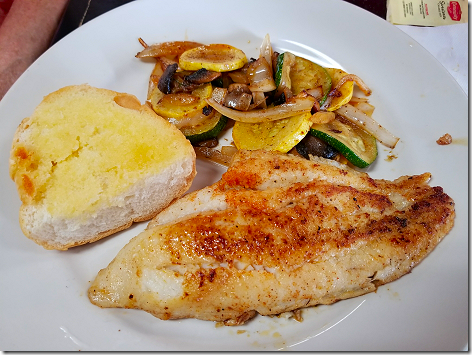 while I got a cup of their Seafood Gumbo,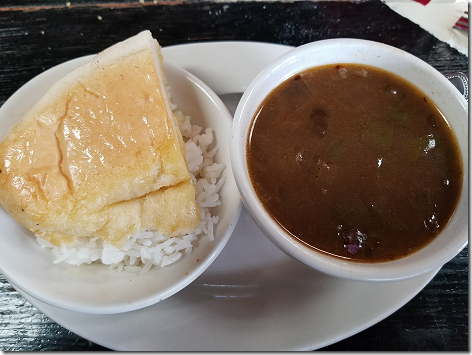 and an order of the Shrimp Boil with Corn and Potatoes.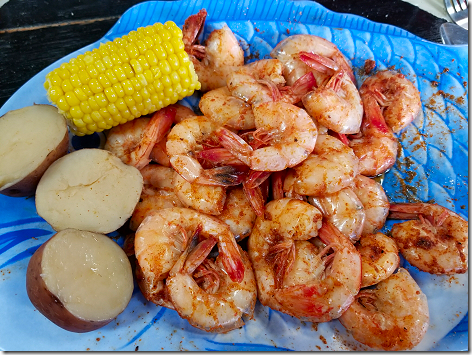 Unlike last time, this time they asked me if I wanted it, Lil' Crazy, Crazy , and Extreme Crazy, referring to the spice level. Guess which one I ordered.
I don't know exactly what's in this seasoning, but I can say that even if you wash your hands three or four times, rubbing your eye is still not a good idea.
And everything was delicious. And like last time, we split an order of their Bread Pudding with Homemade Rum Sauce.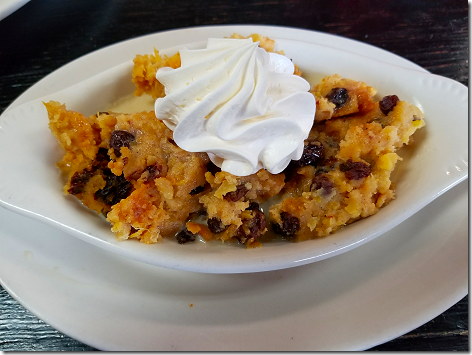 WOW!
Coming back into the park we came across these two new arrivals.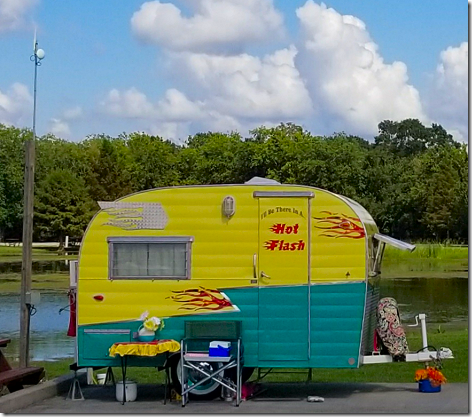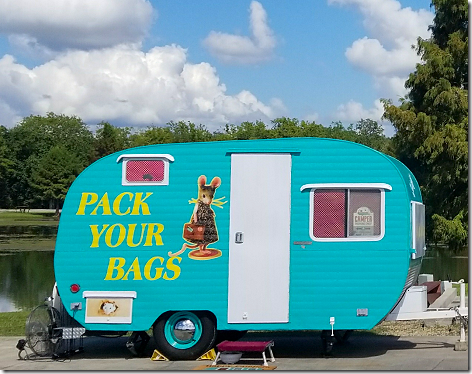 Really Neat!
We noticed several more small ones like these, but these were the only two decorated. So maybe they're having a mini-rally.
Tomorrow we'll wait until about 8:30 before we head for the Escapees RV Park 280 miles away in Summerdale, ALL. I want to avoid going through Baton Rouge during morning rush hour, since it's bad enough at normal times.
And on tomorrow's menu, Throwed Rolls.
Duck!
---
October 3, 2019
Push, Pull, or Twist . . .
About 1pm I went outside and crawled under the rig to see if I could find a way to actually reach the oil filter adapter with my hand. After I removed the filter, which I keep in place to keep the bugs out,

I improvised a prop to raise me up using the rig's extension ladder and a couple of cushions, and this let me reach up and touch the adapter.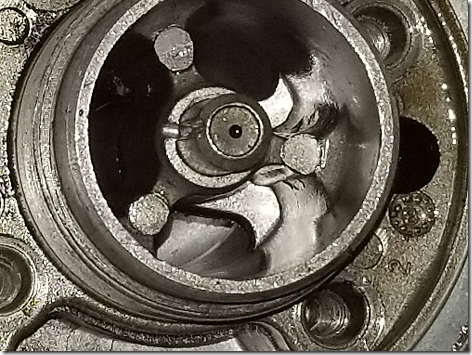 But no matter how I pushed, pulled, or twisted the center shaft, nothing moved. I even tried to push in the small pin thinking it might release something, but no luck with that either.
So while I was under there I put in a call to Rush Truck Center up in north Houston to see if I could talk with someone there. But unfortunately all the service people were in a big meeting, but the guy took my number and said someone would call me back. So I just put the filter back on to wait until I hear from them.
I called Rush because they're the only place that's ever worked on our rig. Everything else I've been about to fix. But when our engine just up and quit on us coming back from Yuma and going through Las Cruces. We got towed in late in the afternoon, and the next morning they quickly discovered that it was only a bad sensor on the fuel line. Of course while we were there I had some other stuff done as well.
So I'll wait to hear back from them before I do any more.
For dinner we headed out about 4pm to Los Ramirez Mexican, and then stopped off at the SR99 H.E.B. for some of our favorite Lola Savannah coffees, and then it was home for the night.
---
October 3, 2020
A Personal Grooming Day . . .
For Jan, at least.
At 1pm she got her hair done at her favorite TGF down here in League City. Then after that it was lunch at the nearby Black Bear Diner.
I got the 3 egg Meat Lover's Omelet,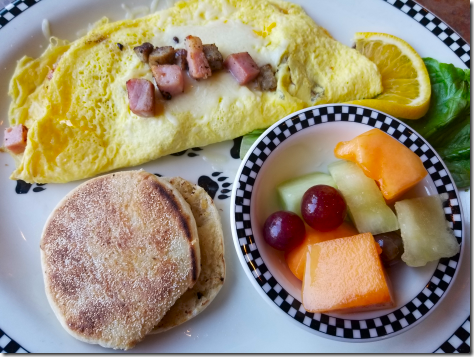 while Jan got her turkey fix with the Roasted Turkey Dinner.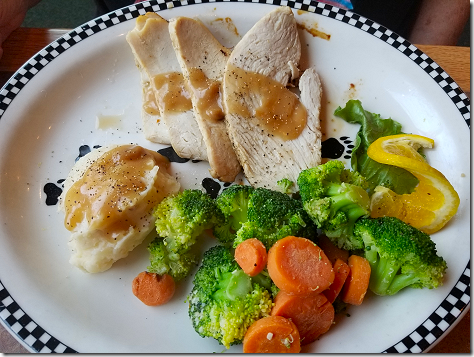 All great as usual.
Then it was on up to Webster to get her toesies done. And while she was doing that, I made a Harbor Freight visit for a few things. One of my favorite places.
Jan and I have watching several of our old favorite TV shows and a few new ones, streaming them off Amazon Prime Video, Acorn, and several others.
As far a new shows,we just recently finished up all three seasons of The Marvelous Mrs. Maisel on Amazon Prime and really looking forward to Season 4, whenever it comes out.
Right now we're into the 3rd season of Grimm and the 1st season of Warehouse 13.
And we recently finished up the 13th and last season so far of Murdoch Mysteries on Acorn TV. And a 14th season is supposedly in the works. But in the meantime we've gone back and started over with season 1, which we had never seen, since we started watching the show at about season 5
It's really interesting to see how the characters have changed over the years, and learning things about them that we didn't know. For instance, a year before the series starts in 1895, Murdoch had a fiancé, Liza Milner, who died of consumption (TB).
Other old shows we watch area Forever, Moonlight, Pushing Daises, and Primeval, all these on CWSeed, another free streaming site. And they keep adding new (old) series, that we're interested in, like Time After Time. And we've got other shows coming up on the menu, like Fringe, Eureka, and U.F.O.
If you notice a pattern here, we both like fantasy, supernatural, and science fiction shows. Lucky for me.
We watch all these, plus our regular TV shows, on our Amazon Fire Stick add-on to our Samsung TV. And we like it so much, I immediately ordered the upgraded one when it came out. And it was $10 cheaper than our original one.
It was supposed to be here this past Friday, the 2nd, but it seems that UPS had other ideas. Looking at Amazon's tracking, it was supposed to be delivered by 8pm, but as the day moved on, it was never shown as being out for delivery. So I took the UPS tracking # from the Amazon order and plugged it directly into the UPS tracking site.
And it showed the order had been shipped from Atlanta, leaving at 5:18am Wednesday morning and arriving in Houston at 2:21pm the same day.
Perfect for delivery the next morning, right? Well, no.
Because by 10:12pm that night it was up in Bedford Park, IL for some reason. And since then, it's been bouncing back and forth between Bedford Park and Addison, IL.
It's now scheduled to be delivered Tuesday, the 6th, but we'll see. I'm not getting my hopes up.
---
October 3, 2021
One On Every Block?
Jan and I had lunch once again at our local Denny's, and to our delight, Hugo the cook, was back and making our omelets again.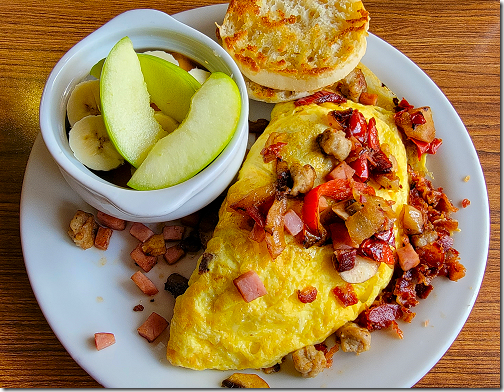 There's a reason they're called the Ultimate Omelet.
Afterwards, we had planned to hit up the HEB right across the Interstate, but Lloyd, one of our faithful readers told me that Amazon is also building another Distribution Facility over on 96 in League City, also not too far from us.
It does however look like they're not as far along as the La Marque location.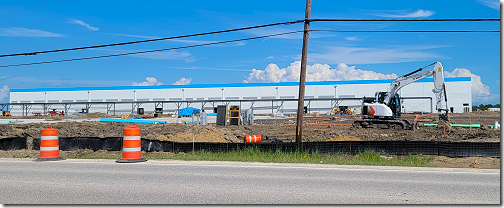 So it's beginning to look like Amazon's going for a warehouse on every block. That way they can just walk your order across the street.
Coming home we stopped off to check out a nearby church's Pumpkin Patch.

So it looks like Halloween is upon us.
Of course you can't tell it by WalMart, since all their Halloween, AND their Thanksgiving stuff is gone from the shelves, which are now filled with Christmas decorations. In fact Jan bought several large ornaments this past Thursday, the ones that are 6-8" in diameter to hang from our Flamingo Flamboyance oak tree.
After 5 days of pretty much constant rain, the rest of the week looks really nice, especially this coming Saturday when we've got tickets for the Wings Over Houston Airshow. Right now it looks like sunny and in the mid-80's.
Lucky for me I married an Air Force brat who loves airshows as much as I do.
Tonight we watched the last three episodes of The Good Wife, seven years and 156 episodes. So now it's on to the sequel, The Good Fight, five years and 50 episodes.
So far, since it's still on and starting season six.
One of my Amazon deliveries yesterday was a new addition to my T-Shirt collection.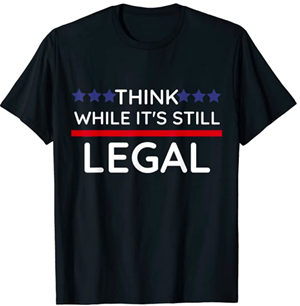 Take it to heart.
---
Thought For The Day:
See No Evil. Hear No Evil. Speak No Evil.
Unfortunately, this leaves Do No Evil wide open.
Lunch today was our favorite Chinese buffet Yummy Yummy! once again. Though it's hard to call it just a 'Chinese' buffet, since they also have Fried Chicken, Pizza, Boiled Shrimp, and a really good Banana Pudding. And a lot more.
Always delicious.
Our next stop was at our storeroom to drop off our big ladder, and do something we do about this time every year – pick up our space heaters and extra quilts.
Though our days are still in the 80's, our nights dipping into the 50's, with a low of 53 so far.
Then it was on for our weekly HEB stop, before finishing up with up with a Post Office stop, and then home.
Another nice day!
Back in May I posted this photo of Dickinson's new Blue Heron Mascot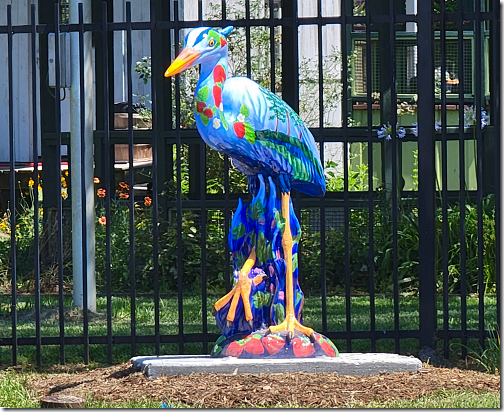 And recently we've seen more of thing springing up around town.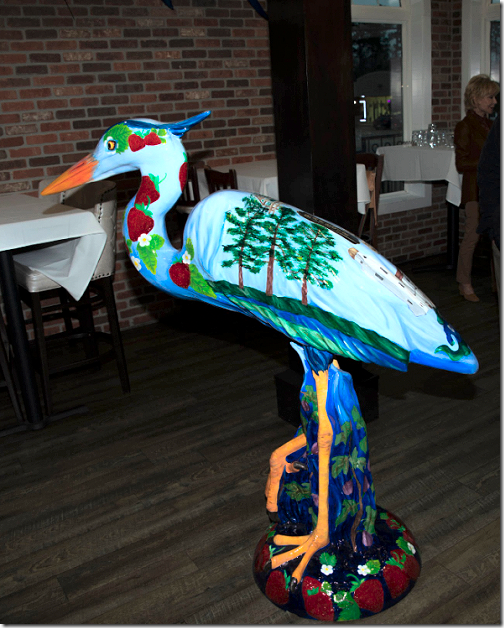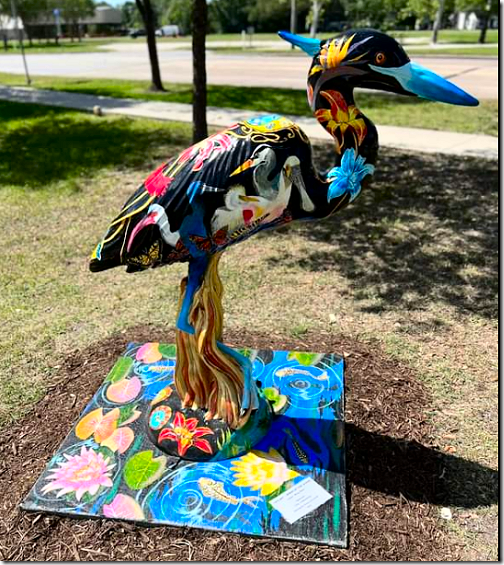 Well, now one of our favorite restaurants, Gator's Bar & Grill, has their very own version.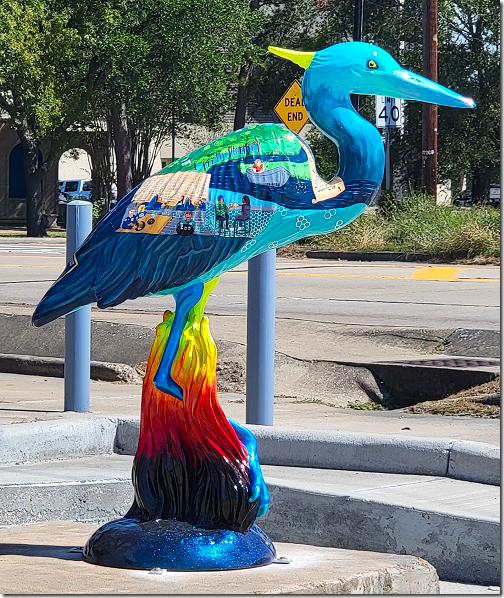 It's the 31 Days Of Halloween over on the Freeform channel, which is part of our YouTubeTV package, and it's also available as an downloaded app or online.
They've got a bunch of old favorites, all the Ghostbusters movies, Beetlejuice, Halloween, The Nightmare Before Christmas,Hocus Pocus, and many more.
Check it out.
---
Thought For The Day:
Sometimes I have to tell myself it's just not worth the jail time.
---
October 2, 2011
Landon Skyping and Broasted Chicken . . .
At about 11:30 we Skyped with Brandi, Lowell, and Master Landon. In a few weeks he's gone from barely walking to running. And climbing.
Recently while at daycare, he watched a lady using a stepladder to hang some decorations. As soon as she got down and turned away, he RAN to the stepladder and clambered to the top, right up the steps.
We didn't get a lot of good pictures today, and probably won't in the future. He never stops moving, and with the low frame rate of our Skype signal, he's mostly just a blur.
Lowell said he's gotten so tall he's wearing only 18 mos. sizes. And he's only 13 mos. old. Looks like he's going to be tall like his daddy.
And of course we're really looking forward to seeing him, and everyone else, when we get back to Houston right before Thanksgiving.
Looks like we'll leave here Tuesday morning and head east about 150 miles to the Smith's Campground just south of Loudonville, OH for about a week. Then Jan and I will head back to Elkhart following a few days later after visiting some relatives.
Then sometime before the end of October, Jan and I will start a roundabout trip back to Houston.
Later we continued to catch up on the shows we'd DVR'd during the rally, with a couple of naps thrown in for Jan.
About 5:30 we all headed over to St. Mary's, about 10 miles away, to have dinner at Lost in the 50's, a great 50's themed restaurant. We've eaten there several times and we've always like it.
The owner is a collector of 50's memorabilia and displays a small part of it in a museum that's part of the restaurant.
Although not on display at this time, he has a lot of Elvis memorabilia too, including the motorcycle Elvis rode in 'Roustabout',
one of his pink Cadillac's
and one of Elvis' tour costumes, among just a few things.
And the meal was great too. We all had the 4 pc. broasted chicken dinner and the pieces were so big we all had leftovers.
A definite 'don't miss' if you're in the area.
Later in the evening, after we got home, we had a nice surprise from our daughter Brandi . . . a bunch of Landon pics taken at the playground.
The perfect end to a great day.
---
October 2, 2012
Rain and Pie . . .
Apparently we're not fulltime RV'ers, we're "vehicularly-housed individuals." Check out this article about RV'ers living on the streets of San Francisco.
It started raining early this morning and continued pretty much all day. One good thing is that I think I've figured out where my leak around the slide is coming from. I leveled a little differently this time and my slide ended up on the high side causing the rain to flow in around the seals. So I re-leveled and it appears to have taken care of the problem.
I hope.
About noon I went down to the ranger station to pick up a Priority Mail package that had come in for me. It had come in yesterday, but when I tried to pick it up then, the ranger office was closed.
It turned out to be from Daryl Lawrence of Lawrence RV Accessories providing his usual great support. I had emailed him on Friday to tell him I needed a new 12v charger for my TireTraker Tire Pressure Monitoring System. The old one had started blowing the fuse on any 12v socket it was plugged into, so I needed another one. And Daryl really came through.
Besides the TireTraker TPMS, Daryl also sells the Progressive EMS (Electrical Management System) which is a must-have for every RV'er. My Progressive has saved my rear-end several times, once as recently as last week when we got to this park and found a defective circuit breaker in our pedestal.
If you don't have one, get one.
After a lunch of cheese toast, we topped it off with a slice of the delicious pumpkin pie we brought home from Funck's Family Restaurant last night. Then it was back to cleaning and sorting through stuff, and bagging it up to throw out.
About 5 we headed out to Hershey's East End Restaurant. The online reviews were really good, and so was the restaurant. Nice décor, and really great food.
Jan had Fettuccini Alfredo with Shrimp and I had the Spaghetti and Meatballs, both very good, and the servings were big enough to have great leftovers to take home.
---
October 2, 2014
Rut Roh!!!!
Well, today was really nice . . . until about 9:30 pm, when this happened.
A line of thunderstorms was coming through, preceding the cold front that's going to give us a high of 83 tomorrow, and 75 on Saturday. But I'm not sure the cooler weather was worth this.
It really wasn't part of the thunderstorm though. If fact it wasn't even raining yet. But from the looks of the canopy remains, a downburst got it.
It's just crushed in from the top, with two of the 150# test tie down cords snapped and the 80# buckets of gravel dragged around. Like a big foot just stepped on it.
I've cut away the shreds of the fabric canopy and I'm going to see if I can get the framework somewhat bent back into shape, at least enough to be able to throw my 10 x 20 tarp over it for some shelter while I decide what I want to do about another canopy.
Amazon, where I bought this one, is a problem since I don't really have anyway to receive packages here. Wal-Mart has them, but not in stock, so I couldn't get one until next Thursday or Friday. But first I'll have to see how I do with the frame and the tarp.
The ironic thing is that when the rain finally passed through, it really didn't rain that hard, and only for about 10 or 15 minutes. Go figure.
And now for some good news. We finally have a relief gate guard set for this Saturday, so Jan's just giddy. She's going to finally get away from here for the first time in a month. Did I mention she's giddy?
Of course I did tell the relief guard lady we had this nice big canopy for her to sit under.
Rut Roh!
---
October 2, 2015
Today was better than yesterday . . .
Tomorrow will be better than today.
First off, Jan and I want to thank everyone for the outpouring of your kind thoughts and feelings. It was the most comments we've ever had for any blog post, and we had comments from many readers who had never commented before. It really means a lot to us, and we thank you.
As many readers said, Mister was a very unique cat.
He would stay outside on his leash, and even walk on a leash. Or he would just follow me with or without a leash. If I was taking the garbage down to the dumpster, he'd follow along, there and back. And if it was one of those 'picky' parks that says all pets must be on a lease, he did not have a problem just dragging his lease behind him.
I've never found a set of park rules yet that says the lease must actually be connected to anything.
Wrapping this up before I get too maudlin, at some point in the near future I'll probably put up a new page of just Mister pics and some of his antics, because he was always getting into something.
And again, our thanks to everyone.
Today was Friday Wal-Mart/Bring Home Lunch Day so I headed into Carthage a little after 11, dropping off the garbage at the pad along the way. It's really nice to so close to town here, with only a 10 to 15 minute drive. At sites in south Texas it's been an hour to a two hour drive – one way. Getting groceries was pretty much an all day job.
Besides the usual stuff, one thing on the Wal-Mart list was a new hooded sweatshirt. The zipper had broken on the old one, so a new one was in order.
Two things were nice shopping there today. I didn't have a problem at the pharmacy with one of my $10 prescriptions like I did last time, and unlike the Wal-Mart in Shreveport last Sunday, they haven't made the chipped cards mandatory here yet, so I was able to check out in about 10 seconds today, as opposed to 10 minutes last Sunday. Much better.
Coming home I stopped at Chicken Express for fish. Yeah, I know. It sounds funny to me too. But we kind of alternate between their chicken and their fish, because they're both so good. And today was fish day.
Jan's started digging out our jackets and cold weather stuff. This is because, along with very pleasant fall days we're having now (it was 79 and sunny today), we're having much colder nights, i.e. it's 50 right now at 1am and still dropping.
At the present time I have raised the DEFCOLD alert level here to the two-heater condition, and am fully ready to escalate things to the three or four heater level, if necessary. I am nothing if not prepared. Though it makes my head itch, I'm even wearing my pull-over knit cap to keep my ears warm.
I've found that people around here look at you funny when you try to buy earmuffs.
---
October 2, 2016
Dobies and Dollies . . .
Before we left for Brandi's this morning, we spent a few minutes playing with Apollo the Dobie next door. He has a big enclosure out under the awning, but he was out with his owner when we walked over to say Hi.
He and I had a good time playing tug of war with his green furry froggie while Jan talked with his owner. Apollo had this trick where he tugs hard for a few seconds and then stops, just freezing for about 15 seconds and then jerks really hard, trying to lull you into relaxing your grip.
Smart dog.
We were on our way by 11:30 with a Flying J pit stop along the way. Then right before we got to Brandi's, I made a quick stop at the Tractor Supply to pick up a #2 Phillips extension bit.to make it easier to get the washer out of the cabinet.
We had a great time at Brandi's with Chris, Linda, and Miss Piper, as well as Landon. Landon's Aunt Sherry was also there, and we got to meet her friend Neil. Lowell was out working this time.
Brandi had fixed a great meal of pulled pork and sliced brisket, along with potato salad, shredded Brussel sprout salad, and Mac 'N Cheese. We used Hawaiian Bread rolls to make sliders with the BBQ, and a delicious meal was had by all.
Since we are washerless for the time being, we took all our laundry with us to do at Brandi's in her nice big machines. So we're good to go on the laundry front for a few more days. Or at least until I get the washer fixed.
Leaving Brandi's we got back to the rig about 6:30. Later, while I worked on website stuff, Jan went next door for a last get-together with Janice Evans. Janice and Dave are heading out for other parts tomorrow morning so we won't see them for a while.
Two things while we were at Brand's. I've shown some of Landon's artwork before, and here's something new today..
I noticed him sketching this with a ball-point pen, and when I asked what it was, he gave me that 'look', and said, "PaPa, it's a dog at a birthday party holding some balloons."
And he's right. Note the birthday hat on his head and the birthday cake in front of him.
The second thing is that Chris finished my screen door catch for me.
This is the drawing I gave him.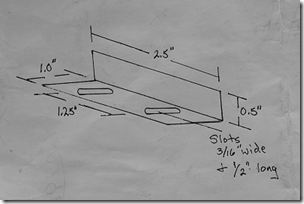 and this is was what I got.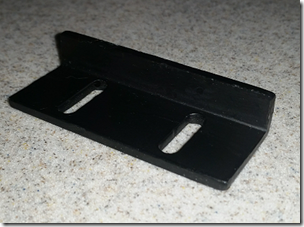 Great job, and he even painted it. I'll install it tomorrow and try it out.
Tonight I went ahead and remove the washer cabinet doors and the retaining bar, and then unplugged the washer. So now I'm all ready to pull it out tomorrow.
In the past I've used a full-size 30" x 20" floor dolly to slide the washer out on to work on it. But that's too big to lug around in the RV so it stays at our son Chris' house.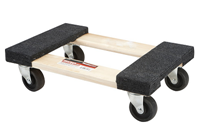 But then I found this smaller one, 12" x 18", at Harbor Freight for $10 and got it to have in case we have washer trouble on the road. So that's the one I'll use this time. It says it's good for 1000# so it should work fine.
But, as usual, we'll see how it goes.
---
October 2, 2017
The Big Debate Is Over!
Texas Monthly recently had a shootout between Cali-favorite In-N-Out Burger and Texas' favorite son, Whataburger. And of course, when it comes to shootouts, you've just got to know that a Texan is coming out on top.
And that was certainly the case here. Texas Monthly Burger Showdown
It all comes down to the last paragraph.
Catching up on a couple of things about yesterday's move.
Unlike the trip over to Hillcrest on the 20th of September, this time my new slide remote control work perfectly. So I have no idea what the problem was last time. But hopefully it will keep working.
On the downside, for our last three trips or so, Karma is getting car sick, or maybe rig sick. Don't know why she's just started this. We were certainly on curvier roads earlier this year with no problems. Hopefully it won't last.
Concerning the problem with finding someone to pay our rent to at Hillcrest, and the questions about what the charges should be, friend and blog commenter Brett O'Neal said that maybe he's losing money because he's not collecting the money.
Makes sense to me.
Well, I'm now 3 for 3 in non-working WiFi cards in one of the client's computers. Today I installed this TP-Link PCI Express WiFi Card.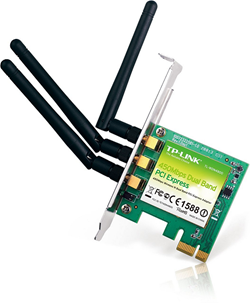 I have one of these myself, and have installed two others on friend's machines, and all worked great. But as before, this one didn't work, just as the previous two didn't. I've got a couple of more tricks to try before I give up and just let the machine stayed wired.
The Mystery Machine still is.
I mentioned before about a server up on the top shelf of the closet at my client's that I didn't know what it did. And I still don't know.
It's dead, Jim. I pulled it out of the closet, set it up on my desk, and powered it up. Or not. It's completely dead.
I figure it's probably the power supply, so I'll have to dig out a replacement and substitute it. The other guy was heavy into gaming, so I figure it's probably his gaming server. But I'll have to wait a few more days to see.
Of course it could the almost-mythical porn server. Enquiring minds want to know.
About 10 minutes before I left the client's, I used the El Pollo Loco app on my phone to place an order to pick up on my way back to Conroe. And 10 minutes later when I walked in the door, it was ready to go.
We each got an all-white (is that racist?) 4pc Chicken Meal with two sides. I got Charro Beans and Mexican Corn, while Jan got Charro Beans and a Side Salad. In addition, I got Jan a side of Guacamole and Chips, while I got a Chicken Tortilla Soup. And for dessert, a couple of Churros.
Jan loved her Guac, and my soup was just chocked full of chicken.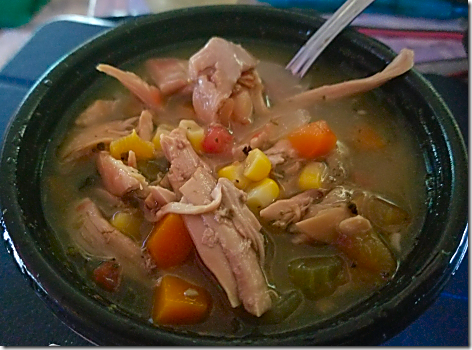 And here's our meal.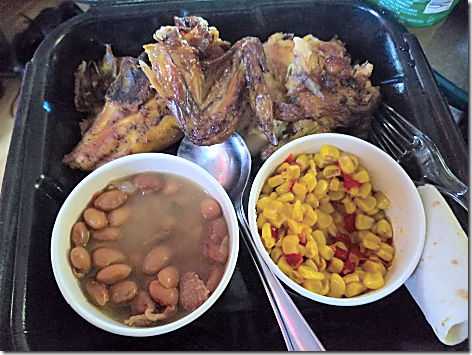 If you've never tried El Pollo Loco chicken, you should. It's marinated overnight in a citrus juice marinate, and then seared on an open-flame grill til it's perfect.
So we got 4pc of chicken, 2 sides, and 4 tortillas, all for $8.39. A really great deal.
Finishing up, when I talked about our European River Cruise, I forgot to ask for any input our readers have. A few of our readers already have, but anyone else is welcome to chime in.
---
October 2, 2018
Counting Down . . .
Today consisted mostly of some final errands as we counted down to leaving on our Florida trip.
But before that, I went outside to check out a problem I noticed during our last couple of trips that our radiator temps were running about 10° – 15° hotter than previously. So I thought I checked out the radiator, since I'd checked my coolant level and found it right. I had cleaned the radiator about six months ago, and found it no dirtier than usual. But opening the grille I found today was a different story.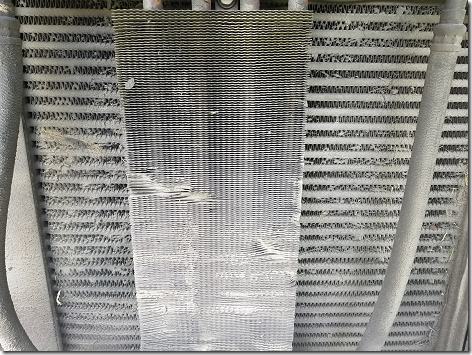 The radiator was covered in oil with embedded dirt/gunk, and grass.
So after spraying it down with Awesome and letting it soak for about 5 minutes, I washed it down, even spraying it from the inside out from the engine compartment. Then I repeated it again, until I had this.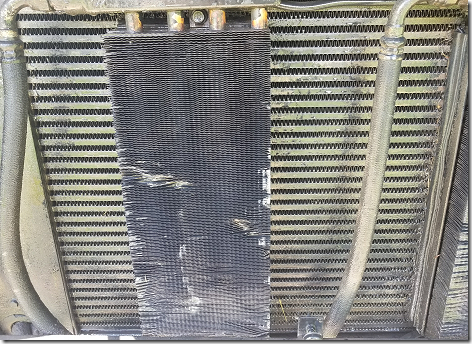 Much better, and I bet my engine temps are back to normal.
Heading out about 1:30p, and after lunch at Los Ramirez Mexican Restaurant, we stopped by the storage room to drop off some of our yard stuff that we don't want/need to take on our trip. Then it was on up I-45 where we dropped off our last two rig batteries at the NTB store.
Next up, we went by my client's office to pick up our last-minute Amazon delivery, and to once again try to get the strapping machine to work.
As I mentioned yesterday, the instructions were in Taiwanese and something that vaguely resembled English. Or at least the words were English.
However the order in which they were arranged left much to be desired. Here what it said.
Like the chart shows, put packed bandage to circle in the packing case, the right hand holds tightening, presses the tension bar, put packed bandage under the clamp and cutter outer covering, the packed bandage terminal have to surpass (length which the tool chart 2 shows) tool, the pine will be open for business the tight pole.
I think my favorite is "the pine will be open for business the tight pole".
The funny thing about this is that once I watched the YouTube video on how to do it,
https://www.youtube.com/watch?v=m-JwQq8hHHs
the above jabberwocky actually makes sense. Or at least more than,
'Twas brillig, and the slithy toves
Did gyre and gimble in the wabe:
And this time it only took me about 5 minutes to strap down the box and have it ready to go. Yah YouTube!
Wrapping up with a WalMart stop, a gas/lottery ticket stop, and a PO stop, we were finally home by about 5:30.
After we got settled in, I went outside to pack everything away, disconnecting the water and sewer hoses, let in the awnings, and put away everything else. All I lack now is put away the satellite dish later tonight, and then disconnect the shore power tomorrow morning.
Since we we'll be traveling without our generator/AC's, we're going to leave early, probably between 7:30 and 8am, stopping for the night at Poche's Fish N Camp in Breaux Bridge, LA.
Finishing up with our countdown theme, here's the one for our European Cruise Tour.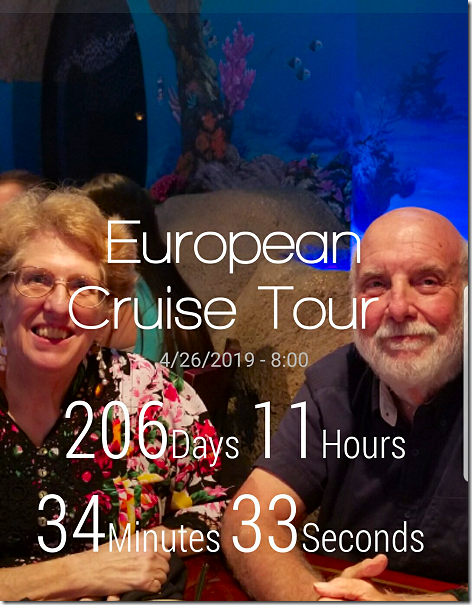 ---
October 2, 2019
Tomorrow's The Big Day . . .
The day that I'm crawling back under the rig and trying to get a handle on my oil leak problem.
First thing I'm going to do is remove the oil filter and see if there is any way to prop myself up and reach the bare adapter. But if not, I'm going to put it all back together so I can crank up the engine and drop the rig all the way down. Then I'll have to take it all apart again and see if I can reach it then.
Hopefully, but we'll see.
Jan and I have started to think about our next big trip. Right now we've got a long weekend trip up to Kingsland penciled in for November where we'll do an early Thanksgiving get-together with all the kids and grandkids. We plan on taking the rig up, leak or no leak fixed.
Then of course, we've got our long weekend in NYC the first weekend in December. Really looking forward to that one.
2020 starts off with a rig trip back to Alabama to visit friends in Montgomery and Birmingham, and family in Athens Probably a couple of weeks long after the first of the year.
Early June will be a rig trip for a big family (including Jan's sister Debbie and all her brood down from Illinois) get-together, which will be a week or so in Gulf Shores, AL before Jan and I take the rig on down to Florida.
But now we're talking about another big trip. This time north to Alaska.
Or maybe north back to Alaska.
We did an Alaskan cruise in 1998, and then spent 5 months workcamping in Fairbanks in 2008. But we've always wanted to go back.
So now we're looking at two different possibilities. First would be 12 day Land/Sea cruise starting in Fairbanks and ending up in Vancouver, BC. But we would fly up to Fairbanks four or five days early to spend some extra time there.
Or we might just forget the cruise all together, fly up to Fairbanks and spend a couple of weeks all on our own. But we'll still working out the details.
Stay tuned.
---
October 2, 2020
More Than Half A Century . . . Yikes!
Don't say it that way.
That's what Jan said about our 53rd anniversary this past Monday when I mentioned that we'd been together more than half a century.
For some reason that sounds a lot worse than 53 years.
While we were driving around Galveston this past Monday, we saw a number of their famous dead tree carvings. There's a whole series of carvings done on trees damaged by past hurricanes and storms.
Everything from geishas,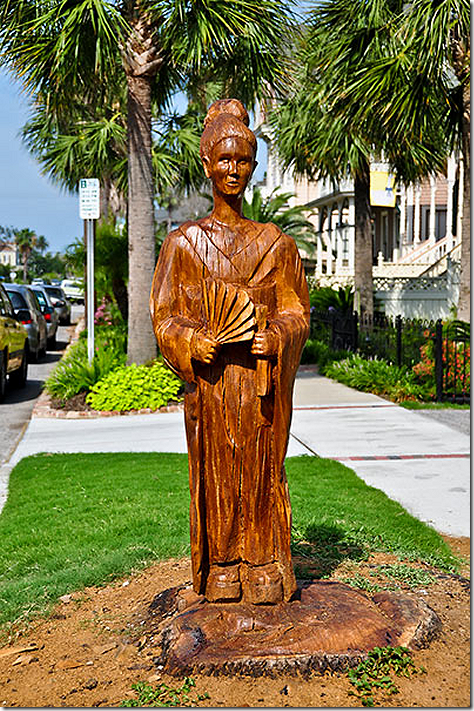 to mermaids,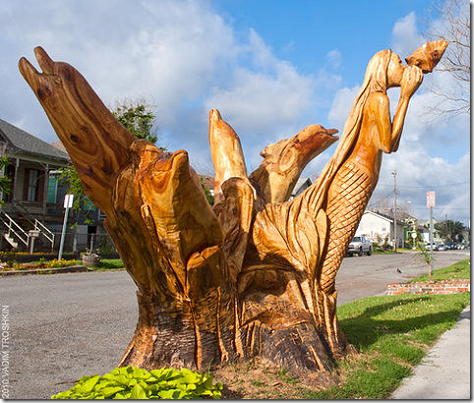 and even SpongeBob.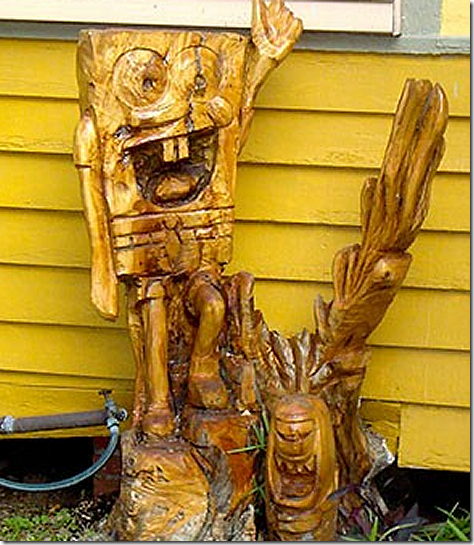 Or even other trees.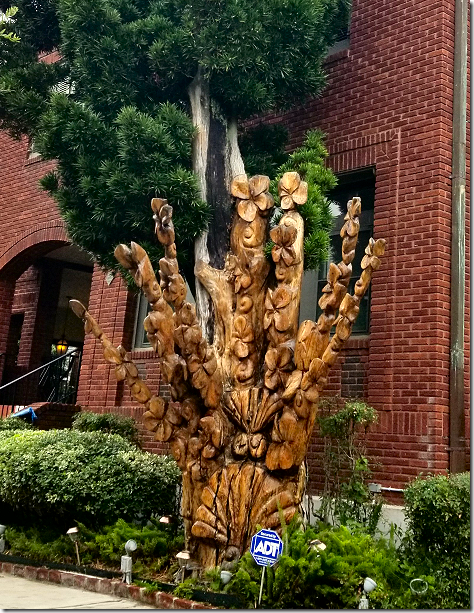 Apparently there are several dozen of these on the island, and an online map to find them all.
---
October 2, 2021
Land Of The Lost. For Adults.
Jan and I headed out about 1pm for lunch at Los Ramirez once again. Just as delicious as always.
Then it was on down I-45 to the La Marque area to check out the reason that we're now able to receive Amazon packages here at the rig just a few hours after we order them.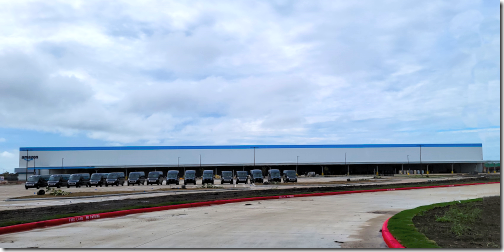 This is Amazon's new Regional Distribution Center that just opened down in our area, just a few miles from our rig.
Coming soon from Amazon, We Deliver Before You Order!
Jan and I are looking forward to a new show on NBC called 'La Brea'.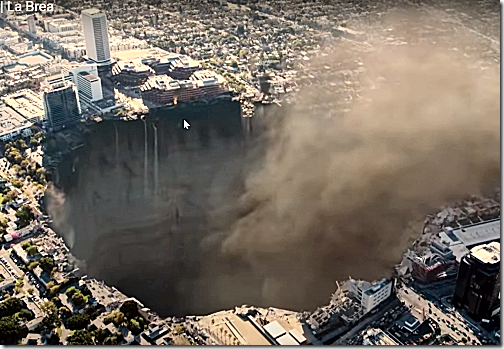 When a massive sinkhole opens in the middle of Los Angeles at the site of the La Brea Tar Pits and pulls hundreds of people and buildings into its depths, those who fall into it find themselves in a mysterious and dangerous primeval land, where they have no choice but to band together to survive. The show follows one family, broken up by the events, trying to get back together.
Sounds like kind of a Land Of The Lost for adults. With a lot better effects.
Can't wait for the Sleestak to show up.
So following that theme, here's a repost of our visit to the Tar Pits in April of 2010.
---
The The Tar Tar Pits…
This late breaking news just in…
We just found out our upcoming grandchild is a BOY!
His name is Landon.
---
Today we visited the La Brea Tar Pits, which strangely enough, is in the middle of Beverly Hills. And even stranger, or maybe funnier, The La Brea Tar Pits, actually translates as The The Tar Tar Pits, since "La Brea" means "The Tar"' in Spanish. Thus the title of this blog.
Anyway, we got there about 11 and decided to eat lunch first at a Marie Callenders right next door, or as they call it in Beverly Hills, just '"Callenders". Apparently 'Marie'" isn't fancy enough for Beverly Hills. Even if it is right next door to tar pits.
And this is not your average Marie Callender's.
And the food was really upscale too. We both had the Trio lunch plate, which consisted of a gorgonzola-pear salad with walnuts and cranberries, a choice of soup, (Jan had potato cheese, I had chicken tortilla) and a warm turkey/cheese sandwich on focaccia bread. It was all really good. And we were so full we didn't even have room for what Marie Callender's, excuse me, Callender's is famous for, pie. Then.
After lunch we walked next door to the Tar Pits. Before we even crossed the street we could smell the asphalt in the air. And walking into the park we could see the results of the asphalt, or al least, the simulated results.
The tar, along with methane gas, bubbles up from the ground and forms large pools. And it's been doing this for tens of thousands of years. The oldest fossil found here has been dated to 38,000 years ago.
Then rainwater and dirt/grass/leaves accumulate on the surface, masking the tar. Animals come down to drink and get mired in the muck. And sometimes predators come to feast on the "stuckees" and get stuck themselves. Thus a wide range or predators and prey have been excavated from the tar here.
Here is an excavation that's been under way for years, and tens of thousands of fossils have been found.
Here are the bones of a sabretooth cat that are in the process of being removed.
Many of these animals were much larger than their contemporaries. Here is a medium-sized sloth. And being medium-size, this sloth was only 7 feet high and weighed 1800 pounds!
And again,this ancient bison was much larger than the ones that live today.
This is an American camel, that become extinct over ten thousand years ago.
This is a mother Mastodon and her baby, found together in the tar.
And this is "Zed", a 13 foot tall Columbian Mammoth, bigger than any elephant alive today
These are the bones of an American Lion, that was larger than any lion or tiger of today, and larger than the sabretooth cat from its own era.
This is the skeleton of a horse. What's different about this is that horses died out in the Americas thousands of years ago, and didn't return until brought over by the Spanish explorers in the 1500's.
This short-faced bear was enormous. Larger than any bear today, it was a foot taller than any grizzly and probably weighed a thousand pounds more.
And this is the sabretooth cat. Sometimes incorrectly called a sabretooth tiger, it is actually closer to today's housecats, rather than tigers.
This diorama shows a sabretooth trying to munch on a short-faced bear. I think the cat will probably end up as bear chow.
It was really amazing walking around here, thinking about all this going on right where we were standing 20 or 30 thousand years ago.
Leaving the Tar Pits we drove about a mile away to cruise the famous Rodeo Dr.
We saw a lot of expensive cars, and a lot of shops with names we couldn't pronounce.
Guess I should have been more impressed, but I wasn't.
Before we left the area, we stopped off at Callender's once again, this time for pie to go. For later.
Tomorrow we'll be attending two tapings of the Bonnie Hunt Show that will be shown Wednesday and Thursday of this week.
---
Lowell texted over a photo of their Halloween decorations for this year.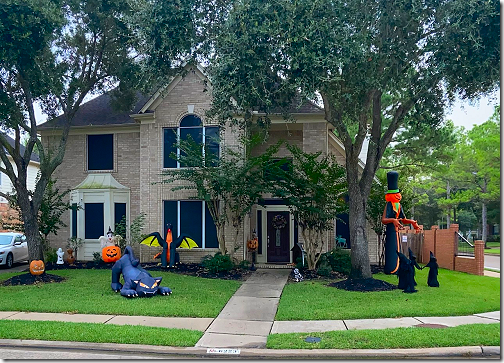 Bet it's even better at night.