French Fry Chili Cheese Hot Dog Casserole
French Fry Chili Cheese Hot Dog Casserole
Since we had a bunch of French Fries left over from a meal a couple of nights ago, we decided to do one of our famous 'make it up as we go' meals.
Looking in the pantry and the fridge, we found Skyline Cincinnati Chili, Bush's Boubon and Brown Sugar Beans, Hot Dogs, and a large bag of Shredded Cheese. A group of ingredients that just called out for a variation of the Tater Tot Chili Cheese Hot Dog Casserole, but using French Fries instead of Tater Tots.
I mean, it's all taters, right.
Ingredients:
8 Hot Dogs
2 – 15 oz. cans Skyline Cincinnatic Chili
1 – 22 oz.can Bush's Bourbon and Brown Sugar Beans
French Fries or Tater Tots to cover
1 package of Shredded Cheese

Directions:
After Jan grilled the Hot Dogs in the toaster oven and cut them in 1 inch chunks, i mixed up the Chili, Beans, and Hot Dogs in a 9" x 13" pan.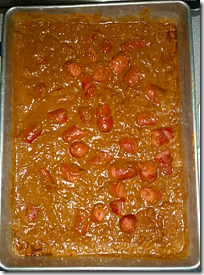 adfadfadf
Then I covered the mixture with a layer of Shredded Cheese.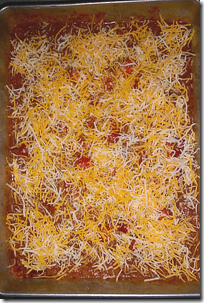 adfadfadf
Next I layered the French Fries on top and added another layer of Shredded Cheese.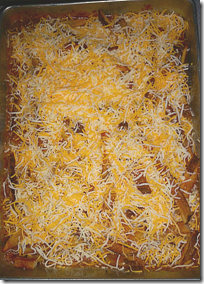 adfadfadf
Then, after preheating the convection oven, I put the pan in at 400° for 20 minutes, until the cheese was thoroghly melted.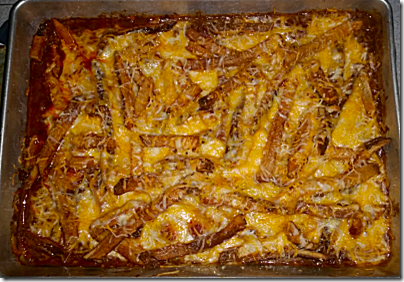 adfadfadf
This turned out to be really delicious, and certainly a 'have it again' meal. Especially since it was so easy.
Other possible additions might be a can or Rotel Habanero Tomatoes, or some Jalapenos on top. Or both.
Try it.
adfadfadf