A Night In Slidell . . .
We were on our way this morning a few minutes before 9, with our first stop at the Baytown Buc-ees about 45 minutes later for coffee, kolaches, and gas.
Overall the trip was pretty smooth with very nice weather the entire way. The only problem was coming into Covington where we lost about 30 minutes for one of those phantom slowdowns, supposedly for a construction zone. But the traffic just crept along at 5-10 mph for 30 minutes and then just sped up.
Who knows?
We got to our La Quinta in Slidell about 4pm, but first stopped at the Cracker Barrel right next door for dinner. And along the way I picked up this cute Flamingo Pillow for Jan.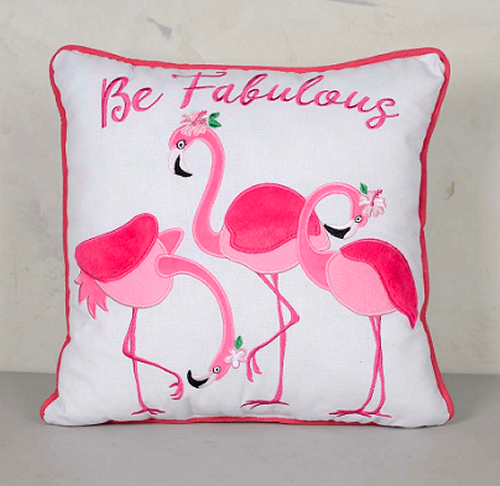 In fact flamingos seem to be in this year, since CB had an entire section devoted them. We'll have to go back soon.
A while after we got in the room, Jennifer, our Karma sitter sent this photo over of Karma making herself at home.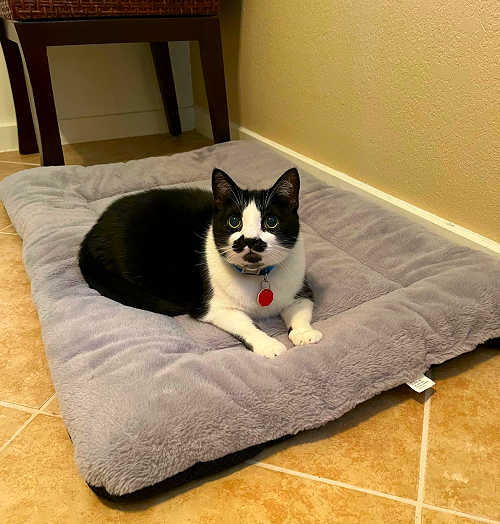 Tomorrow it's on up to Athens, AL with a lunch stop at Weidman's in Meridian, MS along the way.
Really looking forward to seeing everyone.

Billings, MT
---
May 26, 2010
So far, no snow…yet
We left Riverfront RV Park in Garrison, MT about 8:45 am heading for Billings, MT about 270 miles away. We had planned to leave about 8 but it was in the mid 30's outside, and the bed was warm, and we overslept. What can I say.
This park had some really nice views.  Here's a close-up of the mountain I showed you yesterday.
And here's the view in the other direction.  You just can't beat views like this.
But before we left I wanted to put some air in one of my tires, so I started up the coach engine and went outside to air up the tire. All of a sudden I hear the engine accelerate to what sounded like wide open throttle. Running around to the door I looked in and saw Mister standing on the left hand control panel looking out the window at what I had been doing. Unfortunately, this meant he was standing on the cruise control switch. When you're idling, the cruise control allows you to set the engine speed.
Mister set it to wide open!
But luckily there didn't seem to be any damage done.
Anyway, about an hour after we left, and after a long slow climb, we crossed the Continental Divide at 6393ft and started back down. There was still a lot a snow along the road up there.
About 11:30 am we stopped at a rest area and Jan fixed sandwiches for lunch. Then it was back on the road.
Then, about 1:30 we stopped in Big Timber to take on diesel. The last time I got diesel in Washington state, it cost $3.70 a gallon. Today it was $3.04.
A big difference!
We got into Billings about 3 pm and got parked at the Billings' Trailer Village.  It was certainly nice to have better weather than the last time we were in Billings.
Here's how it looked today.
When we first came thru on our way to Alaska the end of March of 2008, we had only planned to stay a couple of days to visit a friend of Jan's. However the weather didn't cooperate.
We ended up staying a week due to heavy snow. Here's how it looked then. Here's my beautiful wife taking in the snow.
And here's Mister first encounter with snow. He put one foot down on the step and reconsidered going outside.
Then he just sat in the door and looked around. He absolutely refused to go outside. After all, he's a Texas cat. He doesn't do snow.
Then, coming back from Alaska the first part of October 2008, we again stopped in Billings for a couple of days, And again we got snowed in for a week. With even more snow this time.
14 inches!
But this time we broke the jinx. But as Jan said, "the day's not over yet." We'll see.
About 4 pm we headed out for some errands and dinner. We first stopped by Sam's and picked up some kitty litter, then it was on to Great Clips to get my bi-annual haircut.
Which took about 5 minutes. Hah!
Then it was off to Famous Dave's, one of our favorite BBQ places, for dinner. They have a great new BBQ sauce called "80 Proof" made with Jack Daniels.  And it is good!
We got home about 5:30 and Jan went across the street to do some laundry. She likes to do our throw rugs in the bigger commercial machines. It's quicker.
While she was gone, I vacuumed the rugs and floors, and cleaned some spots on the rug.
Then it was in for the night.
Tomorrow we head for Gillette, WY, about 238 miles away, for 4 days of the American Coach Rally.
Master Landon
---
May 26, 2013
SkyScreamer
They just opened the new Texas SkyScreamer at the Six Flags over Texas in Arlington. And at 400 feet, this one of seven in the US is the tallest. The next runner-up tops out at 242 feet at Six Flags over Georgia in Atlanta.
At the top you're whirling in a 124 foot circle at about 35 mph. The shorter towers rotate you at 43 mph, I guess due to less stress on the towers.
My kind of ride.
This might be worth a trip to Dallas when we're back in Houston, just to give it a try. Now Jan might be a whole 'nother story.
Aunt Sherry posted this photo of Master Landon enjoying himself at Chuck E. Cheese. Our daughter Brandi said they're supposed to have the house closing on Thursday, and then the moving company comes Friday to start the move to their new house.
Jan and I were both a little under the weather this morning so we decided to postpone our movie. We had planned to try the buffet at the Horizon Casino after the movie, but with no movie, we decided to just do the buffet. But about 5 minutes before we were ready to leave, I decided to check Yelp for reviews on the place. And I'm glad I did.
There are 4 casinos here in the area. Two of them have $13-15 buffets and two have $30 buffets. And according to Yelp, the two cheaper ones are really, really bad. I mean, how many reviews do you see that say they gave the buffet one star because you're not allowed to give no stars, Or that everyone in another group got food poisoning. Another group took a couple of bites and then asked for their money back.
So those places were out, and neither one of us wanted to pay $60 for dinner, so the other two were out. After a quick discussion, we decided to go back to Passaretti's Italian Restaurant, the place we first ate at a couple of days after we got here. And even better it's right outside the park.
Jan had her Meat Ravioli and I had the Spaghetti Marinara with Meatballs, exactly what we had the first time. Just as good as the first time. And just like last time, there were a number of large parties there, but our food still came promptly.
After dinner we drove down the road to Raley's for some groceries, and an after-dinner coffee at the Peet's located inside the store. This was our second time there, and it has been our new favorite coffee place. At least to us, the coffee is better than what we've had at Starbuck's. Just saying.
As far as the movie thing, we'll see about tomorrow.
Rapid City, SD
---
May 26, 2017
Moose and Mines . . .
We had a visitor this morning a little before I got up. Bob Fitz, a blog reader, came by to say HI, and let us know he and his wife were in Keystone yesterday when we were. They're visiting Rapid City for a few days, and invited us to stop by and visit when we're again in the Sioux Falls area.
It's still going down into the high 30's/low 40's every night, but it's supposed to start warming up a little in the next couple of weeks.
And speaking of a 'couple of weeks', after we had been here a couple of days, we started talking about staying a few extra days past our one week stay. But when it all boiled down, we reupped for a second week. Which means we won't leave here until June 6th.
Unless we decide to stay longer.
Elk Creek is unlimited PassPort America, so we can linger pretty much as long as we like. And one reason for us to stay longer is that Jan used to live here.
She was here when she was in 2nd grade while her father was stationed at Ellsworth AFB. So she remembers places around here that she would like to revisit. And at least one of them is still around.
That one is the Dinosaur Park, a group of dino statues built on top of a hill near downtown Rapid City. Constructed in the mid-1930's to capitalize on tourists visiting nearby Mt. Rushmore, the city hoped to keep some of the tourist's dollars in town.
And while we were at the Safeway, I looked up on top of the nearby hill and saw one of the reptiles on the loose.
Finishing up on yesterday's 1880 Train, trip we were surprised at how many large homes were located out in the Black Hills National Forest.
Don't know if this guy had a lot of firewood left over from this past winter, but he's certainly ready for next winter.
Turns out that there were about 60+ mining claims that predated the 1897 creation of the Black Hills NF, and today many of those claims are now the location of family homes.
But some of the mine facilities can still be found along the route, mostly in the Addie Camp area. This was the Addie Camp tin mine.
Or at least it was supposed to be. Although they went down over 800 feet,  they never found much tin and the mine was closed down.
This is the remains of the Good Luck Tungsten Mine, which was much more successful than the tin mine, but it finally closed down in the 1950's.
The 1880 Train ride turned out to one of our favorites, and is much recommended.
Later, while we walking around Hill City waiting for our not-to-be Alpine Inn dinner, we came across this two amazing horse sculptures along the sidewalk.
Both done by the same artist, they're made from junk, springs, tools, even other horses, and faces.
and there was also a smaller one.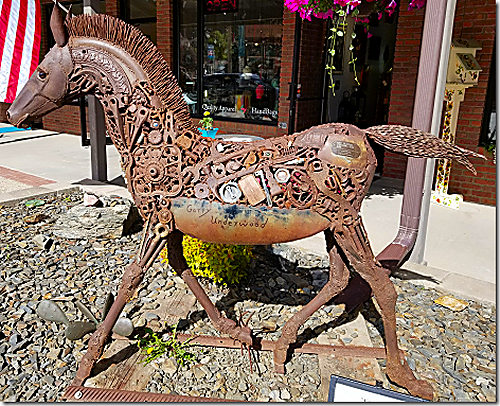 Really amazing.
Jan had a good time exploring The Farmer's Daughter shop right across the street.
And even found her a new moose to add to her collection
Cute.
We're trying to keep our heads down during the holiday weekend, but we may run into RC to grab a burger at Fuddruckers, and maybe a trip to Home Depot or Lowe's.
Flying Home From London
---
May 26, 2019
Homeward Bound . . .
Before our trip home today we spent several hours last night carefully weighing our luggage over and over.
Did you know a single sox weighs 3 oz.?
We were trying to max our two large checked bags right up to the 50 # limit, finally getting one of them up to 49.9 and the other one right on 50# by using the digital scale we had brought with us.
Then I got my carry-on right up to the 17# limit allowed for them. So then leaving out of travel clothes, I wedged all the rest into Jan's carry-on, and, holding my breath, weighed it.
25.8 pounds!
Yikes!
Ok, if we each wear 4 shirts, 3 pair of pants, 6 pair of underwear, and 2 pair of shoes, we might get in under the wire. But somehow I don't think that's going to work either. Then Jan remembered that when we were checking in at the gate to our Lufthansa flight from Houston to Frankfurt last month they offered to also check in our carry-ons as well as our big bags.
So Jan had the idea to just check in her carry-on along with her big bag, which means the 25# wouldn't matter. So with a plan in hand, we were up at 7am, downstairs for breakfast at 8, and sitting in the lobby waiting for our ride by 9:30am.
Advised that we should be at Heathrow Airport 4 hours before our scheduled flight at 14:10, we were there a little before 10. Only to find out that our flight was going to be delayed, but only for about 10 minutes. So no problem.
But after we got through TSA (no cavity's searched) and were at our gate, we were told the flight had slipped 45 minutes. Then we were told that our plan was late coming in from the States, and we were pushed back an hour. And that caused the dominos to fall, further screwing over our schedule.
Gates are booked for a flight at a specific time, so if a plane is too early or too late arriving there may be another plane at that gate. Which is why as our flight got pushed back later and later, our specific gate number became 'iffy'. But finally about an hour and 15 minutes late, we were boarded on our Boeing 787-9 and waiting for push back from the gate.
But that didn't happen. As our departure got pushed back later and later, we also lost our slot in the flight path that we were scheduled to take home. So a new flight plan had to be calculated and then approved. But that resulted in a longer path home, so we had to take on another 10,000 pounds of jet fuel.
So finally,  two hours and 10 minutes late, we were rotating and in the air for a now-10 hour flight.
They were able to make up some time by pushing the speed, staying at 34,000 feet and almost 600 mph for most of the flight, leaving us with views like this.
We finally got into Houston about an hour and 10 minutes late. And after getting through Customs,we met our driver and were on our way back to Santa Fe, getting back to the rig about 10pm.
Safe, sound, and with a lot of really great memories. And totally exhausted.
Now, after we get unpacked and settled in, I'll start going back and filling in the missing days on our trip of a lifetime.
---
Thought for the Day:
Mark Twain got into an argument with a Mormon over polygamy and was challenged to prove from scripture that it was wrong.
He immediately answered: "No man can serve two masters!"
   .