Jiffy Corn Casserole
Jiffy Corn Casserole Ingredients
1 can of corn, drained
1 can of creamed corn
1 cup of sour cream
1 stick of melted butter (½ cup)
1 box of Jiffy Corn Muffin mix
Throw all of those ingredients in a bowl and mix them up.
Transfer the mixture to a greased 8×8 baking pan and bake at 350 degrees for about 45 minutes.
The exact baking time will depend on the exact size pan you use, so just be sure to watch the casserole closely.
You'll know it is done when the center is completely set.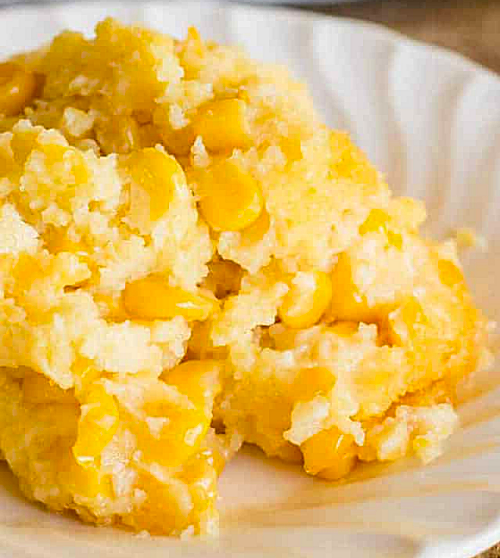 Possible Add-On's
Corn Casserole with Eggs
Mix in 2 eggs….this creates just a bit more of a lighter corn casserole.
Cheesy Corn Casserole –  Jan does this for her version.
Add ½ to 1 cup shredded cheddar cheese….because cheese makes everything better, right?
Corn Casserole with Sugar
Add ¼ cup to ½ cup sugar….this of course makes it a very sweet corn casserole. If you add the eggs and sugar, it almost takes like a corn cake and could be eaten for dessert!