Category Archives:
Uncategorized
As we had planned we pulled out of our site a little before 11am, heading for Byram, MS, just south of Jackson, and about 215 miles away.
---
---
Everything was going just peachy, until about 5 minutes before we were going to get back on I-10, the generator died, and of course taking the AC's with it.
Now this happens occasionally, and in the past, after I waited a minute or so, it would restart and run just fine. But not today. Today sometimes it would just crank over with nothing happening. Then I'd wait 10-15 seconds, and this time it would almost catch, but not quite.
Actually it was acting like it had run out of fuel when the tank level got too low, but since we had 110 gallons in a 150 gallon tank, I don't think it's the problem. The generator fuel filter was just replaced a couple of months ago, and of course it ran perfectly all day yesterday. So since there wasn't much I could do about it on the side of the road, we soldiered on, hot and sticky, but undaunted.
I continued to try it every now and then along the way, but just had a repeat of the above.
The only real slowdown along the way was the 45 minutes it took to get through Baton Rouge, starting a couple of miles before the bridge over the Mississippi. Both lanes grind to a halt and then we all creep along at about 1 mph, up and over the bridge, down the other side, and then up the hill to the right.
And it's creep, creep, creep, all the way. And the reason for all this is perfectly obvious. It's also perfectly obvious that some road design engineer needs to be b****-slapped. The entire slowdown, backing up and over the bridge is caused by the fact that they have two lanes going up the hill to the right. BUT, just as soon as you get to the top, the right lane becomes an immediate Exit Only off the Interstate. And the vast majority don't want to exit there.
So they're all fighting to get into the left lane, cutting off, and cutting in front of the left lane vehicles. And it doesn't help that pretty much every other vehicle is an 18 wheeler.
They need to just get rid of that Exit Only lane and have one lane going up the hill and merging into the traffic from I-110/I-10. Yes, there would be twice as much traffic in the single lane, but I'd be willing to bet that it would move a lot faster without all the 'cutting in'. But they didn't ask me.
But they should. About a lot of things.
We pulled into the Swinging Bridge RV in Byram right at 4pm, got directed to our long pull-thru, and got set up. As we did last night, we only hooked up power and water. We will hook up the sewer line tomorrow when we're at the Tom Sawyer RV Park for two days so Jan can do laundry. And as last night we didn't set up the sat dish or TV either. But we will tomorrow night.
As soon as we were plugged in and the AC's on, we jumped in the truck (with cold AC) and headed up I-55 and east onto I-20 and over to Brandon, MS, and the Sonny's BBQ there.
We first ate at this one two years ago when we came back from Alabama this way, due to all the flooding along I-10 in Louisiana and Texas. There used to be another Sonny's here a few years ago, but it closed, probably due to how the neighborhood had deteriorated.
Like most of our favorite places, Jan and I both have our favorite meals that we get time after time.
With Jan it's a Pulled Pork Sandwich on Garlic Toast with BBQ Beans and French Fries.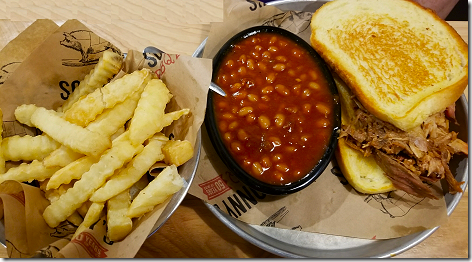 And as for me, I always get the Pork 3 Ways Platter, with Sliced Pork, Pulled Pork, and Ribs, with BBQ, their really delicious Coleslaw, and Garlic Toast..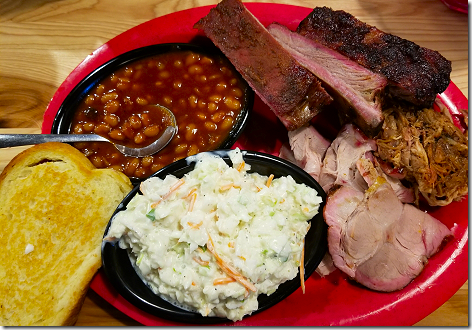 Really great, and I had more than half left over to bring home.
One thing did puzzle us at Sonny's though. They're celebrating their 50th anniversary, from 1968 to 2018, but we both remember eating at Sonny's when we were dating in the summer of 1967 in Titusville, FL. Sonny's and Fat Boy's were our two favorite BBQ places.
So is 1968 when the chain started, with just one location before that or what? I should have ask the waitress, but forgot.
I had planned to run the generator out and see if showed any error codes, but as we were coming home it started raining, then pouring down. So now our plan is just to leave early tomorrow, probably around 7am, to beat the heat, and then hopefully I'll be able to check it out tomorrow or Sunday while we're at the Tom Sawyer RV Park in West Memphis, AR.
Two Days, Two more BBQ places!
---
---

Thought for the Day:
Shouldn't 'Phonetically' actually be spelled with an 'F'. Otherwise what's the point?
asdfad
The day got off to a rocky start when about 5am a thunderboomer let loose, sounding like it was right on the roof of the rig and waking us both up.
---
---
Then the power went off, but only for about 5 minutes so it wasn't too bad. However the fact that it poured buckets for the next two hours made me really look forward to going outside to disconnect and stow everything away, and driving too, of course. But by 7:15 when I finally did go outside, it had pretty much cleared up.
Right on schedule I pulled out of the park, with Jan following in the truck, heading for HOPS Propane about 3 miles up Hwy 6. They opened at 9am, and I pulled into the lot at 9:03. There was a guy standing out in front of the office and he waved me over to the fill station by the tanks.
After getting 33 gallons, I was paid up and out the door by 9:15. Things were looking up, and we were actually ahead of schedule, as I had figured at least 30 minutes there. But my joyfulness quickly faded.
I pulled the rig over to the side of the lot so we could hook up the toad and get on the road. But then I could not release the lock on one of my tow bar pins. The key just would not turn. I tried graphite in the lock and then Strike Hold. All with no luck
I even tapped with a mallet. Nothing. It was like it was the wrong key. Finally I got my 'Persuader' (an 18" piece of 1-1/4 galvanized pipe) out of the truck and started wailing away at it. And although it loosened it didn't let go.
So I got more forceful with it, getting my drill and some titanium bits and started drilling out the cylinder, ending up with this.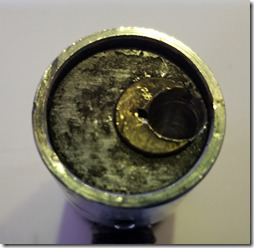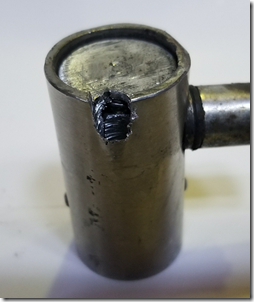 I drilled all the way through it, coming out the bottom. It came out the side because it was deflected by the tip of the hardened steel pin. The hardened steel pin is why I didn't even try to saw it off. Master makes some tough locks, believe me.
I had been at this for about 30 minutes when the guy who filled my propane came out and saw what my problem was. And he said, "Just a minute. Let me get my torch."
Expecting him to wheel over a big set of tanks on a dolly, I was surprised when he showed up with a case about the size of a large toaster oven. Opening it up I could see two smallish tanks of the oxy and acetylene, a tiny regulator, and a torch handle.
Lighting it off, he adjusted the handle until he had a small blue-white flame, and sliced through the 1/2" hardened steel pin like it was butter.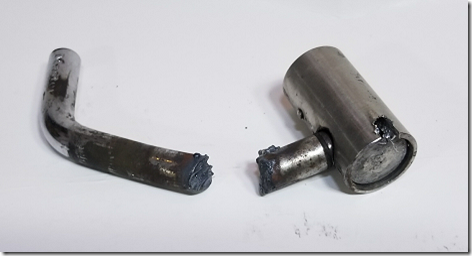 WOW!
I want one of those.
Unfortunately in my astonishment I forgot to ask him where he got it. I'll call and ask him when we get back.
By the time I got hooked up, we were about 45 minutes behind schedule rather than 15 minutes ahead. But for us it was no problem since our schedules are pretty much illusionary anyway.
I had another plain pin with no locking mechanism so I used it by tywrapping it all together with some big 3/8" tywraps I had and it worked fine. I checked it a couple of times along the trip and it never budged.
We stopped at the Buc-ee's on I-10 in Baytown for diesel and coffee. I wanted to top off the tank for the trip, and 25 gallons did it.
The trip to Breaux Bridge was smooth with very little rain. Both the engine and the generator ran fine (Jan said they purred) and we had no problems or close calls.
A while after we were out on I-10, Jan asked me how it felt to be back on the road after so many months. I said,"It just feels right", and we both agreed we had missed traveling these past 10 months or so.
We pulled into Poche's Fish-N-Camp in Breaux Bridge about 3:15 and got set up. We decided not to even put out the sat dish or put up the TV, and just have peace and quiet.
Then about 4:30 we headed into Breaux Bridge to have dinner at our favorite place here, Pont Breaux. We started eating here in the early 80's as we traveled through here. Originally it was called Mulate's, but it sold a few years back, and the food is just as good as always.
Jan tried something different this time, the Grilled Catfish with Shrimp Étouffée, and Sautéed Veggies.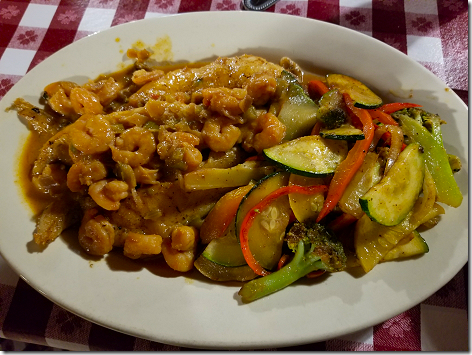 She said it was great.
I got my usual bowl of Seafood Gumbo with Shrimp and Crabmeat.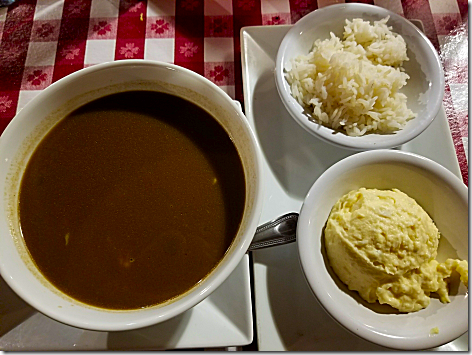 The small dish at the bottom right is potato salad, which I always thought was a strange side for gumbo, but it was good so I ate it. Years later I found out that it was a regional thing to dump the lump of potato salad in your gumbo.
Who knew?
I still eat mine separately anyway.
Coming home I stopped off at an AutoZone and bought two new tow bar pins, one to use and one as a spare. Of course I bought another Master Lock, since I now know how tough they are.
Tomorrow we've got about 215 miles to travel up to Byram, MS, just south of Jackson. And the day will end with another great meal from one of our favorites, Sonny's BBQ.
Really looking forward to that.
---
---

Thought for the Day:
Sometimes it seems like that government only exists to make government bigger.
asdfdf