Category Archives:
Uncategorized
We were off to Nick and Terry's about 10:30, earlier than normal, because this was going to be a roadtrip day.
But first Nick and I spent some time trying out a couple of cellphone boosters to try and get a better signal at his house. He's located in kind of a dead area, especially for Verizon, even though there are a couple of Verizon towers only a few miles away. Plus a metal roof and siding doesn't help things either.
The first one we tried, an older Wilson trucker's unit, is so old that it's only 3G, not 4G. The second one, a new WeBoost unit, (the new name of Wilson) that's really made for RV use.
Hooking it up temporarily showed an increase in signal bars, so tomorrow we'll try to mount the outside antenna up on the tower to see how it helps.
About 1pm we all headed out for Mt. Dora, FL, about 75 miles away. Jan wanted to check off another item on her bucket list.
She's been wanting to see the Starry Night house, i.e. The Van Gogh house, there. (Hey, what can I say? She's checked off so many things over the years, it's getting to be a short list).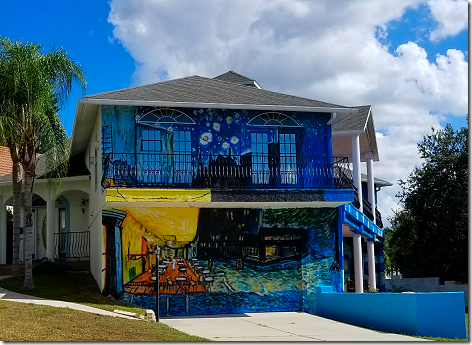 Initially the owners painted just the wall in front of the house with a replica of Van Gogh's "Starry Night" to please and 'soothe' their 25 year old autistic son. The city of Mt. Dora immediately tried to force them to paint over the wall, fining them $100 a day until it was done.
Told that the wall had to match the rest of the house, the owner's took them at their word . . . and painted the rest of the house to match the wall.
At various times the city tried to label the house a 'sign' and then also 'graffiti'. After winning a couple of initial court tussles, the Pacific Legal Foundation stepped in on the side of the owner's, citing Free Speech rights, and the dominos started falling.
And by the time the last one 'plopped' the city was out almost $60,000 in legal fees, and paid the owner's $15,000.
Oh, and also cancelled the $10,000 of $100 daily fees, too.
So now the house is all Van Gogh all the time.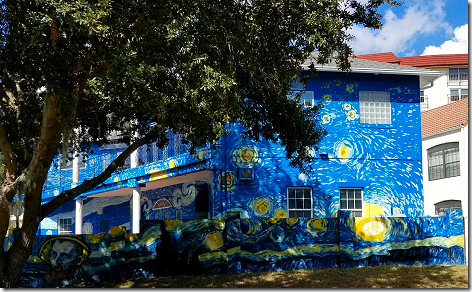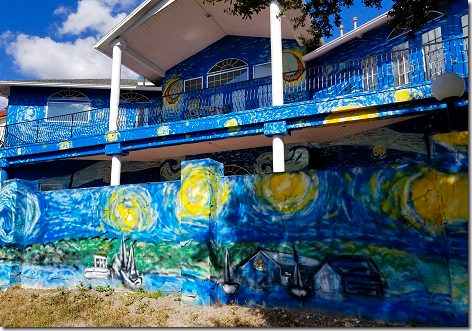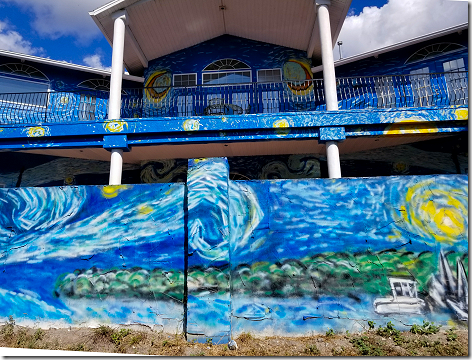 Jan and I, both Van Gogh fans, think it's really neat.
I wonder how our RV would look painted like that?
After hitting a couple of antique mall/stores, where Jan added to her cloud of octopuses with a couple of new additions, it was on back over to Sanford where we had dinner at the Longhorn Steakhouse there.
Nick and I both had the 12 oz. Ribeye, mine with Broccoli,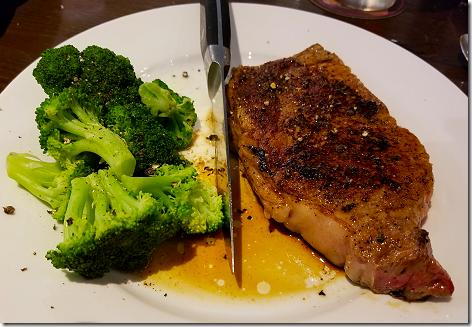 and his with French Fries.
Jan had her fav New York Strip and Terry went with the Tuna.
Then we all got to watch Nick eat dessert.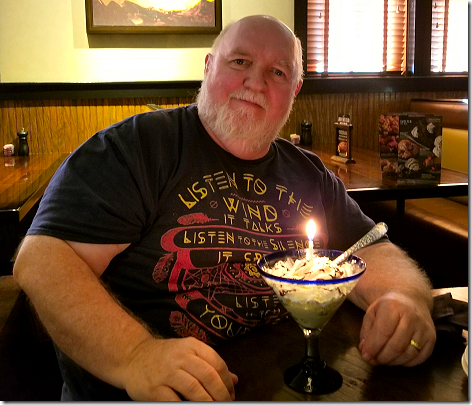 I had mentioned to Nick during the meal that it was our treat since it was his birthday yesterday, and Farrah, our waitress, apparently overheard, so the birthday boy got a unexpected treat. And he didn't share, either.
Tomorrow will be mostly a stay-at-home day. But not our home, Nick and Terry's, where we'll work on some more projects before going out to eat.
---
Thought for the Day:
When the debate is lost, slander becomes the tool of the losers. – Socrates
jkgjk
First off, I want to wish my best friend and cohort in mischief, Nick Russell a very happy birthday. It's great to see ya'll again.
Today, another one in our 'Back Home in Titusville Tour', we checked in with an old high-school friend of Jan's, had a really good meal, visited family graves, had some more great food, did some grocery shopping, then came home and took a nap.
We needed it after all that.
We left the rig about 10am heading for Molly's Seafood Shack out on Cocoa Beach. We were meeting up with Carol Burkott, an high-school classmate of Jan's from when they both were in school in Chicopee Falls, MA.
Both their fathers were in the Air Force, and they were also members of the same church. Then a few years after Jan's father retired down here, Carol's family did also.
Carol was grand-baby sitting so she had 1 year old Alexander and 3 year old Leilani with her.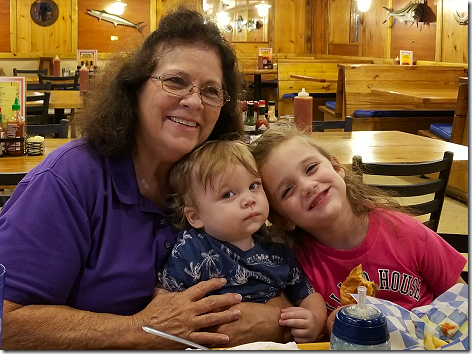 Both were very well-behaved. and Alexander and I had a good time playing with Alexander.
Molly's is a local favorite, and folks were waiting in the parking lot for the place to open at 11:30. And the food showed why.
Jan had a nice salad, and then got the  Shrimp Tacos.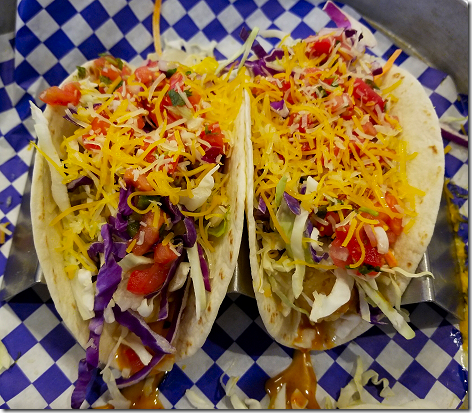 I had a cup of their Roasted Chicken and Crab Corn Chowder,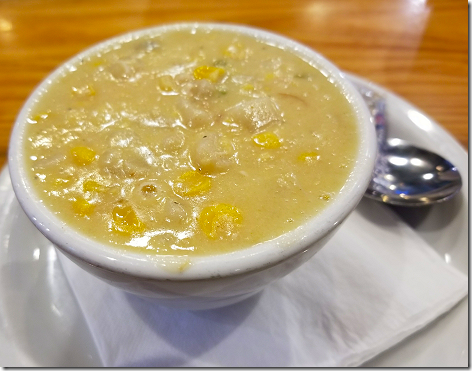 and then went with the Southern Style Shrimp and Sausage Cheese Grits, and a ear of Roasted Corn, along with a really good Jalapeno Corn Muffin.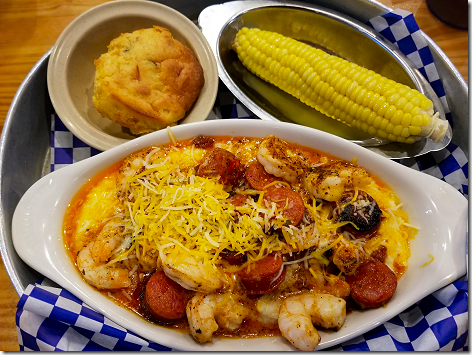 Everything was really delicious and will be on our list for a repeat visit next time we're in the area.
Finishing up, with Carol et. all, following in her car, Jan ran into the nearby WalMart to buy flowers, and then we all heading back up toward Titusville to visit the graves of Jan's parents, brother, sister, and niece.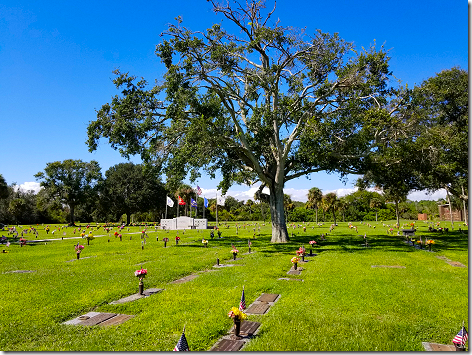 Jan's father died in 1994, and then Jan's mother died in 2007.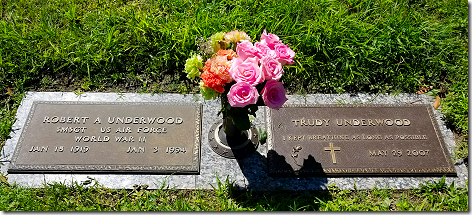 I loved the inscription of Trudy's gravestone, "I KEPT BREATHING AS LONG AS POSSIBLE". Something both Jan and I aspire to, also.
Jan's brother Wayne was buried here in 2000,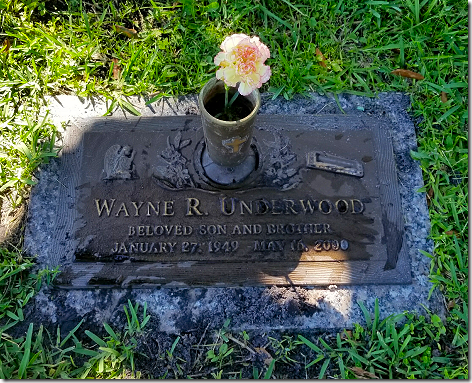 as well as Jan's niece, Jaime, who was stillborn in 1981 to Jan's younger sister, Beverly.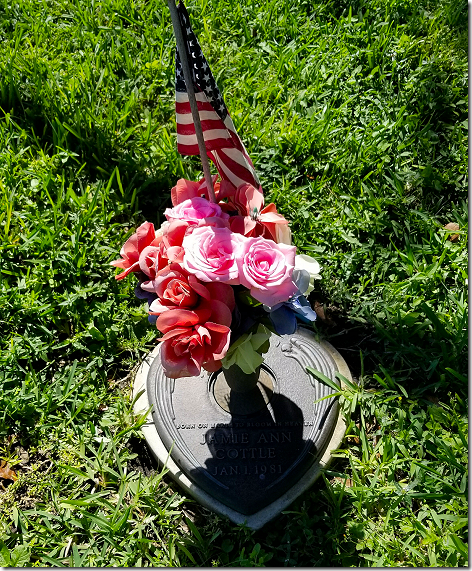 Then Beverly died in 2013 and her ashes were scattered over the family graves.
This leaves Jan's sister, Debbie, her only remaining relative who lives in Illinois.
Leaving the cemetery, and saying our goodbyes to Carol, we drove a little further north to the house where Jan was living when we met in 1967.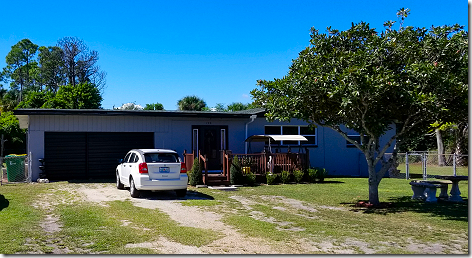 It really looks good. One thing we both remembered was that in 1967 there was a chain link fence surrounding the yard with a gate. The first time I came over to pick Jan up for a date, she opened the gate so I could drive into the yard.
And in doing so, she managed to slam the gate up against  the side of my Triumph Spitfire. She said that from the pained look on my face she figured she'd never see me again.
She couldn't get rid of me that easy, but it did hurt.
By this time it was almost 5 and we were getting hungry again. So since Jan had been 'jonsing' for some of the Clam Chowder at Dixie Crossroads. I had let her taste some of mine last week, and now she wanted her own.
We both got a bowl this time,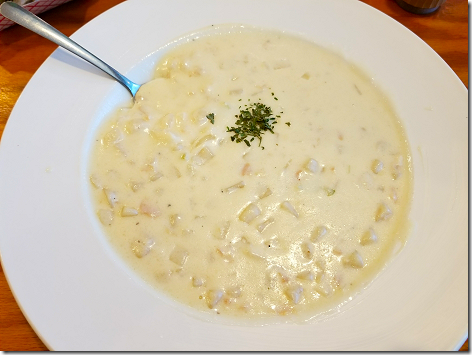 which was large enough to have some to take home.
Then we split an order of broiled shrimp with their Steamed Veggies.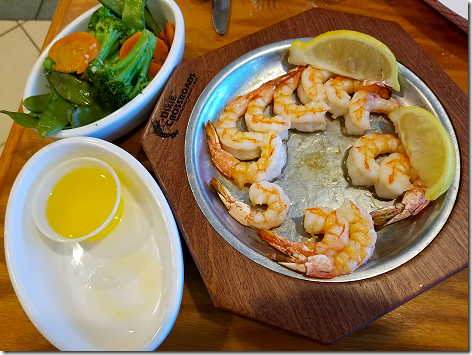 One thing we've noticed on this visit is the prolifteration of 'chowders'. Maybe it's got something to do with all the 'Yankees' moving down here from up north. But it's kind of new here, at least to us.
Finishing up, and before heading home, we stopped off at the nearby Publix Supermarket for a few things.
Tomorrow we'll get back together with Nick and Terry for more fun and frolic.

---
Getting back to yesterday's Shack adventure, Nick and Terry, along with friend Jim, took us to one of their favorite spots, The SeaShack, up in New Smyrna Beach.
Sunday is a good time to go, because a lot of  their menu items are half price. Always a good thing.
Jan got her fav Wedge Salad, but this time with Shrimp,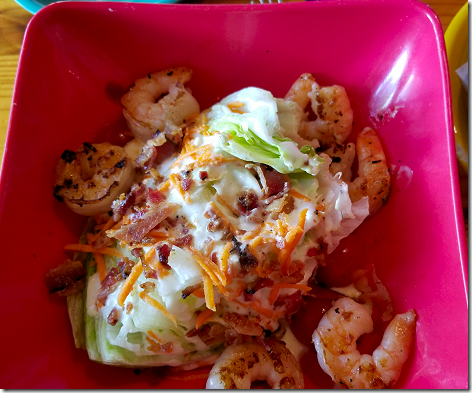 while I started off with a cup of their New England Clam Chowder / Roasted Red Pepper and Crab Bisque Swirl.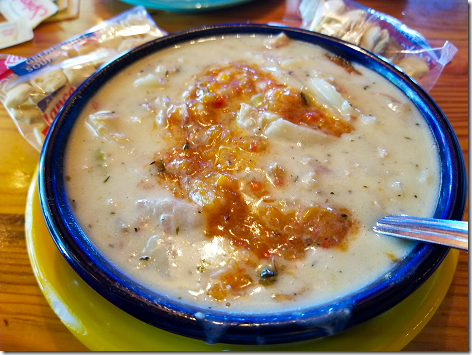 Like a swirled vanilla/chocolate ice cream cone, this is a swirl of both their soups, and it's really great.
Next up for me was a Shrimp Lover's Bucket, what in Louisiana/Texas we call a 'Low Country Boil.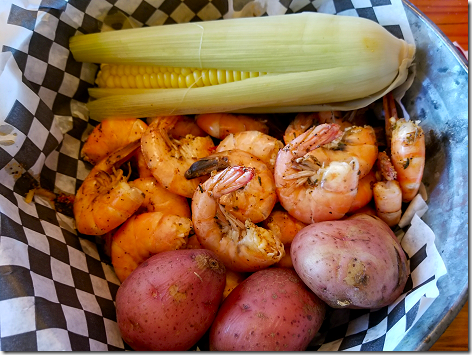 Whatever it's called, it was fantastic.
And Rachel, our waitress, could match Nick quip for quip, which made the meal even better.
And tomorrow?
Well, with Nick and me together, who knows?
---
Thought for the Day:
I'm actually not really that funny. Sometimes I'm just mean and people think I'm joking. I'm not.
ghg