Category Archives:
Uncategorized
We were up too early and out the door by 4:30, getting to the Bay Area Surgicenter by about 4:50, before the free valet service had started up, so we had to park in the next lot and walk over to the office.
---
---
And after being called into Pre-op about 6:15, she was being wheeled into the operating area by 6:45, and ready to go home by 7:30. She was still a little groggy, but ready to get out of there.
Besides all the after-care instructions, they also gave Jan a clear plastic shield to wear over her eye for the next three days while she's asleep to be sure she doesn't rub her eye.
Personally I was hoping for something like this.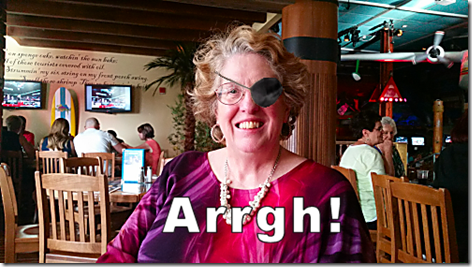 But no such luck.
After a quick stop at my client's to check out a problem, we made our planned breakfast stop at Snooze. While I got my usual Shrimp and Grits with a side of fruit, Jan got her favorite Avocado Toast. At least that's what she thought she was getting.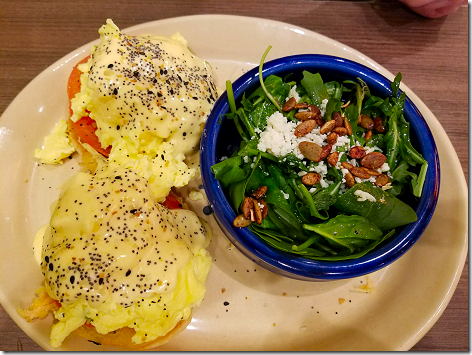 But it turns out that Snooze does their version as a Benedict, with Hollandaise Sauce. Plus she asked for her eggs well-scrambled, but they came out much less then 'well', but more like 'wet'. I told her to send it back, but just didn't feel like it. So she just scraped off the eggs/sauce and ate it that way.
Coming home we made a Costco stop for gas, and it was a new first. It was the first time that we've gotten gas at Costco that it wasn't cheaper than the last time. It was still $1.81, just like last week.
Getting home we both did the nap thing for a few hours. And since Jan kept her glasses on I didn't worry about putting the shield over her eye.
Later, about 3pm, and Jan not being really happy with her breakfast, we drove over to the nearby Chili's for linner/lupper, unusual for us since we usually only have one meal a day.
Jan had the Ribs and I had the Grilled Chicken Caribbean Salad, both really good.
Tomorrow Jan had her follow-up checkup on her surgery, and hopefully a schedule for her right eye. We had thought it might be next Thursday, the 13th, but it looks like it will actually be Thursday, the 20th instead. But we'll see tomorrow.
Actually the 20th works best for us anyway, since my second of Photo Dynamic Therapy, i.e. setting my head on fire again, is already scheduled for the 13th.
But whenever her next surgery is, at least the eye patch is reversible.
---
---

Thought for the Day:
I seldom regret doing things, but I always regret getting caught.
hdghd
We were originally told that Jan's cataract surgery was scheduled for 9am tomorrow morning. So we figured that we'd need to be at the Surgicare Care about 7:30-8:00.
---
---
So we were VERY surprised when we got a call this morning to tell us that Jan needed to be there at . . . wait for it . . . 5:15 in the AM.
She will be the first patient of the morning, but we don't know they're just starting a lot earlier or what. Or maybe just a lot of pre-op stuff. Though neither of us remember a lot of prep stuff like this when Jan's mother had hers done.
Besides being just generally nervous about this, the worse part of the whole thing for Jan are the eye drops. Three times a day today, and then various amounts over the next three weeks. And of course doubling up starting next Wednesday before her 2nd surgery.
The problem with all this is that Jan is EXTREMELY 'eye-shy', as in run away screaming 'eye-shy'. So if she's this bad with the drops, we can only hope she's heavily sedated for the actual operation.
On the way home this afternoon, I did stop by the Los Ramirez restaurant to get a few photos of the Christmas windows. Really nice, especially considering how fast the lady did it.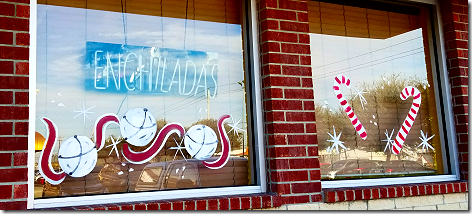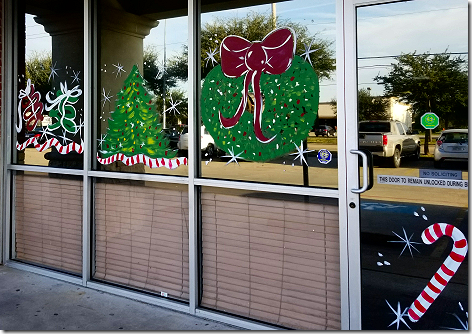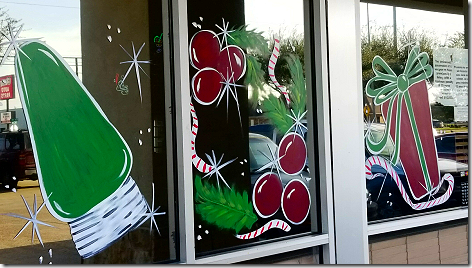 That's about it for today since we've got to get up so early.
---
---

Thought for the Day:
When a man says a woman's place is in the kitchen, he should remember that's where all the knives are.
asdfad