Monthly Archives:
May 2015
Please remember, Our RV Adventures is an Amazon affiliate. When you do your shopping through any of the Amazon links here, including the Search Amazon box in the right sidebar, it won't cost you any more, but we'll get a small commission on everything you buy. Just click on the Amazon link, then shop as usual. Thanks.
Plus, many of you are sharing our blog with others using the "Share this:" buttons at the bottom of each blog. Again, Thanks.
Today marks the beginning of our 5th week here in Prescott, not exactly how we planned to spend our spring/early summer. But if you RV very long it's almost a given that you'll end up going in directions you hadn't planned on.
But maybe that's part of the attraction of this lifestyle.
Anyway, I hope we'll know more tomorrow about our fate. Before they broke our windshield on Friday, we were only waiting on the new airbag, but now I don't know. When we had the windshield replaced last year in Elkhart, it took about a week to get the glass in. So with that, and the airbag, I suspect we're looking at another two weeks here. But who knows, they may surprise me.
For dinner, I just went across the street and picked up some Taco Bell. We've been surprised how good their stuff is.
 * * * * *
Continuing with my post from last Saturday, May 23rd:
After our abortive attempt to visit to Grant's Farm in St. Louis, we all headed over to the St. Charles area where our niece, Tana, her daughter Gwen, and Tana's fiancé, Curt live. In a log cabin built in 1862.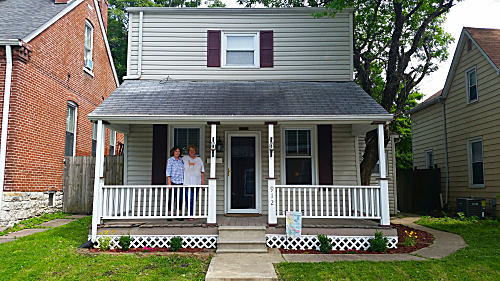 Though it has been updated a few times!
It was nice to see that Tana had one of her grandfather's chess sets on display.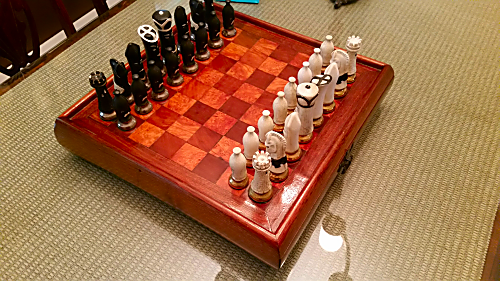 He not only made the chess board, but  the ceramic chess pieces as well. And the base has drawers that hold all the pieces.
We had dinner reservations at the Trailhead Brewery down on Riverside Dr. so we spent some time checking out some of the neat shops in the area.
Out in front of one of them was this nice 1934 Ford Cabriolet Convertible.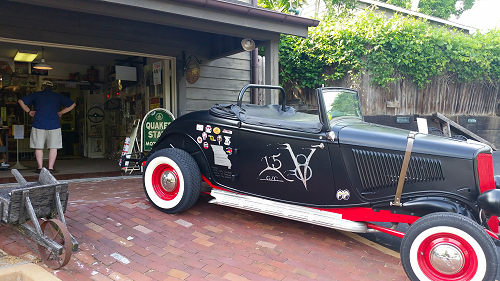 And it can yours for only $30,000.
Then it was on to dinner at the Trailhead Brewery. The place was very busy, so it was good we had reservations since we were a party of 18.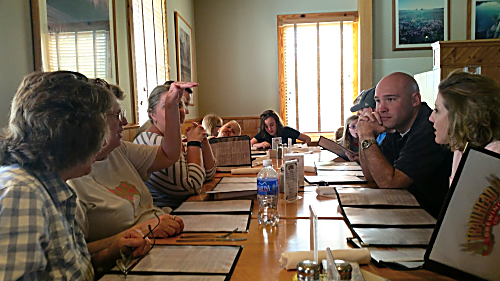 The food was very good, as were the many different beers we sampled.
More Catch-up Tomorrow.
___________________________________________________________
Thought for the Day:
"Never say anything unless you're sure that everyone else feels exactly the same way." – Homer Simpson
asdfadsf
Not much gets done around here on the weekends, so we weren't expecting anything to happen. And it didn't.
I worked on some web stuff while Jan mostly read. We did talk some about where we're going next from here. Before the blowout we were supposed to be at the Horseshoe Lakes Thousand Trails in Indiana right now before heading over to Ohio, Pennsylvania, and Virginia, Then it's back to Houston via north Alabama and Gulf Shores toward the end of August. We always try to get back to Houston about then to be there for Landon's birthday.
Later in the afternoon I checked my bank account that my $109 motel bill had morphed into a $244 bill, with 3 different charges, none of them for $109.
All 3 charges are pending, so they might be updated, But just in case I called the hotel to ask what was going. But the clerk was new and no help either. He said if I was still in town it might be quicker to come by later in the afternoon and talk to the manager. As it turned out it didn't help either.
About 3:30 Jan and I headed out on another edition of our seeming goal to eat at every restaurant in Prescott. Or at least, every good one. And once again, relying on Yelp, we hit a real winner, The Iron Springs Café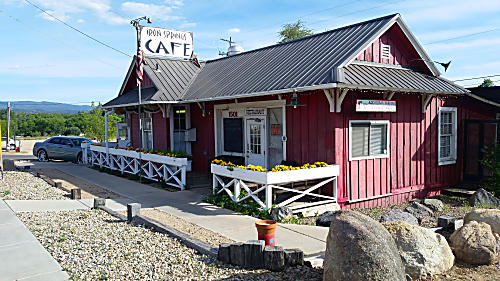 Housed in a old train depot that was originally built in 1894, the inside is open and friendly with a lot of train memorabilia. Sheldon would certainly like it.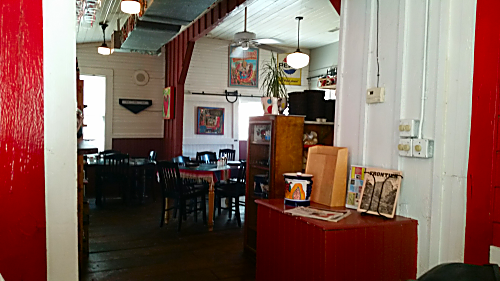 And the food certainly lives up to their reputation. While Jan started with a salad, I gave their Chicken and Andouille Sausage Gumbo a try.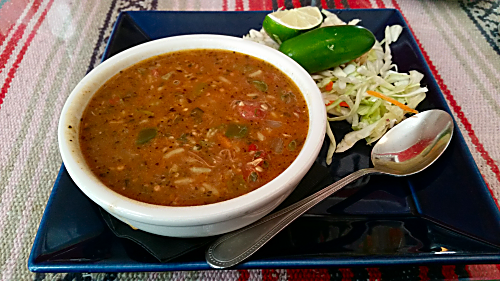 Chock full of chicken and sausage, as well as okra and peppers, this was a really good bowl of gumbo, and could hold its own in Louisiana.
Jan just had to check out their much-recommended Blue Crab Cakes with rice, pico de gallo, and a creamy chipotle sauce.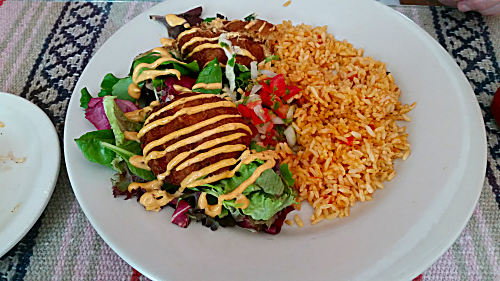 Jan's a real Crab Cake aficionado, and she says these are as good as any she's ever had.
Continuing on my sausage theme, I had the Sausage Bomber Sandwich.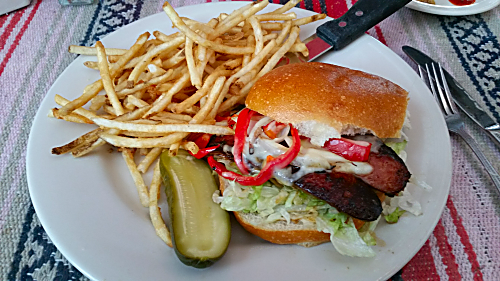 With Andouille sausage, cheese, grilled onions and grilled peppers, it was a real meal. So much so that we couldn't even find room to split an order of their homemade bread pudding with rum-brandy sauce.
But there's always next time.
Then it was off to the motel to try and straighten out my charges. And with no luck as it turned out. They couldn't explain how these different charges came about, and said it  must be a problem with my bank.
Yeah, right. My bank just made up charges under the name of the motel. So getting no real answers, I decided I'll just wait until Monday and then check with my bank.
Tomorrow, probably more of the same.
_____________________________________________________________
Thought for the Day:
"In declining states the leadership intuitively chooses the most harmful course of action."- F. Nietzsche
adfadf