For the 4th time since we started full-timing in 2008, and became South Dakota residents, Harris County, Texas has sent me a jury summons.
So I guess for the 4th time, I'll have to contact the Court and explain to them once again, that although we still own a house in Harris County, we haven't lived here in 8 years.
Now in the past, I've never tried to get out of jury duty, well except the time it come up in the middle of Shuttle mission, and in fact over the years I think I've ended up on 4 or 5 juries out of maybe 8 to 10 times I've been called.
In Harris County, unlike a lot of places, they just get one shot at you. You'll called in on a certain date, and if you don't get picked for a jury, you're done.
You're called in for either the morning session (8am) or the afternoon session (1pm). Afternoons are better because to get there by 8am,you need to leave the Clear Lake area by about 5:30 if you want to find a parking space anywhere near the Courthouse. And as you all know, I'm not really a happy early riser.
But I have been on some interesting cases – a crack house murder (12 – 0 guilty), a cocaine possession (11 –1 innocent/mistrial), and a civil suit against an apartment complex whose hot water was supposedly so hot, it burned a baby being bathed in a bathroom lavatory.
This was a interesting case due to the particulars. A family was suing because they said a 6 month old baby received 2nd degree burns when the hot water was turned on in the lavatory where he was being bathed, and instantly scalded.
The defense produced pages of complaints from people about lukewarm hot water in this apartment building because it was at the far end from the central water heater system.
And as far as the burns, the baby had burns on his lower back, bottom, and the back of his thighs. Not on his stomach, crotch, or upper thighs like if he were burned from the faucet being turned on while he was in the lavatory.
During the course of the trial, it was discovered that the baby's 12 year old cousin who was bathing him with no adults in the home, had just put water in the lavatory and set the baby in. Then she went off to watch TV for 30 to 45 minutes. The cousin said the baby was crying, but he always cried, so she didn't pay any attention.
As it turns out a baby can get 2nd degree burns after 30 minutes in 105° water, cooler than most people would find comfortable. Another thing that was really telling was the fact that if you folded the baby up like you were sitting him in a small lavatory, the burn mark was a straight line across his body, following the water level in the sink.
I was the foreman on this trial, as I have been on several others. And what I normally do, if everyone is agreeable, is to ask for a show of hands, guilty or not guilty. Then if we don't have a consensus, we start talking it over, going around the table, letting each juror have their say, hashing it out back and forth until we all agree, or don't as the case may be.
And in this case, like the crack house murder, we all agreed on the first vote. (12 – 0 for the defendant).
And as with the murder, it took us longer to fill out all the paperwork and for everyone to sign off on it, than it did to decide the case.

Tomorrow we're going to Katy to have dinner with Brandi, et. al. and pick up our Amazon stuff. Then on our way home we'll stop at the Wal-Mart in Sealy for our prescriptions we called in today, and a few other things.
---
Thought for the Day:
I Saw That – Karma (That fate thing. Not our cat.)
asdfasdf
Jan and I were up and on the road by 11am this morning, making the 2 hour trip down to the Clear Lake area, to meet up with our son Chris, our DIL Linda, and our GD Piper.
Although it was pretty overcast and threatening rain most of the way, it stayed dry and cool with temps in the 80's.
About 15 minutes out Jan called Chris to see if we were meeting at Chris' or at whatever restaurant they had picked out. Which, to our pleasant surprise, turned out to be the new Grimaldi's Pizzeria at Baybrook Mall.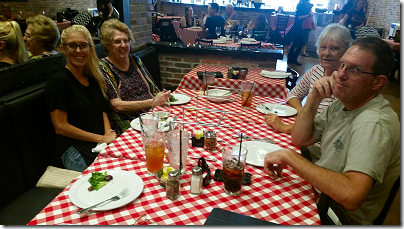 Piper really knows Grimaldi's since she and Brandi were with us in 2009 when we first ate at a Grimaldi's, the original, and only one then, in the DUMBO (Down Under the Manhattan Bridge Overpass) area of Brooklyn, NY.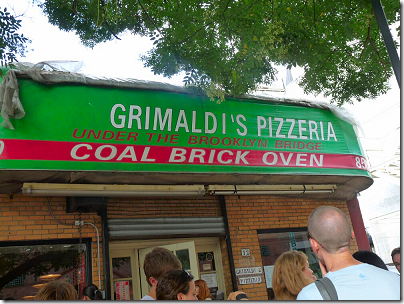 In fact the bridge runs almost directly overhead.
After our great meal, we went back over to Chris and Linda's to pick up our mail, and also check out Piper's new (to her) car.
A few weeks back she was making a U-turn and fell into a pothole, hitting something else, and pretty much ripping part of her front suspension completely off. All without even setting off the airbags.
So she now has a 2012 Nissan Xterra.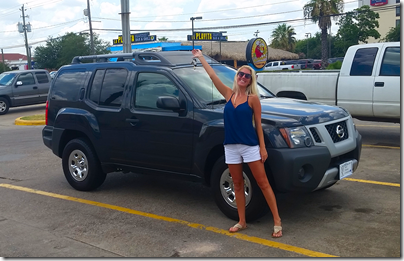 She's still enjoying her apartment in Galveston, close enough to her job at U.T.M.B. Hospital that she was able to ride her bike to work for the time she was between vehicles.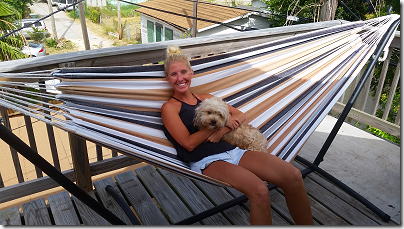 After getting our goodbye hugs, it was on to the local Kroger's for a few things, as well as gas for the truck at $1.89/gallon. Not bad.
Next up was a quick Target stop for a couple of more things, and then a pair of Cinnamon Dolce Lattes for the road from the Starbuck's in the parking lot.
They've got the new Bay Area Blvd/I-45 underpass open now so it was a quick ramp onto I-45 north. Luckily we were running just ahead off the going-home traffic, so we didn't hit any slowdowns until we were out on the Katy Freeway. And a quick dodge onto the HOV lane kept us moving along.
We checked in with Brandi, but didn't stop for a couple of reasons. First she was under the weather and had come home a little early, and second, the Amazon stuff we were expecting today, apparently wasn't coming in until tomorrow. So we rescheduled our get-together until Friday evening.
After a coffee-disposal stop at the Flying J in Brookshire, we got home about 5:45 to a noisy, upset Karma who repeatedly informed us that we were about an hour late in feeding her.
Now that we're getting back on the road in a few days, we've both got a bad case of Hitch-Itch. In fact we're already starting to map our travels for 2017.
Of course, after our upcoming two plus week Alabama jaunt, our next up adventure will hopefully be another 3 month stint at gate guarding for the 5th year in a row.

Two weeks ago the US Rig Count was at 440. But today the count was at 462, another big jump. So if we're lucky that will mean more gate guard jobs, or at least one for us.
Of course I remember a couple of years ago when the rig count was around 2000, and God willing, we're heading back in that direction again.
---
Thought for the Day:
Experience is the teacher of all things. – Julius Caesar
asdfadsfa