In with Anastrozole.
This morning Jan and I left the Lake Conroe Thousand Trails about 10:45 and headed 1.66 miles down the road to the Omega Farms RV Park, our shortest campground to campground move ever.
This was done to preserve our 'out' days at the Lake Conroe TT, so that we can come  back in the day before Thanksgiving for a full two weeks before moving on to the Colorado River TT in Columbus.
The park was/is completely full and pretty much stays that way all the time apparently. Since it's so close, a lot of TT members use it for their week out. He even has a special rate for TT members.
Since it was very overcast and raining when we came in this morning, we couldn't tell a lot about the place, but when we drove through the other day to make our reservation for today, it looked to be really nice. With a fishing pond,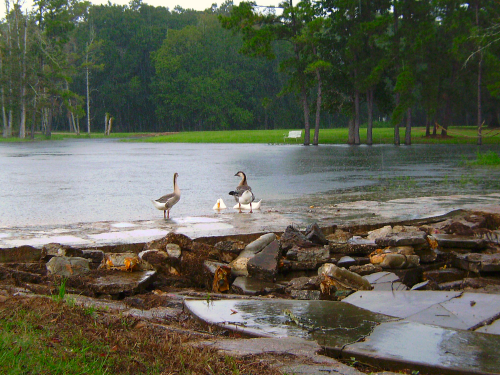 60 full hookup 50 amp sites (30 pull-thrus),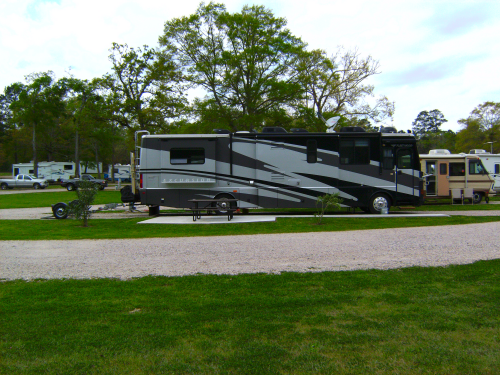 and enough trees to be nice, but not enough to block your satellite view, it's one of the nicest small parks in the area. And if you need some 'out' days from the Lake Conroe TT, you can't get much closer.
As soon as we got parked, I plugged in shore power, set up the satellite, and then we headed down to the Clear Lake area primarily so Jan could talk with her doctor about the side effects she was having on Tamoxifen.
The doctor already took her off it about 10 days ago, and the improvement has been dramatic. Jan and I discussed ahead of time about her just not taking anything at this point, because when you actually dig into the statistics, it's not exactly cut-n-dried about the benefits.
Case in point, one combination study of studies shows that 3.74% of women taking Tamoxifen had a reoccurrence of the cancer, and 6.71% not taking Tamoxifen had a reoccurrence. So when you look at this alone, you have a 44.2% decrease in cancer reoccurrence while taking Tamoxifen. Other studies put the percent decrease closer to 50%, which all sounds pretty good.
But now turn the percentages around. This also says that 96.3% (100% – 3.74%) taking Tamoxifen did not have a reoccurrence, but neither did 93.3% (100% – 6.71%) of the women not taking Tamoxifen.
So either way, you'll looking at a better than 90% chance of no reoccurrence whether you take Tamoxifen or not. Looking at the stats this way lines up with what one of my first Statistics professors said. "In the last two years the unemployment rate in Luxembourg has doubled. Sounds really bad, doesn't it? But what it means is that last year Luxembourg had 4 people unemployed, and this year they have 8. It's all in how you look at it."
As a side note, all these studies define a 'reoccurrence' as a new cancer in the same breast. If you get a new cancer in the other breast, that doesn't count and all the stats start over.
One last datum point is that all these percentages are done for the first 5 years. For the 2nd 5 years, you're looking at 97.4% vs. 96.5%, less than 1% difference. And after that, dead even, no effect.
So based on this, there's a pretty good case to be made for not taking Tamoxifen at all, or to stop taking it if the side effects are too bad. It's up to the individual.
All this being said, Jan decided to try the other breast cancer drug, Anastrozole, for a couple of months. It does the same thing as Tamoxifen by blocking the estrogen receptors, but does it in a different way. So it's possible that it would have some of the same side effects, but maybe not.
Jan will be going back to her doctor in February for her annual checkup and they will reevaluate then.
Finishing up on a high note, we later met Chris, Linda, and Piper at King Food for dinner. Piper's left arm is still in a cast from her ATV accident a couple of months ago, and she will probably have to have another surgery on it before all is said and done.
But her really exciting news is that she's starting a new full-time job next month as a Patient Care Technician at UTMB hospital in Galveston. This will let her get experience in the medical field while she's still continuing her schooling. Way to go, Piper!
Tomorrow we'll make the 45 mile drive over to the Escapees Park in Livingston to stay on Chris and Charles Yust's lot, and visit with them and Dennis and Carol Hill for a few days. Really looking forward to it.
__________________________________________________________________
Thought for the Day:
Yep, that's exactly how it happened.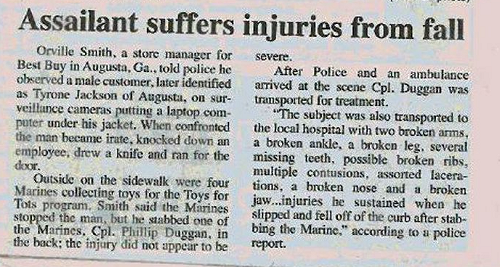 asdfadsf
About 3:30pm Jan and I headed down to Brandi, Lowell, and Landon's in the Katy area. We were meeting them at Little V's Vietnamese Bistro near their house at 5:30, and I wanted to allow plenty of time for the trip due to going-home traffic. Normally the trip only takes about an hour and 20 minutes, but heading out on I-10 from the Sam Houston Tollway is always an experience. And this time was no different. Our 'hour and 20 minute' trip took us an hour and 55 minutes, and the HOV lane was really no faster than the regular  lanes.
We had our usual warm reception from the owner, and our usual great food, with Pork Spring Rolls, Shaking Beef Bowls (Chicken for Jan) and the Crème Brûlée spoons for dessert.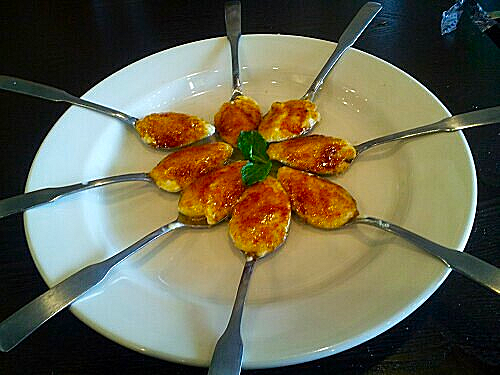 Delicious food, and the perfect amount of dessert.
Before heading home we went back over to Brandi and Lowell's to check out their new Christmas Tree.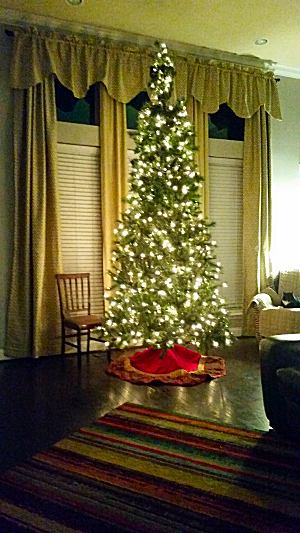 They don't have it decorated yet, but it comes pre-lit. It's 10-1/2 feet tall and really stands out in their high-ceiling living room. Can't wait to see it decorated.
We headed back to Conroe a little before 8pm thinking we would have smooth sailing and no traffic. Yeah, right!
They had 4 lanes of I-45 narrowed down to one, with all the accompanying gridlock, and then when you get there, nothing was happening, just some guys standing around pickup trucks with flashing lights. No work trucks, no construction equipment, no nothing.
We finally got home about 9:30, done for the night. Tomorrow, about 10:30 we'll move a couple of miles down the road to the Omega Farms RV Park. Then we'll head down to the Clear Lake area so Jan can meet with her Dr. about her Tamoxifen side effects. The Dr. told Jan to stop taking it on Nov. 11th, and the bad side effects have pretty much disappeared. So we'll see if the Dr. wants to decrease the dose or change drugs.
Then we're going to have dinner with Chris, Linda, and Miss Piper, and we're really looking forward to that.
Saturday morning we'll be moving over to the Escapees Park in Livingston to get together with Chris and Charles Yust, and Dennis and Carol Hill., and we're really looking forward to that too.
_________________________________________________________________
Thought for the Day:
Education is a progressive discovery of our own ignorance. — Will Durant
fsgfgsf