Our first day of gate freedom and I slept in until about 11am, my first full nights sleep in 3 months. When I'm on the gate I normally sleep 3 or 4 hours at a time, twice a night. I can do this for long periods with no problems, but it's certainly nice to not have to.

Along with our morning coffee and pumpkin bread, we enjoyed just sitting and talking, and not jumping up at the sound of the bell alarm. Jan did say  that she still hears bells in her sleep. For my part, I find myself checking out tag numbers to see if I recognize them as we walk around.
About 1pm Jan and I headed out for some shopping and then a trip down to Katy to have dinner with Brandi, Lowell, and Landon. They leaving tomorrow for Oklahoma to visit some friends and then spend Thanksgiving with Lowell's parents before coming back home Sunday night.. So this would be our only chance to see them for a week.
Our first shopping stop was the Convenience RV Store a couple of miles north of here next to the Fish Pond Restaurant. I was looking for a couple of things, 12v light bulbs, and a shower door latch.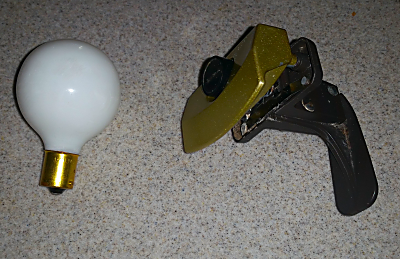 in our bathroom, besides the overhead lights, we have six  light bulbs, three on either side of the vanity mirror. A week or so ago, four of them suddenly died, all three on the left side, and one on the right.
Now three bulbs going out in one fixture is kind of suspicious, and makes you think that maybe there's a problem with the fixture itself. But I took a good bulb from the right side and it worked in the left fixture, and one of the dead bulbs still didn't work in the right side. At first you'd want to chalk this up to just a coincidence, and it kind of is, but not quite.
In the 8 years we've own this coach, I've replace two of these six bulbs, both on the right side. And I'd be willing to bet that those two bulbs are the ones still working. The other four are original to the coach when we bought it in 2008, and may just be original to the coach from1999.
And actually it's not that unusual for bulbs with the same amount of hours to go out in a group. Back in my younger, skinnier (stupider?) days when I was working in radio and TV broadcasting, I used to moonlight replacing the bulbs in the transmitting towers for a number of stations in the area. I have no fear of heights, and I worked cheap, so I usually got the job. And one thing you did when you went up to replace a bad bulb, you replaced them all at the same time. Otherwise, if one went out, more would follow, sometimes within a few days.
These bulbs were kind of expensive, and sometimes the station would try to cheap out by only replacing the bad one. I'd warn them that I'd be back in a short time, but they wouldn't listen. And anywhere from few days to a few weeks, I'd be back.
I was also looking for a new shower door latch, but as it turned out they did not have either the bulbs or the latch in stock, but they did order them for me, and they should be in by noon tomorrow.
Nice service.
Our next shopping stop was Wal-Mart, of course. It's not really shopping without a Wal-Mart stop. Beside the groceries and stuff, we both got haircuts while we were there. I hadn't had one since the 1st of October so I was starting to look a bit shaggy, at least on the sides. Not a lot to worry about on top.
Finally about 4:15 we were on our way down to the Katy area to meet Brandi, Lowell, and Landon at one of our favorite restaurants in that area, Torchy's Tacos.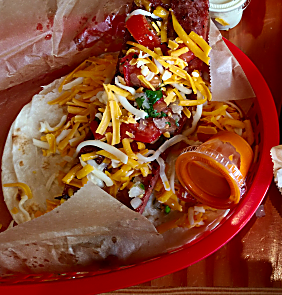 Where else can you get a taco with a grilled jalapeno sausage, queso fresco, shredded cheese, and pico de gallo. Not your average taco.
Later, after some time at Brandi's, we finally headed back to Conroe, getting back to the rig about 9:15.
Another nice, but long day.
_______________________________________________________
Thought for the Day:
"If we don't change direction soon, we'll end up where we're going." Professor Irwin Corey
asdfadsfd
We were up about 5:30am for our last morning on the gate for this year. When I checked the outside temp, it was 30 °, a little colder than the 33° that was forecast. In fact when I went out about 20 minutes later to turn the lights on, everything was covered with a thick last of frost.

And of course on our last  day here, the workover crew has to change everything up. Normally the first one doesn't come in until about 6:15am, but today he showed up about 5:50, just what we needed this morning while we're trying to get on the road.
But as the other mornings, the last guy was in by 6:40 so I was able to get back to finish up packing, mostly a combination of both 'leaving the gate' stuff and normal 'pack up and leave the RV park' stuff.
But it all was complicated by layer of frost covering all the stuff I had positioned outside to be packed away this morning. I set some things out in the sun, or at least out where the sun would be when it got up over the trees, hoping to thaw things out.
Giving up for a while I went inside to finish up putting away the TV's and other regular travel day stuff. Then taking a break, I made coffee and Jan heated us up some Sausage and Egg biscuits for breakfast. While we ate we talked about all the stuff we planned to do in our post gate time. Back at work, and finding the stuff outside a little less frosty, I finished up stowing everything away from the gate.
I had planned to move our rig out of the way between 8:30 and 9:00, expecting our replacements to show up around 10. This would let them pull straight into the site and get hooked up. But I guess anxious to get started, Donna and Jim showed up a little after 8am.
One funny thing that did happen, at least funny to us, was that they first went to the wrong gate, the frack site up the road, guarded by two women, Brenda and Patsy. So Jim and Donna pull up and tell them, "We're here to replace you." Apparently there was a look of surprise and panic on the other guard's faces until they got things straighten out.
We spent the next 45 minutes or so getting them briefed on what to expect here, and then I got the our rig pulled off to the side about 9:15, allowing Jim and Donna to pull their camper into our old spot.
The first problem I had was trying to wrestle a frozen power cord into the electrical bay, kind of like throttling a python with your bare hands, but finally I got it stuffed in and the bay door shut.
Then as soon as I started backing up, I kept getting a 'Jacks Down' alarm. I knew the jacks were up, so I figured the system was just a little low on fluid, and the cold weather probably didn't help either. Normally when you get an alarm like this, it means that you need to add hydraulic fluid to the reservoir, and this seemed to be the case today, since I didn't have any more problems with it after we got on the road.
In 24 hours our gate went from this,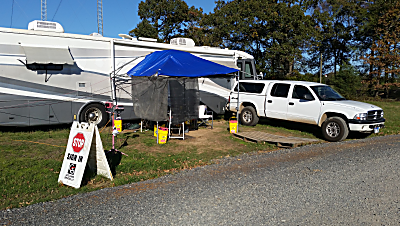 to this,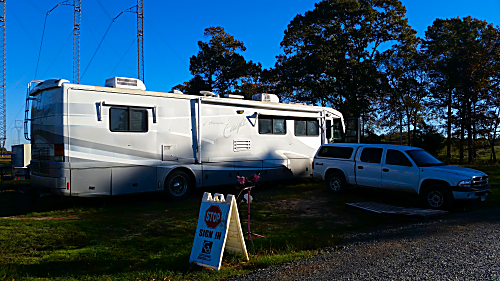 and then to this.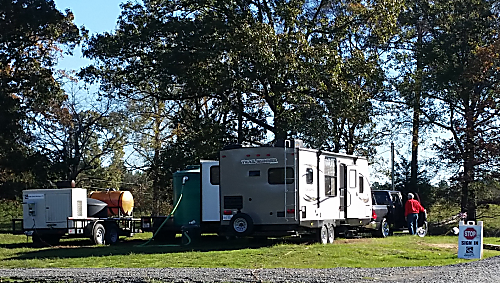 We were hitched up and on our way by a little after 9:30, taking SR 315 south until we picked up US259. In Nacogdoches we turned onto US59 which took us through Lufkin and on to Livingston, home of the Escapees RV Club. Then a series of FM roads and SR roads took us through the countryside into Willis and then across I-45 and to the Lake Conroe Thousand Trails.
Lucky for us, we got the last 50amp site in our favorite 'E' ring, so we were happy about that. We've been here enough times that it seems like a home base for us. Kim, the head ranger even said, "Hello stranger, where have you been?"
But I bet she says that to all the guys.
__________________________________________________________
Thought for the Day: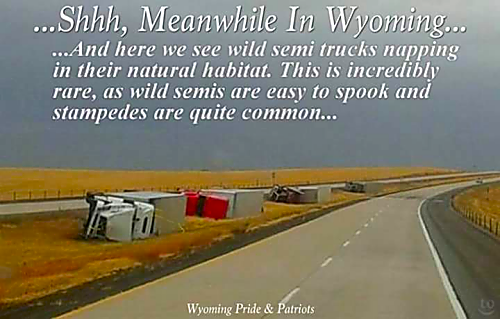 asdfasdf