Another day slaving over a hot keyboard . . . well, I guess it's hard to call it 'slaving' when I really enjoy it.
The client really liked the wheel logo that I did for his website www.ezekieltransport.com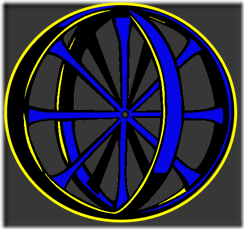 The one I did for the website has a transparent background so the grey doesn't show.
I also did a few favicons for the site.
'Favicons' are the small logos that many websites have that shows up in front of their name in the browser tab. Here's the ones for Facebook and Pinterest.

You're only allowed 32 x 32 pixels so you don't have a lot to work with.
The client now just has to pick from one of the three.
Neither of us ever left the rig today, with the day partly cloudy and the high only about 70 degrees, so a very nice day.
Jan was in a baking mode, so she wihipped up another batch of the Sopapilla Cheesecake tha she made last week.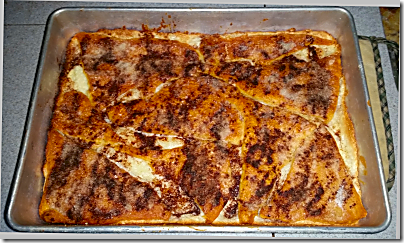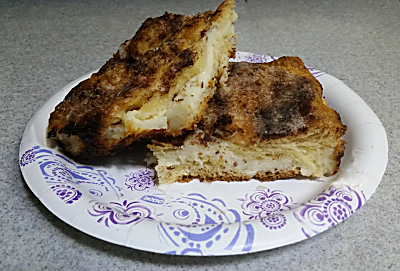 These are very good, and very easy to make.

Then while she was at it, she started a new batch of the Alabama Fire Crackers using the same bag of spices for the last batch.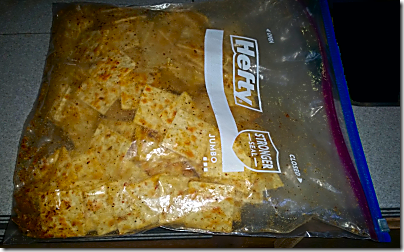 She just added a little more oil, added the crackers, and lightly shook them up. Then you let them set aside to soak up the spices, turning them every hour for 4 or 5 hours.
For dinner tonight, we started off with a salad dressed with a modified version of a recipe Jan got last week from Lynn Cross. We used lime juice instead of lemon (the lemons didn't look very good at the store) and added a little honey for sweetness. Really good.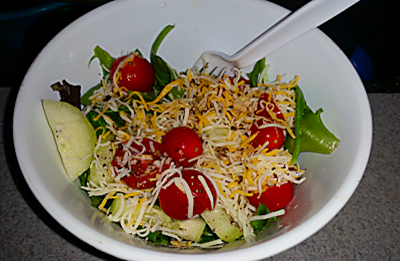 Then for dinner, we finished up the last of the Crockpot Spaghetti and Meatballs from the other night. I've had some requests so I'll be posting that recipe in the next day or so.
Now that we're back at Colorado River, it's nice to see that the recent 4G XLTE upgrade has settled down. When it first showed up a month or so ago, it was blazin' fast for about week, then after a few days it crashed and burned, showing more 3G than 4G speeds.
And my 3G aircard, which had jumped up to almost 3 Mbps, dropped down to less than 1 Mbps. But now it's back up to 2.5+ Mbps. Nice.
A very nice day, and hopefully tomorrow will be more of the same.
---
Thought for the Day:
There's usually a method to my madness. But then again, sometimes it's just madness.
asdfadsfs
Concerned about the forecast rain coming into the Columbus around 2pm, we were hooked up and on the road a few minutes before 9. Jan prefers that we take the slightly longer route up to Boerne, and then onto I-10E, rather than the even more hilly, curvy shortcut route directly to San Antonio.
But before we left, Jan fixed us her delicious Biscuit, Egg, and Bacon breakfast sandwiches. A great way to start the day.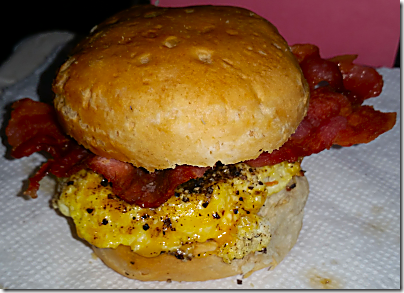 Note how crispy the bacon is, with no sag. This is that Hormel Black Label Microwave Bacon I mentioned earlier.

It's very, very good,
Our first stop was about 11:30 at the Buc-ee's at the Luling exit on I-10 for a bathroom break and coffee. It's was not as busy as last Sunday, but diesel had jumped from $1.79/gal last Sunday to $1.89 today. Ouch!
And less then two hours later, we were parked in our 50 amp site at Colorado River. The 'C' and 'D' areas are still closed, but "A' rings are open, and they have a few openings, but you have to call the park directly. You can not do it online.
After a nice nap, around 5pm we headed down to Columbus to have dinner at Whataburger. But as the title says 'WhataDisappointment'. In fact, if this had been our first visit to Whataburger, it might have been our last.
First up, I think our cashier was trained by the one we had up in Carthage TX this past fall. But he wasn't trained very well because he was actually worse. Pretty much everything about our order was screwed up.

I ordered a #6 with two patties, cheese, bacon, tomato, pickles, onions, mustard, and mayo.
I got a #7 with ONE patty, NO CHEESE, bacon, tomatoes, NO PICKLES, onions, mustard, and NO MAYO.
Jan order a #6 with two patties, cheese, tomatoes, mustard, ketchup, and grilled onions.
She got a #6 with two patties, NO CHEESE, tomatoes, mustard, ketchup, grilled onions, and LETTUCE SHE DIDN'T ORDER.
Plus we both ordered Large Combo Meals, but got Small. But the surprising thing was the fries.The place was pretty busy, so how did we get old, stale fries. Did they save them just for us?
Both of our orders were made up of lukewarm fries, intermixed those stale crunchy small end pieces. Even the the Spicy Ketchup couldn't fix that.
Coming home we made a stop at the Brookshire Bros for a few grocery items before returning to the park.
Coming down to the bridge, we got a good look at the recent flood damage.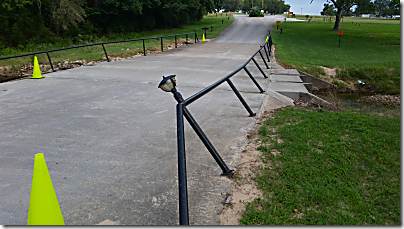 We were told that the water level got up over the top of the bridge railing, and that's easy to believe.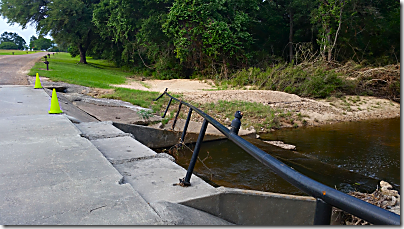 In fact the water pressure was strong enough to snap some of the railing mounting bolts, and pull others right out of the concrete.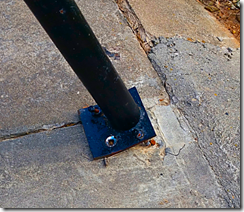 We're really glad we were back in Conroe when all this was happening. Even better, the heavy rain for today never showed up. But there's always tomorrow,I guess.
Later in the evening, I finished up the Ezekiel Transport Wheels within Wheels logo for the new website.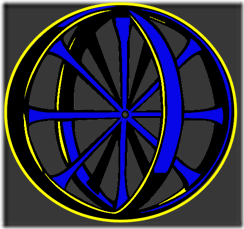 I think it looks pretty good, but I haven't heard back from the client yet, so I'll see.
Finishing up, this morning my water pump problem was gone, and it worked fine. So I'll have to keep an eye on it. I will go ahead and clean out the online filter.
---
Thought for the Day:
"Never believe anything in politics until it has been officially denied." – Otto von Bismark
asdfasdfad