Chris and his wife Linda showed up about 10am to pick up his invalid bike.
On his way back from Burnet yesterday, he'd discovered the rear tire on his bike was coming apart so he left it here to come back today and pick it up. He rented a U-Haul motorcycle trailer to take it back with them, which made really easy to get it loaded and tied down.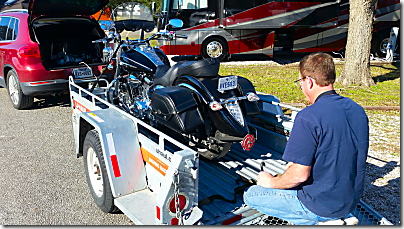 Once it was all ready, Jan and I followed them into town to have breakfast at Schobel's Restaurant in Columbus before they headed home. But by then it was so close to lunch, that I was the only one who had breakfast, with everyone else having lunch instead. But we had a good time talking, anyway.
After seeing Chris and Linda off, and coming back from our breakfast/lunch, we made a detour out on US90E to Schneider Welding to see if I could drop off my screen door hinge. He said he could do it, but not today. I said that was just fine as long as I get it back by next Friday, before we leave for Lake Conroe on Sunday.
Getting back home, it was time to tackle my clogged up toilet problem. As I mentioned yesterday, after thinking it over, I was 90% certain that a clogged roof vent pipe was causing my problem.
Well . . . No.
It turned out to be the other 10%. I eliminated the vent pipe situation last night by turning off the shore water, opening the black valve, and then inside, just barely opening the toilet bowl ball. The level dropped an inch or so, but then stopped, even after I opened the toilet valve all the way.
So this morning I was going to use a long fiberglass rod to try and clear the clog. With the water still off, I stepped on the floor pedal to open the toilet ball and started poking down into the toilet.
And on about the 2nd poke I hit something hard that clinked. But the level did drop a little more. So I poked some more and suddenly it all broke free and every thing drained.
But what was the 'clink'? Grabbing a flashlight I could see the problem.
The pipe drops about 18" into the tank (further than I thought) and it was clear. But above it was a section of white PVC-looking pipe that made up the base of the toilet pedestal itself. This was inserted in the black pipe leading to the tank. And a section of this white pipe had cracked and was sticking out into the center of the pipe.
Due to the discoloration, it looks like it's been there for a good while, maybe since the coach was new. Tapping it with the rod, it was hard and not flexible at all. The only thing I can figure is that over time stuff had been building up on that piece until it finally clogged completely. And if I try to break it off or remove it, I would take a chance of having it fall into the tank. Not a good thing.
So I'll just leave it alone for now and check it with a flashlight every now and then. Like I said yesterday, we've never had a clog before in the 8+ years we've owned the coach, so maybe it will go another 8 years. We'll see.
About 4:45 we picked up our friend Randy Lazarine and all headed into Columbus to have dinner at Los Cabos Mexican Grill
Readers of our blog from December 2014 may remember my adventures with Randy's new-to-him Monaco Diplomat. He had bought it from PPL here in Houston a few days earlier, and ended up parked right next to us here at the Colorado River Thousand Trails. He saw me outside working on my rig, and asked for some help with his rig's electrical system.
After he'd been parked here several days, both his coach and engine batteries had run down. You can follow the story of what I found wrong with his coach, and how I fixed it. How it ever got off the dealer lot that way is a mystery.
http://ourrvadventures.com/2014/12/charge-2/
http://ourrvadventures.com/2014/12/batteries-and-balls/
http://ourrvadventures.com/2014/12/wiring-and-re-wiring/
Check out the story above.
As far as the latest Karma the Kat update, she's apparently decided she's definitely a 'rig' cat now. We had started out worrying that she might try to escape since she was so used to being outside. But we've since noticed that if she's anywhere up front in the rig and we open the door, she heads for the bedroom as fast as she can go.
She's not taking any chances.
Wrapping up, I want to congratulate my uncle Tom Calvin on his Lifetime Achievement Award as the winningest high school football coach in Alabama history.

After playing for the University of Alabama for three years in the late 40's, he played fullback for the Pittsburgh Steelers for 4 years before being injured. He then coached high school football for the next 33 years, amassing a record of 201-130-11.
And his wife Lenette holds her own in the sports department as well, She's an Olympic-level gymnastic coach, even working with famed Olympic coach Béla Károlyi at several Olympics, and at his facility in Houston.
Congratulations to both.

---
Thought for the Day:

Old age is not as bad as I thought. It's a good feeling when you just don't give a damn anymore and you feel lucky just to wake up in the morning.
asdfasdf
or An Unexpected Roadtrip.
Jan and I were just starting on our walk this morning when our son Chris called. He was coming back from Burnet and had stopped for lunch at the Whataburger up in La Grange and noticed the rear tire on his bike was starting to come apart.
He asked if he could leave his bike here at our site while we took him home to Friendswood. Then he'll come back up here tomorrow with a trailer and take it back home.
ROADTRIP!
Waiting for Chris to show up, we finished up our walk, making 1.1 miles. Getting back to the rig, we finished up our coffee and muffins just about the time Chris showed up.
And about 1pm we were on the road down to Clear Lake, getting to Chris' a little before 3. Then with his wife Linda, we were off right down the road to Barcenas Mexican Restaurant, one of our favorite Mexican places in the Clear Lake area.
We've been eating here since they opened in 1998, and it's one of our go-to places, especially since they're only about a mile from our house. And in fact, when we were living in an apartment the year before we started RV'ing, we were right across the street and could just walk over.
Everyone got something different, with Linda getting the Taco Salad, Chris' Beef Fajita Nachos, Jan's Tex-Mex Enchiladas, and my Fajitas con Enchiladas.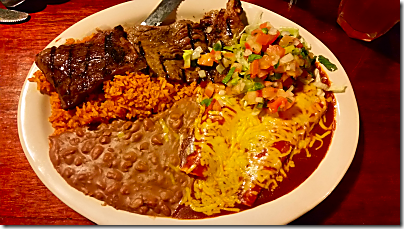 It had a large piece of Fajita steak, two cheese enchiladas, rice, beans, and pico de gallo. Barcenas is known for their fajitas, and it's easy to see why, Very tender, and very delicious
Our trip down to Chris' worked out great for another reason, since I had finished cleaning Piper's computer so I was able to bring it with us. And it gave us a chance to take care of a couple of other errands.
There's a car wash place down here called Ocean Car Wash that we've really liked for for years. They give the absolute best car wash we've ever gotten anywhere in the US. Their brushes will get any dirt, grime, or grunge off.
In fact, on our 2014 gate, when we got showered by a drilling mud explosion at the nearby drilling rig, it was the only car wash we tried that got it off the truck. And I don't know what wax they used, but the truck literally glows white afterwards. So a car wash was first on our list.
Then it was right across the street to the Krogers for a few things, some of which was their coffee. We really like their Private Selection house brands of Toasted Hazelnut and Vanilla Biscotti, and wanted to pick some up since there's not a Krogers near Columbus.
Now heading toward home we made quick stop for lattes at the Baybrook Starbuck's, and I got a free one. I asked for Chesnutt Praline, and they were out, so we got Cinnamon Dolce's. But since they were out, we got one of them free. Neat!
We were back on I-45 heading home by about 5pm, with a quick potty stop at the Brookshire Flying J, finally getting back to the rig about 7:15. We were coming home right in the middle of the Houston rush hour, but we only lost about 20 minutes along the way, so it wasn't bad.
Wrapping up, I'm about 90% certain I know what's causing my clogged black tank. As happens sometimes, I woke up in the middle of the night with a idea.
Putting together, all the symptoms, the fact it will drain slowly and then stop, which means it's not a solid clog, and more importantly, the fact that when you do flush it, it bubbles and gurgles.
So I'm pretty sure I have a clogged vent pipe, causing a vacuum in the tank, keeping it from emptying completely.
We got back too late tonight to fool with it, but tomorrow I'm going to open the black valve and then flush the toilet. This should break the vacuum and let the tank drain.
Then tomorrow I'll get up on the roof and use a long fiberglass rod I have to rod out the vent pipe.
The only thing to watch out for is that the water in the toilet bowl may kick back when we flush it the first time and erupt out. So I'll partially cover the bowl with a garbage bag and put the lid down. Hopefully this will contain the problem.
I'll let you know more tomorrow.

---
Thought for the Day:
We are an impossibility in an impossible universe. – Ray Bradbury
asdfdsf