We're now officially homeless. At least in a Sticks & Bricks way.
---
---
I got a call from the title company this morning about 11 saying they were hoping to get the release from HOA faxed over in the next few minutes, so Jan and I went ahead and got ready.
And about 11:30 we got a call saying that they were ready to go, but they were really booked up and we could close either at 12:30 or 1pm. Otherwise we'd have to wait until Monday since the buyer wouldn't be available until then. The only problem was that the closing was at an office up in the Galleria almost 50 miles away.
But we were ready and out the door in about 5 minutes. We were lucky enough not to hit any traffic slowdowns, and were at the office about 12:45. And after about 30 minutes of signing and initialing form after form we were done and on our way back down to Clear Lake.
Since the buyer wasn't scheduled until 1:30, after us, we decided to have the funds deposited in our bank account via EFT (Electronic Funds Transfer) which they said would be later in the afternoon.
We had already decided that we were going to celebrate the sale, whenever it happened, by stopping off for steaks at Saltgrass.
As usual we both started off with their Wedge Salads.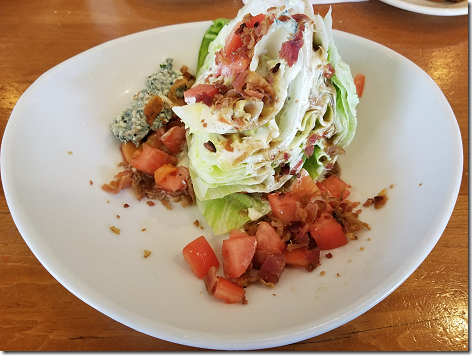 These salads are why we don't eat at Longhorn Steakhouse, our other local favorite, and come here instead. Longhorn doesn't always have a Wedge Salad, and when they do, it's actually done with a large stalk of Romaine, and not a lettuce wedge.
As for our steaks, Jan got the Center-Cut Top Sirloin with the Grilled Broccoli, while I got my usual Ribeye, also with the Grilled Broccoli.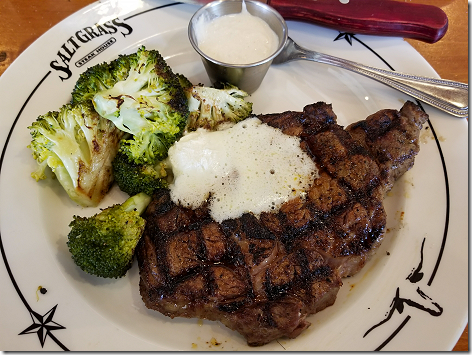 The broccoli actually is their Steamed Broccoli, but we learned a while back to ask places to throw it on the grill for a bit. Makes it much better.
Right after we got home I got an email from the title company with my copy of the closing documents and a note saying the funds had been sent. And when I checked an hour or so later, it was there.
Yippee!
As I said yesterday, now that the whole 'house' thing is out of the way , I want to get my on my project list, with the first big one to track down the rig's oil leak. Since it seems to be coming from up on the side of the engine, I'm going to start by looking under the bed to see if I can see anything from up top. Hopefully I'll find something loose and easy to fix.
Jan saw an ad on the TV for the Nutcracker Market which runs November 8-11 this year, so I went online and got us tickets. Put on each year as a fundraiser for the Houston Ballet, it's a high-end Christmas market with home décor, food, clothes, and toys.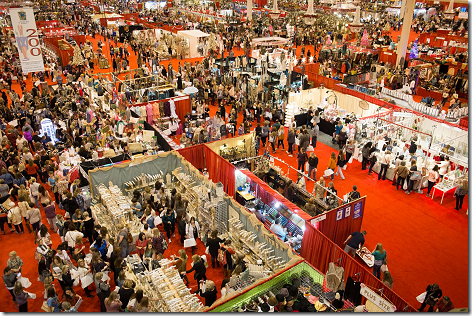 Starting from a humble church bazaar, it's grown to welcoming over 100,000 visitors during the four days, visitors who spend almost $20 million dollars.
Really looking forward to it.
---
---

Thought for the Day:
If bacon kills you and smoking kills you, how come you smoke bacon to cure it?
fgsdfg
We still don't know if we're closing tomorrow or not. They're waiting on a release from the HOA (Home Owner's Association), who apparently work at their own speed. Or lack thereof.
---
---
The buyer already has something else scheduled for Friday, so if we don't close tomorrow, it will be on Monday. Assuming the HOA finally comes through, I guess.
After I left my client's this afternoon, I went by the house to load our normal cargo back into the truck. So I guess if we do close tomorrow this was my last visit to the home we've owned for almost 40 years.
Jan and I really appreciate all the suggestions, hints, tips, and warnings we've gotten from our readers. Every little bit helps, and it gives Jan more list-fodder, so she's happy.
One reader mentioned the 30+ mile Chunnel trip between Paris and London 150 feet under the English Channel. I'm looking forward to it. Jan not so much. And not a lot to see along the way, I imagine.
Now that the whole 'house' thing is winding down, I've got a whole list of projects to get back on. Rig-wise, I haven't looked at either my generator or my engine oil leak, so I've got that to look at.
And I've also got my smaller projects, like my remote dump valves, and the voltmeter/amp meter monitor using a couple of the modules, as well as several more things in the queue. Slowly, but surely.
Brandi sent over this photo of Landon off to school for his first day in the 3rd Grade. Hard to believe that he'll be 8 this coming Monday, and he's growing up so fast.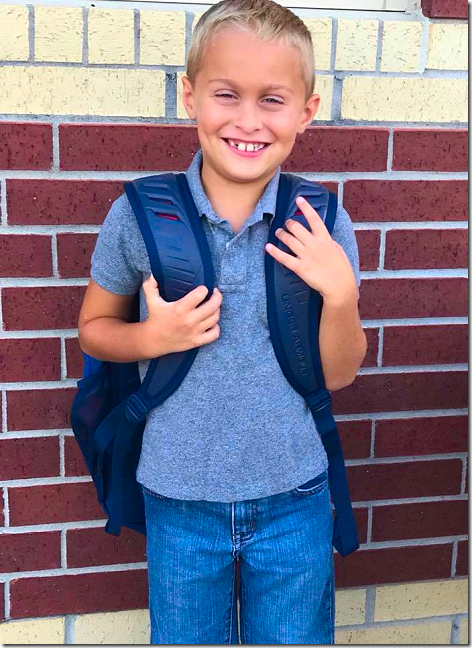 Brandi said he had a great first day and was super excited when he got home. But she said she didn't get a lot of details. She was on maybe her 4th question, when Landon said, "You have reached your max question limit for the day."
She said she has no idea where he gets this sarcasm from. Jan and I told her we know EXACTLY where he gets it from.
Or as Jan says, "Revenge Is Sweet!"
---
---

Thought for the Day:
I before E.
Unless you leisurely deceive eight overweight heirs to forfeit their sovereign conceits.

dfggh