At least that's what it feels like.
As I mentioned a couple of days ago, but forgot to in yesterday's blog, we had a relief guard come in today so we could have some time off to celebrate Jan's recent birthday. We had planned to do it last Saturday while we were off the gate and parked at the Buffalo GGS yard, but then all of a sudden we had a new gate and the day on the town had to be put off.
We had scheduled our relief to be here for 10 hours, from 9am to 7pm. Since Jan relieved me from my overnight shift at 7, I grabbed a quick nap for about 90 minutes to be ready to go at 9. Unfortunately the relief guard didn't show up until a little after noon. If I had know, I could have gotten my usual 4 hours. I think I've mentioned that on my gate sleep schedule, I sleep 4 hours twice a day, from about 7:30am to 11:30am, and from 6:30pm to 10:30pm. This works for me and I have no problem staying on it indefinitely.
But by 12:30 we were on our way with our usual first stop at IHOP for breakfast, except by now it was lunch, so Jan and I both had sandwiches, hers with fries, and mine with their new Roasted Chicken Noodle Soup. But the soup was apparently so new they were completely out of it, so I opted for a salad.
And I was very pleasantly surprised. Although I ordered it with Thousand Island, and it came with Ranch (no biggie), there was not a shred of iceberg lettuce to be seen. Just 4 different kinds of greens, diced tomatoes, and sweet purple onions. Really good. Along with my Double BLT sandwich I had 4 cups of coffee to keep me awake. Either the caffeine or running to the bathroom will do the trick, one way or the other. Or both.
After a nice relaxing meal together without one of us having to jump up at the sound of the bell and log a truck in or out, we drove over to the local Cavender's to see if I could exchange one of my FRC shirts.
When we did the rush purchase of our FRC clothes last Saturday at the Cavender's in Huntsville I was happy to see that they had FRC T-shirts. They were soft and felt just like my regular T-shirts at home, unlike the button-up shirts that were much heavier, much stiffer, and almost felt like they were made of light canvas. Unfortunately they only had one T-shirt in my size, so I had to also get one of button-up shirts too.
So while we were in BCS today I thought I see if the local Cavender's had T-shirts in my size. I had never worn the button-up one, or even taken the tags off, but I not longer had the receipt since we had to turn that in to the company to be reimbursed  the almost $600 we spent.
But since the shirts were Cavender's house brand I figured I might have a shot, and indeed, they said no problem. But problem. They also had no T-shirt FRC's in my size. Now I normally wear a XL or a XXL depending on how it's cut across the shoulders, but they had none. They had boo-coos of M and L's, but no XL or XXL's. They did have one XXXXL that I tried on in desperation. But I wasn't that desperate. It hung down below my knees, and was so big I could have worn it as an off-shoulder party dress, or as a Hoosier Honey.
Have they seen the guys that work in the oil patch? There just aren't that many M and L guys out here. At least they didn't have a bunch of S's. There aren't many of them guys out here either. Smarten up, order more XL and XXL's. There's a reason you're out of stock.
So, giving up, I was starting for the front of the store when I saw a dark blue shirt stuck in among check-patterned button-ups. And pulling it out, I had found the fabled XXL FRC T-shirt. Success! And I only had to pay a difference of $5.41. Nice.
Leaving Cavender's and checking Google, I drove over to a nearby AutoZone store to get a new flasher unit for our toad. I noticed a couple of days ago that my turn signals were completely dead, as well as the emergency flashers. So after checking the OK fuse, a new flasher was in order.
And order it, I did. And it wasn't a $5 flasher unit either. No, Dodge, in their infinite wisdom said 'why use a simple flasher when we can use a $70 'flasher control module'. Ouch.
And, as I said, it had to be ordered. So now I'm driving around waving my arm out the window, signaling turns. Does anybody even learn these anymore? I mean, they either look at me funny, or just wave back. With my luck some guy will think I'm flashing gang signs. And not from his gang.
There was a Tractor Supply Store next door so we stopped in for a copy of Countryside and Small Stock Journal, one of Jan's favorite magazines. And No, I'm not sure why either. Of course, I read Model Railroader magazine, so I can't say much.
Well, I can, but it usually just gets me in trouble. Doesn't seem to stop me though.
Then it was on to Home Depot for a Husky Faucet Nut Wrench, needed in my continuing quest to replace the lavatory faucet in our bathroom. It looks like this,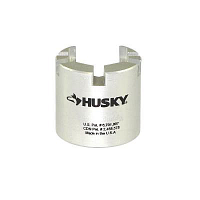 and is used to remove a plastic nut like this,

that holds the faucet to the countertop.
Now, why these nuts are so tight, I have no idea. I replaced this faucet 5 or 6 years ago, and I know I only hand-tightened them, but hand-untightening them is not working. And nether is using a regular basin wrench. I can grab the nut, but there's not enough room to get any leverage to turn it, or use it any kind of breaker bar to get it loose.
But this should do it. What the photo doesn't show is that at the bottom there's a 3/8 socket so you can use a ratchet handle to break it loose.
Our next stop was Sam's Club for a couple of prescriptions, and while we were there I picked up a 32GB micro SDCard for our new Galaxy Tab 4. I had ordered one from Amazon when I ordered the Tab, but didn't realized the Tab used the micro card instead of the standard one.
Then after gas at $2.65 a gallon, and a stop at Wal-Mart for supplies, we headed over to Outback Steakhouse for Jan's Birthday dinner. And of course, when we think Outback Steakhouse, we think . . . chicken and pork?
Well, we do. Jan's favorite dish there is their Alice Springs Chicken, with mushrooms, cheese, and bacon. She might have ordered a steak there a few times, but in the 20+ years we've been eating at Outback, she almost always gets the Alice Springs Chicken.
And I'm just as strange. I usually get their inch thick pork steak, really good with their orange marmalade-horseradish sauce. And since we had a late lunch, we had leftovers to take home for another meal.
As far as flying, I've been wondering why I've been so tired the last few days. Sometimes it's hard to even lift my feet. I mean, the gate's busy, but no busier than usual, so why am I pooped?
Well, walking past the shoe department in Wal-Mart today clued me in. When I got my new boots the other day, I got the steel-toed version. These suckers are almost 1-1/2 pound heavier than my other boots. And that's 1-1/2 boots each, for a total of 3 pounds. There's a big hunk of steel in here. Doesn't sound like much, but put it on your ankles and you'll see.
So when I put on my other boots tonight, it felt like I was walking on air, with a hop, skip, and a jump thrown in for good measure. I guess that's why athletes train this way.
Finally, from the 'just when you think it couldn't get any worse' department, the forecast temperatures here on the gate for the next two nights have been revised . . . downwards.
Instead of the 41 and 39 degrees they said yesterday, now they're saying 38 and 37 degrees.
Wonderful, just wonderful.(Sorry, I don't know how to punctuate sarcasm)
__________________________________________________________________
Thought for the Day:
Government is bad at simple solutions. However it is good at spending lots of money to make problems worse.
gfgsfgs
We bumped up to almost 10 pages or 240 vehicles today, mostly due, I think, to a new workover rig that came into a pad that we didn't know existed here. At least it's labeled wrong on the info that our oil company gave us.
When we moved to this new gate, we were told that the pad we're parked on was 1H and 2H, which means there are two wells here. The pad right down the road, where they're getting ready to frack, is 3H, 4H, and 5H, i.e. 3 wells there.
But today I found out that 1H is not here, but about 1/2 mile on down the road, all by itself. And they're moving another workover rig in there.
Thanks for telling us. We're always the last to know, Which is sad because the guys coming in here are asking us for directions.
Of course some of these drivers are their own worst enemies. I had one truck come in this afternoon looking for a drill rig that wasn't here. So I ask to see his directions. And they were pretty specific.
"Turn right at the intersection on US190 and go 4 miles. Then turn right on Junction Lane. The rig will be on your right."
So I told him where he turned in is only 2 miles from the intersection. Then I ask him if he noticed what our road is named.
He said, "Simpson".
So then I asked why he went 2 miles and turned on Simpson, when his directions said to go 4 miles and turn on Junction.
He said, "Cause I saw another truck turn in here."
Whoever said men won't ask for directions was only half-right. In many cases they won't follow them either.
I think my venerable Cradlepoint CTR-500 router is slowly giving up the ghost. I mean it's only 6 years old, so what gives. Anyway, the problem seems to be with the Wi-Fi part of it. It's apparently gotten flakey.
I'm still using a USB 3G modem that looks like a large pack of gum. And the reason I'm still using it is that I'm grandfathered for unlimited data, and I don't want to lose that by upgrading to a 4G one. And I've heard a lot of horror stories about numerous problems with the new ones.
At first I was afraid that my modem was dying and I'd be forced to upgrade, but it works fine plugged directly into my laptop. And with the modem plugged into the router, my desktop works fine directly connected with an Ethernet cable. And I know the Wi-Fi on the laptop and the desktop are OK, because they have no problems using my Galaxy 5S as a Wi-Fi hotspot.
But anytime I try to use the Wi-Fi from the router, my signal comes and goes, so I'll now I'll have to look into getting a new one, I guess. I'll let you know what I find.
Or maybe I'll just bang on it.
Finally, it looks like we've got some pretty cold weather coming through in the next few days.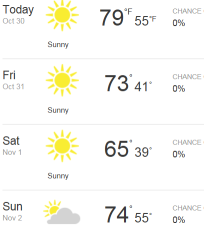 I'm really looking forward to that 39° one.
(you did get the sarcasm there, right?)
__________________________________________________________________
Thought for the Day:
Been There. Done That. Never Got A T-Shirt.
asdfdsf