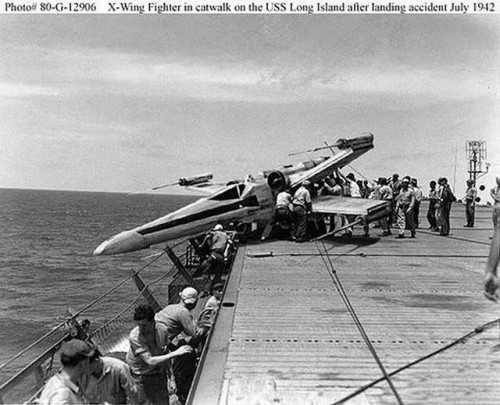 So maybe it wasn't so long, long ago and far, far away after all.
___________________________________
Saw something really interesting on a TV ad today for the new upcoming Amazon Fire Phone. You know how the Shazam app can listen to a song and tell you the name and the singer? Well, the Fire phone can do that for movies.
The ad shows two guys arguing over what movie they're watching in an airport. A kid pops up behind them, takes a photo of the TV screen with his Fire phone, and the app tells him what the movie is.
WOW!
_____________________________________
We had planned a nice do-nothing day today mainly because of all the really bad weather we were expecting. But the rain didn't show up until about 8pm this evening, so  it was still a very nice day.
For lunch, Jan fixed herself a Pimento Cheese and Tomato Sandwich, while I fixed me a CBT. That's a Cheese, Bacon, and Tomato. Then later for supper, Jan whipped up a big batch of her delicious Chicken Rice-A-Roni. She adds a lot of extra stuff to it and it's really good. And we have enough left for another meal.
Our friends Chris and Charles Yust have been in Alaska for the last few months. A couple of days ago they posted an article on Facebook about the White Pass Yukon railway train. This past Wednesday, the 24th, the White Pass Yukon train derailed with a load of 360 passengers.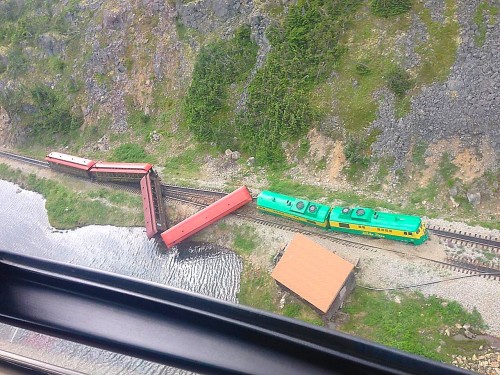 I'm not quite sure where the crash occurred. One article says it happened just inside Canada, and the other says just back inside Alaska. 19 passengers and 4 crew members were listed as injured.
We took this train back in September 2008 while we were visiting Skagway with our friends Al and Adrienne, on our way back from Fairbanks. I guess if it had to happen, it was better where it did happen rather than along  here.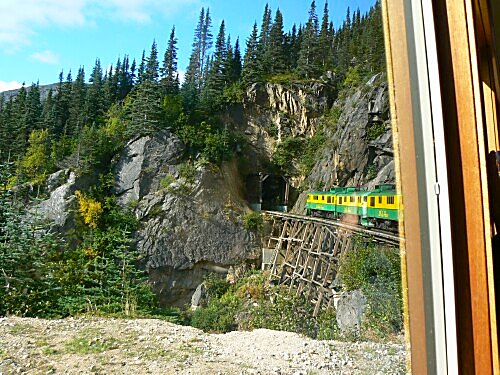 ______________________________________
I'm still trying to figure out this ad I saw on Amazon.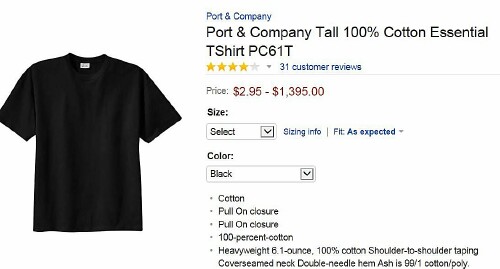 Is the $1395 for a diamond encrusted one or is this for a thousand of them. I went all through the different selections of sizes and colors and never got a price of $1395.
Finally I saw these photos on Facebook of a vinyl wrap job on an RV. Here's the before: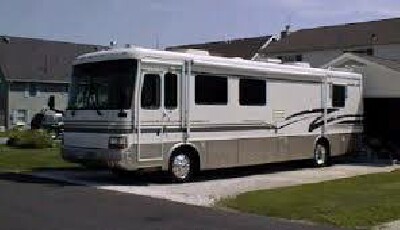 And here's the after: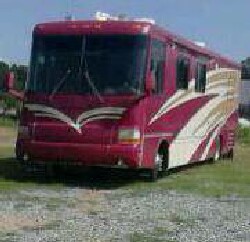 I'm not real crazy about the chosen color scheme, but I am interested in the vinyl wrap idea. I've seen it used on some of the RV upgrade shows and the cost seems to run about a third to half of what a good paint job would be, i.e. $5000 to $7000 for the vinyl.
Anyone out there have any experience with this?
_________________________________________________________________
Thought for the Day: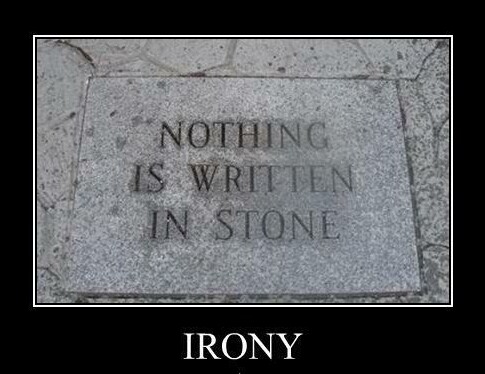 asdfadsf
Since it's supposed to rain tomorrow, we all headed out about 1pm to the Caesar Creek Flea Market right down the road. With almost 160,000 sq. ft. of indoor space, it's one of the largest flea markets in the Midwest.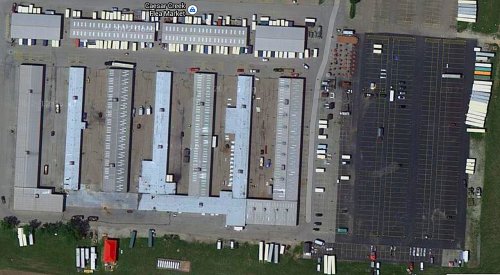 In addition, they've got over 500 outside vendor spaces too, selling your more typical flea market stuff, used bikes, dishes, crafts, and old tools.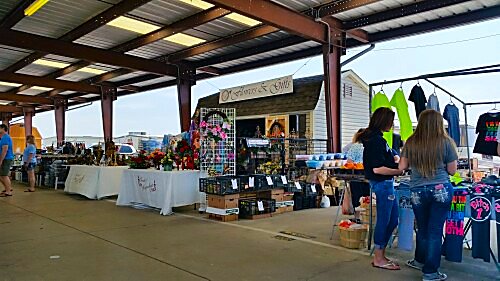 The inside vendors are more like your typical stores, with new merchandise, as well as antiques.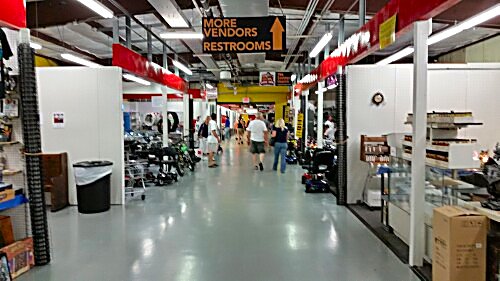 They did have one area set up with a very large Lego exhibit, showing what can be done with these little blocks.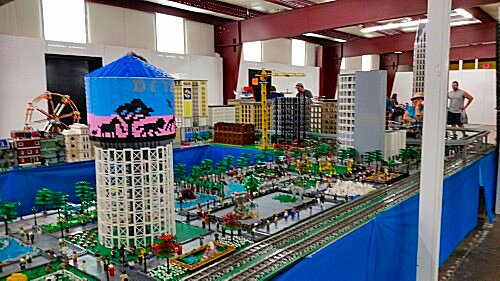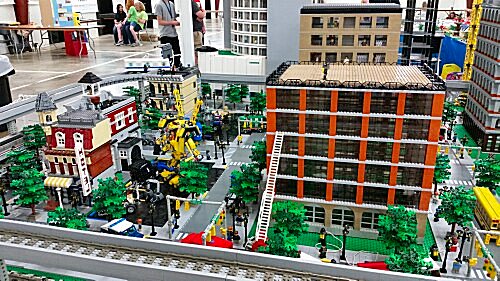 We spent about an hour checking out the outside vendors first, as a number of them were starting to pack up due to the heat, and incoming T-storms.
Then it was inside to the nice, cool AC, and row after row of pretty much everything from tires to ATV's to old books. It took us another couple of hours to  check out all the inside vendors. But after all that the only one of us that bought anything was Jan, who bought some small cars for Landon. But we had a good time even so.
Leaving the flea market and heading into Wilmington proper, we stopped by the Post Office to mail some  letters before deciding on El Dorado Mexican Restaurant for dinner.
The lady that cut Jan's hair the other day said it was really good and Yelp gave it 4-1/2 stars so we thought we'd give it a chance. And we're glad we did.
Everyone was really happy with what they had.
Jan had the Pollo Loco platter.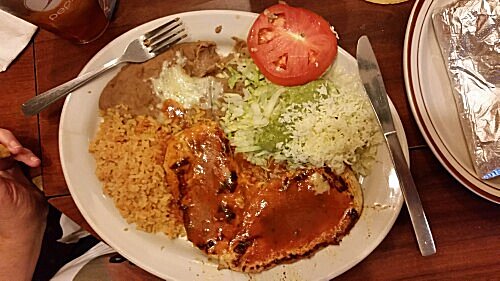 And I had the Chili Verde. My Verde (green) sauce was really good, and really spicy.
Even the chips and salsa, and the cheese dip were excellent.
FYI Here up north they call it 'cheese dip'. In Texas we call it Queso. But if they take their 'cheese dip' and put meat in it (usually chorizo), then it sudden becomes Queso Fundido. Which is the same thing we call that in Texas.
We'll go back.
Our daughter Brandi sent over this photo of a friend's two kids that came over to play with Landon. The photo's not too good  because there was too much light from the windows behind them. But I thought it was hilarious how they're playing together. Look what's propped up in from of the them.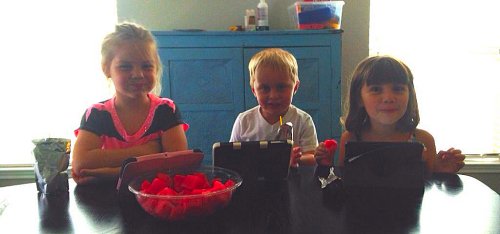 Tomorrow looks to be a stay home day with some really bad weather rolling through, leading to our next cool front Monday and Tuesday with highs in low 70's and lows in the low 50's for two or three days. Nice.
__________________________________________________________________
Thought for the Day:
"In my many years I have come to a conclusion that one useless man is a shame, two is a law firm, and three or more is a Congress." – John Adams
sfgsfg