The guy next door came over about 11 this morning to tell me that my water connection had started leaking, and since his rig was downhill from ours, it was pooling under his rig. He was very nice about it, maybe because yesterday I loaned him a 50 amp to 30 amp dog bone for his truck camper.
The sites here use a single pedestal for two side by side sites, and only have two 50 amp outlets and a 20 amp one. So why is he parked in a 50 amp site that he has to pay extra for with a truck camper with one AC and a 30 amp cord?
I don't know, but he does have an interesting camper. It's the first one I've seen that had three slides.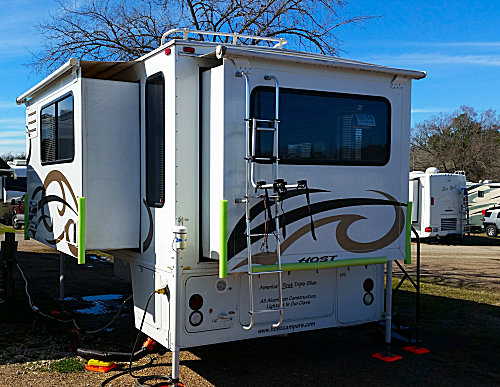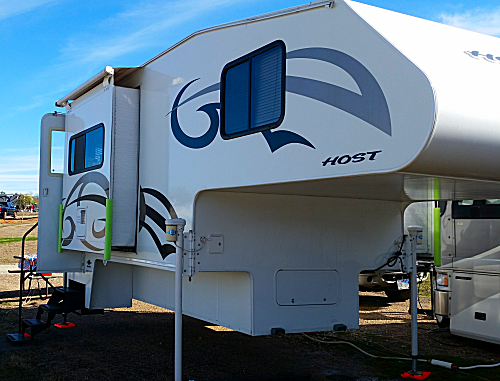 I guess in something that small, you need all the room you can get. And he's got a wife and two dogs in there with him.
Later in the morning we used our Food Saver to vacuum pack and freeze the rest of the ground beef Jan cooked up yesterday. This way it'll be already for chili or spaghetti sauce the next cold snap.
About 1:45pm Jan and I headed down to Brandi and Lowell's in Katy to spend the afternoon. We got there about 3pm, and while Jan had some Landon time, Lowell and I started in setting up his new Dell computer and monitor.
Since it came with Windows 8.1, the first thing I did was to install Classic Shell on it to make it look like Windows 7 like on his old machine. Then I put on Total Commander, a great file manager program.
Then it was Google Chrome, AVG Free, SuperAntispyware, Malwarebytes, CCleaner, Glary Utilities, Evernote, Dropbox, and LibreOffice.
One thing that I noted was that it looks like Dell may have learned their lesson about all the CrapWare™ they used to put on their new machines. This one only had two, eBay and Dropbox. And by using the Dropbox icon to sign up, Lowell got 20GB for free. And right-click delete took care of the eBay one.
I also told him that with Windows 8.1, he will be entitled to a free upgrade to Windows 10 when it comes out.
By this time it was almost 4:30, time to head right down the road to Little V's Vietnamese Bistro for dinner. On Sundays especially, you want to get there early before the place fills up. As usual, Tuyen, the owner, came out to say Hi and give us big hugs. She always sits down for few minutes and talks and plays with Landon. Very nice lady.
Getting back to the house, Lowell and I got back to work. The next thing I did was to get the computer set up on his home network. Then came the hard part, getting his computer to print to his Samsung Color Laser printer via Wi-Fi. In as long as I've been doing this, I've never had a Wi-Fi printer setup work the very first time. And what made this one really scary was that it had an 'Easy Wi-Fi Setup Wizard' program. You just know this won't go well. And it didn't.
Like most Wi-Fi printer setups, this one required the printer to be hooked by a USB cable before you can set it up wirelessly. And even though the USB setup went fine and didn't need the software CD, the CD was needed for the Wi-Fi setup
In this case, the fifth time was the charm. As I found before, you just have to keep running the setup over and over, each time getting a little further, until finally it makes it all the way though, and it works. At that point it was easy to also get his laptop talking to the printer too. I told Lowell to make a note of any problems he finds and I'd check with him later in the week.
After getting our hugs, Jan and I got on the road about 8pm, but didn't go too far, just a couple of exits down I-10 to stop off at the new El Pollo Loco. We're really glad to see them in this area. Their Citrus-Marinated Grilled Chicken is fantastic, and the sides are really good too.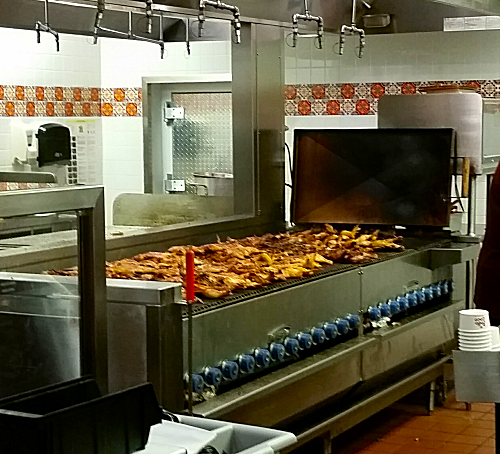 We got three 3 piece white dinners with two sides each. For some reason they will not sell just chicken, white meat only. They only sell bulk chicken in dark, or mixed. But you can buy as many 3 piece white meat dinners as you want, and the price is not that much different. Strange.
We'll split one of the meals tomorrow, and vacuum seal the rest for later.
Before we got back on the road, we stopped at a nearby Starbucks to get a couple of our new favorite Chestnut Praline Lattes for the road. But to our horror and dismay, Chestnut Praline turns out to have been a seasonal flavor so we had to settle for our old favorite, Cinnamon Dolce Lattes. Bummer!
But Cinnamon Dolce was a seasonal flavor when it first came out too, so maybe there's hope for Chestnut Praline too.
__________________________________________________________________
Thought for the Day:
"The behavior of any bureaucratic organization can best be understood by assuming that it is controlled by a secret cabal of its enemies." – Robert Conquest
sfgsfdg
Well, as was forecast, it was sunny, dry, and 61 degrees today. Nice for a change.
About 3pm I set Jan up outside at the picnic table with a power cord so she could use the electric skillet to cook up the 4# of hamburger we got at Wal-Mart yesterday. We try to never cook anything like that in the coach since it really seems to get into the fabrics. Our ceiling is carpeted and the perfect medium to hold the smell. And the vent fan on the microwave doesn't seem to help much.
I regularly see people cooking things like bacon outside, I guess for the same reason, since they don't eat outside, but go back in their coach.
Later in the afternoon, I went outside to turn off the water so I could change out the shower faucet cartridge. Pulling it out proved to be more difficult than I figured. I used the puller to get it loose, but it would only come out about an inch and a half and then stop. I finally grabbed the handle with a pair of pliers and twisted it as I pulled, and it finally came out.
But it left large chunks of the rubber parts inside. Here the new and old cartridges.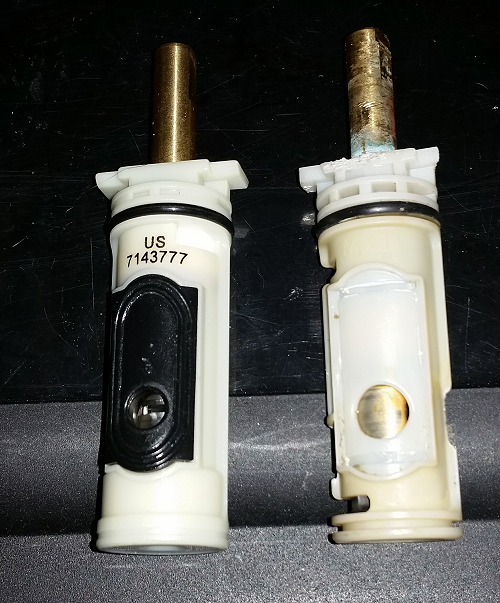 There are two slots located at 9 o'clock and 3 o'clock inside the faucet body where the hot and cold enters the faucet, and they were now stopped up with the pieces of rubber missing from the cartridge. But I was not able to get the pieces out with anything I had. I needed something with a sharp hook on the end.
So finally I drove down to Lowe's and bought a set of picks like this.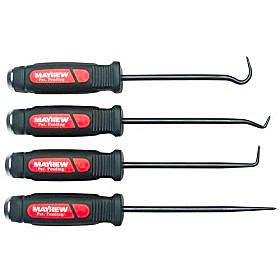 With the right tools it just took me a couple of minutes to get the pieces out.
Next I coated the rubber parts of the new cartridge with silicone grease and slid it into the faucet, but when I tried to insert the retaining clip, I found it wouldn't go all the way in. I played with it a good while but finally ran out of time when supper was ready.
The faucet is working and I was able to turn the water back on, but because the retaining clip is sticking up, I can't put the escutcheon ring back on. This means the handle does not hit the stops so you can rotate it continuously around and around. I'll have to figure out the problem later. But it's almost fixed.
Jan used part of the hamburger she cooked for tonight's dinner of delicious Hamburger Mac, and we'll vacuum seal and freeze the rest of it for later.
Tomorrow, we're going down to Brandi and Lowell's in Katy to pick up our mail, help Lowell set up his new computer, and, of course, have dinner at Little V's Vietnamese Bistro.
Looking forward to it.
__________________________________________________________________
Thought for the Day:
The best index to a person's character is (a) how he treats people who can't do him any good, and (b) how he treats people who can't fight back. — Abigail van Buren
asdfadf