We had a blistering 11 vehicles through the gate today, and three of them were repeats. And of those eight, one of them was the landowner. But we did have one driver show up with a load of pipe about 8pm. Said he was sorry he was running late, and he'd be back tomorrow with more.
I'm not sure how long we can keep up this torrid pace.
But we did pick up a lot of new info (rumors?).
Cudd Energy Services is the name of the company that will be moving over from Louisiana and doing our frack. Supposedly they will start moving in the frack equipment the middle of next week, and start fracking next Monday, the 14th.
The guys came in with the big hose reels today and ran hose from the frack pond down to the site. It's amazing how far they will run these hoses to get water. I've seen them running for miles along the highway down in south Texas.
A number of our regulars are getting a four day weekend and won't be back to work until Tuesday, the day after Labor Day. They're working 40 hour weeks to hold down costs, so with 12 hour plus days, they're done today for the week.
But it looks like we won't be completely shutdown this weekend since a few have confirmed they will be working. Darn It!
I noticed my sewer connection into our trailer septic tank was leaking gray water while Jan was doing laundry. Turns out that one of the 3 lugs had broken off the elbow connector that normally goes into the park sewer.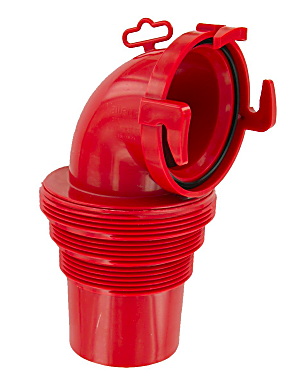 The application of a little Gorilla Tape took temporary care of the problem. I'll try to get a new one tomorrow at the Wal-Mart in Carthage. This is only the second one I've had in 8 years so they're lasting pretty well.
I came across something today that almost makes me want to go back to Canada. It's the CN Tower EdgeWalk in Toronto. For about $150 you can put on a harness and walk around the top of the restaurant on the CN Tower, 1168 feet above the ground.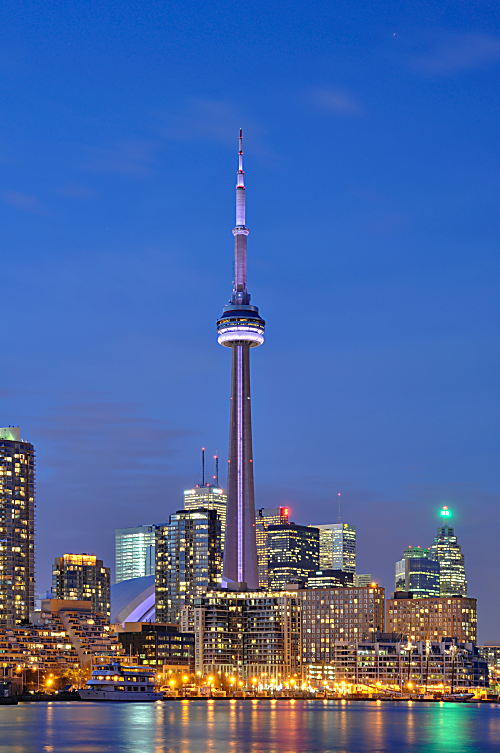 You can literally 'hangout' while you're up there.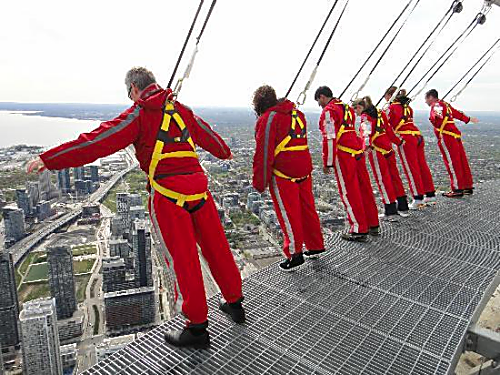 You can also propose,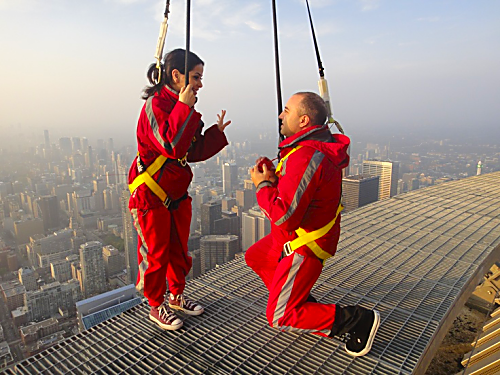 or even get marriage.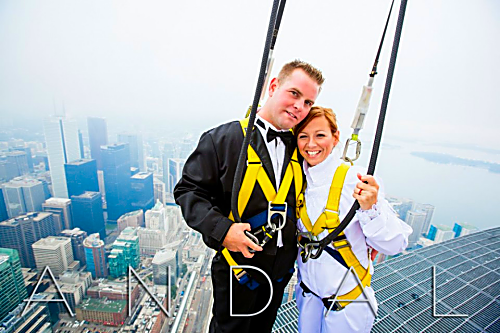 Even supermodel Kate Upton and her boyfriend did it.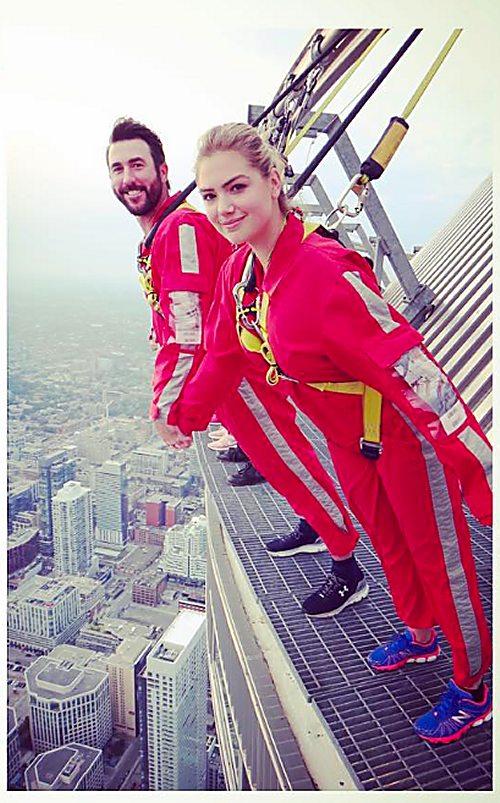 You remember Kate Upton from those Game of War TV ads, don't you.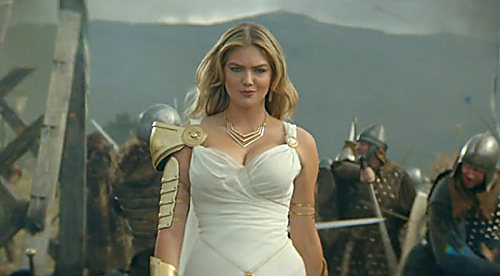 At least I guess that's what you should remember her for.
________________________________________________________
Thought for the Day:
April Fools Day is the one day of the year that people critically evaluate news articles before accepting them as true.
asdfasdf
Well, that's what it's turned out to be the last few days. The last truck leaves before 6pm, and the first one doesn't come in until after 7pm. But during the day we're pretty busy, actually a little busier than when we were going 24 hours.
Monday was our busiest day so far with 41 vehicles coming in, but then Tuesday was our slowest day with only 21. The difference being that Monday we had two crews here, the ones that had been working this past week and were finishing up, and the new crew that was coming in to do their thing. And Tuesday looked to be just the new crew.
Today was back up to 32, but a lot of that was just the same guys going in and out, bringing equipment, including a number of fluid trailers. We're still hearing the frack will start sometime next week, but that's only a rumor. So we'll just have to wait and see.
Although it may seem strange, even with no nighttime traffic I'm still staying outside all night just like my normal schedule. One, it's nice out here, and two, with the frack starting up soon, I don't want to get off my sleep cycle and then have to get back on it when we get 24 hour busy again.
Both our new AC's are still working well, the new Coleman 15K on the roof, and the window unit that we're using under canopy outside. With the low 90's temps we've been having, neither one is having to work very hard.
The last couple of days we've had power line people in here working on the high-voltage lines that are just off to our side.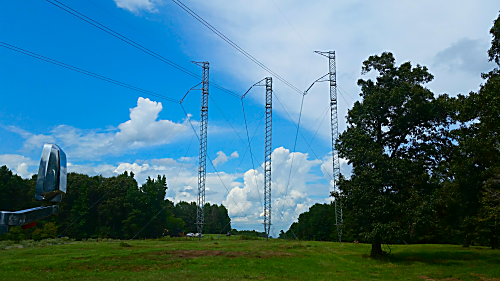 They've painting some of the towers and spraying weed-killer around the tower bases and along the fence lines. These lines are probably 200,000 volts or more, and could be as much as 800,000. I was told they come from a power plant north of here and run all the way to Houston, and that's over 180 miles.
At every gate guard site we've had for the last four years, we had coyotes in the area. It always seems that around 3 in the morning, different groups start yipping at each other, kind of a bark, that goes back and forth. Don't know if it's a wakeup call, or maybe just checking in to see what the other group caught and killed for dinner last night.
But out of all these times I've heard them, last night was the first time I've ever heard the stereotypical coyote howl, the one that goes with the picture of the coyote on the top of a mesa howling at the moon.
And it does send shivers down your spine.
________________________________________________________
Thought for the Day:
Golf is probably the only game that the less of it you play, the better you are at it.
asdfadsf