After our coffee this morning, we met Todd at the nearby McDonald's at 11am to go over the job and the requirements. It was also kind of a 'get to know each together' for all of us. After about 90 minutes, we parted ways, taking our employment packets with us.
Our first stop was a nearby carwash to try and get some of the mud off the truck. It was a so-so job and got about 90% of it off, but I'll probably need to redo it with my pressure washer to finish up.
Todd had recommended RJ's Burgers in downtown Kenedy. It's often said that the best burgers are found in dumpy-looking places.
For example, here is Stomp's down in Kemah, TX, with our favorite burgers in the Clear Lake area.

And then there's Coyote Bluff in Amarillo, also at the top of our Best Burgers List.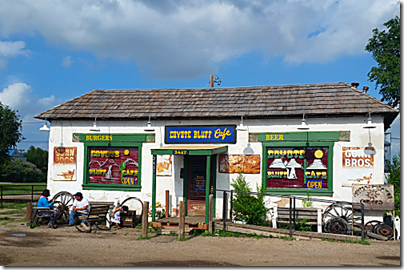 And now there's a new entry on our list – RJ's Burgers in Kenedy, TX.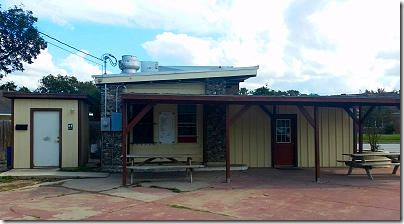 Here's Jan's Cheddar Mushroom Burger.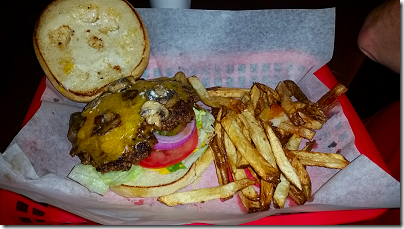 These are large burgers on 5" buns, with hand-formed 8 oz burgers and hand-cut fries. And the scary part is that according to their menu, you can get this as a double, or even a TRIPLE! That's a pound and a half of burger meat. WOW!
You're getting into Heart Attack Grill territory with that one.
I got the Grilled Ribeye Sandwich, with an 8 oz Ribeye, charred around the edges and medium-rare inside. And like the fries, their onion rings are hand-sliced and battered.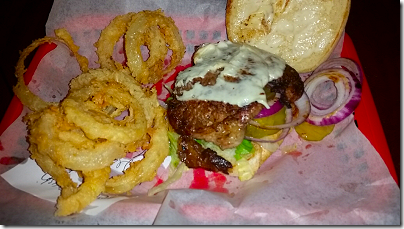 And for a small place, they've got a pretty extensive menu.
If there's a down side to the place, it's that they're only open from 10am to 3pm, Monday through Friday. Bummer!
Finishing up we headed over to the Karnes County Courthouse in Karnes City to get our DBA from the County Clerk's office. But as it turns out, the courthouse is shut down for a complete rebuilding / remodeling and the courthouse offices are scattered all over town. We had to make 4 stops to complete the paperwork.
Finally finishing up and heading toward home, we took a detour out on FM-2102 to check out the location of the Marathon Oil Company facility in this area.
We have to take their Orientation class tomorrow, or wait until next Friday when it's given again. Everyone has to take the class now before you can work at a Marathon site, another thing that's changes since we last worked for them in 2012.
Getting back to the rig, I spent the rest of the evening fighting my way through the online Security Guard license stuff. Looks like we won't have to redo the fingerprints again, so that's good.
Tomorrow we'll try to wrap the bank account stuff before we do the Marathon class.
Then it's just wait and see.
---
Thought for the Day:
If you have an apple and I have an apple and we exchange apples then you and I will still each have one apple. But if you have an idea and I have one idea and we exchange these ideas, then each of us will have two ideas. – George B. Shaw
asdfasdf
Today being a travel day, Jan was up about 7:30 while I slept in until 8:30. Since I always get my shower at night, this gives Jan time to get her shower and then get dressed.
While Jan got the Bacon, Egg, and Cheese Biscuits ready, I started the coffee and then went outside to stow some more things away.
It had been foggy earlier and the dew was on everything, including this spider web covered in dew drops.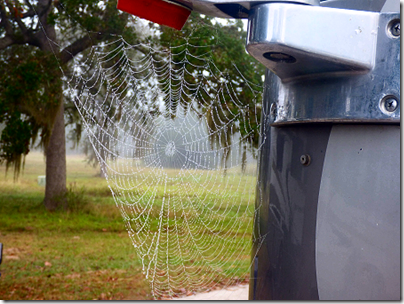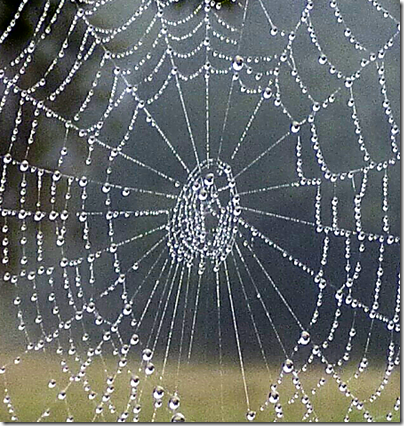 Pretty neat!
We were hooked up and on our way a little after 11. Friend and Park Ranger Barbara Spade even got a picture of us hitching up before we headed out.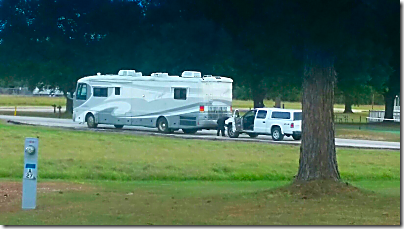 Our first stop was at the halfway point, which turned out to the Buc-ee's near Luling for kolache's for lunch, and Cranberry Nut Muffins for breakfast tomorrow. Oh, and also a large Coffee / Cinnamon Bus / English Toffee Cappuccino for me and a small Coffee / Pumpkin Spice Cappuccino for Jan.
Then a few miles past Luling, we turned south on SR 80 for the last 60 or so miles. I was actually going a few miles out of the way to make a diesel stop at the Stripes Truck Stop coming into Karnes City, rather than cutting directly over to Kenedy.
The trip down SR 80 was smooth and scenic . . . until we got to the last 20 miles or so. Which consisted of two 10 mile long one lane sections. We had to wait for a pilot truck to lead us through each 10 mile stretch, but that wasn't the real problem.
That was the fact that that had the pavement completely torn up for repaving, and we were just driving on dirt and gravel. And because they were watering the dirt and gravel to keep the dust down, we arrived at the Lone Star RV Park #2 covered in a hard coating of brown mud.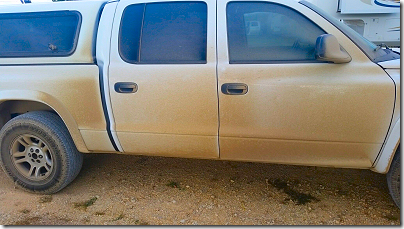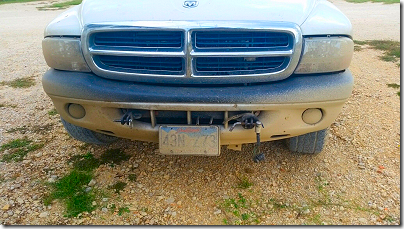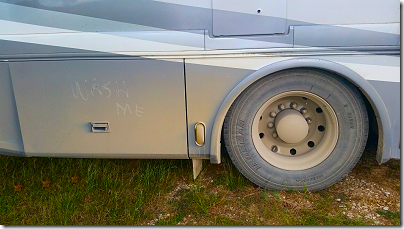 I wanted to top off our tank before we parked for several months, and Gas Buddy said that Stripes had diesel for $1.96 a gallon, noticeably less than the $2.08 – $2.09 at the nearby stations.
I checked Gas Buddy again this morning and it was still $1.96 this morning as well. But when we got there about 1:30, it was now $2.08, but I was there so I filled up.
But to further rub my nose in it, when we actually got in Kenedy, the HEB had diesel for $1.94, and Gas Buddy didn't even list it at all.
Some Buddy!
After we got parked, I called Nancy Christian, the park owner, to let her know we were here and what site we were in. Then a couple of hours later she showed up at the rig to 'officially' welcome us and give us a folder with all the park info.
She said to see how things are going to work out and then we'll settle up. According to the info packet, the rate is $500 per month which includes electric, Wi-Fi, DirecTV cable with HBO, and a free laundromat.
Not bad at all.
After supper I emailed Todd to let him know we were here and ready to go. He said we'll get together tomorrow for an hour or so at the local McDonald's to go over things.

So hopefully we'll be up and running soon.
---
Thought for the Day:
"I apprehend no danger to our country from a foreign foe. Our destruction, should it come at all, will be from another quarter. From the inattention of the people to the concerns of their government, from their carelessness and negligence, I must confess that I do apprehend some danger.
I fear that they may place too implicit a confidence in their public servants, and fail properly to scrutinize their conduct; that in this way they may be made the dupes of designing men, and become the instruments of their own undoing.
Make them intelligent, and they will be vigilant; give them the means of detecting the wrong, and they will apply the remedy." ― Daniel Webster
fgsdfgf