or RV'er either, for that matter.
---
---
But at least we're home.
We left Lowell and Brandi's this morning after Jan's 12 day stay and my 11 day one. heading back over to Big Wheel Diesel & Wrecker in Hammond, LA to pick up our RV and get back on the road.
With two of us we were able to take the Katy HOV lanes right into Houston until everything came to a sudden stop around the I-45 exits.
As best I can figure all of the folks in the left two lanes wanted to be in the right two lanes, and all of the folks in the right two lanes wanted to be in the left two lanes. Now you would think that all these folks could have gotten together and worked this out ahead of time. But no, they were going to fight it out right there on the spot.
Which left those of us who just wanted to go straight up the middle pretty much casualties of the scuffle.
---
---
But finally getting though, we made a gas/breakfast/bathroom stop at the Buc-ee's in Katy before getting back on I-10 east,
We stopped at the Pilot/Flying J in Breaux Bridge for lunch at Arby's and met another RV'ing couple who were there with an 80's vintage Airstream they're rehabilitating.
Finally getting into Hammond about 4:30, our first stop was a nearby Chase bank to take out $1900 in cash to paid the tab. They told me on the phone that they charge a 3% surcharge for credit/debit cards, this on top of the 10% sale tax. I'm already giving these people enough of our money without throwing another $57 at them.
Arriving at Big Wheel, I gave them a lot of money and then waited for them to bring the RV around so I could hitch up the truck and we could get on the way.
Turns out that you can have plenty of propane to keep your fridge running for two weeks, but only if some idiot doesn't hit the coach battery disconnect and turn off all 12 volts to the coach, including the fridge.
---
---
A lot of people don't realize that when your fridge is on propane, it also needs 12 volts for the electrical part of things. Obviously no one at Big Wheel did.
When I got in the rig it was 100° so I tried to turn on the ceiling fans to start cooling down the rig while I got the generator running to get the AC's going. But the fans wouldn't work, and the generator wouldn't start, wouldn't even crank. Turning to look at my voltmeter I had no 12 volts in the coach, even with the engine running.
My first thought was that they had disconnected the coach batteries while they working on the coach, but when I asked they had just used the battery disconnect switch by the door. For some reason I didn't even think of the switch. Hot and tired, I guess.
It was only after everyone was gone, (they close at 5pm) that I thought to check the fridge. Yep, totally defrosted, with the thermometer showing 82 degrees inside.
Damn!
But at least in seems like nothing has rotted inside.
Pulling out of the Big Wheel lot about 5:15 we were quickly back on I-10 west, heading for Breaux Bridge and Poche's RV Park, about 95 miles away. The coach ran great, with no overheating, and no problems with the power steering. So it looks like at least that problem has been fixed.
We pulled into Poche's about 7pm, and pretty much just plugged in power and water, and collapsed.
It has been a very long, hot day.
Tomorrow we've got a 270 mile run to the Lake Conroe Thousand Trails where we'll be for nine days. We'll probably just sleep the first two.
---

Thought for the Day:
I think I'm hot and tired.
fghsdfgf
Cue the Beach Boys.
---
---
Back at the client's this morning, I concentrated on getting full access to the webserver. And to do that I had to figure out how the other IT guy was getting from his personal computer into the webserver, which is a Linux machine, not Windows.
Normally you use a program called PUTTY to telnet into the other computer, but it wasn't installed on his machine, so I went looking for OpenSSH, another popular ssh program, but no luck there either. Of course I could have just installed PUTTY or OpenSSH and used them, but I figured that whatever program he was using would have the IP address and ports already entered.
And finally I found it – TightVNC. And there was the needed info – 192.168.1.200::5901. Now to figure out the password.
I had found various passwords scribbled on Post-It's around his office, and started with some of those. But I quickly ran into a problem. He had the security protocols turned on, so after three wrong passwords the system would lock me out for a while.
So I had to get smarter. I had noticed that there was a lot of references to 409, the song by the Beach Boys, and I knew the password had seven characters (the system wasn't masking the password length) so I started trying variations on this theme – and the second try – 'fine409' hit paydirt.
Now although I was into the the webserver, I still didn't have root access, so it back to my password list. And in this case the fifth try was the charm, and I was in with SuperUser access. And that wrapped it up for today.
Now I can work on it remotely from home.
---
---
Tomorrow morning we'll head for Hammond LA about 350 miles away to pick up our RV from Big Wheel Towing and Diesel. The last time I saw 'Beauty' she was parked forlornly at the side of the big lot there a week and a half ago. So it will be good to get back to our 'home'.
I know Karma will be glad to get back as well, since for the last almost two weeks, her entire world has been our bedroom here at Brandi's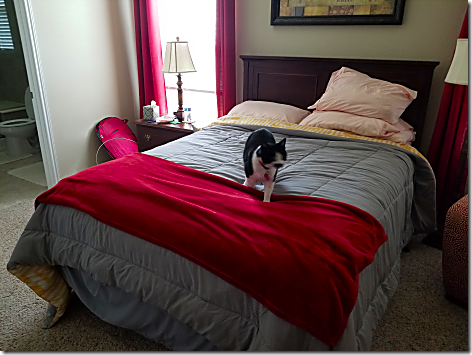 With two big dogs, Kitty and Baxter, and two other cats in the house, we decided to keep her out of the fray. But I should have brought a couple of her toys with me when I brought her with me. She's been really bored.
I would like to leave earlier than 9am, but that would put us in the middle of downtown Houston traffic during rush hour. So we should get to Hammond about 3pm, and hopefully on the road back to Breaux Bridge, and Poche's RV Park by 4pm.
---
---
Then on Friday we were scheduled to come on back to Lake Conroe TT for two days before moving over to Colorado River for two weeks. But this evening I changed our schedule to where we stay nine days at Lake Conroe, a week at Colorado River, and then back on our two week schedule at Lake Conroe.
---

Thought for the Day:
"Every record has been destroyed or falsified, every book rewritten, every picture has been repainted, every statue and street building has been renamed, every date has been altered. And the process is continuing day by day and minute by minute. History has stopped. Nothing exists except an endless present in which the Party is always right." — George Orwell, '1984'
gfhdfghg