Please remember, Our RV Adventures is an Amazon affiliate. When you do your Holiday shopping through any of the Amazon links here, including the Search Amazon box in the right sidebar, it won't cost you any more, but we'll get a small commission on everything you buy. Just click on the Amazon link, then shop as usual. Thanks.
Plus, many of you are sharing our blog with others using the "Share this:" buttons at the bottom of each blog. Again, Thanks.
---
---
My new toy, my Harbor Freight Circuit Detector, worked perfectly this morning, finding the correct circuit breaker in about 15 seconds.
I just plugged the small transmitter into the plug strip, and seeing the light was on, went to the circuit breaker panel and ran the detector down one side of the breaker row and back up the other side. And then did it again.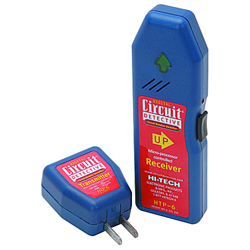 As the directions said, the first trip up and down gave me a couple of false beeps, but the second loop narrowed it down to one particular breaker. So crossing my fingers, I flipped the breaker and went back in to check the power strip. And finding the light on the transmitter light off and everything else still on, I had my separate power outlet and was now clear to move the server.
After being sure that no one in-house was logged in, and no users were in the shopping cart, I shut down the server and unplugged everything.. First thing I moved was the UPS (Uninterruptible Power Supply) and got it plugged in to the AC power. Then the server followed and 5 minutes later it was back up and online.
At this point I started scrounging up a monitor, keyboard, and mouse for the server so I don't have to keep switching them back and forth.
---
---
While I was letting it all settle in, I drove down to the nearby O'Reilly's Auto Parts to pick up the parts for a front brake job for our truck. Two new rotors, and a set of pads ran me about $160.
I don't worry about having the rotors turned down. I just replace them every other pad change. It's worked great for 267,000 miles so far. And lucky for me I have a son who's really good at this stuff, so we're going over to his house tomorrow afternoon and let him take care of it while I supervise.
When we were in Krogers the other day, I came across this new flavor of Lay's Potato Chips.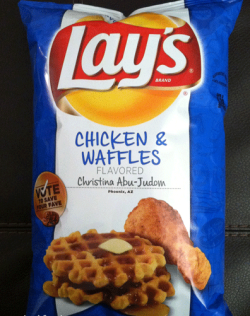 Really? Chicken and Waffles?
What's next? Liver and Onions?
And there's more.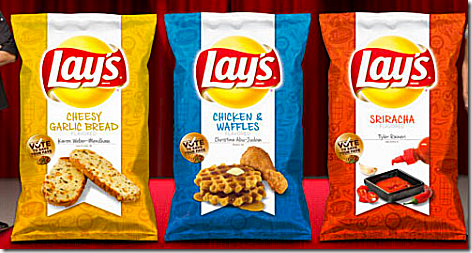 OK, I'll give you Sriracha. But Cheesy Garlic Bread?
We're bordering on heresy here.
---
---
The Word of the Day is: Esemplastic
---

Thought for the Day:
If men were angels, no government would be necessary," – James Madison
fghdgh
I got several comments about the "Support Pig" in yesterday's blog. What's next, Support Pythons, Support Piranha?
---
---
From the size, I guess it's probably a Vietnamese Pot-Bellied Pig, but even in pygmy size it probably weighs around 100 pounds. So I guess she must be pretty fit to sling it over her shoulder and stalk off down the aisle like that.
During the late 80's, at the peak of the Pot-Bellied Pig craze, the story was that pig farmers in California would set up road-side stands selling baby Pot-Bellied piglets for $1000 a porker.
But it turns out that they weren't really PBP's, but just plain, ordinary pigs. So six months or so later, they had a 500# sow in their living room. So you go from this little cutie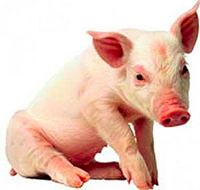 to this.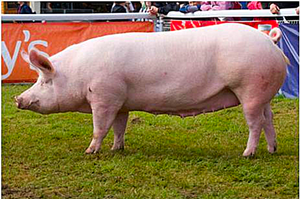 Seems it's time for a BBQ!
---
---
I guess I'm running behind the times since several blog readers commented that their recent credit cards have all been numberless on the front like my new PayPal card. But the new Chase Band card that I just got a month or so ago, still has the numbers of the front. So maybe I'm not the only one falling behind.
About 10:45 Jan and I headed up Hwy 6 to the Pearland area to visit our long-time friend Bonnie. Jan and Bonnie used to work together in the same hospital years ago and have kept in touch ever since. On our way we stopped off at the nearby Jason's Deli to pick up lunch for us all.
While we were there, I got a call from my client that they were having some email problems, so when we left Bonnie's about 3pm, we drove over to Clear Lake to stop in. Once there I rebooted the server and waited for everything to come back up.
And it didn't.
No websites, no email, no nothing.
Oh, crap!
So crossing my fingers, I rebooted again. And this time everything came back.
Whew!
I've got to get rid of this thing. So back at it tomorrow morning.
---
---
The Word of the Day is: Claque
---
Thought for the Day:


"As a society, we rediscover that the value of a right is not in what it hides, but in what it protects."
fgsdfgdg