Looks like that after we get settled in, I going to have to set up my Wilson Cell Phone Booster.
When we were parked down on the pad, we had one bar of 4G, that cycled back and forth through 1X and 3G as well. But I was hoping that when we moved up to the top of the hill things would improve.
And they did. I now had 3 bars of solid 4G. But unfortunately my internet performance didn't improve.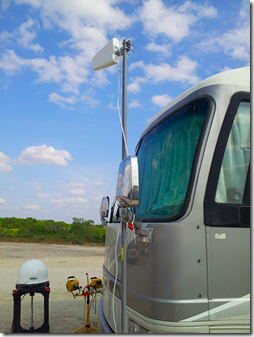 I haven't had to use my booster for several years since we've usually been in an area with a good signal. But it looks like it's time to pull it back out of storage.
Our Hawkwood Company Man came by this morning, a little before I got up, so Jan got to talk to him, and got a lot of good information
But first off, he wanted us to move our truck onto the pad. We had parked on the grass right across the road from us, but he said that was really on the landowner's side, so he made a spot for us at the end of one of the trailers right inside the gate.
He also said they hoped to spud in on Friday, so we'll start logging then I guess. And even better, he had no problem with us taking off today to head over to Bryan/College Station this afternoon.
So we headed out about 1pm, having to thread our way out between the incoming big trucks. Our first stop was about a 1/4 mile down the road at the combination convenience store/Blue Moon BBQ, our gate's namesake.
We wanted to get gas for the truck, and also a menu from Blue Moon. The menu part went fine, but the gas part didn't. The pumps, such as they were, were the old type with the analog rotating dials. And they obviously didn't work.
So we headed on toward B/CS stopping at the Exxon station about 8 miles for our gas and also another menu, this time as a photo.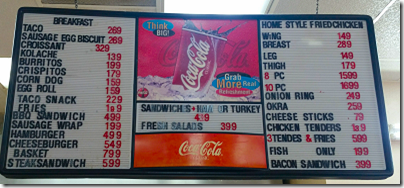 We'll probably try them out soon.
Our first stop in B/CS was the Saltgrass Steakhouse for what may be our last meal out for 3 months or so. And it was its usual really good.
Jan got their regular salad, while I went with my favorite, their Wedge Salad.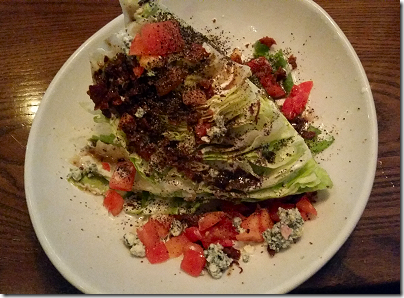 Jan got her favorite Sirloin Strip, while I got my usual Ribeye with Steak Fries.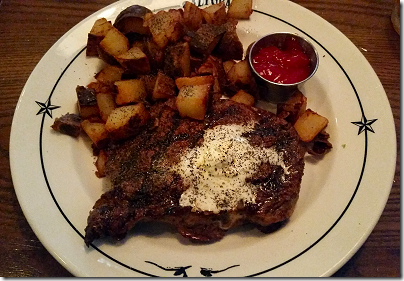 We had a nice leisurely lunch, really enjoying our temporary freedom.
Our next stop was a carwash to get the dirt and grime off, at least for a while, and then it was on to Wal-Mart to stock up for the week or so, before I have to make the trip back over here.
We got back to the rig about 5:30, and while we were unloading, the landowner, Tony, came by in his ATV. He and his daughter Addison were going to feed their horses and stopped by to say Hi and introduce himself. Seems like a real nice guy.
They still haven't gotten the derrick up yet but they're getting close. In fact they were still working at about 8pm tonight.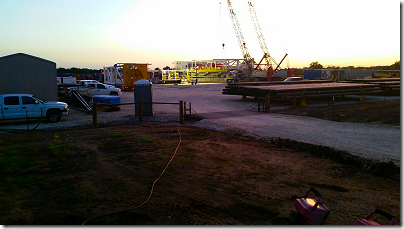 Tomorrow I'm going to try to finish getting our canopy up and get us ready to go on Friday.

---
Thought for the Day:
"Who controls the past controls the future. Who controls the present controls the past."
adfadfa
We give all our gates a name, and since we're right down the road from the Blue Moon BBQ, we're now officially at the Blue Moon Gate.
Jan and I were up at 6:30 this morning, to get be ready when Jamie got here with our sewer trailer.
Of course Jamie didn't get here until about 8, but that gave us time for coffee and breakfast bread, so it all worked out. Jamie parked the trailer at the end of the pad, actually off the end, to allow more room to park the generator trailer behind it.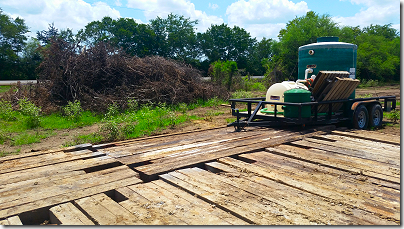 Getting a closer look at the mat shows why it can support semi trucks.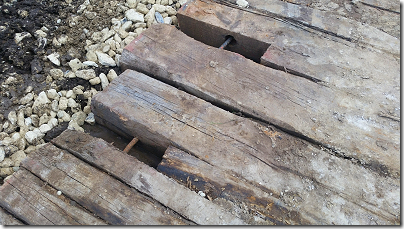 Speaking of trucks, they started rolling in early, enough so that our big pad got a lot more crowded.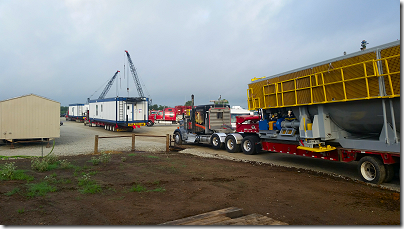 As the day progressed they made a lot of progress laying down the metal plates that they build the rig on.
Then when the time comes, they oil them up and use two big cranes to drag the entire derrick over to the next hole.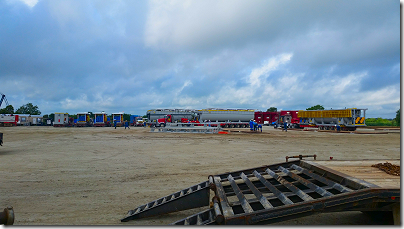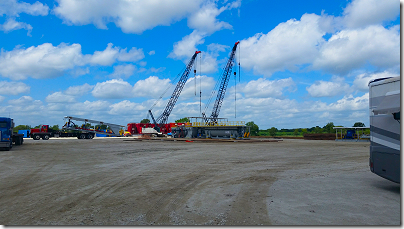 And since they're doing three holes here, we get to see them do it twice. And maybe even better, when they did this on a Marathon/H&P rig we were following in 2012, we got a couple of days off. So we hope that holds true here too.
Before Jamie left this morning, heading over to see Dick and Judy Mott, we decided that he would come back early (6:30 am early) tomorrow morning to move our generator trailer into place, and then we would follow with the coach. By doing it this early we were hoping to avoid blocking the trucks coming in and going out.
But about 2pm, there was a knock at the door and they wanted us to move now. When I said we normally don't log trucks in and out during rigging up and rigging down, and that we planned to move tomorrow morning, the guy laughed and said he didn't care about logging. He just wanted us out of his yard because he needed to stack stuff where our rig was parked. Maybe they're running out of room because they're already stocking up on drill pipe, and they don't even have the rig up yet.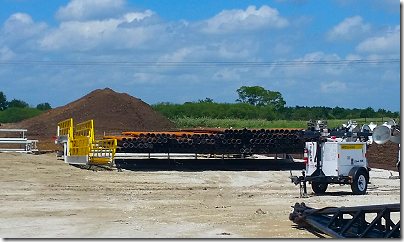 So I got on the phone to Jamie to see if he could come back over this afternoon to get us moved. Luckily he wasn't too far away, and said he'd be here in about an hour.

While he hooked up to our generator trailer, I started our onboard generator to keep the AC's going while we got moved over to the pad.
It took a little jockeying, but we finally got on the pad and parked. We parked as close as we could to the trailers, allowing just enough room to open the slide. This gave us the maximum amount of space on the mat to set up on.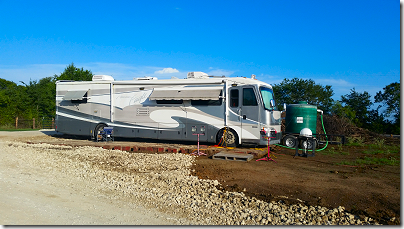 Right now it looks like they may be ready for us to start logging sometime Thursday, maybe. If so, we plan on going into Bryan/College Station for dinner and some supplies from Wal-Mart.
Hopefully it will work out.
---
Thought for the Day:
Think space is empty. This shows all the satellites in orbit around the Earth. And there's more going up every day.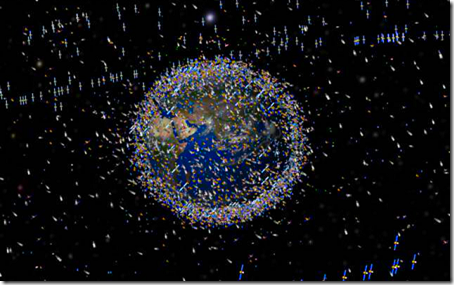 asdfasdfa