Please remember, Our RV Adventures is an Amazon affiliate. When you do your Christmas shopping through any of the Amazon links here, including the Search Amazon box in the right sidebar, it won't cost you any more, but we'll get a small commission on everything you buy. Just click on the Amazon link, then shop as usual. Thanks.
Plus, many of you are sharing our blog with others using the "Share this:" buttons at the bottom of each blog. Again, Thanks.

---
---
Jan was in Happy Homemaker mode this morning, so she whipped up a a loaf of Cranberry Orange Nut Bread, made with fresh cranberries.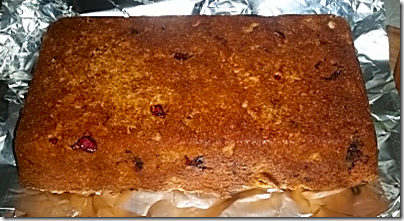 Unfortunately it wasn't quite cool and ready to try before it was time to leave for our San Antonio day trip. So we were on the road about 11am with our first stop the Tuesday Morning in the Olmos area of town.
It only took Jan about 10 minutes to find 4 boxes of high-end cards, a total of 60, that were originally priced at $20 a box, so $80 of cards for only $25. Nice.
Then it was back down south to the City Base area to the Sam's Club for my prescription and a couple of other things. Unfortunately I wasn't able to use the new Scan & Go app that I talked about yesterday. Since I checked out at the pharmacy, I just let them handle the other two items as well. Maybe next time.
Then it was a couple of miles down the road to the theater to see Dr. Strange, the latest in the Marvel Universe pantheon of superhero movies. Although I guess you can't really call Dr. Strange a 'superhero'.

---
---
His backstory is a little different from the typical superhero one – you know, born on another planet, bitten by a radioactive spider, really a Norse god, or maybe given a lantern by a dying alien, all the normal ways to gain superpowers.
No, Dr. Steven Strange was a world-renowned, but arrogant and egotistical, neurosurgeon whose hands were seriously injured in a car accident. As a result he can no longer do surgery. So after exhausting the range of Western medicine, he journeys to Nepal to seek out an ancient sorceress to heal him. Instead he becomes a master sorcerer himself and resolves to spend his life making up for his past.
The casting of Benedict Cumberbatch as Dr. Strange is an almost perfect match to the comic book version that I remember from the 60's.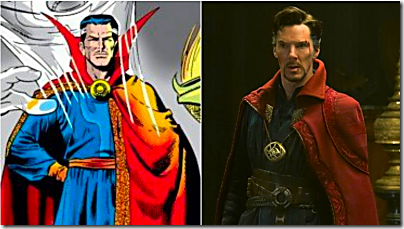 Although not nearly as cerebral as Arrival , the sci-fi movie we saw a couple of days ago, it was fun and added a new link to the ongoing story line in the Avengers' movies and TV series. Well recommended if you're into this kind of movie.
It seems like most sci-fi movies, and Marvel movies in particular, have extra scenes during the credits, scenes that usually add a lead-in to the next movie, and sometimes the whole over-arcing Marvel story line. And the RunPee app always gives us the info on these extra scenes.
Since this movie's been out for over a month, there were only about 10 people in the theater, and most of them stayed for the first extra scene in the middle of the credits, but only Jan and I, and two others, stayed for the second one at the end of the credits. When I see people leaving early like this, I'm always tempted to yell out that there's more, and I have done it a couple of times in the past, but not this time.

---
---
After the movie, our last stop was the nearby Cracker Barrel for their Thursday Turkey and Dressing. Just as good as always.
Then it was back on the road, heading home, getting back to the rig about 6:30.
A very nice day.
---
Thought for the Day:
"Some men are born mediocre, some men achieve mediocrity, and some men have mediocrity thrust upon them." ― Joseph Heller
fsfgsdfg
With today's cold, gloomy weather, it seemed to be the perfect day for some comfort food.

---
---
And the go-to place for comfort food in the Kenedy area, besides Jan's kitchen, is of course, Barth's Restaurant. And what is more comforting than Chicken & Dumplings, Hamburger Steak with Gravy, Mashed Potatoes, and Glazed Carrots.
And amazingly enough, that was exactly what Barth's was serving today.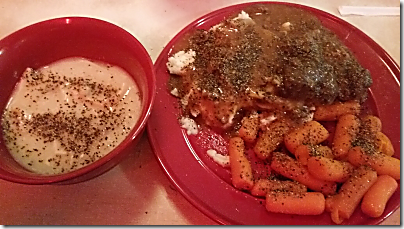 Jan and I both like to put our Hamburger Steak and Gravy on top of a mound of mashed potatoes.
One thing that make's Barth's so good is that their cooks really know their way around the spice cabinet. For example the glazed carrots weren't overly sweet, or using that fake maple syrup taste that Golden Corral is so fond of, but just perfect, with a hint of orange zest.
Of course as you can tell from the photo, no matter how perfectly seasoned it is, it always needs more pepper for me.
Today's menu at Barth's marks us having six of their seven daily menus, leaving only Thursday's Fried Pork Chops and Meatloaf. Looking forward to it.
But not tomorrow.

---
---
Then after a quick stop at Wal-Mart for a few things, plus some toy aisle strolling for Landon ideas, we headed back home for the day.
Tomorrow is another San Antonio trip for cards, drugs, a movie, and Turkey . . . and Dressing, or course.
Our first stop will be Tuesday Morning for our Christmas cards. Jan has been buying our cards there for years since she discovered that they have really high-end cards for cheap prices. Of course they're last year's leftover unsold cards, but they're not dated, so who would know.
Next stop will be Sam's Club for that $10 prescription that would be $56 at the Kenedy Wal-Mart, actually the whole reason for this trip.
BTW Sam's has a new app for you. It's called Scan & Go and it let's you completely avoid the checkout line. As you shop around the store, you use the Scan & Go app to scan each item as you put it in your cart. Then when you're done, you hit the Pay button on the app, show your phone to the person at the door, and away you go.
Really wish Wal-Mart had this during the Christmas rush.
Next up at 2pm is another science fiction movie, Marvel's Dr. Strange. Probably a lot more action than yesterday's Arrival, but it's supposed to be good.
After the movie, it is Thursday after all, and Thursday IS Turkey and Dressing Day at Cracker Barrel, so Cracker Barrel for dinner it is.
Really looking forward to the whole day.

---
---
Google has a neat new Android app called Chrome Remote Desktop. It lets you easily access your desktop computer from your Android phone or tablet. You see your home computer desktop on your phone or tablet and can control it.
Just install the Chrome Remote Desktop app on your phone or tablet, install Chrome on your desktop if you don't already have it, and run the programs to connect them together. Easy Peezy.
So now if you're out and about and need some info off your home computer, it's right at your fingertips.
Last week when I posted my latest screed under Greg's Musings, "Frederick Douglass, The 3/5 Compromise, and Our 'Racist' Constitution", I mentioned at the end that in two hundred years, our descendants might look back on us with the same horror and disgust for eating meat that comes from live animals, as we look back at the Founding Fathers for not being able to get rid of slavery at the beginning of the country.
Well, here's a couple of interesting articles about the future of lab-grown meat and milk.
https://futurism.com/how-lab-grown-meat-could-be-the-future-of-food/
http://www.sciencemag.org/news/2016/08/lab-grown-meat-inches-closer-us-market-industry-wonders-who-will-regulate
Wrapping up, I've seen so many articles about what's going with the whole North Dakota Access Pipeline thing that I thought I try to sort out what's really going on.

---
---
Reading articles from both sides, it's sometimes hard to tell they're actually talking about the same thing. So hopefully I'll be able to give you my take on it in the near future.
---
Thought for the Day:
"Even if you are on the right track, you'll get run over if you just sit there." ― Will Rogers
gsdfgsdfg