After a really nice night at this Comfort Inn, we checked out their breakfast and enjoyed it sitting out on the patio. This is a beautiful motel built back in the hills south of Prescott. You can smell the pines in the air.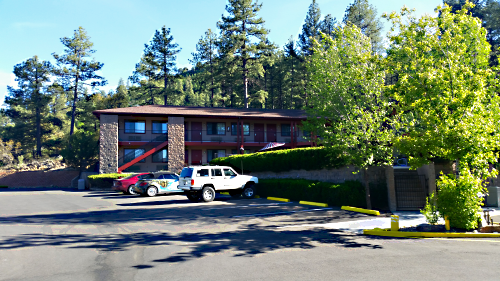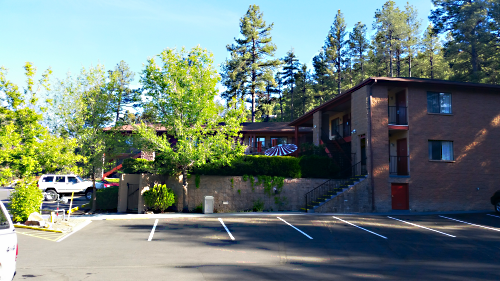 So much different from our room in Amarillo the other night.
About 10am I drove over to the rig to see how things were going, and didn't learn much because everyone was in a meeting. I did see the rig in the bay with the front end up on jacks, presumably to install the new fuel tank.
After making a Fry's stop across the street, I headed back to the motel to let them know we'd be spending another night. With checkout at 11, I didn't have a lot of leeway.
Of course about 2pm they called and said they would have the coach out of the bay about 5 and ready for us to move back in. So I told them to take their time and that we'd be over tomorrow morning.
Also it now looks like the rear airbag on the passenger may have also been damaged in the blowout. The mudflap that hung down right behind the tire is ripped out and completely gone, along with the big piece of angle iron that was fastened to it. This is what it looks like on the driver's side.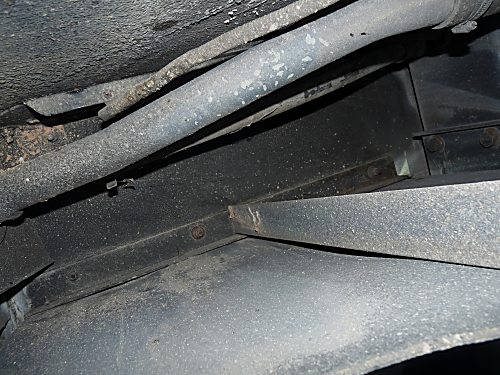 And this is what's left on the passenger side.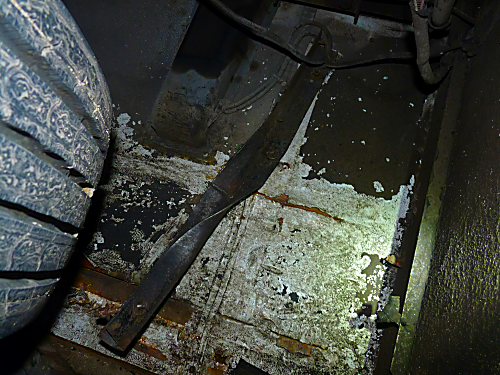 So maybe that's the culprit. I guess we'll know more tomorrow.
After a nice afternoon of goofing off, reading, and napping, really nice after the go-go-go of the last week or so, about 3:30 we headed over to the Cracker Barrel. This being Thursday, it was Turkey and Dressing Day, Jan's favorite Cracker Barrel day.
I wasn't sure what I was going to have. At first I thought about breakfast, but looking over the menu, this caught my eye.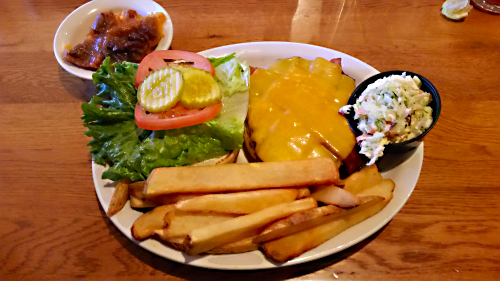 Who knew Cracker Barrel has great burgers? This is a half pound bacon cheeseburger with the meat's crispy burnt edges on the outside, and moist and juicy on the inside. The bacon was very crisp, and the cheese was a thick chunk, not just a slice, and the Cole slaw and fries were good too. Just about a perfect good-old burger.
The side dish at the upper left is their Pecan Sweet Potato Casserole, one my favorites, so I always get it when it's available, not matter what else I'm getting.
Hopefully by this time tomorrow we'll know more about our timeline for the rest of this year, and can decide what we'll be doing
___________________________________________________________
Thought for the Day:
Woman begins by resisting a man's advances and ends by blocking his retreat. ~Oscar Wilde
asdfadsf
This blog covers the first day of our trip back to Prescott, on Tuesday, the 27th of May.
(I know, I know. I'll get caught up eventually.)
I'm going to get back on schedule with today's trip and then catch up with our weekend reunion after we're back in Prescott tomorrow.
Today was the long run of our two day trip back to Arizona and our rig. With our stops, the 826 miles normally takes us about 14 hours, so we were up at 5am to leave at 6. Last night after we got back to the hotel from our day on the Mississippi, I went back out and filled up, and also picked up a couple of roast beef sandwiches from the Arby's across the street, a little change from our usual breakfast sandwiches.
We pulled out of the motel parking lot a few minutes after 6, so pretty much right on schedule and headed west on I-70. We had thought about staying an extra day, or even taking 3 days to get back to the rig rather than 2, but it looked like we'd miss our window of opportunity.
Like when we came up here last week, the weather forecast showed Partly Cloudy all along our trip. But if we left a day or two later, or took longer, than the forecast was for Heavy Thunderstorms all along the way.
So today was the day.
But as would happen, as we were traveling around the south of St. Louis, the forecasted "Partly Cloudy" started coming down in  sheets, but luckily only for about 20 minutes, and then it cleared up.
When our daughter Brandi called about 7:15, we were hoping it was to say they were back in Houston. They were scheduled on a 5:40am flight from St. Louis back to Houston, but as it turned out, because of all the flooding in Houston, Hobby Airport was not letting anyone land. They finally got off the ground about 8:45 after sitting on the plane for three hours. But they made it home safely so it all worked out.
We stopped for lunch in Tulsa at the same Raisin' Cane's Chicken Fingers we ate at on our trip up to Illinois. Still great. Cane's has become our new favorite chicken place.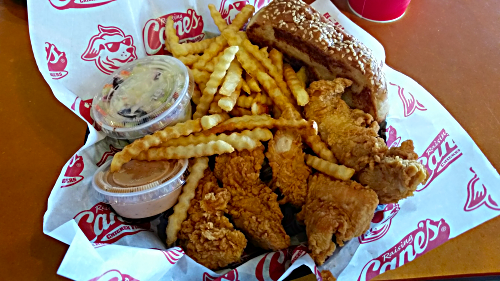 Although long, the rest of the trip went smoothly, getting us into Amarillo a little before 9pm. We wanted to eat before we got to the motel, but had been debating where. We had thought about the Big Texas Steakhouse, but it was really too late for a big steak.
Nick Russell had been recommending the Coyote Bluff Café as a great hamburger place, and finding it was only one exit from our motel, we decided to give it a try.
And boy did Nick do it this time. Jan thinks it's as good as Stomp's down in Kemah, TX. Don't know if I'd go quite that far but it's close. Very close.
But you sure wouldn't know it from the building. From the outside it looks like a dump.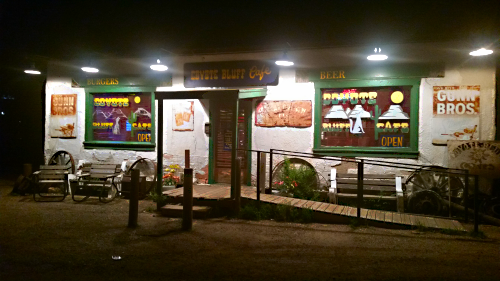 And the inside kind of is too.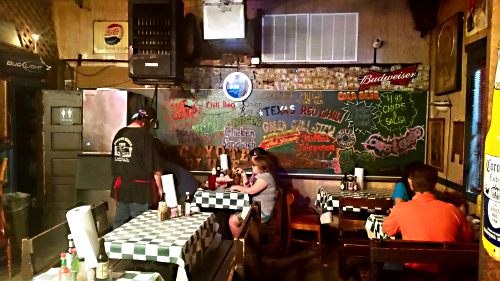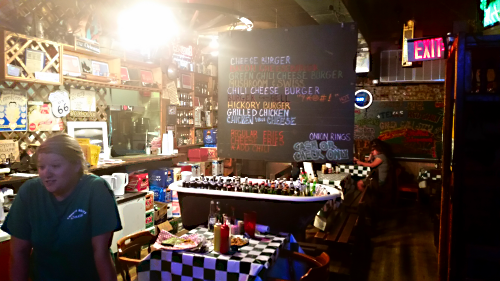 But the burgers were anything but. Plump 1/2 burgers, juicy and perfectly grilled and just delicious.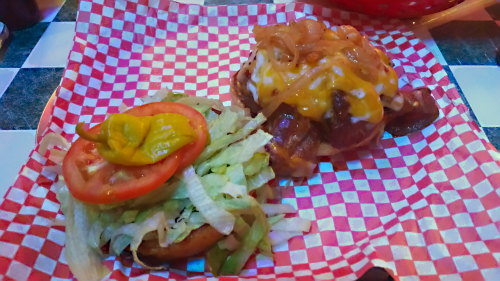 But unfortunately, after that great meal, it was on to the Motel from Hell.
But more about that tomorrow.
__________________________________________________________
Thought for the Day:
Give a man a fish and he will eat for a day. Teach a man to fish and he will eat for a lifetime. Teach a man to create an artificial shortage of fish and he will eat steak. – Jay Leno
adfdfa