With a 300+ mile trip in front of us today, we were up about 6:30am and pulling out of our site at Colorado River a little before 9, with our first stop right down the road at the
Colorado County Oil Co to fill up with diesel at $2.14 a gallon for 122 gallons.
---
---
Jan had followed me in the truck, so we hitched up while we were filling up, and were on our way about 9:30. We would have probably left even earlier, but it's a fine line between leaving early and leaving so early that we run into Houston traffic since we were going through downtown Houston and out the other side.
But apparently we timed it just fine because we held 60mph all the way through town except for a couple of short slowdowns. Coming out the other side and into Baytown we made a breakfast stop at the Buc-ee's there.
After stocking up on both breakfast and sweet kolaches and a couple of their great Orange Cranberry muffins we were back on the road with our next planned stop at the rest area as we entered Louisiana.
Since it was under reconstruction last year when we came through, I checked the state website which said it was now open. They were WRONG.
It wasn't even close. In fact it was completely torn up, but we found a nearby pullout for our potty break.
---
---
We took the Breaux Bridge exit and pulled into the Poche's Fish 'N Camp RV Park about 4pm. After getting everything set up except for satellite we headed out to have dinner at Pont Breaux (nee Mulate's).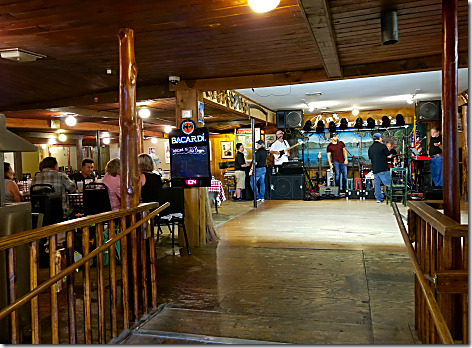 Under the Mulate's name, we've eaten here for more than 30 years until the family sold it in 2011 after their mother, the founder, died.
Jan got a cup of Seafood Gumbo, and an order of Crab Cakes with Remoulade Sauce,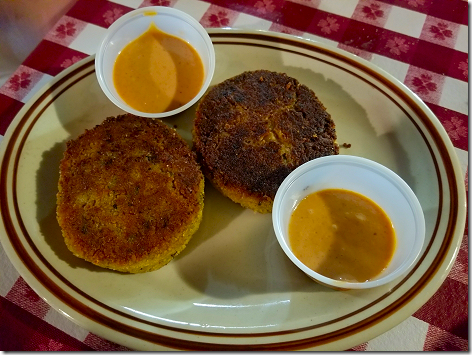 while I got my usual bowl of Seafood Gumbo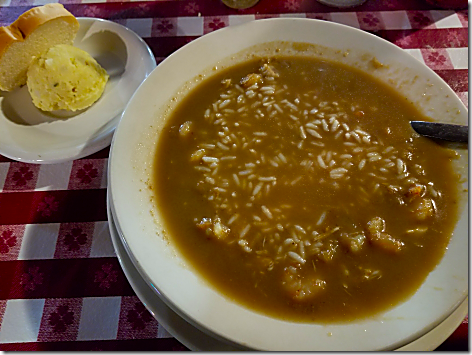 which comes with potato salad and bread.
---
---
And of course we couldn't leave with finishing up with their bread pudding with whiskey sauce, and a cup of Community Club coffee with Chicory.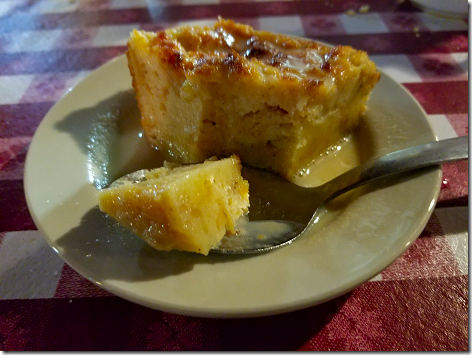 A great meal.
On the rig AC front, it turns out that my recent air deflector install really worked after all. And it was working the other day too. Or at least it would have if we hadn't been streaming 95° air right into the coach.
Turns out the dash air vent had popped off the Recirculate setting so just hot air was coming in. Now I always keep those vents turned off on my side anyway, and Jan just had hers on her feet so she really didn't notice it at the time either.
We did discover the problem on our trip over from Lake Conroe this past Sunday and turned it off, but then the generator stopped when we got too low on diesel, so we never got to see it that was the problem.
But having it turned off today fixed the problem and we were cool the whole way.
Tomorrow we've got about a 240 mile run to Theodore, AL, so not quite as long a day.
Nice.

---

Thought for the Day:
"Government always pays above-average prices for below-average work."
adfasdfasdf
We were up about 8am and out the door at 8:45, for our two hour trip down to Clear Lake to meet up with our son Chris.
---
---
But our first stop was the Jack in the Box so Jan could get a Supreme Breakfast Croissant and me a Iced Caramel Coffee for the road. Then it was to Brandi's.
We were hoping that the new Katy Buc-ee's might be open, but no luck. But maybe when we get back from Alabama
Getting to Brandi's, we found Lowell finishing up yard work before he headed up to Dallas on a business trip. While we were there, Jan took several photos of me so I can add myself to the Reunion Family Photo. More later
We also picked up our Amazon order that was delivered on Saturday. One thing new was the fact that this was actually delivered by Amazon themselves, not UPS, FedEx, or USPS. And just to prove it was delivered, they send you a photo with your tracking info.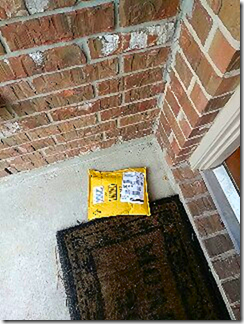 ---
---
We met our son Chris at King Food a little after 11 for a great lunch. Jan and I both gat our usual Chicken with Hot Garlic Sauce XXXXXX Spicy with Jalapenos.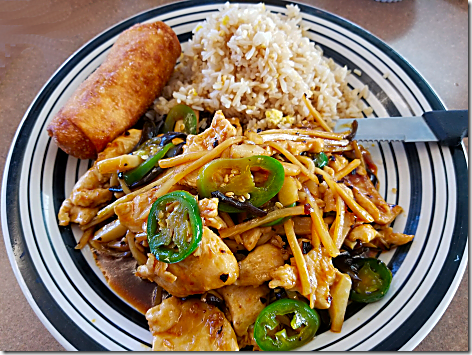 And it was a big enough serving that we had leftovers for supper tonight. Finishing up we followed Chris back to the house to pick up our mail, and also our rearview camera monitor bracket that he welded back together for us.
Getting there we were happy to find Miss Piper home early from work so we got to see her before we headed out. And after a stop at the bank and a nearby O'Reilly's, we were on our way back to Columbus.
---
---
Leaving the Katy area we got a good look at Amazon's new fulfillment facility being built just west of Katy.

At 1 million square feet, it's the 3rd one here in Houston, with a 4th one right behind it. When it's finally open, I wonder if they'll have a Will Call desk so I can just drive over and pick up my orders.
We got home about 3:30, and started getting ready to head out to Alabama tomorrow.

---

Thought for the Day:
"The secret of freedom lies in educating people, whereas the secret of tyranny is in keeping them ignorant." – Maximilien Robespierre
adfasdfadf