Today I reluctantly had to give up the 2018 Malibu that we'd rented for the last three weeks. Really sorry to see it go.
---
---
Jan and I headed out a little before 11, first down to the Capital One Bank by the Interstate to get the cash for the truck repair. When I asked the other day about a 'cash' discount, they made the extra trip worth my while.
Then it was back down to Snider Transmission in Santa Fe to retrieve our Dakota. And since I didn't have Jan on the rental agreement, she got to follow me over the Enterprise office in Dickinson to give back the Malibu. Sob!
It took a little longer than normal because the girl checking me in was in training, plus they do all this on iPad's and they were giving them problems. As usual, it seems.
We saw the same type of issues with them when we HAD to use them while gate guarding last year. Seems like we fought them all the time, when paper and pencil were so much quicker.
Back in the Dakota we headed north on I-45 to the next exit to again have lunch at Slim Chickens, our new favorite chicken place. Jan likes it better that Cane's because she says the batter is lighter, and we both like it better because they have a lot of other sides, rather than the just fries and cole slaw like Cane's.
Jan got the 7 piece dinner with a side salad and her fav mushrooms,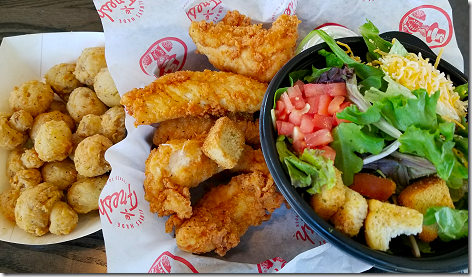 while I got the Cayenne Chicken Sandwich with a side salad. She said to tell you that she got 7 piece because she was sharing some with me, not because she was that hungry.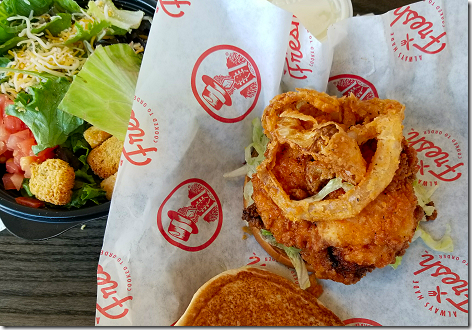 I got the 'spicy' cayenne sandwich because it was free. When we were there last time, on opening day, I signed up for their mobile app which came with a free sandwich. Plus we earn points for every visit.
Their 'spicy' cayenne sandwich needs a lot more cayenne, believe me.
Driving the Dakota again after the Malibu is kind of like running in lead boots. It just feels heavy. But it's running, and shifting great, and it's really nice to have 3, 4, and 5 gears again.
When I ask Kenny if the new transmission would last another 282,000 miles like the first one did, he laughed and said it would probably last longer than the rest of the truck.
He's probably right.
I'm really disappointed in my recent 16:40 (not 16:39 and not 16:41) experience in the Devil's Easy Bake Oven. Based on how much it hurt to start with, I kind of expected more obvious results. but so far, pretty much nothing.
After 48 hours, there's no pain, no peeling, no scabbing, no 'my scalp sliding down over my eyes', and I don't even glow in the dark.
I mean, what was the point? And it cost me $120.
And then I get to do it all again next month.
Oh boy!
I know all of you out there are desperate to know what you can get me for Christmas. Well, Costco has just the thing, and it's on sale.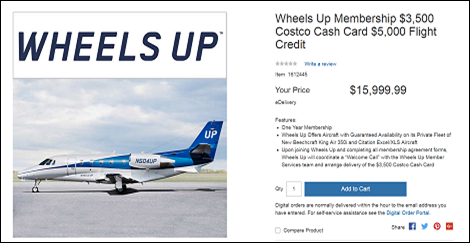 And it's only $15,999!
Even better, it comes with a $3500 Costco Gift Card, as well as $5000 in flight time credit. Of course, that $5000 only buys you 2/3 of an hour of Citation Jet time.
But it's a steal at $7,495 an hour.
Of course, if everyone gets me the same thing I'll have plenty of hours to use.
---
---
Thought for the Day:
Some people are about as useful as decaf coffee, or non-alcoholic beer.
sdfgsf
Not much of a blog today. Just some medical updates.
I was at my 2:15 ophthalmologist appointment this afternoon by 1:50, but they were really overloaded. Or at least my doctor was.
---
---
So I didn't get called in from the lobby until a little after 3pm, only to end up sitting in a waiting room with 10 other people for another 30 minutes or so. Finally about 3:30 I was called into a treatment room where a tech ran some tests on my eyes.
Then the Dr. came in, spent about 10 minutes looking at my eyes through various machines, and then asked for my eyes to be dilated. Then it was back out into the waiting for another 45 minutes for the drops to take effect.
Finally I was called back in, and after looking at my eyes again for a few minutes, said I was going to have to make an appointment to see him at his other office where he had some different instruments. So I was finally out of there by about 5:30 and on my way home, with another appointment for Dec. 18th.
The problem with my left eye is that it can't be corrected to better than 20/60, while my right eye is 20/20 corrected with glasses. The doctor said it's most likely a slightly warped cornea, which can be corrected with a temporary contact lens that would mold it back into shape. But he wants to be sure, hence the new appointment.
Jan and I both seem to have come through getting our Shingrix shingles shots with no real side effects. Just some swelling, tenderness, and heat at the injection site. But it's mostly passed. So it's good so far.
I've actually been kind of disappointed with the results from my extreme tanning session yesterday.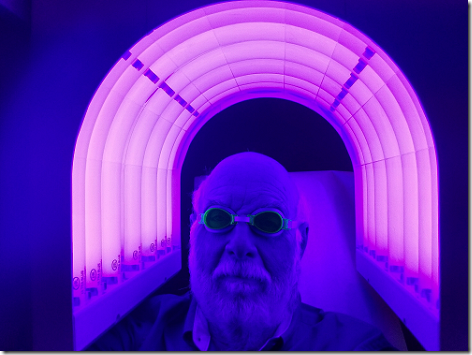 Although it was tingly, hot, and sensitive yesterday, not much is happening today. It's not even red or peeling. Just feels like I got a little too much sun. But I guess we'll see over the next couple of days.
---
---
Thought for the Day:
When your wife says, "Do whatever you want.", do NOT under any circumstances do whatever you want.
adfad