Following up on my Apollo 11 Moon Landing post yesterday, check out this video of 72 year old Buzz Aldrin, the second man to walk on the moon, punching out a Moon Landing denier who followed Buzz up and down the street calling him a liar and a coward.
__________________________________
After a very enjoyable two weeks at the Indian Lakes Thousand Trails in Batesville, IN, Nick and Terry, and Jan and I left the park about 11am, heading for the Wilmington, OH Thousand Trails about 80 miles away. Heading in on I-74, we got on to I-275 around the north of Cincinnati, and then out on I-71 about 30 miles. A very pleasant trip.
After checking in at the park office, Nick and Terry unhooked their toad and we drove around the park to check out possible sites. Normally we would be looking for 50 amp electric to start with, but out of almost 170 sites, this park only has 5, repeat 5, 50 amp sites. And 43 of those 170 sites don't have sewer hookups, not a good thing for a two week stay.
So now we're down to 30amp sites hopefully WITH a satellite view of 101° (for us, DirecTV) and 110°, 119°, and 121° (for Nick and Terry, DISH). Otherwise, I'm not sure Jan could go two weeks without satellite TV.
Driving around it seemed like every time we found likely sites, either they were bagged Out of Service, didn't have sewer, or had tall trees in the way.
But after driving around for about 30 minutes, we finally found two sites that looked like they might work. And even better, there's only one site between us. Back at the office, we got checked in to those two sites, and then headed back over with the rigs.
Nick got parked first, with Terry guiding him as he backed into his site, and then a couple of minutes later, Jan guided me into our site.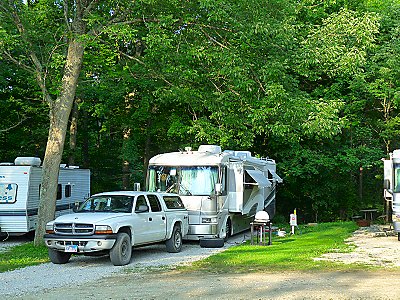 Terry and Jan are very good at doing this, and Nick and I trust them over anyone else. We've all encountered other couples getting into shouting and cussing matches as they tried to get parked, even trading places so the other one can try it. Usually with no better luck.
Nick and I never have that problem.
Getting parked and set up, we were both happy to have no problems getting satellite coverage, so Jan was very happy.
A little after 3pm we all headed out to have an early dinner at #1 China Buffet, a place that Nick and Terry had eaten at several years ago, and found very good. So not having had any good Chinese since we left Elkhart, it was first on our list.
And just like Nick and Terry found before, it was still very good, and we all agreed we would go back before we leave.
Coming home, we made a quick Kroger's stop, and I also got gas there, $3.389, and $3.289 with my magic Fred Meyer's loyalty card.
Tomorrow looks to be a stay-a-rig day. Yah!
__________________________________________________________________
Thought for the Day:
There are 30 times as many guns in the United States as there are swimming pools.
Yet, swimming pools are six times as likely as firearms to be involved in a fatal accident  for children under the age of 15.
Ban Swimming Pools.
It's for the children.
Tranquility Base here. The Eagle has landed."
45 year ago today mankind first walked on the moon.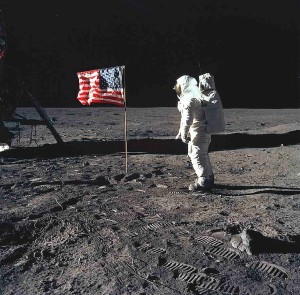 Apollo 17, the last Moon Mission, landed back on earth December 19, 1972.
And we never went back.
"I always dreamed I'd live long enough to see the first man on the moon. I never dreamed I might live long enough to see the last." – Jerry Pournelle, NASA scientist / science fiction writer.
_________________________________________________________________
Well, I've got a new job for the job bank. One of the day/night shades that I restrung back in January 2013 broke again. One thing I noticed was the holes in the metal frame were pretty rough around the edges, that could cause the cords to fray over time. I smoothed them down with a file, but maybe I missed one.
Here's a blog post on how to restring these shades.
About 4pm, Jan and I, and Nick and Terry, headed in toward Cincinnati to have our last dinner here at the Quaker Steak and Lube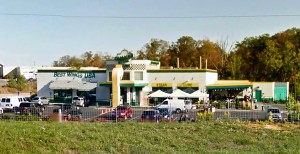 The last time we all ate at Quaker State was in September 2012 on our way to the Hersey, PA Thousand Trails. We stopped to spend the night in the parking lot of the Cabella's in Triadelphia, WV, just outside of Wheeling.
There was a Quaker State across the parking lot so we decided to have dinner there. It was the first time for Nick and Terry, but Jan and I had first eaten at one in 2009 on our way back from Newfoundland. We had stopped in Corfu, NY, just outside Buffalo to visit Niagara Falls  and The Original Anchor Bar, the restaurant that invented Buffalo Wings.
We've always enjoyed our visits there and tonight was no exception.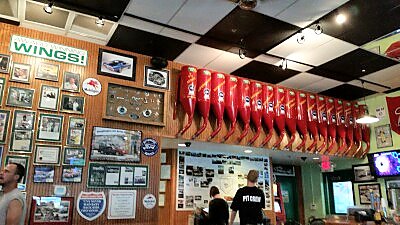 Nick and I had the Ribs & Wings, while Jan had the Deluxe Nachos and Terry had a Philly Cheese Steak sandwich. All very, very good. And we all want to go back.
Tomorrow we'll all move 77 miles east to the other side of Cincinnati to the Wilmington Thousand Trails. We'll be there for two weeks before Jan and I head back to Texas by way of Alabama, and Nick and Terry head east to Hershey, PA and then the East Coast.
_________________________________________________________________
Thought for the Day:
"Marry in haste. Before she gets away" – James Garner  R.I.P.
James Garner married his wife after knowing her for two weeks. They were still married 58 years later when he died yesterday.
He also said, "Marriage is like the Army; everyone complains, but you'd be surprised at the large number of people who re-enlist".