Another Wild Moose Chase . . .
---
---
I just saw an article online about the ongoing plowing of the Going To The Sun Highway in Glacier National Park.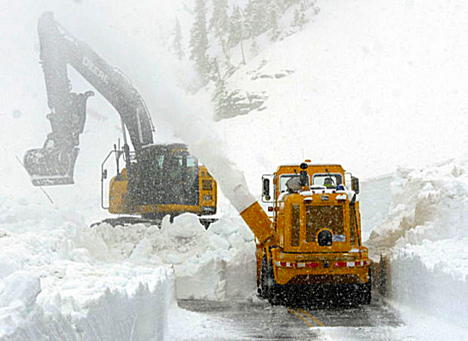 Some years the snow is so heavy that they don't get the road completely open until July, and this year looks like another one. So I guess we lucked out on our visit in July 2011.
With thisI thought I repost our visit there in July 2011. Glacier was another place on Jan's Bucket List and we both really enjoyed it.
---
Another Wild Moose Chase . . .
Today is our last full day in Columbia Falls, and today's the day we're doing Glacier National Park. And if you're not into hiking, biking, or rowing, the main thing to do in Glacier is to make the 50 mile 'Going to the Sun' Highway drive.
So after coffee at 9:30 we headed out about noon, first for some errands and then out into the Park.
And after getting gas and dropping off some mail at the Post Office, our first stop was at The Huckleberry Patch in Hungry Horse.
Around since 1949, it's supposed to the be the best place in the area to get Huckleberry Pie. And after really good sandwiches, we decided 'they' were right. The pie was delicious . . . ala mode, of course.
After lunch we drove the 10 miles to the entrance to the park at West Glacier.
And after getting our National Park Passports stamped at the Visitors Center, we started our drive.
Most of the trip was along the shores of one of the several large lakes in the area.
This is the boat launch area on Lake McDonald at Apgar Village.
More Lake McDonald.
These next shots are of the rapids along McDonald Creek.
What about bears?
More beautiful scenery.
These next two shots are of Heaven's Peak at almost 8900 feet.
Needless to say, there are glaciers everywhere you look.
We saw a number of these neat old tour buses around the park. Note the 'natural' air conditioning. Also fun when passing by the many waterfalls along the side of the road.
More glaciers.
Coming over the top of Logan Pass, at 6664 feet, the high point of our drive, we came across our first wildlife, these two mountain goats, and
this Big Horn Sheep.
And then of course, more glaciers.
Nearing the end of our 50 mile journey, we passed St. Mary Lake. Very blue.
Leaving the park, and rather than just turn around and come back the same way, we decided to take the long way home by taking US-89 south to MT 49 to US-2. And although it's the long way back at 100 miles, it's also a little faster because it's not bumper to bumper through mountain passes like the Sun Highway.
And we got to see new scenery, like these high rolling plains at almost 5500 feet.
And Lower Two Medicine Lake.
About 45 miles from home, we saw this sign and had to stop. I mean, do they lick us, or do we lick them, like toad licking. Enquiring minds, and all that.
Turns out there was no licking, but we did see a lot of goats.
This guy's losing his coat. Wonder if he's cashmere?
Among a lot of others, saw this mother with two kids.
Getting back into Columbia Falls about 8 pm we decided to try The Nite Owl once more, since they should have their Broasted Chicken this time of night. And they did. And it was really good.
Tomorrow we head out for Garrison, MT for one night, and then on to Billings for one night, and then to Cody for 5 nights or more.
And once again, Jan has gone mooseless.
---
---

Thought for the Day:
"Success without honor is an unseasoned dish; it will satisfy your hunger, but it won't taste good"
Especially Microsoft Windows 10 Updates
With the holiday weekend coming up I thought today was going to be quiet enough that I could get back to work on moving the website from the local server up to Godaddy servers.
---
---
But it didn't work out that way. Not at all. I spent the day fighting the latest Microsoft Windows 10 update, also known as the Spring Creators Update, or Build 1803.
I noticed on Monday that the Shipping Department computer had updated over the weekend, but everything seemed to be working OK, so I didn't look further. But when I came in this morning I had a note telling me that they weren't able to print out the daily end-of-day shipping reports from UPS and USPS on Monday or Tuesday. These print to the printer in the Office Manager's office, so it looked to be a network problem
And the problem was that the Shipping computer was no longer on the office network. In fact it couldn't even see the network, and none of the other computers could see it.
So first up, I went to check out the HomeGroup settings, which is the way the office network is set up., and the way it was set up when I took over the system last year. And I immediately saw the problem.
There was no more HomeGroup. In fact the HomeGroup entry wasn't even listed in the Control Panel. It was just gone.
And a little Googling explained that Microsoft, in their 'infinite wisdom' (do you detect the sarcasm there?) had decided to just eliminate the HomeGroup option. Which, of course, left thousands of networks dead in the water.
There were a bunch of fixes posted online, none of which worked for me. So I tried to back to the old-school method of setting up a workgroup, and then configuring permissions on all three machines, something I've probably done hundreds of times before.
But this time it didn't work, at least not on the Shipping computer. No matter what I tried, nothing worked. So finally having wasted most of the day fighting this, I bit the bullet, and using the Recovery mode function, I uninstalled Build 1803, and dropped back to the previous version, Build 1703.
And after about an hour, the computer rebooted, and now I had the HomeGroup back. Then with a few minutes of configuration, I had the network back and everything worked.
The problem was fixed, but I wasted a day on it.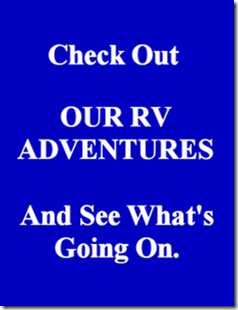 I'll lock down the machine to keep it from updating for a while, until it looks like MS has a fix available. Could be a while.
Looks like I've got a 4 day weekend coming up. With the office closed on Monday for Memorial Day, I don't go back to work until Wednesday. But I've got plenty of website stuff here at home to keep me busy, along with taking more stuff over to the storage room.
---
---

Thought for the Day:
I'm never sure if I have a lot of free time, or I'm just forgetting a lot of stuff.
asdfad