I finished my AC voltmeter install today, mounting it on the bottom of the cabinet right above my head, fastening it with double-stick tape. There are two AC outlets in the cabinet above, one of which goes off when the engine is running, and one that stays on, which is the one I plugged the meter into.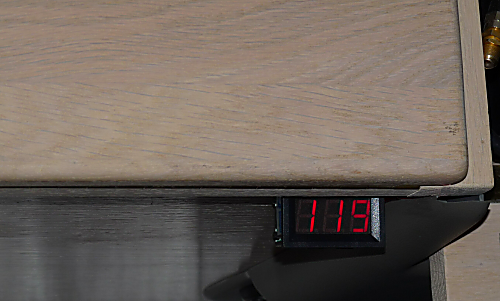 Today was the 3rd day of Jan's 3 day migraine pattern, and she still didn't feel like making the long drive in Memphis, so about 3pm Jan and I headed back into Corinth, MS to once again have linner, this time, at Ruby Tuesday's.
One thing I noticed as we turned onto US72, was that the Exxon truck stop that had diesel for $2.37 yesterday, had it for $2.32 today. I had already thought about topping off our rig tank there, and this just makes it more attractive. But it all depends on how busy they are when we get there. Maybe it will go down even more by Sunday.
One of Jan's favorite places, she loves Ruby Tuesday's large salad bar, but we don't eat there a lot because we don't come across them very often.
We both had really good burgers and then added the Salad Bar for $3. A really good deal.
One thing we did was bring all our devices, two Kindle Paperwhites, my Galaxy Tab 4, and my Galaxy S5 phone, with us. With the mostly bad Internet here at Cherokee Landing, we wanted to update our Kindles with books we'd ordered, as well as apps on the two Galaxy's.
But in the case of Ruby Tuesday and many other commercial Wi-Fi's I've encountered, you've got to wonder why they even bother. After I started updating our Kindles, I noticed that it was even slower than what we have at the park when we're on 1X. So using my Tab, I ran Speedtest.net and got a 712 ms ping, 0.10 Mbps download speed, and 3.1 Mbps upload speed.
I have never actually seen a ping that slow, and 0.10 Mbps download speed is just pitiful. But even worse, the 3.1 Mbps upload speed, 31 times faster than the download speed, almost certainly means the download speed is being artificially and deliberately throttled.
You might see this situation when a connection is severely overloaded, i.e too many people trying to use the connection. But since there were only two other couples there at the same time, and neither seem to be going online, I'm sticking with my conspiracy theory.
As I said, if you're not going to offer a usable connection, then why bother?
Tomorrow is our last full day here at Cherokee Landing, so we'll start putting stuff away and getting ready to roll on Sunday.
________________________________________________________
Thought for the Day:
Henry VIII: The original host of "Queen For A Day.
asdfasdf"
Well, just as we're wrapping it up here, it cools off. Pretty much since we've been here, the temps have been in the mid to high 90's, and staying in the mid to high 70's at night. But today it was only 93 degrees, with 66 tonight. And that's how it's supposed to stay until we leave here on Sunday.
As I mentioned before, we had planned to make a last visit to Charles Vergos' Rendezvous for some more of their fabulous ribs. But Jan woke up with a migraine this morning and just didn't feel like making the hour and 45 minute trip into Memphis, and of course, back home.
But she did feel like making a 30 minute drive in the opposite direction to the Cracker Barrel in Corinth, MS. Thursday being Jan's favorite Turkey and Dressing day, it was the perfect fix.
Jan of course got her T & D, while I went with the Cracker Barrel Sampler, something I've never had before.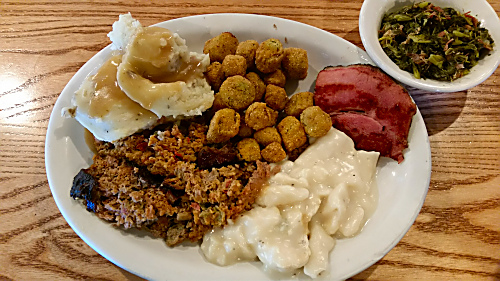 It comes with samples of Chicken and Dumplings, Sugar-Cured Ham, Meatloaf, and Mashed Potatoes, and then I added Turnip Greens and Fried Okra as my two sides.
I mean if you're at a comfort food place, then you should have comfort food, right?
Everything was great, especially the Turnip Greens. Well, everything but the Meatloaf. Although it tasted good, it was dry and chewy, and in crumbles, like it was scrapped off the end of the pan. But all in all, it was a good meal.
They have plenty of parking here, so we're thinking about stopping here for breakfast on our way to Alabama on Sunday. We checked it out and they've got plenty of parking in back. But we'll see how busy they are when we get there.
One thing I noticed as soon as we came into Corinth is that they must be having a gas war here. Everywhere had unleaded at $2.19 or less. In fact we filled up the truck at $2.15. Nice!
Too bad they're not having a diesel war too. It was still in the $2.40's.
Not bad, but not as good as we saw last week over in the Memphis suburbs, where it was in the $2.26 area.
We'll see how Jan feels in the next couple of days, to see if we're going to try Rendezvous again.
WARNING!!
The last few days I received several emails with this heading.
Warning: Inbox for gregw@whiteserv.com is limited [13 undelivered messages]
If you get one with your email address on it, delete it.
This is an autmomated email sent from our SSL severs to inform you that there is an error in your email configuration.

This error was identified on: 2015/07/25 and we have not been able to deliver 13 contact email messages from this date.

To retrieve your emails and reconfigure Port 486,Click Here

Warning: Failure to do this will lead total suspension of your email account.

This message has been sent to:gregw@whiteserv.com.

Please delete and Ignore if this is not your email address.
First off, note they've misspelled 'automated' in the first paragraph.
And when you put you mouse over the Click Here link (which I unlinked for your safety), you see this
http://doctortarucan.com/images/blocked/mailer-daemon.html?
I'm not sure who the hell Doctor Tarucan is, but he has nothing to do with my email.
Let's Stay Safe Out There!
________________________________________________________
Thought for the Day:
Sometimes, the first step towards forgiveness is realizing that the other person was born an idiot.
afdfgdfsg