Monthly Archives:
March 2021
Well, I remembered last night go outside and confirm that I had a good site line for Elon Musk's Starlink satellite Internet system, so this morning I went online and signed up for the service and paid my $99 deposit.They're saying mid to late 2021 to receive my system.
Really looking forward to 300 Mbps! And maybe a lot faster.
I mentioned a couple of days ago that Jan and I were going up to Brandi's on Sunday for an Easter get-together. Well, that's been expanded to all weekend.
Now we're going up on Saturday afternoon to spend the day in the headed pool and the evening around the firepit, and then have our Easter dinner on Sunday. And probably some more heated pool time.
In the meantime, I mentioned that Miss Piper had to work this weekend, so she wouldn't be at Brandi's, and now it looks like Chris and Linda are off on their own adventure.
They're off with a bunch of fellow Jeep enthusiasts on a week-long road trip out to Utah. But Chris is probably the only one on the trip who pretty much built his Jeep.
It started like this.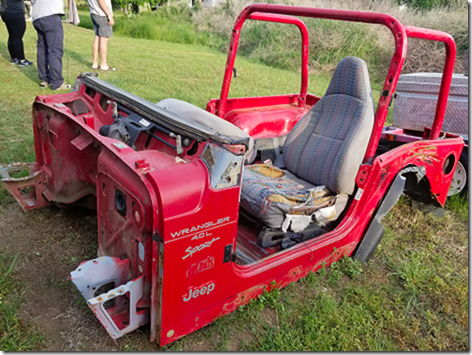 And then he ended up like this.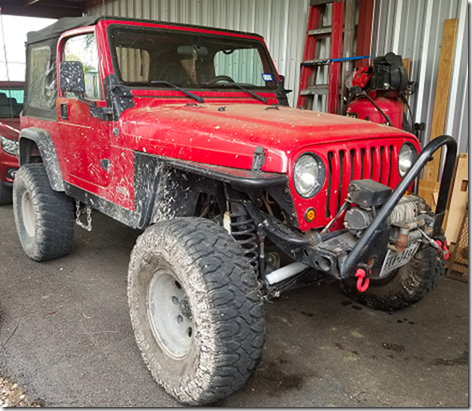 Of course, he once took a rotted-out boat that was out in a field with a tree growing out of it, and turned it into this.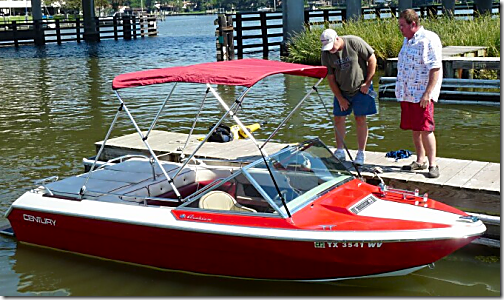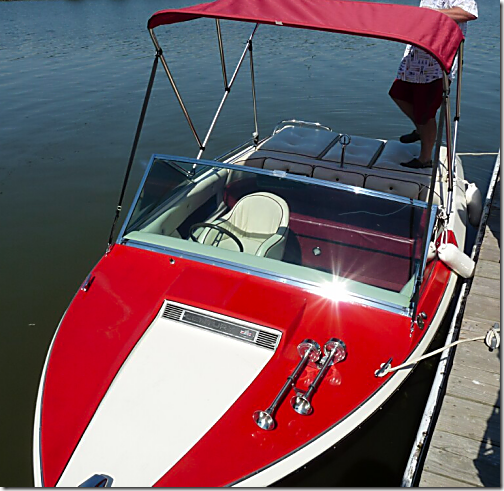 And not only did he rebuilt the boat, he also rebuilt the Ford 351 Windsor (Mercruiser) engine, and a Velvet Drive inboard/outboard drive unit.
Hopefully we'll get some photos back from the trip soon.
A few days ago I decided to upgrade the soundbar on our TV system. I wanted something with more bass, I.e. a subwoofer, and the ability to individually adjust the bass, and the treble, especially the treble.
I mentioned before that some reason the treble on CuriositySteam seems muted compared to other streaming channels, so putting all this together, I ordered a new soundbar system from Amazon.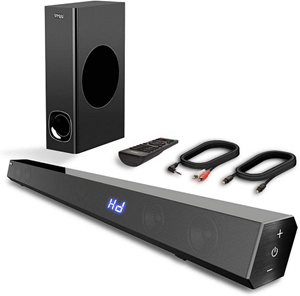 It came in today, and once I got it home, it only took a few minutes to substituted it for the old one. The only thing new was the placement of the subwoofer, which I placed behind the TV itself.
And it sounds great!
The remote has pre-set equalizer buttons for Music, Movies, News, and a really neat 3D mode,that simulates Surround Sound. And then of course, separate bass and treble adjustment buttons.
All in all, a really nice unit.
Tomorrow we're getting an early start, leaving the rig about 7am. We've both got our annual physicals with our family doctor starting at 8am.
Here's hoping for good numbers.
---
Thought For The Day:
"Liberty is always dangerous but it is the safest thing we have." — Henry Emerson Fosdick
After lunch at Dickinson Seafood once again, I dropped Jan off at the Solis Mammogram Center up in Webster a little before her 2pm appointment. Then I was off up the feeder to pick up some stuff at the nearby Lowe's. Next I headed over to the office for what I thought would be a couple hours before Jan was ready to be picked up. At least that had always been the time in the past.
But I was able to get a couple of things done, when I got a call from Jan saying she was ready to be picked, and it had not even been a full hour yet.
And even better, she had the All Clear signal for another year.
Yay!
Picking her up at the Mammogram Center, we drove back down toward Santa Fe, with a stop by the HEB for a few things before getting back to the rig about 4pm.
All in all, a Great Day!
Well, as usual, Texas weather can't make up its mind. Today we had a high of 81° and are expecting a low on 70 tonight. And tomorrow we're looking at a high of 77. But then tomorrow night it all changes.
Tomorrow night we're looking at a low of only 46° AND Gale Force winds. And Thursday and Friday night, its supposed to be 48° and 52°.
'Gale Force Winds?'
Coming To America:
In addition to the 20 odd European/Asia/African countries that have suspended/restricted use of the AstraZeneca CoVid vaccine, now Canada is looking to do the same thing for the same reason: Blood Clots
Suspend AstraZeneca use for people under 55, Canada's vaccine committee recommends: The updated guidelines come following reports of rare blood clots.
Canada's National Advisory Committee on Immunization (NACI) is recommending provinces pause the use of the AstraZeneca-Oxford COVID-19 vaccine on those under the age of 55 because of safety concerns — guidance most provinces said today that they would follow.

Specifically, it pointed to 18 cases of an extremely rare type of blood clot called cerebral venous sinus thrombosis (CVST), a condition that is much more common in women than men. Most of the cases occurred within 14 days of receiving the AstraZeneca shot, and the majority were in women under the age of 55.
And here's some more info on what the cause may be.
Immune response may be linked to AstraZeneca vaccine clot issue
Researchers may have found an explanation for the rare but serious blood clots reported among some people who received AstraZeneca's COVID-19 vaccine. They believe the phenomenon is similar to one that rarely occurs with a blood thinning drug called heparin, called heparin-induced thrombocytopenia (HIT). In HIT, the drug triggers the immune system to produce antibodies that activate platelets, which cause blood to clot.
As I've mentioned before, I think that it's wrong to keep talking about CoVid 'vaccines', thinking that this will be a 'one and done', or maybe 'two and done' type of vaccination, you know, like the ones we have for Smallpox, Chickenpox, Measles, Mumps, Rubella, Hep A & B, Polio, Whooping Cough, etc. Vaccinations that you essentially get once, or maybe a two shot series, and then that's it.
But remember, we don't have a 'vaccination' for the seasonal flu, just a seasonal 'shot', one every year. And we don't even have a 'shot' for the common cold. All of these are viruses that mutate rapidly. And that's the problem.
So that explains why in the early days of the CoVid vaccines, we started hearing murmurings that yearly 'booster' shots might be needed.
But now the truth is starting to come out. Take your pick on the source.
Mutations could render current Covid vaccines ineffective in a year or less, epidemiologists warn
New Covid vaccines needed globally within a year, say scientists
So basically we get to do this all over again next year.
And this doesn't sound like much fun, either.
Man's skin 'peeled off' in rare reaction to Johnson & Johnson COVID vaccine
A Virginia man suffered a rare reaction to a COVID-19 vaccine that caused a painful rash to spread across his entire body and skin to peel off, doctors said.

Richard Terrell, 74, of Goochland began suffering strange symptoms four days after receiving the one-dose Johnson & Johnson vaccine, news station WRIC reported.

"It all just happened so fast. My skin peeled off," Terrell told the outlet.
Ouch!
---
Thought For The Day: