Daily Archives:
September 8, 2022
Jan and I were on our way a little before 1pm today, with Denny's on the schedule for lunch. Angie, our usual great waitress took great care of us, and told the cook, Hugo, that we were the ones gave him a $5 tip a while back, thanking him for the great job he does on our Ultimate Omelets. And he outdid himself this time,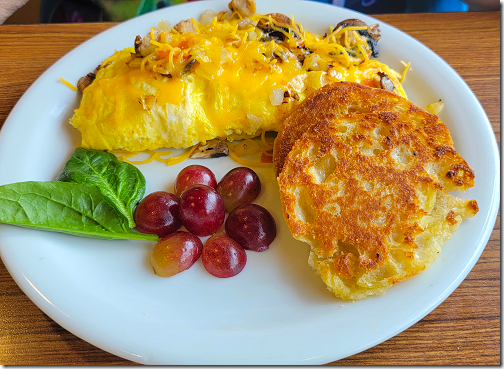 with some extra decoration on the plate.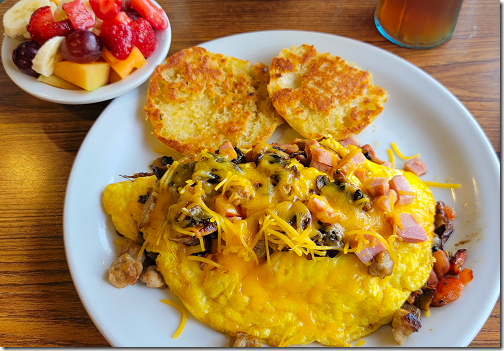 And of course, Hugo got another $5 tip when we left.
Then it was on over to WalMart for our weekly 'stuff'. And along the we came across this new version of Monopoly, based on League City, TX, right down the road from us.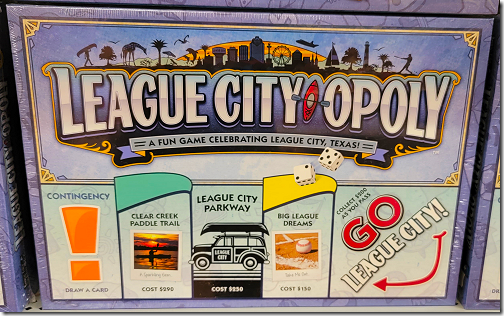 Apparently it's a thing now. Monopoly By City
On our way home we stopped off at the P.O. for our mail, and coming home we saw this.

The sign says, You've Been Flamingo Flocked By Santa Fe Spirit"
Don't know what the purpose is. Maybe it's one of those 'Beautiful Yard' awards or what.
---
Sam's in mourning. Or is if she's still alive.
I've mentioned Sam, or Samantha, before. She was a young girl that I met when we were living in Colombia, South America in the early 60's. She was British, about 9 months older than my 13 and a half, soft wavy red hair, bright green eyes, and the cutest British accent
We were the only two Anglo kids at the big residence hotel where we both lived, so we ended up paling around together. It was a couple of months later that I found out that she was actually Lady Samantha and that her mother was a Duchess, making Sam a future Duchess in her own right.
And if that wasn't enough, she was actually royalty. Or at least royalty-adjacent. Her mother, the Duchess, was Queen Elizabeth's 2nd cousin, and they both were ambulance/truck drivers together during WW2. At the time Sam's mother was 12th in the line of succession, and Sam was in the low 50's.
Sam was 5 years old when she was at Queen Elizabeth's Coronation in 1953. She said that all she remembered was her new dress, and a big carriage with horses.
Anyway where this is all leading is that announcement that Queen Elizabeth II had died today at the age of 96. Sam said the Queen was really sweet to her, so I know that she's in mourning today.
But the other reason Sam's in mourning is that Prince Charles will now become King Charles III. Sam hated Prince Charles with a passion, as did the other royalty-adjacent young women. Prince Charles was known for grabbing the girls and trying to kiss them, and touch them. When they fought back or complained, he would tell them that they would be sorry when he became King. She always said she hoped that he never became King.
And she got her wish for about 60 years.
I said that the beginning of this 'if she's still alive'.
Jan once wondered why I've never looked her up. I told her that I didn't want to know.
When I've checked back on other past girl friends, I didn't like what I found. One had died from kidney failure due to lupus, another died from early-onset Alzheimer's, and another is living in what seems to be very bad circumstances.
So I don't want to know. I prefer to remember her as the beautiful 15 year old girl she was when I last saw her.
---
Thought for the Day:
There's always one more idiot than you counted on.
Or just as soon as you make something 'idiot-proof' along comes a better idiot.
---
September 8, 2009
Moose in Newfoundland – 110,000. Moose Jan saw – 0
This is our last full day in Newfoundland.
After breakfast at Jungle Jim's we left the hotel in Corner Brook on our way to Port Aux Basques (Pronounced 'Port Ah Baas'), 132 miles away, where we will catch the ferry back to Nova Scotia tomorrow at 11:30 am.
But before we left town we stopped at Walmart for some 'stuff' and then to take some last pics of the place.
Most readers of our blog know that Jan is MOOSE crazy. She had really hoped to see some moose over here. In fact, everyone we have talked to that have been here have seen moose, a lot of moose. But Jan has seen ZIP, ZERO, NADA while we are here.
I mean, there's 110,000 moose here and it's really not that large a place. We did our best. We slowed down whenever we saw someone pulled over, in case they were seeing a moose. We checked out every pond, lake, and stream along the highway. No luck.
About 20 miles outside Port Aux Basques we came thru the 'Wrecknation' area. This is an area known for its extremely high winds, I mean, really, really high. Like over 125 mph!
And this is not from a storm. These are just high winds off the ocean being channeled thru the valley below.
But today there was no wind whatsoever. Lucky us.
We got into Port Aus Basques about 2:30 pm and got checked in.
After a quick lunch, we drove around the area and checked to be sure we knew where to go for the ferry tomorrow
Coming back to the hotel, it seemed like a nap was in order, and then about 7 pm, we had dinner in the hotel restaurant.
Tomorrow we have a 5 hour ferry ride back to the mainland.
Anchors away!
---
September 8, 2010
On to Texas . . .
Kind of a short post today since we're on the road and WalMarting tonight.
We left Elkhart at 10 am, heading west on I-80. It was hard to say goodbye, but it is good to get back on the road again. And it's always a problem after we've been parked for a while, (in this case, almost 6 weeks) to be sure you've got everything done before we pull out.
A little after 12 we stopped at Fair Oaks Farms for lunch.
Fair Oaks is an operating dairy farm, but with a big tourist operation too. We didn't do any tours of the farm or the dairy, but just had lunch and coffee. Jan also did her part to support their gift shop too.
They do have a very colorful bus called the "MooMobile" for carrying large groups around the farm.

After a pretty smooth trip, we got into the Vandalia Walmart about 5 pm, and unhitched the toad. Then I drove over to the diesel pumps and got filled up. We were down to about a quarter of a tank, and I wanted to take care of it tonight rather than fool with it tomorrow morning before we leave. Before we left Elkhart I had planned on filling up on the way out of the area, but after we got on the way, I saw we had more fuel than I remembered. And this way I shouldn't have to fill up again until we get to our park in Houston.
A little after 5:30 we drove about 15 miles over to Jan's sister Debbie's house. She had prepared great meal of Crockpot Pizza with chocolate cake for dessert. She's a great cook, and I don't know how she stays so slim.
We got to see two of her three kids, Jason and Tana, Jason's wife, Laura, Jason and Laura's two girls, Avery Jane and Ella, and Tana's daughter, Gwen.
And, of course, Debbie and her husband, Jim. (I think I got all that right)
After a great time we got back to the rig about 9 and I went ahead and hooked up the toad so we'll be ready to go tomorrow.
We'll probably stop for breakfast at the McDonald's right down the road before we leave town. They've got semi parking so we shouldn't have any problem.
Tomorrow we'll drive about 310 miles to West Memphis, AR, right across the Mississippi River from Memphis, TN.
More from Memphis…
In Elkhart, IN
---
September 8, 2011
In Brightest Day, in Blackest Night . . .
I woke up this morning still a little under the weather, but better than yesterday. I've been taking Cold-Eze zinc drops which seem to help. My sore throat is just about gone, but now I have a stuffed-up head and a tickle cough. We'll see how tomorrow goes.
About 11am I made some phone calls trying to get some more info for the computer network upgrades at the RV Motor Home Hall of Fame. I'll have to make some more calls tomorrow.
About 3:45 pm Jan and I headed over to Mishawaka, about 15 miles away. We had wanted to see Green Lantern, but had missed it earlier in the summer. And as we were pulling out of the Elkhart Campground, our granddaughter Piper called to check in after her 18th birthday yesterday.
Getting to Mishawaka, we first stopped off at Bed, Bath & Beyond so Jan can pick up some items, then it was on to the theater.
We discovered this place last year when we were here in Elkhart. This theater shows older movies (Green Lantern came out in June) and it's cheap. (I like cheap!) Tickets are only $1.50 each during the day. Nice!
We both liked the movie which, unlike some, followed the comic book origins very closely. And supposedly there are two more sequels in the works. They certainly set up the next one in a short sequence after the credits.
Leaving the theater a little before 7, we got gas and headed back to Elkhart to have dinner at the local Cracker Barrel. Thursday is Turkey and Dressing Day at Cracker Barrel, and Jan loves it.
We had planned to go by Martin's Supermarket on the way home, but the weather/rain was so nasty we just came on back to the rig.
In Celina, OH
---
September 8, 2012
Air Hogs and Air Museums . . .
This morning Jan and I headed out about 10 to use the gift certificate for TC Coffee that we won during the rally, But they were closed. I guess they're only open during the week.
So we headed back downtown to check out Java Nation, a coffee/sandwich place. It turned out to be a really neat place with really good food.
The breakfast sandwiches were delicious, as was the pumpkin spice lattes we had with it.
Across the street from Java Nation I found this beautiful 1948 Buick Roadmaster.
I seem to remember one of my uncles having one of these back in the mid-50's, except his was red. Just a beautiful car.
One of the things Jan and I love about Celina is the novel architecture around town
It seems like there's something different and more striking around every corner
After breakfast Jan and I headed out to get our weekly Wal-Mart. While we were there I found a new toy. It's a Air Hogs Blue Sky Hawkeye, a remote control plane that also has a still/video camera built. And of course we ended up with one.
The Thousand Trails park we're heading to next has a lot of wide open spaces, so not as many things to run into. We ought to have a lot of fun with these. Until we crash.
Later, about 5pm, a bunch of us (18 to be exact) headed over to the China Wok Buffet for another get together. Good food and good company, what can I say.
Tomorrow Jan and I are going to make a day trip down to Dayton to visit the National Museum of the United States Air Force and the Dayton Aviation Historical Park, highlighting the Wright Brothers and the birthplace of aviation.
Gate Guarding in South Texas
---
September 8, 2013
Blowin' in the Wind . ..
I discovered something new last night. There's obviously a cattle feed lot nearby. Normally our wind here comes from the south or southeast, but last night for a couple of hours it was coming from the north and the smell was very noticeable. Wherever it is, it's not visible from the road, but since this site is actually a cattle ranch, it makes sense that there's one around here somewhere.
About 1:30am as the Hell Fighters' Kitchen guy was leaving, he dropped off another couple of nice dinners for us. Apparently they do an afternoon feed and a late night one so they can cover both shifts. And since the servings are so big, and Jan and I always split one, we'll get two meals out of these. And Jan's happy since she doesn't have to cook. It also helps that the food is delicious.
Our Gate Guard service guy, Austin, stopped off this morning to install a longer piece of hose on our bell system. We have a pair of these Solar Powered Wireless Driveway Monitors that we use, but we're only about 50 feet off the main highway and the entrance is so wide that these just won't work here. So the longer hose goes all the way out to the edge of the pavement and give us maximum notice of an incoming vehicle. In other words, more time to wake up.
We are using this sensor on the roadway coming up to us leaving the site and they work great. I have one placed about a quarter mile away, which gives me even more time to wake up. The thing I like about these is that they utilized a magnetic sensor that detects large moving metal objects, so no false alarms from cows, etc.
Later in the morning I called the site support guy up in Pleasanton to see about getting some diesel for our generator. We were down to 2-3 days worth and I didn't want to cut it any closer. This gate is different because we getting our diesel and water from the oil company and not from Gate Guard Services as in the past. I explained to him what we needed and he went off for a few minutes and came back and said to just grab the first diesel delivery guy that comes along and tell him what I needed. And lo and behold, just as I hung up the phone, the guy pulls in the gate. So about 10 minutes later we had a full 200 gallons of diesel in our tank. I love it when a plan comes together.
About noon we got the perfect amount of rain. Just enough to settle the dust, which was getting so bad that I was going to call the watering truck on Monday. Life is good.
Then about an hour later we got the not so perfect amount of rain. We now had standing puddles in the roadway, which on the caliche roadbed makes for a very slick surface. (slick as snot is the phrase usually used). But the sun came out. The puddles went away. And life was still pretty good.
But I changed into my Crocs anyway. And as it turned out it was good I did. I normally wear boots, but when the caliche turns to mud, it gets all up in the treads. Then when it dries it pretty much turns to concrete and has to be chipped away from the boot sole. A real mess. But the Crocs don't have much of a tread and can be hosed off.
Then about 2:15 the bottom dropped out and life went to hell. It was monsoon time, with very high winds. And since we haven't had time to put up the new replacement canopy, and the old one is structurally challenged due to the two broken struts, it was touch and go for a while whether or not I would a canopy left to return to Amazon. At one point I spent about 15 minutes just holding one of the legs down to keep it from flying away. Finally though, the wind died down, but it still rained for another 45 minutes or so before clearing up.
There was a lot of lightning during the storm, and with one of these light towers
right behind the canopy sticking up about 25 feet, and me holding on to the canopy's metal frame, I was a little worried that I might end up my own personal lightning rod. But I guess I lucked out.
Finally everything settled down and cleared up, and life was pretty good again.
It looks like our upcoming cooler weather is what's bring the rain. It only made to 87 here today, and now looks to just barely get into the 90's for the next 10 days. But then they've lied to us before.
Gate Guarding in North Zulch, TX
---
September 8, 2014
A Big Jump . . .
Well, compared to yesterday's now-paltry 145, we had 207 vehicles through the gate today. The big jump was really due to two things: the number of semi's bringing in loads of drill pipe, and the rig workers arriving in anticipation of drilling starting soon.
And they're finally making some visible progress getting the rig up. Here's what it looked like all day today.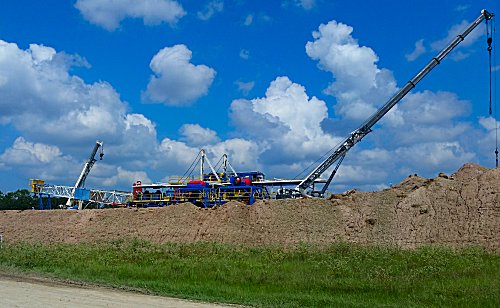 And here's what it looks like tonight.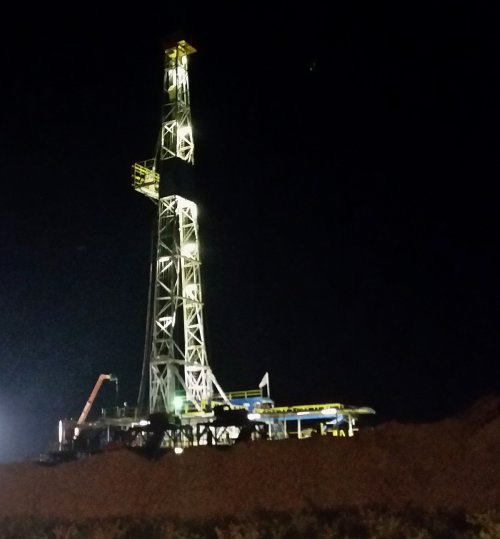 Down in the Eagle Ford area, south of San Antonio, where we've gate guarded the last two years, the rig crew, made up of roustabouts, roughnecks, and other workers, work a 7 day, 12 hour shift, and then they're off for 7 days. And I assume that's what they do here.
They actually have two full crews, since the rig runs 24 hours a day. And that means they really have four full crews, to cover the entire work period. The crew lives in crew trailers, either on-site or nearby while they're on-shift. This housing is furnished by the drilling company as part of their compensation.
And they're compensated VERY well, too. We've seen guys start to work on a drilling crew, coming to work, riding with someone else. And then after working a few shifts, show up in a $50,000 dually diesel pickup truck. Of course we've run into other guys who are broke because they're paying alimony and child support to 3 or 4 ex-wives. So it's not all money in the bank.
The supervisory crew, company man, engineers, tool pusher, etc., also work 12 hour shifts, but for two weeks at a time. And they also live on-site.
---
The weather's not been bad. In fact I've haven't even set up my misting system on the fan because it just hasn't been getting that hot, mostly in the low to mid 90's. And it looks like by this Saturday, Fall may arrive, with temps forecast in the low to mid 80's. Very nice.
But I'm not really sure how well my misting system would work here since the humidity is a lot higher here than in south Texas. But it doesn't look like I'm going to have to worry about it.
There's only two real problems with our gate here; Amazon and relief guards. Since the Gate Guard Services office here is 50 miles away, and does not have a secretary, or anyone else there to receive packages, that's out.
I've thought about using a UPS store, or a FedEx store, but I never know how Amazon will ship things. So I'm still working on it.
As far as relief guards, Jan and I always try to take a day off every 3 or 4 weeks. Well, 10 hours anyway, from noon to 10 pm.This usually works out to one around the end of September, which corresponds with our Anniversary on September 28th, and one around the end of October, which corresponds with Jan's Birthday on the 25th, and mine on the 5th, too.
But unlike the Eagle Ford area down near Whitsett, there is a paucity of relief guards in this area. A relief guard must be licensed just like we are, and must have their license with Gate Guard Services. And they also need to know how to run a gate, since they have to hit the ground running, so to speak.
Down in Whitsett, there were a number of ladies who did nothing but work relief gates, and stayed pretty booked. You had to get your reservation in if you wanted a certain date. They normally make $100 a day so there's money to be made.
But up in this area, no so much. I guess GGS hasn't been up here long enough for the relief guard thing to get going. Hopefully we'll be able to work something out.
Gate Guarding Near Carthage, TX
---
September 8, 2015
Week Three . . .
And We're Off!
It started up right out of the gate with the first truck in at 7am, and kept going from there. By the time I came out at 1pm, Jan was finishing up her 2nd log page (24 vehicles per page), and by the time she came back out at 6pm, I had done another page and a half. So we ended up with about 80 vehicles coming in, including a lot of frack equipment trailers that will stay until the end, and the first phalanx of sand trucks stocking things up.
Question: How do you tell if the frack is getting ready to start?
Sand trucks as far as the eye can see. Which turns out to be about ten before they wind off into the trees.
Talk about going whole hog, the landowner's son came through a couple of days ago with a feral hog in the back of his pickup. Jan said the tailgate was down and the hog filled up the bed and the tailgate. He said it weighed about 400 pounds
He said he'd shot it back behind us where it was tearing up some of his crops. Said that there was another one that he was going to get next time.
Seeing as how the guy owns a meat market, Jan asked him if he was going to dress it out. He said no, that they were just too nasty. Seems like I've heard of people cooking them up, but I guess a meat man would know.
Because of the low water pressure from the frack well, we're still getting our water from the GGS tank and just filling it from the well. So today I thought I'd top off our tank, and I'm glad I did because when I looked I only had a couple of inches of water left.
Because of the low pressure, it took over two hours before it was overflowing the top, so I'm done for another couple of weeks or so.
For dinner Jan heated up our left-over Jalapeno Tree from last night. Just about as good as before. Their enchiladas were really good, with a great tasting ranchero sauce.
Tomorrow I going into Carthage to pick up one of Jan's prescriptions that wasn't ready the other day. Probably also bring back Whataburger again.
I think we're hooked.
Gate Guarding Near Bryan/College Station
---
September 8, 2016
Fried Okra Doesn't Travel Well . . .
Today being BCS (Bryan/College Station) grocery day, I was out the door and on my way by 10:30, to make the 45 minute drive to the Wal-Mart. Or at least the closest one to us, anyway.
The first thing I noticed is that just a little over a mile down the road from us they're building a new pad. And as I was later to find out,, this could be our new home. They've really made a lot of progress because when I was by here just a week ago there was no sign of a pad being built. But apparently this is where our rig will move next.
Once I was at the Wal-Mart, I picked up a couple of prescriptions for Jan and I and then started on my list. I've now been to this Wal-Mart enough times to pretty much know where everything is so it didn't take too long. The only thing I was looking for that I didn't find was a cheap plastic mailbox.
I've seen them at other Wal-Marts, but apparently not here. If I had more time today I'd check out a Home Depot or Lowe's, but that'll have to be another trip, another day.
And besides, I'm not exactly sure how and where I would mount it anyway. On both sides of the entry road there is no real shoulder. About 6" from the pavement the ground just rolls off into a steep ditch about 5 feet deep. And if I put it there, the mailbox itself would actually be sticking out in the roadway. Probably not a good idea, unless I mounted it sideways I guess.
The only real option I've got would be to mount it on one of the fence posts by the cattle guard entrance. Which mean the carrier would have to pull off the road and into the entrance way to access the box. I know in other places I've seen rows of mailboxes lined up along the side road just off the highway, but I know from experience what one Post Office allows may be completely different than another one.
Of course the funny thing about all this is that it really doesn't matter where the box is since they'll never be putting anything in the mailbox anyway, since all of our packages will be too big for the box, and supposedly they'll have to drive the 50 feet inside the gate and hand the package to one of us.
So I guess before I buy a mailbox I need to talk with the Postmaster at the Hearne PO and try to find out how this is going to work. Or if indeed, it can work.
Getting back to today, leaving Wal-Mart, I headed over the nearest Chicken Express to pick up our lunch, 2 – 4 piece chicken tender boxes with a side of Fried Okra, large drinks, and an apple pie for me and a cherry pie for Jan.
Getting back to the rig about 30 minutes later, we quickly discovered something – Fried Okra doesn't travel well. It wasn't bad, but it wasn't as good as usual. Rather than being hot and crispy, it was more lukewarm and chewy. And this, even after I put it in an insulated bag for the trip home.
I guess we should have expected it, since we found the same thing last week with our Whataburger fries. They ended up cold and somewhat chewy too.
I guess we got spoiled last year at our gate outside Carthage, TX when the trip from restaurant to rig was only about 10 minutes, not 30 to 45 like now.
So next time it's corn on the cob as my side. Don't know about Jan.
Before I relieved Jan at 11pm tonight I unpacked my Wilson Cellphone Booster setup and then went down to the truck and pulled out 3 of my 5 foot antenna pole sections. I have 4 for a total of 20 feet just in case, but I've never needed that much.
But we'll see.
According to The Weather Channel, by the end of next week, we still should be looking at high temps in the low 80's and lows in the high 60's. Hope it holds true because we're really looking forward to it.
---
September 8, 2017
Coming Out Of The Closet . . .
Once again I was up and out the door by 9:30 this morning, on my way back down to my client in Clear Lake.
I'm still waiting for the new USB WiFi adapters to come in from Amazon, which should be here by Monday. Then I'll reconfigure the entire network and get the server computers, including the mystery one, out of the small closet and into another room where I can more easily hook up monitors/keyboards/mouses(mices) to them.
So today I worked on a lot of little niggly bits, including repairing a couple of broken RJ-45 connectors with the new repair clips that came in this morning.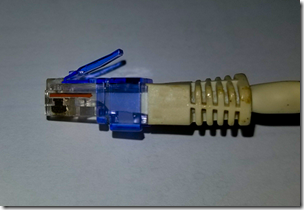 They just snap over the bad connector and lock right in place and seem to hold in the socket with no problems.
I've also been using my Ethernet cable tester to map out some of the many unidentified cables so I can tag them. Right now I'm using masking tape and a Sharpie, but I've ordered a set of these labels to make things permanent.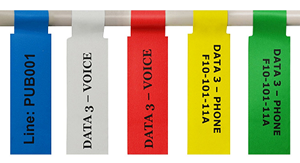 They're tough, waterproof plastic and come in sheets that you can print on a laser printer. A set of 300 labels (10 sheets) is less than $10.
The cable tester I'm using is one I had for 20 years or more, and in fact, I'm sure it's not even made any more.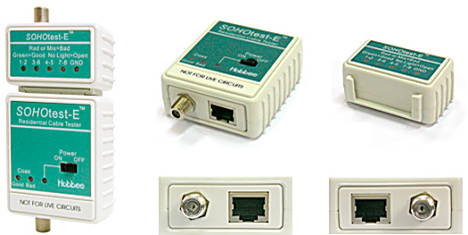 It's so old that it not only has the RJ-45 Ethernet connectors, but also the old coax cable connector which is what networks used before the Ethernet/RJ45 twisted pair standard came along, pretty much in the 1990's. BTW the 'RJ' in RJ45 stands for 'Registered Jack' and was developed by AT&T for phone use long before it was appropriated for Ethernet use.
All I have to do is plug a cable connector into each unit and turn it on. The 4 lights on the smaller unit flash and tell me it's the same cable and whether all the wire pairs are good or not.
Later in the afternoon I was able to make our reservation at the Hillcrest RV Park over in New Waverly, about 20 miles from here. We'll use it for our week out (actually 11 days) and then come back to Lake Conroe on the first of October. This will put us back on our regular two week schedule, although right now we're thinking about changing things around, so I'll let you know.
Finally about 3:30 I headed up to Katy to pick up Jan at our daughter Brandi's. Jan's been Landon-sitting all week since his school's been closed for the hurricane. Normally it's a little over an hour trip, but again, due to all the extra traffic, it was about an hour and 45 minutes.
By the time we left Brandi's it was after 5:30, and since I didn't want to head home in all the rush hour traffic, I decided to celebrate seeing her for the first time since Monday by having dinner at the Katy Longhorn steak house, probably our overall favorite steak place, with Saltgrass a close 2nd.
After our salads, (yes, I like a lot of pepper on my salad)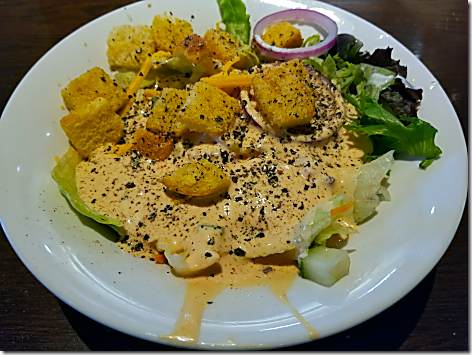 Jan go her standard New York Strip Sirloin with Baked Potato,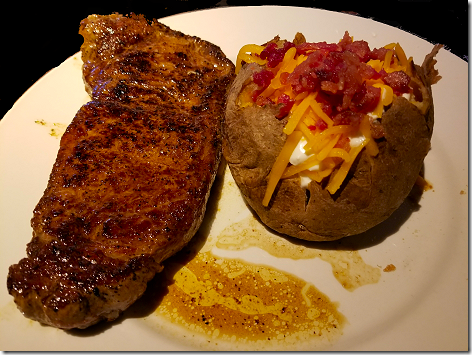 while I went for the Ribeye Steak, also my usual.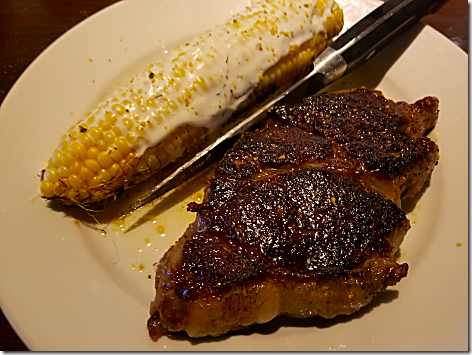 One of the best steaks I've had in a while. I don't think I've ever had so-so steak at Longhorn, much less a bad one. Just consistently good.
Though I will say our service wasn't very good, extremely slow, with people who sat down after us, placing their orders and getting their salads before we even saw our waitress.
By the time we finished, the traffic had died down, so we headed west for a couple of miles to get on the Grand Parkway and went north to hit I-45 about 20 miles south of Conroe, with hardly any slowdowns. Nice.
Right now it looks like Miss Karma and I will be on our own again for a few more days next week. Brandi's going out of town for a convention in San Diego and Lowell won't get home in time to pick up Landon at school, so Jan's on chauffeur duty for Monday through Wednesday.
A friend said I ought to be suspicious that Jan's leaving me one babysitting job at a time.
---
September 8, 2018
Like A Pack OF Hungry Hyenas . . .
Jan and I headed up to Katy and Landon's Big Birthday Bash about 11:30, but with a breakfast stop at the nearby Denny's.
We normally do the Denny's Breakfast for Lunch thing on a weekday afternoon when they're not very busy, but Saturday mornings are a little busier . . . make that a lot busier.
But we both got our usual, Jan with her Mushroom, Onion, and Tomato Omelet,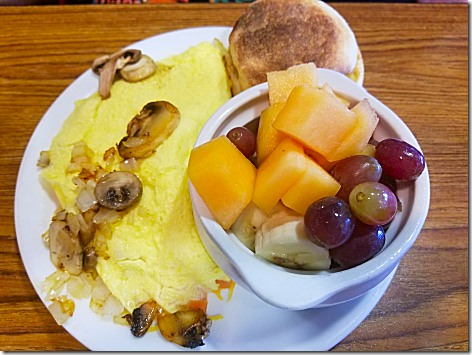 and I got my Two Egg Build Your Own Slam.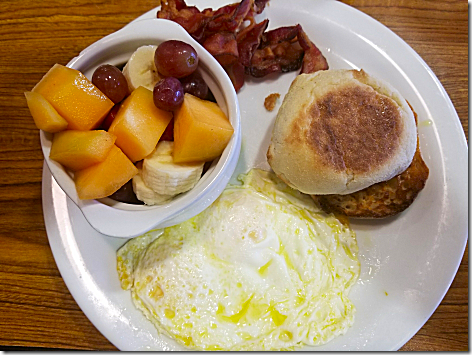 I think they've changed their bacon company because this batch was really good with a great flavor.
On the way up to Brandi's, we passed through several heavy rain showers but it was all clear by the time we got to Brandi's. And luckily stayed that way when we all headed out to the Smith Ranch about 2:30. It was nice to see that they were expecting us.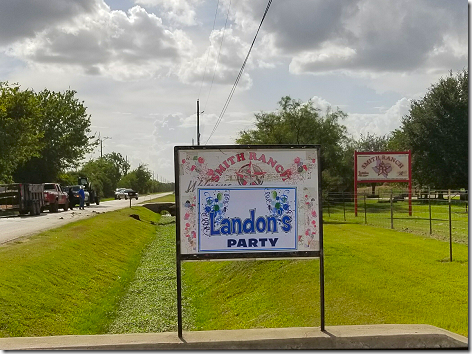 Landon's had two other birthday parties here, and the kids always has a good time, mostly due to the ginormous blowup waterslide they have.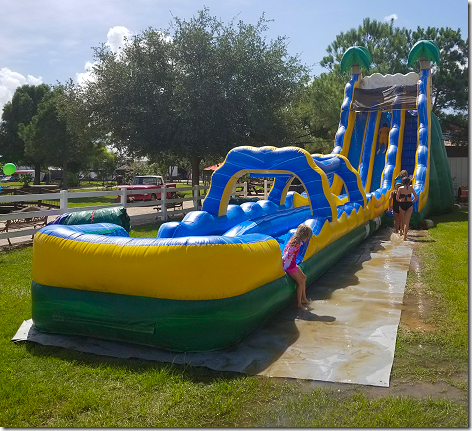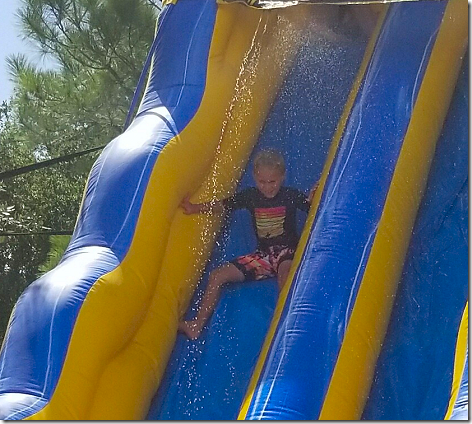 Landon's party was Dog-themed so what's better than a birthday cake with his dog's photo on it. That's Baxter on the left and Kitty on the right.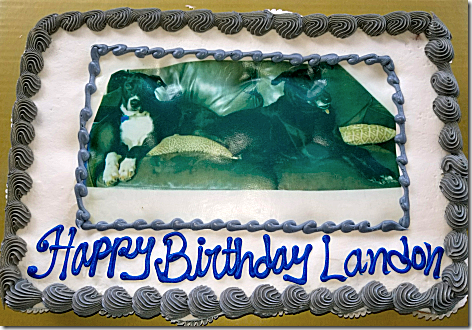 Yes, they have a 120# Black Lab named Kitty. They get some really strange looks when they yell, "Here Kitty, Kitty, Kitty!" and she comes running up.
One thing neat about the cake is that it's actually made of cupcakes,

half vanilla and half chocolate. Makes serving it a lot easier and everyone gets the same size piece.
And of course with a Dog themed party you've got to have a bone-shaped Piñata, of course.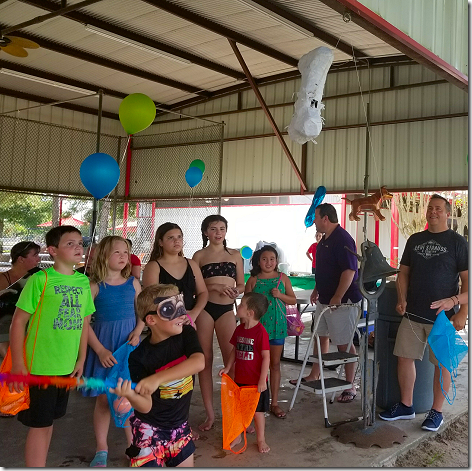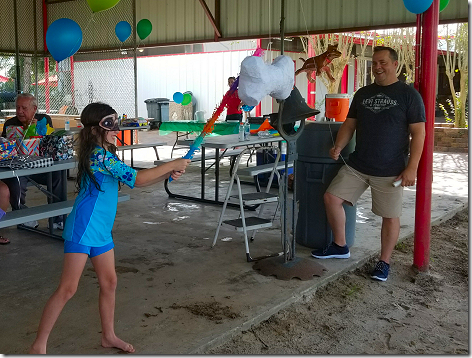 Lowell had a lot of fun keeping it out of everyone's way, especially Landon. And when it finally popped, the kids were on it like a pack of hungry hyenas.
As I mentioned in last night's blog, I left Jan there so she could attend Grandparent's Day at Landon's school on Monday morning, and then I'll pick her up that afternoon.
So it's just me and Karma for the weekend.
---
September 8, 2019
Gonna Be Hard To Top . . .
From the front yard sign to the giant two-story water slide Brandi and Kristine (Sophie's mom) went all out on this combo birthday party for Landon and his BFF Sophie.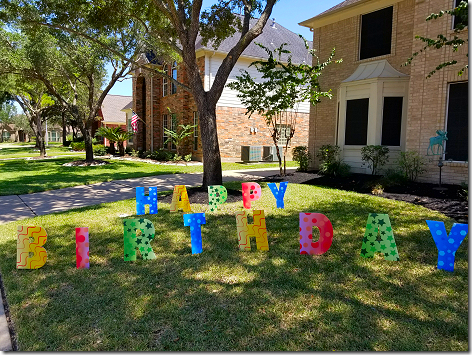 Their birthdays are within a few days of each other, and since they're constant companions it was just a natural idea.
When I got there about 1pm they were both playing king of the hill on the water slide,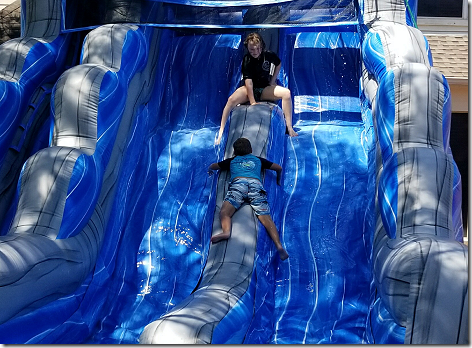 with Sophie often coming out on top since she's got a couple of inches on him. I've noticed that girls this age (9) often have the edge on the boys until they get their growth spurt.
It wasn't long until the guests started showing up and the slide started filling up fast.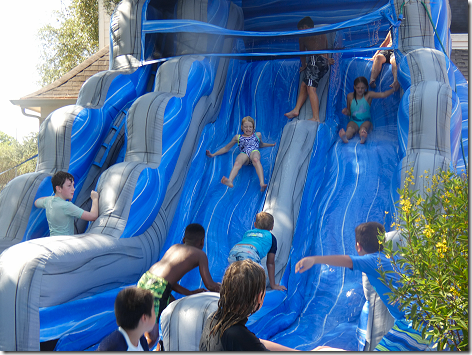 I did tell Lowell that I was surprised that some of the kids weren't trying to find a way to jump from the 2nd story window down onto the slide.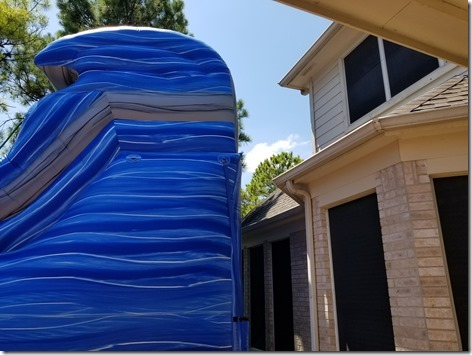 I know we would have been trying that when I was that age. Of course we didn't have to wear helmets and knee pads when we rode a bike.
And we were crazy enough to ride in the back of pickups, too.
After a while some of the kids started to check out the pool.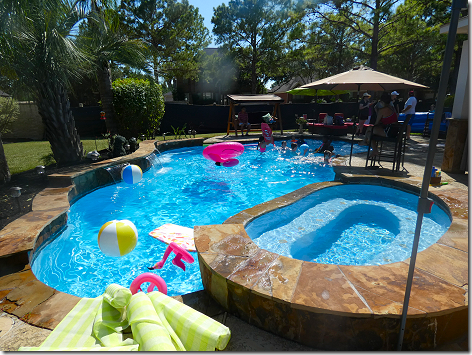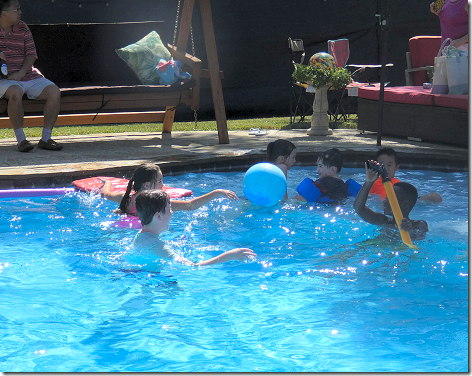 And with so many kids around they had even booked a life guard to keep an eye on everyone.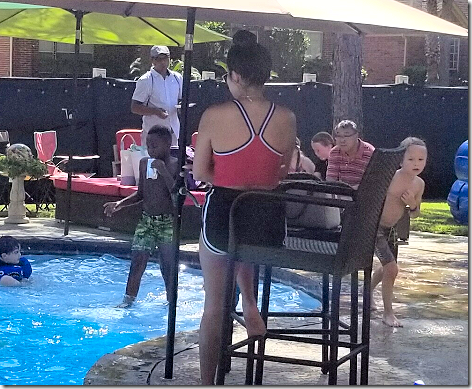 While all this was going on, I did get a look at the the birthday cake that I did the photo for.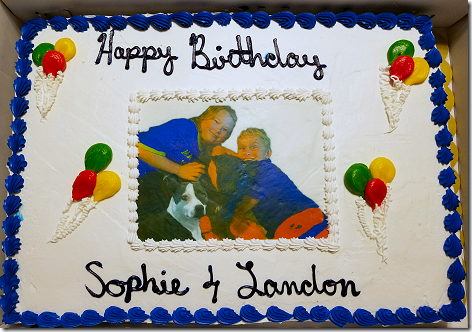 Came out pretty good, especially considering the resolution of a cake printer. But as I thought, Baxter, the black dog between Landon and Lowell, kind of disappeared into the background. Best I could do, though, with what I had to work with.
Besides all the fruit and veggie setups, chips and dips, they also a street taco/quesadilla bar, with two ladies making it all to order.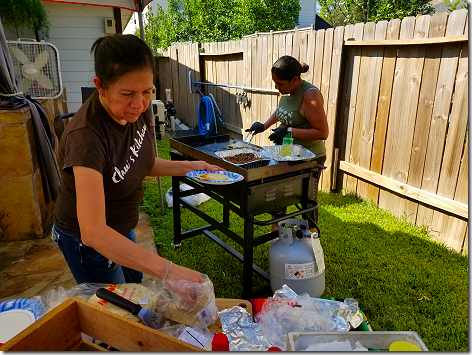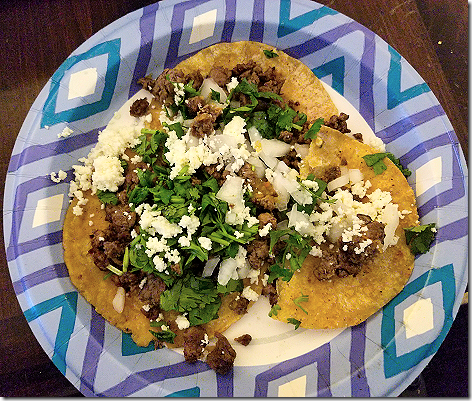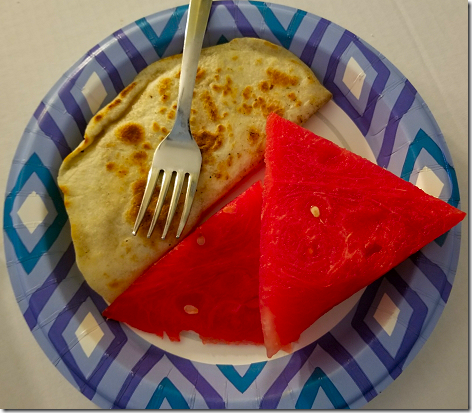 Really delicious, and a great idea.
And it wouldn't be a Texas birthday party without piñatas. Two, as a matter of fact, one for each.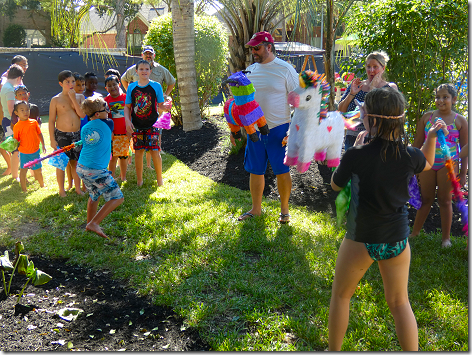 And of course, the mad scramble for the candy and gifts that fell out.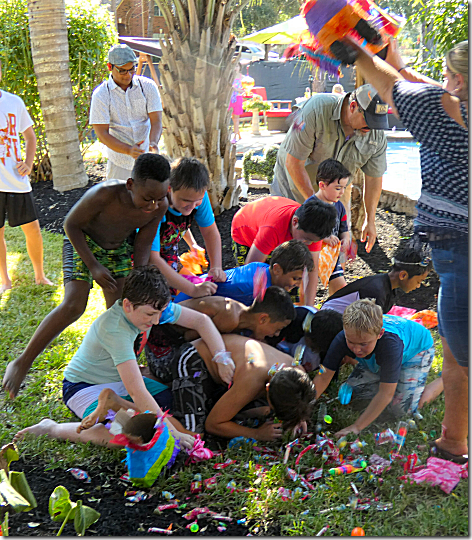 Then it was on to the cake cutting, with Landon on the left and Miss Sophie on the right.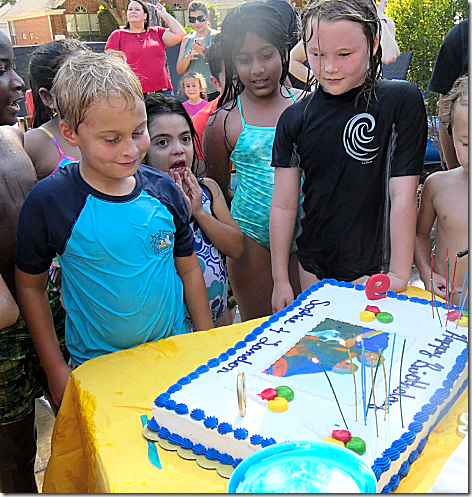 I think one of the reasons that Landon and Sophie are such good friends is that they are both tech nerds. While a lot of 9 year old girls want Barbie stuff for their birthday, Sophie was thrilled with the several built you own robot kits she got.
And since Landon likes dogs so much, and dogs were the theme of the party, everyone got a dog balloon to take home.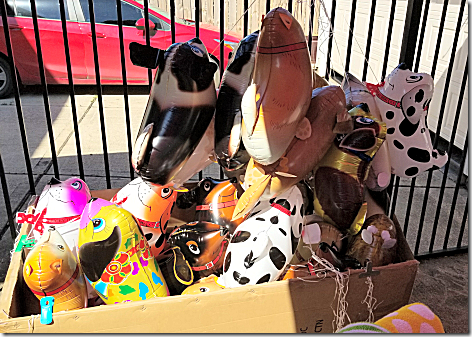 I though it would have been more fun if everyone got a real puppy from the pound to take home. The kids would have loved it, the parents not so much.
With everything Brandi and Kristine had going with this party, it's going to be hard for another parent to top it.
---
September 8, 2020
Parties, Parties, and More Parties . . .
Yesterday we were back at Spring Creek BBQ for more of their really good Baby Back Ribs, with Beans and Beans.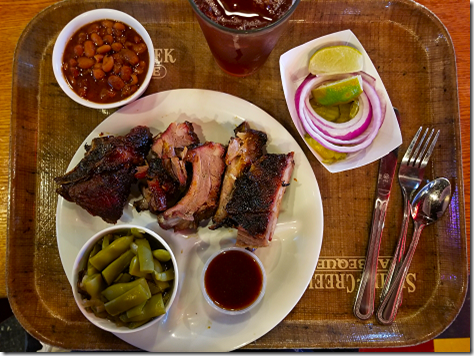 Then today we were back at Snooze for breakfast once again. Jan got her usual favorite Bravocado Toast,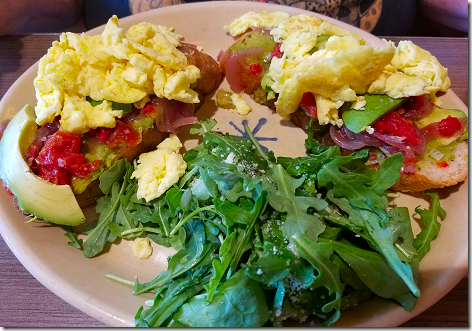 while I got my usual Snooze Classic Breakfast with Fruit.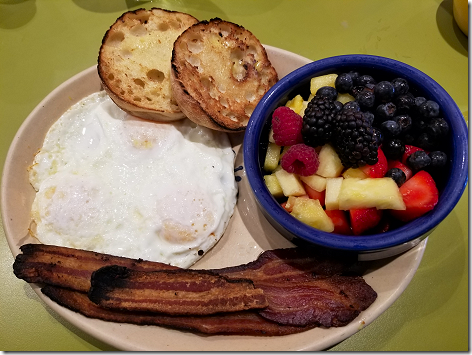 I have made some headway on my rig's lighting problem. In fact I now know that I can rewire things to work if I have to.
One of the main tenets of troubleshooting is "Divide and Conquer'. This means you go halfway between the circuit's Input and the Output, and check the signal/voltage there. Then you keep dividing the circuit in half until you narrow it down.
So today I ended up working at the rear PDC (Power Distribution Center). The way the rig's lights work, the taillights in particular, is that when you turn on the lights at the switch, the 12 volts feeds a relay in the dash area, which then feeds back to the rear PDC where it feeds another relay that actually turns the taillights on.
So what I did was to pull the relays at the rear PDC and turn on the lights directly.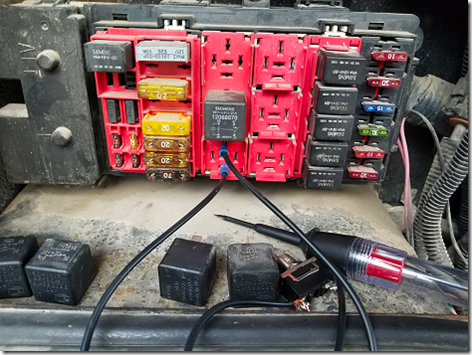 I made up a test switch with spade lugs on the ends that let me plug directly into the relay bases. But when I tried it on the taillight relay, the taillights didn't come on. But the little side marker light did. So that meant my idea was at least correct.
I had originally put off worrying about the bulbs since I thought the odds were low that both bulbs went bad at the same time. But apparently the odds weren't that low.
When I pulled the lens covers on the right side, I found the bulb, not only bad, but blown. And so was the other side. They both looked like this.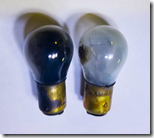 Bulbs normally look like this when they've been hit with some sort of overvoltage spike. And these are 1157 dual filament bulbs for both taillights and brake lights, and all 4 filaments were blown.
But when I removed the bulbs and again put power through the relay base with my test switch, I had voltage to both contacts of the bulb socket on both sides.
Next, as a quick check I used my test switch to put voltage to the turn signal lights, and they work. But then they don't work from the steering column, so I've got another problem.
And I ran out of the daylight before I could check and see if the taillights worked all the way from the dashboard now. That's for tomorrow.
I did order a set of LED 1157 bulbs as replacements. Should be here Thursday.
So I'm making headway, but it's obvious that I'm looking at multiple problems here, not one single problem that took out all the rear lights.
And I'm still puzzled as to how a voltage spike could get through the relays and burn out both filaments on both sides, but not cause any other problem.
It's always something.
---
September 8, 2021
It's That Time Of The Year Again . . .
And what time is that?
It's Pumpkin Spice time again.
So we've not only got Pumpkin Spice Creamer, Sugar-Free, of course.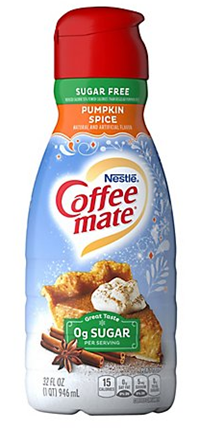 But that's just the start.
You've got Pumpkin Spice Mac N Cheese,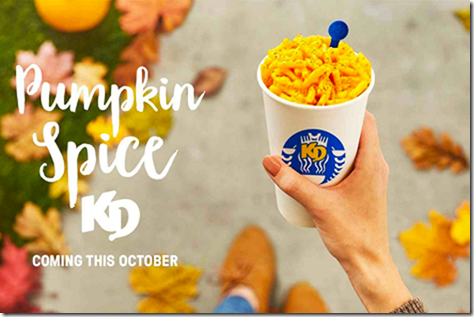 Pumpkin Spice Whipped Cream,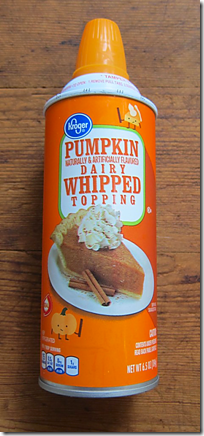 to put on, what else, Pumpkin Pie. And, yes, there is a slice of pie under there.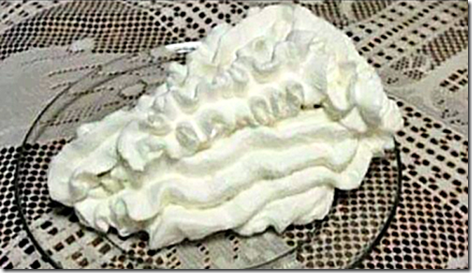 And even Pumpkin Spice for your car.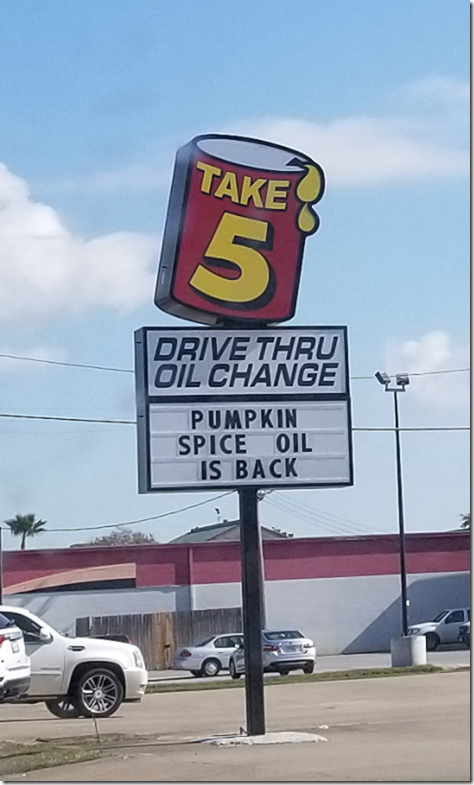 Bet the exhaust smells really good, too.
And in these perilous times, what could go better, but a whiff of Pumpkin Spice.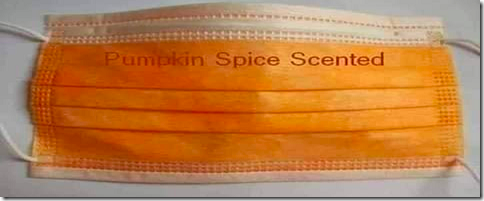 And of course to be doubly safe, finish up with Pumpkin Spice Hand Sanitizer.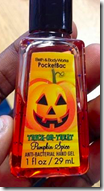 We'll as it turns out, after telling us that they knew the problem with our phone system at the office was our problem, SpectrumVOIP said that they would send someone out to look at it, but that since they 'knew' it was our problem, it was going to cost us.
The tech was coming from San Antonio?, and that there would be a trip charge of $150 each way, and a service charge of $55/hour including travel time. And when he got there about 2pm, he seemed to go out of his way to 'not' find the problem.
Killing time, maybe?
First he said that the phone system wasn't getting an Internet signal, and so that was our problem. I told him that the DSL modem has Spectrum right there on it, and it also feeds our office system, and it was fine.
"Oh", he said.
I kept telling him to look at his router in the office since it had no lights on it, and looked dead. And finally after he had eliminated everything that could possibly be our fault, he checked out his router.
"Oh", he said. "It's dead." And when he picked it up, it actually kind of fell apart in his hand.
So he went out to his van, came back with a new router, and what do you know, we had phones again. And no outrageous charges since it was not our problem.