More New Friends and A New Record . . .
Getting back to yesterday's fun.
We met up with long-time friend's, Peri and Jim Dean, and his sister and her husband, Melinda and Chris King at Jimmy Changas at about 4:30pm, early enough to be the rush. By 5 or a little after, they're on a wait.
Jimmy Changas seems to have become our new meeting place for getting together with old/new friends, since we were just here a couple of weeks ago with our new Canadian friend's, Ron and Anne Fortier.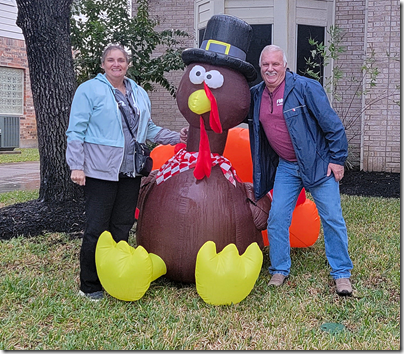 We've known Jim and Peri since we first met up in Las Vegas in 2011. They had been blog readers for a couple of years and wanted to get together while we were all there. And we've been getting together when ever we can ever since.
This time Jim, Peri, Chris, and Melinda are boarding a Carnival cruise this afternoon, taking them to Key West and the Bahamas. So since they were staying in Texas City, this was the perfect time to get together.
Jan and I both had the same thing we had last time, Jan with the Plato Soldado,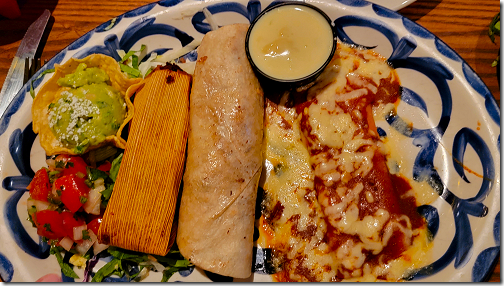 while I again got the Rio Grande.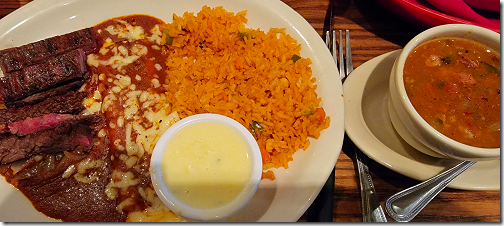 We had a fantastic time getting back together with Jim and Peri, and getting to know Chris and Melinda.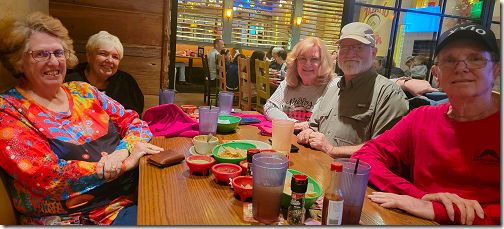 We're all RV'ers, and it was amazing how many of the same places we've all been too, and had a great time reminiscing about it all.
And we set a new record. We got there at 4:30 and didn't leave until a little after 9pm. That's more than 4-1/2 hours. And of course as we did last time, we well compensated Martha, our server, since she could have probably had 3 or 4 other groups at our table.
Hopefully we'll be able to get together again when they get back from their cruise before they all head home.
---
Today was an easy one, with lunch at Denny's (or breakfast, anyway). And it's amazing the omelets that you get when you tip the cook as well as your server.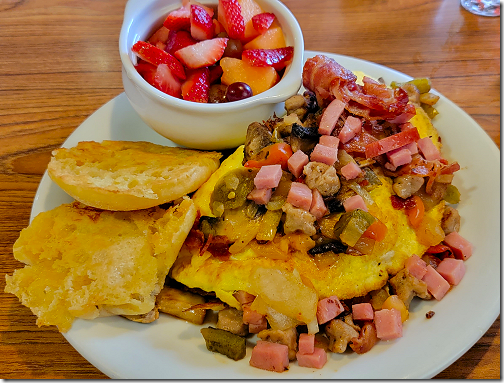 Almost more than we could eat. I told Jan that if we ever tip Hugo the cook again, we're going to need a bigger plate.
Next up was right down the Interstate to the Tanger Factory Outlet Mall. Peri Dean showed Jan her new Vera Bradley purse that she had just bought. And Jan, having kind of outgrown her smaller one, thought this one would be perfect for her.
So a quick stop at the Vera Bradley Outlet Store netted her this one.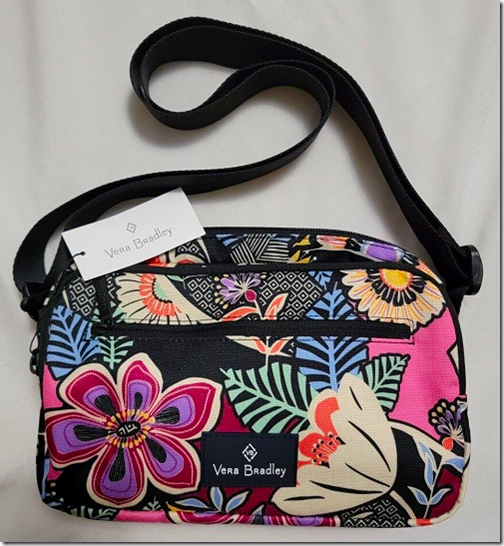 She likes that it's bigger and has a longer. heavier strap.
Yesterday, our Old Reliable 2004 Dodge Dakota truck hit 310,000 miles.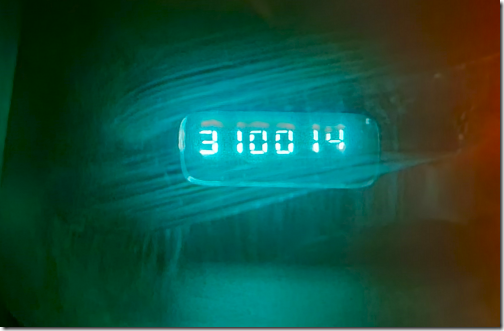 And of course, it's got another 90,000+ miles being dragged around behind the RV that didn't register on the odometer.
---
Thought For The Day:
I have a great investment opportunity for you. Just give me two million dollars and I will change the world on your behalf (legal disclaimer — I am not specifying the specific world that I will change but it is highly likely it will be mine.)
---
December 2, 2010
Great Steaks on the Guadalupe . . .
This morning started out with some of Gina's great coffee and more catching up on things. Then about 10:15 Gina and Jan took two of the cats, Jonesy and Beau Kitty, down to the vet in nearby Sattler for some shots and micro-chipping.
Then after they got back we drove over to Milagro's, our favorite local Mexican place. Their chips and salsa are top of the line and everything is seasoned perfectly. I had a taco salad and a bowl of chicken tortilla soup, while Jan and Gina split an order of bean and cheese nachos and a taco salad. They have a fantastic Blackberry Habanero Vinaigrette salad dressing that I have to get every time we go.
Getting back to the ranch after lunch, Gina decided it was a good time for a nap, while Jan and I drove back down to Sattler. I wanted to stop by the Wells Fargo to get a new debit card, and then go across the street to the Ace Hardware to get some supplies to complete Gina's Honey-Do list.
After we got back from Sattler, Jan also thought it was a good time for a nap, while I worked some on the Honey-Do list.
Then about 5:30 we all drove over to Gruene (pronounced 'Green") to eat dinner at the Gruene River Grill, a steak place Gina had been to once before.
And boy was it good. Gina and I both had the Balsamic Ribeyes, and Jan had the Grilled Sirloin with mushrooms. All came with roasted new potatoes and very al dente green beans. These were great pieces of meat.
Although it was hard to tell at night, the restaurant overlooks the beautiful Guadalupe River that winds all though this area, and they have a lot of decks and tables for outside dining.
This is a place we'll have to go back to.
We got home a little after 8, and then while Jan and Gina watched TV, I finished up the Honey-Do list, and cleaned all the 'Gunk' out of her computer.
That was about it for today. Tomorrow Jan and I head about 65 miles up the road to Burnet to meet the kids for a long weekend on Inks Lake. Should be fun.
---
December 3, 2010
Tea-Licious and The Maxican . . .
We left Gina's a little after 10 this morning heading about 65 miles north to Burnet, TX. We were meeting Chris, Linda, Piper, Brandi, Lowell, and Landon (also known as the kids) at the Tea-Licious Tea Room for lunch. The kids have been here since last night when they drove up from Houston, so they didn't have far to drive to get here.
Tea-Licious is a great little restaurant right on Burnet's historic town square, and we always make a point of eating there when we're here at the lake.
Here's Jan hogging all the Landon time, as usual. But he seems pretty happy about it, doesn't he.
After lunch we split up, with Chris and I coming back to the lake house, while the rest of the family ran errands and picked up some groceries at HEB.
The rest of the afternoon was spend playing video games (HALO on the Xbox), napping, and walking down by the lake.
The about 5:30 we all drove over to The Maxican, (yes, that's the way it's spelled) our favorite local Mexican restaurant. This place is so good it has already out-grown its first location, and based on the crowd tonight, is well on its way to doing the same for this one.
As usual the food was great, and the company was even better. Here's Miss Piper getting some time with Santa Landon.
After dinner we all drove about 10 miles south to Marble Falls to see the Christmas Light Show along the banks of the Colorado River. This is the second year we've done the show, and luckily, this year was shirt-sleeve weather, and not in the low 40's like last time. Here are some photos of the lights.
Landon enjoyed the first few minutes and then decided it was time for a nap. That's (l to r) Chris, Piper (barely), Lowell, Landon, and Brandi.
We got back to the house about 8:30, and everyone was pretty well pooped out. We sat around for a while, and then people started drifting off to bed.
And now I'm going that way too.
Tomorrow we're going to drive about 60 miles southwest to Fredericksburg, TX to eat at Der Lindenbaum, our favorite German restaurant, and do some shopping at all the neat stores along Main Street,
---
December 3, 2011
Habaneros and Gumbo . . .
This morning started off with a flurry of calls from several clients needing help. Looks like I'm going to be very busy next week.
About noon Jan and I headed up to Kemah to visit our son at the Kemah Farmer's Market where he's got a booth selling his very popular Habanero Jelly, Apple Butter, and Banana Butter.
On the way we stopped off at Chick-Fil-A to pick up some lunch for him, and us. The market was busy and he was doing pretty good.
Leaving Chris we drove over to Half-Price Books so that Jan could look for a couple of things. Half-Price Books is one of our favorites because they have a little bit of everything.
Next up was a client's office where I installed and set up Carbonite, the online backup system. Although not recommended for RV'ers who use Aircards, WiFi, or satellite Internet, if you're using a land-based Internet service like cable or DSL, it's the easiest way to keep your system constantly backed up for only about $60 a year. And no worries about onsite problems with fire or theft.
After finishing that up we headed back home for a couple of hours before heading back up to Clear Lake to meet Brandi, Lowell, and Landon at Floyd's Cajun Seafood, our other favorite Cajun place. Can't get enough of their Gumbo and Boudin.
Floyd is Floyd Landry. He and his brothers started the Landry's Seafood Restaurant chain and then sold it. He now has two restaurants in the Houston area and one in Beaumont, TX.
Floyd is about as Cajun as it gets, and his food shows it. Really good eatin'.
After leaving Floyd's we drove across the parking to Tuesday Morning so Jan could pick out some more Christmas cards. Then after stopping off at our store room to pick up our Christmas tree, we went by Brandi's to pick our mail, and then headed home.
---
December 3, 2012
A Tale Of Two Restaurants . . .
Recapping yesterday (Sunday), our away-from-the-rig time started in the early afternoon with me dropping Jan off at Brandi and Lowell's so she could get some more Landon time while they ran some errands.
While she was doing this I spent the afternoon at two different clients upgrading software, cleaning the gunk out of a number of computers, and fixing some network problems. All things that are hard to do during the week when they're open.
About 6pm, I met Jan, Brandi, Landon, Lowell, and Lowell's sister Sherry, at King Food for our usual great meal. We like the fact that besides the delicious food, they have big round tables in the back that will seat everyone in the family, and also let us kind of corral Landon up. He's at that point where he doesn't like to sit in a high chair so this works out good.
We've been eating at King Food for 34 years now, and I like to tell people that we're on our 4th owner. The present ones have been there the longest, and we've watched their kids grow up and head off to college, while our kids did the same.
When we started eating there, Chris was 10 and Brandi was only 5. And now they both have kids of their own.
Another tradition with us and King Food is that for about the last 30 years we've always eaten Christmas Eve dinner there. I think it originally started because Jan was working on Christmas dinner for the next day and trying to fix another meal in between just didn't work. And King Food was one of the few places that was actually open on Christmas Eve.
And we'll all be right back there this Christmas Eve too.
Today started out with more client visits and stop-offs at Home Depot and Lowe's for a replacement for my under-sink water filter. They keep discontinuing the one that my system is set up for, but I think I've found a new one that will fit, but a little more research is needed.
My last stop was Brandi's to wait for the mail to be delivered, so I won't be a scofflaw anymore. My South Dakota car tags (and rig tags) expired on Friday and I've been evading the law every since.
I ordered them online the 1st of November and they normally only take about two weeks. But they didn't arrive at my South Dakota mail service until this past Saturday. But Terri at MyDakotaAddress put them right back in the mail via Priority, and the tracking number says they'll be here today.
And they were. And I'm legal again.
Getting home, I picked up Jan and we headed right back out to try out a new restaurant in the area called The Herb Café & Market.
The online reviews were great, and the place lived up to them. Pretty much every thing is homemade. They bake their own bread, make their own salad dressings, grow a lot of their own produce, BBQ their own pork, etc. What's really nice is that it's only a couple of miles from the park. We'll be back.
Leaving the restaurant, we headed up to Chris' to drop off the laptop and visit for a while with Chris, Linda, Piper, and meet Piper's boyfriend, whose name I've suddenly blanked on. Sorry.
Then it was on to Wal-Mart for a few things before we finally headed home.
Another nice day.
---
December 2, 2013
Back to 'Normal'
Today was really our first 'normal' day back here at Galveston Bay RV Resort. We had lunch at Monterey's Little Mexico for Chicken Tortilla Soup and Beef Fajita Nachos. Then it was off to a client's house/office out in the country. Like many of my clients, these are also long-time friends. In fact they used to live right down the street from us and our daughters grew up together.
In this case Tom's computer, one that I built for him in January 2007, is still going strong. But it has been made obsolete by time. He uses it mostly for customer emails and shipping UPS packages using their software. But the latest version of UPS Worldship no longer supports the OS, Windows 2000, running on this computer. And although the computer could be upgraded to run a newer OS, it still would be a 7 year old computer.
So we're going to replace it, probably with a laptop, since they're traveling more now. He's also going to have to replace one of his printers, an older model that HP didn't support with Win7/Win8 drivers.
I'll get back to him later this week with several laptop ideas for him to select from and we'll go from there..
Our next stop was a Starbuck's for a Pumpkin Spice Latte for Jan and a Cinnamon Dolce Latte for me before heading to the Chase Bank next door. They sent me a new VISA debit card to replace my old one because they received information that my old number may have been compromised. I haven't noticed any problems but why take a chance. I just needed to run it through the ATM to activate it.
Then it was off to another client's to check in and get some idea of any upgrades he wants while I'm here.
Our last stop before we headed home was at Tuesday Morning so Jan could check out their Christmas card selection. She says they always have the most unique cards at the best prices.
Getting home about 4pm, it was time for a nap.
And it was a good nap.
---
December 3, 2013
Nice while it lasted . . .
When we first started RV'ing back in 2008 we always heard about the fantastic support from Fantastic Vent (Fan), never charging people for replacement parts for their products, no matter how old. And this proved to be true for us when I needed a new cover lift motor for one of the fans in our 1999 American Eagle. Even though the fan was 10 years old there was no charge for the replacement, not even shipping.
Then in 2010 when Atwood, the RV water heater people, bought them out I remember thinking, wondering if that level of support would continue.
Well, as it happens, it didn't. The same motor I replaced in 2009 died while we were working the gate, but I waited until now to get it replaced. And the motor that was free in 2009 now costs $35.00 plus $12.95 shipping.
Well, it was nice while it lasted.
After a nice, quiet day we picked up Judy and Dick Mott at their RV where they're parked down at Latitudes RV Park down in San Leon. Dick and Judy have been blog readers for a while, and as it turns out, were gate guarding for Gate Guard Services at the same time we were, and only a few miles away from us. But we all had to come back to this area to get together. We had dinner at Floyd's Cajun Seafood, one of our favorite local restaurants, and spent about 3 hours talking and learning how many friends we have in common.
All in all, a great time was had by all.
Brock's Car Care called this afternoon and said our truck is ready to go. Told them we'd pick it up tomorrow morning. They had called earlier and said my battery wasn't holding a charge, and they had to jumpstart it every time they needed to move it. So I guess I'm getting a new battery along with a new front end.
Oh, well.
---
December 2, 2014
DUMBO Pizza . . .
As I figured yesterday, our stay-at-home day today, became a going out shopping and eating day.
Not that there's anything wrong with that.
But before we left I talked to Galveston Bay RV Resort to see how things were coming along with getting their new sites open, and it's looking good. Turns out they're now hoping to have them up and running by Dec. 15th. Here's hoping.
We left the rig about 1pm, heading for the Fry's Electronics down in North Houston. I came up with a couple of more projects based on the Fry's Christmas Sales email alerts that I've been getting, and we won't be back down to the Fry's in Webster until this weekend.
It's been 10 years or more since I've shopped at this Fry's, but since the layout is pretty much the same as the one in Webster, I found everything I was looking for, and of course as usual, I found several things I didn't know I was looking for, but apparently really needed. Or at least it seemed that way at the time.
The other advantage to this Fry's is that coming back home, we pass right by the Grimaldi's Pizzeria located in the Woodlands. Grimaldi's has been our favorite pizza place since we first ate at one with Brandi and Piper when they visited us up in New York in 2009. We ate at the original Grimaldi's located in the DUMBO (Down Under the Manhattan Bridge Overpass) area of Brooklyn. It was the best pizza we'd every eaten, so we were really happy when a couple of years ago our friend Lyn Cross alerted us to the fact that they had started opening Grimaldi's around the country.
Since then we eaten at Grimaldi's all over, including two in Houston, two in San Antonio, one in Tucson, and one in Gilbert, AZ. And probably a couple of more we've forgotten about.
As usual, we started out with the Small Salad, which despite the name, is large enough for both of us to have two servings.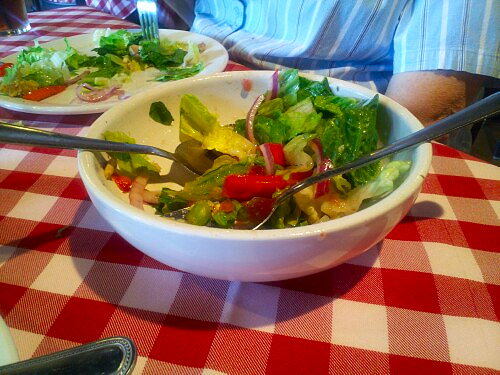 Then it was on to the large 18" pizza, with Pepperoni, Mushrooms, Italian Sausage, Meatballs, and Jalapenos. Besides the crust made with New York water and cooked in a coal-fired brick oven, another thing that makes this pizza unique is that the mozzarella cheese is laid on in slices, and not shredded cheese just sprinkled on.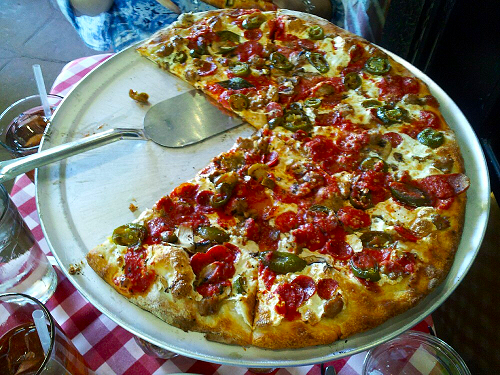 We always get the large so we'll have plenty of leftovers, as this pizza heats up great.
Heading toward home, I made a quick stop at the nearby Barnes & Noble for me, and a drive-by checkout of the location of the The Container Store for a later visit for Jan.
Lowell sent over Landon's school pictures that just came back.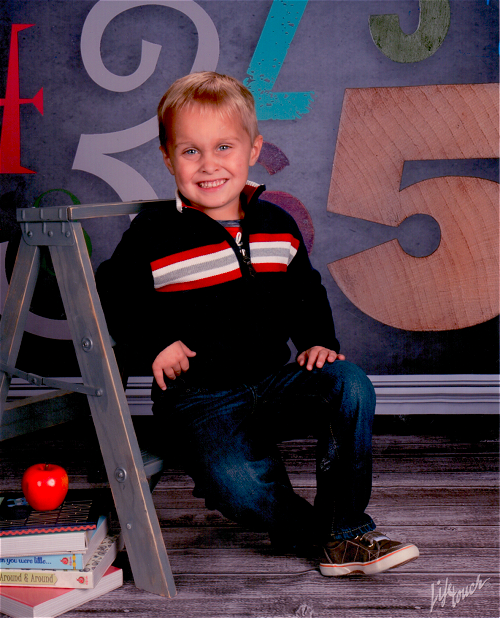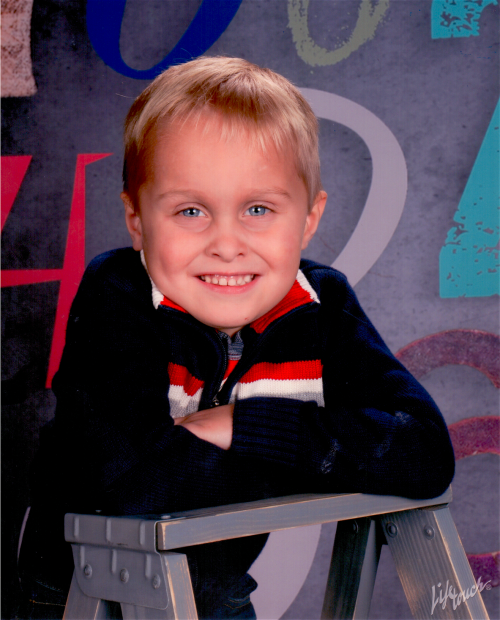 This kid should be a model.
---
December 3, 2014
Pines and Cuckoos . . .
Once again our stay-at-home day was interrupted by real-life, or at least the need to get a couple of errands done.
Our first stop was to drop off some pants to be hemmed at a local Willis alteration place, before checking the Kroger's across the street for Christmas trees, specifically a live Norfolk Pine Christmas tree for the rig. We had seen some there last week, but now they were sold out.
But while we were there we decided to have a Starbucks' Chestnut Praline Latte, like the one we had the other day down in Webster. But this time I think the barista made a mistake and forgot to put the flavoring in, because what we got just tasted like coffee with warm milk. However, I didn't take it back because by the time we sat down and tried it, there was a long line of customers and only the one girl/barista at the counter.
While we were sitting there drinking our milky coffee, I looked over at a display of noodles about 3 feet away, and saw the name 'Essenhaus' on the packaging.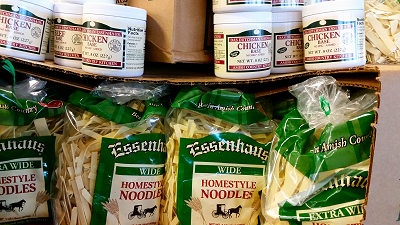 Looking closer, I discovered it was a product of Das Dutchman Essenhaus, an Amish restaurant located in Middlebury, IN, between Elkhart and Shipshewana. We try to eat there at least once whenever we're in the area, since they have great fried chicken and a really great selection of fresh vegetables. But I didn't realize until now that they were marketing their products nationwide. Small world.
Our next stop was a local nursery known for their Christmas tree selection. But when we got there and asked about Norfolk Pines, the guy said they get asked for them all the time, but they don't carry them.
What's wrong with this picture?
A few days ago I stopped in at a Home Depot down in Houston and noticed in passing that they had Norfolk Pines, so we drove over to the one in Conroe to check them out. And we hit pay dirt. Not only did they have good selection, and Jan was able to find one she liked, but even better, though it was labeled $19.99, it turned out to be on sale for only $9.88.
Merry Christmas to me.
Yesterday when I stopped off at the Barnes & Noble down in The Woodlands, I was specifically looking for my favorite computer magazine, MaximumPC. I've read it for years and have always been able to pick up the latest copy at Kroger's, or Wal-Mart, or just about anywhere. But a month or so ago I realized I hadn't seen it for a while. And I didn't find it at B&N yesterday either.
At first I thought maybe they'd gone out of business, but checking their website showed they were still around and selling subscriptions. The only thing I can figure is that Ingram, the big magazine distributor, has quit carrying them for some reason, but the website didn't say anything about that.
But what the website did mention was a digital subscription, and it looked like a really good deal. I was able to get a 13 month digital subscription for only $10.99. That's about 85 cents an issue vs. the $4.99 on the newsstand. A really good deal.
And every month the latest issue shows up in Google Play Newsstand on my phone or tablet. Once the January issues of Popular Science and Popular Mechanics are out, I'm going to subscribe to their digital editions too.
Unfortunately, it doesn't look like Model Railroader is available in a digital-only format.
---
December 2, 2016
Hazelnut Coffee and Pumpkin Pie . . .
We enjoyed a nice, quiet, gloomy, rainy morning with our Hazelnut coffee topped with whipped cream. Just perfect for this time of year.
And of course Miss Karma gets her share too. The whipped cream, not the coffee.
Then about 1:15pm we headed out, first for the Chicken Fried Steak/Fried Catfish lunch buffet at Barth's. Really good as usual, along with Hushpuppies and Fried Okra. They also had Mac N Cheese and Pinto Beans, but I'd rather fill up on steak and catfish and not beans and mac n cheese.
Then it was off about 10 miles north to check out the location of the new site that I'll be working for two days starting tomorrow morning at 5:30am. I'd rather have problems finding it today, and not tomorrow morning in the dark.
Last night I had checked out the location on Google Maps aerial and then grabbed the GPS co-ords to enter in my GPS. And, this time at least, the GPS took me right to the correct gate.
BTW I learned a trick with Google Maps a while back that I thought I'd pass on. Of course it's very possible that everyone else already knows this, but I'll pass it on anyway.
I regularly get directions to find a certain FM (Farm To Market) road or a CR (County Road) leading to a gate. And if you have no idea where to start, it can be a pain tracking it down. But if you just go to the general area in Google Maps and type in the road name, I.e. CR 169 or FM1353, it will take you right to the road.
A Big Help.
On the way home we made a Wal-Mart stop for a few things. Strangely, it's always just for a 'few things', but it never seems to end up that way. In fact before we left the rig today, Jan was working on her list and I noticed she had two different pieces of paper. When I asked her why, she said, "Well, this one is today's list, and this one is next week's list."
So that's the problem. Too many lists.
Last up was a quick stop at HEB for a Pumpkin Pie refill.
Finishing up, I thought I'd give you an update review on the
iKross 2-in-1 Tablet and Cellphone Extended Cup Mount Holder
that I got from Amazon on Black Friday.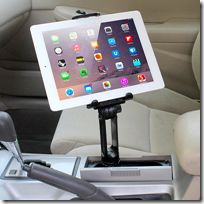 I got a chance to try it out on our San Antonio Trip yesterday, and I really like it. It's very sturdy and locks into the cupholder very tightly and will not come out until you release it.
It works both with my tablet to run Waze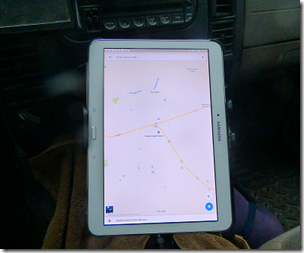 and my cellphone to find local places.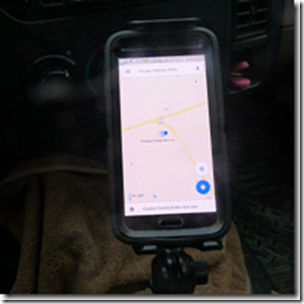 And it even makes a great hat rack.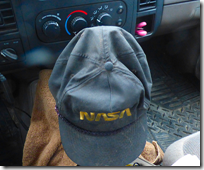 A Triple Threat.
---
December 2, 2017
Running In OverDrive . . .
As far as the Direct TV problem I'm having with the video/audio blanking for 3 or 4 seconds intermittently, it's still kind of up in the air.
A number of blog readers commented that they're having the same problem with Direct TV, and even Dish. But I'm now looking in a different direction.
Last night I was watching a news show and during the last five minutes, the video/audio flash 3 or 4 times. But when I went back and looked at the recording, the flashing wasn't there. Now because of the way a DVR works, it looks like the problem is actually probably with my TV.
On a DVR the satellite signal comes into the DVR and is fed through the HD and then out to the TV. This is why you can be watching a TV show for ah hour, click the Record button in the last 5 minutes, and have the entire hour recorded on the HD.
So if the video/audio glitching was coming in from Direct TV, then it should also be on the recording. But in 3 different tests, the problem has never shown up on the recordings.
I've got another test I'm going to try tomorrow that hopefully will narrow it down more. I'll keep you updated.
Jan and I headed out about 2:15, first heading over to the Kemah area on TX-146 to have lunch at Stomp's Burger Joint once again.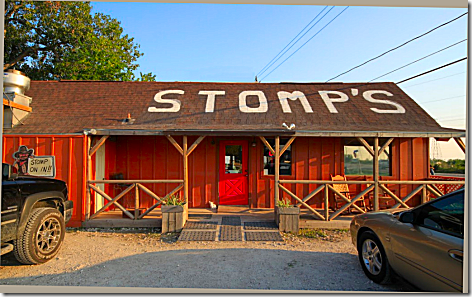 As much as we like Whataburger and Five Guys, Stomp's is at a whole 'nother level.
Where else can you get two 8 oz. 100% Angus Beef hand-formed patties.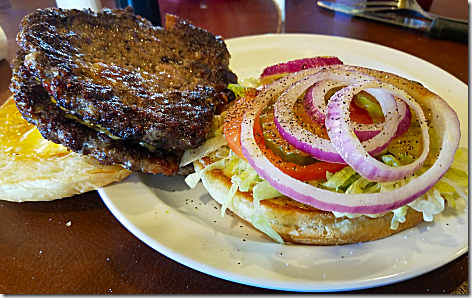 And in my burger's case, the Hog Wild, bacon is also ground into the meat.
It really doesn't get much better.
Leaving Stomp's we drove up through Kemah and Seabrook to check out all the new stuff being built in the area. Then it was on into Webster so Jan could get a question answered about the OverDrive app that she uses to check out books from the Harris County Public Library on her Kindle Fire.
She used to be able to suggest e-books for the library to obtain for readers to check out from within OverDrive, but somewhere along the line that menu item disappeared. Turns out that you now have to go to the website to ask for new books.
With that taken care of, we took the long way home by heading down to La Marque to the Buc-ee's to pick up some Cranberry and Blueberry Muffins for upcoming breakfasts.
Tomorrow afternoon we're driving up to the FM1960 area to meet Janice and Dave Evans at the Potatoe Patch Restaurant. I'll be good to see them again.
---
December 3, 2017
Oh, Well . . .
Still working on my Direct TV problem, I put in a call to DTV to double-check on any possible problems on their end, though since the video/audio wasn't being recorded, that seemed to eliminate DTV and the DVR.
After I finally got past Roger from Bombay, I talked to Will, a Tech Support guy who actually knew something. He suggested I try changing a couple video display settings, turning off Native mode, and setting Screen Format to Original Format.
This was about noon when I changed the settings and when we left the rig about 2:15 the problem hadn't resurfaced. So we'll see.
As I said we did head out a little after 2pm, heading up to the Potatoe Patch Restaurant on1960. Although in yesterday's blog I said we were meeting Janice and Dave Evans, we were really meeting Debi and Ed Hurlburt who were driving down from the Lake Conroe TT to meet us.
I got Janice and Dave stuck in my mind, because looking back in the blog for the last time we visited there, so Jan could see what she had, it was Janice and Dave that we met there then.
That's my story and I'm sticking with it.
I was expecting a lot of extra traffic due to the fact that I-45 was closed through downtown Houston because of construction. So we took the 610 Loop around to the Hardy Toll Rd. and then north to 1960, and it was smooth sailing all the way.
Jan and I both had the Chicken Fried Chicken with Baked Potato and salad. Really good, along with the great homemade rolls, fried okra, and fried green tomatoes they give out as free appetizers.
And as usual with Ed and Debi, we talked for almost 3 hours before we all finally headed home. Before we left the restaurant I checked the weather here in Santa Fe, and it said there was heavy rain and lightning.
But it only sprinkled all the way home, until we got in the League City area when it started pouring down. But even with that we were surprised to see all the flooded yards and streets as we got close to the RV Park, though lucky for us it had stopped by the time we got to the rig.
And checking my La Crosse Weather Station it was easy to see where all the flooding came from. They had had almost 4 and a quarter inches of rain in just those few hours. WOW!
Oh, well. After we got home and I was watching TV, the video/audio glitched several times, so the DTV display fix didn't.
---
December 2, 2018
It Gets Crowded In The Bathroom . . .
At least that's what Jan said to me this morning, concerning her ongoing Adventures In Pet-Sitting.
Apparently the two large dogs, a 100+ Black Lab, a slightly smaller Black Lab/Akita? Mix, and Mooshe the cat, follow her everywhere she goes, even to the bathroom. And they get very upset if she tries to lock them out.
I told her that they're probably following her around trying to figure out what she did with their 'real' family.
And speaking of the 'real' family, they're expected home from Disney World around midnight tonight, and then I'll pick up Jan tomorrow afternoon, and bring my baby back home.
I headed up to the Clear Lake area about 2:30 for a couple of errands. My first stop was at my client's office to take a look at a problem with the Shipping computer. It's the only one that uses a WiFi connection rather than a CAT 5 Ethernet cable, but for some reason it had fallen off the network.
The Office Manager called me late Friday afternoon to let me know about the problem. She had already checked out the usual suspects, like unplugging and re-plugging the WiFi USB dongle, trying a different USB port, and rebooting. All with no luck.
I keep a couple of spare WiFi dongles just for this reason, but a new one didn't fix the problem. So I clicked the 'Network Troubleshooter' and let it go to work.
First up, it told that the Ethernet connection wasn't plugged in.
Well, duh!
But then after a few seconds, it also told me that the WiFi adapter was disabled, and ask did I want to repair it?
Well, duh!
I'm assuming the problem was really with the USB WiFi interface and not the hardware dongle itself, since a new one didn't help. but in a few seconds it said it was fixed, and it was.
The 'why' is the part I don't understand, since it was working and then it wasn't. So I'll have to keep an eye on it in case it reoccurs.
With that taken care of, my next stop was over at the WalMart for some groceries, and then next door to Sam's to pick up a prescription, only to find that the Sam's Pharmacy is now closed on Sundays. Bummer!
I got home about 4:45 to find Karma waiting semi-impatiently to be fed. She knows her normal feeding time is 4pm, and she can apparently tell time really well, Or at least her stomach can.
She will be sound asleep in the front windshield, and then about 5 minutes to 4, she'll jump down, and then walk over to where one of us is sitting. She'll then sit down and just stare at us, never blinking, never looking away.
Spooky!
I was wrong. And certainly not for the first time or the last. But this was a simple math mistake, so jeez! But then none of you caught either, so I feel a little better.
In last night's blog, talking about the oil capacity of our rig's Cummins 350 ISC engine, I said this.
My engine holds 26 quarts of oil, or 4½ gallons.
And of course, it's 6½ gallons, not 4½.
Wrapping up, I have no idea why all the paragraphs were triple-spaced in last night's blog. So we'll see how tonight goes.
---
December 3, 2018
Got My Jan Back . . .
I spent most of the day at work replenishing our stock of instructional DVD's, copying the ISO files to the DVD's, and then printing up the DVD labels on Avery's Design & Print program and pressing the labels onto the DVD with a label applicator.
I did order a new monitor for my desk at work today. I have two monitors, one for the webserver that runs the CentOS version of Linux, and my personal machine running Win10.
The webserver's monitor died last week, and when I found a old one in the back storage area, it run for about two days before it followed the first one into oblivion.
I found this one on Amazon, an Acer 19.5" monitor for $71, plus an additional 4 year Extended Warranty for $1.76. Should be here Friday.
Since this new one is better than the one I'm using on my Win10 machine, I'll take the new one and move my old one over to the webserver.
I headed up to Katy about 3pm, wanting to get up there and back down here, staying ahead of the going-home traffic. And it worked pretty well.
Jan said Brandi, Lowell, and Landon got back about 12:30 this morning, completely bushed, but happy. They had a great time, and are already planning to go back in a couple of years.
Getting back to the Clear Lake area, we stopped off at Floyd's Cajun Seafood for a dinner of a dozen Raw Oysters for us to split, Grilled Catfish for Jan, Shrimp Gumbo for me, and Grilled Veggies for both of us.
Coming home we saw a lot more Christmas decorations along FM646, including this yard that's been lit up like this for a couple of weeks, the first one we saw.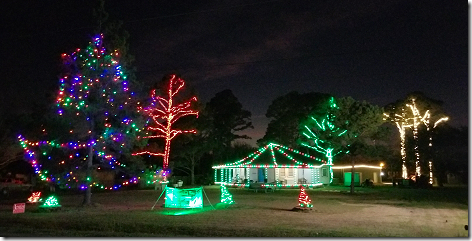 As Jan said, someone owns a cherry picker crane. Very nice!
And when we got back to the rig, I was able to surprise Jan with the fact that I had decorated the rig while she was gone.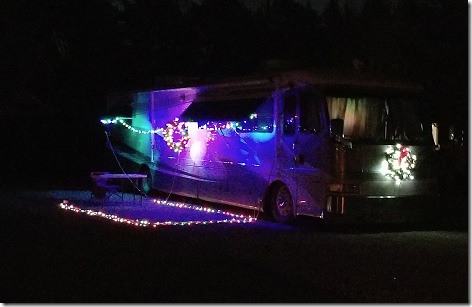 Unfortunately the photo doesn't do it justice. The lights on the ground are cycling through 16 different patterns, as is the string draped between the window awnings. Plus there's the large white-lit wreath on the front and the multi-color one hanging on the side.
Best decorated RV in the park. Of course it's pretty much the only one.
---
December 2, 2019
Sweetie's Home . . .
All's happy in the White household again. My Sweetie's back home. I drove up to Katy to pick her up yesterday afternoon, and with perfect timing, arrived just a few minutes after Brandi, Lowell, and Landon got home. And since we hadn't had Mexican in a week or so, we stopped off at Los Ramirez. Mexican Restaurant once we got back to the Santa Fe area.
And I guess I could say we had a good run at Los Ramirez. They had big signs on their windows saying they had 'New Menus'. And they did.
But no new menu items stood out. What did stand out was the price increases.
Jan's favorite Pechuga Rellena,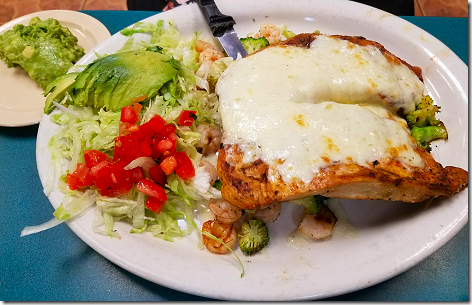 went from $10.99 to $12.99. Not bad really.
But the one that hurt was my Beef Fajita Taco Salad,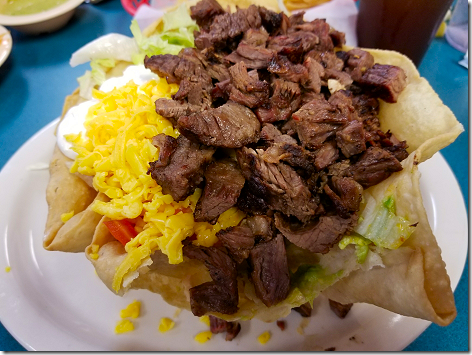 which on the Lunch Menu was previously $5.59. A really great deal.
But the 'new' price is now $9.95.
OUCH!
But still a pretty good deal, just not a great deal anymore. Of course we'll still go back.
Today was really busy, due to missing a bunch of days, first for our Kingsland trip, and then the rig breakdown and repair. And then of course we'll leaving for NYC in a couple of days. So a lot of catching up was needed, as well as prepping for our trip.
And in more trip news, it looks like there's a good chance that we'll have a White Christmas in NYC, with multiple inches due in the next day or so, while it should clear for our flight up there on Thursday.
The best of both worlds.
---
December 3, 2019
Two More Days . . .
Today was a day of errands, so we were out the door about 12:30pm, trying to get a bunch of last minute stuff done before we leave for NYC Thursday morning.
VERY early Thursday morning.
Like up about 3am, our car service pickup at 4:30, at the airport about 5, with our SW flight leaving at 6:40am. With a flight time of 3:15 minutes we'll get to LaGuardia at 10:55, losing an hour to the time change.
However our first stop this morning was Snooze for breakfast about 1pm. Then it was a stop by my client's to pick up some Amazon stuff that came in, and also drop off our Christmas Cards in our Outgoing Mail box.
Next was a WalMart stop for stuff, and then a quick hair trim at my barbershop. Jan then did a Target and Old Navy shopping stop for some outfit stuff. Then we were homeward bound.
Jan and I want to add a 6' x 8' storage shed on our RV site. But no one else has one here, and it seems like we remember something about that they're not allowed.
But it can't hurt to ask, right?
Right now he's got 3 empty sites out of 17, and the 5th Wheel next to us is leaving in a couple of weeks. Plus a lot of other resident RV parks in the area allow storage buildings.
So to help out his decision and show him what it would look like, I took this photo of the shed,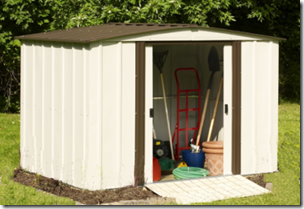 and this photo of our rig site,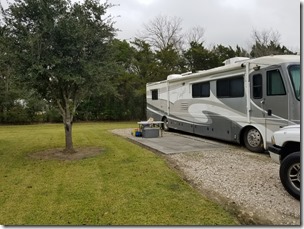 and put them together for this.]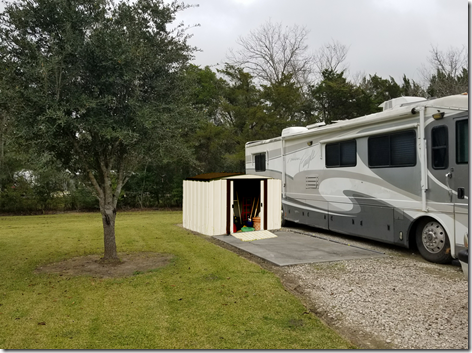 If I had wanted to take more time, I would have put an adjustment mask over the building to darken it down some so the brightness/contrast would match the rig photo more closely.
I ordered Jan this new sweat shirt that, unfortunately, won't be here for our NYC trip,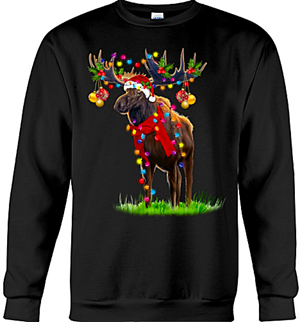 But Jan's really looking forward to it getting here.
---
December 2, 2020
Old and New Friends . . .
Jan and I were on the road about 10 am, heading down to Galveston, in the pouring rain. We were meeting up with Jim and Peri Dean and a couple of their RV friends, all over from San Antonio for the week, staying at the Galveston Island State Park.
They said they wanted Breakfast/Brunch so our first (and only suggestion) was the Sunflower Café and Bakery on 14 St.
Crossing on to the Island was 'interesting' to say the least. There was so much wind that the bay was just one big whitecap, and a couple of times I almost changed lanes without turning the steering wheel.
Fun!
Being a Wednesday we got seated immediately and a few minutes later Jim and Peri showed up, along with new friends Bob and Susan.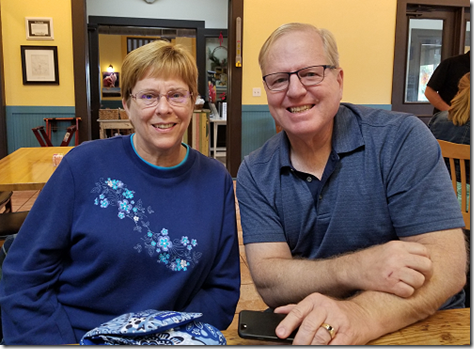 We had a great time getting to know them, comparing places we'd all been to, and places we still wanted to go to. Apparently Susan has a very long Bucket List.
Jan, Peri, and Susan all went with the Pumpkin Belgian Waffle,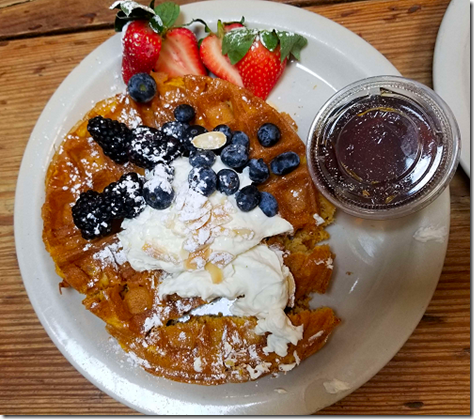 while I got the Sausage and Grits. Good, but not quite as good as the Shrimp and Grits at Snooze. The Snooze version is much more flavorful.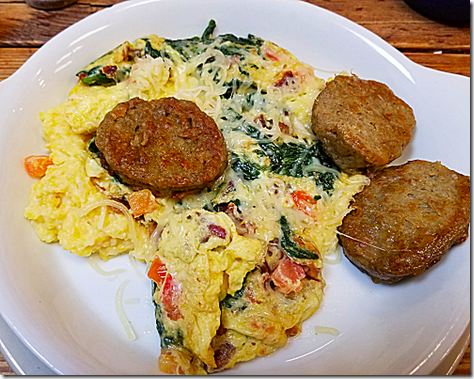 Bob got a Fried Flounder Sandwich, and I lost track of what Jim had, but we all agreed that everything was delicious.
And of course, Jan, Peri, and Susan all had to visit the Bakery for some take-home goodies.
And as usual when RV'ers get together, we were there just talking for several hours, almost 3, actually, until Bob and Susan finally had to leave for a business call.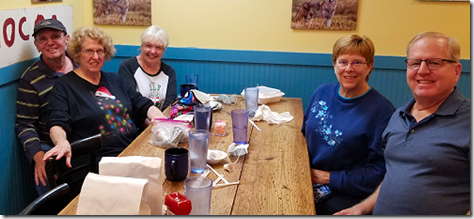 We had a great time seeing Jim and Peri again, as well as getting to know Bob and Susan. All nice people, and hopefully we'll see them again soon.
I had been wanting to get a service manual for our new (to us) 2003 Jeep Liberty Sport. Of course I thought about the standard ones, the Haynes and Chilton ones, but I've never really been happy with these.
They always seem to tell me a lot about things I already know about, and very little about things I want or need to know. But I was resigned to getting one or the other (or both) but then I came across this one on Amazon.
It's an original factory service manual, and it was only about $10 more than the Haynes version.
I remember back in the 70's and 80's when you bought a new car there was always a coupon in the back of the owner's manual so you could order a copy of the factory manual, but that went away sometime in the 90's. And anyway I imagine that the manuals are all on DVD's by now.
But I really lucked out finding this one.
---
December 3, 2020
Cold, Wet, and Colorful . . .
Today was quiet, and cold. Very cold, at least for south Texas. It stay overcast all day, with a few sprinkles, and just barely made it up to 55°
So we just hung around the rig all day until about 3:45 when we headed over to Victory Lakes to have dinner at the Denny's there. But I think the real reason Jan wanted to eat there so she could update her earring collections from our favorite waitress, Staci.
Staci's mom make the masks and jewelry and Staci's regular customers come by and shop. Jan was looking for Christmas-themed stuff and Staci had a whole full of stuff.
Jan picked out a pair of snowflake earrings that she really liked as well.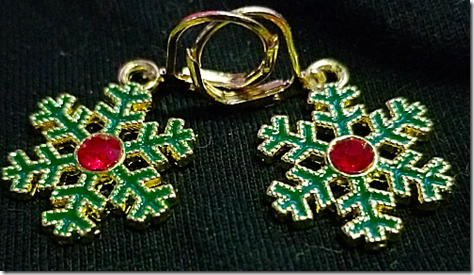 I'm not sure about 'green' snowflakes. I know to stay away from the 'yellow' snow, but I'm not sure about the 'green' stuff.
And today turned out to be a surfeit of Christmas earrings for Jan. Coming home we stopped off at the Santa Fe PO to pick our mail, which contained the new tags for our Jeep.
Also in the mail was another set of Christmas earrings, these from long-time friend, Phyllis Schell,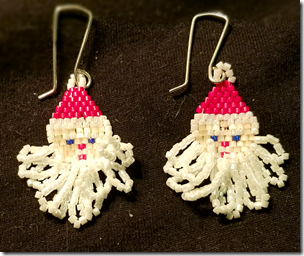 who sent these really cute Santa earrings to Jan.
And on the subject of car tags, it's looking like soon there will be no more yearly trips to the DMV to renew your tags. It looks like Digital License Plates are coming soon.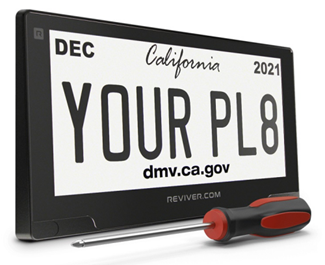 You can apparently update your tags using your cell phone, and also use it to track your car.
Of course, I wonder how long it will be before people's tags are getting hacked, with cuss words showing up, crooks changing the tags on their getaway cars, etc.
There's always Unintended Consequences, no matter what.
---
December 2, 2021
Wash Day . . .
We left the rig about 12:30 this afternoon with list of things to do before we leave for Branson on Saturday. But first up of course was lunch. This time at Pho Barr once again.
As before we started out with a couple of their Grilled Pork Spring Rolls with Peanut Sauce.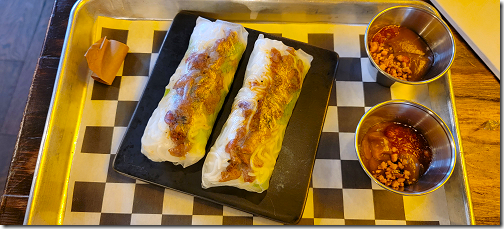 Then while Jan got her usual Grilled Chicken Vermicelli Bowl,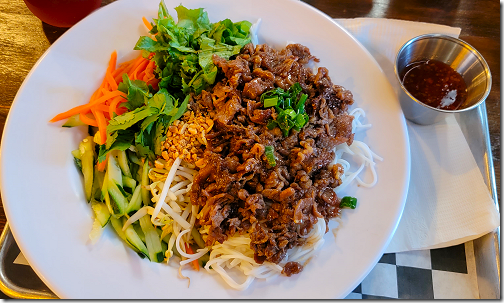 I got the Filet Mignon Pho Bo. I mean it is a Pho place, right. It's right there in the name.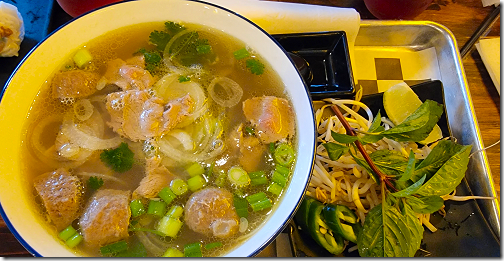 All really delicious. We're really looking forward to the one in our area opening.
Then it was off to get my haircut before our trip. Which of course didn't take long.
Heading back toward home, we made a stop at the Blue Wave Car Wash to get our Jeep all spiffy for Branson.
Next it was across the for few things from WalMart for our trip. Finally coming home we stopped off at the PO to drop off our Christmas cards. Jan had pushed to get them done before we left so they wouldn't be hanging over her when we get back.
Tomorrow, a lot of last minute trip stuff.
---
December 3, 2021
Almost On Our Way . . .
I spent most of today wrapping up things at work, prepping for my being gone next week. Then coming home I stopped off at Costco to top off the Jeep.
Then we just waited for Jennifer, my client's office manager to get home so we could go by her place and drop off Miss Karma. Jennifer is our go-to cat-sitter, and is the only person Karma has ever stayed with. We know she's in good hands.
Our next stop was at the Santa Fe McDonald's for dinner. I had been jonsin' for McRib, and Jan wanted one of their Chicken Sandwiches. Still good.
Then after a quick Dollar General stop, we finished up at Jack Box's for a couple of Breakfast Sandwiches for tomorrow morning.g
We plan to head out around 8-8:30ish, with our overnight at the Wyndham Garden in Texarkana, the same place we'll stay on the way back to Santa Fe next Saturday.