Our regular readers know that I'm big on Backups. On pretty much everything.
Computers, tools, you name it. I've probably got a spare tucked away somewhere.
And now coffee pots.
The other night as I was filling our coffee pot at the faucet, I accidently bumped it into the sink, breaking it into a lot of glass shards. So it looked like no coffee for us in the morning.
Oh, the horror!
But then I remembered that a while back when our old Mr. Coffee had died, I had wrapped up the pot in an old towel and tucked it away in the back of a bathroom cabinet. It took me a few minutes to dig it out, but we didn't go without coffee the next morning, and I saved the $20+ to buy a new one on Amazon.
After I put out our flag for Memorial Day, I liked the look of it so much, especially when the wind was blowing, that I decided to keep it up.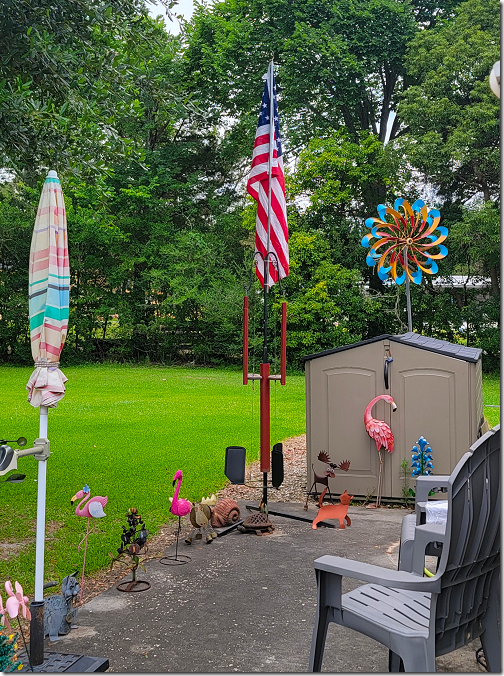 But, of course, leaving it up all the time, day or night, rain or shine, I needed to light it at night.
So I found this LED spotlight on Amazon.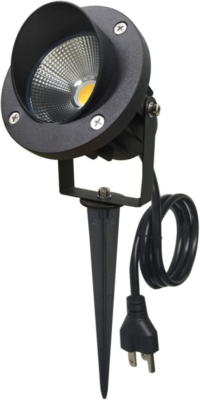 I'll put it on a computer-controlled timer so it only turns on at night.
I got the strut balls in today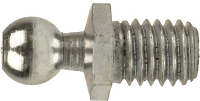 and it looks like the ball end is the perfect size. However I think the threaded end may be too large. I can enlarge the hole on the bracket, but I'm afraid that won't leave enough metal to hold it firmly.
I'll check it out tomorrow and let you know.
---
Thought For The Day:
Some days I really believe that my horoscope says: "Just don't kill anyone today".
---
June 2, 2009
Our Blog has gone viral!…
A friend of ours told us last week that her son's teacher was showing the class some funny photos online, and before showing one, said that this one was her favorite…
And it was us!!!!
Wheeeeeeeeeee!
Someone had posted it here…
http://awkwardfamilyphotos.com/?p=1402
on May 8th.  We don't know who posted it, but we love the comments down below.  Be sure and scroll down to read them.
I had originally posted it to our blog here…
http://ourrvadventures.wordpress.com/2009/04/13/wheeeeeeeeeee/
on April 13th.
Our friend's son Spencer said everyone was really laughing at the picture, and then he said "I think I know those people", and everyone laughed even harder.
We might not have ever known about it being posted except for Spencer seeing it in his class.
Now that's really a coincidence
And now for something completely different…
Today turned out to be a rainy, hang-around the coach day.  Then, about 5 pm we headed over to the coach of some new friends we made here, Al and Jan, to go out to dinner at El Leoncito Mexican/Cuban Restaurant here in Titusville.
---
June 2, 2010
Casper WY…
We left Gillette about 9:45 heading for Casper, WY about 185 miles away. All of the 3 other remaining coaches were leaving also.
The trip was smooth and pretty uneventful, which is good. We did see a lot of pronghorn antelope along the way, along with a lot of great scenery.
We arrived at Fort Caspar (Yes, that's the way it was originally spelled) Campground and got set up.
Although it's pretty plain, it is a Passport America park so it's cheap. It's also level, with good power and water pressure. All things considered, you can't really ask for much more when you're only staying one night.
The funny thing is that there are 3 other American coaches here from the rally we just left, including the one right next to us.
About 3 pm we headed out for a late lunch at Sanford's Grub and Pub, just like Humphrey's that we ate at the the other day in Gillette. They're a small chain of about 9 restaurants here in WY, ND, and CO.
And they are really good. There's another one in Rawlins, WY where we'll be about lunchtime tomorrow, but it's downtown, so we'll have to see if we can find a parking space.
Tomorrow we'll head out for Rock Springs, WY about 230 miles away where we'll stay for one night at the Rock Springs KOA.
---
June 2, 2011
Pools and Taillights . . .
Our son-in-law Lowell sent pics of Landon's new swimming pool in the backyard.
Looks like Landon is all ready for the summer.
I was up about 10:30 and after coffee and a Cinnamon Crunch muffin from Sam's Club, I caught up on Internet stuff for a while.
Later we headed up to Yuba City about 2 pm so I could pick a new tail light converter. The local U-Haul dealer said on the phone they had one, but I wasn't sure they understood what I was talking about as far as 'powered' vs. 'unpowered'.
On the 25 mile trip north we also scouted out possible cappuccino locations later. Since we didn't get cappuccinos yesterday, we really needed the warm solace of that rich confection to soothe our fragile bodies. Well, bodies, anyway.
On the way to the U-Haul I saw an O'Reilly Auto Parts so I decided to check there also. They didn't have a powered converter, but they did have something else I was looking for
A tail light tester. This goes inline with your hookup and shows you if the lights are working coming from the coach.
Getting the tester, we next stopped at the U-Haul place right down the road. And, as it turns out, they did have the powered converter I wanted.
In case you're wondering, (or even if you're not) a powered converter has a separate 12v line feeding into the box that supplies the power to the lights in the vehicle being towed. An unpowered converter uses the rig's lighting system to also power the toad's lights. This can overload the coach lights, possibly burn out the turn signal flasher, and cause all the lights to be dimmer than they should.
Leaving the U-Haul we stopped by the Post Office and then headed back over to the Lumberjack's Restaurant that we ate at on Tuesday after we got here.
This time both Jan and I had the Chicken Fried Steak. And it was just as good as last time. This is a great restaurant.
When we went in to eat, I took the instruction sheet for the converter in with me. And discovered that I now didn't need the tester I got at O'Reilly because this powered converter had one built in. So after dinner we went back by there to return it and get my money back.
Hey, $8.49 is $8.49!
Coming home we stopped at a Chevron station and rewarded ourselves with the craved cappuccinos since we'd had such a rough day.
Later, back at the rig I installed and tested the new converter box while Jan supervised.
Well, watched, anyway. And held tools.
Jan is good at holding tools, too.
As I mentioned above, we'll leaving on Saturday to head up to the Mt. Shasta area, and then on to Crater Lake for a couple of weeks. Looking forward to it.
---
June 2, 2013
If you didn't know better, you'd think they were brand new . . .
After coffee this morning, Jan read her Kindle and I tried to figure out how I wanted to hook up the replacement drinking fountain that I bought back in Reno, NV a couple of weeks ago.
I had put it off because I also had a Filtrete Under-Sink Advanced Water Filter and I figured if I had to pull every thing out from under the sink and then crawl under there, I'd rather only do it once.
But I wanted to figure out how the best way to hook it in place of the old Omnipure in-line filter that I was replacing. After thinking about it over coffee, I figured that if I just got some adapters that would go from the 3/8" tubing of the new filter to the quick connect fittings on the old filter, that would do it.
If I could find a adapter like that, I could just plug the new filter's tubing into the old quick connect sockets and be done with it.
So I'll make a stop at Lowe's this afternoon and see it I can come up with something that will work.
Later in the morning, Jan talked to both of our kids. Brandi, Lowell, and Landon are getting settled into their new house, and Chris, Linda, and Piper are in the process of moving into our house. Hopefully we'll be able to Skype with Master Landon next weekend.
About 2:30 Jan and I headed into Bend for some shopping and dinner. Our first stop was up north of Bend at the local Lowe's to see if I can find the adapter that I need. And after a little sniffing around the plumbing section I found exactly what I wanted.
The tubing from the new filter slips into one end and locks, just like one of those old Chinese finger traps. Then the quick connect adapter screws into the other end.
Easy Peazy.
Or at least it seems that way right now. How it goes tomorrow might be a whole 'nother story.
Leaving Lowe's we headed over to a place that we've been anticipating since we got here.
You've just got to love a guy with a hairline like that.
Although it's a BBQ place I know from past experience that their steaks are fantastic. So I went with the 16oz Ribeye with fries, beans, Cole Slaw, and honey-jalapeno cornbread.
Just as delicious as last time.
Jan went old-school with a full rack of their great ribs. Along with the beans and Cole Slaw, she got the chipotle potato salad. Notice when they say a 'full rack', they mean it. When means Jan has plenty of leftovers to take home.
We also had a good time talking to our waitress, Kalani, whose in-laws are RV'ers, and are presently at the Verde Valley Thousand Trails park in Cottonwood, AZ, one of our favorite areas too.
Completely stuffed, we headed home with a stop at Fred Meyer's (that's Kroger's out here on the West Coast) for a few things before getting back to the park about 6:30. We stopped off at the produce stand, but they were out of the fresh cherries Jan wanted, so we'll have to try again later.
As we came further into the park we came across a flatbed trailer behind a semi that had these two beautifully-restored old trucks. Ironically I had seen this truck coming south on US97 as we were heading north into Bend this afternoon. So it was really great to be able to get a closer look.
This is a Ford C500 COE (cab over engine), Based on my internet research, I think it's about a 1955 model.
This one says Hall-Scott on the side, but I think it might actually be a Kenworth, with a Hall-Scott engine. Hall-Scott was mainly a engine manufacturer, though they started out building self-powered rail cars in 1910.
I wish I had been able to get a look inside, but anyway, these are really neat.
Tomorrow I'll see how the filter/faucet install goes.
---
June 2, 2014
Bad Knees and Lost Watches . . .
My knee seems to be pretty much back to normal, so we walked this morning but kept it to half a mile to see how my knee was going to do.
Getting back to the rig, we sat outside and had our coffee and finished off the last of the cheesy bread we had leftover from Mancino's Pizza.
A little later we were joined by Phyllis and Dick Schell, blog readers and friends we first met years ago at a rally. We sat out there talking and laughing until almost 1:30 when a rain shower chased us inside.
But we did make a dinner date for El Maguey tonight.
I never did make it down to the Verizon store today, and I still haven't restored my contact list. But that's probably because I didn't even try to fool with it. One reason is that I'm still thinking about just going ahead and upgrading to a Galaxy S5. I've had my Samsung Charge since August 2011, so it's probably about time. We'll see how it plays out.
During our walk this morning, we found a watch along the roadway that I turned into Gita at the park office. It was in good shape and still running, and had a blue woven band. It looks like the pin on the band just came loose and it fell off.
Later in the afternoon we got some heavy rain, with more to come. It's part of the cold front coming through, giving us highs in the 70's tomorrow and the 60's on Wednesday.
It's June. Where's summer?
About 4:30 we teamed up with Phyllis and Dick Schell, and we all headed over to El Maguey for dinner. And like usual when you get a bunch of RV'ers together, we did as much talking as eating. A good thing.
Tomorrow, the Verizon store. Maybe.
---
June 2, 2015
We Have Neighbors . . .
After a morning of doing totally nothing (very nice) we headed out about 3pm for an afternoon of shopping and dining. Well, more like Sam's/Wal-Mart and Chinese.
As we were getting in the truck to leave, the Service Manager stopped by to let us know that everything's waiting on the insurance end before they can proceed. Hopefully that will get resolved quickly.
Our first stop was at the local Sam's Club, mostly for prescriptions, which turned out to be kind of a bust, since they only had 3 of the 6 ready. So we'll have to come back tomorrow. Figure I'll also fill up when we come back since Sam's is pretty much the cheapest gas around. In fact we plan on filling up with diesel there on our way out of town. Whenever that is.
Then it was back over this way to have dinner at Beijing Garden, one of only a few Chinese places in the area, and the one with the best ratings on Yelp.
Like many places, Beijing Garden's ratings seem to range from 1 star to 4 or 5 stars, with not a lot in between.
Beijing Garden is in a nondescript location in a Safeway shopping center, but we weren't discouraged since some of our favorite places are in locations like this.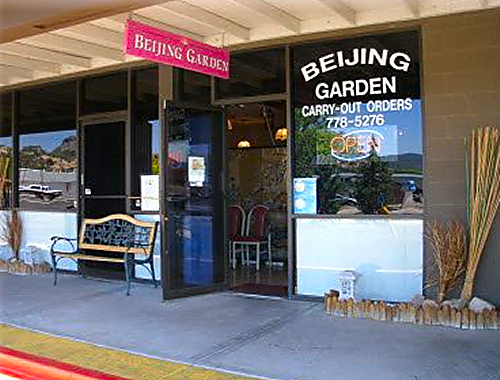 The inside, however, is light and airy, and nicely decorated. Someone has a real sense of style.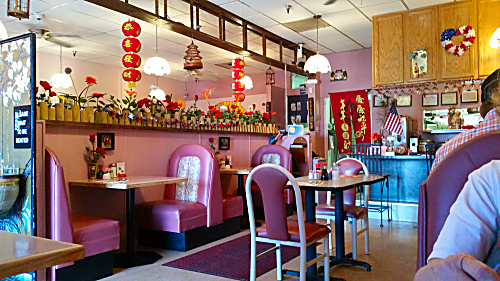 After looking over the menu, we both decided on the same dish, the Orange Peel Spicy Crispy Chicken Dinner.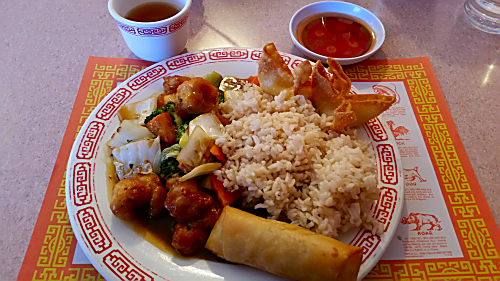 With the meal, we got Hot and Sour Soup, an Egg Roll, 2 Crab Puffs, and Hot Tea. A great deal for only $11.95 each. And it was all really good. And such a large portion that we didn't even have room to split a Green Tea Ice Cream as we had planned.
One thing we noticed is how many regulars came in while we there. The hostess seem to know them all by name, always a good sign.
A great place. We'll go back.
Then it was right next door to Wal-Mart for some supplies. After all it's not a complete week if we don't go to Wal-Mart. Finally coming back to the rig, we made quick stop at the Fry's across the street for a couple of things we didn't find at Wal-Mart.
We apparently now have neighbors here at the Affinity RV Park. They have a 2015 Jayco Precept, a small Class A. I was at the service desk while they were checking in and heard the wife say that "Nothing worked." They're parked at the other end of the row from us, so maybe we'll stop off and introduce ourselves tomorrow.
---
June 2, 2016
Doing Our Part . . .
For those of you trying to avoid having Windows 10 crammed down your throat . . . er computer, there;s a new scam going around from Microsoft. And unless you know how to respond, you'll get Windows 10 no matter what you do.
I even saw this Tuesday night when I was cleaning out Barbara's laptop. After running CCleaner and rebooting, I got a MS pop-up telling me I could install Win10 right now or put it off until tonight. No option to turn it down. Just the two choices, now or later.
Of  course, there is that little 'X' in the upper right corner. That'll kill it, right?
Well, No!
Clicking the 'X' does make the window go away, or course, but it also does the same thing as clicking the "Install Later" button. So if you leave your computer on tonight, tomorrow morning when you wake up, you'll be running Win10 whether you want to or not.
After you see the pop-up, you only have two options, both of which I've mentioned before.
First, you can let it install and then click "I Don't Agree" at the Terms & Conditions prompt. This will cause Windows 10 to uninstall itself back to Win7, 8, or 8.1, where ever you started from. Then download and run Never10 so it won't happen again. Because if you don't, it will.
Or second, you can tell the pop-up to install Win10 later tonight, and then immediately run Never10.
I again spent the morning and afternoon working on client website stuff, actually on two different sites at the same time. But hey, it keeps me off the streets and out of trouble.
Well, maybe just off the streets.
About 4:30 Jan and I drove into Columbus to have dinner at Whataburger, our first visit since we were here at Lake Conroe the last time. And that's way too long.
And even better, they got the order exactly right. Regular readers will remember my trials and tribulations with the Whataburger in Carthage, TX while we were gate guarding last year. But this time I got the young lady to start with a plain #6 with cheese, and then had her add the things we wanted.
What they normally try to do is to subtract mentally what you don't want from their standard condiments, and then add back the other stuff you do want. So you just know something's going to go wrong. And it usually does.
But tonight it was perfect. And delicious.
Before heading home, we drove across the street to pick up a few things at the HEB, and then made a fuel stop on our way back to the rig.
Wrapping for the night, I came across an article recently that talk about what seniors regretted the most in their life. Turns out to be not traveling enough.
All I can say is that Jan and I are doing our part.  How about you?
---
June 2, 2017
Solenoids and Hojos . . .
First off, the photo problem with yesterday's blog has been fixed. I didn't have time to  fix it this morning before we left the rig. Still don't know what caused the problem, but the link to the photos were messed up in the blog, and the photo itself didn't get uploaded to the blog like it should have. I did check the blog after I posted it, but didn't go down far enough to notice the missing photos in the middle. Sorry about that.
Once again we were out the door a little before 9am, heading for Gillette, WY, about 125 miles away. But our first stop was the Mobil station right before we got on I-90.
We needed gas for the trip, and also wanted to check the place out to get diesel for the rig when we leave here . . . well, whenever we leave here.
We're booked here until Tuesday the 6th, but we may stay until the following Saturday. We'll see. But it does look like the Mobil station would be an easy in/easy out for the rig, and plenty of room to hitch up the toad.
Our road trip to Gillette was two-fold, or maybe three-fold. I wanted to pick up a specially-ordered part for our rig's Onan generator, we wanted to eat at Humphrey's, a favorite restaurant of ours, and on the way home, take a detour out to Devi's Tower on the way home.
Well, two out of three ain't bad.
We were picking up a new starter/solenoid for our generator. A couple of months ago we tried to use our generator and it wouldn't start. In fact , it wouldn't even crank. Normally the start switch on the dashboard flashes as the generator cranks, but nothing this time.
My first check was the big 300 amp fuse in the battery bay that feeds the 12 volts to the generator.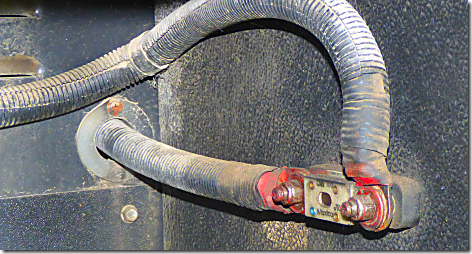 But is was fine, so while I was there I took it apart and cleaned and wire-brushed the contacts.
Then it was on to the connections to the generator itself, and for that I had to crawl under the rig. After checking that I had 12 volts there I disconnected the 300 amp fuse. Then I cleaned and wire-brushed those connections too..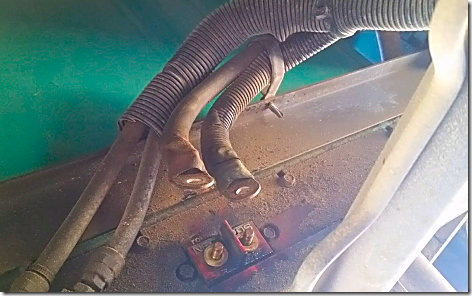 After hooking everything back up, I stay underneath with my voltmeter and had Jan try to crank the generator while I checked the voltage at the connections. Starting with 13.2 volts, it dropped to about 12 volts when she tried to crank it. So something was doing something.
I had noticed that when I was trying to crank it from the generator itself, the light in the switch was flashing, and I could hear the slight clicking for a few seconds as the fuel pump pressurized the system.
After I finally tracked down the full service manual for the unit, I used that to translate the error code that the button light was flashing. And that code indicated "Low Cranking Speed."
Well, duh!
How about NO cranking speed?
But one thing I noticed was that I never heard anything from the starter, OR the solenoid.
Now every solenoid I've ever fooled with makes a click or clunk of some kind when it's engaged. So I put my hand on the solenoid while I tried to crank it and didn't feel anything either.
And since I had power to the contacts on the solenoid, I was going with a bad solenoid.
But I quickly found out that Cummins/Onan now longer sells the solenoid separately, but only with the starter as a complete unit. And it was $140 and a special order. Hence our trip to Gillette.
Then after picking up our starter, we headed into downtown Gillette to have lunch at Humphrey's Bar & Grill, a really good place where we've eaten a number of times.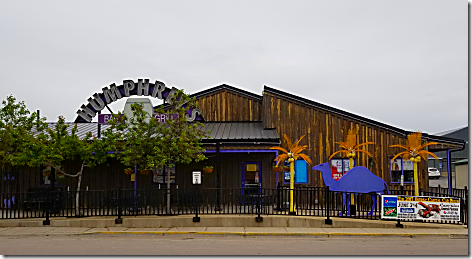 Humphrey's has one of those eclectic themes with a little bit of everything on the walls and hanging from the ceiling.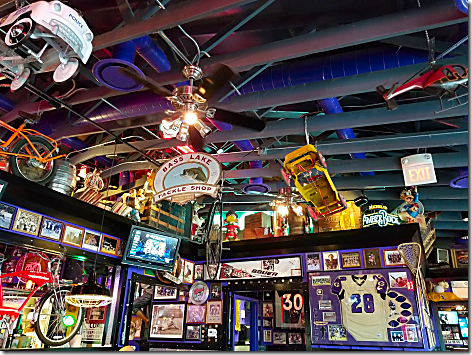 Jan had the Easy Cheesy Burger, a 1/2 pound sirloin burger with sautéed onions and mushrooms, covered in nacho cheese sauce, along with fries.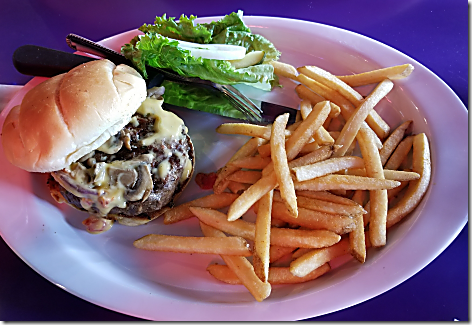 For me, I went  with the 1/2 pound sirloin burger with crispy bacon and cheese, along with Hojo potatoes. Hojos start with a whole potato which is then sliced into 4 or so thick pieces, and then battered and deep fried to order, and served with sour cream.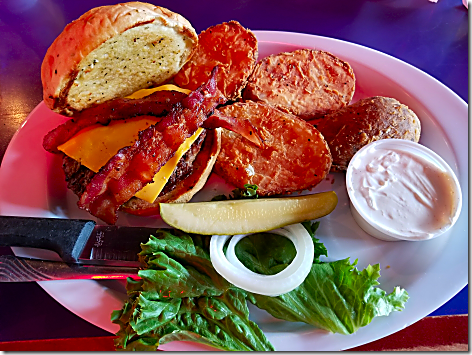 Really good,and very crispy-crunchy on the outside with a soft center.
After a great meal, we got back on the road toward home about 12:30. As I said before we had planned on doing Devil's Tower along the way, but as we left Cummins and headed toward Humphrey's, I started getting a headache that just kept getting worse.
So with that, and the fact that it poured down rain a good part of the way home, we decided to postpone our visit to another day. We had visited here in 2008, so it wasn't a complete loss.
After taking some Advil as we left Humphrey's, and a two hour nap after we got home, I was on the mend. My version of Jan's migraines, I guess.
Tomorrow I'll start working on getting the solenoid replaced.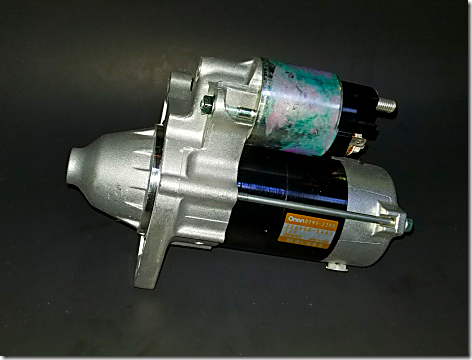 ---
June 2, 2018
Penny Doesn't Work There Any More . . .
She's in Pharmaceutical Sales now.
Jan and I spent part of the morning going over all the things we need to get done before we leave on our trip on the 21st.  We've got almost three weeks, but it will go fast.
Jan and I  headed up to our son Chris' house about 3:30. We were also meeting up with Brandi and Lowell who were bringing down a bunch of furniture in their Tundra.
Chris had gone up to Katy this morning to bring Landon back down so they could spend the day hanging out together. Then we were all meeting up for dinner.
Chris and Landon spent the day building the Eiffel Tower from a Lego kit like this.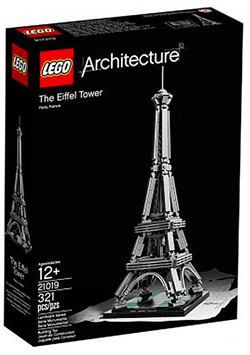 with this as the result.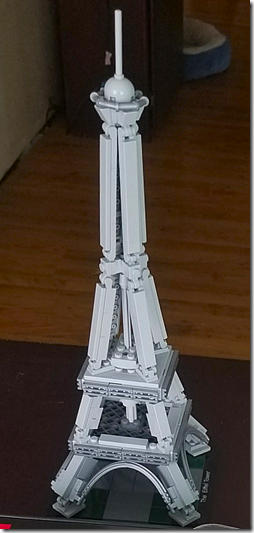 Of course Landon, never the one to do things the easy way, then made this drawing,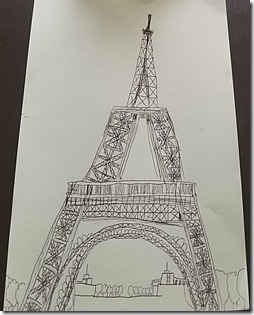 and then constructed his own model from cardboard.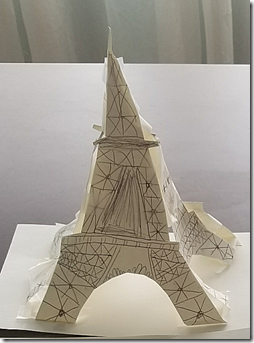 The kid's got some talents.
While we were there, we looked over the furniture that both Chris and Brandi want to give to Jan's sister Debbie, who we'll be visiting on our trip later this month. We're going to take as much as we can of it with us in the RV and the truck, so I wanted to get some idea how much we were talking about.
Finally about 4:30 we all headed down to the Baybrook Mall area to have dinner at The Cheesecake Factory. The last time Jan and I ate here was in 2013, so it was good to be back.
It was just Brandi, Lowell, Landon, Chris, and Jan and I, since Linda had to work and Miss Piper was in Florida with her boyfriend.
Jan and I both had the Tuscan Chicken, with Grilled Chicken Breast, Tomatoes, Artichokes, Capers, Fresh Basil with Balsamic Vinaigrette, and served Over fresh vegetables.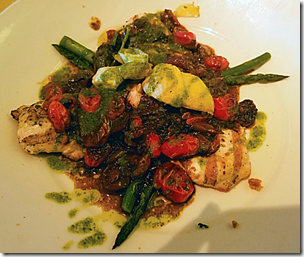 Really, really good.
Brandi and Chris had steak, Lowell had the Orange Chicken, and Master Landon had the spaghetti.
Then Chris, Lowell and Brandi got cheesecake to go, but Jan and I were just too full to even think about it.
Saying our goodbyes, we made Sam's Club and WalMart before getting home about 8pm.
Another very nice day.
---
June 2, 2019
Well, I Tried . . .
I spent the morning and early afternoon trying to get the new website configured and set up for my client. Without a lot of luck.
I have a working version of it over on my Godaddy account, so my idea was to just migrate it over to my client's cPanel account using GoDaddy's Import function.
Easy Peazy, Right?
But, no matter what I tried, I couldn't get it to work.
I kept getting errors that didn't really make any sense. Like "Not enough disk space to create 1MB file." But this was shown on the source area, not on the destination area, where you would think that it would be creating files.
And besides, both areas have over a 1GB of disk space. so what's the problem? So after trying different things, and getting different error messages, none of which made any sense either, I put in a call to Godaddy Tech Support.
And after going round and round, with Richard, the tech guy, talking to a number of higher level techs, it turns out no one even knows where that function came from.
Or when it came.
And looking at the way it was supposed to work, they said there was no way it could. And that it must have been left over from some previous software version, and not been deleted when it should have been.
Oh well. I knew it was too easy.
So now it looks I'll to set it up from scratch, install the SQL databases, and then configure it. Something I was trying to avoid, if possible.
Well, I tried.
Around 4 we drove over to the Victory Lakes area to have breakfast/dinner at Denny's, our first time since we got back last Sunday. Great as always. Coming home we made a stop at the Sam's Club and the WalMart in Texas City trying to find Joint Juice for Jan. But just like yesterday's Sam's Club/WalMart up in Webster, no one had it in stock.
As we were leaving, I noticed the line of cars wrapped around the Murphy/WalMart gas station, and then quickly saw why. They were selling unleaded at $1.99/gal.
Now just yesterday I paid $2.27 at the Sam's Club in Webster, and thought I was getting a good deal, since everywhere else had it for $2.39 – $2.49. So I don't know if it's a gas war down there, or what.
But since I just filled up yesterday, I couldn't take advantage of it. Darn!
After it had cooled a little, I went outside about 7pm to take a look at my radiator problem. But as I was adding water to the radiator, it suddenly dawned on me that the truck had been sitting there for a month without being started, and might not start now.
And it didn't. And when I put the charger on it, it said the battery was at 6.9 volts. So it's probably toast long term.
But finally, just as the sun was going down, I got it to start. So I'll take a look at it tomorrow.
Well, I tried.
---
June 2, 2020
It's Back . . .
My BPPV had almost faded away yesterday, so I expected it to be completely gone this morning, as it has done in the past. But when I got up this morning, it was back in spades, actually worse than it was when it started Sunday morning. But by late this afternoon, it had disappeared completely.
Well, it looks like DirecTV's DNS (Distant Network Service) service hasn't gone away, at least completely. So far we've only lost ABC east and west, and CW east and west.
According to this, DirecTV made some sort of side deal with CBS, NBC, and Fox. Apparently they got so many complaints, cancellations, and threatened cancellations, that they're trying to keep it working. Because it's not just RV'ers that use the DNS. It's also long-haul truckers, isolated ranchers, and even full-time boaters.
But Jan and I are still looking for a DirecTV alternative. And so far the one that keeps bubbling to the top of the list is the YouTube TV steaming service.
It has over 70 channels, including all the local networks, and all the other channels we normally watch, except for History and WGN. But those two are not very heavy on our watch/record list. And we can stream them online on other free services.
It also gives you 6 accounts that you can share with family members, 3 simultaneous streams, and the best part, unlimited cloud DVR space. Well, actually, the real best part is that it's only $49.99 per month, about a third of what we pay for DirecTV. And it has a 2 week free trial.
The 3 simultaneous streams thing means that though you can have 6 accounts, only 3 can actually be used at one time, So not a problem for us. And though you have unlimited DVR space, it will only let you keep recordings for 9 months. Again, not a problem, since if we haven't watched something we recorded 9 months ago, we probably shouldn't have recorded it anyway.
But strangely, you can't actually delete a DVR recording anyway. They all just hang around for 9 months until they go away.
Of course, not having DirecTV would be a problem if we were still traveling full-time, since most parks aren't like this one, and able to support streaming. But we can put our DirecTV in suspension for up to 6 months at a time, so that's what we'll probably do rather than just cancel it outright.
That will take care of our 2 or 3 times a year when we travel now. We'll just turn it back on for a month and then suspend it again.
I mentioned that last Thursday we had tried to go to Pluckers for wings, but the weight was too long before Jan had her pedi-appointment. So we went across the Interstate to get wings at Hooter's. So today we took another shot at Pluckers. And boy was the difference obvious.
And it wasn't just the fact that they checked our temps before we were allowed in. The big difference was the size of the wings, or drums, in my case.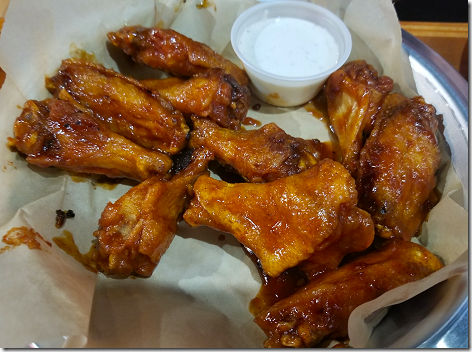 This is a 10 drum order from Hooters. I even mentioned to Jan how small they looked, only about 2-1/2 inches long.
And this is 10 drum order from Pluckers.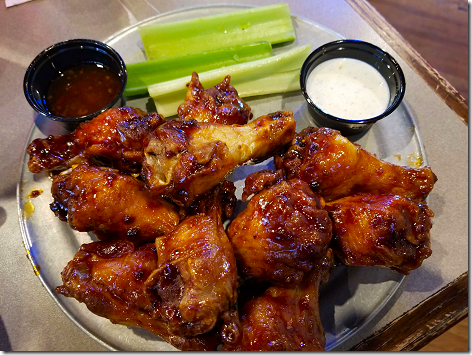 Looks like the Hooters chickens have been on a diet. The Pluckers drums were over an inch longer. And I really liked the Maple Chipotle sauce.
Sweet and Hot. Just like my Jan.
---
June 2, 2021
SwitchBot Bot . . .
Today at work was mostly trying to think of things that I need to do before we leave on Monday, making sure plenty of product labels are printed up, cables made up, etc.
I also installed another Switchbot Bot Switch on the AC back in the shipping department. It's high up on the wall, and the remote is kind of funky.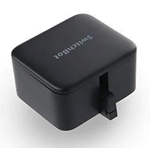 But the real reason is so that we can automate the On/Off schedule, so that it comes on earlier in the morning before anyone comes in to work. As the days are getting hotter here in Texas, it helps if the AC can get a head start on the day.
A few weeks ago I installed on the AC in the lobby and it's been working great. It turns the AC on at 8:45am and off at 4:45pm each weekday, and on at 11am and off at 2pm on Saturday and Sunday.
So it was quick and easy to program the one back in the shipping area for the same times.
We've had on our coffee pot for a couple of years now, for the same reason.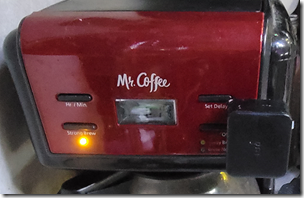 It starts coffee at 7:40am Monday, Wednesday, and Friday when I get up early for work, and 9:40am on Tuesday, Thursday, Saturday, and Sunday when I get up later.
Yes, the coffee pot has a delayed start function on it, but it can't handle the different times on different days thing, plus we have enough momentary power glitches here that clear the clock function on the Mr. Coffee.
In case it's not really clear, the Switchbot Bot is a computer-controlled button pusher. When it's activated a little lever comes out for a few seconds and then retracts.
You can get a better idea from this video.
A really neat, versatile product.
Tomorrow we'll try to start wrapping up all the things we need to do before we leave on Monday. But at least it will get off to good start with lunch at the Texas Huddle Grill and one of their great PB&J Bacon Ghost Pepper Cheese Burgers.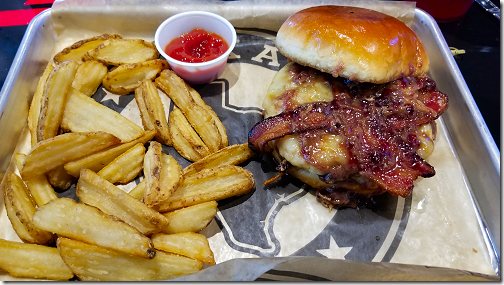 YUM!