Tomorrow I'll be back out looking at the radiator fan problem on our Jeep, first to see if I've got 12 volts coming to the fan. Then if not, I'll look at the fan relay and fuse to see if they're the problem. If I do have 12 volts, then I'm back to a problem with the fan.
But that's about all I can do until I know more.
One of our favorite places up in Webster is the Texas Huddle Grille and we go there usually every week or two.
But last Friday they closed down, saying on Facebook that they were having A/C problems and would reopen as soon as the problem was fixed. But now, a week later, they still haven't reopened.
And even more disturbing, there's been no further updates on FB since that initial post. There have been a lot of comments and questions posted, and you would think that they would be doing daily updates on the progress to reopening. But it's just been
'CRICKETS'
This would not be the first time we've had a restaurant we liked close for remodeling, or repairs, and then never reopen.
And it doesn't help that this location seems to be kind of cursed. While the IHOP directly across on the other side of the strip center has been open since the 80's, this spot has probably 8-10 different places in the same time period.
So, keeping our fingers crossed.
Another Day, Another Dare.
Tomorrow we're having lunch over at the Wendy's in Dickinson. At least we hope so. It seems that not all locations carry the sandwich.
I want to check out their new Ghost Pepper Ranch Chicken Sandwich. Tricked out with Ghost Pepper-infused American cheese, Ghost Pepper and ranch seasoned crispy onions, lettuce, tomato and a creamy Ghost Pepper ranch sauce, made with fresh herbs, it's the latest entry in the 'hot' sandwich wars.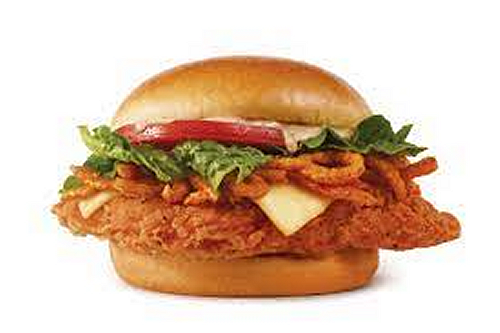 The reviews on the 'hotness' of it are all over the map, with everything from 'Blah' to 'WOW'. So I guess I'll see.
Right now the hottest sandwich I've had was Arby's Diablo Dare Roast Beef Sandwich that Jan and I had back in January 2022. You can read about that here. Arby's Diablo Dare.
The hottest overall I've had are the Chicken Tenders at The Cookshack up in Webster. Their AMF1 & 2 levels are pretty much the 'hottest' anything I've ever had.
And of course I'll have to have an order of Wendy's Ghost Pepper Fries to go with my sandwich.
---
Thought for the Day:
Welcome to my mind . . .
Please fasten your seatbelts and keep your arms and legs inside at all times. Don't feed the animals, drink the water, or talk to the voices.
Enjoy the ride!
---
And Now On To Today's Retro-Blogs.™
---
June 9, 2009
Road Trip to Daytona Beach…
Today Jan and I took a road trip about 50 miles south to Daytona Beach.
Jan had seen some yard flamingos at a store in Ormand Beach when we came thru there last week in our RV.  When you're 61 feet long it's hard to find a place to pull over on the spur of the moment, so back we went today.
Here is what Jan bought:
Yard Flamingos
This is actually only a small part of her yard flamingo collection.
I mean, what's an RV without flamingos in the front yard?
And Jan also has a yard moose collection, believe it or not.
We also wanted to drive around Daytona Beach where we spent time when we first met in Titusville 42 years ago.
After buying 3 more flamingos, we headed down the road to try out a BBQ place we had seen called Daytona Pig Stand.
These people take BBQ seriously.  Even their street sign smokes!
And I'm sure you've seen those people that compete in the BBQ cookoffs and contests where they have the smoker/grill on a customized trailer that they pull behind their truck.
Well, here is what the Pig Stand people have…
These people are serious about BBQ!!
After driving the length of A1A on Daytona Beach we headed back north to St. Augustine, stopping off at Walmart for some prescriptions that weren't ready yesterday, and Tractor Supply Store for a magazine that Jan wanted.
And then after stopping at an auto parts store for more tail light parts, we ended up at Barnes and Noble for books and a Starbucks coffee.
And then back home to the coach.
---
June 9, 2010
Red Devil and Greer…
Today started out with sleeping late and just got better all day long.
I got up about 10 am and, after doing some computer stuff, Mister and I went outside to do some things around the coach.
Mister decided to help out by taking a long nap in Jan's chair. At least he was out of the way.
I got the ladder out of the back of the truck and started cleaning all bugs off the front of the RV. I did the hard part first, which was to get the painted part of the rig clean. Tomorrow I'll finish up the windshield itself.
This Elks Lodge RV park is nice, with full hookups and 50 amp electric, and the surroundings aren't too shabby either. We're in the middle of a pine forest, but not too thick, so satellite reception is still good.
And this is the view out our front window.
A little while later we headed back over to Pinetop, first for some errand stops, and then a late lunch at the Red Devil Italian Restaurant.
Jan and I had a cup of Potato Bacon Soup and then a really good pizza with pepperoni, sausage, mushrooms, onions, and jalapenos. I think the crust was maybe the best we've had since New York City last year.
After lunch we took a sightseeing trip about 40 miles out in the country, thru the Apache Indian Reservation, and ending up in Greer, AZ, a resort area in the middle of the Apache National Forest in the White Mountains.
You really have to want to go here to get here, because the road ends here. Then you turn around and go back home.
Which we did.
But after leaving Greer and getting back on the main road, we decided to come home a different route, making a big circle thru Eagar and Springville on the way.
In Springville, we stopped off at the Western Drug and General Store. Right next door is one of the Madonna of the Trail monuments. The 12 monuments, erected in 1928 and 1929, are in 12 different states, from Maryland to California, and are placed along the National Old Trails Highway, much of which later became US 40 and US 66.
Our road trip today was great fun, and we finished it up by returning to our coach about 9 pm.
I think we've about got our route back to Austin planned out for when we leave here. Now we just need to figure out when we're going to leave.
---
June 9, 2011
Fish and Firetrucks . . .
Today was a road trip day so no coffee at home since we were going to eat breakfast again at the Hi-Lo Diner before hitting the road.
This time I tried something different and it was really good. A Pork Carnitas Burrito.
Made with Scrambled Eggs, Shredded Pork, Green Chiles, and Onions inside a burrito, it was very tasty. And the Country Fries and Homemade Salsa just topped it off.
Jan had a Strawberry Waffle with a side of Bacon. Apparently it was so good she didn't even let me get a picture before she dove in.
After a great meal, we headed out to drive the Old Stage Rd down to the town of Mt. Shasta. Our destination was the Sisson Museum and the adjacent Mt. Shasta Fish Hatchery.
The Sisson Museum, named after Mt. Shasta City's name until 1924, opened in 1983 and gives you a great overview of the Mt. Shasta area.
One thing I found interesting were some of the old photos taken at the top of Mt. Shasta. I wondered about the purpose of this pylon at the summit.
Checking another exhibit gave me the answer. It was a Geodetic Survey marker. Installed on the top of Mt. Shasta in 1875 to aid in drawing survey lines in the newly-opened West.
The highly-polished shape of the 'conoidal' cone on top reflected the sunlight in all directions making it a brightly-lit beacon on the mountain top, visible for more than 200 miles away.
Falling into disuse after the surveys were completed, it stood until sometime between August and October 1903, when it was apparently struck by lightning and blown off the mountain top, landing several thousand feet below.
It was not seen again until 1912, and the top was not recovered until 1949, when three men brought it down. It was stored until it was donated to the museum in 1984.
Another thing I found interesting is that on the display telling many of the highlights of the mountain, the number of fatalities is changeable.
Sounds like a good enough reason to just admire the mountain from afar.
This is a 1915 Ford Fire Truck, one of only 6 made, and the only one to survive.
It contained a 20 gallon tank of a water/baking soda solution, so to activate it, a ladle of concentrated sulfuric was dumped into the tank and stirred. When the lid was clamped down it developed as much as 150 psi, spraying the solution on the fire. Of course the tanks sometimes blew up from too much pressure, so maybe that's why they only made six.
Leaving the museum, we walked next door to the Mt. Shasta Fish Hatchery. Built in 1906, it is the oldest hatchery still operating west of the Mississippi. At first it handled salmon, then salmon and trout. Now it supplies four different species of trout, including Rainbow and Brown Trout.
The first thing you see are the outside growing ponds, fed by the icy cold waters of a nearby creek. Note the netting overhead to keep out hungry hawks.
But everything starts here in the Incubator Building where the spawn are hatched and fed.
There are as many as 20,000 minnows in each of these tanks, and there are several dozen tanks.
When they're large enough they're moved outside through a progression of ponds as they grown in size. At this size, as fingerlings, they may be airdropped into rivers and streams.
These look almost 'eating size' and will be deposited into rivers from large truck tanks.
We also saw three hawks regularly floating overhead, so that explains the netting.
Leaving the museum and hatchery, we drove back into Mt. Shasta City and got another great view of the mountain.
Getting back on I-5 we headed south about 60 miles to Redding. We wanted to see the area and also stop off at a Tractor Supply Store.
We had also seen signs for the Sundial Bridge near the Turtle Bay Museum, and wanted to check it out also.
It turned out to be a pedestrian / bicycle bridge crossing the Sacramento River that also functions as a giant sundial. Built in 2004 it is a cantilever spar cable-stayed bridge (you really wanted to know that, didn't you.) that stands 266 feet high and is 700 feet long.
These photos from the Internet gives another view.
The bridge deck is made of structural glass and is illuminated at night for a spectacular effect.
Leaving the bridge we drove around Redding for a while before deciding to have a late lunch at a nearby Marie Callender's.
On the way I saw gas for $3.82 so I decided to fill up, as it's $3.99 back in Weed.
After a good meal, and pie to go, we headed back to the RV, taking in more great views along the way.
This is Mt. Shasta, seen from Redding. According to the map it's 58 miles away.
What stuck both Jan and I is how visible Mt. Shasta is from so far away, and yet it was so overcast last Saturday when we drove here in the RV that we never saw the mountain until we were in Weed, and even then it was covered in clouds.
Another shot from about 15 miles away.
Getting back to Weed, we stopped in at the Pilot right next door to the RV park so I could get a cappuccino.
---
June 9, 2013
Finally . . .
I'm really getting pretty sick of this water filter / drinking fountain upgrade, I got the new compression ferrules last night and then this morning I redid the connections, turned the water back on, and both were leak free.
But I just had to take it one step further. As long as we'd had the coach there has always been a very slight leak underneath the cabinet. Not enough to make it wet there, but just a little damp. I watched things for a few minutes but saw no leaks, so I put down some newspaper to show up any leaks. And checking back in a couple of hours showed me one drop had fallen, and based on its position, it was coming off one of original quick-disconnects that was used by the old inline water filter.
So after checking the connector about every 15 minutes for about an hour I finally saw a drop forming at the threads where the plastic disconnect screws into the brass 1/4" tubing compression fitting. So I decided that just tightening the connector a little bit would probably fix the problem.
SNAP!
Well, at least I now knew why the joint was leaking. The plastic threaded part of was already cracked and leaking and snapped off when I tried to tighten it. In the photo below, the center connector was threaded into the brass connector on the left and that's what snapped off.
So about 1:30 I headed back down to the hardware store (I now seem to be on a first name basis with everyone there.), but they didn't have what I needed. So it was off to the Home Depot up in Bend. And there I found that these quick disconnects aren't stocked anymore, but they could order me some. Bummer!
But then I realized I didn't really need the quick disconnects anymore because the cartridge system itself is a self-sealing quick-disconnect type.
So I just got a 3/8" to 1/4" quick connect and headed home.
Getting back home, it only took me about 5 minutes to install the quick connect and wrap up the project,
Finally!
For supper we had another heaping helping of Jan's great chili, with corn tortillas, cheese, and crunchy tortilla strips. Mmm, mmm, good!
Grace Nadeau, our son-in-law Lowell's niece, posted this photo of her daughter Zoe, Landon's 2nd cousin.
Is she a cutie, or what?
---
June 9, 2014
Bullet Dodging . . .
We had our coffee this morning along with some of the Snickerdoodle Bread that Phyllis Schell brought over yesterday. Per her suggestion, we buttered it and toasted it in our toaster oven. Delicious!
About 3pm Jan and I made a Wal-Mart run for a few things. One of the things I wanted to look at while there was the size of their small 5000 BTU Air Conditioners. I plan on getting one for our gate guarding this year. It looks like it will fit just fine in the driver's seat window and will help take some of the load off the rig roof AC's.
A little after 6pm Jan and I, along with Jim and Chris Guld, of Geeks on Tour fame, all headed over to have dinner at Mancino's Pizza. We tried to eat there last night, but found them closed. So tonight we tried it again, with better results.
As usual the pizza and Sammy bread were delicious. One of our favorite places in this area.
---
June 9, 2015
Make Up Your Mind . . .
Well, as I figured it will be the first part of next week before the new windshield will be in and they will be ready to install it. But apparently my finding the windshield part number for them did speed things up.
Of course they've also still got the airbag to install at the same time, as well as a few other small things. Then when everything else is done, we'll drive over and get the new tires put on.
The tire guy says that he could put them on here, but if I want to get them computer balanced, that has to be done at the shop. Of course, I could have them all put on here, then drive over to the shop and have them all taken back off, balanced, and then put back on. But that would cost $25 per tire for the extra labor. So No to spending an extra $150.
About 2pm, Jan and I headed out to have linner at the In N Out Burger here. Unlike our last In N Out visit in Las Vegas, neither of us added 'secret menu' things. The only variation on our Double-Double's was that Jan got grilled onions on hers, and I added a sliced of raw onion to mine.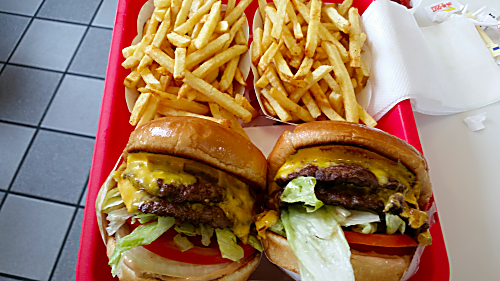 In-N-Out is fast becoming one of our favorite burger places. Nothing fancy, just a really good burger.
Then it was right across the parking to a nearby Wal-Mart for a few things. It didn't take us long to decide that this is now our favorite Wal-Mart here in Prescott. It's very clean, with wide brightly-lit aisles. Jan said there was even artwork in the ladies room, as well as green plants. Very nice store.
* * * * *
On another note, can't they just make up their minds.
First they tell us that being obese, or 'extra fluffy' ,as Jan calls it, is bad for your heart.
Then a few years later it all changes.
Obesity Now Good For Your Heart
And of course, previously, they told us saturated fats were bad for us. So everyone started using trans fats. Then they decided trans fats were bad, and we started using polyunsaturated fats. And now we've circled all the way back around to 'saturated fats are good for you'.
Who can keep up?
And anyone remember how we ended up with airbags?
First we got seatbelts, but they decided people weren't using them enough. So in 1974 they put switches in the seatbelts so that your vehicle wouldn't start if your seatbelt wasn't fastened. Of course this resulted in a lot of people sitting on fastened seatbelts, just out of spite.
Finally after a lot of complaints, the seatbelt switch law was repealed and we were back to the buzzer-light thing. For a while.
Then in 1998, since a lot of people still weren't using their seatbelts, they started requiring front seat airbags in all vehicles to replace seatbelts. In fact, some early  airbag-equipped vehicles didn't even have front seatbelts.
But in another one of those OOPS moments, they found that a lot of people were being injured, killed, or even decapitated by the airbags going off in a crash.
I mean, who knew that a small bomb going off in your face might be a problem?
So to save people from the dangerous airbags, they started requiring seatbelts again to protect people from the airbags.
And now 30 million vehicles in the US have been recalled due to defective airbag inflators, the explosive part that inflates the airbag. Apparently sometimes these go off on their own, with or without a crash. And when they do go off, they can send metal shrapnel spraying throughout the passenger compartment,, injuring or killing the occupants.
Don't you feel safer now?
---
June 9, 2016
Whew, That Was Close . . .
When I got up about 11 this morning, the park water was off. And of course since the AC leak and microwave problem had jumped to the head of the repair list line, I have not yet installed the new water pump that came in last week.
Luckily we had enough water in a jug to still make coffee this morning. Otherwise things could gone downhill very quickly. So, up next, the water pump install.
I know most RV'ers have a love-hate relationship with their water hose. I know I do. How can something labeled "Non-Kink", or "No-Kink" find so many different ways kink, twist, or knot up while it's just laying on the ground.
And I'm sure, like me, you've looked longingly at those expandable Pocket hoses that you can wad up in a ball, and thought, maybe it wouldn't give me cancer if I drank from one all the time.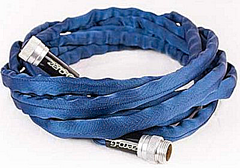 Well, someone has finally come with an RV version. Called the Zero G RV and Marine Hose, it's available for about $32 for a 25ft length.
About 4pm Jan and I drove down to the Cracker Barrel for dinner. Thursday being Turkey and Dressing Day, it's Jan's favorite day to eat there. But after looking over the menu, I was having trouble choosing between two items, both new on the menu – the Strawberry Chicken Spinach Salad and the Beef Campfire Grill. So I got both.
Or rather I got the Campfire Grill and Jan and I split the salad.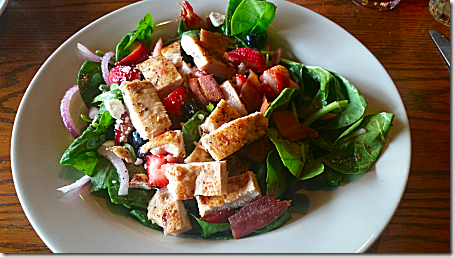 The salad was really great, with Strawberries, Blueberries, Spinach, Grilled Chicken, Bacon, Feta Cheese, Pecans, and Red Onions, with a Strawberry Vinaigrette. Probably the best salad of this type we've ever had.
With Jan going for her Turkey and Dressing, and us splitting the salad, I got to have the Beef Campfire Grill, with Beef Roast, Carrots, Red Potatoes, Onions, and Corn on the Cob. Kind of like a Louisiana or Low Country Boil, but with beef (or chicken) rather than shrimp or crawfish.
it comes like this,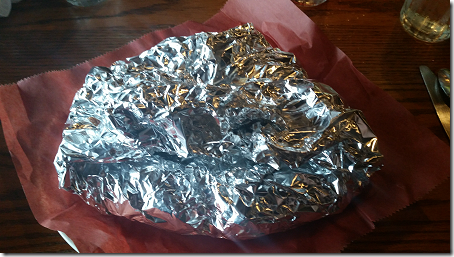 and opens to this.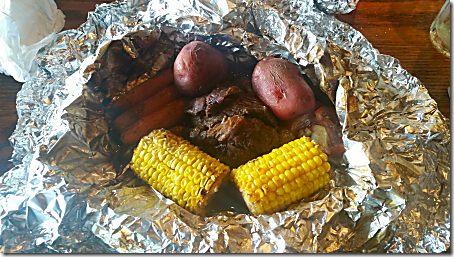 Everything was tender and delicious, especially the beef roast, very flavorful and perfectly spiced. Try it.
Landon's out of school for the summer, all ready to be a 1st Grader this fall. So he gets to spend some time with his father, Lowell, hanging out at the new Starbuck's near their house.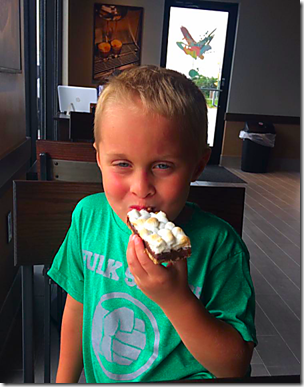 Looks like his recent treadmill faceplant has healed up.
---
June 9, 2017
Wrapping Up in Rapid City . .
.Today was a stay-at-home day, so I could finish up with the generator. I needed to finish wiring up the new remote switch and then put all the covers back on.
Then I checked all the rig's fluids, adding some oil and some coolant. Tomorrow I'll check the tire pressures, since the last time I checked them in Bend, OR it was in the 40's.
Since we're wrapping here, I thought I'd finish up with one of our touristy things that we did last Thursday, the 1st, when we did the Reptile Gardens.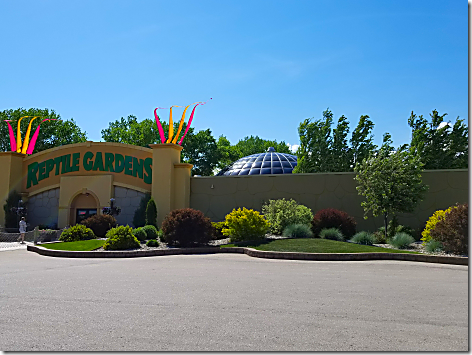 We got there a little before 1pm, just in time to take in the Snake Show, with these Albino Python as an example. Unfortunately due to the glass surrounding the stage I didn't get many good photos.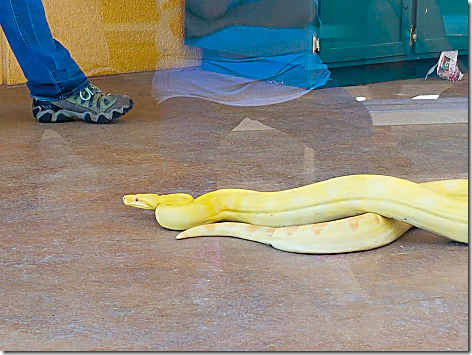 Right next door was one of Jan's favorites, the Prairie Dog Habitat. They also have a prairie dog on sentry duty.
Jan has been known to ignore signs like the one below, but not this time. Too many witnesses.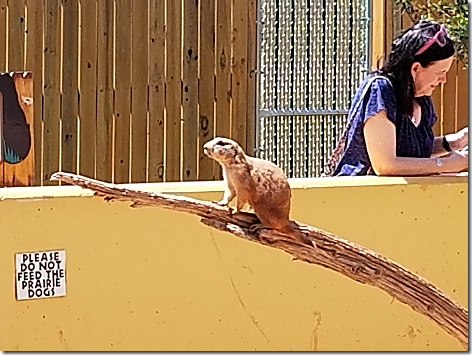 In addition, there were a lot of babies running around, some even smaller than this one.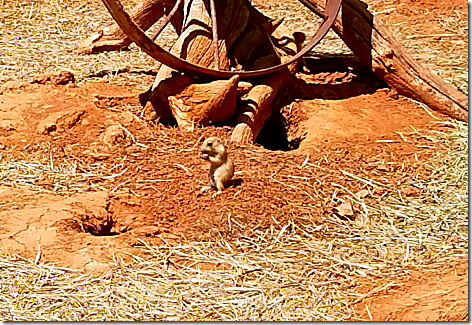 This is Derek . . . the guy, not the gator. Derek showed us how to catch and restrain one.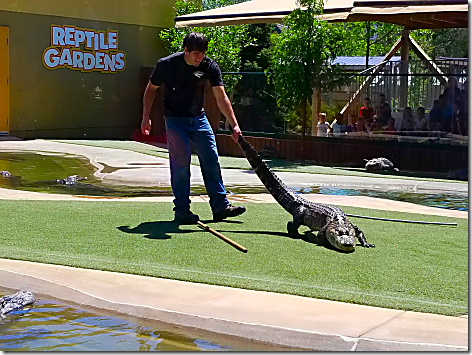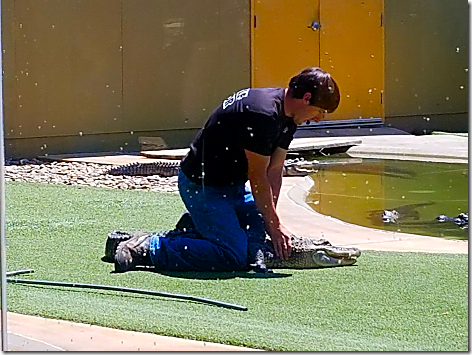 Gators can bite down with over 2,000 psi of force, but the saltwater crocodile can chomp down at over 3,700 psi. Ouch!
In contrast, lions and tiger top out at about 1,000 psi, while you can tear into a steak with 100 to 200 psi.
But as strong as they are biting down, the muscles that open their jaws are pretty weak. In fact almost anyone, even a child, can hold their mouths shut.
One thing kind of funny was that as Derek was doing this, all the other 20 odd gators and crocs came out and were lined up along the bank, just watching.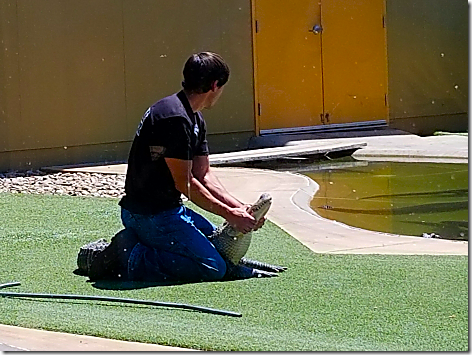 Next up was the Bird Show.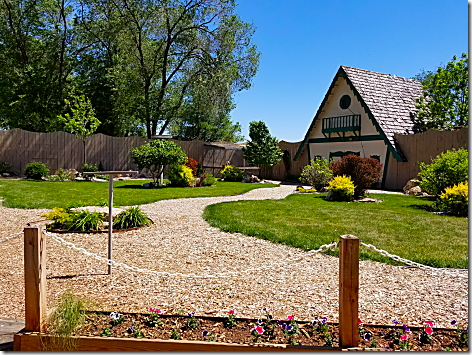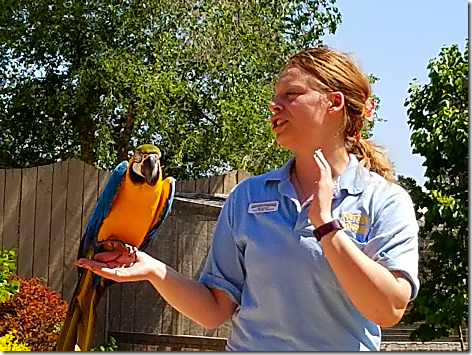 Then it was into the dome to check out all the snakes, bugs, and critters, including Jan's favorite Tarantulas.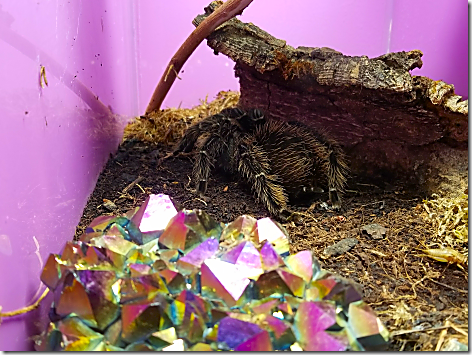 Some of them are actually kind of pretty.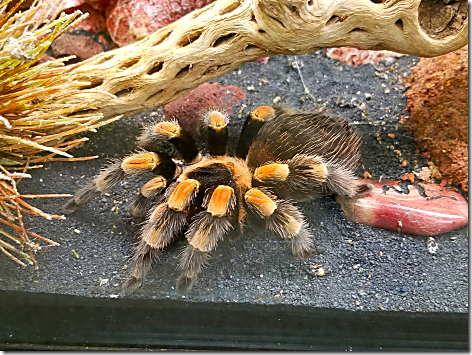 This one will fling its stinging hairs at you.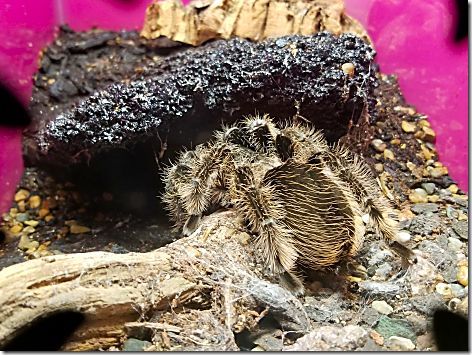 Waxy Monkey Frogs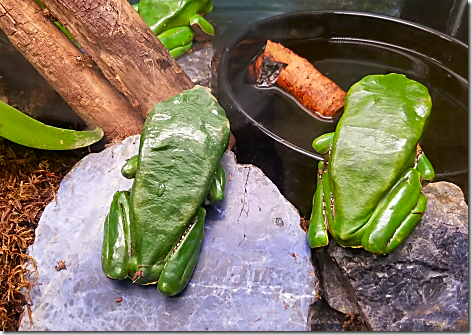 A Gold Poison Frog, supposedly the most poisonous of the bunch. Even the natives are very careful with it.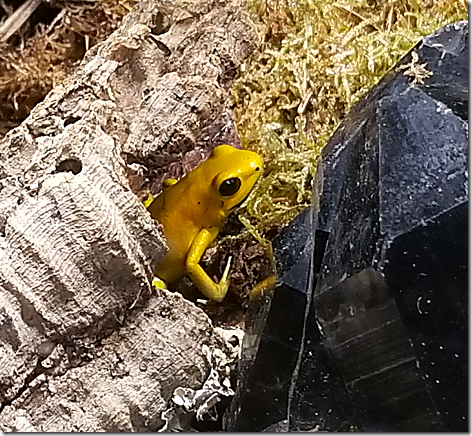 The Blue Poison Frog.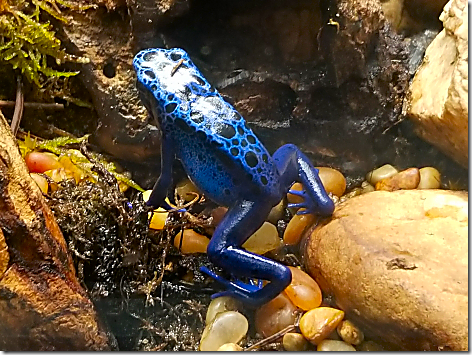 This is a Chameleon. Note the pattern on his side. He's recreated the green leaves, the black background, and even the vertical branches. Amazing.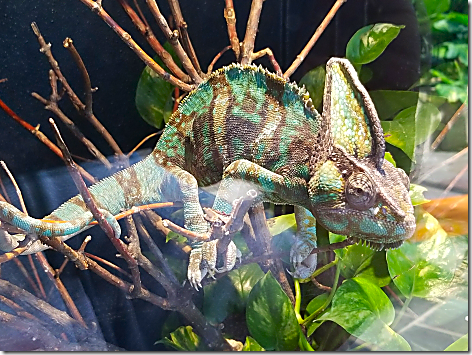 An Iguana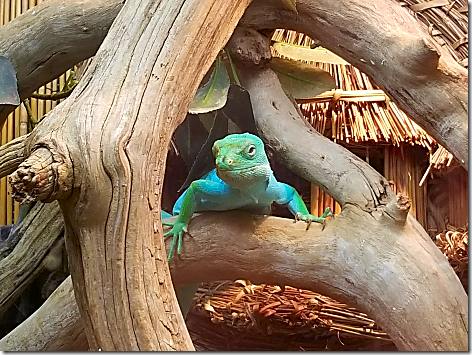 Here's Jan with a slightly larger one when we were in Puerto Vallarta in 1997.
A Desert Horned Viper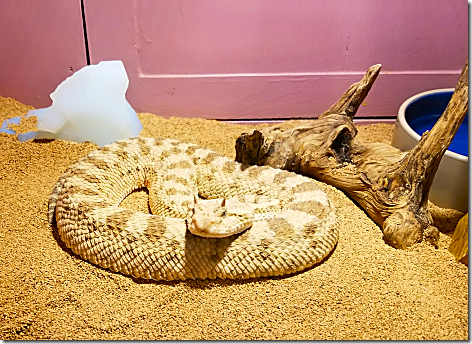 And one from my neck of the woods, a Copperhead.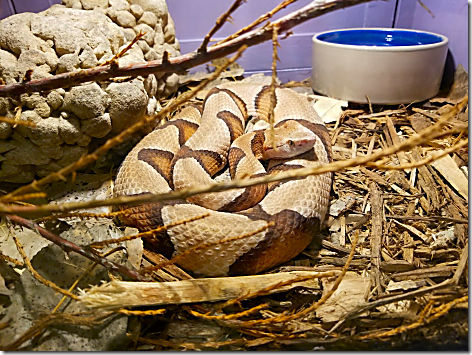 The Fierce Snake, or Inland Taipan, is reputed to be the most poisonous snake in the world, although I've seen other snakes listed that way.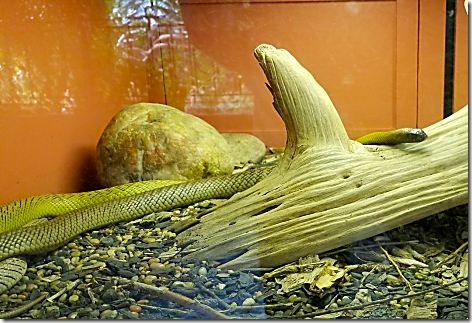 The Fierce Snake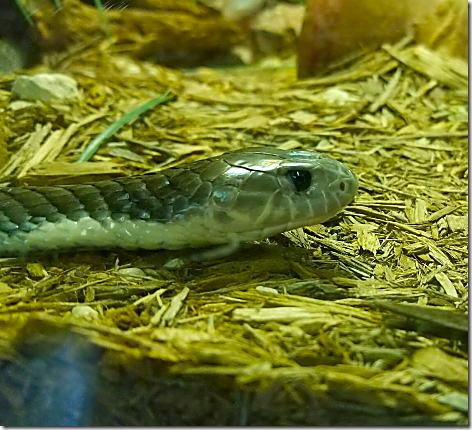 The centerpiece of the entire place is the dome, with birds, insects and other animals roaming free, and populated with many exotic plants and flowers.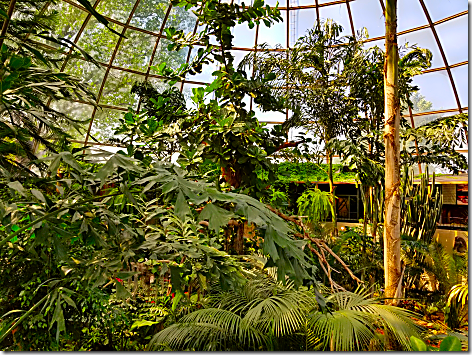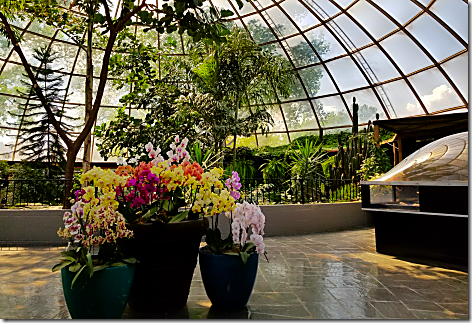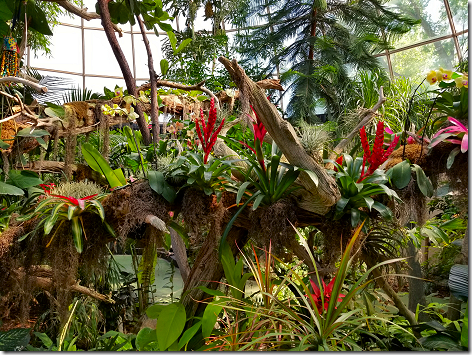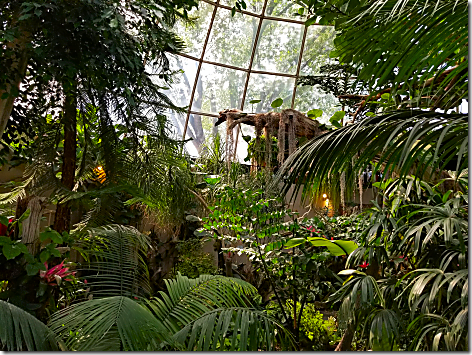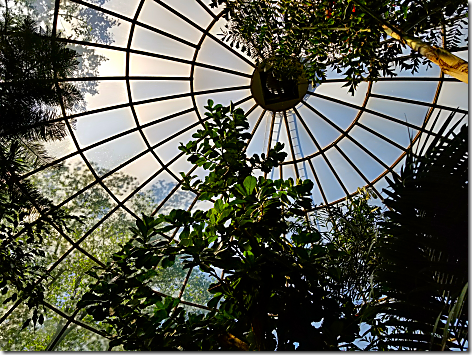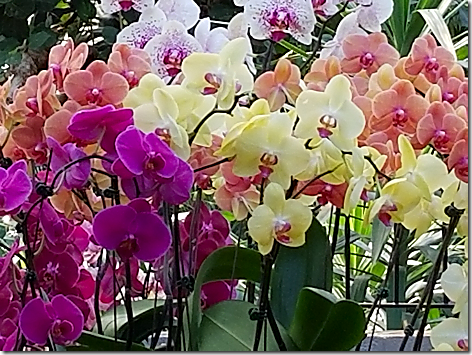 We both really enjoyed Reptile Gardens, one of our favorite places here. A Must See if you're in the area.
Tomorrow morning we'll head out about 10am, with our first stop the Mobil station right by our I-90 entrance to get diesel. At $2.43 a gallon it's the cheapest place around, especially compared to the Pilot a few miles down the road where it's $2.85. So that would be a $42 difference on a 100 gallons. Yikes!
Our first real stop will be Wall Drugs about 65 miles along I-90E where we'll have lunch before going another 60 miles, stopping at the Belvidere KOA for the night.
A nice short day.
---
June 9, 2018
And Of Course, For the First Time in a Month …
It rained.
I tried. I really did. Right after I finished my coffee I headed outside to get started, only to be greeted by the loud rumble of thunder, a gray solid overcast sky, and heavy rain drops.
Where did that come from?
We haven't had any rain in over a month, at least that's what La Crosse Weather Station says. And none was scheduled for today. So why rain on my parade?
One thing I did do was to top off our fresh water tank for our upcoming jaunt. We were below 1/4 tank, and we don't expect to need it, but it's best to be prepared.
Since I decided to put off the power washing until this afternoon, weather permitting, we headed out up to Webster about 1pm. Our first stop was for breakfast, again. Like I said, it's our favorite meal.
But this time it was to another local favorite Breakfast/Bunch/Lunch place of ours, The Egg and I. We've been eating here for years, even before we started RV'ing in 2008 and it's always been great.
Ironically, one of our favorite things there is not just the food, but their Hazelnut  Coffee. Don't know what brand it is, or where they get it, but it's literally the best tasting coffee we've ever had. Much better than any of the Hazelnut coffees we buy at the store. And we've tried a lot of different brands.
As far as breakfast itself, Jan had an Omelet with Mushrooms, Onions, and Avocado with Fruit and an English Muffin.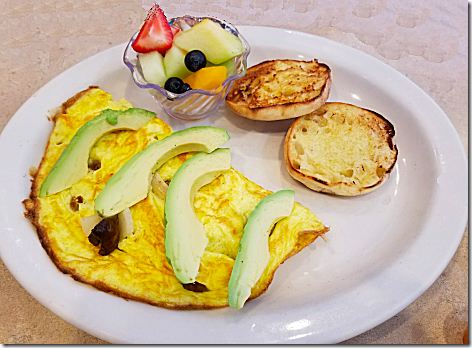 I stuck with my usual Two Eggs Over Easy, with very crispy Bacon, Fruit, and an English Muffin.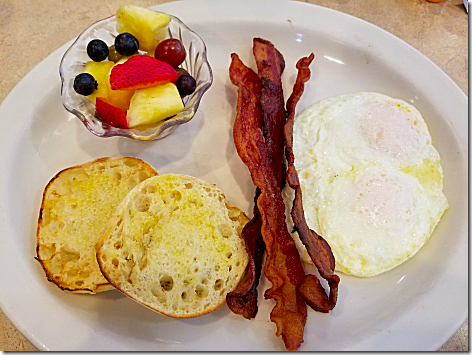 A great breakfast. Just wish it was a little closer.
Then it was a quick stop by my clients to see if my Wyze Pan Cam had come in as promised.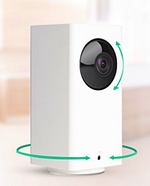 Well, it may have been promised but is was not kept. It seems like every time a package doesn't show up on time, it's in the hands of the Post Office. In this case, according to the tracking, UPS delivered it to the Houston PO on Wednesday. And there's been no change in the tracking info since them. It's just sitting around out there somewhere.
Neither snow nor rain nor heat nor gloom of night, my rear end.
Our last stop was at the El Dorado WalMart to pick up Jan's prescription that we dropped off a couple of days ago, and once again GoodRx saved us a bunch of money.
I've mentioned this app before, but if you don't use it, get it. The first thing is that it shows you the cheapest places for any drug in your area. Pretty useful by itself. But it get's better.
In many cases GoodRx also gives you additional discounts, either by a coupon you print out and give to your pharmacy, or just a code number that you show to the clerk when you check.
In today's case, the initial cost for Jan's prescription was $41.58, but after I showed them the GoodRx code on my phone, it dropped to $21.20, almost a 50% discount. Nice!
Tomorrow it's once more unto the breach, and another try at washing the rig. But we'll see.
---
June 9, 2019
Gonna Need A Bigger Barn . . .
Or A Hidden Gem
I spent the morning working on the website credit card problem, Friday I finally figured out what the real problem was. The credit card program that we were using is no longer supported, and is not supposed to be used.
So it's just something else I have to change out and update.
About 3pm Jan and I headed out to have lunch at a new-to-us place. It's only a few miles from here, and we pass it almost every day. but they don't have much in the way of signage. But I'm not sure if if's really needed, since word-of-mouth seems to be doing a good job. They do a big takeout and delivery business.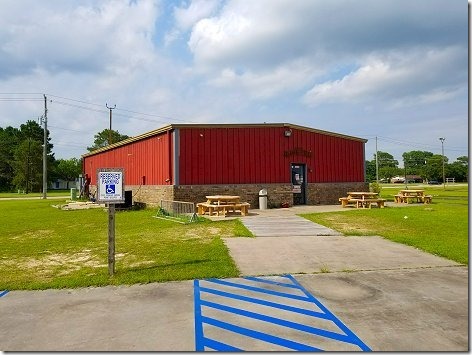 It's called The Boudin Barn and it 's really, really good. And really, really small.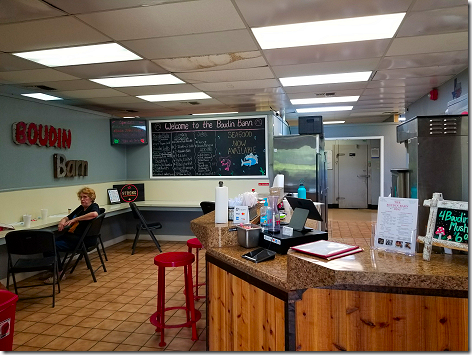 Like I said, they're gonna need a bigger barn.
Jan had the Catfish and Shrimp Combo. She said it was really good.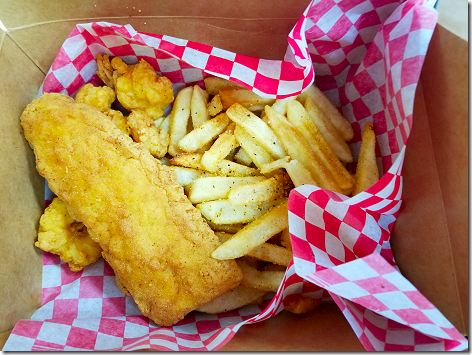 I had the Cheeseburger Combo.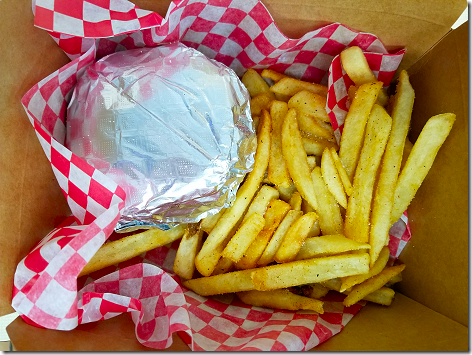 It's a 1/2 pound of Angus Beef with Bacon mixed in, and served on a Brioche bun with all the fixings. Really good, and the fries are seasoned too.
Jan also got the Boudin Stuffed Mushrooms as an appetizer,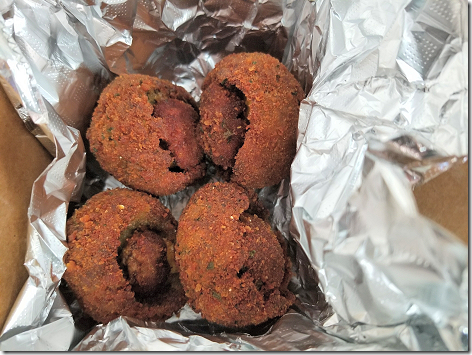 while I thought I was getting a Boudin link and Boudin Balls appetizer too.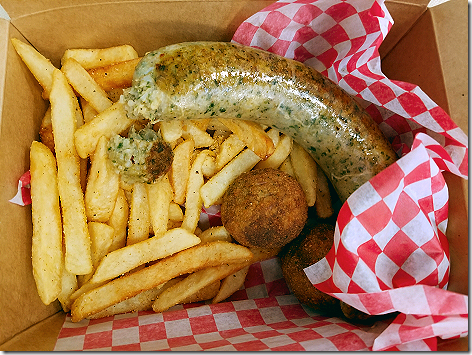 But it turned out to actually be a combo meal with fries and a drink, so I had plenty left over for dinner tomorrow night. YUM!
They also regularly do weekend specials, like Boudin-Stuffed Bacon-Wrapped Chicken Breast, or Boudin-Stuffed Bacon-Wrapped Tenderloins. Apparently these are so popular that they sell out fast, So fast that they suggest you call and make a reservation.
Now that's popular. We'll definitely go back.
Finishing up at the Boudin Barn, we headed up to the League City WalMart to pick up a couple of things that the Texas City version was out of. Along the way we were happy to see that they had reopened southbound side of I-45 at FM 646. They had closed it down Friday night at 9pm, and it wasn't supposed to reopen until 5am tomorrow morning. So ahead of time is nice.
---
June 9, 2020
Daisies and Time-Traveling Dinosaurs . . .
For the last week or so Jan and I have been binge-streaming 4 old TV show series, all in the sci-fi/fantasy genre, and all on the CWSeed streaming app.
Forever is a show about a New York Medical Examiner who is also a 200+ year old immortal. And he doesn't know why. He was killed onboard a ship in the early 1800's and thrown overboard. And then he woke up.
Moonlight is about a vampire who works as a P.I. in Los Angeles. He's 85 year old but looks 30, and uses his vampire powers to solve crimes. There's a girl TV reporter who knows his secret, and no, he can't fly or turn into a bat.
Both of these only lasted one season, as it seems like a lot of shows we like. They don't last long.
Next up is a two season series, Pushing Daises, a quirky show about a pie maker who can touch something dead and it will come back to life. But if he ever touches it again, it will die again, permanently. Which creates a problem when he brings his dead girl friend back to life. And then can never touch her again. Bummer!
Last up is a British series that went 5 seasons. Primeval has a group of scientists battling dinosaurs that escape into the present through 'Anomalies', basically holes in time that appear at random around Britain. The dinosaur effects are really good, and were done by the Walking with Dinosaurs people who did all the Science Channel shows. At least we've got a bunch of episodes to watch.
---
June 9, 2021
Family Traditions . . .
I'll catch up on yesterday's long, rainy trip later, but I don't want to fall behind keeping up with what's going on now.
We all headed out for breakfast about 9am to the local Denny's in Vandalia, IL, which is actually part of the Pilot Truck Stop here.
"We all" consisted of Jan and I, Jan's sister Debbie and her husband Jim,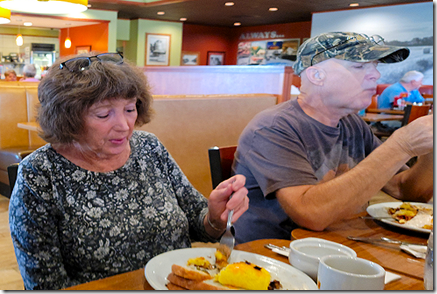 and Tana and Gwen, Debbie's daughter and granddaughter.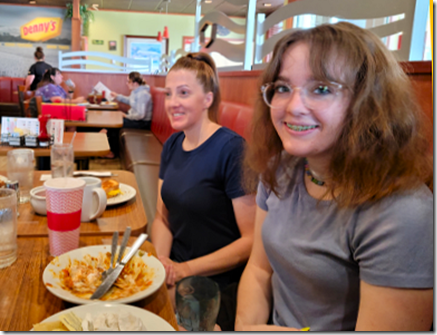 Gwen just graduated from high school a few months ago, and is already in college, majoring in psychology, taking after her 2nd cousin, Miss Piper.
Then it was on over to Rural King and WalMart for some shopping. Rural King is kind of a cross between Tractor Supply, WalMart, and a local feed store, and sell pretty much anything farm related, from farm equipment to bales of hay, to baby chicks and rabbits. And of course, boots, overalls, and hats.
And a lot of fun to wander through.
Then it was on over to WalMart to stock up on food and supplies for the total of 15 people that will be descending on here this afternoon, including Brandi, Lowell, and Landon, who will be arriving later this afternoon,
Debbie and Jim have about 10 acres out here in the country south of Vandalia, and Debbie's green thumb is evident everywhere you look.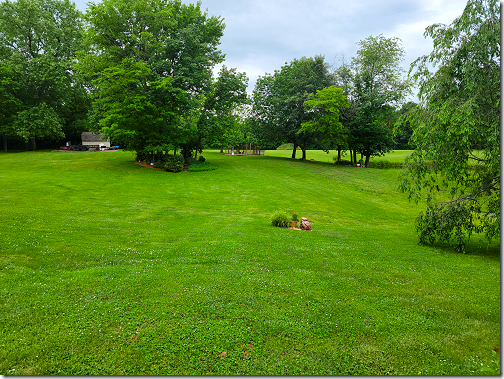 Off to the right is a large pond with fish and turtles for the kids to feed.
This is Trudy's Garden.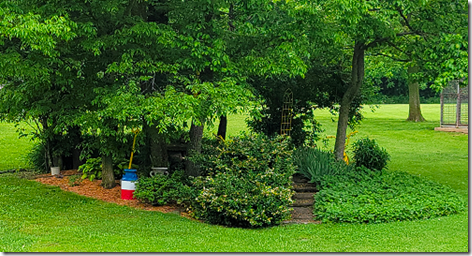 It's dedicated to Trudy Underwood, Debbie and Jan's mother.
And these are two shots of the front of the house.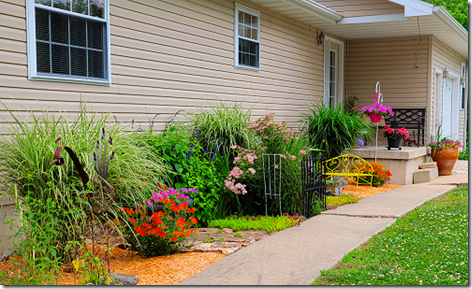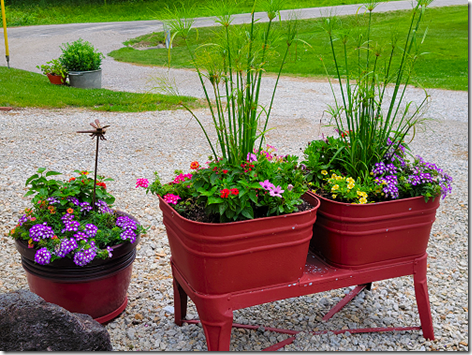 I once told Jan that the reason she doesn't have a green thumb, and has been known to even kill plastic plants, is that Debbie ended up with both her share AND Jan's.
And it shows.
Later, after a great dinner, all the kids and grandkids played games at the table.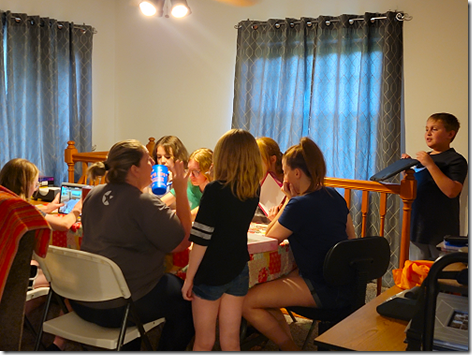 Mister Landon, being out numbered by the girls 7 to 1, wisely observed from the side. At least at first, But was soon in the middle of things.
More tomorrow from the City Museum in St Louis.
---
June 9, 2022
Very Relaxed . . .
Jan and I headed out on our own this morning, first for lunch at Desoto's Seafood Kitchen over near the main intersection in Gulf Shores. We've been eating here for probably close to 15 years and it's always delicious!
And this time, unusual for us, we started out with a drink. A Relaxer. And boy, did it.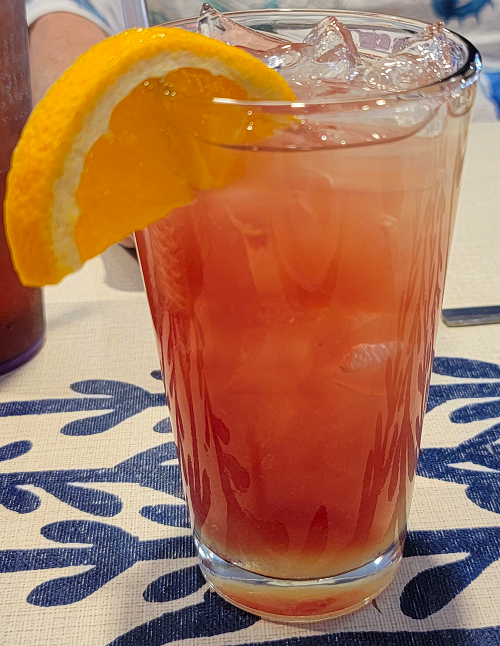 Made with Vodka, Peach Schnapps, Rum, and Pineapple and Cranberry Juice, it was very good.
Jan and I both got the same thing, the Fried Seafood Platter, hers with Fried Green Tomatoes and Sweet Potato Casserole, and mine with Fried Okra and Sweet Potato Casserole.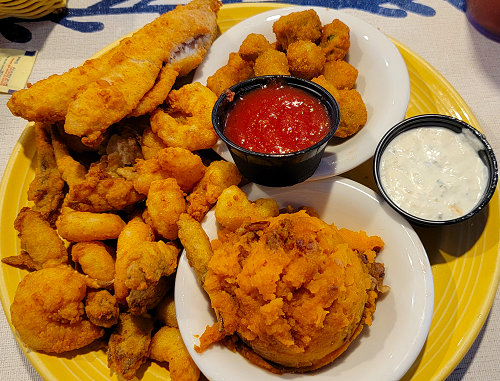 One thing to note about Desoto's and other smaller places at Gulf Shores, the locals eat here for lunch. You can tell by the way they're joking with the waitresses and stopping to talk with people at other tables. So the lunchtime prices are very reasonable.
But come dinnertime the prices make a big jump for the tourists and the locals stay home.
Next up, after our great meal, Jan and I drove up to Foley to check out the large 'O' gauge model railroad layout that's part of the Foley Railroad Museum, right in the center of town.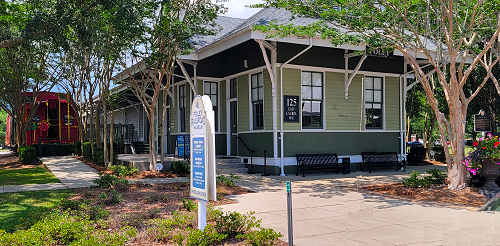 At 60' x 20', it has a quarter-mile of track and over two miles of wiring.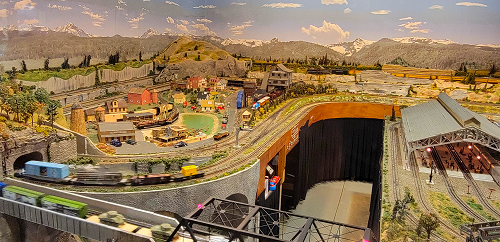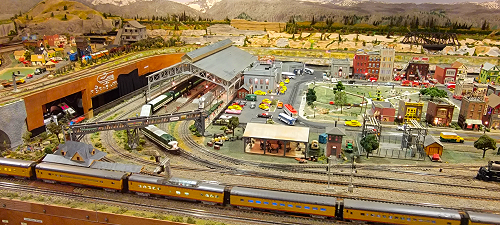 And everything from a circus,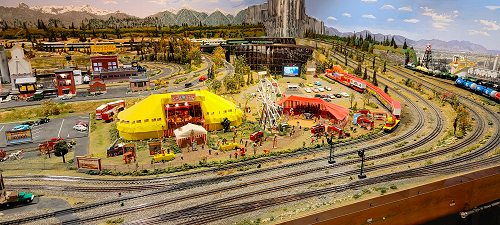 to a drive-in movie, complete with a small monitor for the screen,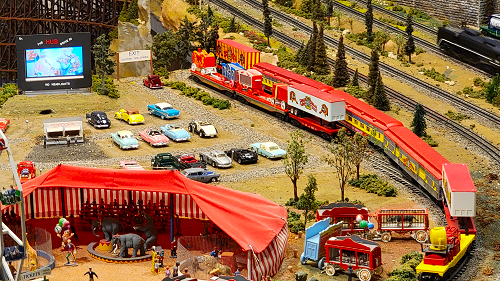 And then there's the Fireworks company building on fire with fire trucks out front.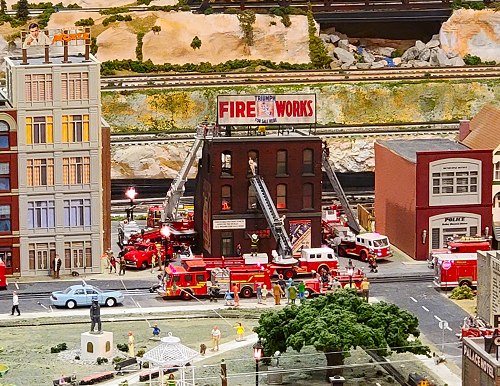 There are a lot of animated scenes, complete with a nighttime mode.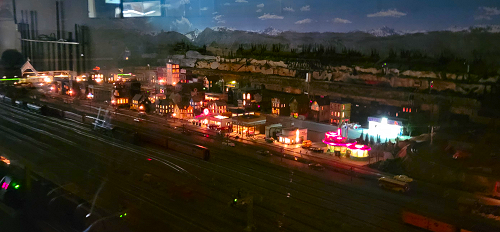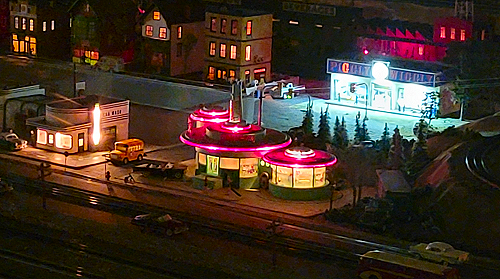 After spending almost an hour there, we spent some time driving around Foley checking out my old haunts. I went to school here from the 2nd grade to the 8th, so I have a lot of memories.
Getting back down to Gulf Shores, we made a WalMart stop for a few things plus gas before heading back down Fort Morgan Rd, to the condo. We did make a quick detour down to the end of the peninsula where the actual fort is located to look around, but they had already shut down the gate.
However I did get this shot of a stork sitting on top of a chimney there.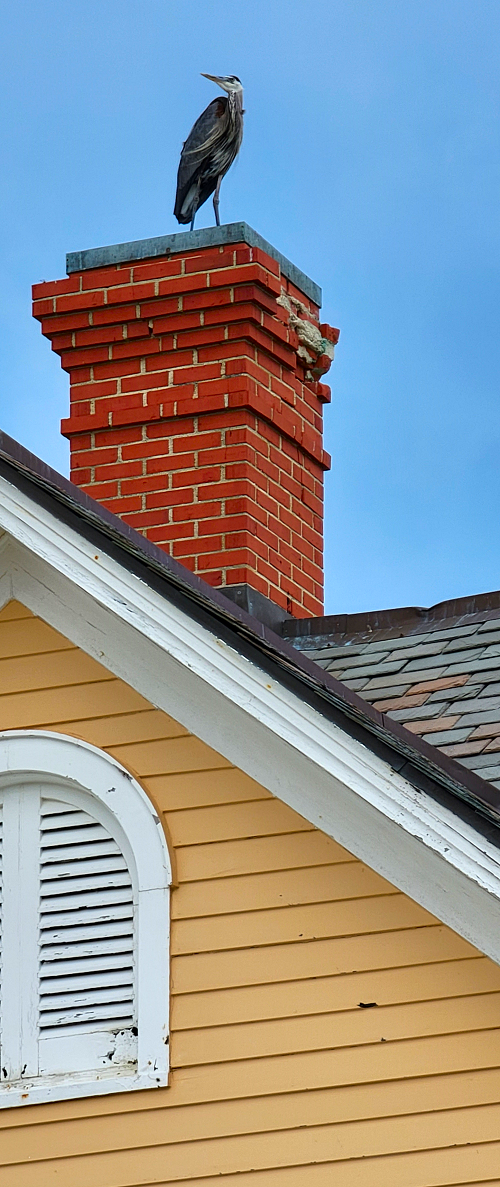 Guess he'd just dropped a baby off.
Later after it got dark, I guess the shrimp were running, because we saw several shrimp boats out there trawling.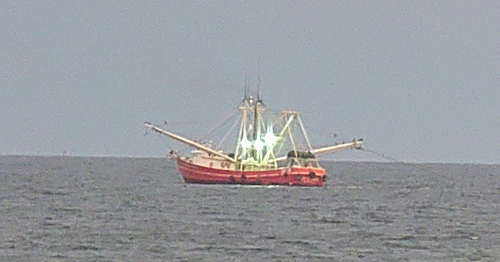 The fact that the booms are widespread means that the nets are out and they're catching shrimp.
Tomorrow will be a stay-at-home day for Jan and I, getting some pre-packing down before we leave here early Saturday morning.