The new fan motor and the last of the parts showed up this morning, so as of now, we're good to go for Wednesday. The weather looks OK, though I would like it a little cooler, but you can't have everything, I guess.
I do plan to get up early, probably around 7 am, to get started while it's still in the 70's. I hope the entire thing will take less than 2 hours, or even 1 maybe. We'll see.
Since it's going to be a few days before I have a chance to replace the Jeep's cooling fan relay, and I got tired of having to open the hood and connect up the shorting plug every time we start or stop, I finally got a 30 amp toggle switch to make it a little easier.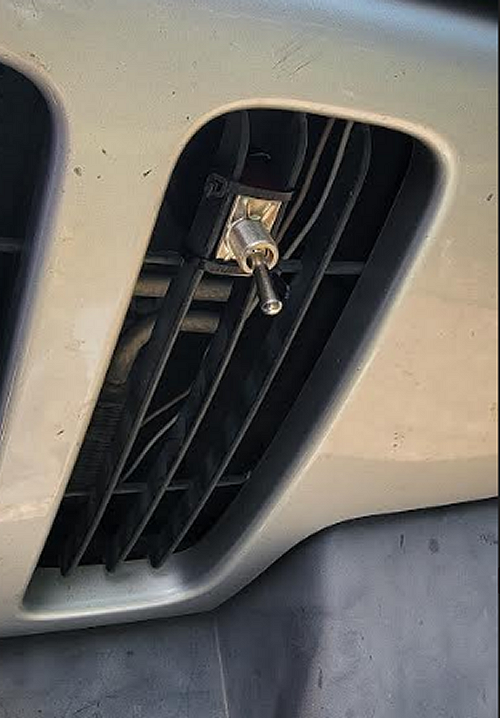 Lunch today was at Gator's over in Dickinson once again, with Jan getting her Strawberry Walnut Salad with Grilled Chicken,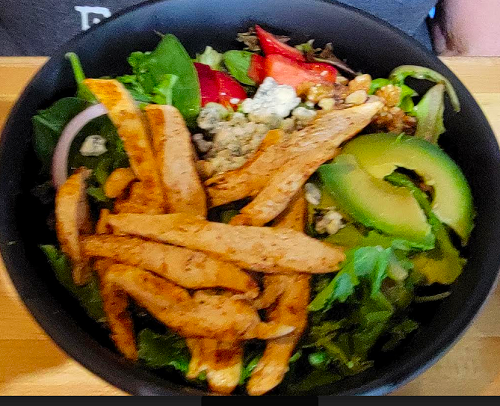 while I tried something new, the Blackened Chicken Breast Dinner with Sweet Potato Waffle Fries and Green Beans.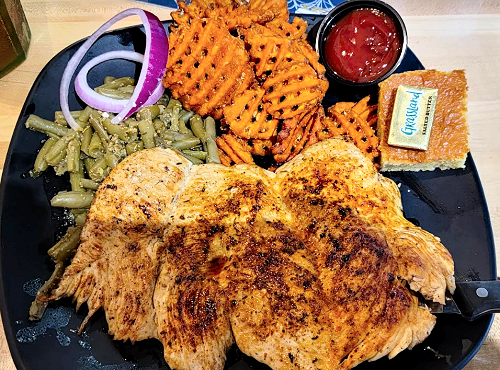 Really delicious, and a lot of food for $14. And I had half to bring home.
Then it was on up the feeder for our weekly HEB stuff, a P.O. stop, and then back to the rig.
I mentioned in yesterday's blog about the new diesel-powered EV Chargers installed at our local Wal-Mart. And now there's a coal-powered EV battery manufacturing plant.
Turns out that Panasonic is building a $4 Billion battery plant in DeSoto, Kansas.
The Kansas City Star reports that the factory will require between 200 and 250 megawatts of electricity to operate. That's roughly the amount of power needed for a small city.

As a result, the utility will continue to burn coal at a power plant near Lawrence, Kansas, and it will delay plants to transition units at the plant to natural gas. 

And environmentalists are not happy about that. 

The situation reflects an ignored fact about EVs — they require enormous amounts of energy to produce. 

A 15-pound lithium-ion battery holds about the same amount of energy as a pound of oil. To make that battery requires 7,000 pounds of rock and dirt to get the minerals that go into that battery. The average EV battery weighs around 1,000 pounds. 

All of that mining and factory processing produces a lot more carbon dioxide emissions than a gas-powered car, so EVs have to be driven around 50,000 to 60,000 miles before there's a net reduction in carbon dioxide emissions. 

So, as more factories are built in the U.S. to supply EV manufacturers, there will be higher demands on the grid for power.
So diesel and coal-powered EV's.
---
Thought for the Day:
Actual statements by Scientists and others over the last 44 years.
And Now On To Today's Retro-Blogs.™
---
September 24, 2008
More Photos From Our Time In Hyder, AK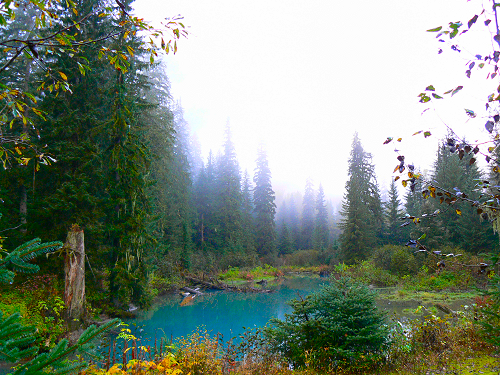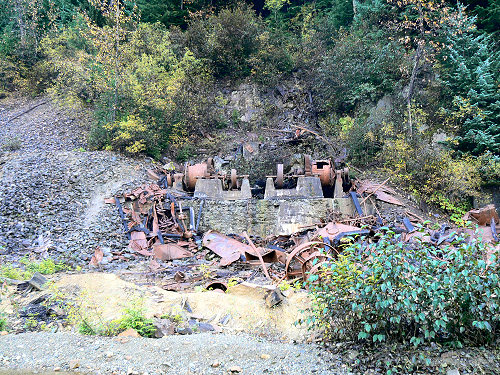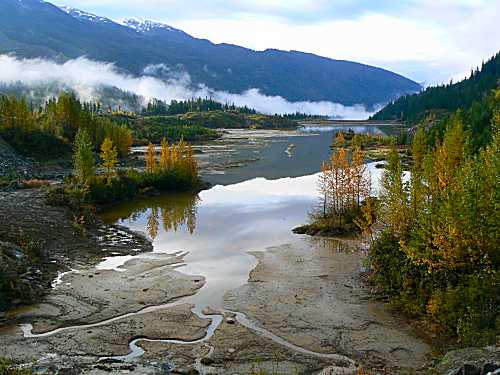 ---
September 24, 2009
Niagara Falls – For Trudy…
Today we drove about 30 miles from our park to visit Niagara Falls.
The title of today's blog says 'For Trudy'. Trudy was Jan's Mother who died in 2007. She always wanted to visit Niagara Falls, but never got the chance.
So Jan said, "This visit is for Mom".
After following the signs coming into the city of Niagara Falls we ended up on Goat Island, the home of the American side of Niagara Falls.
Goat Island and the Falls make up the Niagara Falls State Park. Established in 1885, it's the oldest State Park in the United States.
Even before we got to the Island, Jan saw the mist rising from Horseshoe Falls, named because it's shaped like a big horseshoe, of course.
But before we could see the Falls, Jan had to feed a squirrel a Kashi bar.
The 2nd squirrel had this deal where he would lay flat on his belly and then slowly crawl toward you begging for food.
Walking over the small hill and looking down on the Falls was amazing.
You can walk right to the edge of the falls and look right out at the water going over.
And then looking straight down through the spray and the rainbow you can see the Maid of the Mist heading into the base of Horseshoe Falls. Looks like fun!
After spending time at the Horseshoe, we walked over to the other falls, the American Falls and the Bridal Veil Falls.
After stopping to look at the many flower beds, we got in line to tour the Cave of the Winds.
Cave of the Winds is now kind of a misnomer.  The actual cave, named because the sound the wind made blowing off the falls, disappeared when the ceiling collapsed in the 1920's.
What you have now is an elevator that takes you 180 feet down to the base of the American and Bridal Veil Falls and lets you walk on a wooden walkway through part of the falls themselves. They give you plastic ponchos and sandals to wear, but they don't really keep you dry.
You will get wet!
Here's Jan standing where part of the falls comes over the walkway. Jan said she looks like a banana. I think she looks cute.
This is the Hurricane Deck where you're actually standing in the Falls. I went up there for a while but it's impossible to get pics up there. My camera's not that waterproof.
Here's what the walkway looks like from the Maid of the Mist.
One amazing thing about this is that workers disassemble the walkway every fall and rebuild it every spring, otherwise the winter ice would destroy it.
Here's what the area looks like in February.
After drying out we rode the trolley over to the Maid of Mist dock. These boat tours have been running since 1846, almost 40 years before the place was even a state park.
The boats take you right into the whirlpool at the bottom of Horseshoe Falls, fighting the current all the way. It's like being in the middle of a hurricane.
One thing I found interesting on the boat trip was the remains of Nikola Tesla's Niagara Falls power plant, built in 1896.
This plant was the first to harness water flow to generate electricity and demonstrated the superiority of Tesla's AC electrical system over Edison's DC system. Many people don't realize we owe our entire electrical system to Tesla. But back in the late 1800's, there was a big legal war going on between Tesla and Edison over whose system was better.
By the early 1900's Niagara Falls was lighting New York City.
Leaving the Maid we walked out on the observation tower
to a fantastic view of the entire Falls area.
A fitting end to our great day at Niagara Falls.
Walking back to the toad, we saw something I'd never seen before.
Black squirrels.
And they were very aggressive. When I turned and walked away, and then looked back, they were following me, stalking me.
Leaving the Falls area, we drove down to near Buffalo to eat dinner at one of our favorite BBQ restaurants, Famous Dave's. We always have great leftovers.
Then it was home for the night.
Tomorrow is an errand day.
---
September 24, 2010
Outrigger's. . .
Today, as usual, we start with the requisite Landon photo.
He looks like he's not too sure what's going on, but whatever it is, he doesn't like it.
Forgot to mention this yesterday, but when were in Ryan's last evening, Jan looked around and said she kept waiting for the Amish to come in.
When we would visit Ryan's in Elkhart IN, we always saw a large number of Amish eating there. Apparently, Ryan's is very popular with the Amish for some reason.
About 3 pm we drove up the road to Outriggers, our favorite local on-the-water seafood place.
In this case, on-the-water means on the Clear Lake Channel, connecting Clear Lake with Galveston Bay, and under the Kemah Bridge.
They have a great open-air deck overlooking the Channel.
And the view is great, too.
Of course, the food was great, too…as usual. We started off with a dozen raw oysters. Our waitress said we were lucky as the season had just started, otherwise, they wouldn't have been available.
For our entrees, Jan had a Shrimp and Oyster Po-boy, and I had a cup of Red Beans and Rice, and a dozen Boiled Shrimp.
While we were eating we saw a shrimp boat come in to dock, followed by a large flock of seagulls. Deckhands usually are washing the trash fish off the deck through the scuppers, and into the water. And the seagulls are always looking for a handout.
Also nearby, we saw several of Jan's favorite birds, pelicans.
We'll probably try to bring Jan's sister, Debbie and her husband, Jim, here next week.
---
September 24, 2011
Elvis has left the building . . .
Was up again about 8 am to more cold rain. After a big pot of warm coffee, I drove Jan down to the Hospitality Building for the 2nd day of her Computer Boot Camp given by Jim and Chris Guld, The Geeks on Tour. She really enjoyed yesterday's class and is looking forward to today's.
After dropping her off I came back to the rig and worked on the CD and handouts for my two seminars on Tuesday and Wednesday. I'm going to be sure and have enough this time. Earlier this year in Yuma, I misunderestimated how many we would need and had to make more at the last minute.
I picked up Jan for a lunch break at noon and we came back to the rig.
Dropping her off at class about 1 pm I headed out and about to round up the last of the door prizes. One place that was very generous with door prize gift certificates was Lost in the 50's over in St. Mary's down the road about 8 miles.
Besides being a really nice diner with good food, it has a nice collection of Elvis memorabilia, including his Army uniforms and costumes from some of his movies. In addition, they've got items from Gilligan's Island, Roy Rogers and Dale Evans, American Graffiti, and more.
Before I headed back to the rig I stopped off to get the toad washed, just as Jan called and said her class had finished a little early and she would just walk back to the rig. As it was I got there just about the time she did.
At 5:30 the herd, consisting of Jim and Chris Guld, Mike and Elaine Loscher, and Jan and I headed over to the China Wok Buffet, and once again they put us in a back room all by ourselves. I'm beginning to sense a pattern here. I think the word is out.
Leaving the buffet, Jan and I drove over to Lost in the 50's to pick up the gift certificates, coupons, and menus they had ready to us.
So the craziness is about start.
---
September 24, 2012
Wheeling into Wheeling . . .
After a great two weeks at the Thousand Trails Park in Batesville, IN, it was time to move on. In case, on to Hershey, PA and the Thousand Trails park there.
So after I topped off our diesel tank, we headed out for Wheeling, WV about 270 miles.
We're going to spend the night at the Cabela's in Triadelphia, WV, just east of Wheeling. Then tomorrow we'll have a 250 mile journey on to Hershey.
After a smooth trip, marred only by a 30 minute delay going through some construction coming out of Wheeling, and only about 10 miles from Cabela's
We finally got parked at Cabela's with some confusion. The sign on the light pole said 'RV/Truck Parking". Then the sign underneath said "No Overnight Parking.
So I headed into the store to check it out. And was told it was OK to park overnight and didn't know anything about the signs.
A while later, we decided to have dinner at the Quaker Steak and Lube on the side of the parking lot.
Then it was back to the rig for the evening to watch the new Fall shows.
Tomorrow, on to Hershey.
---
September 24, 2013
End of the Dry Spell . . .
Apparently the "coiled tubing" phase of fracking is a lot less busy than the actual fracking part. In the last several days we've had vehicle counts from a high of 120 down to a low of 71, with most days in the 90's. A real relief after the almost 300's we had for a while.
And our temps have been back in the 90's too. After last week's highs in the 80's and lows in the 60's, we seem to be back in the whole 90's/70's thing again.
I wonder where Fall went?
After being out since Saturday night, we finally got water delivered this evening. Of course we weren't really out. We just switched over to our coach tank. But our misting system works off the outside water tank and with the temps back up in the 90's we miss it. Plus Jan can't do laundry without it.
At this gate we're getting diesel, water, and sewer vac from the fracking site people, and it's worked fine up until recently, but I think things kind of fell apart after the fracking people left and we lost our contact person. We still have no trouble getting diesel because that truck comes through every other day and we only need sewer vac about once a month or so.
That's about it for this edition of "Life On The Gate.
---
September 24, 2014
Skidding . . .
First off, a Miss Piper update.
After keeping her in the hospital overnight, they've decided to keep her there until Friday to be sure that they've got this infection in her wrist knocked down. Hopefully this will take care of the problem once and for all.
Well, they finally skidded the rig this morning and I missed it.  When I went in to bed at 7am after Jan relieved me, the cranes weren't even in position. But when I came out with coffee for Jan at noon, they were done. Darn, I was hoping to get some pictures.
We were working a gate in 2012 where they skidded the rig to another hole, but we weren't there, either. Our rig was the only thing happening at that gate so we got some time off, but here we've got another rig and a bunch of pad sites with stuff going on, so no time off. Oh, well.
I had a hummingbird visit me today. He flew right under the canopy, darting around, checking out everything. Then he came over and hovered about a foot from my face, just hanging there. And after about 15 seconds, ZIP and he was gone. He was so close I could feel the air moving from his wings. Neat!
Last night was a hoodie, gloves, and heater night. It got down to 56° here. But with no wind, it wasn't too bad.  What I'm really looking forward to is November and the 30° and sleeting like I had last year in Whitsett. NOT!
Of course last year, the canopy was off to the side and we didn't have the coach as a windbreak. Plus we've got the big, high wall of dirt to shield us to the north.
We finally got to meet our local Gate Guard Services Sale Rep, Chelsie. today. She came to see how we were doing, and also to talk to the Company Man at each rig to see if they had any more business, or gates opening up.
Even more important, she was also able to give us a lead on a relief gate guard so we can get an afternoon and evening off next week for our anniversary. Hope it works out.
---
September 24, 2015
I hate it when that happens . . .
To Everyone who received a Friend Request from Jan White.
Jan's account itself has not been hacked. Otherwise they couldn't send a friend request to you, since we were already friends.
What they do is set up a duplicate account under Jan's name and using her picture from her profile. Then they send out friend requests using names they find under the 'mutual friends' listings under 'possible friends'.
Facebook says the scam account has already been deleted.
Thanks for the warnings from everyone, though.
Well, Mister had his vet appointment today, and showed some improvement, but not as much as hoped.
His blood sugar was down to 416 from 467, but of course that's still way too high. And he hasn't gained any weight back since last time either. So the doctor said to increase his insulin dose from 2 units twice a day to 3 units twice a day. He also said to bring him in about around 4:30 or 5pm in another ten days, because he gets his morning shot around 11am, and it takes 4 or 5 hours for it to really take effect. So they want to get a sugar level then.
They're always amazed at how nonchalant Mister is when they give him a shot or draw blood. The vet says he's never seen a cat that they didn't have to hold down for that.
In the FWIW department, while the last vet bill was $440 odd dollars, this one was only $14, just the cost of the glucose test since it was a follow-up visit. So that's something, anyway.
After I got back from the vet with Mister, I went down and set up the new Mighty Mule Driveway Alarm system to catch trucks leaving the pad and coming back our way. But I think I'm going to have to reposition it, and change some settings.
I actually set it up on the right-hand side going into the pad, since on the other side, it would be out in the open and the sensor cable would have to pass over the big 12 inch water line that runs from the frack pond pumps to the pad. I was hoping the system would still pick up the outgoing trucks as well, since the first system we set up for trucks coming in to us from the highway, works both ways.
But the road is pretty wide at the new location, and while it picks everybody going in to the pad, it's hit or miss for pickups coming out. I think it kind of depends on if they're staying to the right, or more in the middle. It does however pick up big trucks leaving just fine.
The other thing I want to do is change the frequency settings on the transmitter. Right now the new sensor is on the same frequency as the first one, so I'm just using the one original receiver. But I think the receiver is getting confused when it gets two signals too close together from both units.
The units have a 4 position Dip Switch that allows you to set 16 different frequencies.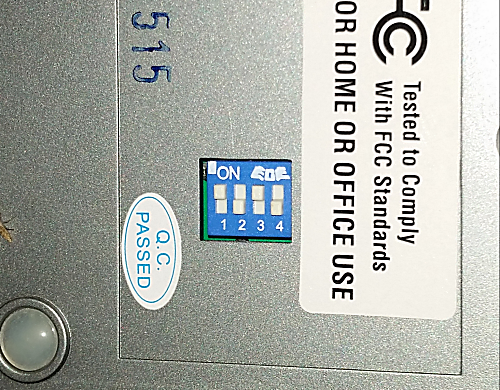 So I think I move the new unit to a new frequency and now use the new receiver to eliminate that problem. But we'll see how it goes.
Tomorrow being Friday, it's groceries at Wal-Mart, and then pick up lunch on the way home. Jan says it's time for Whataburger again. YUMM!
---
September 24, 2016
On The Ozark Trail . . .
It was another nice, slow day today. The temps have moderated, staying in the 90-91 degree range with even cooler weather in the next few days.
And the vehicle count was only 28, which is kind of typical for a weekend. Later in the afternoon the Rainy Days Radar app showed the rain that was heading our way, split apart and pass to either side of us, though we could have used a 30 minute or so shower to settle the dust on the roads.
And we may get that chance in the next couple of days, with rain chances in the 40 to 60 percent range. But be careful what you wish for. As far as we're concerned, we'd rather have too little rain than too much, though I'm not sure that Tony, our farmer/landowner would agree.
Yesterday, giving up on hearing anything back from Colaw RV Salvage about my screen door catch, I drew one up and this evening emailed it off to our son Chris so he can whip one up for me. This is what I need.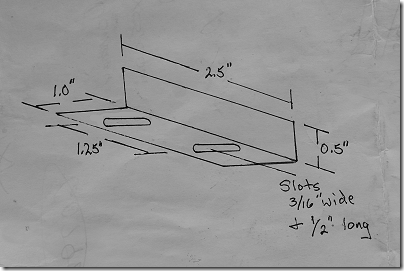 I figure anyone who can cast the metal parts and then mill and build his own lathe, will have no problem with a little bracket.
Miss Piper had her cast changed out the other day, I think from a soft cast to a hard one, after they checked the results of her recent surgery to set the pins as you can see here.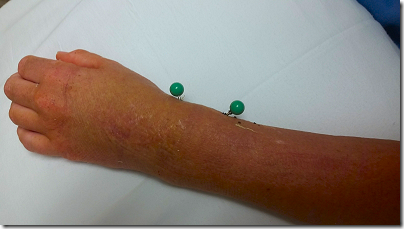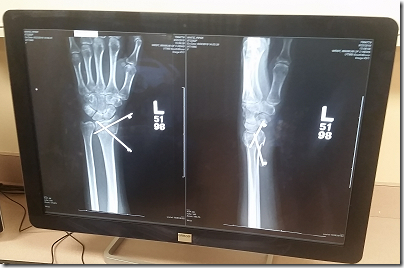 This arm/wrist, which she broke in a recent fall, is the same one she broke in a ATV accident two years ago, so hopefully this will be the last time for this body part.
Thursday when I was at Wal-Mart I came across a sales display for their Ozark Trails 30oz Insulated Mug and picked one up. They were marked $7.74, which is a $2 markdown from the normal $9.74, and is the same price that they charge for the 20oz version. In fact at a nearby display they still had the 20oz ones marked $7.74 too.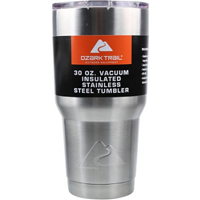 I figured that when I got to the checkout it would probably show up as $9.74, but it didn't, so I got it for the lower price. One thing I found funny just now is that when I went to Google to a photo, it showed that Wal-Mart had them for $9.74, but you could get one on eBay for the rock bottom price of only $19.95. What a deal!
I've heard of people doing this before, buying and selling retail stuff, I guess for people too lazy to go to WM, or maybe people in other countries, I dunno.
Anyway, I'd seen some of the comparisons between the Ozark Trail version and the $40-50 competitors like the Yeti and others. And all the ones I saw showed that WM's version was as good or better than the higher-priced ones. But I had to do some checking for myself.
So I put the mug on the counter and let it sit for 30 minutes. Then I used my infrared thermometer to measure the outside temperature, checking several places around the surface.
Next I dumped in my ice-filled Chick-fil-A lemonade and again let it sit there for 30 minutes. And when I measured it again, the outside temp had not changed, still exactly the same to the tenth of a degree.
Really good.
And in real life trials, it will hold a small amount of ice for over 24 hours, with almost no melt. My only nitpick is that I wish it had some sort of plug or stopper to close off the drinking/straw opening and make it spill proof.
Still a great product, especially at 1/5 the cost of its competitors.
Well, just as I was finishing up my shower tonight we ran out of Gate Guard Services water. No problem. I just turned our coach pump on. I'm always careful to keep a full rig tank just for this possibility/eventuality.
Jamie, our Gate Guard Services supervisor/support guy was out when he came by last Saturday to service our generator, but he said we had about 250 gallons left and he would be back by later in the week to top us off.
But in the meantime he ended up out in west Texas near Ft. Stockton, where he was when I called him about 6pm tonight. He said he'd try to get back by tomorrow, either before or after he takes care of our fellow gate guards and friends, Lynette and Gregg McHenry. I told him no hurry, and that we were fine for a few days with no problems.
Finally, on a water note, I keep meaning to ask Jamie where he's getting our water this year. It's very good, but most surprisingly, it's very soft, leaving your body with that slightly slick feel after your shower. And it makes good coffee too.
Last year at our Carthage gate we were getting our water from a 400 foot well right next to the coach, part of the water supply for the frack ponds. And it was really good too.
---
September 24, 2019
I Really Liked It!
I talked to our travel agent, Chantelle Nugent, this morning, want to get some ideas about tours, dinner cruises, and sightseeing opportunities for our upcoming NYC visit the first part of December.
As I mentioned before, we saw most of the basic stuff in 2009 so we hope to find some new stuff. I did look to see if they had a Duck Boat Tour. We have taken these all over the country, from Seattle, to San Francisco, Lake Tahoe, Washington, D.C., and even the Wisconsin Dells.
And they do have one in NYC, but unfortunately for us, it stops for the year on September 30th.
Bummer.
Chantelle also said she'll be in NYC in November and will be staying at the Hotel Riu Plaza, the same one we'll be staying at a few weeks later, and she said she'll be checking it out for us.
Jan and I went to the 2pm showing of Downton Abbey this afternoon, and I must say, I really liked it. Although, unlike Jan, who's watched every episode of TV series two or three times, I had just picked up enough of the show as Jan watched, so that I had no problem following the movie, There's a lot of drama, comedy, intrigue, and upper-class snarkiness.
Maggie Smith, as the grande dame of Downton, is hilarious, with many quips that are laugh-out-loud funny.
I thought I'd recommend another favorite book of mine. Or maybe favorites, since there are four books in the series so far.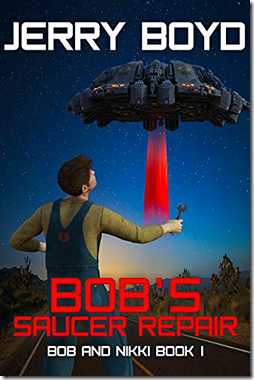 Basically, a guy comes home and finds a beautiful alien girl trying to repair her flying saucer in his garage. With a lot of interesting ideas and funny situations, it's a really fun read. Just gloss over the fact that alien flying saucers use antifreeze for coolant as well as hydraulic fluid.
But a lot of twists and turns keeps it very interesting. Even Jan loves them.
A Great Deal at $2.99, or free under Kindle Unlimited.
When our office manager came into work on Monday she found a furry refugee trapped in her office.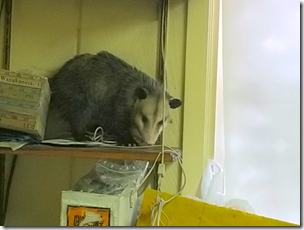 It had fallen through the ceiling, and since the door was closed, he/she/it was trapped. So it proceeded to ransack her office, knocking things off of shelves, tearing down blinds, pulling wires of the baseboard and walls, and of course, peeing/crapping everywhere.
When my client asked me why I didn't come help him catch the opossum in a cardboard box. I told him I charged extra for Possum Wrangling.
He had no comeback for that.
For The Guy Who Has Everything: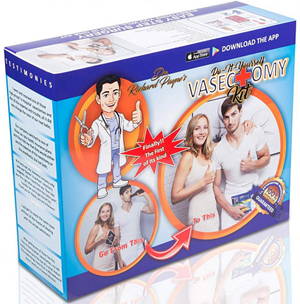 Your very own DIY Vasectomy Kit.
It even has testimonials to the efficacy of the product.
Our company switched to one of those cut rate health insurance and they told me they would either pay the expense of the vasectomy or the anesthesia, but not both.
But this one was my favorite.
I went and received one of those high-priced "hospital" vasectomies and after all the expense and trouble, all it did was change the color of our next baby.
Actually it's an empty box to give someone as a prank gift. They have an entire line of these.
---
September 24, 2020
And So It Begins . . .
Well, after FedEx first said that the new gaskets would be delivered this past Monday, and then yesterday. But when that fell through, they were supposedly out on the FedEx truck for delivery today. But that was not to be. And now it's scheduled for delivery tomorrow. But I'm not holding my breath.
I was hoping that the sun would come out today to help dry out the ground behind the rig so I could get under there this weekend. But no luck with that either,
However things are looking up for tomorrow, We'll see.
And So It Begins!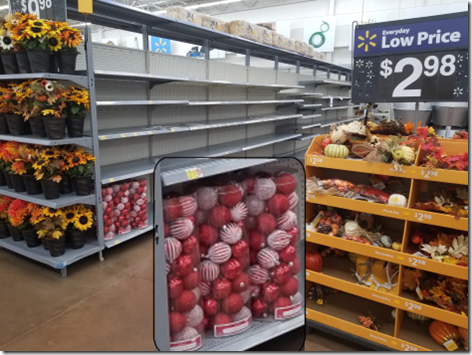 And it's not even Halloween yet.
Fall, Halloween, Thanksgiving, or Christmas.
Just pick a holiday and stick with it until it's over.
---
September 24, 2022
The Silence Was Deafening . . .
Our power went off at 4:25am this morning. Actually the power to the entire park, including the streetlights, went off.
Which is different from past outages when the site's power went off, but our street lights stayed on.
But what woke me up was the sudden dead silence. We use a white noise generator like this Radio Shack version even before we started RV'ing in 2007,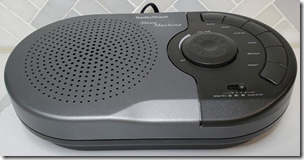 to mask out external noises, so when the power does goes off, it gets really quiet all of a sudden.
I checked the Centerpoint Outage Map online and found there were 64 customers in our area with no power. But no estimate as to when the power would be back on.
Finally about 5:45 I got up and turned the bathroom vent fan on to give us a little fresh air since the A/C's were off. Then, of course, about 5 minutes later, at 5:50am, the power came back on.
Jan and I headed out about 1pm to have lunch once again up at the Texas Huddle up in Webster. And though the place was really busy with all the college games going on, we got seated immediately at a table in Juana's area. She's our favorite server, and a lot of other people's too, since we're not the only ones that ask for her.
And even funnier, when we walked in the door, the hostess immediately said, "You're here for Juana."
And as usual both the food and the service were great, and I got to watch Auburn eke out a 17-14 win over Missouri.
Nice!
For The Family Who Halloween's Together
And they even glow in the dark!
Which doesn't strike me as something you really want in your pajamas.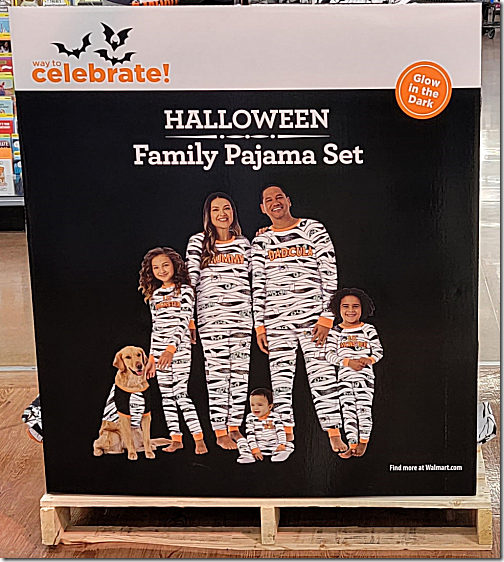 Karma wants to know why they have one for a dog and not for a cat.