Another.
Today was a busy one, with first picking up a 2022 Toyota Highlander rental car for the next week, so we can put our Jeep in the shop. Our normal backup, our Dodge Dakota, has a blown tire, and this was just easier to do while we get everything fixed.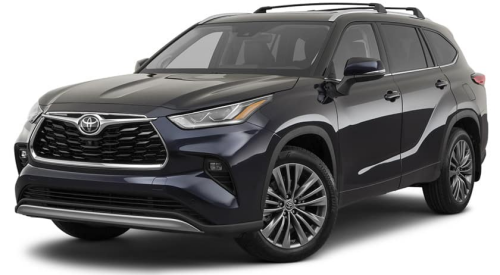 But before we left the rig for this, our front A/C died. It's been making some noise for a good while, and finally today, it made a big 'CLUNK' and the fan motor locked up and quit. Luckily it's a little cooler today and our rear A/C is ducted up to the front. So, with that, and a couple of fans, we were pretty comfortable.
Then about 1pm I drove over to the DPS office to try and get me Texas License, but was unsuccessful due to not having enough documentation with our park address on it.
We don't get a bill from the park, just a text. And we don't get a power bill or a water bill since they're included in the rent. I did take in mail from my banks, but she said it was just junk mail, credit card offers, etc. I told her I don't get statements from the banks, since it's all done online So now I've got to figure something else out before Oct 5th when my SD license expires.]
Then around 2pm we dropped the Jeep off at Joe's to let him work on a couple of problems.
Then after an HEB stop, it was home for the day.
Still thinking about what I'm going to do about the A/C. It's only about 8 years old, so I may just replace the fan motor.
We'll see.
---
Thought For The Day:
According to the New York Times, as of 2018, approximately 15 people per year have been killed with AR-15 type rifles since 2007. But in the same time frame approximately 13 people a year have been killed by VENDING MACHINES!
BAN ASSAULT VENDING MACHINES!
or
You can have my Snickers when you pry it from my cold, sticky fingers.
And Now On To Today's Retro-Blogs.™
---
September 21, 2009
When in Rome…
Today we planned to to drive the 15 miles over to Rome, NY to see if we can find where Jan lived when she was here in 1961-1962 when her father was stationed at Griffiss AFB.
But before we could get out of the park however, we got to talking with the couples parked next door to us. They're from Wisconsin and were heading to Niagara Falls a few days before we will be there. Joni and Jan both collect moose stuff and had to compare collections.
And Mister had a great time exploring the inside of their rig.
We all had such a good time talking, we were both late hitting the road, so it was about noon before we finally headed out.
After stopping at Wendy's for lunch, we drove over to where the Air Base used to be. The base closed in 1993, but parts of it have been redeveloped over the years.
It took a while, driving around while Jan tried to get her bearings, but we finally found Jan's Junior High. Apparently now it's an Upper Elementary School, which means it is 5 & 6 grades only.
It still looks pretty good.
And then after a couple of false starts, we found Jan's old house, somewhat the worse for wear!
Actually a lot the worse for wear.
A developer had bought the housing in 2005, apparently hoping to refurb and sell them. Don't know if it was the economy or what, but it looks like that fell through. Only a few units out of hundreds have been redone. And only one seems to be occupied.
But it shows what the places looked like when Jan lived here.
It was a kind of bittersweet time for Jan.
After driving around some more we stopped off at Walmart for a few things. While browsing in the Sporting Goods section, I noticed they finally had some ammo in stock, specifically 9mm and .25 Auto.
No .380 unfortunately. But it didn't make any difference. I was going to buy several boxes of each, but found out they couldn't sell it to me.
It seems that in New York you must have a permit to just OWN a handgun, not to conceal carry one. And without a permit, you can't even BUY handgun ammo in New York state.
Oh well.
After Walmart Jan got a pedicure and then we headed over to Sylvan Beach to Eddie's, a restaurant we'd seen the night before. We both had the spaghetti and meatballs. Good stuff.
Then it was home and in for the night.
Tomorrow we're going to make a 400 mile round trip in our toad down to South Hadley, MA to visit our friend Joannie, pick up our guns that we had left in her care while we were in Canada, and also mail we had sent to her while we were on the road.
---
September 21, 2010
Cough, Hack, Wheeze. . .
Not much happened today. I'm still fighting off this cold, I think I'm on the downside, but I've been coughing so much, my chest hurts.
Hopefully, tomorrow will be better.
Jan and I did pretty much nothing this morning except have coffee. Then about 2 pm we drove over to Monterey's Little Mexico for some Chicken Tortilla Soup. I hoped that by loading up the soup with some extra-hot jalapenos, it would help burn this cold out.
It couldn't hurt, right?
Coming home we stopped off at Kroger's for some groceries and were very happy to run into our granddaughter, Piper.
Unfortunately for me, Jan got the only hug, since I didn't want to take a chance on giving her what I've got.
She was on her way home from school before going into work at Sprinkles, a frozen yogurt shop in Webster.
We got back about 5 pm and settled in for a night of new TV shows, NCIS's and Glee.
---
September 21, 2011
Mas Bellas Carretas . . .
It was raining again when we got up, but cleared up later in the morning. Unfortunately though, it looks like we might also have some rain on Monday.
Jan and I headed out about 12:45 to have lunch at La Carreta. We really enjoyed it last night, so we decided to have lunch there today. Which we did.
We got back to the rig about 4 pm and took it easy until about 5:30 when a whole herd of us headed out to supper. The 'herd' consisted of Jan and I, Charles and Chris Yust, and Mike and Elaine Loscher, who just pulled into the fairgrounds this afternoon with their newly painted rig. Michelle at Phoenix Commercial Paint did a fantastic job.
For dinner we decided to check out Bella's Italian Grille on the shores of St. Mary's Lake. And we had a great view of the lake too.
And even better, the food was delicious and the service was great.
Sara, our waitress, put up with us without ever losing her smile. And she even reminded us that as a party of 8, the tip was already included in the bill. Because of this I gave her a little extra.
---
September 21, 2012
Nice Slow Day . . .
Today got off to a slow start. I woke up early with a headache, took some aspirin, and then went back to bed. So when I finally got up it was almost 11. Almost half the day gone before I even got started.
Nice!
About 1pm I called Spartan Chassis about my tailpipe and fuel tank problems.
To catch up, the end of my chrome tailpipe extension had rusted out so I ordered a new one from Spartan a couple of months ago. But when I tried to replace the old one I couldn't get it loose. The extension was inserted into the pipe coming out of the muffler and then a 4-inch clamp encircled it.
Well, for the last several days I've tried everything to get the old pipe out of the muffler pipe with no luck. I've tried penetrating oil, brute force with a rubber mallet and a length of galvanized pipe, and heating the outside of the pipe with a propane torch. Nothing worked.
I had assumed that this extension was the original one, but after talking to Spartan I don't think so. According to Spartan the extension should not be inserted into the muffler, but merely butted up against the muffler pipe and then the clamp holds everything together.
So now I'm planning to just cut off the old extension flush with the muffler pipe and then clamp the new one on like it's supposed to be. But it will probably have to wait till after we move this coming Monday.
My other question was about my partially collapsed diesel fuel tank, caused by a clogged fuel tank vent hose. He thought my idea about putting 5 to 10 PSI of air pressure had a good chance of working. Again I'll wait till we're at our next park.
About 5pm we all headed over to Batesville to get our Mexican Food Fix at Acapulco Mexican Restaurant. It had been recommended by a waitress at Skyline Chili, and boy was she right.
It was really good, and really popular, too. Within 15 minutes after we got there the place started filling up. Hopefully this will hold us for a while, since good Mexican can be hard to find up North.
Later, after we got home, Landon's Aunt Sherry posted this photo of Master Landon at dinner tonight. Looks like he's having Mexican too.
On another note, I found this photo on Facebook and really got a kick out of it.
Tomorrow we're got to make the 85 mile trip to Dayton to visit the National Museum of the United States Air Force at Wright-Patterson AFB, and the Wright Brother's Dayton Aviation Heritage National Historical Park.
---
September 21, 2013
And the rains came . . .
and came and came and came and …
Well, yesterday for the first time since we got here, the bottom really dropped out. We had about 3.5 inches of rain in about 3 hours.
Yep, that's us under that blue dot right in the center. The real problem was that the storm moved over us and then just stopped. For 3 hours.
Pretty soon it was just a lake all around us. But unlike our last heavy rain, the pea gravel I had them put down under our canopy kept us high and dry. So no mud.
Finally around 6:30 pm things cleared up and we saw some blue sky once again. But no rainbow, so I guess we've got some more rain in store down the road.
As far as today's weather, it looks like Fall has sprung, or fallen, or something. Tomorrow, the 22nd is officially the first day of Fall, but it snuck in a day early. The high today was only 82 and tonight it's supposed to go down to 63. In fact it's 65 right now. And for the next few days the temps are pretty much 80's and 60's the entire time.
Nice.
Tonight we had another catered meal that they dropped off yesterday. Looks like Hell Fighters' Kitchen is not around anymore since a new company, IPS, is handling the rest of the Completion. But it still was good.
We got two BIG plates of steak, grilled sausage, and BBQ beans, and as usual, we split one and saved the other one for later.
As far as the gate goes, things have really quieted down here. We had 94 vehicles day before yesterday, 105 yesterday, and then 88 today. Though I think part of it was due to the weekend. Much better than 300.
This Monday we start our 2nd month here, and from what we keep hearing we could be here for our entire 3 month stay. Hope so. We're off the beaten path, but not too far. And we've got good cell and Internet.
And most importantly, Walmart is only 20 miles away.
---
September 21, 2014
'Rockin' the Bakken' . . .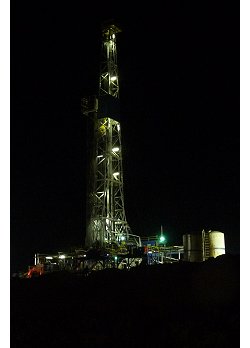 and the Eagle Ford too.
First off, a Piper update. Here's what Chris Facebooked about 6pm this evening.
We're home! Several stitches, a few staples, some bruised ribs, a tiny bit of nerve damage (which should take care of itself with time) and Lord knows how many thousands of dollars later. On the upside, we finally had a family road trip!
LOL. Well, at least things ended on a high note.
For a recap of what went on yesterday, you can check here:  A Scary Night
Apparently the ATV the four of them were riding hit a rut in the road and it jerked them sideways, and the ATV rolled down an embankment. The two guys jumped clear, the other girl was thrown out, and Piper rode it all the way to the bottom, ending up with ATV on top of her, with the two guys having to lift it off.
The other girl had a bad compound fracture of her arm and had to be Lifeflighted. So in comparison, Piper got off pretty good. Luckily, she's right-handed and the injury is to her left wrist, so it won't interfere with school.
Saw an interesting article today called 'Rockin' the Bakken', talking about all the money flowing into North Dakota from the Bakken Shale oilfields, and how the rig workers spend it. And of course it's pretty much the same here in the Eagle Ford Shale here in Texas.
And it seems Jan and I are still working the Eagle Ford. I didn't realize until very recently that where we are here 90 miles north NNW of Houston, is still considered part of the same Eagle Ford formation we were working 60 miles south of San Antonio for the last two years. Now that's a big oilfield.
We've seen the same thing here in the Eagle Ford, with new rig workers coming in, riding with someone because they don't have a good vehicle. Then a month later they show up in a $50,000 dually diesel pickup. Must be nice.
Well, the cows were back today but the sat dome survived.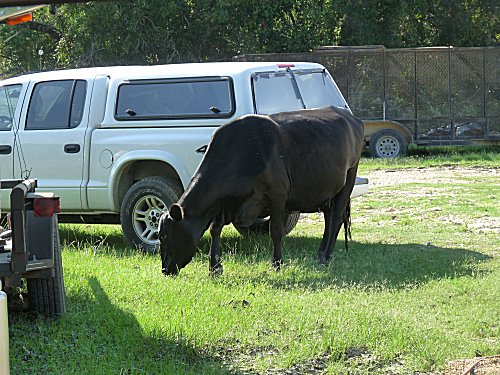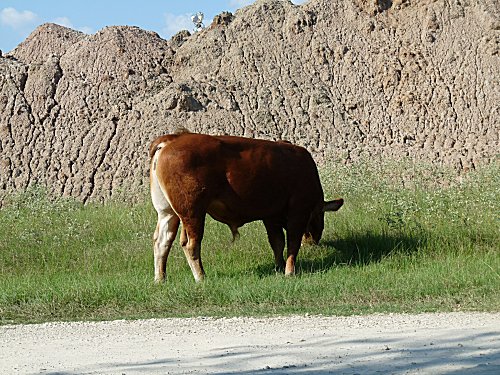 My 'fix' seems to have worked so far. Jan said earlier in the morning two cows had walked right up and stuck their heads under the canopy, just checking things out.
After getting Linda and Piper heading back home with Piper's boyfriend, Chris came by about 3pm to pick up Piper's laptop that I had been cleaning the gunk out of. He stayed about an hour before finally heading home too.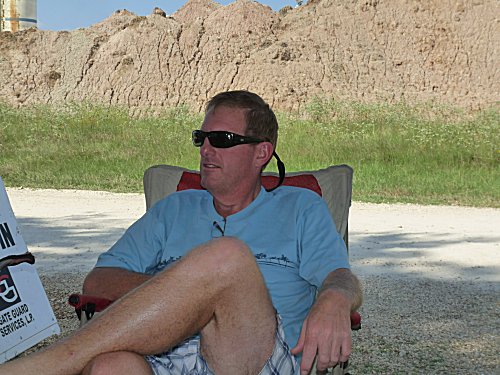 Probably glad to be off the road after all the back-and-forth trips to Piper's hospital up here in Crockett.
Sonja and Lendel, Master Landon's other grandparents, sent along this photo of their vacation in Myrtle Beach, SC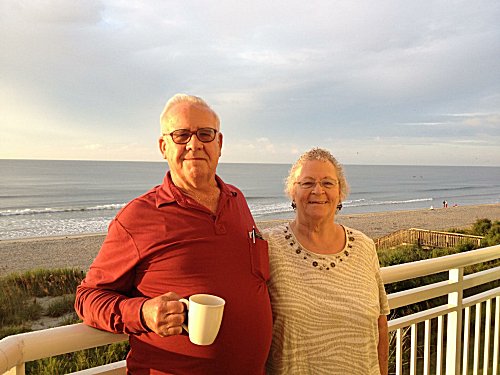 Looks like they're having a good time. You don't see that much water in Oklahoma.
The last few days have been pretty quiet here on the gate. We had 3 days with vehicle counts in the 80's, with yesterday at 60, and today at 70. Very nice.
Tonight's dinner was Red Beans and Rice with Sausage, and Corn Bread. It was dropped off for us by one of the rig workers this morning and it made a great dinner.
The Red Beans and Rice were delicious, but the Corn Bread was great. Not this stuff you get so many places that's half flour, sweet, and has the texture of cake. Corn Bread should be made from coarse stone-ground cornmeal, eggs, milk, salt, baking powder, and just enough sugar so the crust will brown. I will allow you to put some kernel corn, or jalapenos in it, and you can make it with buttermilk. But's that's it.
THERE SHOULD BE NO WHEAT FLOUR IN CORNBREAD!
If you want to put flour in it, call it something else.
It ain't Corn Bread.
---
September 21, 2015
It's awfully quiet over there . . .
Our frack has been down most of the last several days, and that's fine with us. Hopefully we can stretch this out until the Sunday before Thanksgiving, since this is always when we head back to the Houston area for the winter.
When the frack crew is done here, they'll move right down the road to another site, and it would be nice to move with them, but you never know. So we'd like to see this one last as long as possible.
Tomorrow starts our second month here, and they're apparently a little over 1/3 done, so that bodes well, I guess. So the more downtime for them, the better for us, I guess.
But downtime doesn't mean a lot less traffic though. The same workers come and go, with the only difference being the sand trucks. But the sand trucks aren't really a problem anyway, since it's the same guys in the same trucks, so we just flag 'em in and write 'em down. Yeehaw!
The Priority Mail package I sent to the kids down in Friendswood finally got delivered today, five days late. But at least it got there. That's something, I guess.
Jan and I have put out the word on the Gate Guard Facebook pages looking for a relief guard for 6 – 8 hours later this week. Our 48th Anniversary is a week from today, and we always try to get some time off for dinner and movie.
Shreveport is the closest big city, and only an hour away, so we'll probably head over there for the evening.
Although our daytime weather is still in the mid 90's, at night it's dropping in the 60's now. Enough so that I usually put on a long sleeve shirt sometime during the night. So I guess it's kind of half Summer, half Fall. Of course when it's down in the 30's and sleeting in November, we'll look back on this time fondly.
We needed ice, so I made a Carthage run this morning, with O'Reilly Auto Parts/ACE Hardware visits along the way, Coming home I made a Chicken Express stop to pick up lunch for us. Except it was more of a Fish Express stop since that's what we both got.
Fried Catfish Fillets and Fried Okra for both of us. If that's not a Southern meal, I don't know what is.
---
September 21, 2016
Maybe You CAN Mess with Mother Nature . . .
Well, after my little rant the other day about where the heck Fall went, it seems like Mother Nature may have gotten back on track.
After another couple of days in the low 90's, the temps start dropping, until Tuesday it's supposed to be Partly Sunny with a high of 78 degrees and a low of 60. We'll see now if that holds up. Supposedly there'll be some rain mixed in among the intervening days, but you can't have everything.
Of course the weather guy on the radio also said yesterday that it was going to be "Mostly to Occasionally Partly Cloudy", so I don't know how much he can actually be trusted. I mean, isn't that the whole idea of 'Partly'?
Here's hoping.
The FedEx guy stopped in front of the rig about 2:30 today, delivering my new Yagi Wi-Fi antenna, but that was pretty much the high point of the entire day. It was all downslope after that, at least as far as antennas go.
I quickly got it mounted on the horizontal arm of the big window awning, pointing it down toward the trailers.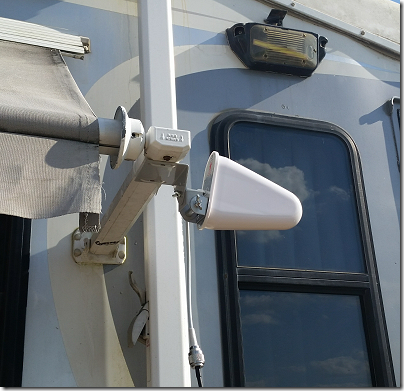 But that was where it stopped right then. Since I was on the gate until 6pm, I was going to wait until I got up at 10pm tonight to run the coax in the window and hook it up to the desktop.
I was really looking forward to seeing how much my signal level would increase. Would it go from the normal 2 bars to 4 bars? Or maybe even 5 bars! I was like an anxious kid on Christmas morning,
But all I got was the pink bunny suit with feet. Not a Red Ryder BB Gun in sight.
After hooking up the SMA connector to the desktop's Wi-Fi card, I eagerly looked at the monitor.
And I had a grand total of 2, count'em, 2 bars of signal. Which dropped to 1 bar even as I was watching.
I'm beginning to think that this entire area is just jinxed.
I mentioned last night that as of about midnight I had no 3G or 4G data on my phone, and my Hotspot wouldn't connect to anything. Well I kept trying and finally about 2:30 it all started working again. The whole area is just flakey, I think.
I'm also beginning to think that I really do have a problem with the Wi-Fi card in my desktop machine. I've wondered about this before since even with a decent inside antenna, it couldn't see near as many Wi-Fi signals as my phone or tablet, or even our Kindles. But I never followed up on it since it's usually just connecting to the Cradlepoint router that's six inches away.
So I quickly put in an Amazon order for this TP-Link model.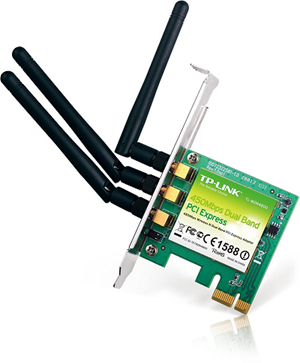 TP-LINK N900 2.4GHz or 5GHz Dual Band PCI Express Adapter
Besides hopefully fixing my signal problem, it will also give me a 5GHz connection too. So more tomorrow night I guess.
This morning while Jan was on the gate, an NOV guy, one of the facilities support people, came by and gave us our very own garbage can.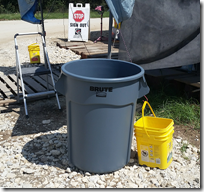 Before, I had to put on my hardhat and lug the bags about 75 yards to one of the big cans on the pad. So this is a lot more convenient.
And even better, when Jan ask him if there was a large dumpster or anything on site where we could get rid of our old TV, he said no problem, that he would take it. And he even went in the rig and brought it out for her.
Even more better, they did all this without waking me.
For dinner tonight Jan fixed us each a plate of her World Famous Gate Guard Nachos. Simple, quick, and delicious.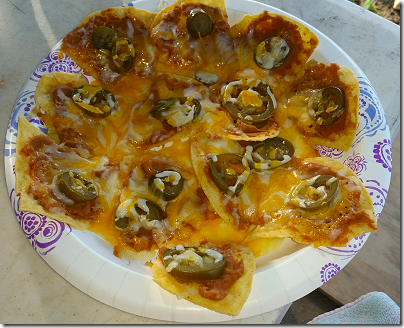 I give them 3 YUMS UP!
Tomorrow is Wal-Mart/Chick-fil-a day, and I also want to get a haircut. Luckily the CFA is in the Wal-Mart parking lot, so it's convenient and good.
---
September 21, 2017
Like It More and More . . .
Today was another Clear Lake day, but this time with the added benefit of pouring-down rain most of the way down.
Because of the aforesaid rain, I left for home about 3pm instead of my usual 4. I did make a stop at a nearby O'Reilly's Auto Parts to get some wire loom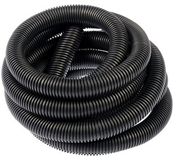 for the rewiring of my rig/toad lights using the new connectors that I bought.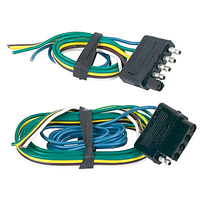 The loom is used to cover the wires to protect them from being abraded or damaged.
Getting up to Willis I made a quick stop at the Kroger's for gas and a few groceries before getting home about 5:30.
Yesterday's trip over here was the first time for two of my recent upgrades, the slide remote control and the rear AC control. Well, I'm batting .500
The rear AC remote worked perfectly, turning the unit off before I started up the generator, and then turning it back on once the generator is up to speed, saving walking back and forth.
The slide worked, kind of.
Pressing the 'B' button started the slide coming in . . . for a little bit. When it was almost all the way in, it suddenly started going back out, even with no buttons pressed. And then when it was all the way back out, it stopped. Again without pressing any buttons.
WTH?
So I tried it again. And got the same result.
WTH? 2
After doing this a couple of more times, I bought the slide in manually as always before.
I have no idea what could cause this, so it's back to the drawing board, I guess. Don't know if it's a bad unit, or what.
We're really enjoying our stay here at the Hillcrest RV Park in Punkin, TX.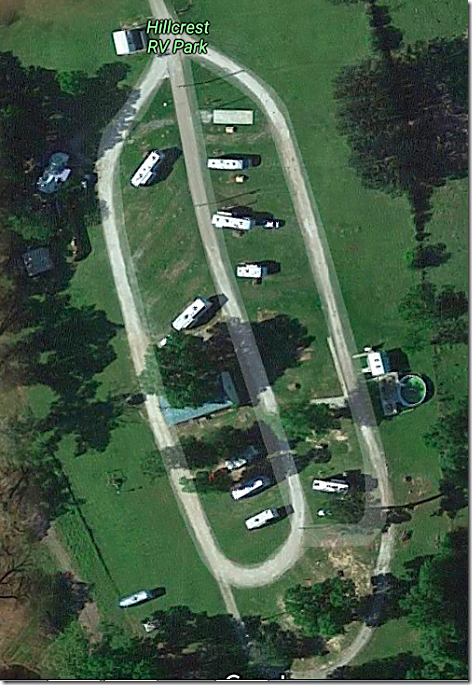 Level sites, good, solid power, great! water pressure, and even better, I haven't been able to find anyone to pay yet.
The only strange thing is the 600ft driveway leading in from TX150. It is strictly a one-way road, so you better be sure that there's not another rig coming in or out. Otherwise someone's backing up.
Tonight Jan and I watched the 3rd installment of The Orville and we like it more and more.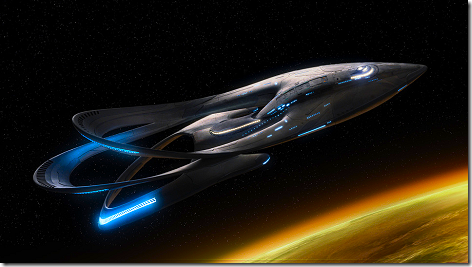 The combination of serious story subjects injected with sometimes off-the-wall humor seems to be a perfect duo. Can't wait for next week's episode.
---
September 21, 2018
Now There's Two Of Them?
I had hoped to get some stuff done around the rig this afternoon after work, maybe get the new rig's house batteries installed.
But the closely-spaced rainstorms moving through kind of put the kibosh on that. So maybe tomorrow. Same thing goes for looking at my generator problem.
However we may get a break on our upcoming Florida trip, at least as far as needing the AC's on along the way. It's a little far out for really accurate forecasting, but The Weather Channel shows that the daily high temps between here and Alabama looked to be in the high 70's-low 80's during our travel timeframe.
Hopefully it will hold. But we'll be traveling early in the morning anyway.
The AC power supply for my  6 year old ASUS laptop has gotten kind of flakey so I ordered a new one from Amazon that came in today. And since my battery (the original one) was also pretty worn out, I added one of them too.
This new battery, at 7800 mAh, has about 50% more capacity than the old one.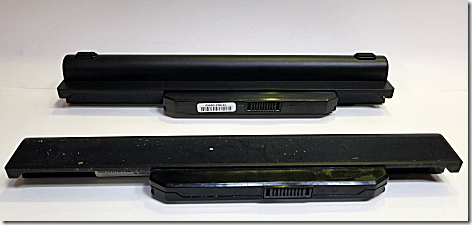 The perspective here makes it hard to see, but the new one holds the extra capacity by making it a riser tilting the keyboard to a better angle.
My new (replacement) front wheel hub cover also came in.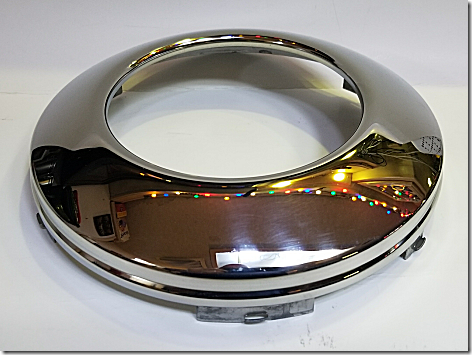 So when I put the cover on, it might be a good time to check the oil level in my front wheel hubs while I'm at it.
As a follow-up to Brandi's Big Green Backyard Lizard, seems like there may be more than one running loose.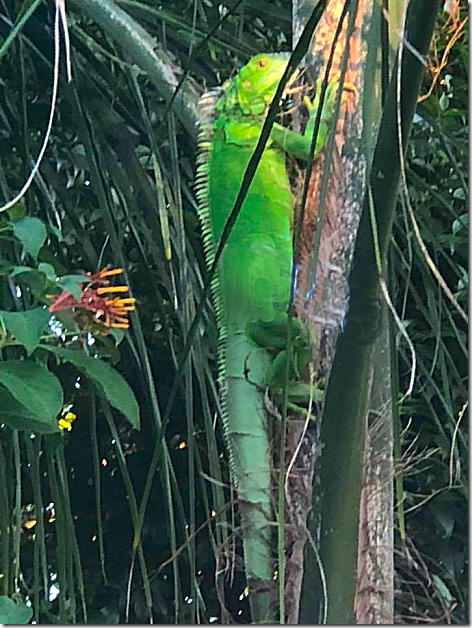 When Brandi posted the story on Facebook, someone alerted her to someone else who had lost their scaly green pet. But when Brandi contacted them, she found that hers wasn't the missing one.
And when she posted the result of her call, someone said, "So there's two of them roaming around out there?"
---
September 21, 2019
Some Sad News . . .
All the comments on yesterday's blog about Climate Change, or the lack thereof,  were all very positive, with some nice comments. Thanks.
On a sad note, we got news this afternoon that my cousin, Anna Jean, had died today.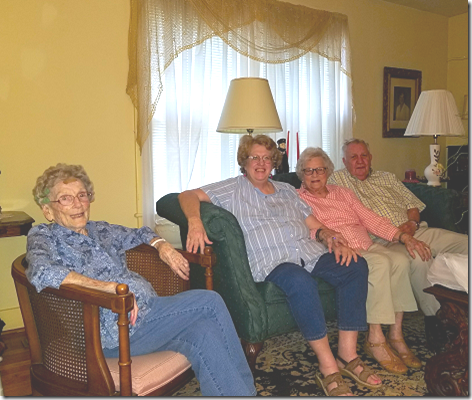 That's her on the left., along with Jan, Anna Jean's sister Margie, and Margie's husband Walter, back in 2017 when we were visiting up in Athens, Alabama. She was always so vibrant it was hard to believe that she turned 93 this past July.
Although I always thought of her as my cousin, I was kind of curious exactly what relation she was to me. In working it out, she was my mother's mother's sister's daughter.
And according to Google that makes her my First Cousin Once Removed.
She will be missed.
Jan and I headed out a little before 1pm to have lunch at Floyd's Cajun Seafood. where we were meeting up with long-time friend/client Theresa. She was going to drop off her HP Envy laptop so I could upgrade the hard drive.
Her model came with a 200GB SSD drive, small by today's multi-TB standard hard drives. But SSD drives offer almost instant boot-up and faster access to programs.
So, because she's running out of room on her 200GB drive, she wants to upgrade to a 1TB SSD.
So I ordered a new one this evening from Amazon which should be here on Monday. In the meantime I'll copy all of her data off onto an external HD for safety purposes, and then try to make a System Image of the old drive to then reinstall it onto the new one. We'll see how it goes.
Our daughter Brandi is out in San Diego with her BFF Shawna having a Girl's Weekend, with I think, a little work involved. Sounds like a lot of fun.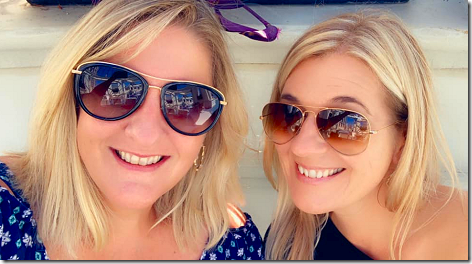 That's Brandi on the left with Shawna on the right.
Not much on the schedule for tomorrow, so maybe a nice quiet day.
---
September 21, 2020
TS Beta . . .
I got a couple of Amazon shipments in today, and I ordered a couple of more things for work that will be in tomorrow. And as I've noticed more and more, I'm getting Next Day delivery on the items.
I assume it has to do with the fact that Amazon is building more and more warehouses in the Houston area, including a brand-new one getting ready to open on the Sam Houston Tollway at 288. In fact Texas is second only to California in the number of Amazon warehouses.
Tropical Storm Beta (we're into the Greek alphabet now) seems to be coming ashore around the Port O'Conner area southwest down the coast from here. With winds around 45 mph it's not as strong as they originally predicted. And with a lot less rain as well.
---
September 21, 2021
One Last Gasp . . .
I mentioned a couple of days ago about our incoming winter cold front, with a week of day temps in the low 80's and night temps in the low 60's. It's about time.
But summer had to have one last gasp today with a high of 95°, the warmest it's been in a month or so. But now hopefully done for this year.
Jan and I headed out about 1pm, bound for Webster, and Snooze for lunch once again. And as normal, Jan got her Bravocado Toast,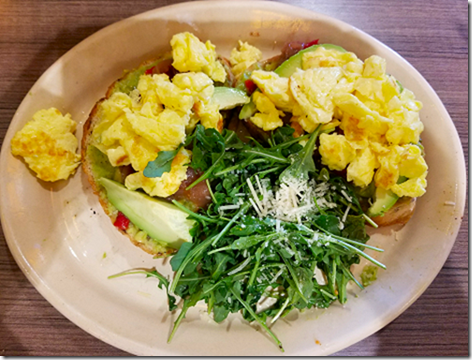 while I went a little different, with their version of Denny's Ultimate Omelet.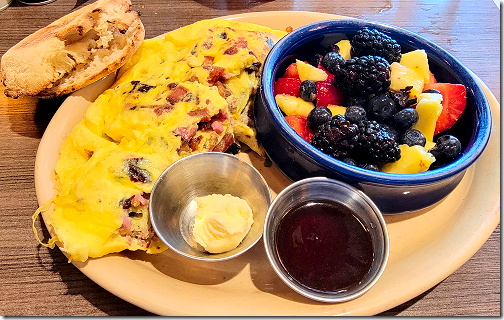 And although it was OK, it was no 'Ultimate Omelet'. It was drier than Denny's version, and they apparently they don't pre-grill the ingredients before they dump them in the eggs. Instead they just go in cold.
Probably won't have it again.
Next stop was at work to fix a couple of things that my client had 'fixed' this morning. If he would just keep his hands off stuff, or at least call me before he 'fixes' anything, my job would be a lot easier.
And lucky for me, he doesn't read this blog.
After that we made a WalMart stop, we finished up with Sugar-Free Pumpkin Spice Lattes from Cowboy Coffee.
Always delicious.
---
September 21, 2022
Budding Entrepreneurs . . .
Our daughter Brandi said that Landon, his BFF Sophie, and another friend, Adam, have started a candy delivery business at their school. They wrote an app, put it online, and take orders for candy to be delivered at school.
Landon found an empty, unused locker where the candy is left to be picked up after the payment transaction.
So let's recap.
You've got kids at school selling contraband, collecting the cash, and then leaving the product to be picked from a dead drop.
What could possibly go wrong?
Sounds like something I would try.
Jan and I both really like our VivoHome Ice Machine.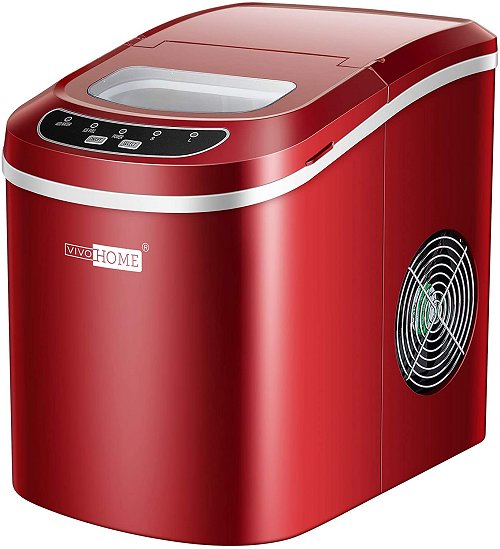 We make a gallon Ziploc bag full every other day which works out great for us. But the unit has one annoying feature, or maybe non-feature.
When the tray is full of ice and ready to be emptied, a red light comes on. But no beep or buzz to give you a heads-up. And since the unit sits behind me on the table, sometimes I don't get tray emptied and in the freezer, until it starts to melt a bit. So I wanted to add an audio alert of some kind.
So rather that tearing into the unit, I decided to use a photocell to sense when the light comes on. And what I came up was this module.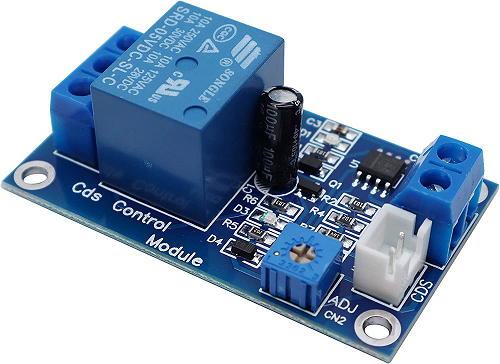 It comes complete with an attached photocell and a built-in relay to control a buzzer.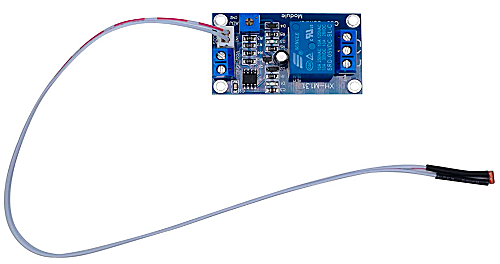 I also ordered a 5v buzzer to go along with the setup.
I'll keep you updated.