Lunch today was at Yummy Yummy Buffett down in Texas City around 1pm. Then it was on back up the Interstate to the Dutch Bros. Coffee on SR96. But it was not to be.
And unlike the location we visited yesterday that hadn't opened yet, this one was definitely open. And if I hadn't known better I would have assumed it was a Chick-fil-A.
There was a double line of cars wrapping around the front of the building and out into the street.

So we decided to try it another time, not wanting to spend the rest of the afternoon here. But it must be really good.
So it was on back down the Interstate for our weekly HEB visit. And afterward, we got gas at their station before we left the parking lot.
When we were in Pearland the other day we got gas at an HEB there and saw their new pumps.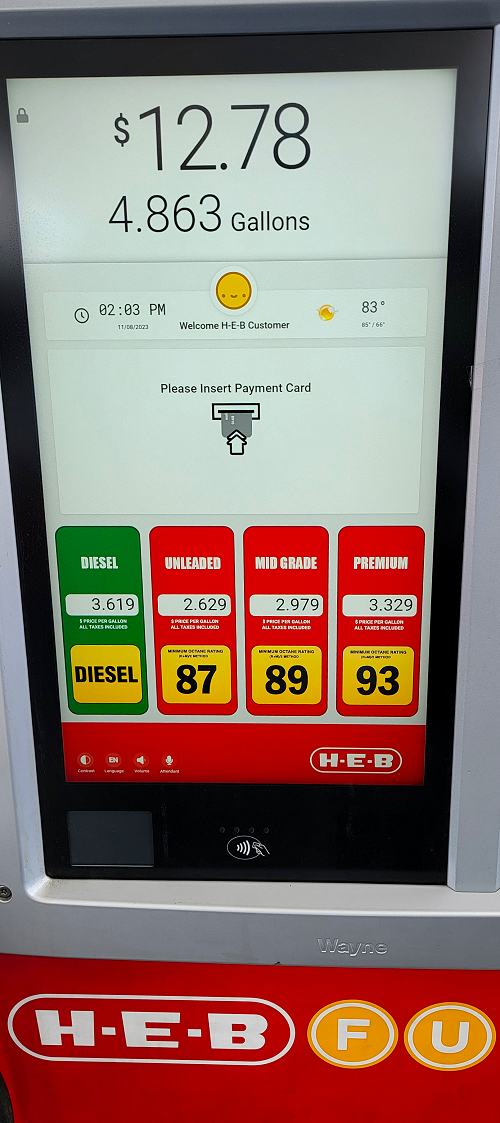 They're one big computer touchscreen, so no more buttons with the writing worn off.
When we were getting gas here last week we saw that they were building something in the median between the two roads, and today we found out what it's going to be.
An EV Charging Station.

And looking around, I found the location of the diesel generator that runs the whole thing.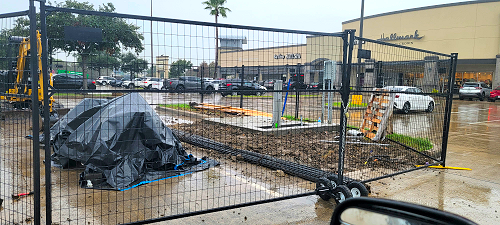 Which I imagine will soon be surrounded by a high fence hiding the fact that your fossil-fuel-free EV actually runs on fossil fuels.
Looks like we've got another busy week coming up, starting tomorrow afternoon with my 2 year follow-up appointment with my neurologist after my 3 level Cervical Spinal Fusion back in 2021. We'll probably talk some more about whether or not I'm going to get the follow-up Lumbar Fusion at some point in the future.
Next up, on Thursday, we're meeting up with Debi and Ed Hurlburt, up in Conroe at the Kioku Supreme Buffet once again. As always, looking forward to it.
Then Friday night, we've got the Alvin Opry once again, with long-time friends, Tony Booth and Mary Dooley.
And it looks like some other long-time friends, Maria and Connie, will be joining us too.
Can't wait.
---
Thought For The Day:
Dear Life,
When I said "Can this day get any worse?",  it was a rhetorical question, not a challenge.
Now On To Today's Retro-Blogs.™
---
November 12, 2009
Throwed Rolls and A Burnt Eagle…
Jan and I left about 10:30 for the 90 mile run to Carthage MO and Colaw RV Salvage
On our way we stopped off about 30 miles up the road in Ozark for lunch at  Lambert's about 11:15am.
Lambert's is famous for their throwed rolls. And, yes, they do throw rolls at you.  Although we've never eaten at this location before, we've eaten at the one in Foley, AL a number of times, and it's always been great.
Jan and I both had the fried chicken.  We ate until we were stuffed and still had take-home.
Leaving there we headed west to Colaw's.  Colaw's is not just an RV surplus place.  It's also an RV junkyard, a place where old RV's go to die.
And I really lucked out, They have golf carts that we used to drive around the lot until we found a burnt-out 1999 American Eagle, the same model as ours, but the 'VS' floorplan, not our 'NS'.  But since I was looking for wheel well fender flairs it didn't matter.  The parts I needed were intact.

I think it shook Jan up a little to see something that looked so much like our home burnt to a toasty crisp.
After making a deal on the parts that saved me $300,  Jan and I went into Carthage while waiting for the parts to be removed.  I needed a 15/16 socket and Jan needed some stuff from Walmart.
About an hour later we picked up our parts and headed home.  But the last 1/2 mile took us 30 minutes due to a car accident right down the road from the RV park,  Finally we got home about 5:30 pm.
Tomorrow we leave for Memphis on our way to visit relatives in Athens AL.
---
November 12, 2011
Cousins, Aunts, and Uncles . . .
This morning we had a lunch date with two of my favorite cousins, Anna Jean and Marjorie. They're sisters and it's always a real treat to get together with them.
Anna Jean and Marjorie came by our rig and picked us about 11, and we headed to 306 BBQ on US72 toward Huntsville.
A long time ago this place was known as Hickory House BBQ, and was one of the best in the area. But it closed and became an Antique Mall for many years.
But now it's a BBQ place again, and it's really good. Pulled Pork, Ribs, Chicken, Turkey, and great sides. We'll go back next year.
We talked at the restaurant until about 1pm, and then came back to the rig and talked for another couple of hours. It's really too bad we only get to see them once a year or so.
About 3:45 we talked with my Uncle Theo and Aunt Virginia about getting together for supper tonight. So about 5:00 we drove over to their house, and then over to the local Cracker Barrel.
Getting back to their beautiful home, we talked for another hour or so before heading back to the rig, accompanied by some of my Aunt's delicious banana nut and sourdough bread.
We plan on leaving about 8 tomorrow morning for a 370 mile trip south to Gulf Shores, LA for six days before heading back toward Houston on the 19th.
We don't know if we'll be able to get a site at the Gulf State Park where we hope to stay. We weren't able to get a reservation because I forgot about Friday being a holiday, and they aren't open on the weekends, so we'll just have to take our chances.
Gulf State Park is popular with Northern Snowbirds, especially the Canadian species, so the 500 sites at the park can be filled. But we have a couple of backup parks in mind, if necessary. We'll see.
---
November 12, 2012
A New Great-Niece . . .
Well, Weather.com said the rain would start here between 11 and 12 noon. and right on time, it started about 11:30, not really heavy, but just steady.
About 10:30 we got an email from Jan's sister Debbie to let us know that her daughter-in-law Laura had given birth to our new great-niece, Annisten Morgan Robinson, this morning. The 'Morgan' is significant because that's the maiden name of Jan and Debbie's mother. In fact Morgantown, WV is named for the Morgan family.
Our daughter Brandi called a little after 11 to talk about our Thanksgiving trip up to the lake near Marble Falls, TX. We'll go up on Wednesday and come back on Sunday, so we'll only have a couple of days back in Houston before we leave again, at least for a few days.
Sometime in there, our power glitched for about 10 seconds before coming right back on, so I guess it wasn't weather-related.
A little later I called the HoneyBaked Ham store back home to reserve a ham and a turkey breast for Thanksgiving. I plan on picking them up on Monday to avoid the rush later in the week.
Next I called Galveston Bay RV Park to confirm that our site would be ready when we get there next Sunday. Looks like we'll be in site 80, the same site we were in the first 2 years we were here in 2008 and 2009.
My next call was to American Coach to follow up on my battery disconnect questions. They confirmed that the disconnects should have shut off everything, and that since it only turned off partially, it was possible that some engine electrics may have been intermittent, which might have caused my fuel problem last week. If the fuel pump lost power for a short time, long enough for the injectors to run out of diesel, it would act just like the tank was empty.
They said I should talk with Spartan to follow up. I'll probably wait until we get back to Houston for that, but I'll know more this Saturday since I'm going to top off my diesel in Foley before we leave the area. That will give me some idea about how much fuel my diesel tank now holds.
About 2pm Jan and I headed out for some errands and 'linner'. Our first stop was the Wal-Mart in Gulf Shores for some groceries and supplies. Then heading toward Foley we stopped off at a Winn-Dixie looking for a couple of things that we couldn't find at Wal-Mart.
Then, after a quick stop at a Family Dollar, (Jan was looking for a small squeegee for the shower, we headed on up to Foley. Then after a stop at Lowe's for a new screwdriver bit, we drove right next door to our ultimate destination, Lambert's Throwed Rolls. Jan had her usual Fried Chicken, and I decided to try the Chicken Fried Steak.
Jan said her Fried Chicken was some of the best she's ever had, and of course the veggies there are great. And my CFS was fork-tender on the inside and had a great crispy-crunchy crust.
We've eaten at all three Lambert's and it's always delicious.
Leaving Lambert's, we drove a little further into Foley to check out Dodge's, a local gas station, to see if we can get in and out in the RV since they have a good price, $3.75, for diesel. Looks like it will be a good place to stop on Saturday as we leave.
Coming back to the park we stopped off at the Wal-Mart Market to gas up the truck. There's some sort of gas war going on there, so I only paid $2.96 for unleaded. Nice!
---
November 12, 2013
My New Toy . . ah, My New Tool
At least that's my story and I'm sticking with it. It's a tool, not a toy.
But it sure is neat.
It's my new WORX Power Screw Driver that came in from Amazon today. My old Coleman driver was about worn out and this one was top-rated by Popular Science so I thought I would give it a try. And I'm glad I did.
It's smaller and lighter than my old one, but has a lot more torque. And even better I don't have to keep up with a lot of different bits. Pretty much every one I'll need is included in two changeable barrels.
Each one of these barrels holds 6 different bits, from Phillips and Flat Blades, to Torx and driver bits. There's even one with a small drill bit for making starter holes for screws.
You can rotate the barrel manually, or by pulling back the slide, the barrel will rotate one position to the left. Kind of like a cross between a pistol and a revolver. Guess that's why they call it a 'Semi-Automatic' Power Driver.
I also like the fact that it uses standard 1" bits, and you can even insert your own longer bits from the front. I'm also going to try and see if I can buy a couple of extra barrels to load my own bits into.
The only possible improvement I could see would be a way to store the 2nd barrel in/on the driver so it doesn't wander off. But you have to keep track of the charger anyway, so they can stay together.
All in all, a really neat toy, ehh, tool.
We're at 11 days and counting until we head back to Houston, and Jan's gone past giddy and is almost into delirious, she's so excited. Me too.
---
November 12, 2015
Chore Day . . .
Today was the first nice day in a while, so I decided to get back on my Lighted Door Handle Repair. I recently found that all 5 screws were loose, and could not be tightened. They just spun. Taking it all apart, I found that it looked like the RV repair place in Prescott had over-tightened them when they reinstalled the handle after the wiring repair for the blowout damage. It wasn't that way before. They probably used a power driver and got carried away.
I had originally thought about using JB Weld to fill in the holes, and then maybe drill and tap them, but several readers suggested gluing toothpicks in the holes to fill them in. So that's what I decided to try.
Since I wanted to really lock them in, I wanted to use Gorilla Glue, because it expands as it hardens. Some people don't like it for that reason, but it was perfect for my use. You just don't use very much of it. Here's how I started.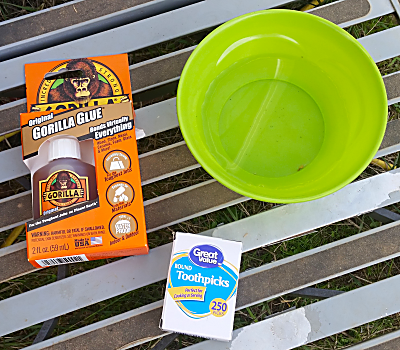 The bowl of water is to dip the toothpicks in before I put on the glue and stuck them in place. Gorilla Glue is moisture-activated and one surface needs to be damp to start with.
First off I trial-fitted a bunch of toothpicks in one of the holes to see how many I needed. And as it turns out each of the 5 holes needed a different number.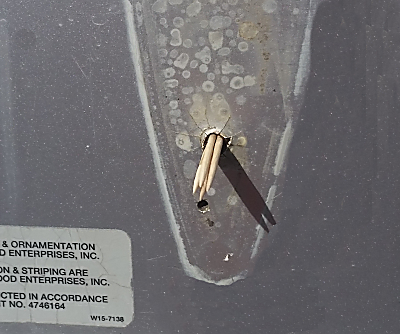 I wanted the fit to be slightly loose to allow for the expansion of the glue, so I had to use some trial and error to find the right amount. Then I dipped the toothpicks in the water and slung off the excess.
Next I put a light coating of Gorilla Glue on the half of the toothpicks that were going in the hole.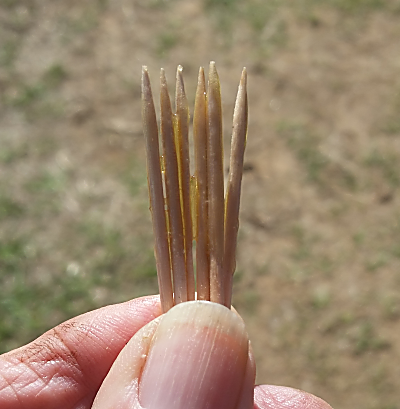 Inserting them in place l left them to set while I did the other 4 holes.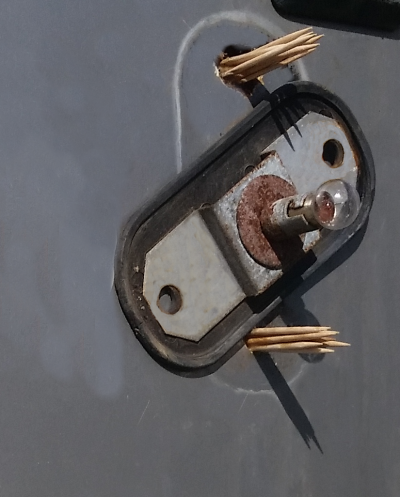 Here's the ones on top where the light is.
Gorilla Glue normally sets in a couple of hours, but since it's in the mid-60's today, I wanted to let them go overnight. But when I did check back a few hours later, I found them rock solid with only a small amount of glue squeezed out.
Looks about perfect.
Tomorrow I'll use nippers to cut the toothpicks down flush with the side. Then I'll drill a pilot hole and give it a try.
More tomorrow.
A few days ago I squeezed (and I mean 'squeezed') under the rig enough to be able to spray our Power Gear hydraulic levelers with silicone spray to keep the seals lubricated. Next I cranked up the rig and raised and lowered the levelers a couple of times to distribute the lubricant around.
I kept the airbags dumped so the rig wouldn't try to inflate them, and I noticed that we were still pretty level with the levelers raised. So I decided to leave the rig that way since it would keep all the dust off the newly greased surfaces.
Our rig has the optional switch to dump the airbags when the engine is running and, since dumping the bags drops the coach about 8 inches, I actually used it one time when we were surprised by a 'low' railroad underpass on a scenic back road.
Based on the signs we would have cleared it with a couple of inches to spare. But you never know how many times that road has been paved over since the signs were put up, and I really like my rooftop AC's. So I dumped the bags and carefully drove under, listening for any SSSSS sounds.
Anyway, since we now weren't using the pads we put under the levelers, I pulled them out today and spent some time hosing all the mud and gunk off them, and then stowed them away in the bay.
Another job done.
Wrapping up, we may have to rethink the whole 'gate guard' thing as a way of making money. Why make $150 a day when we could be making $200 an hour. And if we split up, we could make $400 an hour.
But it looks like we'd need a dog. Or two.
When we were visiting New York City in July of 2009, Jan always kept 'bum money' to give out as we toured the city. She said that the bums and drunks gave the best directions when she asked.
Of course she had more fun with this 'New York City Panhandler.'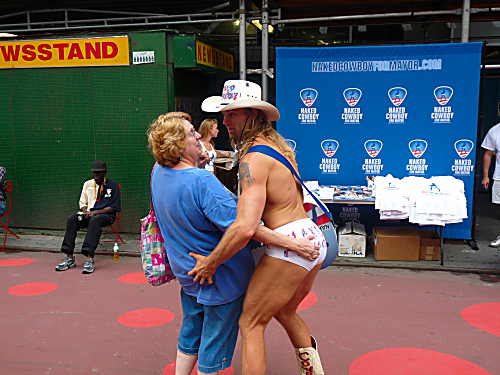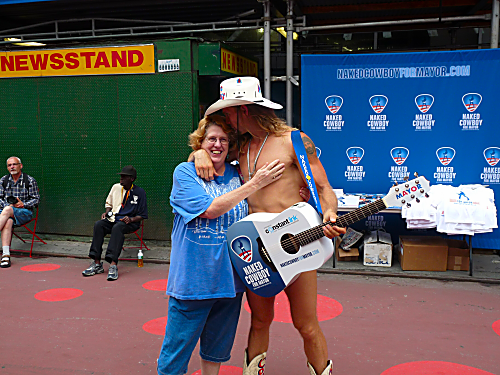 Actually it looks like they both did.
Jan said that checked another item off her bucket list.
---
November 12, 2016
A Design Flaw . . .
After another cool night and an overcast morning, our hot coffee really hit the spot.
After letting my WORX driver charge overnight, I was ready to get back on my Splendide washer removal/repair/re-install.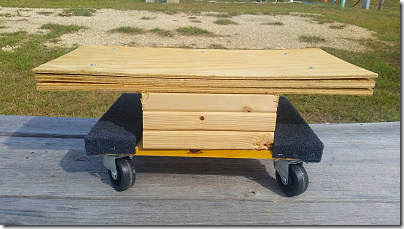 So after putting the last 8 screws into the new plywood top piece, I went around to the outside dryer exhaust vent and removed the vent cap and released the hose clamp so the vent hose would come loose when I pull the washer out of the cabinet.
Next I removed the doors and then the bottom retaining bar. Then I put my newly upgraded dolly into place in front of the cabinet and started pulling the washer out using the canvas straps I installed several repairs ago.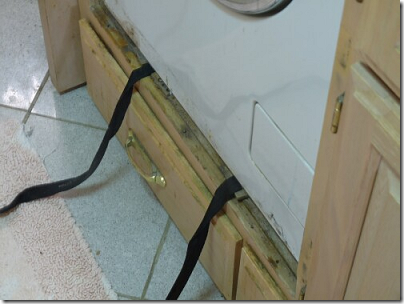 The washer came out pretty smoothly into the hallway. At this point I had planned to unhook all the hoses and cables and roll it out into the kitchen  But I decided to just take the top off right there
With 4 screws out the lid came off and the fuse was right in front of me.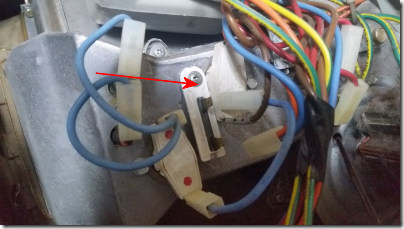 And a quick check with the ohmmeter showed me that the Thermal Fuse Unit (indicated by the red arrow) was indeed bad. It only took a couple of minutes to replace the bad one with a new one, leaving me one more spare for next time.
With the lid back on, I was ready to slide the washer/dolly over to the opening and then things went bad. A design flaw showed up.
The platform I built just sits on top of the dolly and is not fastened down. I figured the weight of the washer would keep it stable. I didn't want to fasten the two parts together
I was wrong.
As I pushed it into place one of the dolly wheels hung up on something and the platform and washer fell off the dolly. I was able to stop it from hitting the floor but it ended up on its side, jammed between the fridge and the cabinet opening.
Bummer!
It took me another 45 minutes or so to get things back in place and the washer finally started into the cabinet. I did do one thing right, though.
To make it easier to slide the washer into the cabinet, I sprayed silicon lubricant onto the cabinet floor along the pathway of the rubber feet.
And this worked great. The washer slide in smooth as silk. I'll have to remember this for next time. Back in, I went outside and pulled the vent hose out through the opening.
I told Jan I was either wildly confident, or forgetful, but I immediately started a washer load without actually testing the dryer first, but luckily for me, everything worked fine.
For both the first and second loads. But I think I'll wait a few days before I put the doors back on. Wouldn't want to jinx it.
For dinner tonight we finished off the last of Jan's Chicken Vegetable Soup. Like a lot of dishes like this, it gets better the second day.
Tomorrow for lunch, it's back to Barth's for Jan's favorite Turkey & Dressing and Fried Chicken. Then it's back to work on a gate tomorrow night.
---
November 12, 2017
Made In The Shade . . .
I noticed that, unlike our previous movie dates, Jan didn't seem especially enthusiastic about going to see Blade Runner 2049. I figured that at least part of the problem was the fact that the movie itself is 2 hours, 44 minutes long. So with coming attractions, we'd probably be looking at over 3 hours.
And since the movie didn't even start until 4:40pm, it would be almost 8pm before we were out, and going on  9pm before we got home. And since Jan often falls asleep on the sofa around 7:30, the movie might be problematic.
So I asked her to tell me the truth, did she really want to see the movie? After hesitating a couple of seconds, she said, "Noooo." She then said she was only going because she knew I wanted to see it, and in fact, she didn't even like the first one. She said it was too dark and dismal, and it was always raining. Well, that's the first I'm hearing about it in the 25 years since it came out.
I mean, how can you not like the "Time to Die" speech?
I've seen things you people wouldn't believe.
Attack ships on fire off the shoulder of Orion.
I watched c-beams glitter in the dark near the Tannhäuser Gate.
All those moments will be lost in time, like tears in rain.
Time to die.
What a lot of people don't know is that Rutger Hauer, playing replicant Roy Batty, ad-libbed a large part of this. The scripted speech was much longer, but Hauer cut out most of the lines, and then added in the last two lines, leaving this.
It's been said that at the end of the scene, after a few moments of stunned silence, the film crew erupted in applause, amid a lot of tears.
I may just catch the 10am show by myself Wednesday morning if I can.
Since the movie wouldn't be taking up our afternoon, I decided this would be a good time to remove one of our window awnings to see about getting new ones made for our rig. I figured I'd take down one of the small rear window ones to take into a local shop.
First off I started by clamping the flange that connects to the torsion spring. This allows me to control the unwinding of the spring.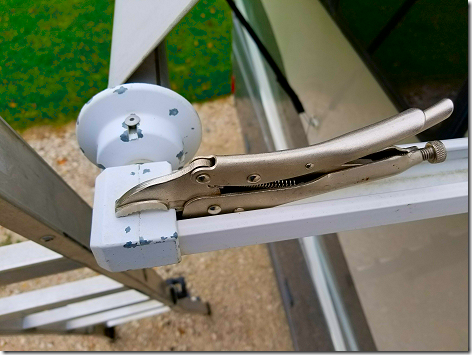 Next I removed the screw that fastens the flange to the tube.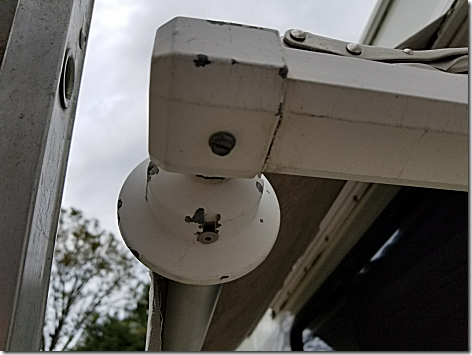 Then I pulled the flange off the arm while holding the vice grips to keep the spring from unwinding. After lowering the arm to the side of the rig, I carefully unwound the spring, counting the turns so I would know how many turns to rewind it.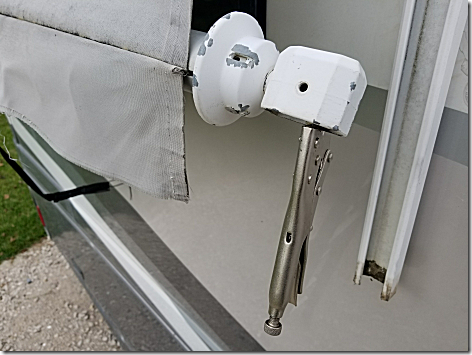 At this point I put the now-loosened flange back on the arm.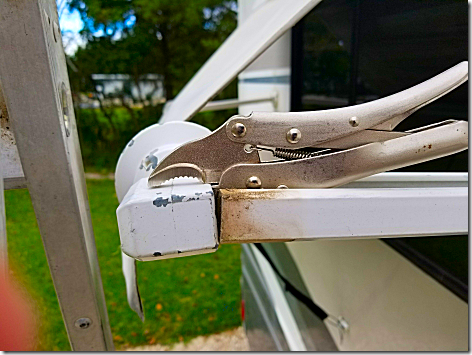 This let me now drill out the rivets so I could remove the spring.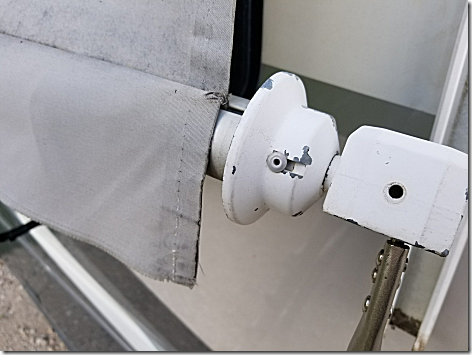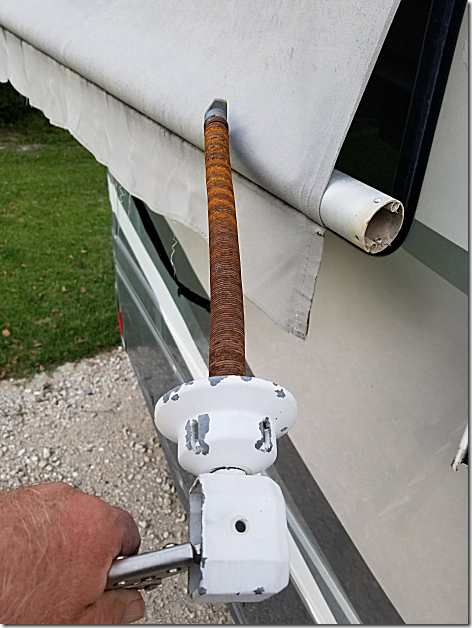 Now pulling the tube from the other end, I could pull it off the bottom of the awning fabric.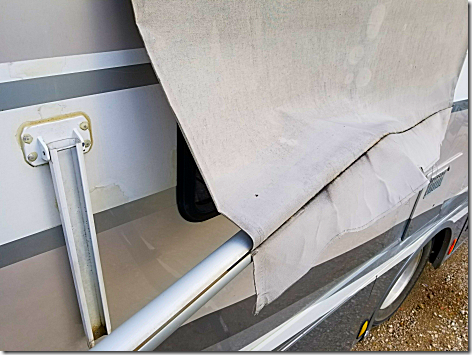 So now I should have been able to pull the fabric off the top rail, but it wouldn't budge. So I removed the screw right above the rail that holds the first link of the cover in place.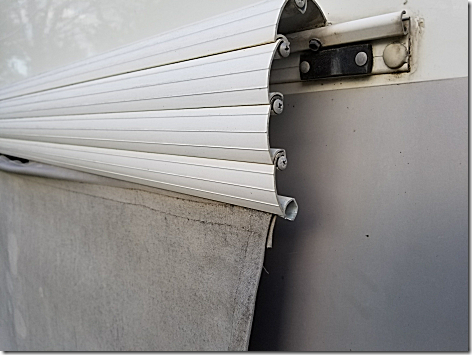 This let me pull the fabric and the cover segment out from the other side.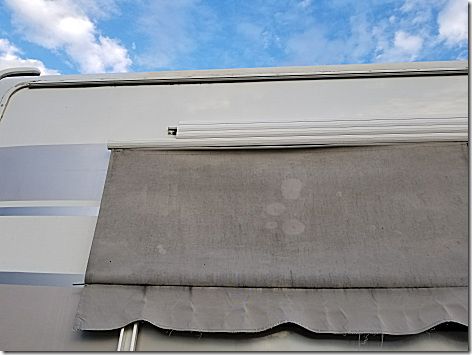 This let me see that the reason the fabric wouldn't come out is the fact that the rail was crimped on each end.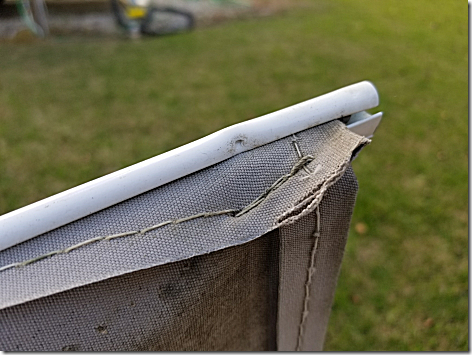 Normally if they want to lock the fabric in place they just use a small screw through the rail and into the fabric.
But after I use a screwdriver and a pair of pliers to open the channel, the fabric slid right out.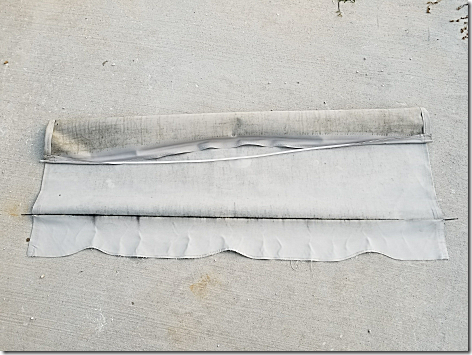 So Tuesday, I'll take it over to a marine canvas shop in Kemah to see what they can do. So hopefully the rig will soon look like this.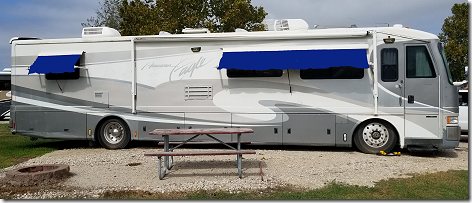 Tomorrow it's back to work.
---
November 12, 2018
Brrrr! Cold . . .
Another Monday at work. I finished working on the one machine using a new shielded cable that I picked up over the weekend. And I also finished adding the First Class rates to the Shipping program
Now it's just a matter of prettying it up and then start testing it, trying to break it by entering unexpected or weird values, like 'aa' for the package weight, or '1sf43' for the Zip Code.
Tomorrow morning, at 10:15, I have my first session of PDT (Photodynamic Therapy) at the Dermatologist's office. Back in September I found out that the patchy, scaliness on my head was not eczema or psoriasis, but actually actinic keratosis, a pre-cursor for Squamous Cell Carcinomas.
And long-time readers will remember that back in July 2014 I had a Squamous Cell Cancer removed from my head while we were up in Elkhart, IN. So it fits, I guess. So now I'll have the PDT procedure to head off any further complications.
They'll coat my head with a chemical in the form of a liquid or cream, let it dry for 30 to 60 minutes, and then expose the area to a special wavelength blue light. The pre-cancerous areas absorb the chemical more than the non-cancerous areas, and when the light is used, the chemical activates and burns the selected areas out, leaving me with a somewhat severe sunburn for a few days.
So if my head doesn't catch fire, I will have to wear sunscreen and a hat (which I already do) for a few weeks. Then in another month, I'll have to do it again. And hopefully that will be the end of it.
At least this time I shouldn't end up with another big divot in my head like I did when the Squamous Cell Cancer was removed. At least I hope not.
Assuming I survive the procedure, and it's not after 2:30, we'll have brunch/lunch at the new Snooze- An AM Eatery
Brandi, et. al, have started planning the upcoming Thanksgiving meal. Plus Jan will be Landon-sitting most of next week, with Landon out of school.
Brandi's going to take him to work with her on Monday, then I'll take Jan up there Monday night and drop her off to look after Landon until Thursday when I go back up for Thanksgiving dinner and then bring her home.
So it'll be just me and Karma again.
It's going to be Brrrr! Cold here for the next couple of days, at least for the Houston area.  We're looking at 37° tonight (Monday)  with a high of 47 tomorrow and then down to 34 Tuesday and 32° Wednesday night.
So I'm really glad our new Lasko heater is working out, plus our old Lasko is still hanging in there, maybe because it heard I was getting ready to rip it apart if it didn't start working.
---
November 12, 2019
40° and Raining . . .
With a full schedule of errands, Jan and I were on our way up to Webster to have first have brunch at Snooze once again. One of our favorite places, and we go often enough so we're recognized every time.
Next up was a stop at the Webster Post Office for Christmas stamps. There was a line out the lobby door and only one clerk working. So it was a slow process, but it was sped up by the fact that several people got fed up and just left.
Then it was on up the Interstate for WalMart visit for a few things. I did get a slightly larger tarp to cover the truck windshield. I'm hoping that this won't be needed, since I really hoping that my oil leak is fixed. But it makes such a mess of the windshield that it's worth not taking a chance.
Next up was a stop right across the street at the Sam's for fill up the truck. The price has been holding steady at $1.97 for a few weeks now. And probably will through the Thanksgiving travel days.
Our next stop was supposed to be me dropping Jan off the Friendswood SuperCuts to get her hair cut. Then I would go back down to Estrella's to get mine done. But her SuperCuts was closed for some reason, so she read in the truck while I got mine done.
After that we stopped off at the nearby Kroger to pick up some stuff for Chris and Linda. They don't have a Kroger near them in Kingsland so we always have a shopping list for them when we visit.
Finishing there we had planned to go right across the street to get the truck washed for the trip, but by then it was after 5pm and they were closed. Maybe tomorrow.
Finally heading back toward Santa Fe, Jan remembered a TGF Hair Salon right next to the HEB on FM646 so we stopped there so she could get her hair done.
And now she has a new favorite place for her to get her hair done. She really liked her cut, so she got the girl's card and she'll be going back.
Tomorrow I'm going to take off a little early because I've still go a number of things I need to get done before we leave on Thursday morning.
And these are things I would normally be doing the morning before we leave on a trip, like disconnecting us from sewer and water, letting in the awnings, picking up the leveler pads, etc.
But it's now supposed to be 40° and raining Thursday morning, so the more I can get done tomorrow night, the better. Hopefully all I'll have to do is disconnect power, pulling in the slide, pull out of the site, connect up the toad, and be on our way.
And to help that along, I did a trial run, pulling in the slide this morning, and it worked fine. So hopefully it'll still work Thursday morning.
But you never know with a 20 year old RV.
---
November 12, 2020
The Kindness of Strangers . . .
I spent the morning wading through the paperwork and website info, much of it contradictory. trying to figure out how to get our new Jeep registered and tagged in South Dakota.
I even called two different offices, the state DMV and the Minnehaha County version, getting pointed to two different sets of 'necessary' forms to be filled out.
And all of this aggravation was to save $55. Which is what Dakota Post, our South Dakota mailing address company charges to process all the paperwork for you.
So tomorrow I have a 11:30am phone call appointment with them to take it all off my hands. At this point I'll consider it money well spent.
I guess I got spoiled when I originally registered/tagged the Dakota and our American Eagle back in 2007/2008 when we were using the late, lamented My Dakota Address as our mailing service. They didn't charge anything since Terri Lund just walked it over to the courthouse right next door.
But My Dakota Address went out of business a couple of years ago, so we switched over to Dakota Post in Sioux Falls.
About a month ago I ordered Jan a used copy of this World Geography high school textbook, since she's always been fascinated by the subject and wanted to do some more reading on the subject.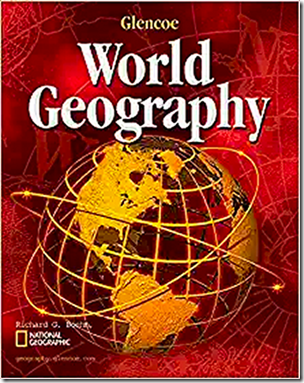 And then about 2 weeks later we received another copy of the book, also addressed to us. But the invoice inside the box said it was for an address in a small town in Iowa.
After failing to contact either the seller or the buyer, I decided to just send it on to Iowa. I included a letter telling what had happened, and saying that if he was feeling generous he could send me a $5 bill to cover the $4.92 book rate postage. Otherwise, don't worry about it.
Well, today I got a letter back from the gentleman, thanking me for forwarding his daughter's high school textbook to him. He said that her school wasn't letting them have textbooks at home during the CoVid homeschooling. And he included a $10 bill, telling me to buy myself a Shiner or a Lone Star Beer, or "whatever it is you guys drink in the Lone Star state."
Does Coke Zero count?
Nice guy.
Another thing that showed up in the mail today was our missing South Dakota Absentee Ballots, only about two weeks late. Way to go, USPS!
---
November 12, 2022
An Aerial Tragedy . . .
After a cold night, though we were warm and toasty in the rig, we were on our way over to our local Denny's for our favorite Ultimate Omelets.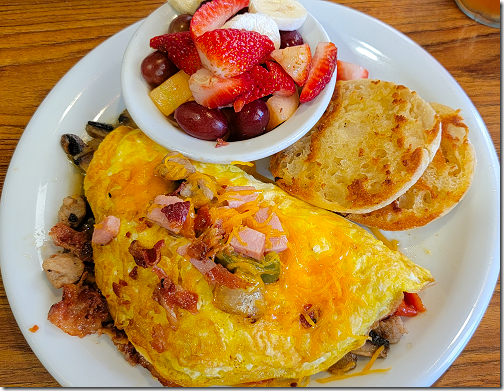 Luckily for us, Hugo our favorite cook was on the grill and it was as delicious as always.
Then it was on to WalMart and then HEB before heading home.
What was really unusual today was all the traffic around that area. It was bumper to bumper on both sides of the Interstate. Don't know what was going on.
In a sad occurrence two planes, a B-17 Flying Fortress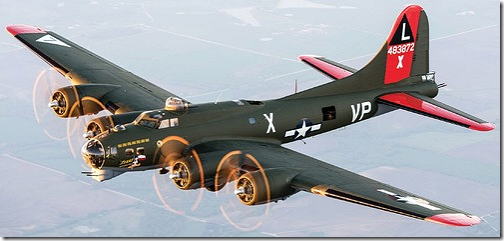 and a P-63 Kingcobra collided during the Wings of Dallas Airshow today. Six people are supposed dead.
We saw both of these flying in the Wings Over Houston Airshow a couple of weeks ago.
A real shame.
https://rumble.com/v1txcyk-b-17-bomber-and-a-smaller-plane-collide-at-dallas-airshow.html
Wrapping up, last night was the monthly Alvin Opry show, and it was probably the best one yet.
The dance floor stayed crowded,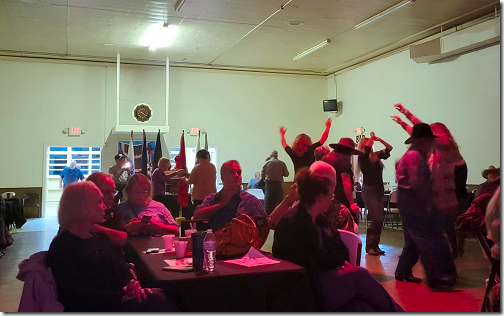 and we got to see some really great performers, like legends Justin Trevino,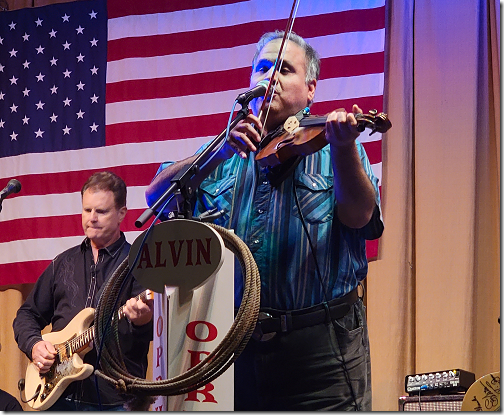 and Tony Booth,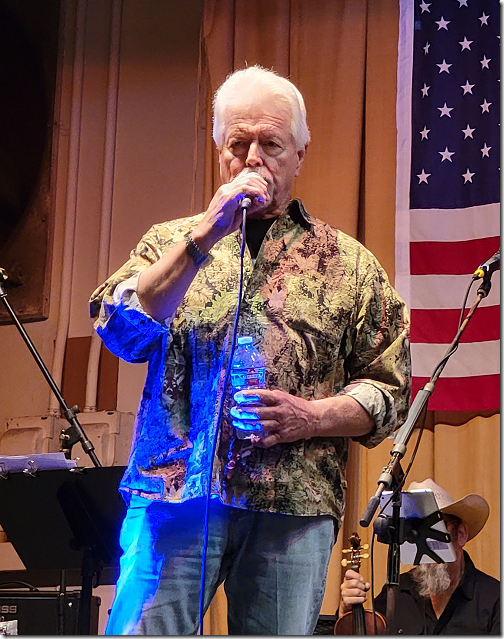 along with Tim McCasland.
But I think our favorite performer was Pat Varley, who we've known since the old Alvin Opry days, probably about 20 years.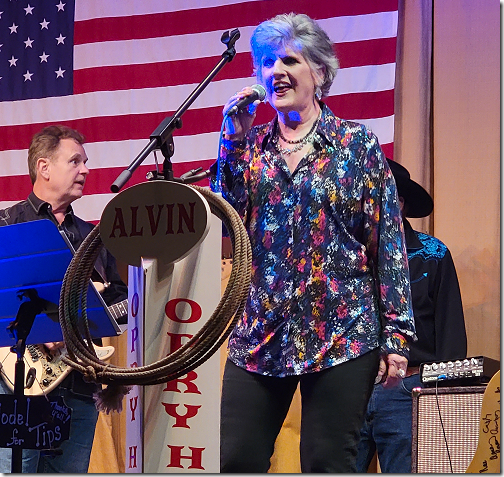 But her voice is just as great as always, and she really knows how to belt out a song.
Hope we get to see her again soon.