R.I.P. to A Real American Hero . . .
My uncle, Theo Wesley Calvin, Jr., died this afternoon at the Floyd Fann State Veterans Home in Huntsville, AL.
He was 93.
I knew from an early age that, like my mother, her brother, Uncle Buddy (what I called him) had been in WWII. But it was only much later that I found out just what that entailed.
My family and I visited my mother's family in Athens, AL, as long as I can remember. Here I am with my aunt Virginia and Uncle Buddy when I was about 18 months old.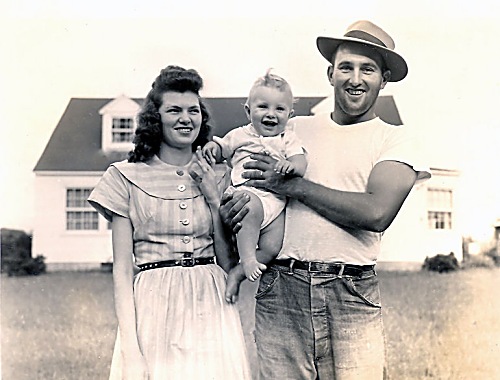 This was probably in 1949.
Over the years, as I visited, and later lived in Athens, I learned more about his service to our country. One time exploring in my grandmother's attic, I came across a WWII Army helmet that had 'T. Calvin' painted on the inside. And it also had a thumb-sized dent with a crack in it.
When I asked my uncle about it, he looked at me for a few moments and then said it happened the day after D-Day after his landing on Omaha Beach. He said it knocked him down, and his head rang for a week. Then he wouldn't talk about it any more.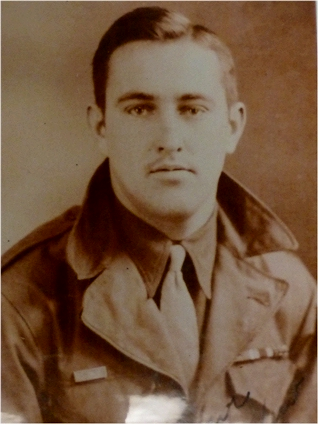 Over the years, I picked up more facts, like that he fought across Europe under the command of General George S. Patton in a Anti-Tank Company
It was only in the last few years that even more of the story came out with the appearance of a mystery envelope full of medals in 2012.
As it turns out, Uncle Theo not only landed at Normandy on D-Day in June 1944, but he was also was part of the Operation Torch landings in North Africa in November 1942, and the Operation Husky landings in Sicily in July 1943. In all, he fought in 7 campaigns during the war, and received a Purple Heart with Oak Leaf Cluster, signifying that he was wounded twice, both times in France.
He also fought in the last major offensive of the war, the Battle of the Bulge during December 1944 – January 1945. Dug in near Bastogne, Belgium, he said it was so cold nobody wanted to fight. "We could see the enemy, but we didn't shoot at them, and they didn't shoot at us."
Among the many medals Uncle Theo received were a Bronze Star, the Belgium Fourragere, and the French Legion of Honor.
In 2011, Theo was the Grand Marshal of the Veteran's Day Parade in Athens, honoring him for his service.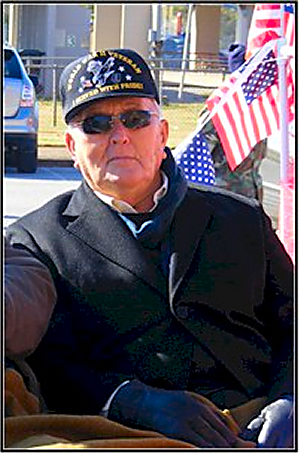 And then in 2012, Lt. Gen. Richard P. Formica showed up to pin that envelope of new medals on SSgt Calvin, medals that had been forgotten and not awarded at the end of the war.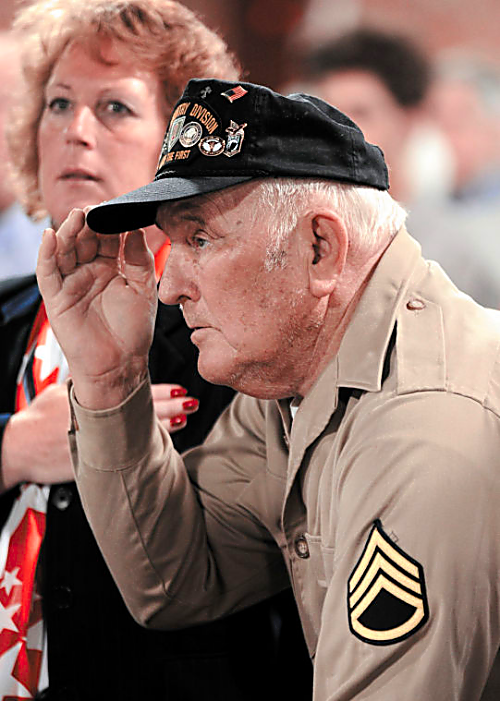 Since we've been RV'ing, we've always made it a point to visit our relatives in Athens, and especially to visit my Uncle Theo in the Veterans Home where he's been for the last several years.
Our hearts go out to my Aunt Virginia, and the rest of the Calvin family in North Alabama.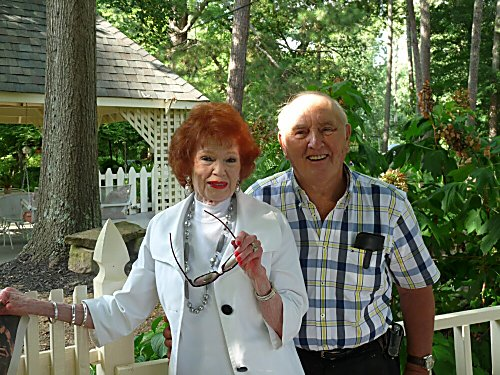 He will be missed.
adfdsf