Daily Archives:
February 20, 2016
We did our walk this morning, at least the first part of it anyway, for a distance of 1.13 miles, just making a complete loop of the park. We'll try to walk again tomorrow since it's showing 80% chance of rain on Monday, 100% for Tuesday, and then Wednesday morning we're back down in the Clear Lake area for our yearly checkups. So after tomorrow, Thursday might be our next shot at a walk.
After our walk, we sat outside for a while with our coffee and some of the great pumpkin muffins that Sherry gave us at lunch yesterday. Really, really good, and Jan wants the recipe. Even though it was in the 70's, it was pretty overcast so it was still comfortable.
Later in the afternoon I was back on pump repair. I wanted to try to completely disassemble it and see if I could figure out what was wrong with it. But before that, I hooked the pump motor up to 120vac to see if it would even run.
And it did, but very slowly, with a lot of straining. So it was obvious that there was a lot of drag on the shaft from somewhere. My first thought was bearings, but you never know..
So I started out with this.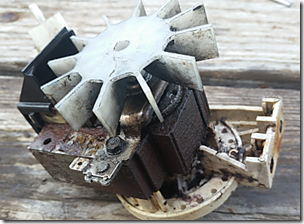 As I figured the fan was just pressed on the shaft so I used a small gear puller to get it off. Then removing the two screws let me start to remove the motor shaft.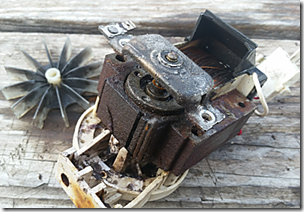 asdfasdfa
So I kept at it, pulling pieces off,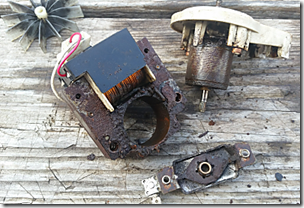 until I finally ended up here, with a big pile of parts. As they say, parts is parts. Hopefully I can get it all back together.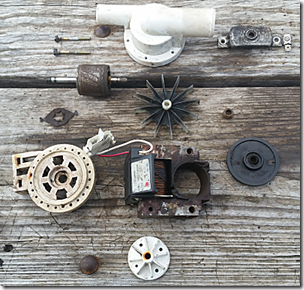 There are no roller or ball bearings, just brass sleeves, and they all looked clean and smooth, as did the shaft, so that wasn't the problem.
But when I inserted the rotor – shown below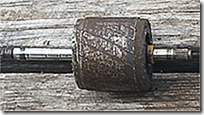 asdfasdfa
back into the stator – shown here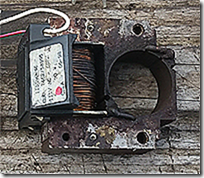 and tried to turn it, there was a lot more drag than normal. In fact there should be no drag at all. They shouldn't be rubbing or touching in any way.
It looks like there is just gunk built up on both the outside of the rotor and the inside of the stator, and that's causing the drag. At least that's the theory I'm going with right now.
Tomorrow I'll dig out some 2000 or 3000 grit sandpaper and lightly sand the two pieces to see if that makes a difference. If you ever try something like this, be sure you only use regular sandpaper, and not steel wool or metal oxide paper. Tiny bits of metal can get in the windings and short out the motor.
Finishing up for the day, I stuck the two metal pieces into a small bowl of CLR to clean them up and remove some of the rust. The plastic pieces I dunked in a bucket of a Dawn and Awesome mixture to let them soak overnight.
I do have a backup plan for all this, though. Besides the option of buying one of the pumps on eBay for $100 to $185, which I'm loathe to do . . . because I'm cheap, this afternoon I had another idea.
All I really need is a washer pump that runs on 120vac (which I'm sure all of them do) and has a input/output hookup kind of like this.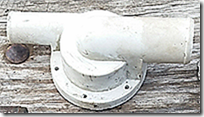 It only has to be close because I've got plenty of room underneath there and I can reroute the hoses if I need to. And the size isn't a problem either for the same reason. So if I don't have a handle on all this by Monday, I'll take the pump down to an appliance parts place and see if they have something close.
About 4:30 Jan and I headed over to Willis for a Whataburger dinner, great as always. Then coming home we made a quick stop at the nearby Kroger's for a few things.
All in all, a nice day. But then isn't that what RV'ing is all about?
---
Thought for the Day:
Student Essay Bloopers
During the Renaissance America began. Chritsopher Columbus was a real navigator who discovered America while cursing about the Atlantic. His ships were called the Nina, the Pinta, and the Santa Fe. Later, the Pilgrims crossed the ocean, and this was known as Pilgrims Progress. When they landed at Plymouth Rock, they were greeted by the Indians, who came down the hill rolling their war hoops before them. The Indian squabs carried porpoises on their cabooses, which proved very fatal to them. The winter of 1620 was a hard one for the settlers. Many people died and many babies were born. Captain John Smith was responsible for all this.
asdfasdfa