Daily Archives:
August 30, 2022
Jan decided that she didn't need her Toesies done today so it was just on to our local Torchy's Tacos.
Jan got her favorite Brushfire with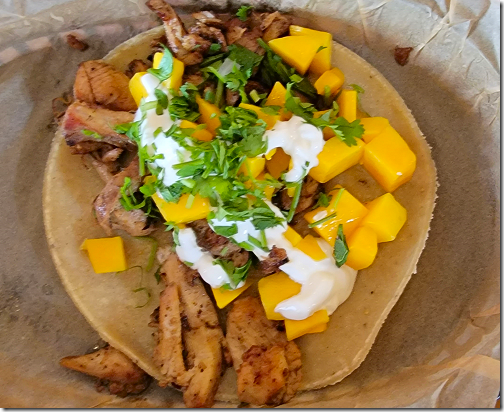 Jamaican Jerk Chicken, Grilled Jalapeños, Mango, Sour Cream & Cilantro With Diablo Sauce On A Flour Tortilla.
While I got my favorite taco, The Republican (they also have a Democrat Taco if you lean that way)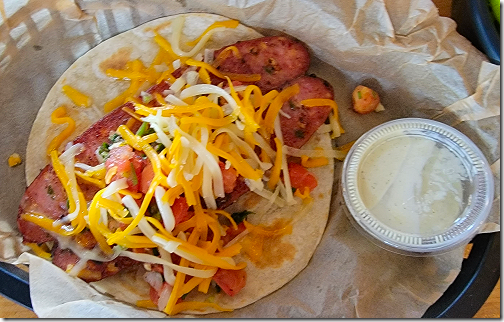 with Jalapeño Cheddar Sausage, Pico De Gallo, Cheddar Jack Cheese & Poblano Sauce On A Flour Tortilla.
Seeing something new on the menu, I got an order of their Mexican Street Corn with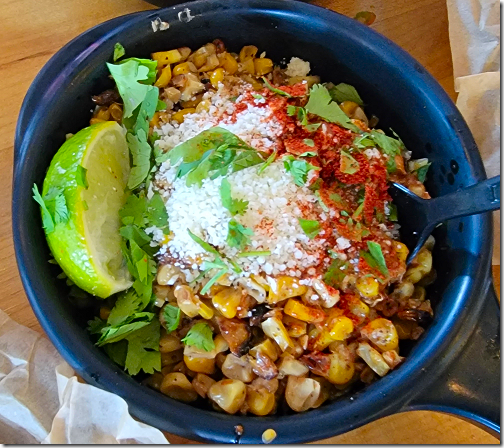 Grilled Corn Topped With Ancho Aioli, Cotija Cheese, Cilantro, Dusted With Red Chile Powder And Served With A Lime Wedge.
We also got an order of another old favorite, their Chips and Queso with Chorizo,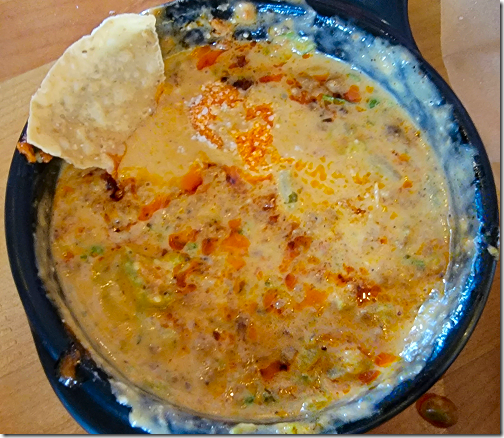 and Topped With Guacamole, Cotija Cheese, Cilantro & Diablo Sauce.

For dessert we again tried something new on the menu, their Lil' Nookies,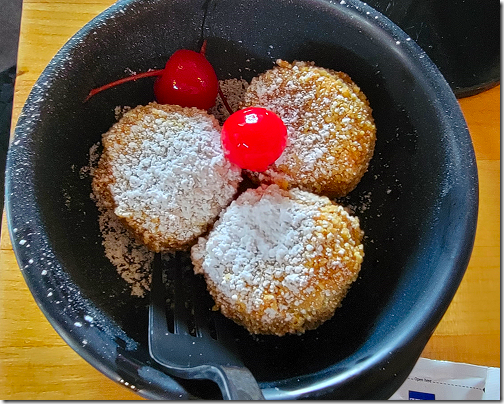 With Fried Chocolate Chip Cookie Dough Dusted With Powdered Sugar & Topped With Cherries.
Really, really good. We'll definitely be back.
Then it was on to the office for what should have been a 5 minute stop that turned out to take over 30. I was just supposed to take care of sending out an invoice and changing out a keyboard that someone (are you listening, Jennifer?) spilled a chocolate protein drink in it. Just the reason I always keep spare keyboards and mice.
But then my client found a bunch of other stuff that just couldn't wait until tomorrow.
Finally though, we were on our way over to WalMart, Sam's, and finishing up at Costco, where I got gas for $3.05, the cheapest I've gotten recently, though I have seen $2.99. However the Buc-ee's/Sam's Club rivalry down in the La Marque area is giving us $2.97.
---
Thought For The Day: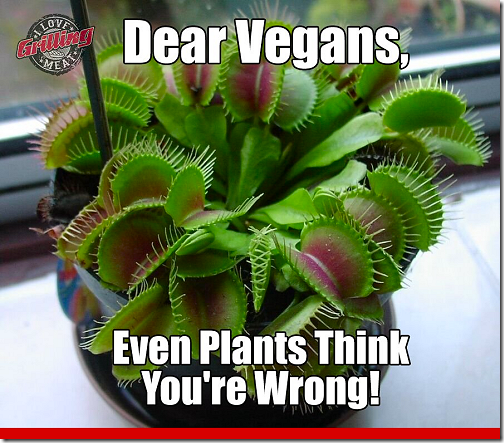 ---
August 30, 2009
Lighthouses and Wind Farms…
Today was the start of our 2 day Prince Edward Island road trip. We decided it would be easier to just leave our rig in Moncton and drive the truck over.
We left Moncton about 10 am for the 75 mile drive to Canada's smallest province. Lengthwise, it's about 160 miles from one end to the other.
But first we had to cross Confederation Bridge to get to the Island. The curved, 8 mile long bridge is the longest in the world crossing ice-covered water and is considered one of Canada's top engineering achievements of the 20th century.
And it's a very beautiful bridge, too.
And they're really proud of it, too! It's a toll bridge, but they don't charge you to enter the island, they charge when you leave.
And it costs $42.50 to get off the island!
Once we were over that shock, we decide to head toward the west and north ends of the island.
The first town of any size we cam to was Summerside. Passing a nice-looking Chinese buffet restaurant, we decided to have lunch at the Jade Garden.
This is the 2nd Canadian Chinese restaurant we eaten at, and it's apparent that Canadian Chinese food is a little different from American Chinese.
They only seem to have Won Ton soup, no Hot and Sour, which is our favorite. And they have egg rolls, but they also have something like a small fried burrito that has egg roll 'stuff' in it. What the real difference is, I don't know.
I mean, you'd think we were in a foreign country, or something.
After lunch, we continued on what was called the North Cape Coastal Drive, which winds around the coast and up to the northern tip of the island.
The first place we came to was the West Cape Wind Farm, one of several wind farms scattered around the island.
We were starting to get a little low on gas, and finding no gas stations along our route, we headed about 10 miles back toward the center of the island to fill up.
Rounding the West Cape area and now heading north, we traveled along the coast to more great scenery.
Now working our way north, we finally reached the North Cape at the tip of the island.
This lighthouse and wind farm look out over the Atlantic ocean and the red cliffs show the effects of the ocean waves.
By this time it was getting late so we headed back down the main road down the center of the island to the capitol of Charlottetown where we where going to spend the night.
We got a room at a Holiday Inn and then went out for supper to a place downtown called Sim's Steakhouse & Oyster Bar.
We had a dozen raw oysters (Up here they called them 'Fresh', not raw), and a couple of appetizers. The food was really good. But the service was abysmal. We were there almost an hour and a half, just for appetizers.
Tomorrow, we'll do some of the Anne of Green Gables area, and then the other side of the island.
---
August 30, 2011
Last Day at Horseshoe Lakes . . .
Today is our last day here at the Horseshoe Lakes Thousand Trails Preserve north of Terre Haute, IN. Tomorrow we leave for Elkhart, IN about 230 miles away. So we decided to have one last fling of dinner and a movie, or rather, a movie and dinner.
We left the rig about 12 noon and headed about 25 miles south to Terre Haute to catch the 1 pm showing of "The Help".
I don't know to say about this movie . . . except that it was really, really, good, one of the best movies we've seen in a long time. It's set in early 1960's Jackson, MS at the beginning of the Civil Rights Movement, and tells the story of the black maids that raised the children and cleaned and cooked for the while population. In a way it's kind of an American version of 'Upstairs, Downstairs" of PBS/BBC fame.
Well worth a trip to the movie. I dare you to see it and not get teary-eyed. Well recommended.
After the movie we stopped off at the Honey Creek Mall next door to visit the Radio Shack for some new cables.
Then it was on to a nearby Buffalo Wild Wings, only to find that it had closed yesterday for remodeling, and would not reopen until this coming Saturday. Bummer!
So after looking around the parking lot, we ended up at Outback, one of our favorite steak places. And although I like their steaks, I was happy to see their wood-grilled pork chops back, so that was what I had. Good!
After dinner, and before heading home, we stopped off at Wal-Mart for a few things. Then it was home to start getting ready to travel tomorrow.
---
August 30, 2013
A Slow Day . . .
Today turned out to be a really slow one, but probably the calm before the storm. We only had 58 vehicles through the gate. But Monday is when all the fun is supposed to start. They will begin fracking on the two wells here, and we will get 100+ sand trucks coming through, in addition to the normal traffic.
First thing this morning I called Galveston Bay RV Resort to confirm our usual Sunday before Thanksgiving arrival. Lauralee already had us on the books, but it's always good to double-check.
My next call was to Coleman Outdoor Products, the maker of our 13 x 13 canopy. When we received it from Amazon last week and tried to set it up, it just would not work right.
And in continuing to fight with it, two of the cross struts snapped in half.
A little more investigation showed the problem. On all four sides, one set of the connectors where the struts crossed had not been tightened down. This allowed the struts to twist and bind as we tried to pull it open. And this torque caused the hollow struts to break at the weak point, which was where the hole was drilled through. I was able to repair the struts with Gorilla Tape and get it erected, but it's still a little wonky. So I called Coleman to get some replacement struts under warranty.
But they wouldn't give me any struts. In fact they wouldn't even sell me any. Apparently their lawyers have decided it would be too dangerous for a customer to unscrew two bolts, replace the damaged strut, and tighten the bolts down.
I'm beginning to agree with Shakespeare.
I was told I could send the canopy back under warranty and they would send me a new one free – with a two to three week turnaround. YEAH, RIGHT!
I'll check tomorrow, but I'm pretty sure Amazon will send me a new one and let me return the damaged one in the new box. Hope so.
I finally got tired fighting with the low voltage problem on my generator. Apparently the regulator is bad and it will not keep the voltage high enough. So when I went over to get a bag of ice I stopped off at the office and told Jamie my problem.
He said that as soon as the guys get back from another run, he'd have a brand new one out to us. And two hours later he did. Great support.
The new one is holding 120 volts with no problems, and the AC's are working better too. Nice.
This afternoon the water guys were running a new water line around behind our site and down to the fracking pond to help them keep it topped off.
Each reel holds 200 meters of 10" hose, and they just drive along and spool it off.
You see these hoses running along a lot of roadways in this part of the country.
We have a flare stack about 300 yards down the road and pretty much every night we get a fireworks show.
The flame is about 50 feet high and you can feel the heat even from 300 yards away.
---
August 30, 2014
The Future of Gate Guarding?
or Still No Gate.
But like I said yesterday, I'd be surprised if we get a gate before Monday or Tuesday because of the Labor Day Holiday. But who knows.
Early in the afternoon, we got a new neighbor in the spot left empty by the couple moving out to their gate yesterday morning. The new couple said that Austin had told them to head over this way, and that there were plenty of gates coming up.
Austin is a support tech for Gate Guard Services. In fact he was ours for a while last year, so I hope he knows what he's talking about.
Later in the afternoon, I went across the Interstate to the Exxon station for a few things, including an ice cream treat for dessert. Later for dinner I fixed us grilled cheese sandwiches with chips and jalapeno cheese dip. Simple, but good.
When I was going over to the Exxon station, I saw these parked over at the side of the lot. I've seen pictures of these being used by other gate guard companies, but I didn't know GGS was using them, or going to be.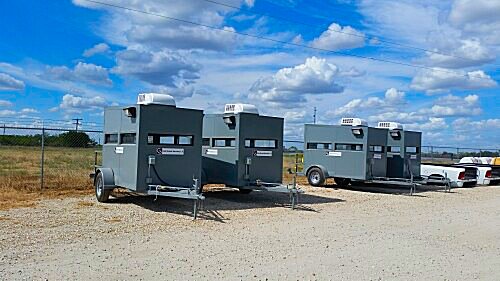 I really like the look of that AC on top. Would have been great with those 108° days we had last year. And the 30° and sleeting days too.
As far as how busy the Gate Guard business is now, this is the support trailer lot last year. Row after row of the generator trailers, water trailers, and sewer system trailers.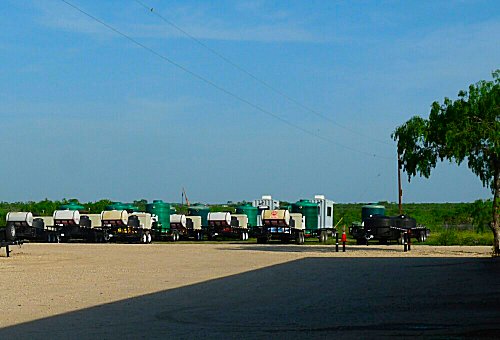 But now, not so much. The lot is almost empty.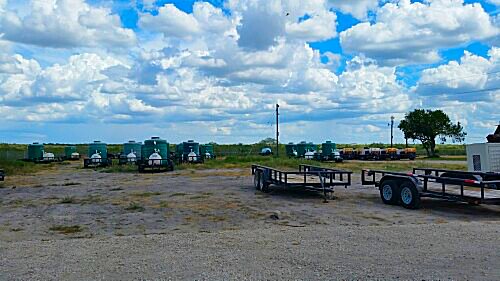 Hope it bodes well for us.
---
August 30, 2015
Nothing . . .
Pretty much nothing happened today,
Trucks came in, trucks went out. That was about it. And we only had 30 of them, anyway.
They did bring in another crane and they have them up together in kind of an 'A' configuration. Haven't seen that done before like that, but I assume it's because they're trying to lift something that's too heavy for just one.
Tomorrow I'm going to run into Carthage and pick up a couple of things I forgot on Friday, and I'll probably bring back lunch as well. Don't know if we'll do Whataburger again, or maybe try a Mexican place that our friends and fellow gate-guarder's Lynette and Gregg McHenry recommended. We'll see how our tastes run tomorrow.
It is nice to be this close to town so that making a spur of the moment trip is easy. At all of our other gates it was 45 minutes to an hour just to get into town. Here it's 10 minutes.
In fact we're so close that for only the second time in our gate guarding career, Wednesday Jan is going into town on her own to get her haircut. At previous gates, with distance and sometimes bad roads, she's been very leery of heading out on her own, in case she has car trouble or something.
In 2012 when we were on our second gate, she did go into town with the wife of another gate guarding couple who were right down the road from us, but that's been it. This should cut down on the gate fever problem.
For some reason my get-up-and-go didn't even show up this morning, so I didn't work on the water heater problem and I didn't dig out my pressure gauge to check the pressure on the well.
No problem. It'll all still be there tomorrow.
Or the next day.
---
August 30, 2016
We Have An Address!
I'd been trying to figure out how to have packages delivered to us here at the rig. First I checked to see if Amazon had a locker available in the Bryan/College Station area, but they didn't.
Amazon Lockers are facilities around the country, kind of like those private mailbox places, that Amazon has set up so you can have packages delivered there to pick up. But no luck with that.
So my next idea was to call the Hearne, TX Post Office to see if we have an actual address here. And it turns out we do, and I didn't need to call the PO after all.
Tony, our landowner, came by a few minutes ago and I flagged him down to ask if this road has an address. The road to his house goes straight, while our pad is a left turn about 75 feet off the highway, In fact you can easily see both our rig and the drill rig from the road.
He gave me the address, and said he gets UPS and FedEx packages all the time, and that there shouldn't be any problem with USPS stuff either,
Life is Good!
I don't know if I mentioned it earlier, but we've been having a lot of problems with our DirecTV satellite feed. We get regular messages on the screen saying that we have not received any guide information in 1, 5, or 10 hours.
And the guide information tells your receiver what channels you are supposed to be getting. So if you don't get any guide info for a long enough period, you suddenly have NO channels available.
We had seen this problem occasionally before, but now it's getting to be much more frequent, and much more annoying. I suspect it's my HD receiver, because twice in the last week, I've looked up to see it rebooting all on its own. I've sometimes seen this happen before, with they send down a software update for the receiver, but never this often.
But before I call DirecTV I want to eliminate everything else on my end. So tonight I'm swapping out my new Winegard Satellite Dome with my old one. Regular blog readers will remember that several months ago while we were staying at the Lake Conroe Thousand Trails, I found a Winegard Dome sitting on the ground by the dumpster as we were throwing away our trash. So I quickly scooped it up, thinking maybe I could possible use it for parts if I had a problem with mine.
As usual, Jan just rolled her eyes, thinking he's dumpster diving again. I told her it wasn't really 'diving' since I didn't have to crawl in the dumpster to get it.
Well, since it didn't have a power cord with it, I used mine to power it up and check it out. And, amazingly it worked fine. So rather than swap it back, I just left it working and stowed away my old one. So I'll change out the domes and see if it makes any difference.
If I then still have the problem, next I'll swap out the cables from the dome to the receiver. At that point, if I still have the problem, I'll know it's the receiver, and then I'll call DirecTV.
I find it best to not give them too many choices of things that can be wrong.
There's also a possibility that this is a problem on their end, not sending me the correct data, so I'll ask about that too. I'll let you know how it goes.
Friend and blog reader Carol Burt had a couple of questions about yesterday's gate guarding blog that I'll answer here for everyone.
Can that rolling septic tank back flow like normal sewers can without backflow protection? I see a hose going in at the top, which kinda' makes sense….but still, I wonder could it back flow through your black tank and up into your house?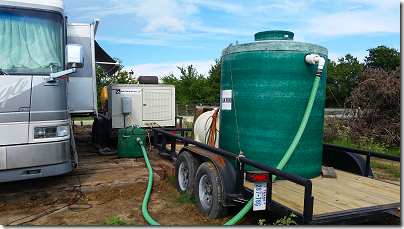 Carol, if you follow that green hose from the top of the big tank, it leads to a smaller green tank. That tank is what we connect to with a standard RV sewer hose connection.
Inside that small tank is a FloJet Macerator, operated by a float valve, that pumps the sewage up into the big tank, and then turns off. So the macerator itself acts as a backflow preventer, with the sewage not able to flow back through the pump.
Is the Ginny (generator) loud? Seems awfully close to y'all?
It is a little closer than usual, due to the confines of our wooden pad, but with the TV on, you can't hear it. And back in the bedroom, you can just barely hear it, but since we use a White Noise Generator when we're sleeping, we can't hear it at all.
We've pretty much settled down into the routine now. In fact both today and yesterday we had the same number of vehicles, 78. So not bad at all.
Tomorrow it's Blue Moon BBQ for lunch. YUMM!
---
August 30, 2017
Orange Beef and Little Debbie . . .
Well, the rains have moved on from the Houston area, but the flooding continues in many places due to overflowing dikes and levees.
And in some places, the flooding is unfortunately deliberate. The Corp of Engineers has had to release water from the Barker and Addicks reservoirs which caused flooding in areas that hadn't flooded from the storm. But the reservoir release was necessary to prevent the levees from failing and causing even more catastrophic flooding.
Again, damned if you do, damned if you don't.
And here, according to the official Lake Conroe Kitty Litter Rain Gauge, we had at least 28" of rain here at the park.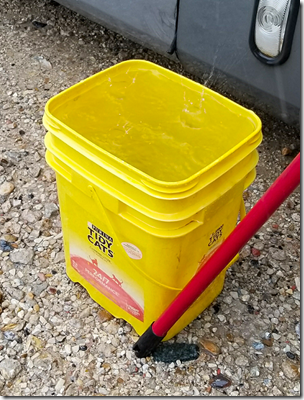 Accuracy not guaranteed.
in case you didn't bookmark it before, here's the link again that shows road closures and flooding in real-time. Just refresh the page as necessary to see the changes.
I had a couple of comments and emails with questions about my use of the Wireless 4 Channel Remote Control Unit, wanting more info about how to wire it up for their use.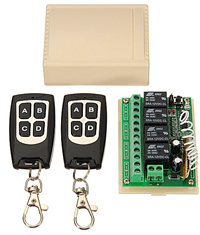 So if you have any questions about these modules, just let me know.
A little after 4pm Jan and I headed into Conroe to meet up with Debi and Ed Hurlburt at China Delight, our favorite local Chinese place.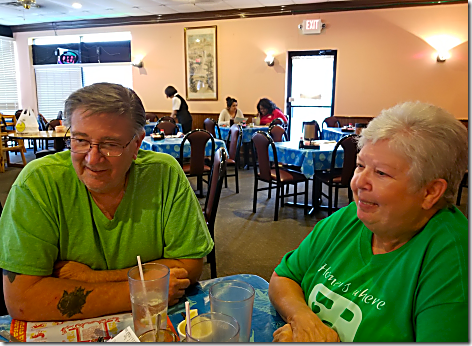 Jan and I again both had the Spicy Orange Beef.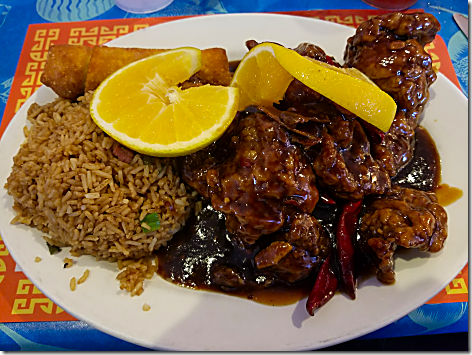 Delicious and big enough servings that we had more to bring home than we ate there.
As seems to be normal with our Hurlburt get-togethers we once again spent over 3 hours for dinner. It's amazing how much we can find to talk about each time.
Coming back to the park, we again saw these Code 3 Animal Rescue trucks that are staging here at the park.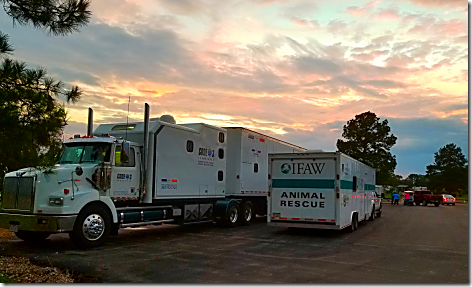 But rather than rescuing dogs and cats, they're handling horses and cows. Don't know where they're putting them though.
Wrapping up, regular readers know that Jan has a thing for pumpkin . . . anything pumpkin. So when we were at Kroger's yesterday she grabbed up these Little Debbie's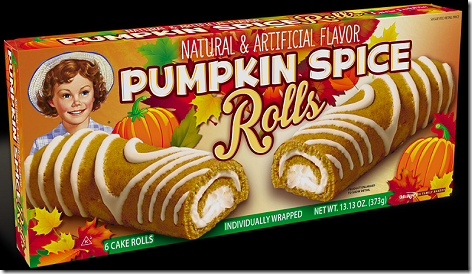 Later, as I was waiting to check out, I read though the ingredient list on the back of the package.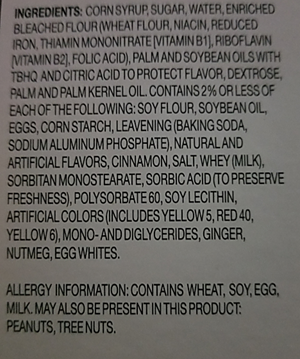 Note that the word 'Pumpkin' does not appear anywhere on the list.
I guess it you parse it correctly, the box says they're 'Pumpkin Spice Rolls, not Pumpkin Rolls. And it does have pumpkin spices in it – cinnamon, ginger, and nutmeg. But I think the reason they're pretty tasty is that the first two ingredients are Corn Syrup and Sugar.
But I still think Little Debbie is a liar.
---
August 30, 2018
PaCons or Pee Cans?
Once I had some coffee in me I raised the bed and then the engine cover so I could clean the area around the rig's engine oil filter.
A couple of weeks ago I bought a small 1 gallon sprayer from WalMart, a great deal at only $5.00.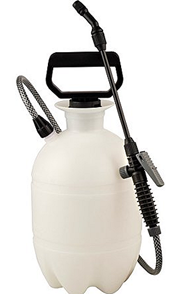 So today I filled it with water and added a double squirt of Dawn and a couple of scoops of Awesome Orange and shook it up.
Then I sprayed down the oil filter area and let it soak in for a while. In the meantime I called Cummins Tech Support to see what they had to say. What they told me reinforced what I already thought about the engine oil filter.
The Tech said one of three things probably happened. Either the filter was installed without the gasket, or the filter was installed with the new gasket without taking the old one off, or the filter was installed using the old gasket and not the new one.
Finishing up with Cummins, I used my mini-Fire hose nozzle to rinse off the area.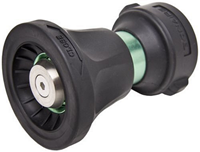 I've had this for several years and it is like have a small pressure washer on the hose end. I got it a while back at an RV rally, but it's cheaper on Amazon.
I went through about 4 iterations of spray/soak/rinse, going from this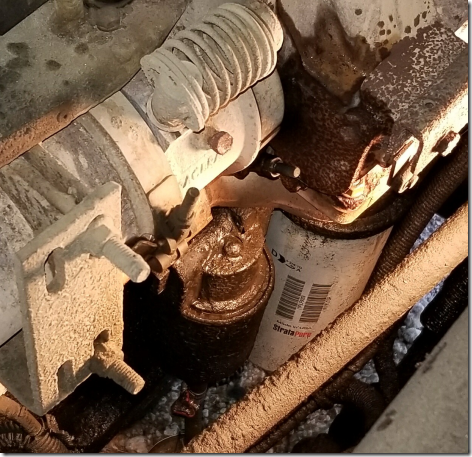 to this.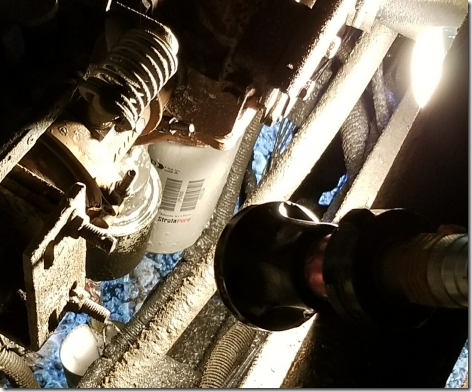 Much cleaner.
We're busy this weekend, but since I'm off on Monday, I'm going to top off the engine oil and run the diesel at high idle for a while, maybe an hour, and see if I get any leakage around the filter. Either way I'll call RV Mobile Lube to take a look at the problem, since they changed the oil and filter back in May, and we never had a leak before that.
Later, about 12:30, Jan and I headed up to Clear Lake for an afternoon of errands, with lunch thrown in. Our first stop was my client's to drop off the adapter I built up for the AC install.
Then it was down El Camino to have lunch at our favorite East Star Chinese Buffet. Always great! Then it was on over to Sam's Club for some things, but mainly for a visit to the optometrist there.
It's about time for new glasses for both of us, plus it's coming up on time to renew our South Dakota driver's licenses. We can do it by mail, but since we're not there to look into the DMV's little vision thing for the eye test, we have to have an optometrist/ophthalmologist fill out a form certifying that we can see to drive.
We already knew Jan had cataracts, but it turns out that I now have them too. Or maybe not 'them', but 'it'. I now have a noticeable one in my left eye, and an almost unnoticeable one in my right eye.
Jan has had hers for several years, but they were waiting for hers to get big enough for them to want to take them out. And it looks like this year may be the time.
So now we're both seeing the ophthalmologist in November.
Coming home, we detoured over to Kemah so Jan could pick a couple of essential oil vials that Bodhi Oils made up for her as a migraine remedy. Next it was a quick Lowe's stop and then on to the nearby HEB.
Jan had some things on her list she was looking for, but I found something for me too. I wander through the coffee area and found this.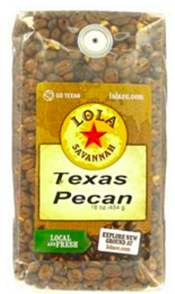 What caught my eye was the actual chunks of pecan in the clear bag.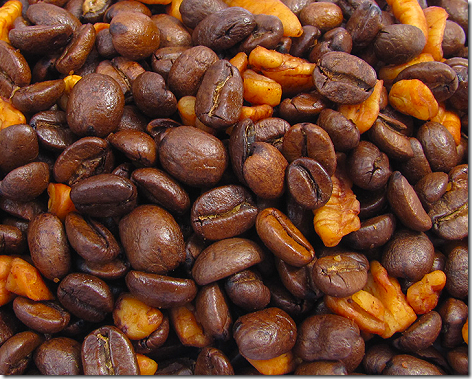 Something else that caught my eye was, though it was $9.99 for the bag, it was a full 16 oz. bag, and you don't see that very often now days.
Turns out that Lola Savannah is a local Houston company who specializes in custom blends using mostly natural ingredients. Like the Texas pecans in this coffee.
I'll let you know about it.
---
August 30, 2021
Well, That Was Close . . .
I've gotten a couple of interesting emails the last few days.
The first one purports to be from Godaddy saying I need to click the blue link to confirm my Godaddy login credentials.

To help confuse malware scanners the message is actually a jpg picture. And if you look at the metadata of the email message, it actually from yikes_it_sykes@optus***.com.au, which is probably a spoofed address anyway, and certainly not Godaddy. And the Follow Here To Confirm Now link goes to https://buymeds247online.***/kindex.***
Also not Godaddy.
And the second one is a little more fun. And all the grammar/spelling errors are original.
Hi)))
I have unlock one of the porn sites which you are using. I have videos when you watching extra content. I have records on which you are satisfying yourself. Your lovely moments on the screen and self-satisfying. It is clear that your family find this videos ugly.
If you need prooves, send any message to me and I will send your videos to someone from your address book. Im not kidding.
Only one time Im offer you within 48 hours , Send 0,020 BTC to my wallet: 18nSMqzjeX6nXCTEBUxyCzseeaTA6zDaqJ
If you will not make what I have ask, Your lovely people will get this records. All about you is not secret for me.
I was updated by notification about mail opening.
Keep your mouth, Im looking for you. I will not stop, it is should be clear for you.
Videos will be deleted as soon as I will receive payment.
Beware.

---
BTW in case you're interested, 0.02 Bitcoins is $959.98.
Jan asked if people really fall for things like this, and I said just people with a guilty conscience. So if you send out 10,000 emails like this a day, and only one falls for it, that's a pretty good take.
While I was at work this morning I thought I'd check out the Amazon ad for the Atwood GC10A-4E water heater I was looking at ordering, I remember yesterday when I looked at it, the listing said there were only 3 left in stock.
And then this morning when I checked there was only 1 left. So I decided not to procrastinate anymore, so I put my order in. $642 + $53 tax, with free shipping.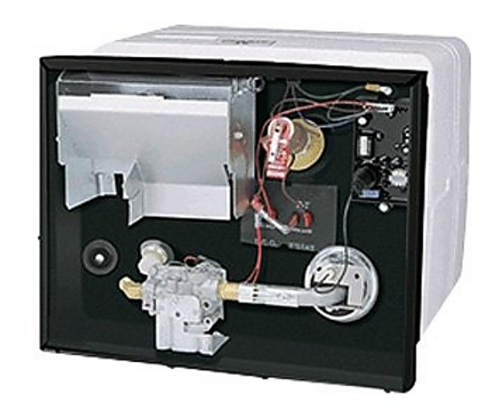 Then a little later in the afternoon, I checked again on the listing, curious to see if I really had bought the last one. And I had. At least the last one for $641.
The new listing for the same item said there were 13 available, but at the new price of $818 + $6 shipping.
Really glad I didn't put off ordering it any longer. Looks like it should be here in the next 5 days or so.
I spent most of the day at the office working on repairing a machine, or at least finding that the problem was a bad power switch, and replacing it. But as usual with these machines, the problem is actually getting to the switch since they tend to cram things into these machines as tightly as possible. But I did get it done by the time I left at 3:30.
Tomorrow I' having a rematch. We're going to have lunch at The Cookshack once again, and this time I'm going for the full blown AMF, two levels hotter than I had last time. So we'll see how it goes.
---
Thought for the Day:
I didn't say it was your fault, I just said I was blaming you.