Daily Archives:
August 15, 2022
I'm looking into purchasing a Cricut machine for use at my client's office. I want to use it to make new front panels for some of the used epilators we purchase for resale.
Panels like this.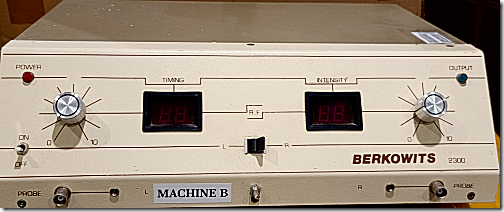 Now this one is in good shape. But we have others, of many different brands, with smeared or scratched details.
It would be easy to repaint the panels, but what to do about the lettering/stripping?
Then I stumbled across a YouTube video on how to make permanent vinyl decals for cars. And it looks like it would be perfect to make new panel decals for the machines.
I downloaded the Cricut Design Software to get some idea about working with it, so I've got some more research to do.
When I left this morning, there was a bare concrete pad down at the other end of the park. But when I came home 6 hours later, I found this.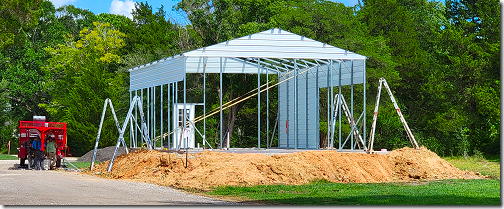 Like a giant Erector Set. (probably dating myself here.)
---
Thought For The Day:
I admit that my level of weirdness is above the national average, but I'm OK with that.
---
August 15, 2009
Hawaiian Shirts and a Roast Pig…
After doing some research on the Internet, I decided to try and track down a fuel filter for our rig.
St. Johnsburg, VT is a small town, but I was surprised to find that the local NAPA auto parts store had one in stock. So I got the filter, and a strap wrench and drain pan to help change the filter.
Tomorrow I will get under the coach and see what it's going to take to get the filter changed. After that I will take the coach on a test trip down the road, and fill up with diesel while I'm out.
I have to do a test drive because the problem only shows up under heavy load, like hill climbing.
I didn't try to change it today because it's Hawaiian Day here at the park and they had a pig roast and potluck this afternoon.
And the pig and potluck were delicious.
So tomorrow, we'll see how it goes.
Just a note, we don't have cell service here at this park. We have it at the top of the hill and down the road in town, but not here down at the bottom of the hill.
With Family In Vandalia, IL
---
August 15, 2011
Quilts and OraJel . . .
Once again we gathered at Robbi's, for breakfast, and unfortunately, to say a temporary goodbye to Brandi, Lowell, and sweet little Landon. We met at 8 am instead of our usual 9 so they could get an early start back to St. Louis to catch their flight to Houston.
Brandi was worried because Landon was teething and really fussy this morning, very unusual for him. The last thing she wanted was to be the mother with the screaming baby on the airplane, but after some OraJel, and a little Benadryl, he was his usual cheerful self and slept the whole flight.
We won't see them again until we're back in Houston right before Thanksgiving, so we'll have to make do with regular Skype sessions between now and then.
After breakfast and goodbyes, Jan headed back to Debbie's so they could do some quilt-making, and I drove back to the rig to work on some projects.
A little after 3 pm I drove back over to Debbie's to meet up with them for supper. As it turned out, the restaurant where we ended up was in Greenville, not too far from our RV park, so after dinner we just came home.
We'll do our usual breakfast tomorrow morning, but with a smaller crowd.
Leaving Gulf Shores, AL
---
August 15, 2014
The End of an Era?
We pulled out of the Gulf State Park a little before 9 heading for Broussard, LA about 310 miles away. But our first stop was the Wal-Mart about 4 miles later to diesel up before we hit the road.
I had it all planned. I would pull up to the outside left diesel pumps, fuel up, and then loop around the back of the station and out into the parking lot where Jan was waiting in the truck. But the unplanned part was the big Coke delivery truck parked along the back of the station. So when I was finished, I had to back out into the street, but luckily it went pretty smoothly, and we were hitched up and back on the road pretty quickly.
Thirty miles later, we got on I-10 and headed west. After crossing the Mobile Bay Causeway, we dipped down through the tunnel under the Mobile River and up on the other side.
Going though this new tunnel always makes me think of the old Bankhead tunnel. Before this Interstate 4-lane tunnel was built in the mid-70's, the 2-lane Bankhead tunnel, built in the early 40's was the way under the Mobile river.
When it was built, it opened as a toll tunnel, costing 25 cents in the 1960's. The toll was supposed to pay off the $4 million tunnel construction costs and then be discontinued.
But in the early 70's a curious reporter wondered why it was taking so long to pay off that $4 million. A little investigating turned up the fact that the tunnel had actually been paid off around 1955. Since then the toll money just went to pay the salaries of the toll takers and all the administrators. But by the time this was discovered, the new Wallace tunnel was ready to open,
I was surprised to find out that the old tunnel is still there and in daily use. But no tolls now.
When we stopped at the Louisiana Welcome Center for a rest stop, Jan took over driving for a while, planning to take us almost to Baton Rouge, 90 miles away before we swapped back. But that didn't quite work out.
About 20 miles out of Baton Rouge, the traffic ground to a stop. After creeping along at idle speed for about 10 minutes, I checked the Sigalert app on my phone and found there was a car on fire about 5 miles ahead, blocking the right lane. I went ahead and had Jan get in the left lane, hoping to speed things up.
Finally, while we were sitting still for a few moments, Jan and I swapped back, and I took the wheel again. Then about 10 minutes later, all of a sudden, the traffic starting moving, and was soon back up to full speed. And we never saw any wreck, or any sign of a car fire, no fire engines, no ambulances, just one lone police car sitting in the median without any lights on. Huh!
About 4:30 we pulled into Maxie's Campground, about 10 miles south of Lafayette. The owner told us to pick any open site and let him know where we parked.
All the sites are back-ins, so we unhitched first, and then found a site where we could back in away from the highway. So we probably won't hear any road noise.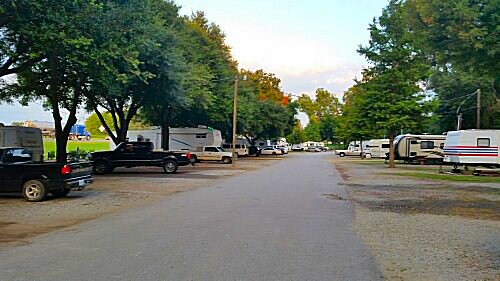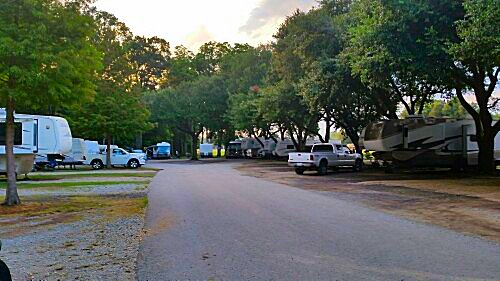 A very nice park for $15 a night, 50 amp full hookups, under Passport America. The only downside here is no satellite reception. See all those beautiful oak trees? There's a whole forest between us and the satellite. But no problem for one night.
Passport America is something I recommend for all RV'ers. It costs about $45 a year and will pay for itself very quickly. In fact, since we left Houston the middle of May, we've already paid for a subscription, twice.
We had originally planned to eat at our usual place for dinner, Pont Breaux, nee Mulate's, over in Breaux Bridge. In fact in 20 something years, we've never passed through here and not eaten there.
From 1994 to 2005, every month I drove up to Birmingham from Houston to check in on my mother. And I always stopped at Mulate's for lunch, going and coming. And since I always ordered the same thing, I.e. large seafood gumbo, iced tea, and then bread pudding with whiskey sauce for dessert, all I had to do was walk in and sit down, and they would bring me my food, no ordering or anything.
But with Pont Breaux 13 miles away, and it's hot and no AC in the truck, I asked the park owner about someplace closer, and he recommended Poor Boy's Riverside Inn, a couple of miles up the road. This may be the end of an era.
Opened in 1932, it was originally out in the country, but as the years passed, an industrial area built up around it, with a lot of oilfield service companies, pipe companies, etc. Not really a bad area, but not where you'd expect to find a nice restaurant. As Jan said, you'd have to know this place is here, to find it. You're not going to stumble across it by accident.
But we knew we'd picked the right place when we arrived and found the large parking lot almost completely full.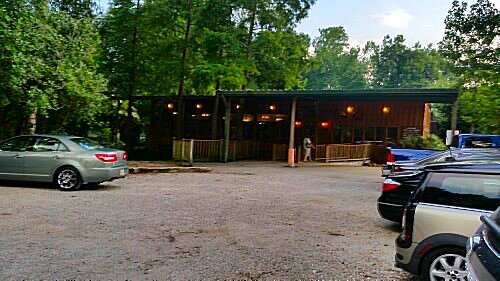 And it's very nice inside, white tablecloths and everything.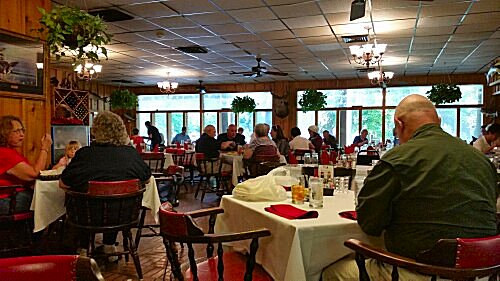 I started out with a cup of their seafood gumbo, and then Jan and I both had the same thing. Well, almost.
We both had the Stuffed Pepper Jack, Bacon-Wrapped Chicken Breast. Mine was with Alligator stuffing, but Jan wimped out and had the Shrimp stuffing. On top is melted Pepper Jack cheese, and fresh sautéed mushrooms.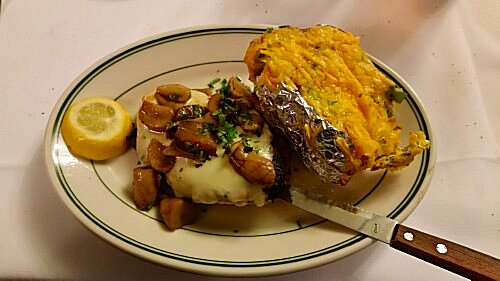 Everything was just delicious, and seasoned perfectly. Even the Stuffed Baked Potato was great. And it all came with a salad with their homemade dressings, and a big basket of hot, fresh yeast rolls.
And if we weren't stuffed enough ourselves, we had to finished it off with an order of their homemade Sweet Potato Beignets with Vanilla Sauce.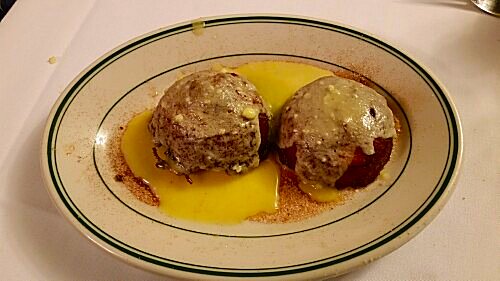 Overall, this was one of the best meals we've had in a long time.
---
Tomorrow we've got a 300 mile run to the Colorado River Thousand Trails where we'll be for a week or so before our next Gate Guarding adventure.
Colorado River Thousand Trails, Columbus, TX
---
August 15, 2015
Ouch!
As much as we love this park, it does have a downside: stickers, sandspurs, sandburs, or whatever you call 'em. They come in on your shoes or pants cuffs, and then drop off to lurk in the rugs or carpet, waiting for a bare foot to wander near.
Mister's bad about bringing them in as well, so we have to comb him out when he comes inside. But he always seems to smuggle in a few that we miss.
Ouch.
We didn't do much today, never even left the coach. After being on the go for a while, it's nice to just be able to read, watch TV, and play on the computer. Well I take that back. I did go outside to hook up water and sewer, since when we got here yesterday it was so hot I just hooked up shore power.
For dinner tonight Jan fixed up our leftovers from last week's visit to Lambert's Throwed Rolls in Foley, AL. With her Fried Chicken and my BBQ Pork Steak, it was a really good meal. And I guess we should consider ourselves lucky that we didn't have to file a lawsuit due to "throwed roll injuries". I guess maybe I'm a better roll catcher than she was.
Tomorrow morning we'll head out about 8am for the 100 mile trip down to our son Chris' house in Friendswood so he and I can replace the leaking radiator in our Dodge Dakota.
If we have time, we also may take a shot at replacing the blower fan resistor pack. The AC fan motor is running slow and this usually is caused by the resistors changing value
But we'll have to see what we have time for. The radiator is the important thing.
---
August 15, 2016
Benchmark and BBQ . . .
With a 337 mile trip to Waskom, TX this morning, we were pulling out of the Benchmark RV Park in Meridian, MS a little before 10am. I was happy to hear no more groaning from my power steering, so I guess the added AW32 hydraulic fluid took care of that problem.
We've stayed at Benchmark once before, and it's a really nice park. All 27 sites are long pull-thru's, and at $17 Passport America, it's a great deal.
A few minutes later we were back on I-20/I-59 heading for Miss Ellie's RV Park in Waskom, about 3 miles into Texas from Louisiana, and about 20 miles west of Shreveport. The last time we were in Shreveport was last year when we had some time off from our gate guarding gate near Carthage, TX about 50 miles away.
The first leg of our trip today was only for about 90 mile to the outskirts of Jackson, MS, Brandon, MS to be exact. And Sonny's BBQ specifically.
When we were eating at the Sonny's BBQ in Pensacola a week or so ago, I noticed they had a location in Brandon, MS. I was checking to see if their Jackson, MS restaurant was still open, and found it wasn't.
But checking where Brandon was, I saw it was right off I-20 about 15 miles east of Jackson. And checking Google Maps I found they had a really big parking lot in back. Big enough for an RV + Toad. So 90 minutes after we left Benchmark, we were pulling in the Sonny's BBQ parking lot.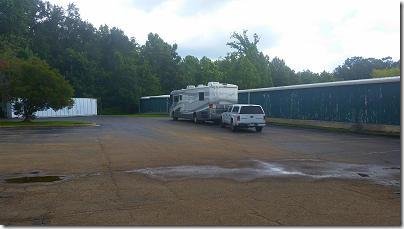 This time Jan and I both started out with the Salad Bar, and Sonny's BBQ does have a good one, with a lot of delicious options.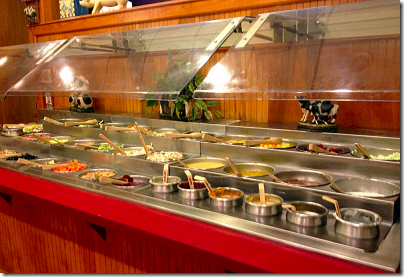 And besides being really tasty, it helped fill us up, so we had more leftover BBQ to take home.
Jan got her standard Pulled Pork Sandwich with Fries.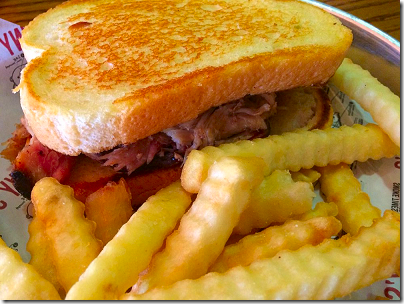 While I went with my go-to meal, Sonny's Pork 3 Ways.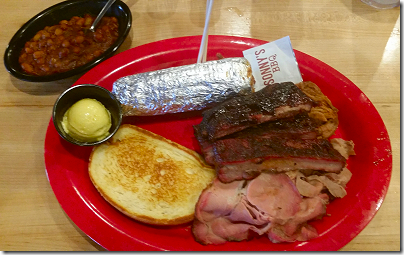 You just can't go wrong with anything Sonny's.
The trip was going really smooth until we started hitting rain west of Vicksburg, and it kept with us all the way through Shreveport and on to Miss Ellie's RV Park about 3 miles into Texas.
We stayed here at Miss Ellie's back in 2014 on our way north to Elkhart, IN. Even though it's not a Passport America park, it's right off the Interstate, and at $22 it's still a good deal.
We got in about 4:30, got parked, and set up. We got a nice long site, so we didn't have to unhitch since we planned to stay in tonight.
Tomorrow we've got a 300 mile trip back to the Colorado Lake Thousand Trails, which has kind of become our home park. Saturday is Landon's 6th birthday, and then we'll start looking for our gate for this year.
Hopefully.
---
August 15, 2018
Landon's A 3rd Grader!
We still don't know if we're closing tomorrow or not. They're waiting on a release from the HOA (Home Owner's Association), who apparently work at their own speed. Or lack thereof.
The buyer already has something else scheduled for Friday, so if we don't close tomorrow, it will be on Monday. Assuming the HOA finally comes through, I guess.
After I left my client's this afternoon, I went by the house to load our normal cargo back into the truck. So I guess if we do close tomorrow this was my last visit to the home we've owned for almost 40 years.
Jan and I really appreciate all the suggestions, hints, tips, and warnings we've gotten from our readers about our European cruise/trip. Every little bit helps, and it gives Jan more list-fodder, so she's happy.
One reader mentioned the 30+ mile Chunnel trip between Paris and London 150 feet under the English Channel. I'm looking forward to it. Jan not so much. And not a lot to see along the way, I imagine.
Now that the whole 'house' thing is winding down, I've got a whole list of projects to get back on. Rig-wise, I haven't looked at either my generator or my engine oil leak, so I've got that to look at.
And I've also got my smaller projects, like my remote dump valves, and the voltmeter/amp meter monitor using a couple of the modules, as well as several more things in the queue. Slowly, but surely.
Brandi sent over this photo of Landon off to school for his first day in the 3rd Grade. Hard to believe that he'll be 8 this coming Monday, and he's growing up so fast.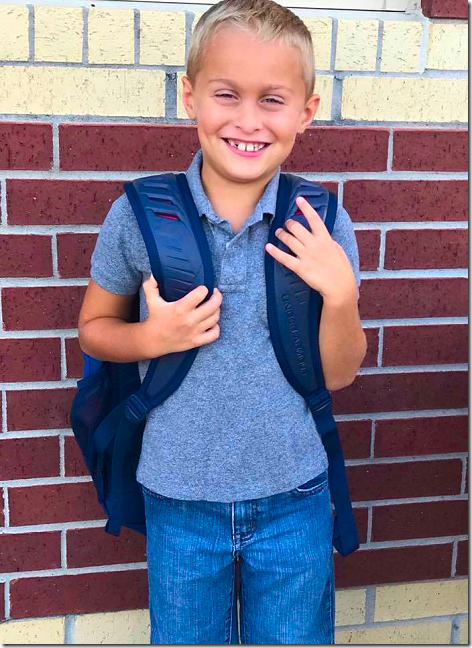 Brandi said he had a great first day and was super excited when he got home. But she said she didn't get a lot of details. She was on maybe her 4th question, when Landon said, "You have reached your max question limit for the day."
She said she has no idea where he gets this sarcasm from. Jan and I told her we know EXACTLY where he gets it from.
Or as Jan says, "Revenge Is Sweet!"
---
August 15, 2020
Streaming Along . . .
Our changeover from DirecTV satellite to streaming YouTubeTV through our Amazon Firestick has gone pretty seamlessly. Of course, besides YouTubeTV, we also pay for CBSAll Access, Acorn, CuriosityStream, NetFlix, and Amazon Prime Video. And even with all these we're paying just over a third of what we were paying for DirecTV. Plus we also have some freebies like CWSeed, Pluto, Plex, and Peacock.
So we get more channels, unlimited DVR recordings, and full HD quality video.
Recently we've been streaming episodes of Grimm, Murdoch Mysteries, The Marvelous Mrs. Maisel, and Primeval. So this evening since we were down to the last 3 episodes of the last season, we binge-watch those to finish it up. One of our favorite shows.
Next up for our Science-Fiction selection we'll replace Primeval with Warehouse 13, another 5 season TV show favorite of ours.
Several of our readers have inquired recently if we've given up traveling in our RV since we don't seem to be doing much of it lately. No we haven't.
2017 was our last year of full-time traveling, where we'd leave Houston sometime in late February-early March and not come back until around Thanksgiving. But since then we've made several destination trips to Florida, Illinois, Alabama, and the Texas Hill Country.
In fact we did an RV trip this past January, but haven't done anything since then while I'm working on my oil leak and lighting problems, but we're not off the road yet.
---
August 15, 2021
My Baby's Back Home . . .
When I got home from dropping off Jan up at Brandi's Thursday afternoon the park WiFi was down, so I switched over to our Verizon MiFi in the interim. And when it didn't come back up in a couple of hours, I texted Rob the park owner.
He told me that they were doing some upgrades to the WiFi and it would be back up soon. And when it did, WOW!
Physically it went from this,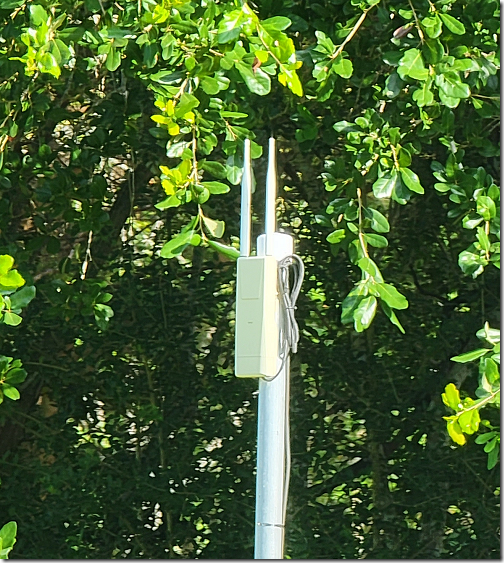 to this.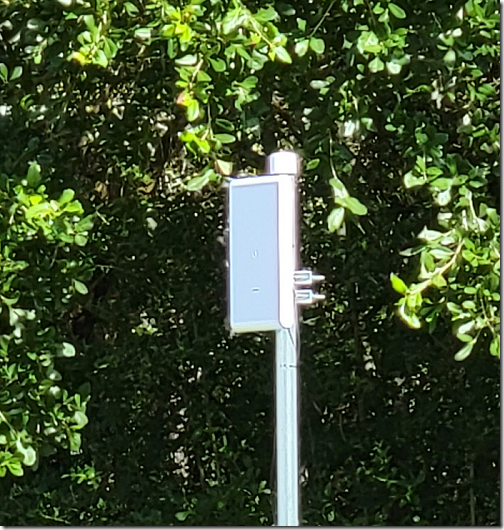 Plus the signal strength here in the coach jumped about 30%, and according to Speedtest.net the bandwidth went from about 10 Mbps to a little over 30. And a quick test showed me that unlike a couple of weeks ago, I can now stream 4K video with no buffering, jumping, or stuttering.
So, goodbye Starlink. For now, at least.
We were only looking at Starlink for more speed, but now we've got it . . .for free! So that will save us the $499 equipment cost, and the $99 per month once we get started.
So last night I put in for a refund on the $99 signup fee that I paid back in May, and they gave me no problem, and said my refund is on the way.
I was on the way up to Brandi's in Katy a little after noon to pick up my lovely spouse. We had planned to eat lunch at Astor Farm to Table, but since we also planned on making our way over to Trader Joe's at La Centerra afterwards. I decided that we should just eliminate a stop and have lunch first at the Grimaldi's Pizzeria right across the street.
But it seems like everyone else had the same idea because we found a 30 to 45 minute wait. So we went back across the street and did our Trader Joe's shopping while we waited. And as it turned out, we finished our shopping and still had about 15 minutes to wait for our table.
But luckily we already knew what we wanted so we were able to order immediately, starting with the Small House Salad. And the 'Small' part is an understatement. The Small Salad will easily feed 4 people. And we both had large servings and still had more than half to bring home for tomorrow.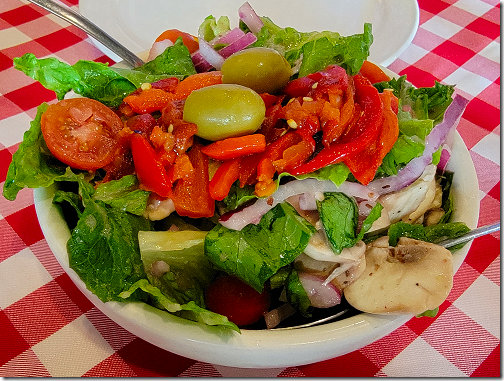 Pizzawise, we started with a Medium (16") The Don, which comes with Italian Sausage, Pepperoni, and Meatballs. To which we add Bacon, Ham, and Mushrooms, our favorite ingredients.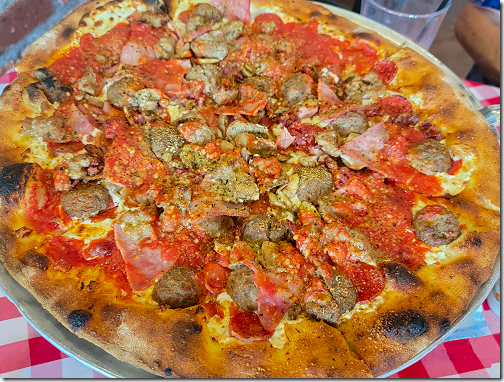 And like the salad, we had plenty to bring home afterwards.
Coming home we ran in and out some really heavy downpours before getting home a little before 5pm.
Glad to have my Baby Back Home.
---