Monthly Archives:
August 2022
Tomorrow we're having lunch at a long-time favorite, Torchy's Tacos, though it's been a while since we've been to one. And we've never been to the fairly new one down here in Webster that opened a while back.
Then while Jan gets her toesies done, I'm going to make a Costco run for a couple of things, along with a office stop. After that it's on to our weekly WalMart run, then the Post Office and home.
---
Thought For The Day:
From Our Gate Guarding Days –
A funny thing about us logging vehicles in and out is that the logs are almost never used. By anybody for any reason. Our first year, following a Marathon drill rig, I had to turn in the logs every night at the office. But not since then.
We still have logs from 4 years ago. I think twice someone has wanted to look at the logs to see if something was really delivered. But that's it.
Early on, I ask a Company Man (the big boss) what the logs were really for, since nothing was ever done with them. He smiled and said, "It's so if something bad happens, we know how many bodies to look for."
When I noted that we were parked only about 200 feet from the drill rig, and that if the rig went up, we, and the logs, probably would too, he smiled again and said, "Well, it's not a perfect system."
New Brunswick, Canada
---
August 29, 2009
Cajun Country…
Today Jan and I took a drive along the Acadian Coastal Highway.
I had not realized that this is the area that the French were driven out of in the late 1700's after the British took over the area after the Treaty of Utrecht. This is where the Cajuns (Acadians) now in Louisiana came from.
It was really strange to see an auto repair shop called Thibodeaux's, and a restaurant called Boudreaux's.
Almost like home.
Anyway, the drive took us along the Atlantic Coast. For the last park of the drive we could see Prince Edward Island out to sea. We also saw a lot of quaint buildings and villages.
The weather was pretty overcast, and then later it started raining, so I didn't fool with getting any pictures.
As we were heading home, we stopped by a place we had been told about called Hudson Oddities. As a child, the owner, Audrey Hudson, was always bringing home stuff she had found on the beach.
So much so, that her mother once told her, "For the love of god, child, could you please stop bringing garbage home from the beach". Not really taking this to heart, she decide to make a business out of junk from the beach.
One of the beach things she collected was bits of broken glass, that over the years had been smoothed and polished by the wind, waves, and sand, rounding off the sharp edges until they looked like this.
and turns them into jewelry that looks like this.
Just beautiful.
After this stop, we headed home, arriving just as the rain started coming down harder.
Tomorrow we plan to make a 2 day trip over to Prince Edward Island, driving the truck over, and staying one night in a bed and breakfast.
Hopefully the rain will let up. We'll see.
---
August 29, 2010
Jan is home, YEAH !!!!!
I left Elkhart about 12:30 pm to pick Jan up at Chicago Midway from her 3 pm flight. By 3:30 we had her bag and were on our way home. A smooth trip both ways.
And it sure is great to have my sweetie back home.
Arriving at the RV park about 5:45 pm Jan showed a bunch of Landon photos so here goes.
Here's new mom Brandi about 30 minutes after Landon was born.
Here's Piper holding Landon with the proud parents looking on.
And here, too. I think this is another day.

And, of course, here's Grandmother Jan with Landon.
And here's Grandmother Sonja with her new grandson.
And another one of Miss Piper.

Jan took a lot of photos that I'm still going through, so more later.
---
August 29, 2011
Coffee and Chores . . .
This morning started with our coffee, bagels, and Jan pretty much back to normal.
After working on client Internet stuff during the morning, after lunch I got back on my chore list.
Many of today's things were rig-based, things I wanted to take care of before we travel on Wednesday.
First up was topping off oil and coolant levels, and then adding water to the coach batteries. (My engine batteries are sealed and maintenance free.) As I started to do this, I decided to call Interstate Batteries to find out exactly how high I was supposed to fill my four U2400 6 volt coach batteries.
My batteries have a flange extending about 1-1/2 inches down from the top, and I had been told to fill the battery up to the bottom of the flange, but I'd heard different from other places, so I decided to go straight to the source.
And I got some information I didn't expect. I was told by Interstate to fill the batteries to about 1/4" from the top of the fill opening. So I had to add a good bit of distilled water to each cell. In fact I didn't have enough water to fill all 12 cells, so I'll have to get some more tomorrow and finish up.
Next I got my socket set out and tightened up the passenger-side outside mirror. It had started to loosen up and was moving slightly from wind pressure as we drive.
About 4 pm our daughter Brandi called to check in and say hi. She said Landon's got more teeth coming in and walking everywhere. We can't wait to see him again in November.
Then I finished up re-caulking the shower base. I started cleaning out all the old caulk over the last few days, It looks like the previous owner had re-caulked it with one that was not mildew-resistant. So it was turning black underneath the clear caulking. So, after digging out all the old stuff, spraying it with bleach and letting it dry, I re-caulked it with a white, mildew-proof, silicone caulk. It turned out pretty good.
My last task for the day was to install a power line radio filter on my new radio to filter out any residual noise in the system.
Not sure what Mister was doing here. He knocked the trash can over and crawled into it, but It was completely empty so I don't know what he was looking for. After a few minutes he gave up and took a nap.
Tomorrow Jan and I are going into Terre Haute to pick up some groceries, see the new movie "The Help", and eat dinner, probably at Buffalo Wild Wings. We need a hot wing fix.
---
August 29, 2012
More of the Same . . .
Today was pretty much yesterday, redux, with a couple of extras.
First off, Jan and I headed out a little before noon to have lunch at La Carreta, our favorite local Mexican restaurant. They have a great Chicken Tortilla Soup that I always try to have a couple of times while we're in Celina.
Then after lunch I dropped Jan off to have her nails done. Then after getting the truck washed, I picked up Jan at the nail salon. There are only 3 places in Celina that does pedicures, and apparently, this drives the prices up. Jan said she was very surprised to find out that her pedicure was $40, twice what she's ever paid before.
Ouch.
Gate Waiting In Whitsett, TX
---
August 29, 2014
Now He Calls . . .
Our next door neighbor pulled out about 8am this morning, on his way to his new gate. So hopefully we'll be on our way soon. But it's possible the holiday weekend may delay things. But we're parked with full hookups, and it's free while we wait. So we're good.
After we got settled in yesterday, I went online to the Thousand Trails website to cancel our upcoming reservations. As a backup I had us booked into the Lake Conroe Thousand Trails park for two weeks starting tomorrow, the 30th, to be sure that we had somewhere to be over the Labor Day weekend. Always have a backup plan.
For dinner tonight, Jan heated up our leftover King Food from this past Wednesday. Chinese is one of those foods that just gets better when warmed up as leftovers.
About 6:30, while we were eating, Jamie of Gate Guard Services called with a gate for us . . . in Shreveport, LA, about 450 miles away.
Now he calls.
The gate starts Monday, so we could get there in time. But Jan and I figured that since we're here, we'll stay and see what we get. I was curious about our security guard licenses, since we're only licensed in Texas, but Jamie said we didn't need anything for Louisiana. If he'd only called yesterday morning, we be there now.
One thing new here at the Whitsett yard is the Verizon signal here now. When we were here last year, it was 3G. Now I've got 4 bars of 4G, and it looks like they've got the XLTE upgrade since Speedtest.net gives 35Mps down and 20 up. Nice.
Hope it holds up wherever we end up on a gate.
---
August 29, 2015
Settled In . . .
Well, we did a rousing 26 vehicles in the gate today, but 8 of them were part of the Coil Tubing crew. And now, based on all the noise coming from the pad, they're actually getting some work done.
When I got groceries on Friday I picked up another 35' of water hose so we could connect directly up to the well. But after hooking it all up this afternoon, when I went to take my shower this evening, (when I got off at 6pm) the water pressure was so low I had to turn the pump on. I'll check it out tomorrow and put my test gauge on it, but the pressure sure looked OK when I opened the faucet. Maybe the hose kinked or something.
Our tabletop AC is still working great. Even though our temps are staying in the low 90's, the cool air is certainly welcome. The only occasional problem is when a wind gust will turn the hot air coming out the back, around to the front for a few seconds. But all in all, it's great.
This past week the long-range weather forecast showed thunderstorms coming up this Wednesday and Thursday, but now they've gone away, and hopefully they'll stay away. With day's in the low 90's and nights in the 60's, you couldn't ask for much better weather for August in Texas. Just hope it holds.
Now that we've settled in here, I need to go back and take a look at my water heater problem. It stopped working on electric after we moved awhile back. American Coach says there's supposed to be a circuit breaker for it on the panel, but it's not there.
And the access panel to the rear of the unit that's underneath the dresser in the bathroom does not come off like it's supposed to. And until I get that off, I can't really troubleshoot the unit.
So that's where I'll start tomorrow.
---
August 29, 2016
The Life of a Gate Guard . . .
Our friend Barbara Spade, who's a Ranger at Colorado River Thousand Trails, sent me a list of questions about Gate Guarding.
And this made me realize that we've added a lot of new readers since I last talked about the job in any detail, so I thought I'd answer her questions here for everyone.
So first, some background.
Oil and drilling companies pay people to sit at the entrance (the gate) to their work areas. This can be a drilling site, like where we are now, or a frack job, a workover rig, a coil tubing job, or a completion. It might even be a production area with a lot of big storage tanks where tankers come to pick up the crude and take it to the refinery.
We don't work directly for the oil companies, but for a contractor who deals with them. There are 15-20 gate guard companies, including the one we work for, Gate Guard Services.
We've worked for them for 5 years, 3 or 4 months a year, and always for the same supervisor, Jamie Hime. The first two years we were in the Whitsett/Pleasanton area about 60 miles south of San Antonio, and the last three years we've been in the east Texas area, either near Bryan/College Station, or up near Carthage.
We like up here much better. There's real trees and grass.
The gate guard companies like and use RV'ers because we bring our own housing with us. They supply us with 'full hookups' so for us it's just like we're at an RV park.
As far as pay, this year we're making $125 a day, the same as we made our first year in 2012. The other 3 years we made $150 a day.
Now as far as Barbara's questions, which are in bold type.
What is the canopy for? Chairs?
One of us is always outside on this gate, 24/7 so the canopy gives us shade and keeps us dry in the rain. I just realized I haven't taken a photo of this gate, so here's one from our very first gate 5 years ago.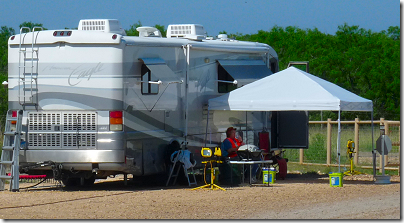 I assumed that there was like an office trailer where you work and it would be something like our gate shack here.
All of our gates have been like this one, with us sitting outside. We have alarms that tell us when a vehicle is entering or leaving, so on some not as busy gates the guards stay in their rigs and then come out when a vehicle approaches. We've never had one this slow.
There are some gates where you work out of a trailer or guard shack. Which means you have to park your RV at a regular RV park.
You check in delivery trucks?
We check in and out every vehicle. It could be a semi bringing in diesel for the rig's big generators, a flatbed bringing in equipment, a worker coming on shift, or a salesperson.
We get the person's name, company, tag number and the time they came in. When they leave we just note the time. We have been on gates where the person had to actually sign in and out. These are a pain.
Is there an actual gate like we are supposed to have here or do you just keep a log of who comes in and goes out?
Yes. Sometimes there is an actual gate, like there is here. But it always stays open. In some cases there's no actual gate, but just a cattle guard. We have both gates and cattle guards here.
I assume it is a 24 hr. per day job so one of you has to be working.
This is a 24 hour gate so one of us is always out here, although we have been on 16-18 hour gates. The pay is the same.
Jan is the AM person and you are the PM person?
Some couples do work 12 hr. shifts, but Jan and I split it up. She works from 7am to 1pm. Then I work from 1pm to 6pm. Jan then works from 6pm to 11pm, and then I work from 11pm to 7am. Strange, but it works for us.
There are no hookups so you have a generator running all the time? Water comes from a tank on wheels and there is a permanent honey wagon?
Gate Guard Services furnishes us two support trailers as shown here.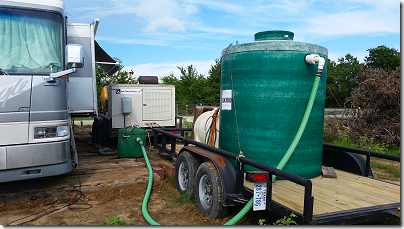 The closest one, the big green one, is a septic tank system on a trailer. It is pumped out as needed, which is not often. We've only had to have ours pumped out once in 5 years.
The second trailer holds a 11.5kw diesel generator, a 250 gallon diesel tank, and a 500 gallon water tank, The generator runs 24/7, only being shut down every two weeks for an oil and filter change. The diesel tank and the water tank are refilled at the same time.
What about cell and internet reception? TV?
This is the same as when we're at Colorado River. We have a Winegard Dome for DirecTV and a Verizon Aircard for Internet.
If you need groceries one works the gate while the other shops?
I usually do the shopping once a week. Right now it's a 30 minute drive into Bryan/College Station.
What if one of you fell and broke your leg?
Well, hopefully they wouldn't just shoot us. In a emergency, we would tell the Company Man what had happen and head to the hospital, or wait for the ambulance. I would also let Jamie know what had happened.
Could you both leave to go to the hospital?
Yes. Logging vehicles in and out is not a life and death situation. Even in normal operation we occasionally miss someone who comes through while we're taking a bathroom break. Some drivers will wait for you to reappear. Some won't.
A funny thing about logging vehicles is that the logs are almost never used. By any body for any reason. Our first year, following a Marathon drill rig, I had to turn in the logs every night at the office. But not since then.
We still have logs from 4 years ago. I think twice someone has wanted to look at the logs to see if something was really delivered. But that's it.
Early on, I ask a Company Man (the big boss) what the logs were really for, since nothing was ever done with them. He smiled and said it's so if something bad happens, we know how many bodies to look for.
When I noted that we were parked only about 200 feet from the drill rig, and that if the rig went up, we, and the logs, probably would too, he smiled again and said, "Well, it's not a perfect system."
Hurricane Harvey's Aftermath
---
August 29, 2017
Cabin Fever . . .
We haven't left the rig since last Friday so about 12:30 we drove over to Willis to first have lunch at Whataburger and then pick up a few things at the nearby Kroger's.
But Whataburger was not to be, as it was closed. Didn't see any reason for it, since the next-door Popeye's, Sonic, McDonald's, and Chick-fil-A. The only other place that was closed was the Burger King down the road.
So Chick-fil-A for lunch it was. And a very busy place it was. But not really busier than I've seen Chick-fil-A's at other times. And they brought our food to our table in about 5 minutes.
It's easy to see why Chick-fil-A has the highest grossing locations in the US. At around $4,4 million average per store, they rank over $1 million ahead of 2nd place McDonald's. And Chick-fil-A is only open 6 days a week.
Because of this, the last time Chick-fil-A released 100 new franchises, they had 24,000 applications. And if you lucky enough to be chosen for a franchise, the only cost is $1000.00, not the $1 million+ that a McDonald's would cost.
Coming back to the Kroger's we found it pretty much normal with only a few shortages. They had large stacks of bottled water everywhere, but the bread shelves were kind of bare, although they were restocking while we were there. The only other things in short supply were rotisserie chickens, and for some strange reason, cat food. Dog food was fine.
As we were heading home, we were passed by a long line of power company bucket trucks . . . from Kansas. Looks like a lot of much-needed help is coming in.
Later in the afternoon I started working on my slide remote control. For some reason American Coach put the rig control panel in the overhead directly over the dining room table, which makes it a long reach to run the slide in and out.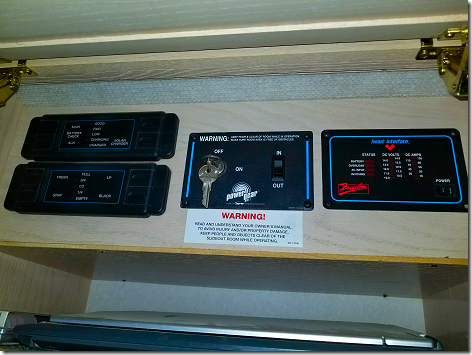 So I decided to use another of the Wireless 4 Channel Remote Control Unit from yesterday's AC remote control.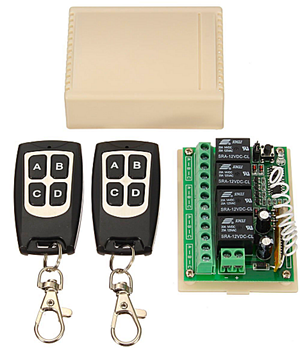 When I removed the slide control panel I was happy to see that it had a nice long wire harness to make it easy to connect up to.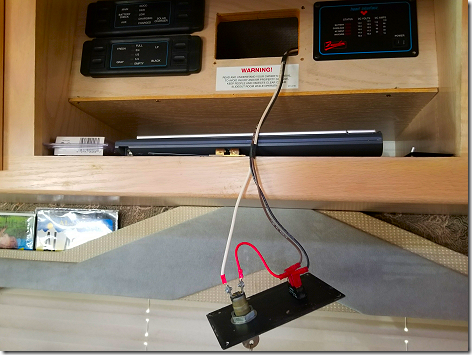 My next task was to find 12VDC to run the board so I first pulled out the Inverter control board thinking I'd find something there, but the only wiring was the connection to the inverter.
So I popped off the cover on the power panel and found what I needed.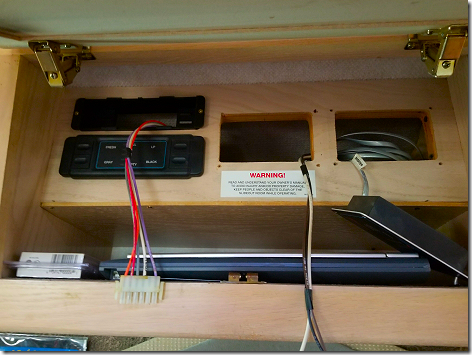 Now it was just a matter of wiring it all up using a couple of saddle taps and spade lugs.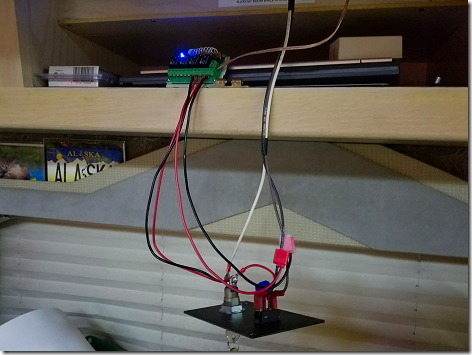 And here's the finished product.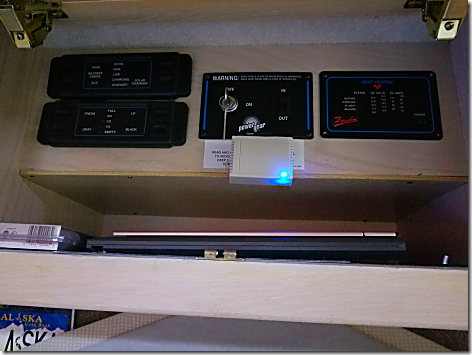 Not sure what's in store for tomorrow, but it looks like the rain has pretty much stopped in this area, and we actually saw a brief glance of the sun this afternoon.
---
August 29, 2018
No Heart Attacks . . .
Well, after hearing back from the Rainbow Plantation Escapees Park in Summerdale,AL we're all set for our October Florida trip.
Spent most of today at my client's getting a new AC installed in the Shipping Dept. The old unit was in a through-the-wall mount about 8 feet above the floor, and over a workbench that couldn't be moved.
But it was simple. We just removed the mounting screws and pushed it out and onto the ground, Easy Peezy!
But the new one was another story. At 12,000 Btu, it was bigger and at 88# it was heavier than the old one. So what you had was two old guys trying to get this unit up over our heads and into the wall opening. But we finally did it, and no heart attacks, either.
Then when we tried to plug it in, we discovered that the original unit was so old that it used the 6-15P 230VAC receptacle and plug.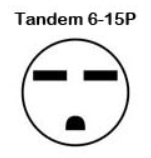 But the new unit had the newer plug, a 230VAC 5-20P one.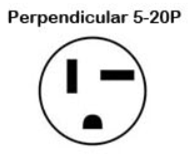 RUT ROH!
By now it was getting to be my time to head home so I stopped off at Home Depot to pick up the parts to build up an adapter since no one seemed to carry one locally. And this is what I came up with. Should work with no problems.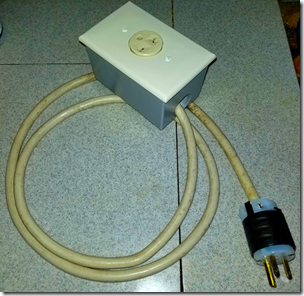 That was about it for today.
---
August 29, 2019
Switching Gears . . .
I spent a little time this morning correcting a dozen or so addresses that our mailing company said were not valid. Don't know why they had a problem since it was pretty easy to fix them. Things like 6O6 as an address, rather than 606, or W 7793 rather than W7793. But I got them corrected and sent them over to the company.
The Ad cards should be hitting the customer's offices the end of next week.
Later I dug out my SwitchBot Hub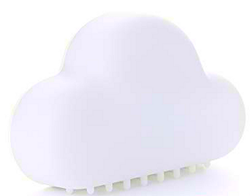 to get it set up for my Mr. Coffee remote switch. Right now I can only control the coffee pot switch locally, within Bluetooth range. That of course, takes care of my timer scheduling problem. But the Hub will let me control the switch from anywhere I have Internet service.
Jan and I have switched gears. Over the last 18 months we lost a total of about 120 pounds, pretty much just by watching our calories. But we'd both like to lose some more.
But it seems to have become much harder in the last few months. Like our bodies are desperately clinging to the last extra fat. And apparently this is not unknown. Your body seems to readjust to the 'new' normal and won't let go.
So we're both switched over the Keto plan, complete with Chaffles. Keto is basically a repackaging of the old original Atkins plan, with high protein, high fat, and no/low carbs. So pretty much no bread, tortilla chips, etc.
Following that, when we had dinner at Floyd's Cajun Seafood this afternoon, with Jan getting the Grilled Catfish with Grilled Veggies,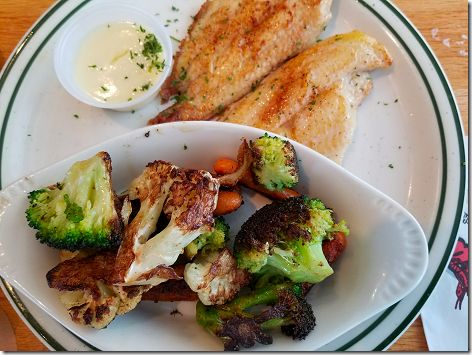 while I forgoed . . . ah, forwent(?) my usual gumbo and got the Steak and Grill Shrimp with Green Beans.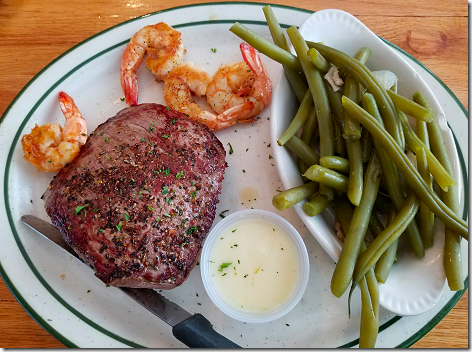 So we'll see how it goes.
For Your Consideration:
"In January 2005, National Oceanic and Atmospheric Administration (NOAA) began recording temperatures at its newly built U.S. Climate Reference Network (USCRN). USCRN includes 114 pristinely maintained temperature stations spaced relatively uniformly across the lower 48 states. NOAA selected locations that were far away from urban and land-development impacts that might artificially taint temperature readings."
These new sensing locations were necessary because most of the old ones, some dating from the 1930's and originally sited out in the open countryside, were now in built-up areas, next to office buildings, factories, and highways. All sources of localized heat. So NOAA decided to build a completely new system.
And that new system shows NO WARMING since 2005. So no warming in the last 14 years, and probably no real warming since the 1930's. And this lack of warming matches up pretty well with the global satellite readings.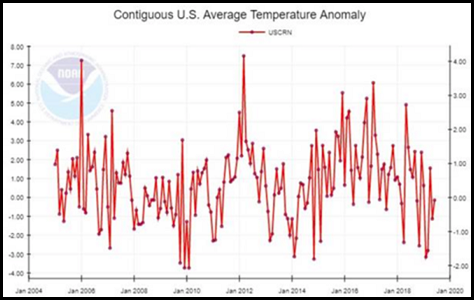 So what now?
---
August 29, 2020
A Change Of Plans . . .
And A Lost Weekend.
Up until about 10:12 this morning, I was supposed to take Jan up to Brandi's this coming Thursday so she could dog/cat sit while Brandi et. al. are out of town. But then this morning the plan changed and I'll be taking her up there tomorrow morning and then getting her back next Sunday.
I had hoped to get a chance to work on the rig light problem tomorrow, but it looks like that's put off until Tuesday.
Jan and I headed out about 1pm with our first stop at our local fav Los Ramirez Mexican Restaurant. And as with most of our places, we both have our favorites.
Jan's is the Pechuga Rellena,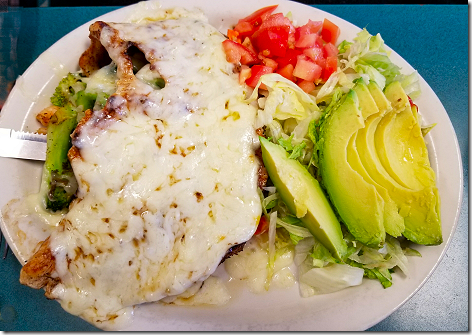 while I had the Beef Fajita Taco Salad.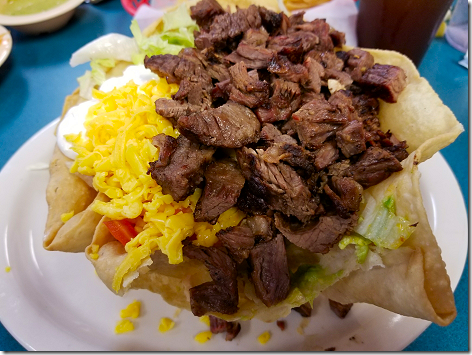 Delicious as always.
Then it was on up to the Sam's Club in Webster to pick up a prescription, and a stop at a new place for us, Five Bel°w. It turned out to be a higher price version of Dollar General, but with a lot less inventory. Apparently it's really oriented toward tweens and teens, but Jan wanted to check it out anyway. After all, she is young at heart.
And she did find some stuff she wanted.
Then it was on down to the HEB in our area before finally making our way home about 5pm.
---
August 29, 2021
I Flirted . . .
After coffee outside, and before I came back in, I turned the shore water back on for just long enough to top off the rig's 100 gallon water tank. That way we can just turn the pump on and off when we need it, which will limit the leakage from the water heater until I can get it replaced.
And actually, I don't think this little bit of water will really hurt anything, since it's just dripping down into the bay underneath. And that bay is just filled with sealed plastic bins. So it shouldn't be a problem.
Back inside, I spent the morning looking at YouTube videos on RV Water Heater changeouts. And as I thought there's nothing really difficult about it.
Just disconnect the power, water, and gas, remove the 16 screws on the door flange, and then start working it out. Then, reverse the process.
So next I started looking at the best place to buy the new unit. And I found a wide variation in pricing, from $980 from Camping World, $780 from WalMart Online, down to $700 on eBay for a new one, or $590 for a new, slightly bent one on eBay too, but that's non-returnable.
So the best option, once again, is Amazon, at $641 with free shipping, but not Prime however. But it would be here in about a week.
But while I was looking for new water heaters, I flirted with a couple of other ideas. One, was to just replace the leaky tank with a new tank. Which would only cost about $200. But there's the time needed to pull out the water heater, disassemble it, install the new tank, put it all back together, and then reinstall the unit in the RV. A lot of extra time. And I'd still essentially have a 21 year old unit, just with a new tank.
So, never mind.
I also flirted with the idea of a tankless unit, but I couldn't find one that was electric, and not propane. There's no one around here that will deliver propane to our rig to keep it in propane.
I actually was expecting to find RV tankless electric units since I know that new high-end rigs don't even have gas anymore. Just all electric and a big, honking bunch of house batteries.
I now suspect that the RV's may be using the smaller home units that work just fine since they don't have to supply several bathrooms at one time.
So, never mind.
Wrapping up.
In other news, Hugo quit.
At least that's what Angie said was the reason that, instead our usual looking Denny's Ultimate Omelet that normally looks like this.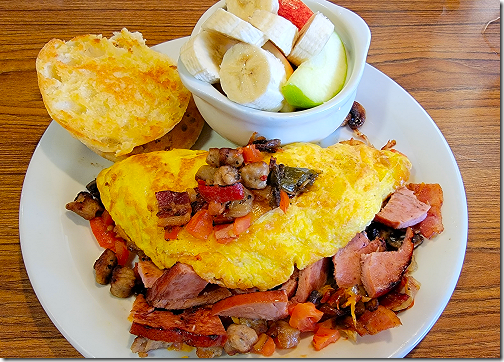 But instead we got this dinky offering.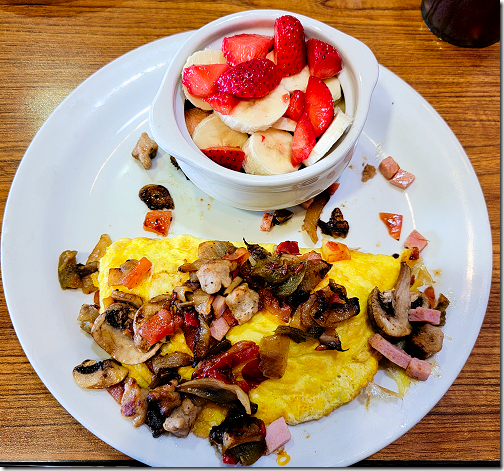 Angie said that Hugo, our usual cook had quit, and the new guy they hired last worked in a pizza place.
Angie said she was not impressed.
And neither were we.
---
Thought For The Day:
Evil can only succeed if good men don't point at it and laugh.
Lunch today was at Yummy Yummy's, our local Chinese buffet. We thought we'd lost it during the WuFlu era after it closed down, but to our delight, it suddenly showed again.
They're very good about keeping all the bins filled, and only bringing out small servings at a time.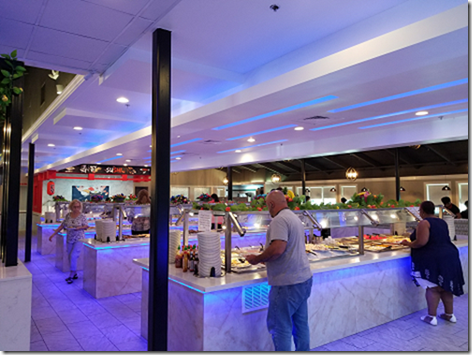 Then we made up for yesterday's fun time with our friend Tricia, by making our HEB stop today, over at the one on SH96 in League City. Then it was home for the day.
This evening we binge-watched the last 4 episodes of Season 2 of Only Murders In The Building. And it turns out that I was right when I predicted the murderer right before Episode 7. My method in these things is to pick the person LEAST likely to have done it. And it seems I'm right more often than not.
Though I didn't predict the assistant killer. This time.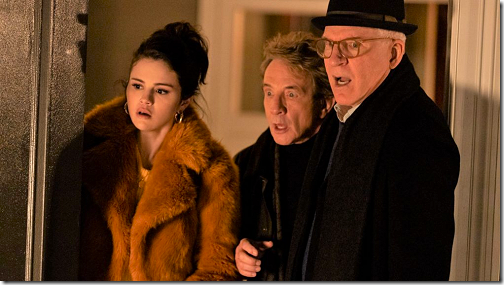 And HULU has already greenlit Season 3, probably sometime in Spring 2023.
A Great, Funny Show. Already looking forward to it.
---
Thought For The Day: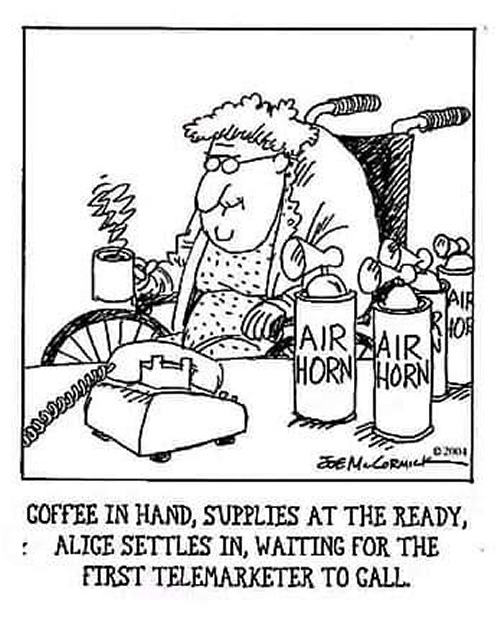 ---
August 28, 2009
Canada, Oh, Canada!
Well, we had an uneventful trip from Houlton, ME 185 miles away to Moncton, NB (New Brunswick), Canada.
But first we had to have breakfast one last time at the Big Stop Diner. Jan's hooked on their blueberry pancakes and I think they make a mean omelet.
After breakfast I gassed up the truck and we headed back to the rig to get ready to roll.
We headed out about 10:45 am, but first stopped back at the truck stop to top off the coach with diesel. And I'm glad we did.
Gas and Diesel are about $1.00 a gallon more here in Canada than in the US.
Hopefully we can get back to the US before we have to fill up with diesel again.
About 3 miles after we left the truck stop we pulled up to Canadian Customs. This is the fifth time we've gone thru Canadian Customs with no problems.
But I'm always worry because of the stories we've read about RV'ers going thru Customs and being selected for one of their random searches where you have to completely unload your coach so they can look at EVERYTHING!
But we were in and out in about 5 minutes. WHEW!!!
About 4 hours later we pulled into Camper's City RV Park in Moncton and got set up. Actually it was 5 hours later, since when we entered Canada, we switched to Atlantic Standard Time, so we are now 2 hours ahead of Houston
Which means Prime Time TV runs from 9 pm to 12 Midnight. And even worse, when we travel to Newfoundland, they're on Newfoundland Standard Time which is a HALF HOUR ahead of Atlantic Standard Time.
Go figure!
About 5 pm we headed out to one our favorite places to eat – Boston's Pizza.
And strangely enough, there are no Boston's Pizza in Boston, MA. We know, we checked.
So you would think, maybe it was started in Boston, Canada. But you would be wrong. There is no city named Boston in Canada.
Boston's Pizza was started in Edmonton, Alberta, Canada in 1964. Who knew?
Anyway, we always get a large pizza so we have plenty of leftovers to bring home.
Tomorrow we're going to take a drive along the coast and see the sights.
Then Sunday we're going to drive over to Prince Edward Island for a couple of days.
---
August 28, 2010
Piper and Landon
Jan should be in at 2 pm tomorrow afternoon. Hopefully it will be more on time than when Jan left here last Thursday. The flight was 75 minutes late leaving Chicago, so I'm going to take plenty of reading materials just in case.
I talked to Jan about 8:45 tonight. She was packing, getting ready to fly out tomorrow. These 10 days are the longest we've been apart since the early 80's when I was working Shuttle Missions out at White Sands. I'm not good at doing the bachelor thing anymore.
Here's the latest Landon photo, shown here being held by his aunt, our 16 year-old (soon to be 17, she will tell you) granddaughter Piper.
Two real sweeties.
The park is really filling up with the Rally starting Monday. It' seems like most people are already here.
Here's the park today.
And here it is a few weeks ago.
Today…
And a few weeks ago.
Big difference!
---
August 28, 2011
A Quiet Sunday . . .
Not much new today. Jan's feeling a little better, not nearly as nauseous. So hopefully by tomorrow, she'll be back to normal.
After our morning coffee and bagels, Jan settled in on the sofa with her Kindle while I mostly goofed off on the computer, while trying to get up the will to start ripping up the last of the carpet.
We had planned to Skype with Landon, Brandi, and Lowell this afternoon, but after waiting, Brandi called and said they were having problems with their AT&T U-verse Internet service so we had to put that on hold.
Finally later in the afternoon, I bit the bullet and crawled back under the steering wheel and started ripping out the last few stubborn pieces of carpet, while trying to ignore the screaming from my knees. They don't like this.
Late in the afternoon a park ranger came by with a flyer and telling us that the water would be off starting about 7 am tomorrow while the nearby town of St. Bernice replaced a part on their water system. Apparently the park gets their water from the town. The also said we should boil our water for the next 48 hours afterwards.
My answer to this was to go outside, top off our 100 gallon fresh water tank, and take us off the park water. No problem.
That's about it for now, just a nice, quiet, easy day.
---
August 28, 2012
Doing it all over again . . .
Today was pretty much a repeat of yesterday. And since yesterday was really nice, dittos for today.
One thing that made today better was that Jan baked cookies, her Almond Crescents, to be exact.
Jan had planned to bake them while we were on the road coming here Sunday, but that got cancelled when she woke up with a migraine. So today was her day to make it up
About 2pm Jan and I headed out for the afternoon. After dropping Jan off to get her hair done, I did some shopping at the local auto parts store.
Picking up Jan from the hair place, she checked out several nail places, trying to get a pedicure, but finally ended up making an appointment for tomorrow.
Finally getting back to the rig, we goofed off a while before finally heading out to dinner. We ended up at CJ's HighMark, a really good restaurant located by a golf course. Along with our meal we spend a good bit of time talking about where we're going later in the year.
And once again after dinner, we all set outside and talked, mostly about books we've read and authors we liked. It would have probably gone on longer, but the bugs came out and we went in.
Another nice day.
---
August 28, 2013
Not Much . . .
new happened today. We're settling into the routine of a new gate, starting to learn names and faces of the regulars, and who's who's in the pecking order.
My night shifts from 11pm to 7am are pretty quiet. I usually don't have any traffic between midnight and 6am. Then it picks up pretty quickly.
Today was a bit slower than yesterday's 141, We only had about 95 vehicles come through. But that may change. Jan was told today that once they start fracking we'll have about 100 sand trucks coming through every day, in addition to the regular traffic. Oh Boy!
But she was also told that all this might go through December, which means we would stay here until we leave for Houston right before Thanksgiving. Hope that works out, as we'd hoped to not move as much this year as we did last year, 4 times in 4 months.
Really glad we didn't get the gate down the road that guards the railroad crossing. Even up here, about a mile away, the trains are loud coming through. I can imagine being parked about 30 feet from the tracks. The gate guards there just act as crossing guards for the tracks, helping the vehicles to cross safely, but some people just don't listen.
The guard had one big truck stopped, and another truck came up behind him. The second guy apparently thought the first truck was just talking, so he pulled around and crossed the tracks, missing the oncoming train that he couldn't see, by just inches.
So far this site has been pretty critterless. A lot of bugs, but nothing bigger. I did however hear some coyotes yipping late this evening, so there's something around somewhere.
I got the misting system set up today, and it helped cool things down, although it was only about 95. It was 102 back in Webster, near where our home is, so every bit helps.
---
August 28, 2014
Our Temporary Home . . .
for now.
At least until we get a gate.
I called Jamie at Gate Guard Services about 9am for a last minute check to see if he had had anything come available in the last couple of days, but he said 'Maybe next week', with emphasis on the 'Maybe'.
Oh well, heading west, it is.
Jan and I pulled out of our site at the Colorado River Thousand Trails about 9:30, got hitched up at the top of hill, and headed two miles down the road to the Citgo station.
Not wanting to give Hugo Chavez any more money than I had to (Yes, I know he's dead. It's the principal.) I took my card inside and asked for $200 worth. This would give me a total of about 70 gallons to make the 180 mile trip to Whitsett while running the generator for the AC's.
The diesel pump was an old one and didn't even have a credit card reader on it. And it didn't have much of a readout display either. Most of the digits didn't work, and the few that did pretty much seemed to be displaying random numbers.
But I figured 'Hey, it'll stop at $200', right?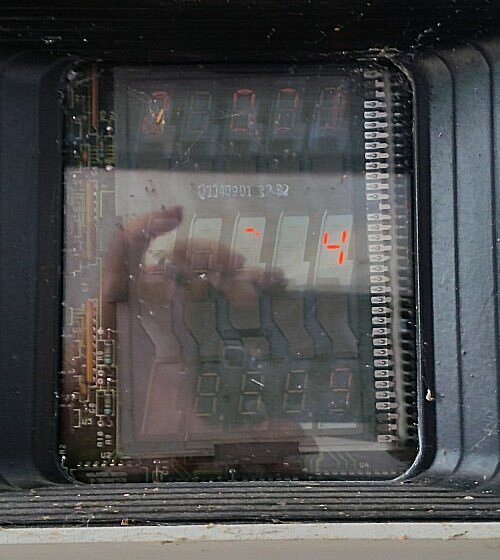 Wrong!
She didn't set the pump for $200 like I asked. She just turned it on.
So $285 later, I had a full tank . . . that I didn't want. Damn!
Getting back on the road a little after 10, our next stop at the Luling exit Buc-ee's to stock up on Cranberry Nut Muffins and Kolaches to tide us over for our gate guarding start. We love Buc-ee's.
We pulled into the Whitsett Gate Guard Services yard a little after 2pm and checked in with Mark, the supervisor at the office. I noticed there was an empty RV available so we would have full-hookups while we wait for a gate. Nice.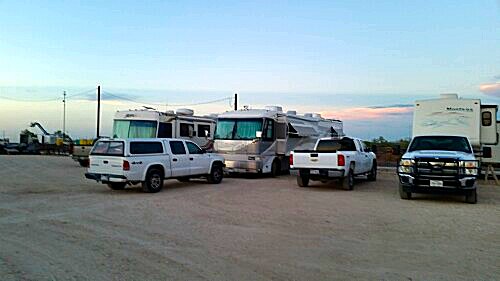 Mark said the guy in the 5'er to our right is going out tomorrow, and we should have a gate in a couple of days, maybe even tomorrow. We'll see.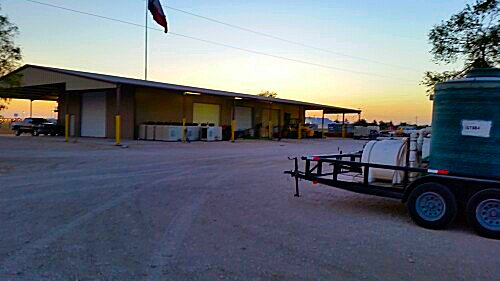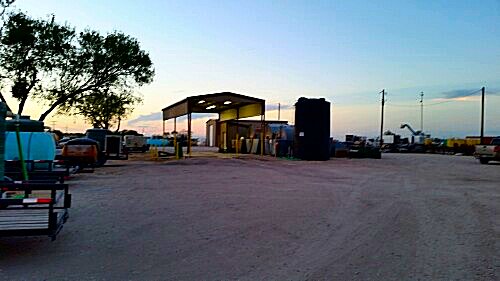 The yard looks pretty much the same as last year, except less equipment trailers parked around. Which is probably due to the fact that things are so much busier down here this year.
About 6 Jan and I headed up to Pleasanton to have dinner at Chili's. The place has been remodeled since last year and really looked nice. And the service was much better too. Maybe a new manager?
So tomorrow we'll sit and wait. Hopefully not too long.
---
August 28, 2015
I Could Get Used To This . . .
Well, so much for 'the gate will reopen at 8am'. Luckily Jan was already up and dressed when she heard the first truck rumble up about 6:55am, so she was outside in time. We were hoping for another 'shutdown' tonight, but unfortunately that didn't happen.
We again had only 38 trucks through the gate today, and Jan had only one truck in between 6pm and 11pm tonight. And it tonight is like previous nights, I won't have anyone until about 6am this morning.
I could get used to this.
But I'm sure things will speed up as soon as the actual fracking gets started. Which now could be a week or so, apparently. You just never know.
About 10:30 this morning I drove into Carthage for groceries and lunch. This is the first time we been this close to a town, or to a Wal-Mart anyway. With Carthage only 8 miles away, it makes a big difference in how long it takes to get done and get back.
For lunch I brought us back Whataburger, and also made a trash drop-off while I was there. Since they still don't have trash trailer here at the site, I just took the the bag with me and asked the Whataburger manager if it would be OK to use their dumpster, and she said no problem.
I had their new Sweet & Spicy Bacon Burger which I really liked, especially once I ramped up the 'Spicy' part with some Moruga Scorpion chili powder. Jan had a double meat cheeseburger with Grilled Onions and really liked hers too. And I guess Whataburger is a favorite of the workers here too, since I've only seen them come back with Whataburger bags and not McDonald's. And McDonalds is actually closer.
Jamie, our Gate Guard Services supervisor came by this afternoon to drop off our sewer trailer. We've just been using our rig tanks, but Jan will be happy now that she can do more laundry.
Jamie also dropped off a couple of pallets to span the small ditch in front of our canopy.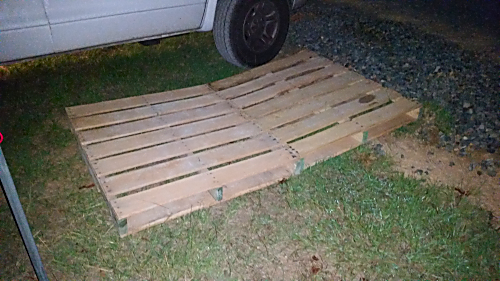 That'll give us a walkway over the water in the ditch when it rains, and also makes it less steep for Jan when she's going out to talk to the drivers.
But the big news today is that our canopy is now air conditioned. And it works great.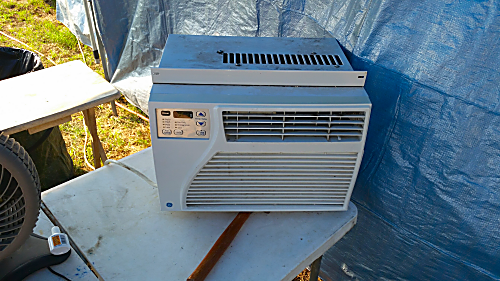 I saw the window unit in our son Chris' garage not being used and ask if I could take it with us. Since I knew we could end up gate guarding in south Texas where it is a lot hotter, I had planned to install it in the coach driver's window to help with the heat. But up here, with our temps staying the low 90's, and our new larger 15K AC unit, it isn't needed. In fact the AC's are even cycling on and off, and not running all day.
So this afternoon I decided to try it out just sitting on the table, and it works great. I'm getting 72° air out the vent, and I've not had any trouble with the hot air exhaust interfering with the operation.
Of course it's not going to cool down the whole canopy area, but it's really nice to have that cold air blowing right on you.
More tales from the gate tomorrow.
---
August 28, 2016
Drilling and Chilling . . .
Well, we're off and running, or drilling, anyway. They finally spudded in (started actually drilling) sometime after midnight this morning and so far things seem to be going OK.
When I got up at 11 this morning, and after we had our coffee, I headed over to Bryan/College Station to pick up a few things, mainly the plywood squares to cover up the gaps in our pad timbers. Otherwise one of us is going to step off in one and break an ankle and they'll have to shoot us.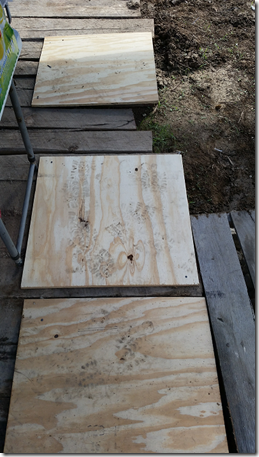 I also picked up a new tarp for our canopy, and I'm really glad I did. A late afternoon rainstorm showed that our old one, left over from last year, leaks like a sieve. So I'll just put the new one on top of the old one and tie it down.
On my way back from B/CS I stopped off at a Whataburger to pick up a late lunch. I got our usual burger/fries/drink combo, but probably not again. Or at least no fries.
They don't handle the 30 plus minute trip back to the site very well, and just end up cold and chewy.
Next time I'll try to find a convenient Chicken Express to bring back for lunch, and see how well their Fried Okra travels.
Jamie, our GGS supervisor is supposed to be here tomorrow (Monday) to bring us more water, and me a hardhat, We didn't start out with a full 500 gallons, only 350, so we'll need more soon.
And I need a hardhat so I can take our trash onto the pad to put it into the trash bin.
Tomorrow begins our 2nd week on the gate, and so far it's been pretty nice. We only had 43 vehicles come through the gate today, as opposed to yesterday's 74. But a lot of that was big trucks hauling off the equipment used to build the rig. So I would expect 40 to 50 vehicles a day will be the norm.
Hope so.
---
August 28, 2017
More Rain Coming . . .
Here at the Lake Conroe Thousand Trails we've had very little rain today, and when we did it was mostly just a slow drizzle.
But according to some forecasts, now-Tropical Storm Harvey is supposed to move back out into the Gulf a little and then come back in over Galveston with as much as another 24" of rain.
Yikes!
They're saying that so far Harvey has dropped between 9 and 13 Trillion Gallons of water on Texas.
Yikes again!
All of our kids are still high and dry so far. Certainly hope it stays that way.
Here's a good link that shows Houston Traffic Road Closures and Speeds in real-time. Check it out.
The last two nights the temps have been dropping down into the high 60's, and I don't think the rig AC's ever even turned on today. Nice.
One thing that the storm did was give me a chance to get back working on the remote control modules that I got about a month ago.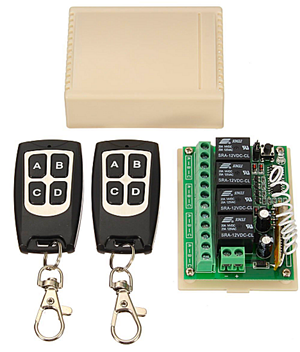 Wireless 4 Channel Remote Control Unit
At less than $15 each, these units looked to be an inexpensive solution to a couple of problems I would like to take care of.
These have four separate independent channels capable to handling 20A from 12VDC to 120VAC. And each channel has both normally open and normally closed contacts. Plus there is a jumper that will set the unit for either momentary or on-off switching.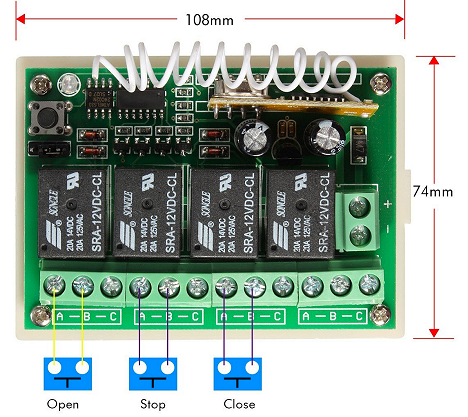 Although I bought two, one for the slide and one to play with, I decided to actually use the 2nd one too. When we're traveling with the generator on and both AC's running, occasionally the generator will shut off, or sometimes, keeps running but the 120VAC output goes offline. And when this happens, the 120VAC output will not come back online if both AC's are turned on.
So Jan has to get up and turn off one AC for about 15 seconds until the power comes back up. Then she can turn it back on and everything is fine. Now this doesn't make a lot of sense, because when the AC's lose power, the thermostats go into a two minute timeout to protect the compressor before they will allow the AC's to come back on. So nothing should be putting a load on the generator at that point.
So before I tackle the slide remote control, I decided to set up a remote control on the rear AC. And it turned out to be very simple.
After putting 12VDC on the unit I pressed the Learn button on the circuit and then pressed the 'A' button on the remote. This synced the remote to that particular board and Load 1.
Then it was just a matter of wiring it all in and mounting it on the wall.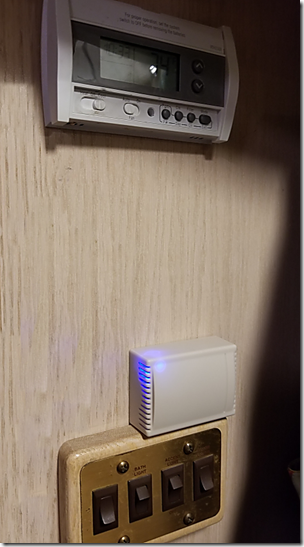 I picked up the 12VDC for the unit from the Floor Light switch on the wall, and then fed the control wires behind the wall up to the thermostat where I wired it into the system. Then a little double-stick tape mounted it in place.
Now before we travel I just turn the AC off at the thermostat and then use the remote to turn it off and then back on when needed.
And the blue glow makes a nice night light.
---
August 28, 2018
We spent this morning firming up our upcoming trip.
No, not the big one to Europe next year. This one is our Florida trip coming up in October. We've got long-time friends down in West Palm Beach, and long-time friends in Rockledge. And Seasons in the Sun RV Park in Mims, is kind of in the center of all that, so I made a 10 day reservation there today. They're having a $129 per week special right now so it worked out great.
I also got going and coming back reservations at our favorite Poche's Fish N Camp in Breaux Bridge, LA, where we always stay going east.
I had asked for Tallahassee area park recommendations on the blog last night and got several good ones, including one recommending Beaver Lake Campground in Quincy, FL, about 20 miles east of Tallahassee.
Plus, even better, it's Passport America at $18.50 per night. The only problem is that they don't take reservations for PPA. But when I called today they said they should have plenty of room so we're good there.
I'm still waiting to hear back from the Escapees RV Park in Summerdale, AL, where we plan on spending 4 nights before we head further east, arriving in Mims on October 9th for our 10 day stay.
So as it stands now we'll leave here on Wednesday, October 3rd and get back on Monday, October 22nd.
Of course that's assuming I get the rig oil leak fixed. LOL
We headed out about 12:30 to check in with our friend Julie at the Monterey's Little Mexico up in Pasadena.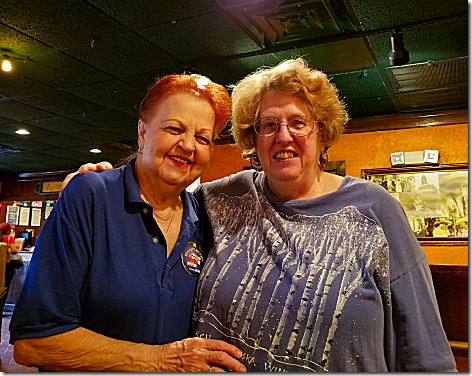 We've known Julie for years when she worked at the Monterey's down here in Dickinson, but since it's never reopened after Hurricane Harvey, we try to get up there every month or so.
Coming back down to the Clear Lake area we made a Harbor Freight stop to pick up Security Bit Kit.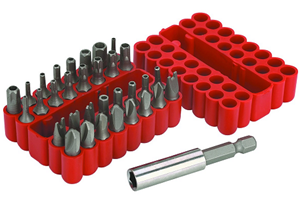 A lot of the machines that come in for me to work on have some of these 'secure' screws to keep unauthorized fingers out, or at least fingers who are trying to repair a machine instead of sending it back to the factory. So this should take care of that.
Then it was on our way to my client's office to pick up some Amazon packages that had come in, when a problem showed up.
As I was turning onto Bay Area Blvd, I suddenly had no power steering. My first thought was that the power steering pump had cratered. But also immediately the engine temperature started climbing. So now I'm thinking broken fan belt.
Getting to my client's, I took a look and was surprised to find, not a broken serpentine belt, but a whole one that had jumped off the pulleys. This usually means that something froze, the AC compressor, water pump, power steering pump, or the alternator. All expensive $$$
But we lucked up this time since it turned out to the be cheapest, the idler tensioning pulley. It was locked up solid. But since I had no tools with me, I decided to take it right down the block to the Firestone Tire shop, which is about as far as I could get without it running hot again.
And 3 hours later, (they were busy) and $197.65 poorer, we were on our way back down to Santa Fe.
As another example of why I try to do all my own work, when we got home I priced a new pulley from O'Reilly's and found it was $19.99, not the $65 that Firestone charged me. Plus they charged me another $65 for a new belt. A belt that I didn't think needed replacing. It looked fine to me, with no cracks or tears. In fact I grabbed the old one to keep as a spare. And then there's the $50 labor charge.
What can I say? I work cheap.
But while we were waiting we walked right next door to the new Aldi's to check it out and pick up a few things to eliminate an HEB stop on the way home. Jan found what she was looking for, and I found something for me too.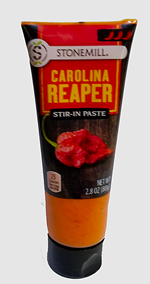 Readers know my propensity for hot stuff, and this was first chance to try the Carolina Reaper peppers. The Carolina Reaper may or may not currently be the world's hottest pepper. Both the Dragon's Breath and Pepper X supposedly are hotter, but there is some controversy as to whether or not they've been correctly rated.
Regardless, after the big buildup, and even bigger expectations, I was pretty disappointed. I tried it a small glob of it while we were still at the Firestone store, and wasn't impressed.
It just wasn't that hot. The label says the first ingredient is Carolina Reaper chilies, but it doesn't give a percentage. So my guess is that it's not very much. But I will say that it tastes really good with a nice bold flavor. Just not very hot.
Getting back to Santa Fe, I dropped off our Priority Mail passport renewals at the Post Office before finally getting home about 7pm.
A nice, but expensive day.
---
August 28, 2019
Mission To Mars . . .
Jan and I spent several hours last night working our way one by one through the 1113 names on our upcoming mailing list at work, trying to weed out all the garbage scattered around.
The problem is that the POS (Point of Sale) program we used is used for any kind of addressing, so our office manager tends to store other info in random fields. So all that had to be gone through and removed until we had a fairly clean list. I still have a few that need Zip Codes, but I can do that manually tomorrow.
Jan spent most of today making lists of her lists of things to see and do in New York City this December. We've already did a lot of the standard tourist's stuff, like Statue of Liberty, Ellis Island, Chinatown, Sylvia's in Harlem, Times Square, 'Phantom of the Opera', Empire State Building, the World Trade Center Site, Gramaldi's Pizzeria in DUMBO, etc,.
We'll probably want to see another play, but no idea what right now. I think Jan will probably want to repeat her visit with the Naked Cowboy.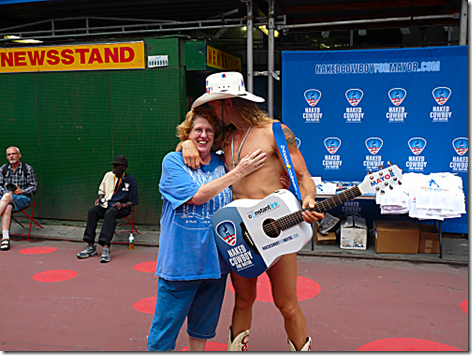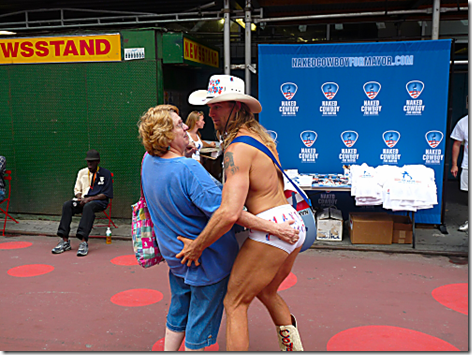 Tomorrow we're planning lunch again at Floyd's Cajun Seafood up in Webster and then pick up a couple of prescriptions. And then a nice, quiet afternoon.
Thought you might want to check out this test flight of Elon Musk's StarHopper, a test vehicle for developing the latest version of the Raptor engine.
The final version, much bigger of course, will be more powerful than the famous Saturn V that took us to the moon in 1969. In Musk's case, he's planning to use it to take us to Mars.
---
August 28, 2021
Well, Not Nearly As Much . . .
For the first time in a couple of days we were able to sit outside this morning with our coffee, but not for too long because of the very high humidity. But it was nice while it lasted.
But before I came back in I put the drain plug back in the water heater. I had removed it yesterday to drain the unit so I could patch the leak. Then inside, I turned the pump on, and the hot water side of the bathroom faucet open, I let it spit and sputter for a while, until the flow was steady. That meant that the water heater tank was full and that I could safely turn the power on and give us some hot water.
And after a few minutes of observation I still had a leak, but another leak, in another place. But a much smaller leak, actually just a dribble. It seems the area of corrosion is larger than I thought and was hidden under some more of the fiber insulation. But this smaller leak didn't show up until the larger leak was stopped.
What's kind of funny about this is that I think the water heater actually started leaking about a month ago. At least enough so that the carpet in the bedroom started getting damp.
But at the time, we had had about a week of steady rains, about 15 inches worth, and since the dampness stopped a couple of days after the rains, I figured it was just a small roof or window leak that only showed up with the heavy, steady downpour. But I'm thinking now it was just the first sign of the water heater leak.
However why it went away for a month, I don't know.
I'll check it out more tomorrow, but right now it's very possible that the leak is small enough that we can live with it until I get a new water heater in.
The rest of the afternoon consisted of lunch at Gator's once again with our usual.
Jan's Strawberry Walnut Salad with Grilled Chicken, and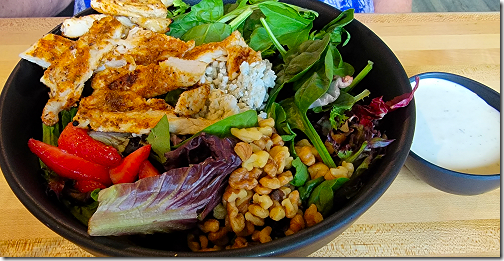 my Blackened Chicken Sandwich with Bacon. And yes, there is a blackened chicken breast under all that bacon.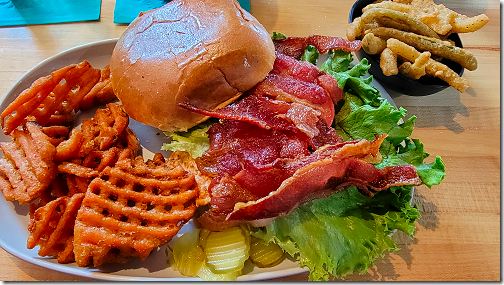 Then it was on to get haircuts, and then a stop at Home Depot and WalMart.
And home by about 4pm.
Jan and I've been binge-watching The Closer and Major Crimes, and down to the last 5 or so episodes of MC, we were not expecting what happen to happen. WOW!
---
Thought For The Day:
Remember, husbands are the best people to tell secrets to. They can't tell anyone because they probably weren't even listening to begin with.